Posted 2/02/2007 07:42:00 PM by Gerry Alanguilan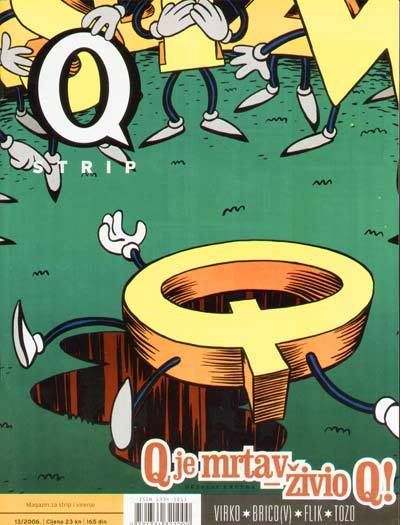 It was thrilling when I opened this envelope that arrived from Zagreb, Croatia the other day and saw this comics magazine, Q Strip. It features one of my stories, translated into Croatian!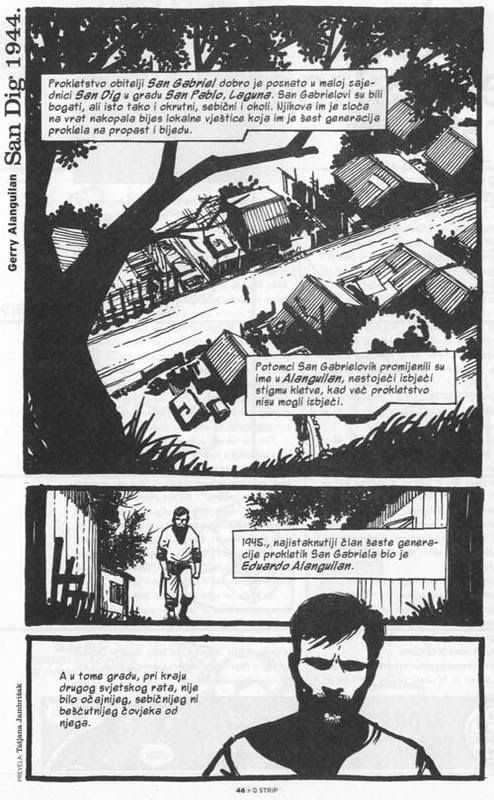 How cool is that?
It's a magazine edited by comics writer Darko Macan, who invited me to contribute to it a couple of months ago. He specifically asked for my San Dig, 1944 story from Siglo: Freedom. Since it will be translated, and posed no direct competition to Siglo: Freedom in that part of the world, I agreed. Of course, getting paid for it was an added bonus!
Much gratitute to Darko. Thanks man!
It also features an article about, I assume, Philippine comics and my work...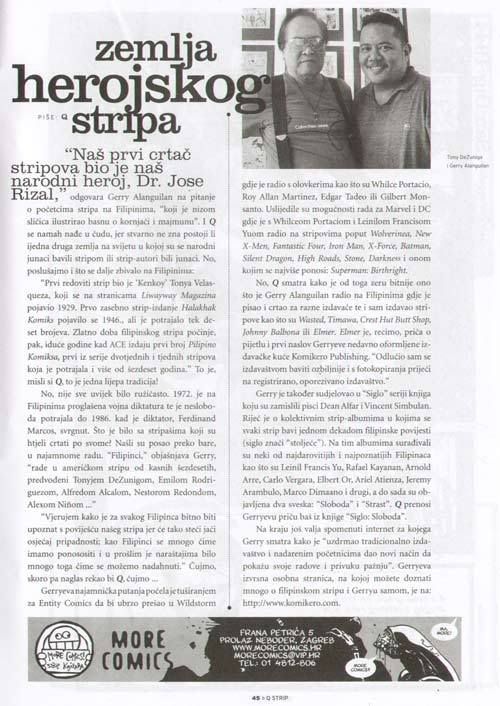 I'm still tickled pink thinking about it, and more and more I'm starting to realize the possibilities of having my work published in Europe. It would be really cool if that happens.
I also received another package from France from a friend of mine over there, with a bunch of French comics, including a magazine with new work from Moebius, and oh man... the kind of art they're doing over there I find unbelievably inspiring. I don't understand a word of it, but just looking at the art is enough for me.

Read or Die Convention
What follows is forwarded from the Secretariat of the Read Or Die Convention. I'm posting it here for those interested in what it is. I'll be there for the full 2 days.
+

Come to RODCON 2007-- a two-day literary convention organized by READ OR DIE INC. in partnership with POWERBOOKS. we seek to bring together readers, writers, publishers, government and school organizations and book dealers to highlight the importance of reading and literacy in building an open world for every filipino through books.
The event will take place on FEBRUARY 3 and 4, 2007 at the HOTEL INTERCONTINENTAL (AYALA AVENUE, MAKATI CITY); the convention will be open from 9AM to 8PM daily. all proceeds of the event will be donated to AHON FOUNDATION. the event is supported by the NATIONAL BOOK DEVELOPMENT BOARD, the DEPARTMENT OF EDUCATION and UNICEF.
Event Information (Taken from
http://rodcon2007.blogspot.com
)
Function Room Events Directory The British Council of Manilawill be presenting Roger Robinson from the UK performance poetry group "Apples and Snakes" back-to-back with local poets Kooky Tuason (of Romancing Venus) and Juddha Paolo. From the British Council press release:
The UP Creative Writing Institute and UMPIL will be hosting panels on contemporary Philippine fiction, oral poetry, literary translation and regional literatures and creative non-fiction which will be hosted by writers and academics Jun Cruz Reyes, Teo Antonio, Bobby Anonuevo, Romulo Baquiran, and Abdon Balde, among others. A full list of Likhaan and UMPIL writers who will be coming to the convention will be posted later.
The Goethe Institut will be presenting a panel on German literature featuring Professor Susanna Lenz (from the Department of European Languages, UP Diliman). The incoming Goethe Institut Director will also be introduced to the public in the panel. The Goethe Institut be exhibiting collections from their library in RodCon.
The National Book Development Boardwill be hosting a poetry reading featuring celebrities from popular TV show Super Inggo and their campaign "Get Caught Reading." A tentative list of attendees includes Miriam Quiambao, Herbert Bautista, and Christine Bersola-Babao.
Renowned historian Dr. Jaime Veneracion of UP Diliman and SAMPAKAwill be headlining a discussion forum on historical writing. The Dean of the Islamic Institute of UP Diliman Dr. Mashur bin-Ghalib Jundam and selected faculty from the Institute will be speaking on Filipino Muslim literary traditions.
The New Worlds Alliance will be presenting three speakers during their function room event:
* "Anatomy of a Villain: The Will to Power and the 'Chosen Destiny'of He-Who-Must-Not-Be-Named." (Frances Sangil, Pinoy Harry Potter)
* TBA (R.E. de Leon, The Philippine Order of Narnians)
* "Would JRRT Approve of Sending More Troops to Iraq: The Themes of War and Peace in LOTR." (Cristina Montes, The Philippine Tolkien Society)
*This listing is very incomplete; there are a lot of other groups and publishers who have not confirmed their topics or speakers for the convention but who will be attending.
Exhibits The National Book Development Board will be previewing their latest poster campaign "Get Caught Reading" in a selected gallery in the convention.
Gerry Alanguilan of Komikero Publishinghas lent us his collection of pulp magazine and vintage comic book illustrations for display. Watch out for this.
The Goethe Institutwill also be displaying their collections.
We had planned to host an exhibit of Nick Joaquin material courtesy of the UP Filipiniana Library.However, due to the fact that the Main Library is currently cataloging and indexing their collections for the UP Centennial Celebrations in 2008, loans of rare material to outside institutions have been proscribed. We will be displaying facsimile prints and showing several slide shows of the National Artist collections in the Library, however.
We will also be exhibiting a set of rare books (signed, unsigned, specially bound, limited and first editions) courtesy of Mr. Jasper Ong of Avalon Books.A few of the titles include signed books by Neil Gaiman, Umberto Eco, Chuck Palahniuk, Gregory Maguire, Nick Hornby, Anthony Bourdain, Marisha Pessl, Jeanette Winterson, Arthur Golden, and much more.
Live Performances The Alitaptap Storytellers, headed by president Manolo Silayan, will be performing onstage on February 3 and February 4 at RodCon 2007. The performance on Saturday will take place at 5:30 PM while the Sunday performance will be held at 3PM. Details to follow.
The Cultural Center of the Philippineswill also be staging production numbers on both days. Details to follow.
Good news for Star Wars aficionados:The Philippine chapter of the
501st Legion will be making an appearance in RodCon on February 3. The Stormtroopers will be mingling with guests and convention attendees for pictures and signings. Be sure to come to RoD so as not to miss this opportunity :) Members of the Jedi Order will also be appearing on February 4. With much thanks to Rej and Paolo of the New Worlds Alliance for arranging this for the convention attendees. The New Worlds Alliance will also be exhibiting at the convention (and selling select books and merchandise from their collections) so be sure to drop by.
Raffles Each convention attendee will be entitled to one raffle ticket for the RodCon book raffles (which will be drawn periodically throughout the convention on stage). Prizes include an awful lot of books, comics, artwork, gift certificates and merchandise. We will also be holding special raffles wherein you will have to buy tickets in order to participate. For instance, Avalon Books has kindly donated a signed limited edition hardbound copy of Neil Gaiman's "Anansi Boys" for such a raffle. Proceeds will go to our charity beneficiary. Thanks once again to Mr. Jasper Ong.
Portrait of the Filipino as Reader Once again, all convention attendees are encouraged to participate in Portrait of the Filipino as Reader.All you have to do is bring photos to the convention which follow the contest theme and register them at the Secretriat desk, after which they will be displayed on our community wall for judging. Winners will receive special prizes. :)
Pinoy Readers' Choice Awards If you haven't voted yet, please do so now. :) The deadline for voting is on January 31, 2007. We also have a special announcement to make with regard to our Pinoy Readers' Choice Award ceremony this year as well as news of the 2008 Awards in the forthcoming (and last) edition of this newsletter. Thank you to everyone who has voted and participated in the awards!
Book Swaps and Book Donations We are reminding convention attendees to please bring your old/secondhand books to either swap or donate in the convention. The swap will be conducted on the principle of (more or less) equivalent trade. If you bring one book to swap, you will receive one book in return. The more books you bring, the more books you get.
Donations are very much welcome. We can't say it enough. Donated books will be re-routed to charity foundations and other book drive organizations (like RockEd, A Better Chance Foundation, and Books For The Barrios).
Attending RodCon 2007 We've prepared a set of guidelines re: how to make your way in RodCon 2007. Please take a moment to read these guidelines in order to ensure a hassle-free convention experience. We will also replicate these guidelines in our program guide along with the list of our convention policies.
Online Pre-Registration Closed While online pre-registration has ended, you can still buy RodCon tickets at pre-registration rate until January 31, 2007. Please note that we only have a limited number of tickets on sale. If you have not bought your tickets yet, please proceed to your nearest Powerbooks outlet. We will stop selling tickets in our partner bookstores on January 31, 2007. While tickets will still be available during the convention itself, they will be sold at registration rates.
Wednesday, January 31, 2007
Posted 1/31/2007 12:31:00 AM by Gerry Alanguilan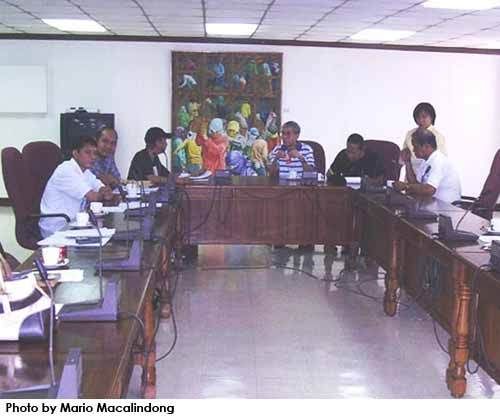 The Komiks Congress
being planned for the 2nd week of February is probably the biggest concerted effort to revive the flagging komiks industry in the Philippines.
"Komiks" has enjoyed a rich and vibrant history in the country, which counts it's National Hero
Dr. Jose Rizal
as the first Filipino cartoonist when he created an adaptation of the tale of the Monkey and the Tortoise, in a format that's undeniably a comics strip.
Tony Velasquez created the first regularly published comic strip "
Kenkoy
" on the pages of
Liwayway Magazine
in 1929. The very first comic book to appear in the country, a magazine the full contents of which are comics, was
HALAKHAK
, which first appeared in 1946. It lasted only 10 issues, plagued by circulation problems. 1947 saw the publication of
Pilipino Komiks #1
, published by ACE Publications, which ushered in the birth of the full scale Philippine komiks industry.
Pilipino Komiks proved so popular that it spawned many other titles in the succeeding years including Tagalog Klasiks, Hiwaga, Espesyal, and further spawned many other komiks companies.
Komiks enjoyed enormous popularity and circulation for many decades until finally bowing out late in 2005 with the cessation of publication of Pilipino Komiks, which was then being published by Atlas Publishing. The last remaining remnant of the once great industry is Liwayway, which still contains comics within its pages.
The fall of komiks is a subject that is currently being hotly debated across many circles, and can be felt online through many Philippine blogs and message boards.
The komiks industry's fall started to be strongly felt at the beginning of the 90's when komiks companies closed slowy one by one. Its fall saw the rise of "alternate" comics industry, spawned by young artists and fans who saw no venue in which to publish their stories. This new industry, populated by writers and artists who owe little influence from the weakening komiks industry, saw influence from Western and Japanese comics, influence that were strongly felt in their works not only in content but also in format.
From individuals and small groups of young writers and artists rose companies like Alamat, Nautilus, Culture Crash, Mango, Kestrel, PSI-Com and many others whose output have been moderately successful, although have yet to reach the lofty heights the old komiks industry.
Questions have been put forth about the possibility of that happening, amidst the many sources of entertainment currently available, only one of the many things hotly debated by concerned parties.
Indeed, some parties reject this new "alternate" comics industry as a legitimate one, perhaps ignoring the possibility that an industry that grows organically and persists inspite of seemingly insurmoutable economic issues has some qualities worth studying and investigating.
Filipino Komiks #1, published in October 2006, was the first serious attempt at a revival on a national scale by having stories in Tagalog, distributed nationwide, and geared to appeal to the masses, the primary audience of the old komiks industry. FK #1 sold extremely well, indicating rather clearly that the audience and the desire for komiks are still there.
February 2007 now brings the Komiks Congress, spearheaded by personalities of the former Komiks industry like Joe Lad Santos, and most notably Carlo J. Caparas, putting a call out to all Filipino komiks writers and artists to band together and find ways to revive the industry.
I am very excited at this turn of events, and I have high hopes that something good will result from this new enthusiasm geared towards Philippine Komiks. For those who can read Tagalog, you can follow the developing story, and updates to the Congress at
THIS THREAD
on the Philippine Komiks Message Board, or click on the banner on top of the left column. You might need to register to be able to read it.
I will continue to update readers of this blog on the progress of the Komiks Congress in the coming weeks.
---
Tuesday, January 30, 2007
Posted 1/30/2007 10:28:00 AM by Gerry Alanguilan
READ OR DIE
I'll be at the Read or Die Convention this weekend, February 3-4 at the Hotel Intercon in Makati where I will be selling Elmers 1 and 2. I'll gladly do an Elmer sketch for you for free if you buy Elmer, have bought Elmer, or even if you don't buy one. It's strange when people ask me to sketch Captain America or Batgirl or things like that. I'm not complaining, I'm just curious, because I'm not known to have drawn those characters, so I'm wondering what the connection was. To me it would make more sense if people ask me to draw characters I have worked on or created because the connection is there. It's like asking me to sign a comic book I didn't work on. OK, that's an extreme comparison, but the feeling is similar.
Anyway, I'll also be bringing a stack of original artwork to sell, from Birthright, to Batman/Danger Girl, to High Roads, and probably others. I won't be able to offer rates like I did at Komikon because those special discounted prices are only for Komikon. The next time I'll be offering those kinds of prices again will be at the next Komikon, sometime in October.
UST LECTURE
Next up will be a lecture at the University of Sto. Tomas on February 10, 2007. It will be at Room 801 Beato Angelico Building at 1-4pm. I'll be talking about something... most likely about comics!
When I was studying at UST in the late 80's, this buidling wasn't in existence yet. I don't remember what was there at the time, was it the UST Press? I know it's beside the huge football field. Lots of memories associated with that field. Those horrible ROTC Sunday mornings, the after lunch P.E. jogs in those yellow shorts with small white USTs printed on them, PACAFALAN, mooning over girls who didn't like me, sketching, just hanging out. It would definitely be a strange experience coming back. I know some of my old classmates are teaching there now... some of my old teachers are still there. There are some I want to see again, and one particular teacher I really don't.
JOHN BEATTY SIGNING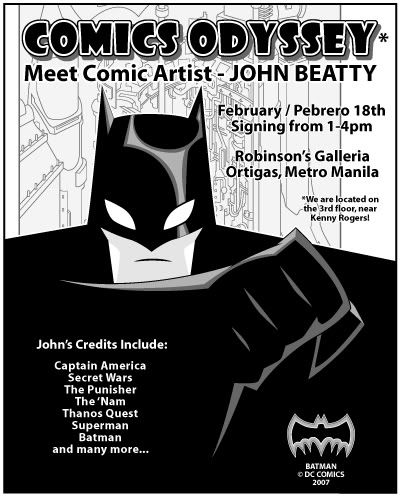 Schedule's definite! John's signing will be on February 18, 1-4 PM at Comics Odyssey, Robinson's Galleria.
+

Komikero meeting last Sunday! I have photos and a video, but I'm a little bit busy at the moment to put them up. Here's coverage from my ol pals
Jonas Diego
, and
Edgar Tadeo
.
+

I'm supposed to rant about something. I've been writing it since last week. It's rather long now. Maybe later in the week.
In the meantime, let me teach you how to cook my
Chicken Curry
!
---
Wednesday, January 24, 2007
Posted 1/24/2007 12:33:00 AM by Gerry Alanguilan
Activities for January and February, and it's CRAZY!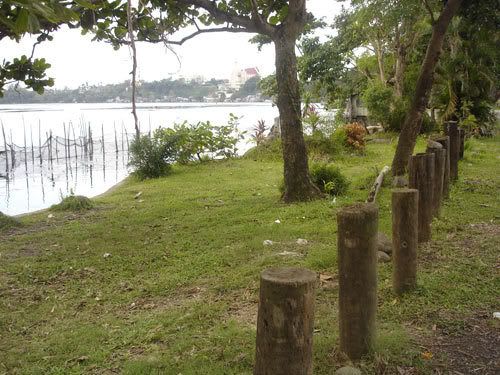 Sampalok Lake Park
KOMIKERO MEETING!
Anybody in town is free to join us at our first Komikero Meeting for 2007 on January 28, here in San Pablo City, beside Sampalok Lake. Click
here
for a map.
AREA B
is most likely where we will be.
Para sa mga suki, doon tayo anywhere between tapat ng bahay ni Mr. Marino at Sabang Hills.
For those curious... these aren't really meetings, but just a get together of people who like art and sketch. Come on over if you're in the neighborhood. Bring your sketchbooks!
+

READ OR DIE CONVENTION
I'll be at the Read or Die Convention at the Hotel Intercon in Makati on Feb 3-4 where I"ll be having a booth. I'll be selling ELMER as well as original comics art. I also provided some material for an exhibit of vintage komiks art.
More Info on the RodCon2007
+

UST TALK!
I'll be giving a kind of talk/lecture at UST on February 10. I really haven't done anything like this before. The closest thing is probably my inking lecture for the Glasshouse seminar a few years back. I'm not much of a public speaker and I would have declined, but I sort of got cornered by Antart to do it. he.he. So I am. Sorry na lang sa mga taga UST that they would be subjected to the most unberably embarassing talk in the history of the oldest University in Asia. See you there!
+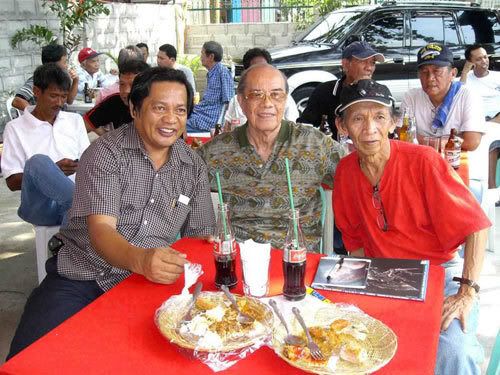 Joe Lad Santos, Jess Jodloman and Jun Lofamia at a recent planning session for the congress. Photo by Marboy.
KOMIKS CONGRESS
I'll most likely be attending the Komiks Congress currently being planned for February 16.
John Becaro
has much more of a grasp on what this is about so head on over to his
DA
right now to see what's up. It's bound to be BIG and GOOD for the Philippine Komiks industry.
+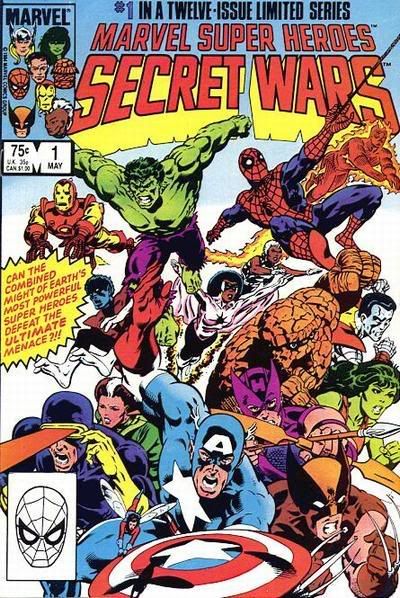 Cover to Secret Wars #1
JOHN BEATTY in the PHILIPPINES
Older comics fans would probably remember comics inker John Beatty for his work on the very first SECRET WARS, Captain America, Punisher and many other comic books. He's in town for personal reasons, but having recognized that he may have fans here, he's going to be doing a signing! More news on that later.
+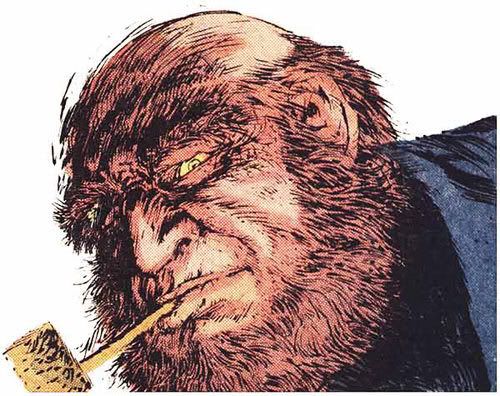 Captain Hatch, Weird Mystery Tales, DC Comics 1974
JESS JODLOMAN
I'll also be interviewing Jess Jodloman sometime in February. Jess Jodloman is part of the first wave of Filipino comics illustrators who made an impact on US Comics. Jess Jodloman is a particular favorite of mine, having drawn really beautifully gruesome stories for DC's mystery and horror titles. Click on a sample of his awesome work below:
Jess Jodloman's Old Man With a Bible
---
Monday, January 22, 2007
Posted 1/22/2007 12:10:00 AM by Gerry Alanguilan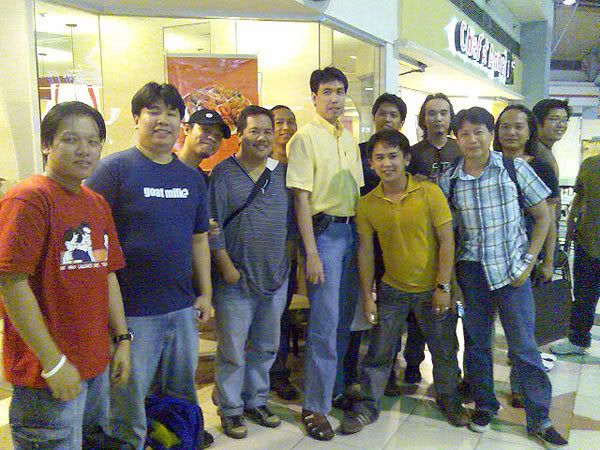 Mark Cerbo, Azrael Coladilla, Harvey Tolibao, Gerry Alanguilan, Edgar Tadeo, Jay Anacleto, Dennis Crisostomo, Ryan Orosco, Carlo Pagulayan, Gilbert Monsanto, Jeff Huet, and Leinil Francis Yu.



Comic Book Signing/Sketching


Comics Odyssey
Robinson's Galleria
January 21, 2007
The official guest list included only Philip Tan (Spawn), Gilbert Monsanto (Sacred Mountain), and the elusive Jay Anacleto (Aria, Marvels 2). I went to the store so I could see Philip Tan, who was coming back to the Philippines for a vacation (and a dentist appointment?). I also wanted to see Jay, who we call "Efren", because we see so very little of him. The last time I saw him was at the 1st Philippine Komikon in 2005. I was also delivering copies of both Elmer #1 and #2, because the store had already sold out of copies.
Pretty soon, literally everyone was there. Leinil Francis Yu (New Avengers) arrived, as well as Carlo Pagulayan (Incredible Hulk).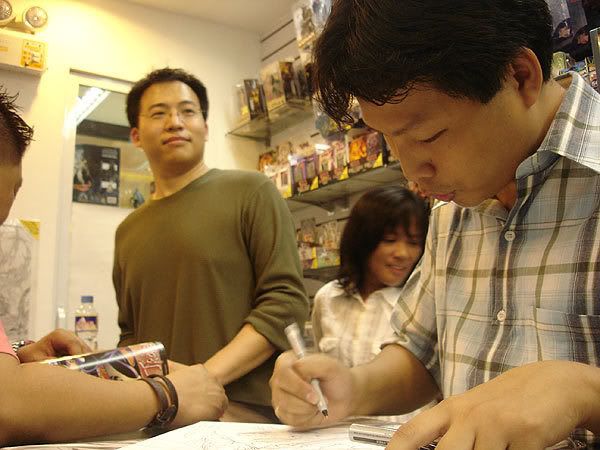 Philip Tan and Gilbert Monsanto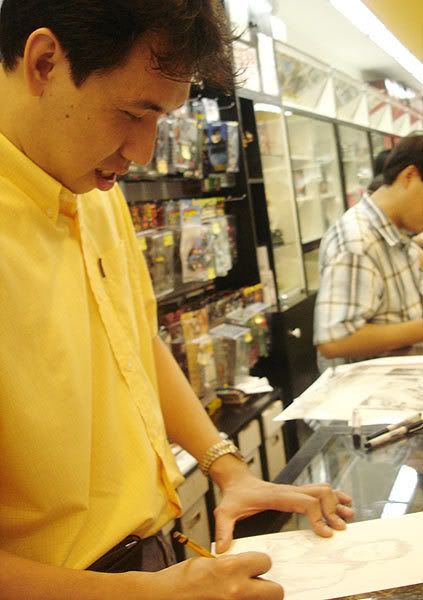 Jay Anacleto
Edgar Tadeo (Avalon colorist/inker) also arrived, as well as inkers Dennis Crisostomo and Jeff Huet, fantasy artist Hannibal, artists John Becaro, Randy Valiente, Reno Maniquis, Joanah Tinio, Melvin Calingo (Taga-Ilog), Ryan Orosco, Joel Chua and Harvey Tolibao. I might be missing someone, but a lot of people arrived.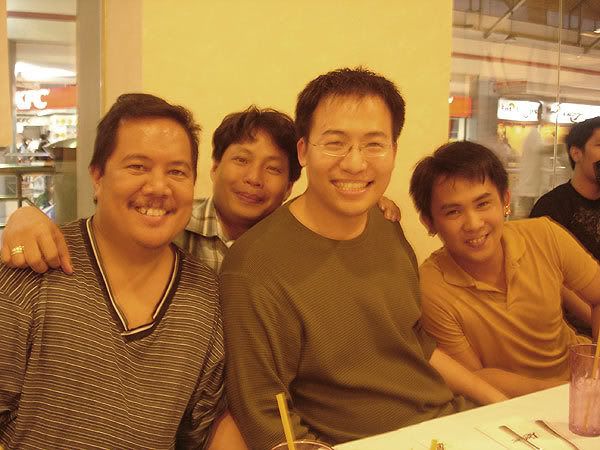 Gerry Alanguilan, Gilbert, Philip, Ryan Orosco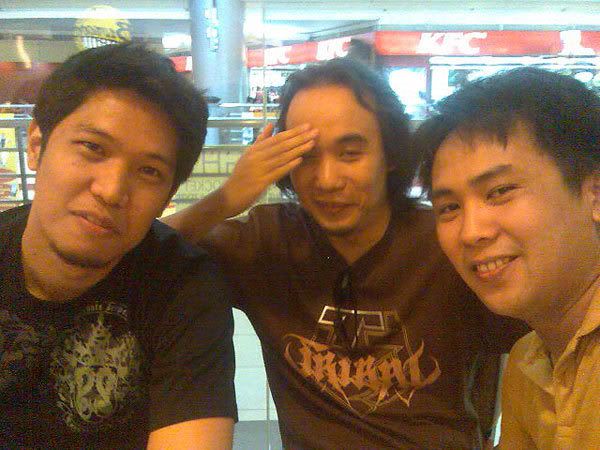 Dennis Crisostomo, Carlo Pagulayan, Ryan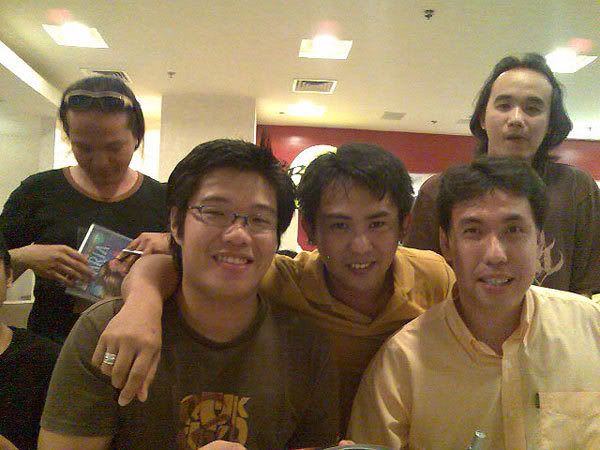 Jeff Huet, Leinil Francis Yu, Ryan, Jay Anacleto, Carlo

And hey, look at that... video! (Sorry, can't help it.)


Hang on as I'll be uploading a better quality version at Live Video very soon. I'll just add it right here when it comes up.
It's very nice to see the guys again. It's almost like a Starfire Studios reunion. Starfire is the studio Whilce Portacio established back in the mid 90's here in the Philippines. Only Whilce himself is missing, as well as Roy Allan Martinez.
Thanks to Comics Odyssey owner Sandy Sansolis. Thanks to Ryan Orosco for most of the pics!
Labels: comics signing
---
Wednesday, January 17, 2007
Posted 1/17/2007 09:17:00 PM by Gerry Alanguilan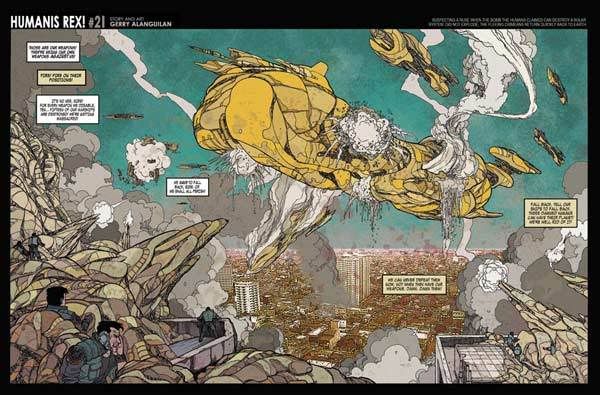 Humanis Rex #21
First of all, apologies for the lack of updates. The Internet has been mind numbingly ssslllloooooo o o o o o o o w for me the past couple of weeks. Many sites just won't open for me, including this one. But it seems all better now, although some sites still load slowly. Lots of news, first and foremost being, Tony DeZuniga's art exhibit at Megamall. I went there for the opening last night and it was like a reunion of old and new comics people. It was something to see. Naturally, I had my camera with me.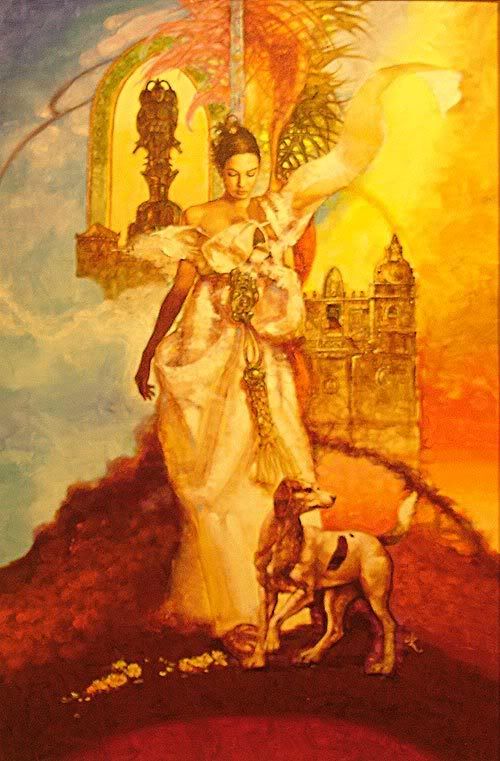 SUPERHEROES




Tony DeZuniga Art Exhibit


Crucible Gallery
4th Floor, SM Megamall
Metro Manila, Philippines
Ongoing, beginning January 16, 2007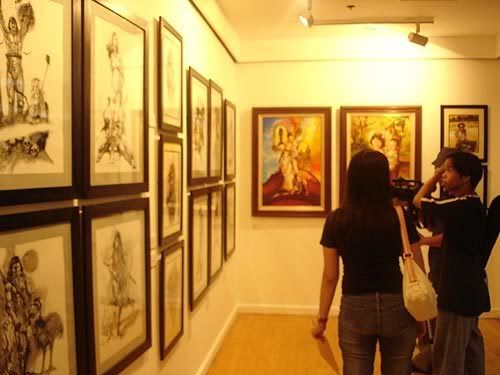 The Crucible Gallery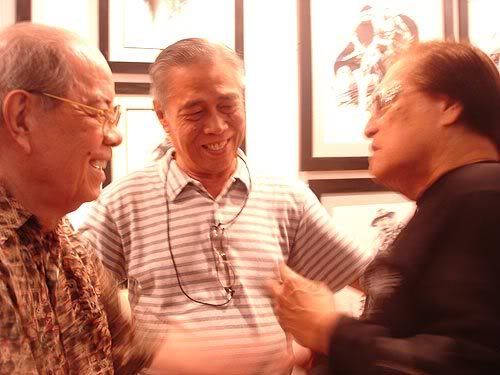 Jess Jodloman, Abe Ocampo, Tony DeZuniga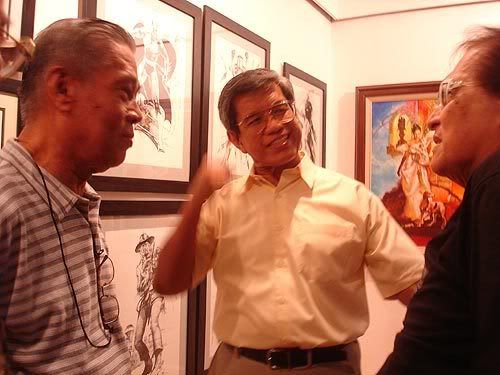 Abe Ocampo, Rico Rival, Tony DeZuniga

And I guess by this time you would know that I just can't resist making a video of this event. Here's the one hosted at You Tube:



http://www.youtube.com/watch?v=8n2dl-iudnE

And here's the one hosted at Live Video. It's actually the same video, but the video quality might be a bit better for the ones with faster connections.



http://www.livevideo.com/tony-dezuniga-art-exhibit-opening.aspx

+



ELMER: One of Forbidden Planets' Best of 2006!
I missed sharing this previously becauseof my slow connection, but
Forbidden Planet
has named ELMER as one of the
best comics of 2006
. Thanks to all you guys at Forbidden Planet!
If you're in the UK, or if you're in any part of the world, actually, you can order ELMER from them directly at
this page
.
+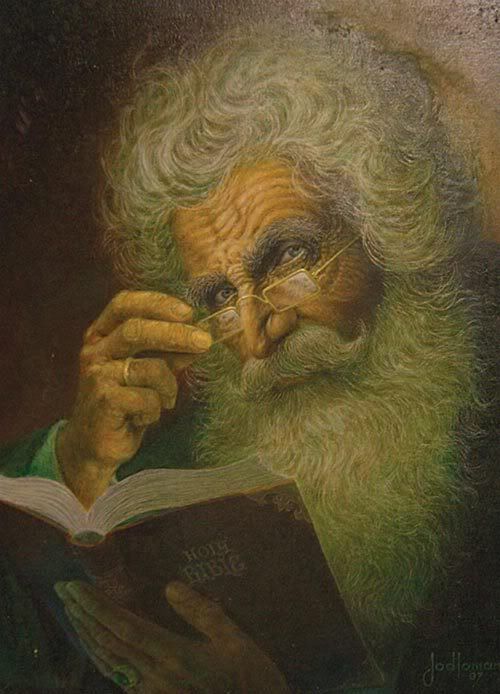 Jess Jodloman
Jess Jodloman is an artist whose work I've loved for a long time. Here in the Philippines, his masterpiece RAMIR is still considered by those who remember it as one of the best comics stories ever produced in the country.
He is probably most known in the US as the artist of Conan and many mystery/horror/war titles for DC Comics.
I was happy to have finally met Jess personally at last year's Komikon and I have been speaking with him and his daughter Grace off and on since then and they've shared with me some really stunning images for Jess's upcoming gallery. I'll also be interviewing Jess himself early in February and I'll definitely upload it here when the time comes.
+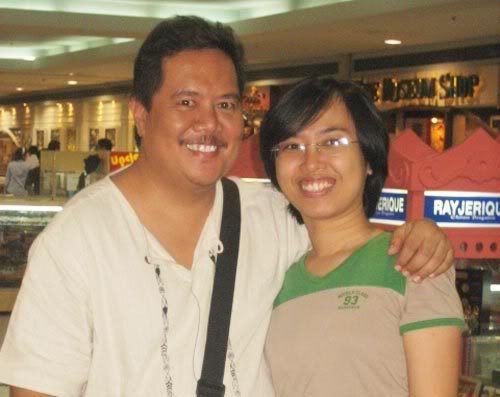 Me and Ilyn at the Exhibit
Labels: Elmer, Humanis Rex, Jess Jodloman, Tony DeZuniga
---
Tuesday, January 09, 2007
Posted 1/09/2007 08:18:00 AM by Gerry Alanguilan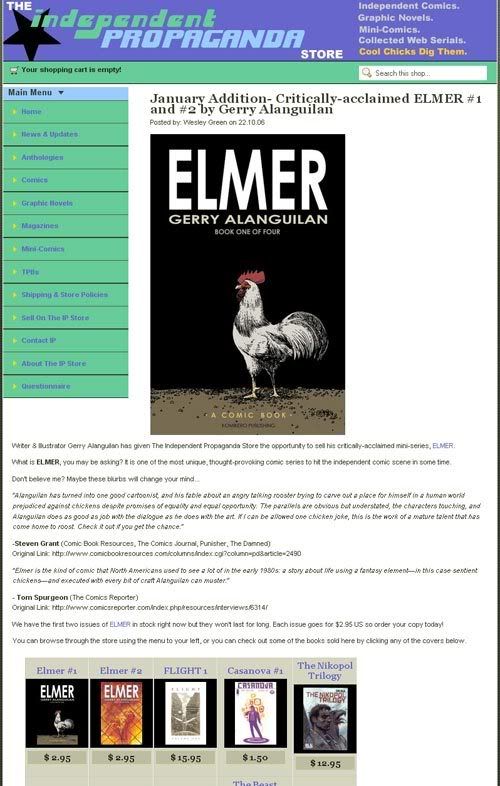 Elmer #1 and #2 has finally been added to the
online catalogue
of North American retailer
Independent Propagand
a. Those in the Canada and the US would now be able to get copies from them via their
online shop
. Thanks to
Wesley
for making this possible!
Labels: Elmer
---
Monday, January 08, 2007
Posted 1/08/2007 09:44:00 PM by Gerry Alanguilan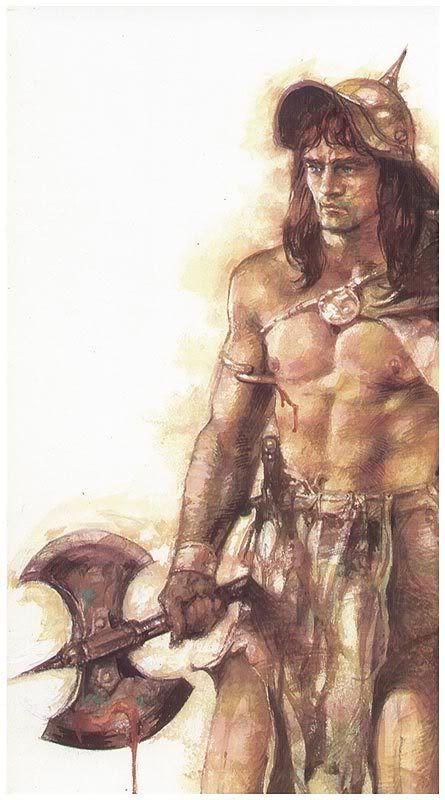 SUPERHEROES



Tony DeZuniga Art Exhibit
Crucible Gallery
4th Floor, SM Megamall
Mandaluyong, Metro Manila
Exhibit Opening: 6:00 PM, January 16, 2007
For those who will be going, Tony himself will be there on opening night. I'll try to be there, but I can't be sure. January is pretty hectic for me as well, and that date is pretty near a Humanis Rex! deadline. Let's see.
I recently did a video interview with Tony DeZuniga, asking him about his reasons for choosing comics as a career, how Jonah Hex was designed, and how he seems to get better and better with age. The interview is in Tagalog, but it has English subtitles.
Tony DeZuniga Interview
http://www.youtube.com/watch?v=R8RXv-yviNk
+

Comics Odyssey Comic Book Signing
Comics Odyssey
Robinson's Galleria
Edsa Cor. Shaw
Metro Manila
January 21, 2007, 1-4 PM
Special Guests include: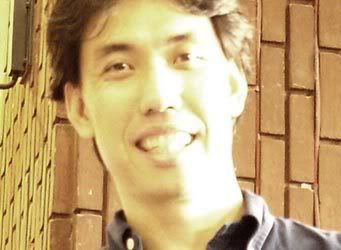 Jay Anacleto
Aria, Athena Inc., Spawn, Marvels 2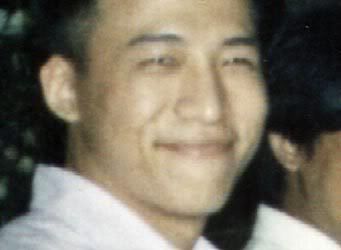 Philip Tan
X-Men, Spawn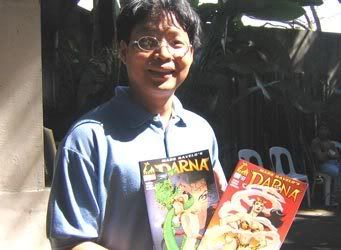 Gilbert Monsanto
Rambol, Tropa, Hellcop, Houdini
+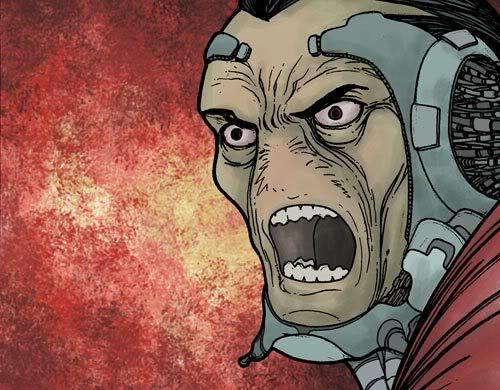 The Crimeans Freak Out!
Humanis Rex #20!
This January, I'll be concentrating on both Humanis Rex! and ELMER. Humanis Rex is about to wrap up so I'm making sure it goes out with a huge bang.
I may have to move the release of ELMER to a later date, not only to give me time to do it, but I would also have to set aside funds for the publication of my dad's poetry book, in time for his 70th birthday in March.
Labels: Elmer, Humanis Rex, Signing, Tony DeZuniga
---
---