Graphics Intensive Site.
Hit Reload or Refresh
If Not All Images Load.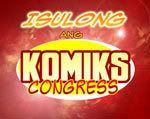 Original Art
For Sale!
Click Here!
Contact Me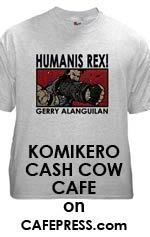 Know Your Rights as
Philippine Comic Book
Professionals!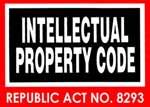 Click Image Above
or HERE for details.
RSS FEED

About Me
Current Journal
Entries

All Entries For
January 2007

Journal
Archives
2007
2006
2005
2004
2003
2002
2001
2000
1999
1998

Featured Articles

The Filipino Comics Artist
And Manga

Why No Comments?

Why Do I choose English
To Write My Stories?

Exploitation and
Self-Exploitation
in Comics

Making Mini Comics

Comics Lettering

Reviving a
Comic Book Industry

Commentary on
Anonymous Writers

Breaking Into
Philippine Comics

Preserving a Legacy and
Reviving an Industry

Featured Links

The Philippine
Comics Art
Museum


Komikero Comics
Main Site

Philippine Comics
Message Board

Crest Hut
Butt Blog
My Personal Blog

Ilyn Florese-Alanguilan
Website ng Aking
Mahal na Asawa

Doroteo L. Alanguilan
My Dad's Official Site

Emmanuel Jose
Blog Ng Aking
Dakilang Kapatid

MySpace

MyDeviantART

Blog Links



Saturday, December 30, 2006
---
Wednesday, December 27, 2006
Posted 12/27/2006 04:43:00 PM by Gerry Alanguilan
My Ambrosia DigiComics Blog
On the strength of perhaps my Elmer work, Wesley Craig Green, the head cheese of Elmer's distributor in North America,
Independent Propaganda
, offered me a blog on his new
Ambrosia Publishing/Digicomics
site. I already have a regularly updated blog right here, so I was a bit hesitant to take it at first.
But I figured that the added web presence can't really be all that bad, since it would allow me the opportunity to share and promote my comics more widely. It's always conceivable that people may get to visit that site and not this one.
I would hate to duplicate posts between blogs, and I'll try very hard not to do that. Sometimes I expect it would be unavoidable. But I think I'll try to concentrate more on ELMER on that blog, because I see it as a place where I might have more of a readership abroad and ELMER is something I'm agressively promoting outside the country.
Rest assured though, that any significant thing I post about Elmer over there, I will give a link from here so all you who read Elmer and would like to be kept up to date won't miss a thing.
Right now, I'm just feeling it out and see where it goes. I'm having fun with it, because it's on Wordpress and I'm quickly finding out how cool it is.
---
Wednesday, December 20, 2006
Posted 12/20/2006 12:22:00 PM by Gerry Alanguilan
A lot of updates this time around! I woke up today with some great news about ELMER. Apparently, it made the
Honorable Mention
list of
Publishers' Weekly's First Comics Week Annual Critic's Poll
.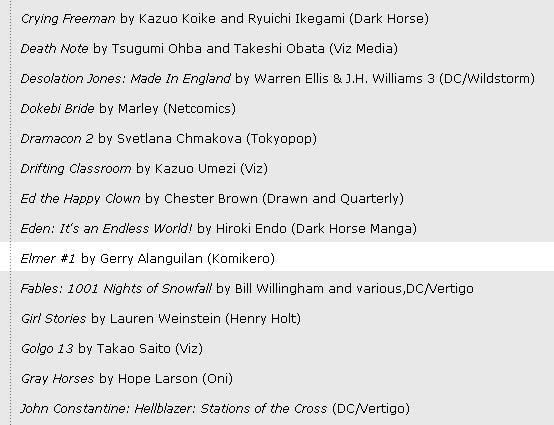 Check out the Publishers' Weekly site for more info:
http://www.publishersweekly.com/article/CA6401289.html?nid=2789
Thanks to
Chris Arrant
for helping make this possible.
+

And speaking of Elmer, here's more artwork sent to me, one is from a comics pal Romi Lizada: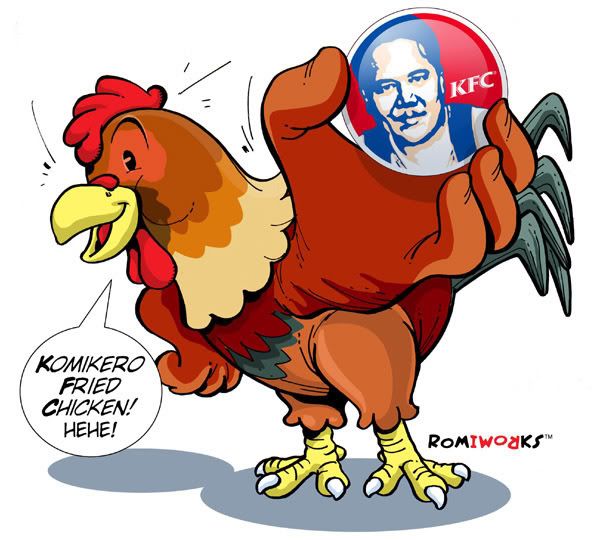 Romi Lizada Elmer Art
http://romilizada.freewordpress.com/
Here's another one from David Jerickson Serador, which I found really interesting and freaky: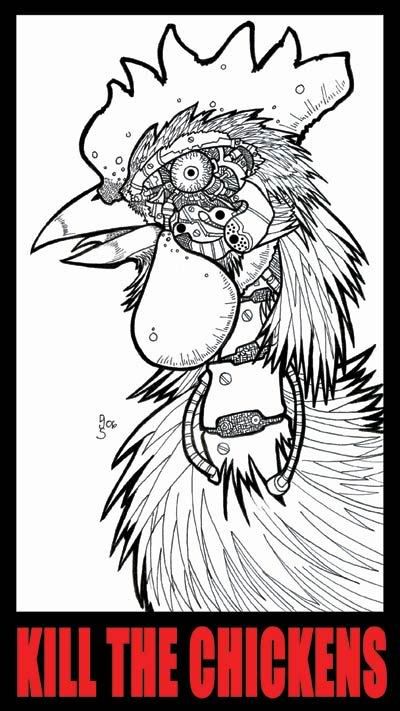 David Jerickson Serador Elmer Art
http://ashburndaride.deviantart.com/
Thanks Romi and David! Ang gagaling nyo!
+

Somebody over the
Philippine Komiks Message Board
had some fun and turned me into a computer game character. I think it's great! Not to mention truly flattering that people would actually make something out of my hideous visage.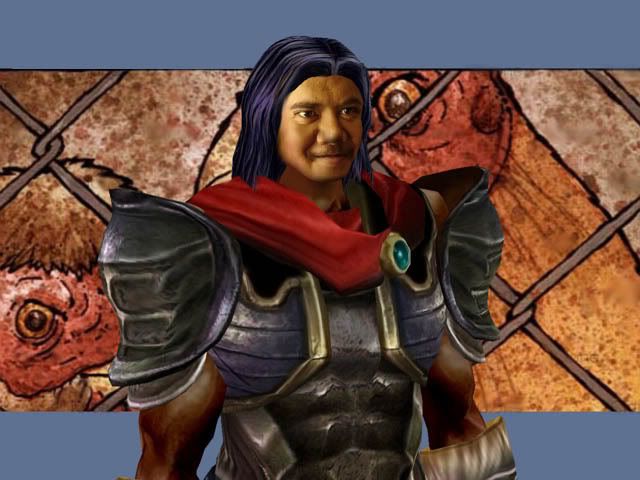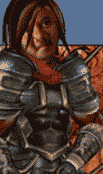 Somebody named "GodKnowsHudasNotPay" came up with this. Ha! ha! You're NUTs, man! But thanks!!
+

I have an interview up over at
New Worlds Alliance
(NWA), a group that "was founded in 2003 by seven local science fiction and fantasy fan groups: Via Astris - The Star Trek Club of the Philippines, Star Wars Philippines, The Philippine Tolkien Society, Pinoy Harry Potter, Pinoy X-Philes, Pinoy Slayers, and The Alliance of Eclectic Gamers and Interactive Storytellers (AEGIS). Its aim was to provide a venue for Filipino science fiction and fantasy fans to interact, hold activities, and express themselves and their love for their respective fandoms." (
More about their group here
)
Their group is responsible for organizing an annual Sci-fi and Fantasy Con in various places around Metro Manila. I had attended the first two cons in Mile Long in 2003 and then at Rockwell in 2004, both in Makati.
Graphic Artists #6: Gerry Alanguilan


http://www.newworlds.ph/index.php?name=News&file=article&sid=139
Thanks to
Meann Ortiz
for the Interview!
+
An adventure I went through recently was attend the Grand Finals of the first Philippine Idol competition live at Araneta Coliseum. I'm a casual fan of American Idol, and so naturally, I was drawn to watch the Philippine equivalent. One of my favorites even early on were Mau Marcelo and Pow Chavez. It turns out Mau is a friend of one of my good friends, Arlan Esmeņa. Arlan, his wife May and their family are naturally huge supporters of Mau, and they even accompany her to each stage of the competition to cheer her on and support her.
I thought wow, that sounds like fun. I had asked Arlan maybe one of these days, we can tag along as well. We all got pretty excited when Mau became one of the final three, and Arlan invited me and my wife Ilyn to watch the Grand Finals live. I thought wow, I've never been to a show like this, attended by thousands of people, telecast live on TV. It would be quite an experience.
And being the video freak I currently am, I naturally made a video blog out of it.
It turns out I had the right instinct because Mau eventually won the competion. Congrats Mau!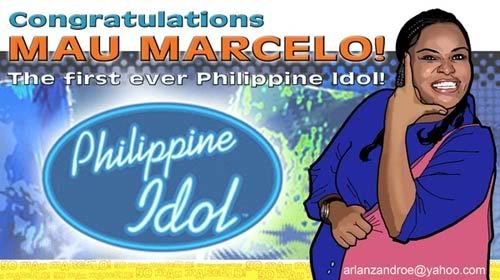 Banner Design by Arlan Esmeņa
+

My good pal and former collaborator Leinil Francis Yu finally has an
official website
! Well, at the moment it points to his Deviant Art account, but it's all good!
---
Saturday, December 16, 2006
Posted 12/16/2006 11:43:00 PM by Gerry Alanguilan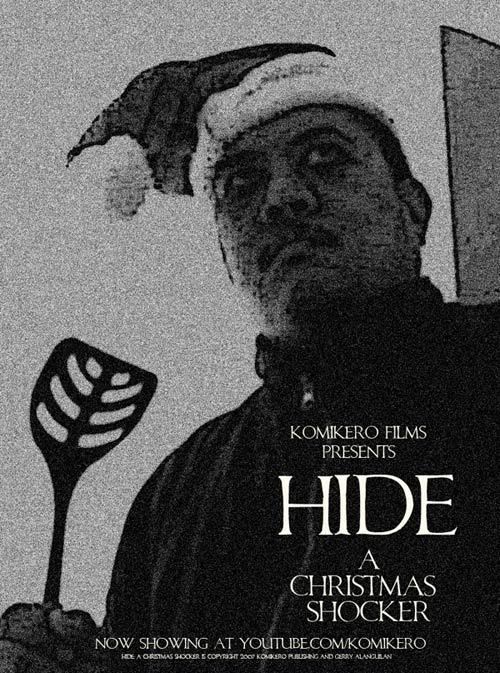 Ever since getting hooked on making video blogs, I've always wanted to use moving picturess as a way to tell stories in a different way. Having been so used to telling stories in comics, I wanted to explore other ways of telling stories, and video seems like a fun alternative. I think I can learn something from this kind of exercise, which I can then use to benefit my comic book work.
"HIDE" is something I came up with as I was doing it. I had no idea how I was going to finish it as I was putting together the first part. I had a laugh when I thought of how to end it. It may put some people off, but I personally think it's kind of funny.
I tried to do this as a straight suspense, but really, I'm at that point in my life where I really just can't get away from the humor that seems to creep in with anything I do.
Labels: film mini movie
---
Thursday, December 14, 2006
Posted 12/14/2006 10:27:00 AM by Gerry Alanguilan
ART THEFT ON DA
I found the page of this Brazilian artist and saw this illustration:
http://www.deviantart.com/deviation/43264983/
Based on what he's saying in this post, and in replies to comments, and running it through the translators, he seems to be claiming that this was created by him.
In truth, this was created by WHILCE PORTACIO.
It is an illustration given to me by Whilce as a pinup for WASTED for it's Final Edition. Here is a link:
http://alanguilan.com/sanpablo/wart5.html
This is a color version, colored by Whilce himself:
http://tinyurl.com/yn489b
Nowhere in this post or in the comments will you find Whilce's name. And he conveniently removes Whilce's signature, clearly seen in the original.
+++

Now I've been advised by some DA posters more knowledgable than me in the ways of DA that I should have reported it to DA Admin because posting it on my DA journal could get me banned as well. Well, I did report it. But should I shut up about it in my DA journal?
Well FUCK THAT. Go ahead and fucking ban me for doing the right fucking thing. If there's one thing I can't stand is people stealing the work of other people, and I'm expected to just stand meekly aside and let the "authorities" do their job.
And what exactly are they going to do? BAN him from DA? What the fuck is THAT going to do? I want to the world to know exactly what a stealing son of a bitch he is, and banning him will just prevent people from finding this out for themselves.
And if you find me gone from DA, then it's not MY doing. If they ban me from DA, well, like I CARE. Do they expect me to shake in my boots, be repentant, and erase my "offending" post? I've left DA twice before. It's so easy for me to leave again. I don't CARE. .
Labels: theft
---
Tuesday, December 05, 2006
Posted 12/05/2006 04:42:00 PM by Gerry Alanguilan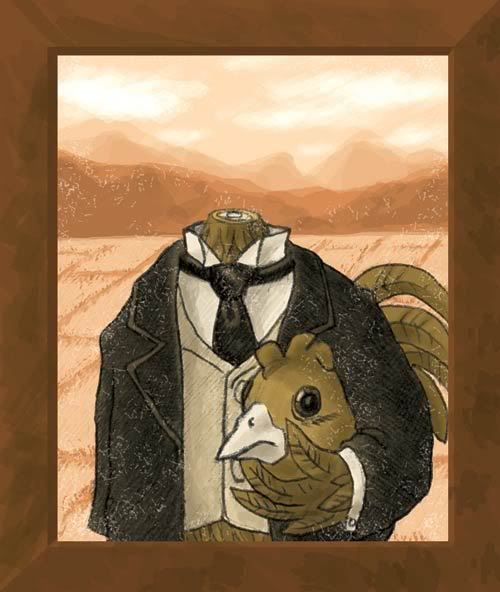 Elmer Art "Headless Chicken"
by Robert Magnuson
Robert turned in this really cool and disturbing image. If my back covers (only 2 remaining) weren't all spoken for, I would certainly use this for a back cover. I'll definitely make sure this appears in the interiors somewhere and in color in the compilation.
Robert is the creator of "Shirley's Pets" for Junior Inquirer, as well as the writer and artist for several successful children's books including "Mr. Beetle's Many Rooms" and "Diego and Marie Presents: A Secret Sense of Home, An Early Science Adventure" published by Adarna House.
Robert is an amazingly talented and I have to say, marvelously devious guy. I mean that as a compliment. As to exacty what I mean by "devious", I'll write about it in a future entry. Let me just leave you with the idea that Robert has been doing something unexpected and good for the Philippine comics industry. You the man, Robert!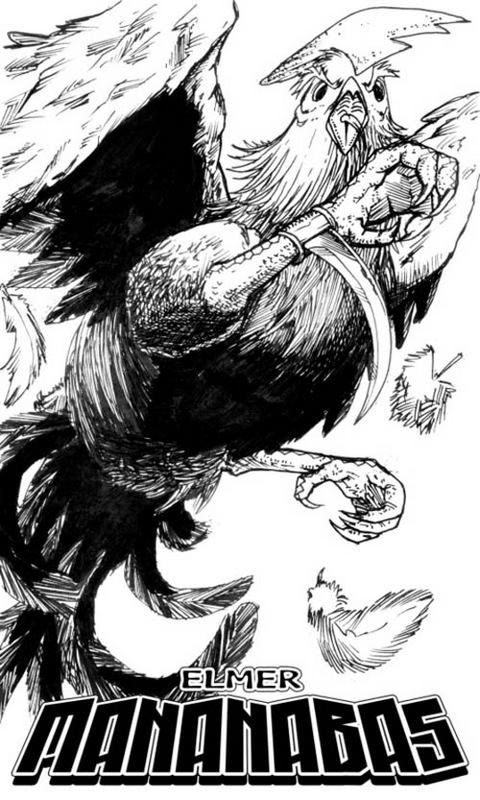 Elmer Art "Mananabas"
by Ner Pedrina
Ner is a quiet player in Philippine comics, proving artwork for several comics, and helping put together a few projects. Check out his
Wikipedia page
for links to his artworks, blog and various projects.
If all goes well, I'll be at the baptism of Ner's baby this Saturday. Congrats pare!
+

ZSAZSA The Movie!
Here's the trailer to
Carlo Veragara's ZsaZsa Zaturnnah: The Movie!
Starring Zsa Zsa Padilla, Pops Fernandez and Rustom Padilla. What I find nice about this motion picture version of Carlo's comic book is that they used music from the wonderful musical. Let's see how the movie does. At any rate, HUGE congrats to Carlo!
To be honest, I preferred they stuck with Eula Valdez and Ricci Chan for the roles of ZsaZsa and Didi respectively, who did a wonderful job in the musical. I think they were just amused by the novelty of having ZsaZsa play ZsaZsa, never mind if she's suitable or not. Honestly guys, she's OLD, and it shows. I never liked Choklit, or whatever the name of this actor they got to play Didi. Every single time I've seen him I get this really overpowering negative vibe. His comedy is angry and cynical, and I've never found him funny ever. I like the idea of Pops Fernadez as Queen Femina though. She's totally gonna rock.
+

Post Office Frustrations
Oh man, I'm starting to get really dubious about our local Philippine Post Office. I've been sending LOTs of letters and packages abroad and I'm not sure if all of them are getting to where they're supposed to. It's getting really frustrating, specially if you're running a publishing business and you're distributing abroad.
The Post Office does have an Express Mail service that guarantees delivery within a week, but they're almost as expensive as FEDEX! Just sending 40 copies to North America I've had to spend almost 2,000 pesos on shipping. Sending 120 copies abroad would have cost 6,000 pesos (that's around 120 US Dollars).
I can send that by Standard Mail, but then I'm not sure if they will reach their destination at all, like I'm discovering now.
I'm really at a loss as to how to proceed, to be honest. Does anyone have any suggestion of a courier that's reliable and not as expensive? I wouldn't mind if the shipping was a bit slow... as long as it gets to where it's supposed to. Thanks in advance!
---
Monday, December 04, 2006
Posted 12/04/2006 10:28:00 AM by Gerry Alanguilan
What's with all the babies in December?
I thought I'd write about the things that's been keeping me busy recently. Surprisingly, December is turning out to be quite a busy month with many activities. My weekends are all booked up with trips outside of San Pablo. I just came from my nephew Robin's Fist Communion yesterday at La Consolacion in Mendiola (video forthcoming). Last week I went to the baptism party for the baby of an old college friend of mine. This Sunday, another baptism, and then another baptism the weekend after that. What's with all these babies in December? Our friend and Komikero Edgee just gave birth herself (right on her birthday) yesterday. I expect I'll be going to that baptism very soon as well. It's become so that I simply won't be able to attend them all, as much as I want to.
Elmer and Humanis Rex!
The most active projects on my roster right at the moment are ELMER (I'm currently writing the 3rd issue), and HUMANIS REX!, which is now on the homestretch! Only 4 or 5 installments remain until the finish, and I'm already planning the compilation that comes after. I won't be able to just simply compile them into one book. Humanis Rex, as it is currently done, is meant to be read 2 pages a month at a time. To read them in one quick go would make the story read very strange. I will be adding pages to further expound the story and make the pages flow smoothly from one page to the other. Naturally, I would have to re-letter everything, and this would give me perfect opportunity to rewrite dialogue that would work better in a compiled work.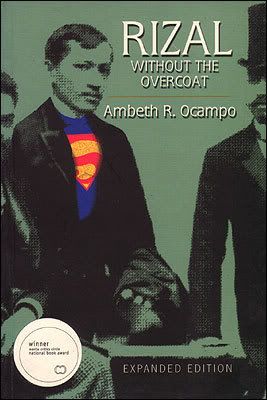 Jose Rizal Post #2
My research continues for my Jose Rizal project. The more I read, the more I find out things I never knew about our National Hero. The most telling revelation for me is how much of our grade school and high school textbooks on Rizal are quite simply CRAP. A lot of Rizal's history was written by people with superhero blinders on, exalting him as some infalliable near-deity, remote and unattainable. It does give you, as a Filipino, an icon to look up to, but personally, I would prefer an icon that's uplifted by truth.
As far as Jose Rizal is concerned, what is the truth?
There are many books and pamphlets, as well as articles online about Rizal. When I first wrote about this project, a couple of people sent me links to articles that have been quite enlightening. But what I have noticed is that given the same basic sets of facts, different writers and historians interpret such facts differently. Their interpretation of history is affected a little too much by their own personal perspective and world view. Their "history" then becomes more of an opinion piece rather than a clear and concise telling of what really happened.
It's hard to find a book/article/publication that's more objective than most. One such book I found, and indeed one of the most interesting, is "Letters Between Rizal and Family Members: 1876-1896" published the National Historical Institute. It reproduces personal letters between Rizal and his mother, his brother, his girlfriend, and friends.
It's like reading a blog, to tell you the truth. It allows you to get into the head of Rizal because you are witness to his actual words and thoughts. These letters are enlightening in that they paint a portrait of Rizal as completely human, equally susceptible to the same weaknesses and flaws such as any man would be. He cries, like everyone else. He needs money, like everyone else. He sometimes forgets himself when he's with women, just like any other man.
I have recently acquired a couple of books courtesy of my dad, collecting Rizal's personal reminisces, and other correspondences, which promise the same kind of clear window into who he really is.
One fascinating book I found is Ambeth Ocampo's Rizal: Without the Overcoat. Not really a biography but a collection of lectures on Jose Rizal. What I like about Ambeth is that he does not write pretentiously. He writes with a familiarity to the reader, and demonstrates the demeanor of a person completely enthusiastic about his subject and just can't wait to share every bit of info with you. It kind of reminds me of Dennis Villegas, and how he talks about Philippine comics. Ambeth doesn't pound you over the head with opinions, but rather offers supportable evidence and proof of his historical claims.
That his historical claims punch a clear wide hole into the infalliable Rizal we have grown to know clearly demonstrates how much we have been misinformed.
Although Ambeth by no means disrespects Rizal or denigrates his legacy, he does successfully demystifies Rizal and gives us the truth, or at least part of it. And informed of the truth, Jose Rizal is still unquestionably an icon and a hero to me. In fact, he is even more so.
---
Friday, December 01, 2006
Posted 12/01/2006 10:23:00 PM by Gerry Alanguilan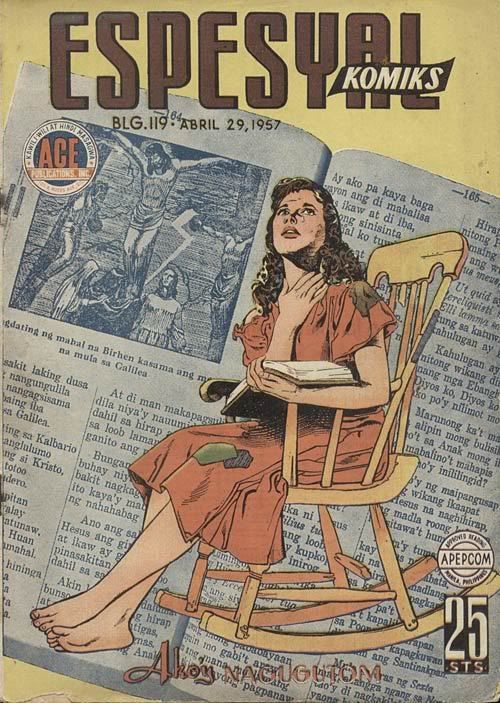 Nestor Redondo Komiks Cover Gallery
Here are a few komiks covers of Redondo's I don't think I've featured yet. Most of them are from 1954-1958, published by ACE Publications.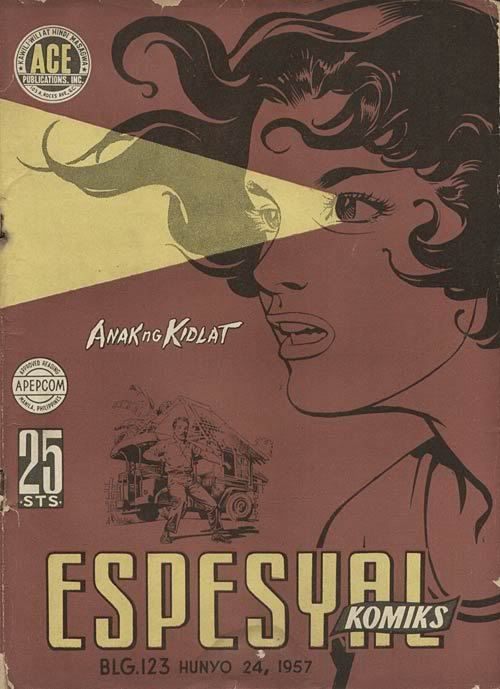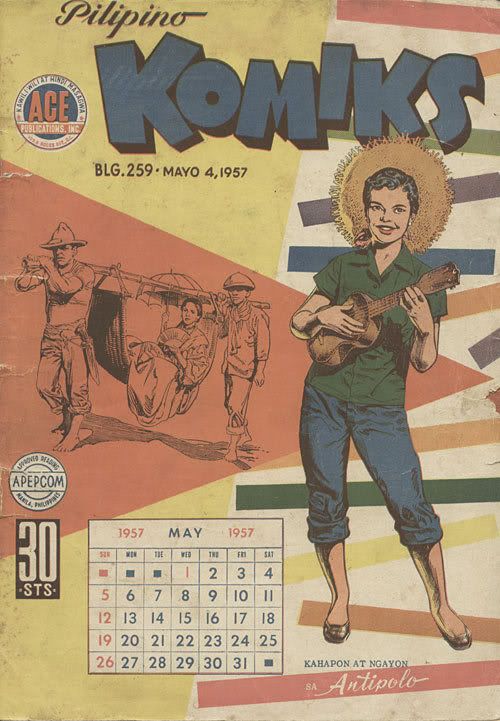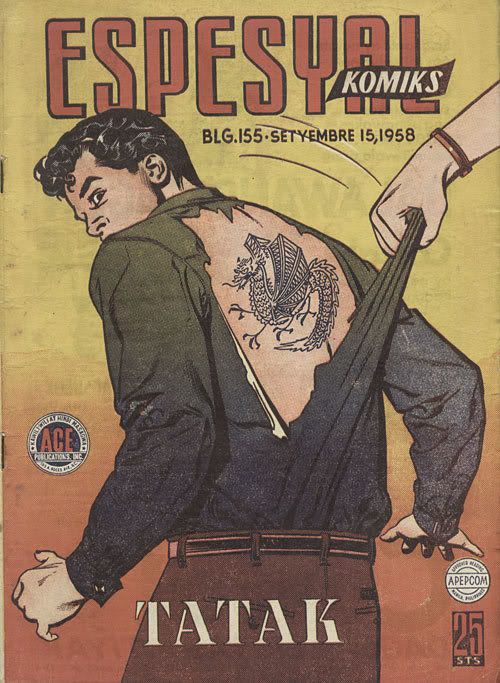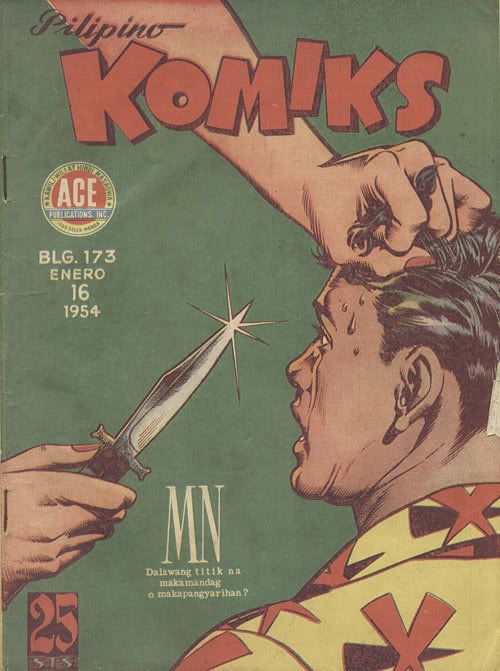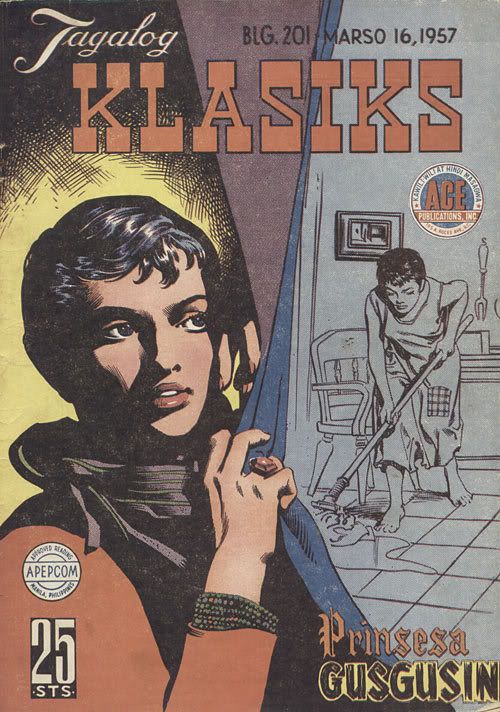 ---
---