Graphics Intensive Site.
Hit Reload or Refresh
If Not All Images Load.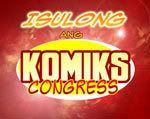 Original Art
For Sale!
Click Here!
Contact Me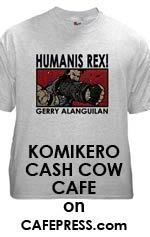 Know Your Rights as
Philippine Comic Book
Professionals!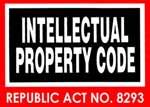 Click Image Above
or HERE for details.
RSS FEED

About Me
Current Journal
Entries

All Entries For
January 2007

Journal
Archives
2007
2006
2005
2004
2003
2002
2001
2000
1999
1998

Featured Articles

The Filipino Comics Artist
And Manga

Why No Comments?

Why Do I choose English
To Write My Stories?

Exploitation and
Self-Exploitation
in Comics

Making Mini Comics

Comics Lettering

Reviving a
Comic Book Industry

Commentary on
Anonymous Writers

Breaking Into
Philippine Comics

Preserving a Legacy and
Reviving an Industry

Featured Links

The Philippine
Comics Art
Museum


Komikero Comics
Main Site

Philippine Comics
Message Board

Crest Hut
Butt Blog
My Personal Blog

Ilyn Florese-Alanguilan
Website ng Aking
Mahal na Asawa

Doroteo L. Alanguilan
My Dad's Official Site

Emmanuel Jose
Blog Ng Aking
Dakilang Kapatid

MySpace

MyDeviantART

Blog Links



Tuesday, November 28, 2006
Posted 11/28/2006 12:45:00 AM by Gerry Alanguilan


Komikero.com Exclusive!
Tony DeZuniga Interview
November 27, 2006
San Pablo City, Laguna, Philippines
It was a great honor for me to welcome to my home veteran Filipino comics illustrator
Tony DeZuniga
. He is best known to comics fans as the co-creator of Black Orchid and Jonah Hex.
I did a short video interview with him for this site. I asked him about why he chose comics for a career, how he approaches his work, and his thoughts on Jonah Hex. Tony leaves for the US again tomorrow, but he will be back for an exhibit of his work at Megamall in February 2007.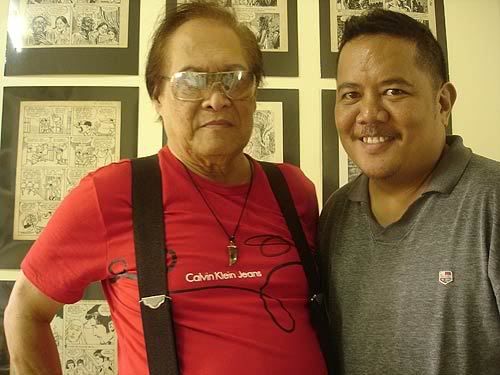 Thanks to Tony and Tina DeZuniga! More on Tony in future posts.
+
I just wanted to talk about the passing of one of my comics heroes,
DAVE COCKRUM
. I was saddened to hear of his death. He was the very first Marvel artist whose work I really liked, having seen his art on early issues of the new X-men back in the late 70's.
Reading his X-men was a mind blowing experience. It was artwork the likes of which I've never seen before. Each panel of each page was exploding with action and dynamism. Check out the fight at JFK airport between Erik the Red and the X-men in issue #97 and you'll see what I mean. Seeing Havok and Storm cutting loose like they never have before or since was one of the most exciting things I've seen as a kid, and to tell you the truth, I still get a thrill looking at it now.
Dave Cockrum remains as one of my biggest inspirations. My prayers go Dave and his family.
You were, and still are one of the best!
---
Saturday, November 25, 2006
Posted 11/25/2006 12:38:00 AM by Gerry Alanguilan
I got some press lately from some really unexpected places. This first one came from a local showbiz magazine THE BUZZ, published by ABS-CBN. Here's a scan of the page, but if you would like to see it in print, it came out in their December 2006 issue, Volume 3, Issue #12. The article is written by
Liza P. Endaya
.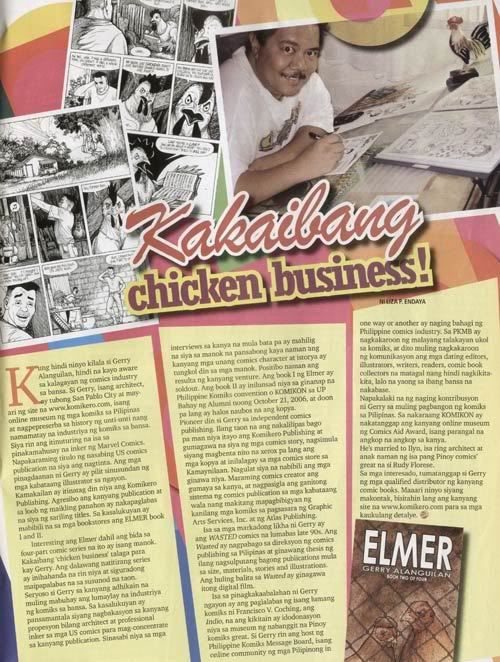 I find it really amusing to find myself in a magazine liek this. In it there's people like Katrina Halili, Kristine Hermosa, Sandara Park, Claudine Barretto, Rosanna Roces, Alessandra de Rossi and Regine Velasquez. And then there's....
me
. he.he. In the page across me is Manila Mayor's son "Kuya" Kim Atienza. I see him on TV a lot. I think he's funny looking. And I mean that as a compliment.
This next one is from, wow! Liwayway Magazine! It's written by my pal
Randy Valiente
.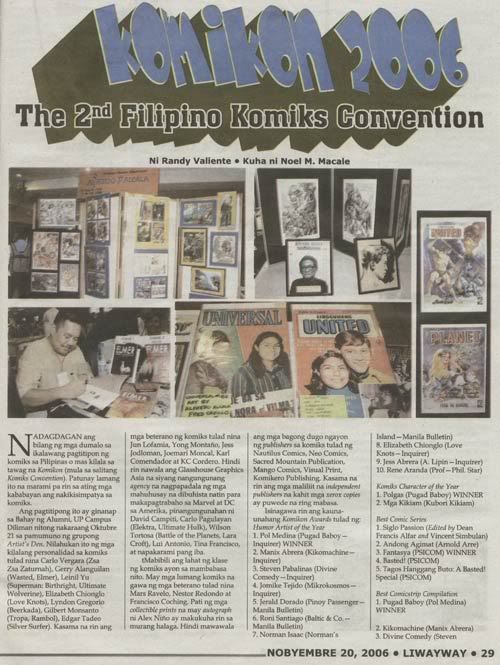 It's an article about the recent Komikon held at UP Diliman. I'm not sure if you can still buy it since it's from a week ago, dated November 20, 2006. I think it's really cool to find myself on the pages of Liwayway Magazine at last! I still plan on contributing something to them really soon.
This last one is from, curiously enough, Batangas Post, dated November 6-12, 2006.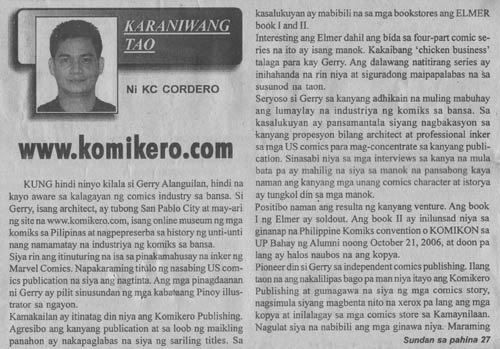 It's written by
KC Cordero
, the same guy who gave us Filipino Komiks #1, and is Associate Editor of The Buzz Magazine. KC has been doing a lot to help the komiks industry, and I find it really admirable.
One of these days I'll upload large and readable versions of these articles. I just wanted to post them to say thanks to KC, Randy, and Liza. Thanks guys! Mabuhay kayo!
---
Friday, November 24, 2006
Posted 11/24/2006 06:40:00 PM by Gerry Alanguilan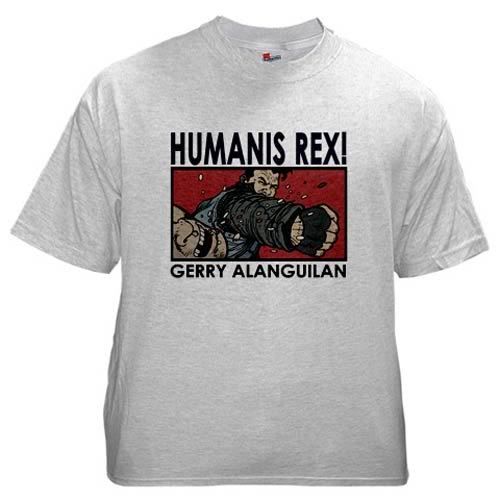 YES! Humanis Rex! T-Shirts! Not only shirts, but mugs, caps, bags and mousepads. Plus, Legend of Sampalok Lake Posters. HUGE ones. Check it out!
Komikero Cash Cow Cafe
http://www.cafepress.com/komikero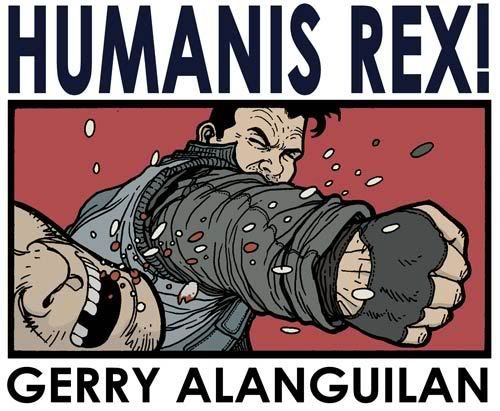 Among all the stuff I did on Humanis Rex!, I really like this particular panel. I find it hilarious. It's the design that you will see mostly in the stuff being sold at the store. Let me explain a little bit about my decision to do this.
Basically, it costs me nothing. All I do is provide the artwork. The shirts and other stuff are only put together when someone puts an order for it. The store gets its cut, and I get my cut.
It's something I just wanted to try out. It's a service that's not based in the Philippines though. I don't think there's any online company based in the Philippines doing the same thing. Cafepress is based in California. This means a couple of things.
It might be a bit expensive for those buying from the Philippines, including ME. That's right. I don't get any of these free. If I want to have them, I'm going to have to buy them like everyone else.
But for someone based in the US, these things would be easily accessible.
I plan on using Humanis Rex! Wasted, Dead Heart, Crest Hut Butt Shop, and the Lake Legends for this venture. Don't look for ELMER stuff because I won't be doing them. Don't ask.
It's also possible to do books and comic books with them. It's something I will definitely look into in the future.
Posted 11/24/2006 12:34:00 PM by Gerry Alanguilan
Message Board Closed
My old message board that used to be hosted at Delphi is now closed. Regular visitors to the message board looking to discuss komiks can do so at the new message board linked below:
The Philippine Komiks Message Board
http://komikero.proboards107.com/
If you have any questions with regards to Komikero Publishing and to my other work,
please email me
, and I'll do my best to answer you directly and if you would allow it, I'll post your question and my answers right here as well.
I had not intended to close the Delphi Forum completely. I just wanted to close it, but leave it archived and viewable, as some forums have done. But as it went, I must have pushed the wrong button and there you go, the forum is completely closed. I wish to thank all those who have visited and shared their thoughts.
Posted 11/24/2006 12:39:00 AM by Gerry Alanguilan
I'm depressed.
I'm doing research for a possible project for next year which requires a lot of information on Philippine National Hero
Dr. Jose Rizal
. I've been buying books on his life and reading them during the past few days I get sadder with each passing day. What a sad and tragic life!
It's become almost unbearable that at times I couldn't continue reading. Depressing as I find it, the near undendurable sacrifices he made all for the love of country is something I find deeply deeply inspiring.
---
Wednesday, November 22, 2006
Posted 11/22/2006 05:16:00 PM by Gerry Alanguilan
The Good News: ELMER #2
is now available at Comicquest Megamall, Basement Bldg A, Mandaluyong Metro Manila. Just ask a copy from Raquel. Thanks Mike!
In North America, ELMER #1 and #2 are both available for purchase online at
Independent Propaganda
. It's not yet listed in their online catalogue though, but they do have the stock as I write this. If you want to order now,
please email them
. Thanks to Wesley!
Once a direct link is available, I'll post it here.
+
More Good News: WASTED
is shortlisted for the
2007 Pinoy Reader's Choice Awards
for Comics at February 2007's
READ or DIE Convention
in Makati. One of the goals of the convention is to profile contemporary Philippine fiction to the reading public, to broaden the market through awareness, and it is hoped that such awareness can be achieved through the awards.
Thanks to the RODCon! As far as I understand it, I will also be participating in a forum about comics. I've already committed to participate in the convention by providing prints of old Komiks covers and artwork.
The shortlisted comics include:
*
"After Eden"
by Arnold Arre
*
"Pugad Baboy"
(Volume 1) by Pol Medina
*
"Wasted"
by Gerry Alanguilan
*
"ZsaZsa Zaturnah"
by Carlo Vergara
Ha! ha! Any one of those will (and should) beat me so easily. I'm just glad that due recognition is being given to comics as a viable art form that is worth of attention and honor. And I really have the RODCon to thank for that.
+
Thanks to Azrael Coladilla for uploading the 22-minute Komikon 2007 and Philippine Komiks program by HERO TV. It includes interviews with many Filipino komiks creators old and new including yours truly.
+
And now for the
BAD News
. The situation that resulted in my writing
THIS article
, is far from dead.
Yes, exploitation is alive and well in the Philippines.
To summarize briefly, I was contacted by an American company looking to hire me to do illustrations adapting classic stories. I was stunned at the terms given to me because they were shockingly exploitative. The terms are as follows:
1. I will get 10 US dollars per illustration.
2. According to them, based on the "work for hire" contract, they will own all original art.
3. I will not get to use my real name. I have to "Americanize" my name because as they claimed, they don't want people who read their books to know a Filipino had drawn them.
Point 1: For an American company to pay a Filipino 10 US dollars for a page of art is a crime. They even have the GALL to try to impress upon me that it's a generous amount, specifying a Filipino artist already on their payroll who is getting far less than I would.
Point 2: I have worked for many companies under the "work for hire" contract. DC Comics. Marvel Comics. Avalon Studios. Top Cow Productions. Wildstorm. Eureka. Cross Plains. They have ALL returned original art. So what are they talking about?
Point 3: Now this is just RACIST. This is simply unacceptable.
I'm bringing all this up now because I have learned that the company has managed to hire a lot of artists locally, and although I'm disappointed at the situation, I cannot blame the artists involved. 10 dollars is still 500 pesos, and for a struggling artist, specially if you're old and you have fewer and fewer options, one has to take what he can get.
What infuriates me is the blatant and unrepentant exploitation. These artists should be getting MORE. They should be treated BETTER. They should be RESPECTED and RECOGNIZED for their work.
What I found even more unbelievable is that this company has actually sought and GOT the cooperation of the Philippine government in their search for talents, even holding seminars under the auspices of a particular government agency.
I emailed the contact person for the government agency three weeks ago, but I have yet to receive a reply. Somehow, I'm NOT surprised. I'm willing to give this government agency the benefit of the doubt. They may not have realized that this company's activities are exploitative of Filipinos. But their unresponsiveness to my inquiry is indeed very telling.
---
Tuesday, November 21, 2006
Posted 11/21/2006 10:11:00 AM by Gerry Alanguilan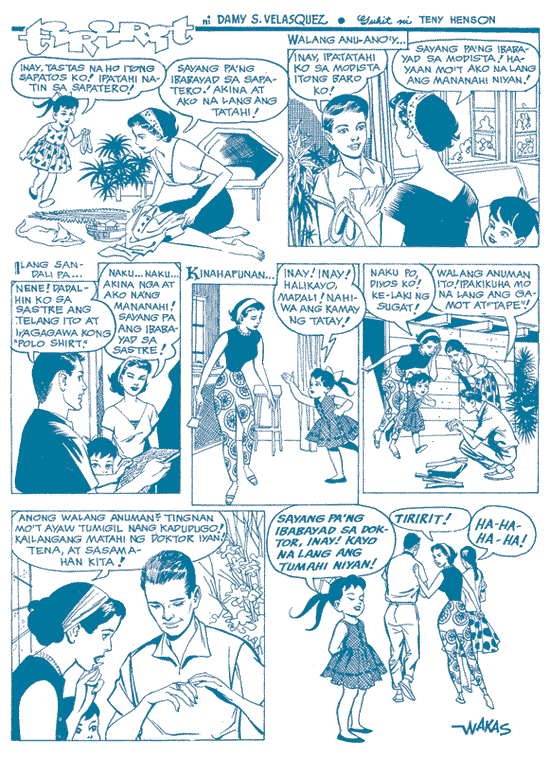 More Teny Henson Artwork
I added two more pages of art to
Teny Henson's Profile and Art Gallery
at the online museum. The above artwork appeared on the inside back cover of Pilipino Komiks #393, cover dated June 23, 1962. It really was printed in dark blue tint. The strip, "Tiririt", seemed to have been appeared semi-regularly in the comic book as one-page stories.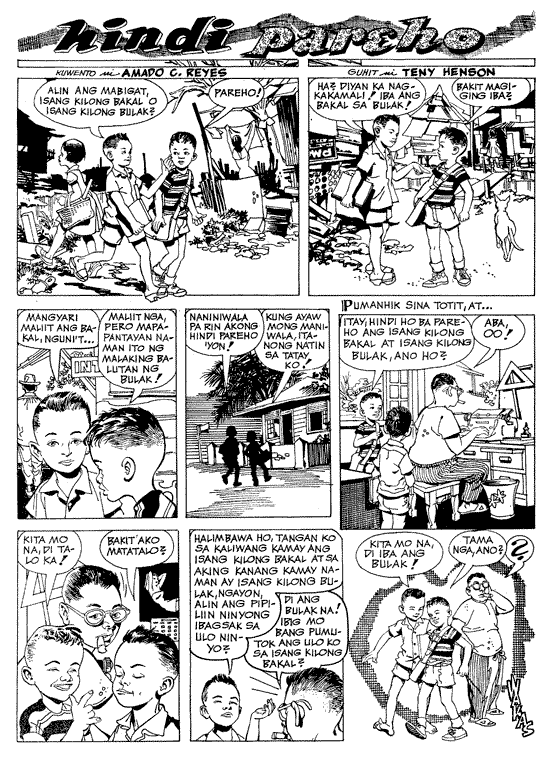 This one comes from Tagalog Klasiks #255, cover dated April 11, 1959. It's one of those one-page stories that I was sorely tempted to color, but I really didn't have the time to.
You can see higher versions of the artwork in
Teny Henson's Art Gallery
.
---
Saturday, November 18, 2006
Posted 11/18/2006 04:30:00 PM by Gerry Alanguilan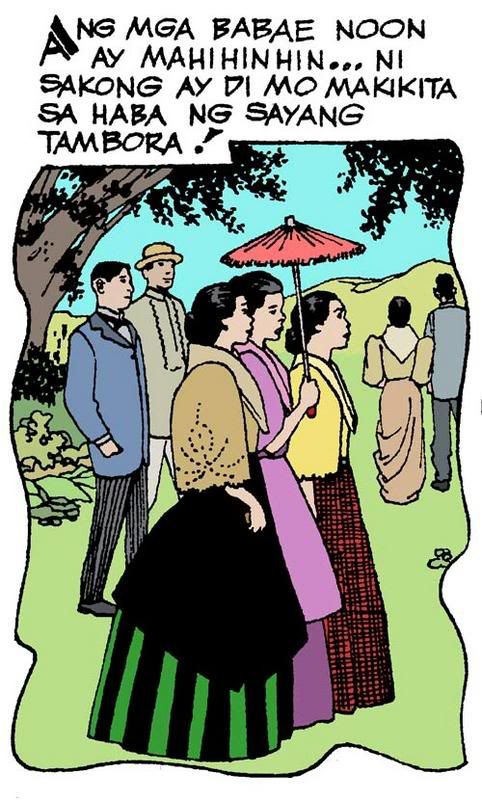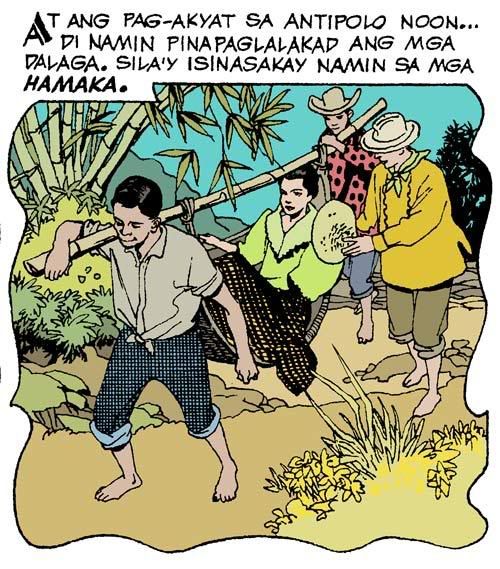 Teny Henson Art Gallery
Click Here
I just love coloring Teny Henson's work. The panels above come from his story "Kahapon at Ngayon sa Antipolo" from Pilipino Komiks #259, cover dated May 4, 1957. The simplicity and economy of Teny's line made it most suitable and most enjoyable to color.
Click Here to see the full page
.
The first thing I did was to scan the page at a very high resolution, then clean off all the dirt and paper discoloration. Next was fixing printing errors by erasing them and/or rebuilding lines. With clean black and white art, I proceeded to color the page in Photoshop. All in all, the entire process took around a day, which is probably one of the most enjoyable things I've done.
I've also uploaded Teny's profile and art gallery at the online museum. It's about time I think.
Click Here for Teny's Gallery
.
I'm appaled that it took me so long to get to it. Teny is one of my favorite artists. He is prominenty featured in my
early pathetic attempt
at a Filipino comic book art gallery.
Teny's art is unique among his contemporaries in that he never adopted the profuse shading and brushwork that characterized the comics art of the time, opting instead to use a clean line style of drawing, putting more more thought in designing each panel and each page to be aestheically pleasing.
---
Thursday, November 09, 2006
Posted 11/09/2006 11:44:00 PM by Gerry Alanguilan
ELMER NEWS
A North American publisher has expressed interest in publishing Elmer. It's something I do feel very happy about because distributing abroad has always been one of my goals with regards to Elmer. But it would have to wait until I finish all four issues. I made a personal committment to publish all four issues through my own Komikero Publishing, as well as a compilation for distribution here in the Philippines when the time comes. I went through all that trouble legalizing my publishing company, so I just might as well take it as far as it can.
Distributing abroad, however, has been rather difficult. The challenge does come from shipping huge amounts of copies to other countries, and although sending to countries such as the UK has been no problem, shipping to Canada has been something else altogether. A whole shipment to a Canadian online retailer simply disappeared. Probably it was confiscated by Canadian Customs which I hear are very strict about these kinds of things. US based online retailers who have publicly advertised their search for independently published comic books to carry have not returned my emails.
However, I am grateful to people like
Sandy Sansolis
, whose assistance in getting ELMER into a couple of branches of
Comic Odyssey
in California has just been terrific. Thanks also to
Kenny Penman
of
Forbidden Planet
for his support. Thanks also to
Ernie Agtarap
of
thepinoy.net
who will soon be making Elmer available in the New York/New Jersey area.
As challenging as I find it, I feel that I would need someone else to handle the publishing and distribution of Elmer abroad, just so I would be free to do what I'm really in comics for... and it's to create them.
For those looking for copies here in the Philippines, check out my distribution network at the official elmer site
here
.
I was asked just now why Elmer #2 isn't available yet at Comicquest. I know Comicquest is one of my biggest supporters and it's responsible for selling a great bulk of my stock. I will be making Elmer #2 available there very soon, probably sometime next week. Apologies to everyone for this delay. Right now I'm preoccupied with writing and drawing new installments of HUMANIS REX! Once I get some of that done, I will continue to distribute Elmer #2 more widely.
DLS College of St. Benilde Comics Illustration Course Update
Professor Benjie M. Marasigan Jr. of the College of St. Benilde emailed me about the entry I made earlier about the comics course I had announced. He clarified that it's still in the planning process as they wait for the CHED's (Commission on Higher Education) approval for the Bachelor of Science in Animation course for 2007. Once that is approved, they will go through the same process for the Illustration Course.
It will be a one-year course which will cover not only comics illustration, but also children's book illustration, newspaper and comic strips, editorial cartooning, caricaturing, greeting card illustration, fantasy art, etc.
Hopefully, this one-year diploma course will become a full blown 3-year degree course in illustration, an AB in Illustration.
Thanks Mr. Marasigan! Best of luck to you!
---
Tuesday, November 07, 2006
Posted 11/07/2006 10:19:00 AM by Gerry Alanguilan
A Philippine School for Comics?

I have heard word about the establishment of an actual course in comics illustration, being proposed at
De La Salle College Of Saint Benilde
along Taft Avenue in Manila.
I first heard of it from
Azrael Coladilla
, who reports in his blog of his communication with Benjie Marasigan, a professor of animation at DLS-CSB. As far as I can tell, the proposal has been submitted, and they are currently awaiting approval. If all goes well, the course will be offered at the beginning of the next school year in June of 2007.
The comics industry is a pretty strange thing. It is one of those kinds of jobs that you don't need a diploma, or any formal education, or highest marks in your transcript to get in. A dilploma in this course by no means gives you an edge over those who don't have it. It's all about the work. It's all about your art. Is it good enough? Can you turn it in on time? At the end of the day, your art is all that editors will look at. It doesn't matter if you graduate summa cum laude... if your art is not good enough, you won't get in.
HOWEVER, I still welcome a school like this because people who are interested in becoming comic book artists will now have a school in which to learn the craft and the profession. Whilce Portacio was one of the first to offer such an officially recognized course, in association with the Philippine Women's Universtiy (enrollment doesn't disqualify men). Although short lived, the school did produce a lot of good artists who have been able to work in the industry eventually.
Nestor Malgapo
also had a correspondence course, but I'm not sure if it's still operating.
Additionally, I can now have something I can refer to those who have been emailing me about learning how to do comics. It's something that can't be taught in one or two emails, but it's definitely something that can be taught at a comics illustration course such as this.
It's also a step towards legitimizing comics as a true profession in the eyes of the general Filipino public, and a definite step towards the recognition of comics as art.
So yeah, I hope they do approve it, and I thank them in advance for doing so!
+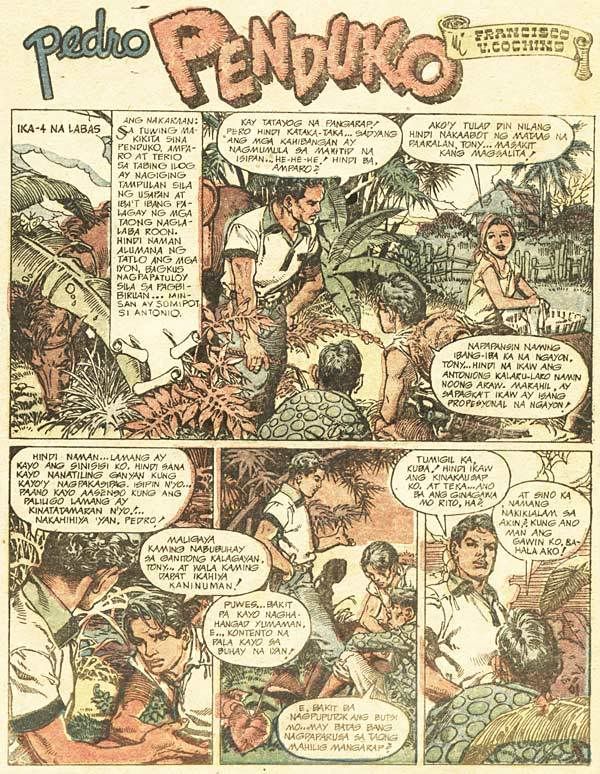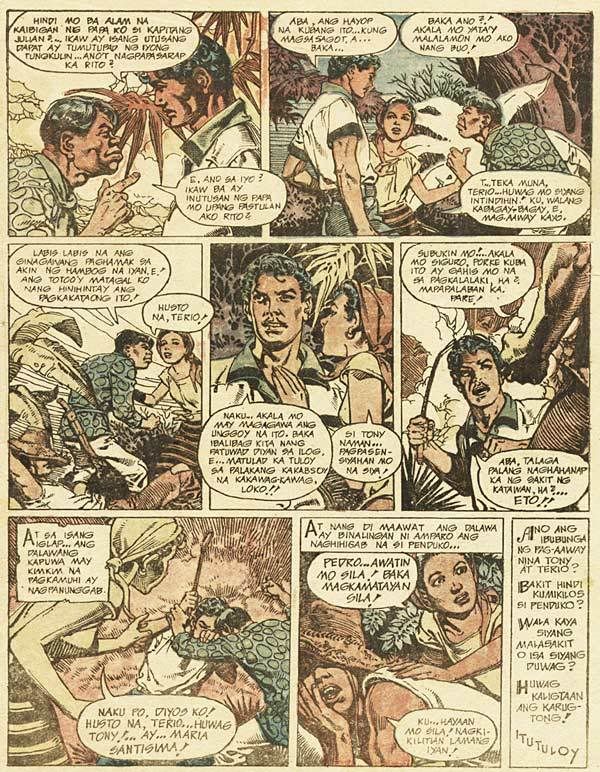 Pedro Penduko


by Francisco V. Coching
Liwayway Magazine, April 5, 1954
"The Adventures of Pedro Penduko" is currently being serialized on TV by ABS-CBN, the story by Coching that is probably his most popular, having been translated into movies several times in the past.
To be honest, I know very little of Pedro Penduko. The installment above of the story from a 1954 issue of Liwayway Magazine is my only exposure to the original story. I actually have confused the character as being part of Philippine mythology along with Bernardio Carpio. That it has penetrated so deeply in Philippine culture only speaks of it's popularity and enduring quality.
---
Sunday, November 05, 2006
Posted 11/05/2006 08:41:00 AM by Gerry Alanguilan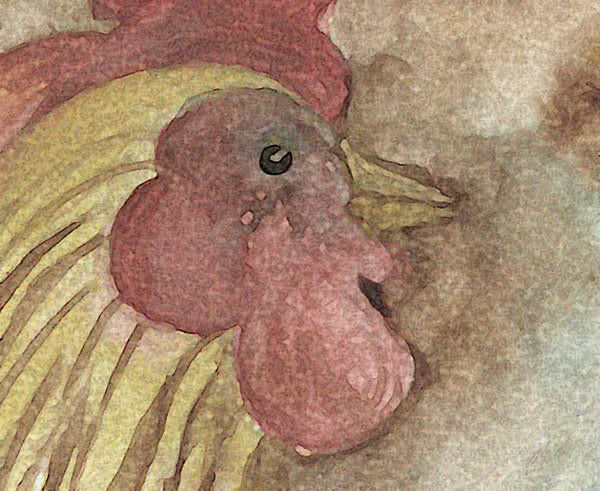 Lesley Lim
Update on the Availability of Elmer in the US!
Those in the US, specifically California, can get their copies from the following locations. Thanks to Sandy, who dropped off 25 copies of Elmer #2 for each location.
Comic Odyssey
3400 E. 8th St., Suite #106
National City, CA
91950
(619)479-0965
owner: Gerry Sansolis

Comic Odyssey
319 S. Arroyo Parkway, Suite #3
Pasadena, CA
91105
(626)577-6696
owner: Kenny So
Thanks to Lesley Lim (Antart on DeviantArt) for this painting. It's only a spot detail of a much larger painting which I will expect to use on a back cover, probably on #3. My payment for this painting will come by way of a talk I'll be giving at UST for an org Lesley is a member of. Oh maaaaan. I really don't like giving talks because I suck BIG TIME at it. It was like... it's either I talk or I don't get the painting. Ha! ha! Oh well, I might as well do it, and hope that they don't kick me out of the building.
Looks like I will also be giving another talk, this time in Bicol sometime early next year. What is *wrong* with me? It's like I got this big stone and dropped it on my head. But it did seem interesting to me and to travel to Bicol is something I haven't done since 1983.
I may have found a solution to this talk business though... I wonder why I didn't think of it before. More on this later.
+
This is an interesting email from Jim Arroyo of Quezon City, and his analysis of Elmer #1 and #2. I put it here unedited. I had already replied to Jim directly. What follows after the letter is a reworded and expanded reply I had sent to him.
Dear Gerry,
One of my biggest regrets as a comic book collector is that I didn't get to pick up Wasted when it first came out. When I saw "Elmer" at one of my regular comic haunts a few years ago, I seized the chance to get what is some of your most beautiful artwork so far.
I love the premise; it has a Kafkaesque appeal to it. What if you woke up one morning as a giant cockroach? What if you woke up one morning and chickens were suddenly as smart as humans? Such hypotheticals are the stuff of great absurdist fiction.
I have a problem, however, with the execution of this premise. It seems that rather than embrace the absurd, you seem unduly preoccupied with trying to achieve some sense of verisimilitude, creating what Warren Ellis would call a "white event" to explain how the chickens populating this world came to be this way, and playing the "racism" angle to the hilt. I mean, maybe you should be a little less like Rising Stars and a little more like The Metamorphosis. Some people say that Stuart Little, as a story, lost a bit of its charm when, in the movie, the writers went to great pains to show that he was adopted by the littles, whereas the book basically just introduced him as, well, a Little, no questions asked. I honestly think you may have been better served by this kind of approach. This notwithstanding, I'm still curious as to how you'll wrap up the talking chickens' origin story.
Another problem I have with this book is how thoroughly unlikable a character I find Jake, your lead, to be. Whether it's his annoyingly adolescent dialogue or his rather irritating self-righteousness, I find myself feeling very little sympathy for him. Your Wasted lead was a lot easier to relate to. THAT guy was like the Michael Douglas character from Falling Down on steroids, and his indignation was palpable, because people could understand where it came from.
The discrimination taking place against chickens is clearly meant as a nod to racial discrimination in one form or another, but the lead character is such a freaking hypocrite that it tends to blunt any real resonance the device is meant to have. I mean, look, Jake has a problem with his sister marrying a human because they used to eat chickens, but he whacks off to the image of a human bold star? What if she ate chickens too? Furthermore, he despises people for once having eaten his species, but reminisces on how much he loves to eat his mother's duck? Shouldn't a member of a formerly oppressed species be a little more sensitive to other species still being gobbled up?
You see, in an absurdist, or maybe even comical milieu, Jake wouldn't come across as such a jerk. It would actually be funny that chickens eat duck. The problem is that this story seems to take itself a little too seriously. Maybe I just don't get what you're trying to say here, but on the other hand maybe you're trying too hard to justify your premise of talking chickens, which is causing you to make all sorts of character inconsistencies.
Storytelling flaws aside, I have to, I meant just HAVE to heap praises on your art. In all honesty, Gerry, I think you are better at rendering than just about anyone else in the comics industry as a whole, even Travis Charest. The quality of your artwork, specifically its consistently original look in an industry where people are either ripping off images from Manga or from Jim Lee comic books, just stands out on each and every page, and Elmer is a visual treat unlike anything else in the market right now. I intend to follow this story until its conclusion, and so I hope you take this as encouragement to finish issues #3 and 4 as soon as humanly possible!
Jim Arroyo
Quezon City
Hello Jim!
Thanks for your reply and the thoughtful analysis of Elmer! I do have to admit, I haven't seen Stuart Little, The Metamorphosis or read Rising Stars, and I don't know what is meant by "Kafkaesque". A friend of mine, Mark Gatela, also made reference to this Kafka fella with regards to Elmer so I'm now officially curious as to what this is all about. Looks like I'll have to Wiki it. I only mention it to let you know that I most likely won't get the reference.
I actually tried to avoid watching talking animal movies, specially those involving chickens so my head will be clear of anything that others have done.
Jake is a pretty complicated character. He's pretty absurd himself, and full of inconsistences. One of the things I tried very hard to do with all aspects of Elmer is to not fall into cliches, tricks that other people have done, and present characters we have seen many times before. As such, I tried to create characters that don't fall easily into categories or labels. To do that wasn't too difficult. All I had to do was look at people. And myself. Many people have tried to pigeonhole me into certain categories and labels, but none of them really applied to me because I'm a huge grey area. And I believe everyone is a huge grey area, full of inconsistencies and yes, I believe we all are hypocrites to varying degrees. Some more than others and some less than others.
Consider foreign dictators saying they hate America and yet they have a library full of Hollywood DVD movies, or priests and preachers teaching the word of God by day and be pedophiles by night. I have no doubt that someone who openly embraces other races would harbor slight but deep seated and deeply buried prejudices of his or her own.
Deep down inside I really think everyone has certain degrees of inconsistency and hypocrisy in themselves that they will be rather caught dead than admit. It really is hard to like and sympathize with someone like Jake because maybe, just maybe, he reflects a truth about ourselves we try to suppress and ignore.
It may be too quick to consider these inconsistencies "flaws", but I do understand your concerns. Whatever flaws that may be seemingly apparent and obvious, it is only a reflection of the flaws I have observed in people, and they are things I fully intend to tackle in future issues.
For instance, chickens and ducks.
Yes indeed, why would chickens eat ducks like there was nothing wrong with it? The first issue contains several references to ducks being eaten, and I intentionally made a point to emphasize it. Rest assured there is an explanation for that, which I would rather say in the telling of the story rather than here.
Taking the story very seriously is actually an objective I'm trying to achieve. I wanted to postulate a truly absurd notion, and yet treat it as realistically and as seriously as I can... and see what happens.
Does it work or not? I really can't say. It really depends on who is reading it and what their opinion about it is. As for me, as seriously as I may be taking it, I'm actually having lots of fun. I really have just begun to tell the story, and I'm just beginning to expound on my ideas about this world. Come back again after it's all done and let me know what you think. Although I know how the story goes, it still surprises me just what happens when I finally draw it. I really can't say how it will ultimately read when it's all done myself.
As for me beating the crap out of Travis Charest in the art department, now that's the one thing completely absurd about your email. Now I'm sure you must be on drugs of some sort. Bonamine perhaps? I jest, and although I don't believe that of myself, I appreciate the compliment. I still have a long way to go as an artist, and I still have lots to learn. I don't think I'll ever be satisfied with my work, and looking at Elmer #1 and #2, although I know I did my best, I know I can do much better. Hopefully, I will always be unsatisfied, because I know it's the only way I'll never be complacent.
Posted 11/05/2006 12:32:00 AM by Gerry Alanguilan
Druid's Keep 2nd Anniversary/Trip To Magallanes
Komikero Video Blog #16
Thanks and congrats to Felix Cua on the 2nd Anniversary of his comics store
Druid's Keep!
I hooked up with
Gilbert Monsanto
, who was promoting and signing his new comic books TROPA and RAMBOL Komiks. I've had some long meaningful conversations with Gilbert on the state of the comics industry in the Philippines and how to possibly make it better. It is our hope that a profesional comics convention, one that would bring together those currently working in comics today to discuss such matters, would indeed push through for next year. Here's a photo of Gilbert and me outside the store.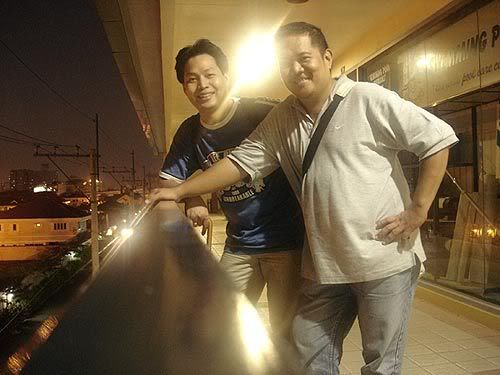 Just got back home and put the video quickly together so I can go to sleep. Tomorrow I continue working on Humanis Rex. I'll be doing three installments one after the other to prevent any more "skips". I'll continue working on Elmer #3 after that. More Elmer news and art tomorrow!
Good night!
---
Friday, November 03, 2006
Posted 11/03/2006 01:14:00 AM by Gerry Alanguilan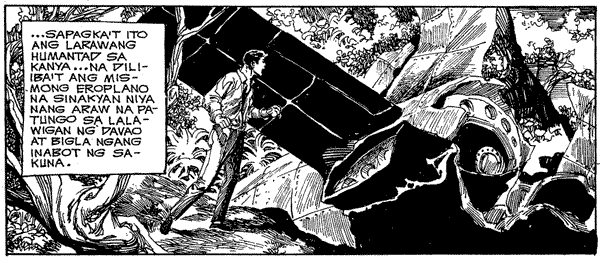 Abe Ocampo
Abe Ocampo's Profile and Art Gallery
has just been uploaded at the online museum. Ocampo has worked an incredible 49 years in comics. He started working straight out of high school in 1957, and he is still drawing comics today at Liwayway, lending his pen to draw the adventures of SuperMando, as written by RR Marcelino.
+
I just finished the thing for Gilbert's TROPA, as well as a short article on inking. It's been almost a year since I inked anything I didn't pencil. It was enjoyable, but that's probably because it was only one page. I would have probably freaked if I were to ink another. It's a pretty nice page and it can be seen in the second issue of TROPA.
+
There are a couple of interested parties in the US with regards to publishing ELMER. I'm committed to publish all 4 issues of Elmer as well as a compilation for Philippine release through Komikero Publishing, but I had always hoped to find an interested pubisher for its compilation abroad. The logistics of distributing worldwide on my own is simply quite staggering, not to mention poverty inducing. It's been very challenging so far, distributing Elmer as far as I could, and although it's been hard, it's definitely very rewarding and satisfying.
Here in the Philippines, I now have someone who will distribute in Davao for me. His name is
Ruel Sarmiento
, and if you are in
Davao
and you are interested in getting a copy of both Elmer #1 and 2, you can email him at this address: darthleur13(at)yahoo(dot)com. He won't be getting his stocks until Saturday or Monday though.
I'm now currently working out possible distribution in
Dagupan City
. I'll talk about it here if and when it gets finalized.
+
HERO TV came to visit me last October 30 for a short interview on Philippine Comics. I took some footage of their visit which you can see below:
They interviewed me for something like 15 minutes, and based on my previous experience on things like this, I think you'll see me in the show for maybe 15 seconds. Which is perfectly OK because I'm sure they interviewed a lot of other people, and I'm sure they really don't have much time, considering they will be showing these interviews along with their Komikon coverage.
You can see the show at Hero TV for four Sundays beginning November 5 at 8:00pm.
Probe Team also interviewed me via email for their November 1 show on myths and legends. I don't know how they incorporated an email interview into the show, and I didn't have the chance to find out because I completely forgot. I must have been completely wiped out after going around several cemeteries, visiting relations that have passed on.
And me with with the now ever present camera, took some footage of that as well...
All this video thing is becoming a bit crazy. I better unplug and hide the damned thing before it takes me completely over!
---
Wednesday, November 01, 2006
Posted 11/01/2006 07:50:00 AM by Gerry Alanguilan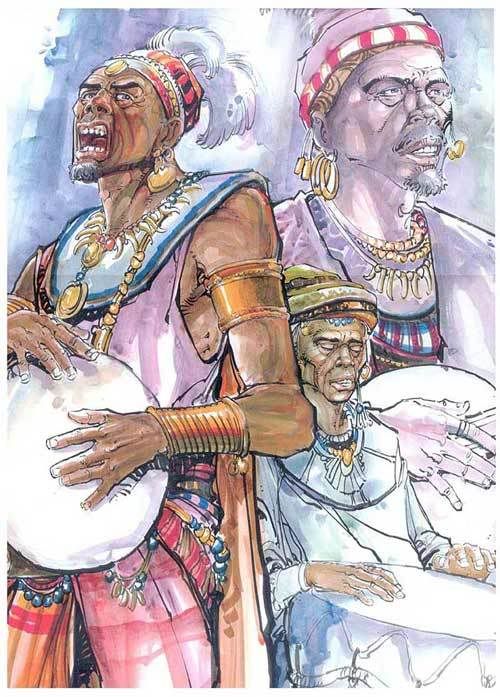 Jun Lofamia
After regularly featuring Jun Lofamia in this blog for the past couple of years, I've finally uploaded his gallery up at the online museum.
Click Here
.
Next!
Abe Ocampo
Also uploaded within the past week includes an updated profile/gallery for
Alex Niņo
as well as
Ernie Chan
.
+
I find it surprising that a lot of really well thought out and well researched writings have popped up about Wasted. I was just talking about Wasted in the last post. I just had uploaded it when someone told me about this link:
Wasted Review
by Lyde Gerard Villanueva
http://lamentationsandpassions.blogspot.com/...wasted.html
I looked around and I found one more...
Wasted Review
by Dirg
http://ofbeerandpen.blogspot.com/...wasted.html
There was an other one by "Anrev" (Verna), that I had bookmarked for later reading, but she has since taken it down.
Those three all referenced Ateneo de Manila
Professor Soledad Reyes's essay on Komiks
, and all three of them seem to know each other (based on their links).
I'm glad they chose to write about Wasted because it helped me look at it from different perspectives, as I myself am trying to understand just what about it that seemed to connect with people. I wish Anrev brings the article back up, just so I can read it more fully.
---
---