Graphics Intensive Site.
Hit Reload or Refresh
If Not All Images Load.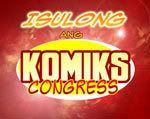 Original Art
For Sale!
Click Here!
Contact Me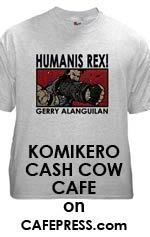 Know Your Rights as
Philippine Comic Book
Professionals!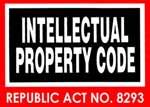 Click Image Above
or HERE for details.
RSS FEED

About Me
Current Journal
Entries

All Entries For
December 2006

Journal
Archives
2007
2006
2005
2004
2003
2002
2001
2000
1999
1998

Featured Articles

The Filipino Comics Artist
And Manga

Why No Comments?

Why Do I choose English
To Write My Stories?

Exploitation and
Self-Exploitation
in Comics

Making Mini Comics

Comics Lettering

Reviving a
Comic Book Industry

Commentary on
Anonymous Writers

Breaking Into
Philippine Comics

Preserving a Legacy and
Reviving an Industry

Featured Links

The Philippine
Comics Art
Museum


Komikero Comics
Main Site

Philippine Comics
Message Board

Crest Hut
Butt Blog
My Personal Blog

Ilyn Florese-Alanguilan
Website ng Aking
Mahal na Asawa

Doroteo L. Alanguilan
My Dad's Official Site

Emmanuel Jose
Blog Ng Aking
Dakilang Kapatid

MySpace

MyDeviantART

Blog Links



Tuesday, October 31, 2006
Posted 10/31/2006 02:21:00 PM by Gerry Alanguilan
DRUID'S KEEP 2nd Year Anniversary


ELMER SIGNING
3rd Floor Gateway Mall
Magallanes
November 4, 2006
2pm to 6pm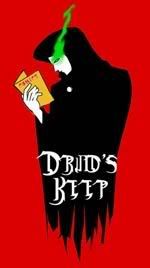 I'll be at Druid's Keep this Saturday for Druid's Keep's 2nd Year Anniversay. I'll be around to sign copies of Elmer #2. For those who want to go, Druid's is in the small mall in Magallanes where Rustan's is. Go behind that building and you'll see stairs and an elevator. Druid's is on the 3rd floor. The owner is Mr. Felix Cua. Nice guy! When you visit, he will most likely be the one behind the counter. Very knowledgable abut comics and is willing to order anything you like.
+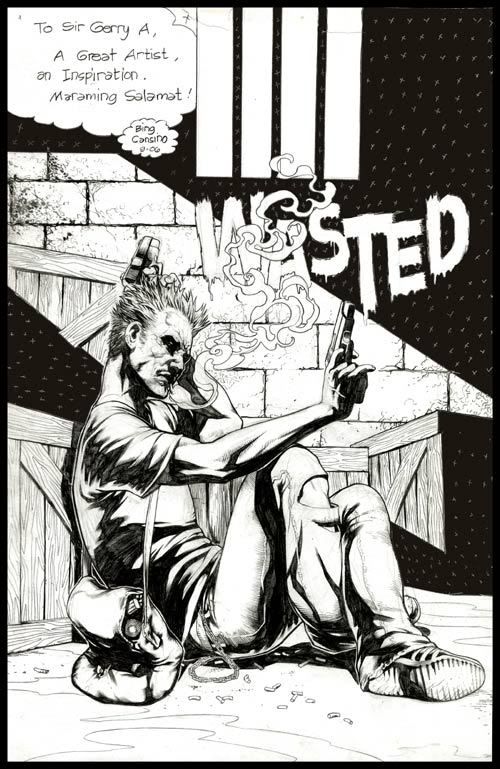 That's a drawing by
Bing Cansino
. Thanks pare! The first time I saw his work was on the pages of Hiwaga Komiks in 2004 and I was immediately impressed. I thought he had amazing potential. I wrote him a letter (on paper) and got a reply some time later. We've since exhanged emails, but I've actually yet to meet him. He's currently working on a comic book called "The Innocents" with colorist Edgar Tadeo.
I'm really amazed at how people still write to me about Wasted. Clearly, it has a life far longer than I had thought it would have. I began writing and drawing it in 1994 (12 years ago!) and finished it in 1996. I never imagined I'd still be talking about it, still receiving emails and artwork about it 10-12 years later. Really, sometimes I don't know how to react. So I'll just post them here.
I talked to Ilyn about Wasted, and if things push through, I might have a special Wasted-related project after finishing Elmer. Let's see.
Below is another Wasted artwork this time from
Josef
from MySpace.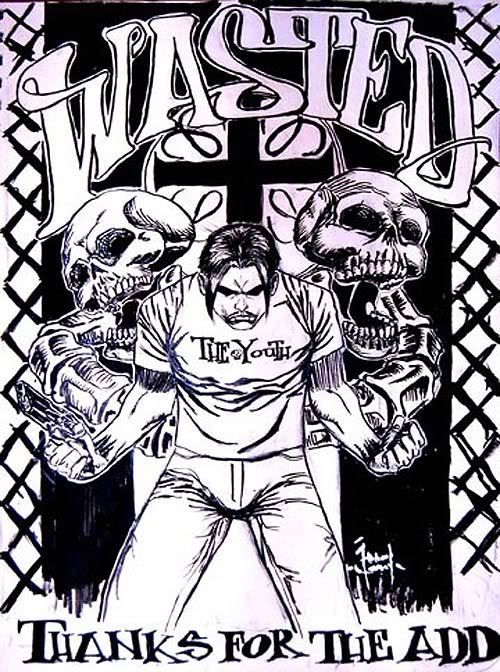 Thanks Josef!
+
Here's art for ELMER by my pal and Komikero Henry Anima II. Thanks Henry!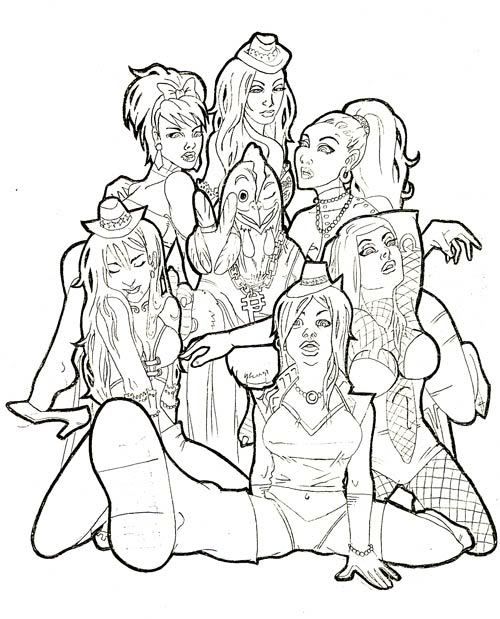 ---
Sunday, October 29, 2006
Posted 10/29/2006 11:14:00 PM by Gerry Alanguilan
Komikero Meeting for October
Got a bit rained out at the meeting. It wasn't raining too hard, actually it rained only very slightly but it prevented us from bringing out our sketchbooks anyway and just hung around beside the lake taking pics and videos. At least that's my excuse. I'm growing more fascinated with putting together videos in my free time. Here's the one I made for today.
Back at the house by 4 in the afternoon, those in the meeting including me, Raipo, Jonas and Rod came up with a really interesting project for Komikero for December. Unfortunately, there's space for only 3 more Komikeros for the project, so I hope some of them who don't get to participate feels too badly. It's nothing personal, but I hope I can come up with a selection process that would be fair. Drawing straws or names from a box probably. Once the names are selected, I'll talk more about the project here.
I'll have to prepare a little bit for tomorrow. Hero Channel is coming over for to do an interview. There's a typhoon coming, stronger than Milenyo, I hear, but thankfully it wouldn't pass anywhere near us. Still, I hope they don't run into problems getting here. I'm gonna have to do some major cleaning outside so it won't be too embarassing.
---
Saturday, October 28, 2006
Posted 10/28/2006 10:32:00 PM by Gerry Alanguilan
The response to my "
Call for Volunteers
" for Elmer's nationwide distribution in the Philippines has been very encouraging. I'm pleasantly surprised that there is even some bit of interest from Filipinos in the US. I really hope that pushes through.
Right now I can confirm that I have a distributor in
Bicol
, specially if you are in
Naga City
or
Iriga City
. If you are in the area, please feel free to get in touch with
Rizaldy Manrique
at this address: aldyboy21(at)yahoo(dot)com. Aldy is a really nice guy (I would not have dealt with him otherwise) kaya wag kayo mahiya kontakin sya. :)
If you are curious about or interested in what this "Call for Volunteers" thing is,
click here
.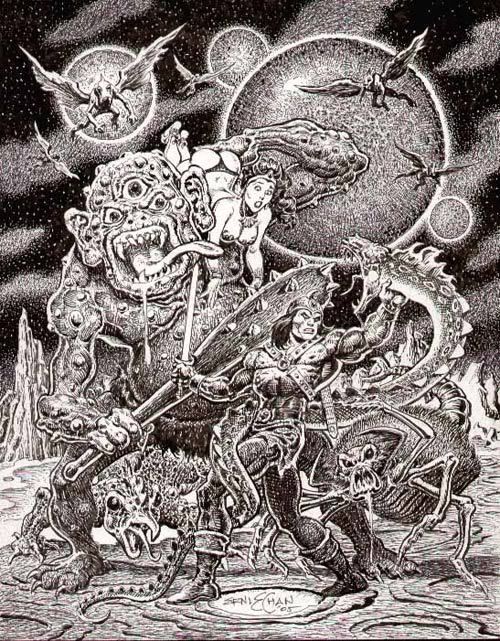 The Philippine Comics Art Museum Online has once again been updated, this time with the addition of Ernie Chan's profile and gallery page. Click the image above to go to the site.
+
Let me close this post with a marvelous bit from Neil Gaiman's blog, about his reaction to a non-comics writer's assertion that comic books do not deserve to win or even be nominated for awards meant for "books".
The bold text is from a reader named Shawn and the regular text that follows is Neil's reply.
************************
Neil --
Tony Long of Wired news recently offered an editorial (
http://www.tinyurl.com/yk8z89
)
in which he takes offense at the nomination of Gene Luen Yang for a National Book Award for "American Born Chinese", a graphic novel -- Long argues that no "comic book" (his words) should be nominated for an award intended for a "real novel". What is your opinion about graphic novels being nominated for (and poteintially winning) major literary prizes?

Shawn
I suppose if he builds a time machine he could do something about Maus's 1992 Pulitzer, or Sandman's 1991 World Fantasy Award for Best Short Story, or Chris Ware's Jimmy Corrigan winning the 2001 Guardian First Book Award, or even Watchmen's appearance on Time's Hundred Best Novels of the 20th Century list. Lacking a Time Machine, it seems a rather silly and antiquated argument, like hearing someone complain that women have the vote or that be-bop music and crooners are turning up in the pop charts.
I like the bit where he says that he hasn't read the comic in question, but he just knows what things like that are like. It's always best to be offended by things you haven't read. That way you keep your mind uncluttered by things that might change it.
*******************
And this is why Neil Gaiman is such a terrific writer. He knows exactly what to say, and says it cleverly and brilliantly.
---
Friday, October 27, 2006
Posted 10/27/2006 12:21:00 AM by Gerry Alanguilan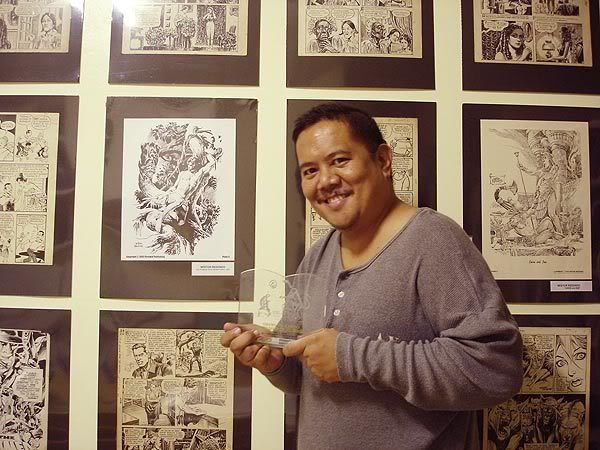 Philippine Comics Art Musem Online
"Comics Aid Award"
Komikon 2006
I'm happy to announce that the online museum has won the "Comics Aid" Award at the recently held Komikon 2006. Thanks to Komikon and to all those who voted for my site! I definitely will continue doing what I've always done with the site in the couple of years its been online.
Speaking of which, the online museum has finally been transferred, fixed and updated, after moving service providers a few months ago. I'm not sure if everything is completely OK, so I'd really appreciate if anyone could inform me of any broken links. Thanks!
This update comes with a major update of
Alex Niño
's profile to conform with the online museum's established profile format.
Click here
to go directly to Alex's profile and gallery page.
From this time on, the Philippine Comics Art Museum online can be found at this address:
http://www.komikero.com
is still active, and will point to the above address when the musem link is clicked.
You will find though, that the previous address, komikero.com/museum may still work, but the links there have not been corrected, and I will be taking down its content in a few months.
Now that the site has been fixed, I will continue to update it on a weekly basis. Profiles that will go up in the coming weeks will be those of
Ernie Chan, Abe Ocampo
and
Jun Lofamia
.
+

Filipino Comics In the News!
Heidi MacDonald
of
The Publisher's Weekly's The Beat
has a feature on Philippine Comics, focusing on the recent Komikon, Bemjamin Ong Pang Kean's Newsarama articles, the online museum, as well as ELMER! Yeah! Thanks very much Heidi!
Indicentally, Heidi MacDonald is the co-author of Alfredo Alcala's art book "Secret Teachings of a Comic Book Master" and a former DC Comics editor (Vertigo).
---
Thursday, October 26, 2006
Posted 10/26/2006 12:57:00 PM by Gerry Alanguilan
The very first regularly published comic book in the Philippines,
HALAKHAK KOMIKS
(1946), lasted only 10 issues. The main problem had to do with distribution, about getting comics out there nationwide and then getting paid for it.
The problem is still true today with the many new publishers emerging in the wake of the old industry's demise. For a self publisher based in San Pablo City, Laguna, how in the world am I going to get my comics sold in Zamboanga, or Baguio or Laoag?
And that's where you guys who regularly visit this blog come in. I need volunteers for an experiment in an alternate form of distribution. This is how it works...
If you are based anywhere outside Laguna or Manila (that's because Laguna and Manila are already covered by me), and you agree to be a distributor,
just get in touch with me through my contact form
.
The deal is basically this... you would buy copies from me outright where I will give you a discount, then I will send the copies to you via Air 21 at my expense. Payment to me is to be deposited at any Metrobank branch. Now it depends on you how much you will ultimately sell it. Sell it for more than retail price if you need to, but hopefully not too much.
I will announce at my message board and at this blog that ELMER is available in your area, be it Baguio, or Davao, or Zambales or Pampanga, through YOU, and I will provide them with your contact information, be it email, landline or cellphone. Indicate to me if you are willing to share your phone numbers publicly, if not, I will only provide your contact number to the specific person who inquires.
It depends on you how you get the copies to your buyers. You can either meet them or mail them. If you have a store you can display it ...whatever you like.
You can order anything from 5 copies and above. An order of 15 copies or more comes comes with 2 free signed copies, and a free ELMER sketch! An order of 5 copies of more comes with 1 free copy and an ELMER sketch!
If you order less than that 5 copies or if you just want to order ELMER from me directly for your own personal use, then you still get the free sketch. Unfortunately, personal orders don't come with a discount.
In this way, an alternate distribution system will be set in place. Who knows, as this industry grows, you could accept more titles from other creators, and maybe this will turn out to be a good business. And you would also be helping not only me and Komikero Publishing, but helping uplift the comics industry as well! Let's all see! There's no harm in trying! :)
If you have any questions, comments, suggestions, please feel free to
get in touch with me here
.
Thanks to
Rizaldy Manrique
for being the first one to volunteer. Actually, he gave me the idea to do something like this. Aldy is from BICOL, so anyone based in Bicol, specifically NAGA, would soon be able to get copies from him. This is his email: aldyboy21(at)yahoo(dot)com.
Posted 10/26/2006 08:41:00 AM by Gerry Alanguilan
Elmer #2 Availability
As of today, Elmer #2 is available here:
Comics Odyssey
3rd Floor Expansion Mall (Near Kenny Rogers)
Robinson's Galleria, Ortigas
Comics Odyssey
3rd Floor, Pedro Gil Wing
Robinson's Place, Pedro Gil
Malate
Skybucks
Theater Level, SM Fairview
Druid's Keep
3rd Floor, Gateway Mall (where Rustan's is)
Magallanes
And in a few days, it will be available in the USA at:
Comic Odyssey
319 S Arroyo Pkwy
Ste 3 Pasadena,
CA 91105-2547 (626) 577-6696
Comic Odyssey
34000 E. 8th St.
Suite # 106
National City, CA
Around November (announcement pending), it will be available at branches of
Forbidden Planet
across the UK, as well as their online shop.
More venues will be announced right here as I confirm them.
Thanks to Sandy, Felix, and Kenny!


WHILCE PORTACIO IN MANILA, 2007!

Looks like Whilce is coming back to promote his newest projects, his return ot Wetworks and Batman: Confidential. If you're a fan of Whilce and wonder where's gone, I strongly suggest you check out his new Wetworks (out now!) and wow, he's really back. This is the best art I've seen him do so far. And his writer, Mike Carey, is this critically acclaimed writer of Vertigo's LUCIFER.
For more info on Whilce's upcoming visit, check out this site:
http://popazrael.com/whilce/
---
Wednesday, October 25, 2006
Posted 10/25/2006 08:31:00 AM by Gerry Alanguilan
The webmaster of a blog called
Nostalgia Manila
got in touch with me recently to let me know of his site. When I went there... wow! It's like driving down a huge memory lane, if you grew up in the Philippines, that is. It features bits and pieecs of popular Philippine pop culture and then some, from the 1960's to the 1980's.
As some of you who read my work, you will probably notice I like looking at the past a lot, or at least give importance to past events because it affects us today.
I'm also one of those guys who feel that I was born in the wrong time. I would have probably fit much better had I been born at least 2 decades earlier. There's a lot of stuff in those days that are incredibly cool. Today everything is plastic and electronic and always wanting to do stuff in a hurry.
I don't want to live in the past either so those ruminations I induldge myself only once in a while. I do think there's great importance to our past, and the need to preserve it, so that it would inform our lives and what we do and write and create today and in the future.
The online museum has just been featured in the site. Please feel free to visit, and if you are someone older than maybe 30, you'll get a kick out of a lot of things you'll find there. :)
NOSTALGIA MANILA
http://nostalgiamanila.blogspot.com/
---
Tuesday, October 24, 2006
Posted 10/24/2006 11:02:00 PM by Gerry Alanguilan

Komikon-Epilogue

What a pretty nice day it was, the Komikon. It's one of those days you feel truly great about comics and feel great about being involved in it. I think we've all formed a really cool community there and although there are a few times we don't all get along, I think that friction, for whatever reason, can really push us to create more and better things.
But now the Komikon is behind us, it's time to move on and get back to work. For my part, it will be a full two weeks of almost nothing but Humanis Rex! Before that though, I have to write a first draft of Elmer #3, which will probably take around 2 to 3 days. I already know what's going to happen, but ideas came to me while I was washing dishes, ideas that solved a lot of things that was bothering me about the story.
There's an inking thing I'm going to be doing for Gilbert's TROPA. It's only one page, so it's OK. And I'm only doing it because Gilbert's a pal, and I'm really happy and proud of his determination to make comics his career. I've talked to KC Cordero of Rising Star about doing something for Filipino Komiks and I think I may have just the thing. Then there's that short story for Liwayway. I'm really excited about that one!
In mid November, I'll continue working on Elmer #3, fleshing out and polishing the script. Hopefully I'll have begun drawing it towards the end of November. I'm looking at a January release. Maybe.
+

To all those who met me at the Komikon, please accept my utmost apologies. Why am I apologizing? I'll write a little bit about the Komikon experience from my personal point of view. Please bear in mind I say none of the following as a complaint, as there's nothing about meeting people at the Komikon I can complain about. You were all terrific, and I was well, really just out of my mind. Literally.
I've had little sleep in the last week or so before Komikon, and I was a little dazed but excited to be there. In short, I was sort of... well... high. But not in the medical sense.
In my normal life, there's just me, my wife Ilyn, and our dog Eugene. A couple of times a week I'll probably see my folks. I'd talk to one or two neighbors a couple of times a week, and talk to the old woman at the sari sari store. I get to meet Zara, Jonas, Raipo and the other Komikeros once a month. But for the most part, it's really just me, Ilyn and Eugene. And some chickens roaming outside. You know, such is the life of a comic book artist. It's pretty isolated because there's so much work to be done and it's a job that you can take home so naturally I do it at home.
Once in a while, probably 3 to 4 times a year, there's a big activity where I meet all sorts of people. Other pros, readers, mostly people I'm meeting for the first time or people I've met before at other signings. But those interactions are for the most part brief and there's another face soon after the previous one has moved on. The big trouble with me is that I'm forgetful. A lot of my friends would testify to that. There are some things I can remember clearly, like what I did in the summer of 1983 in Goa, Camarines Sur, but I forget what I did two weeks ago right here in the house.
At signings, I meet a lot, and I mean a LOT of people. And since I'm forgetful, I really have to admit, I won't remember all your names. I'm bound to remember your face if I met you before because I do remember faces a lot more, but I'd probably struggle to remember your name.
This happened to me a lot at Komikon. And I hope that those who had their comics signed didn't get too hurt when I asked them their names when I had already asked them at previous signings. At my worst, there was one guy who had his comics signed earlier in the day, and I forgot his name when he had something else signed later that afternoon. I'm really sorry about that. Is there a pill I can take for this or something?
Another thing I want to apologize for is not being able to talk more to those people who came over to meet me. During events like this, I'm literally pulled into many directions. I'd be talking to one person and there's two others calling me as well. I wish I had three heads, but that probably would have scared the bejeezus out of everybody.
I felt bad that I wasn't able to talk to Karl Comendador a bit more, after he came to meet me at my table. I promise I'd visit him at his table, but I didn't see him any more after that. I also felt bad that I wasn't able to talk to Jun Lofamia more as well. I never had the chance to interview Reno Maniquis for the video coverage, as well a lot more other people I wanted to talk to. I didn't even see people like Joanah Tinio, or Michael David, or Pol Medina? Was he there? I wasn't sure. I heard he was. I guess it only goes to show how crazy it was, and how noisy it was. I really had no idea what was going on in the stage. Syeri had to come up running to tell me I had won the award for Comics Aid for the Comics Museum. WOW! I babbled out a few words and went straight back to signing at my table.
I've had to leave the table once in a while to check out what I could for the Newsarama report, take videos for my video coverage, eat, piss, brush my teeth, and really just take a breather. Even at the CR people would want to talk to me, which was hilarious.
I really must thank Wilmark, Sandy Sansolis, Sir Boboy Yonzon and the other people who bought original art. Leinil was probably shocked when he saw how inexpensively I was selling some of my art, some of them were from Superman: Birthright, Silent Dragon, Batman/Danger Girl, X-Force and Stone. Those were Komikon-only prices of course, and I won't be selling them as inexpensively at any other time. I just wanted to be able to give people the opportunity to own some of these, people who would not have otherwise bought them at Ebay or online agents because they'd be too expensive. I'd probably selling some more pages like this at these prices only to attendees at the next Komikon.
I also must thank all those who dropped by the table and bought Elmers 1 &2. Elmer's my baby and it's such a thrill to see people actually buy it. There are few thrills like it in life. As I've mentioned in the afterword of Elmer #2, even though I never really tailor made Elmer to appeal to a certain audience, never considered any demographic, never censored myself just to make it more accessible, I'm nevertheless glad that people actually buy it and appreciate it.
Thank you very much to everyone who passed by, even to just say hello. Mabuhay kayo lahat!
+

Like Ariel Atienza wrote in the Artists Den mailing list, don't wait for the next Komikon to release your comic books. Do them now, get them out there as best you can, get your works read. The output of mini comic book creators, independent publishers and mainstream publishers has been promising. I hope to see more of your comic books, and I hope to see all of you and a lot of new creators, at the next Komikon!
Posted 10/24/2006 10:52:00 AM by Gerry Alanguilan
Komikon 2006 Report At Newsarama
My Komikon Report is finally up at Newsarama and can be accessed at the link below:
A KOMIKON 2006 REPORT
http://forum.newsarama.com/showthread.php?t=88585
I wrote it with an international readership in mind so I spent some time doing a brief background on the organizers and the kind of convention it is in comparison to events from other countries.
Thanks to Matt Brady, Benjamin Ong Pang Kean and Newsarama!
---
Monday, October 23, 2006
Posted 10/23/2006 07:06:00 PM by Gerry Alanguilan
Komikon 2006 Video Coverage
Whew! I spent most of the day putting this together, my longest video so far. Yesterday was incredibly hectic. I swear, this Komikon is far larger than the last one. Estimates (based on ticket sales plus exhibitors) count the crowd at around 900, which is 100 more than last year's. 900? I swear it must have been more than that. More like 10 thousand. Jeez.
I made a much more longer report for Newsarama so I wouldn't want to repeat myself here. I'll just link to the article when it comes out. I'll try to touch on some things I didn't go through much there in a short write up.
In this interview I conducted relatively long interviews with:
Carlo Vergara
(Zsa Zsa Zaturnnah) on why he chose comics to express himself as an artist and asked him how he felt about seeing Zsa Zsa in other media. I really love his answers. Carlo also gave me some original art from Zsa Zsa which is... oh man...! just so great of him. I am, without a doubt, a huge fan of his work and to have some of the art is just fantastic. Thanks Carlo!
Gilbert Monsanto
on forming his publishing company Sacred Mountain and where the name of it came from. I admire Gilbert's decision to pursue this goal. It's a huge risk, and it seems it's a risk that he faces fearlessly.
Budjette Tan
on the genesis of his remarkable comic book Trese. Budje, I apologize if it seemed I was denigrating your past work. I really wasn't. I thought your earlier work was good, but none of them were as remarkable as Trese. This deserves to be compiled and printed into one book, or series of books! If only I had the money!
Jonas Diego
on choosing a contest to look for talents for this animation company IAS. It's actually quite a clever solution for a talent search and I was unwittingly shangheid into being a nasty judge ala Simon Cowell after declining for so long.
Karen Kunawicz
on being the editor in chief of Mango Jam, an all women comic book from staff to creators. It's something unique in comics, and not surprisingly, it's Mango Comics' best selling title. Congrats to Karen and Mango!
Noel Lim
on why he made a comic book called SEX-MEN.
Marius Cornelius
on what his bloody comic book is all about.
Co-organizers
Syeri Baet
and
Ariel Atienza
on why they and Artists Den decided to do a Komikon. I also asked Syeri about her own comic strip.
I had wanted to interview a lot more people, specially
Randy Valiente
on his unique graphic novel DIOSA HUBADERA and it's innovative PDF-burned into a CD format,
Reno Maniquis
and his involvement with the Mars Ravelo characters and his own Maskarado, and many others more, specially the veterans, but I decided it was probably not the right place to conduct long interviews in such a crazy noisy venue.
Tobie Abad
gave me a really special gift... a chicken! And it's an fascinating chicken, to say the least. Seems a bit real from certain angles. I'll definitely take a photo of this and put it in ELMER #3. There's a photo of it with me at
Tobie's blog
.
Edgar Tadeo
came up with his own video:
Here's a list of winners from the Komikon awards. I wasn't able to take notes of it during the event itself because I had been busy at my table, but here it is, courtesy of the Komikon organizers. I wasn't able to include this in my Newsarama report as I had to turn it in before I learned about the list.
Komikon Award Winners
Congratulations to the following winners of the first
Komikon Awards 2006
!
Best Comic Strip Compilation -
Pugad Baboy
Best Comic Series -
Fantasya
Komiks Legend Award -
Alex Niño
Indie Impact of the Year -
Kubori Kikiam
Komiks Character of the Year -
Polgas
Comics Aid Award -
Philippine Comics Art Museum
Best Weekly Webcomic -
Kubori Strips for the Soul
Best Cover -
Mythology Class
Humor Artist of the Year -
Pol Medina
Coverage from various blogs have started to appear. Here's the ones I've seen so far:
Edgar Tadeo
(with photos)
Marco Dimaano
(with photos)
Tobie Abad
(with photos)
Budjette Tan
Jonas Diego
(with photos)
Carlo Pagulayan
Carlo Vergara
Henry Anima II

Reno Maniquis

Joel Chua
(with an acoustics analysis)
John Becaro
Lyndon Gregorio
(With Photos)
Elbert Or
The response has been overwhelmingly positive, although there are some who came away disappointed like
this one
.
Elmer sold really well. I think we moved 140 copies of the second issue, and 70 copies of the first. I'll be delivering to comics stores sometime this week.
As of this writing, I think Comics Odyssey already has copies because they got copies from me at the Komikon.
Forbidden Planet ordered 90 copies of Elmer #2, and 40 of #1 so I'll be sending that off to them as well.
---
Sunday, October 22, 2006
Posted 10/22/2006 01:52:00 PM by Gerry Alanguilan
The Philippine National Library
Refusing Comic Books ISBNs... AGAIN?
In 2004, the Philippine National Library refused to give a stand-alone compilation album of Kenkoy comic strips an ISBN because they assert that comics do not have "research value", and that they refer to the ISBN User's Manual drafted in Berlin as their guide.
Incensed, I did research on my own, downloaded the ISBN User's Manual myself, and read carefully through the entire thing. Nowhere in there it is said that comic books should be denied ISBNs. In fact, the manual says that every publication, regardless of content, *should* be given an ISBN if it is a monograph, and an ISSN if it is a periodical.
For instance, something like the monthly Uncanny X-men strip should be given an ISSN, but if a set of X-men monthly issues are compiled into one complete book, it should be given an ISBN.
To strengthen my case, I got in touch with the International ISBN Agency of this problem, and the director at the time, Dr. Hartmut Walravens, replied:
+

Hi, Gerry!
You are quite right - ISBN is a technical identification tool without
any connection to the contents of publications. So if they are
monographs they are eligible for ISBN.
We will pass your message on to the Manila ISBN Agency, and I hope
everything will be all right!
Regards,
Hartmut Walravens
+

And now, two years later, the National Library is once again refusing to give stand alone comics ISBNs. I met one such cartoonist at the Komikon yesterday, telling me of his frustrations in getting an ISBN from the National Library, for the very same reasons they gave two years ago.
Will the Philippine National Library be ever bereft of people who do not understand what an ISBN is, and what its purpose is?
Why are they using the ISBN as a tool to approve or reject the legitimacy of any publication, when the ISBN has never and should never be used in such an inapproriate manner?
An ISBN is an IDENTIFICATION NUMBER, and nothing more. It's supposed to help the publisher, the retailer, and the libraries catalogue their inventories better. It SHOULD NEVER be denied to ANY publication.
If you are a comics publisher and you are running into this problem, please feel free to to use Dr. Hartmut Walraven's email to me, as well as the
ISBN Manual which you can download here
.
Additionally, you can get in touch with the International ISBN Agency here:
http://www.isbn-international.org/en/international.html
Posted 10/22/2006 11:36:00 AM by Gerry Alanguilan
Celebrating 120 Years of Philippine Comics II
The Future of Komiks
http://forum.newsarama.com/showthread.php?t=88448
Newsarama's
Benjamin Ong Pang Kean
's 2nd installment of his report on Philippine comics has just come out. It features even more interviews with Filipino creators about the current state of the industry.
Click Here
.
Thanks to Matt Brady, Benjamin and Newsarama!
---
Saturday, October 21, 2006
Posted 10/21/2006 10:56:00 PM by Gerry Alanguilan

Immediate Post Komikon Update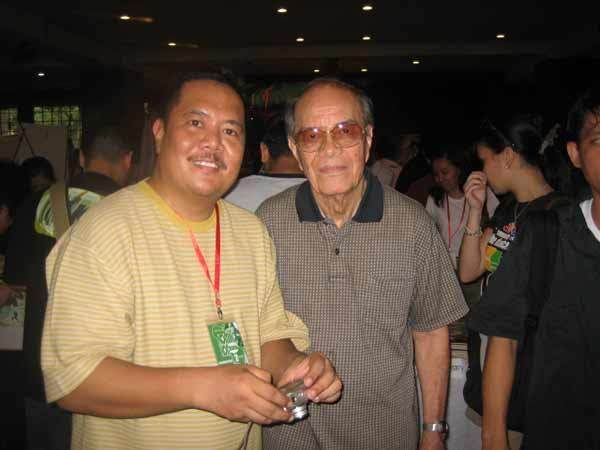 Whew! Just got back from the Komikon. That's me and veteran Filipino comics illustrator
Jess Jodloman
who visited the Komikero booth. I'm just dropping this note to say what a terrific time everybody at Komikero Publishing had, and I have to say this is far FAR better than last year's Komikon. There are LOTs more people, lots more new Philippine komiks seeing publication, lots more pros in attendance. I gotta say, I really enjoyed myself, and I came away carrying really good feelings about comics, and being a creator of comics. It's such a great job to have, and such a great community to be part of.
Right now, I just want to collapse in bed after all the drama of finishing Elmer #2 and preparing for the con(the printer delivered a few minutes before the Komikon doors opened). I'll be posting a far FAR longer article specially for Newsarama on what went on, but I'm afraid it won't be as comprehensive as I would have wanted. I was tied to my table for most of the time signing, sketching and meeting people, and I didn't have much chance to go around.
But I think I got some really OK photos, videos, for an extra long video blog.
(Thanks to Erwin Cruz for the photo!)
---
Friday, October 20, 2006
Posted 10/20/2006 09:09:00 PM by Gerry Alanguilan

CELEBRATING 120 YEARS OF KOMIKS FROM THE PHILIPPINES I: THE HISTORY OF KOMIKS
Newsarama's
Benjamin Ong Pang Kean
has begun a series of articles on Philippine comics. Click the link above for the link or go
here
. For those who've yet to find out,
Newsarama
is one of the biggest comics news sites on the Internet. Newsarama has been described as:
"Today the most reputable and popular publication of any kind covering the comic book industry and one of the most successful completely independently owned and operated entertainment websites on the Internet, ...Newsarama.com has become a regular stop for nearly 2 million unique visitors every month, is read daily around the world, and hosts the largest comic book reader message board community on the Internet. As comic book fans have come to know, if you want to know what's going on in comics, you've got to read Newsarama. "
In the article, Benjamin interviews not only me but a lot of Filipinos working in comics today including Whilce Portacio, Gilbert Monsanto, Budjette Tan, Carlo Pagulayan, Francis Manapul, Hai Ibardolaza, Joel Chua and many more.
I'll be linking more articles here as they come in.
---
Thursday, October 19, 2006
Posted 10/19/2006 10:14:00 PM by Gerry Alanguilan
Komikon 2006 is just a day or so away! For those who haven't heard of what Komikon is, it's the annual Philippine Comics Convention, now on it's second year, and it's held at the UP Bahay ng Alumni, University of the Philippines, Diliman, Quezon City. This year it's on October 21, doors open at 10am. I previously announced closing at 6:00 pm, but in fact, it's 8:00 pm.
The convention is unlike other professional conventions in the country. It is not simply a gathering of comics professionals and publishers, but a day of interaction between fans and those professionals and publishers who create those comics.
The con venue is arranged so that pros, publishers and sponsors can rent tables and booths to sell and promote their comics, and interact with their readers. Below is a plan of the venue: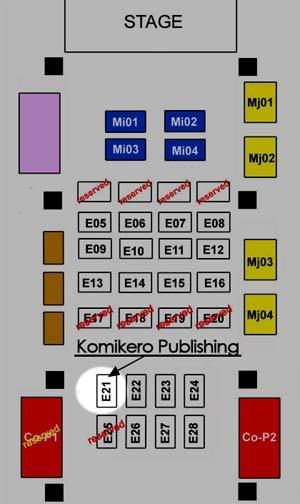 Here's an updated rundown of the pros that will attend, if they have a booth or not, and if they have something to launch, promote, sell, etc.
Well,
Komikero Publishing
will of course be launching ELMER #2 at the con, the very first venue that it will be available at. In fact, I managed to finish putting together the issue at the very last minute so much so that the printer will be delivering the comic books on the day of the con itself. I have no definite time, but they did promise around lunchtime. So if you are interested in getting a copy, drop by sometime after lunch.
I will also be selling Original Comics Art of those comics I inked (from Superman: Birthright, Batman: Danger Girl, X-Force, New X-Men etc) at special Philippine prices.
Unfortunately, I think Fudge Magazine won't be having a booth this year. I did offer to carry issues of the latest issue so I can have Humanis Rex to promote and sell as well.
Jonas Diego
has announced the finalists to his Lead Slingers contest at his site. He also has a video of his company (IAS) and their preparations.
Henry Anima II
and his group will launch Paper Clip Komics. Photos at their
blog
.
Gilbert Monsanto
will launch his own imprint
Sacred Mountain
with TWO comic books right off the bat entitled
Tropa
and
Rambol
Komiks!
KC Cordero and Ner Pedrina's Filipino Komiks
will be launching their first issue and will include industry heavyweights like Karl Comendador, Jose Mari Lee, Randy Valiente, Romeo Tanghal, Nar Castro and many more!
Budjette Tan
and
Ka-Jo Baldisimo
will be there to promote their terrific comic book TRESE.
Reno Maniquis
will be manning the Mars Ravelo booth along with Askals'
Bong Leal
and
Dodo Dayao
. Reno will be selling sets of his Maskarado at 50% discount!
I'm assuming Visprint will be having a booth since three of their major talents will be on hand at the same booth: David Hontiveros, Manix Abrera and
Carlo Vergara
(ZsaZsa Zaturnnah).
Many comics professions, indie comics creators, and newspaper cartoonists will most likely be milling around the venue even without a booth. Those that I definintely know are coming include:
Leinil Francis Yu
Carlo Pagulayan
Wilson Tortosa
Jeff Huet
Edgar Tadeo
Karl Comendador
Orvy Jundis
Taga-Ilog
Ryan Orosco
Joanah Tinio
Ariel Atienza
Syeri Baet
Jon Zamar
Lyndon Gregorio
Nar Castro
Randy Valiente
And really, a lot more than I can possibly mention. I expect I'll be adding more names there right up to the very last minute. There's bound to be a lot of pros who will show up unannounced just to mingle and see what's up with komiks today.
I will be doing a Komikon report for
Newsarama
, so expect me to just go around taking pictures, videos and just generally making a pest of myself.
---
Sunday, October 15, 2006
Posted 10/15/2006 07:25:00 PM by Gerry Alanguilan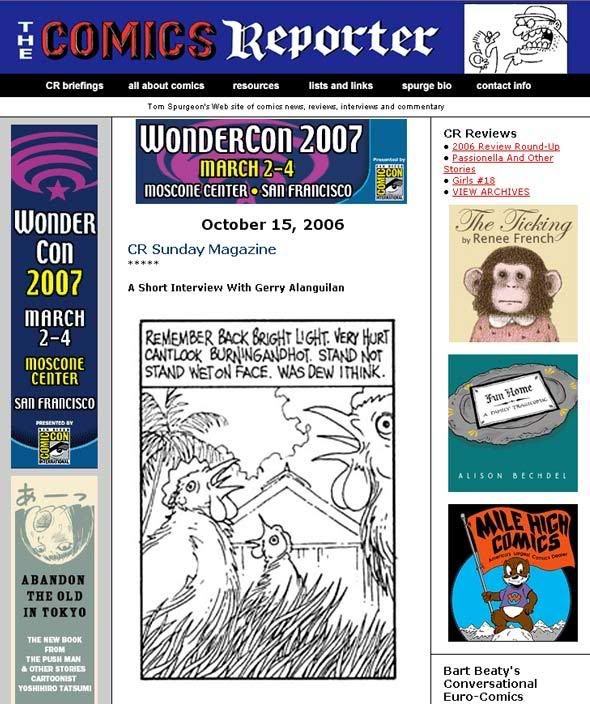 I have an interview
with
Tom Spurgeon
of
The Comics Reporter
.
Click Here
. This interview is a big deal personally for me because Tom is one of the toughest critics in comics and I knew for sure that when I sent him ELMER, I would get an honest, no holds barred, brutal truth about my work. I was bracing for what he would say, and I would take it, and learn from it. I never expected that he would go so far as to do an interview with me. I just can't believe it.
Tom Spurgeon is a writer and editor living in Silver City, New Mexico.
Tom has written about comic strips, comic books and editorial cartons for various publications since 1982. He worked for five years 1994-1999 as Managing Editor and then Executive Editor of the lauded and controversial industry trade magazine The Comics Journal. The magazine won several industry awards under his stewardship. He is a former contributing writer at The Stranger and for the late satirical web 'zine Suck.com. As an editor, Tom helped assemble volumes in The Collected Pogo series and books such as Bob Levin's The Pirates and the Mouse. As a writer, Tom co-wrote with Jordan Raphael the historical profile Stan Lee and the Rise and Fall of the American Comic Book and he was privileged to write for the King Features Syndicate strip Wildwood from 1999 to 2002. (bio from The Comics Reporter site)
Thanks Tom! This is something I deeply appreciate.
---
Friday, October 13, 2006
Posted 10/13/2006 05:23:00 PM by Gerry Alanguilan
Komikon, Elmer, Humanis Rex Updates
One week to go to Komikon!
And I'm *still* drawing
Elmer #2
! It's going to be tight, but I think I'll come out with the new issue right on the very day of the con. I'm really happy with how the issue is turning out so far, and I can't wait to finish it and let it go.
Unfortunately, this also means there won't be an installment of
Humanis Rex!
for Fudge Magazine's November issue, and for this I wholeheartedly apologize to the readers, and to my editors. However, right after finishing Elmer #2, I'll do several installments of Humanis Rex all at once so I won't ever have to skip an installment again.
---
Tuesday, October 10, 2006
Posted 10/10/2006 08:52:00 AM by Gerry Alanguilan

Two weeks to go to Komikon 2006
! And I'm *still* drawing Elmer #2! I only have a week left to finish drawing it before I have to turn it over to the printers. So this week will be... well... interesting to say the least.
Even though I know the printer's deadline is bearing down on me, I can't help but pick the most difficult of shots to draw, and the ones requiring the most detail. I can't *not* do it because I believe it helps tell the story. Ultimately for me, it's all about telling the story the best way I can. I won't say right now exactly how many pages I have left to draw, because I myself don't know.
I'll talk about the process of doing Elmer later on when I've actually finished it.
I've done Elmer and Philippine Comics interviews with two major Internet comics news/commentary news sites. One of them is scheduled to appear right before Komikon. I'll provide a link whenever any of these come out. Thanks to Tom and Benjamin! I really appreciate it!
Forbidden Planet
has once again ordered huge amounts of not only Elmer #1, but even more copies of #2! I can't disappoint them now!
Back to work!
---
Sunday, October 08, 2006
Posted 10/08/2006 08:34:00 AM by Gerry Alanguilan
Comic Odyssey Opening/Comic Book Signing
Komikero Video Blog #13
It was a reunion of sorts at the signing yesterday. I haven't been together with my Superman Birthright team of
Leinil Yu
and
Edgar Tadeo
in a while. We're all working on many different things. Leinil is pencilling New Avengers, Ed is coloring The Innocents (and inking something else), and I'm well, writing and drawing CHICKENS. Damn it, what a job!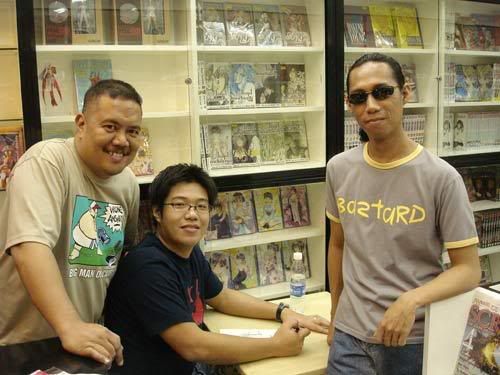 Me, Leinil and Ed
Other guys who came were
Carlo Pagulayan
and
Jeff Huet
, the team working on Incredible Hulk at the moment, and
Wilson Tortosa
who.... I forgot what he was currently working on, but he did work on the Tomb Raider comics as well as Battle of the Planets.
Trese's
Budjette Tan
and Mango Jam's
Karen Kunawicz
came by to visit as well, along with Westside's
Ariel Atienza
, 50 Peso Ninja's
Lico Reloj
and I'm sure a lot of other people came, but I can't remember because it was quite crowd and we were all proccupied signing and sketching.
About sketching at these events, apologies to all those who asked for sketches, but like I've already rather embarassingly admitted to some of you (and have proven),
I'm a bad sketcher
. I'm not really a fast drawer so it takes me a long time just to draw. And don't ask me to draw a woman because that would just give me panic attacks. I have difficulty drawing that even when I'm home.
But in case you're hell bent on asking a sketch of something say, Wolverine in his original costume from 1975, well, bring reference will you? Even though we do work in comics, we don't have these things memorized. Someone asked me to do a Robin and Batman yesterday, but I tell you, I don't even remember what they look like exactly enough for me to draw them accurately. At the Komikon, if you're going to ask for a sketch, I'll already apologize in advance for not doing it very well.
However, ask me to sketch a
chicken
, well, I can do THAT. I'd be HAPPY to do that. I draw nothing but chickens right now. My head is FILLED with chickens. That's my entire world. I'd have no problem drawing chickens, and I'll even THANK YOU if you asked me to draw it. I did several Jake sketches yesterday and it was great fun!
---
Wednesday, October 04, 2006
Posted 10/04/2006 05:16:00 PM by Gerry Alanguilan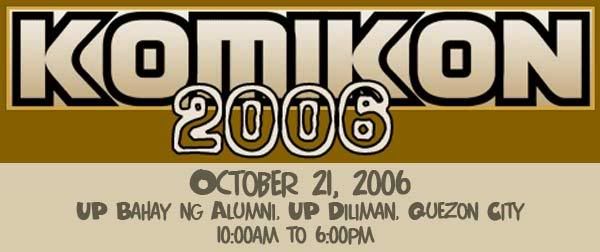 It's Komikon time again! For those of you who missed the first one last year, you can find pictures of it
here
and
here
. I'll be once again bringing my camera to cover the event through pictures, video and commentary. Last year was well attended and an enjoyable atmosphere permeated all throughout, inspite of the heat. The UP Diliman venue is good, but it might be inaccessible to many, and a venue with air conditioning might be a better idea.
For any official info about the con, check out their
official blog here
. Here is the official poster of the event: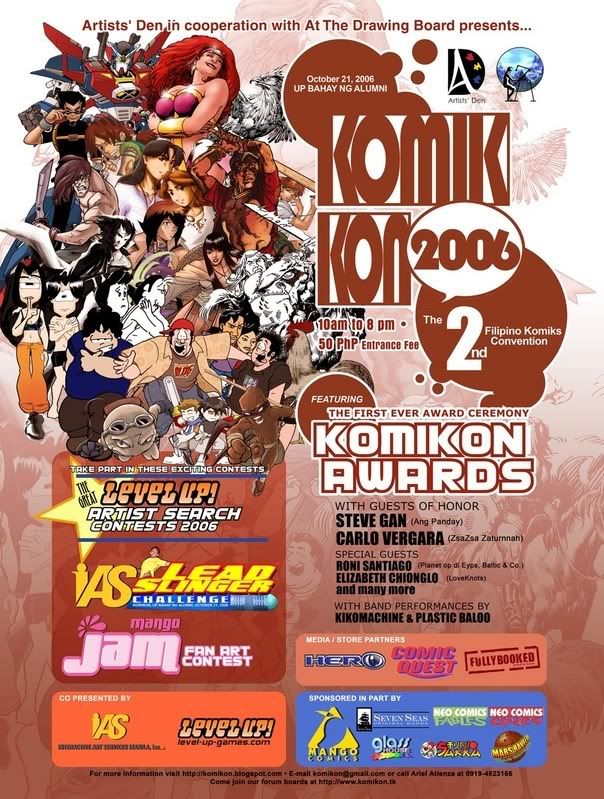 Once again, I'll be taking a booth, this time for "Komikero Publishing". Last year I really had nothing to sell, simply promoting Philippine Komiks Art. This time, I'll be promoting and selling ELMER, and specially launching
ELMER #2
! Here's a sneak preview!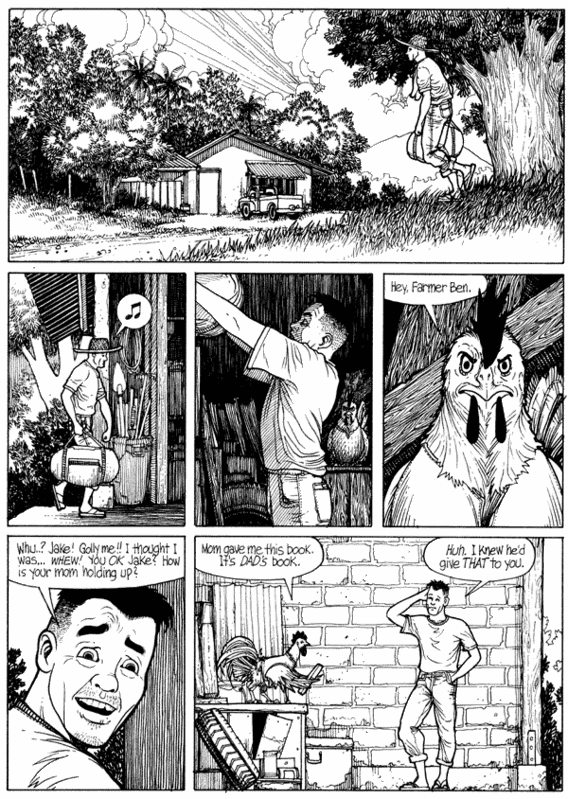 You can also check out my continuing full color sci-fi series
HUMANIS REX!
from Fudge Magazine, which I'm sure they'll be selling at their own booth.
Here's a run down of other stuff my pals have going on at the Komikon:
My pal
Jonas Diego
, webcomiker and now an executive boss at his own storyboarding company IAS, and co-presentor at the con, is conducting an art contest called
Lead Slingers Challenge!
, and the ultimate prize is 10, 000 bucks and a two week contract job at his office. If you are a good artist, this is the office to work for, guys. I can vouch that his office is the most fun and coolest office to work for. Just check out
some of the videos
that his nutty crew are doing.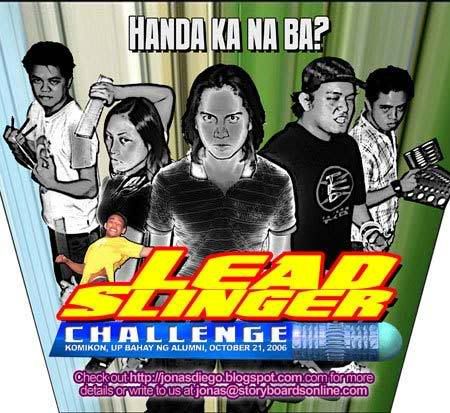 Lead Slinger Challenge Contest
Rules Here
.
Komikero
Henry Anima II
will be launching
Paperclip Komics
with the release of a preview of his upcoming comics
Mutya and the Book Of Answers
.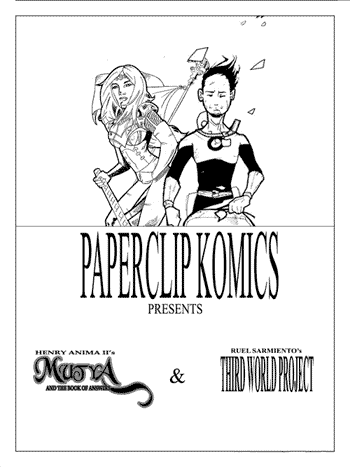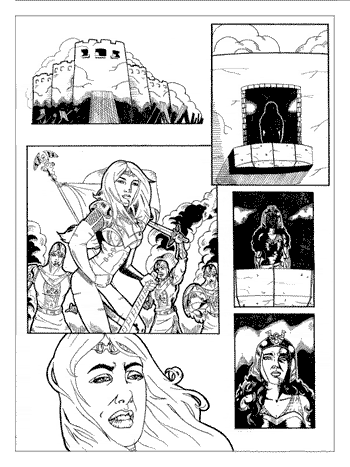 Henry is slowly becoming one really good artist. I thought his earlier comic book, Children of the Dam was really good. I can't wait to read this one.
Gilbert Monsanto
will be launching his own comic book publishing company called
Sacred Mountain
with the release of
TROPA
.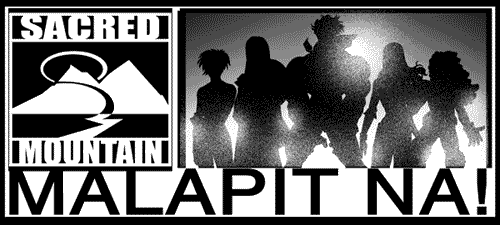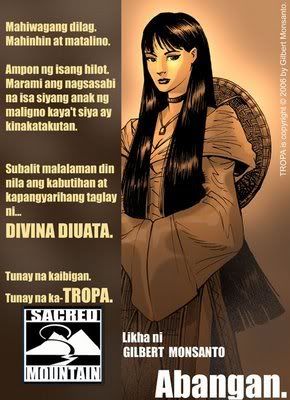 Gilbert is a kumpare of mine, and I'm really glad he's finally dipping his toes into the world of self publishing. And he's taking along other guys with him like
Lui Antonio, Kriss Sison, Jim Jimenez
and
Marvin Maglaque
.
Budjette Tan
and artist
Ka-jo Baldisimo
will be around to promote their comic book
Trese
, now on it's sixth issue!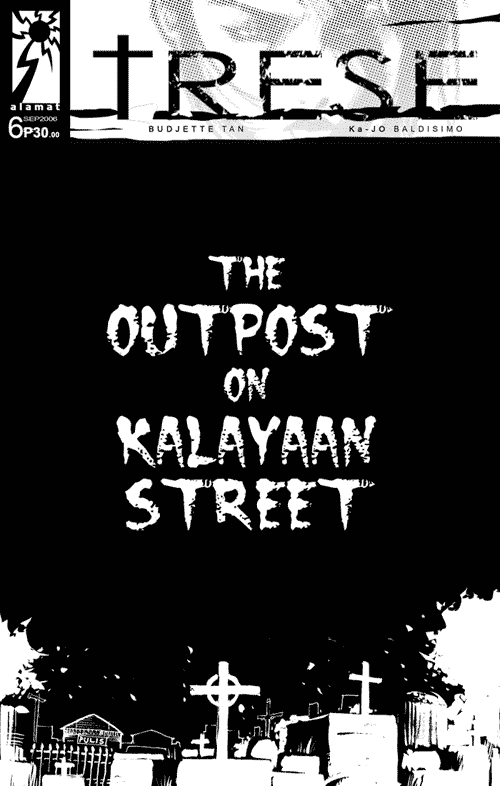 If you haven't read Trese yet, you're missing out on one of the most remarkable local comic books published in recent years. Budjette has finally tapped into something that gushes out these excellently and imaginatively written stories.
Budjette has uploaded a lot of complete stories online
which you can check out here
.
Rising superstar
Carlo Vergara
, creator of the wildly popular
Zsa Zsa Zaturnnah
, will be having a booth that he will share with writer
David Hontiveros
and Kikomachine's
Manix Abrera
.
The
Mars Ravelo Family
, along with writer-artist
Reno Maniquis
(Maskarado) and dynamic duo
Dodo Dayao
and
Bong Leal
(Askals) will be setting up a minor sponsors booth.
Risingstar Printing Enterprise
is coming out with
Filipino Komiks
featuring the talents of many young and veteran comics creators including
Jose Mari Lee, Karl Comendador, Rico Rival, Nar Castro, Romeo Tanghal, Gilbert Monsanto, Dante Barreno, Randy Valiente
and more!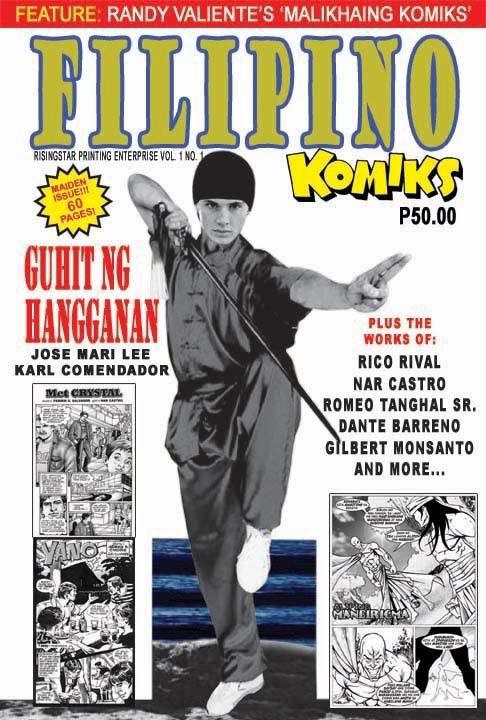 I'll be announcing more activities as the event nears.
+

October 7 Signing at Comics Odyssey, Robinson's Galleri
a
Just a reminder for those who are interested, Comics Odyssey will be opening a new branch in Robinson's Galleria, Ortigas this October 7 at 12noon-3pm. In attendance will be
Leinil Francis Yu, Wilson Tortosa, Carlo Pagulayan, Jeff Huet, Edgar Tadeo
and myself to help open the branch and sign stuff. See you there!
See you There!
---
Sunday, October 01, 2006
Posted 10/01/2006 01:12:00 PM by Gerry Alanguilan
Typhoon "Milenyo"
September 28-30, 2006
San Pablo City
A few hours after my last post, power got knocked out when a particularly strong typhoon hit our town directly (as well as many other heavily populated areas including Manila). "Milenyo" as it is named locally, hit San Pablo City around 8 in the morning, and hung around uprooting trees, toppling and breaking electric posts, peeling off rooftops, flooding streets, and generally making a huge mess for the next three hours. I took some footage of the early rains
the night before here
.
On the day itself, I managed to take some footage of the effects of the Typhoon, as well as photos of the devastation afterwards.
The power was knocked out for several days. Which wasn't too bad because it was a great opportunity to just hunker down and draw ELMER. And I managed to do much more work because of it! I took advantage of the daylight on the porch during the day, and worked by candlelight at night. We had plenty of food and water stored so those things never became a problem.
We were lucky, considering what happened in many other places. As of this writing, 76 people are confirmed dead, and hundreds of homes have been demolished.
Comics inker and colorist Edgar Tadeo (Wolverine, Silver Surfer, Iron Man) also made a video from his perspective in Manila:
---
---