Wednesday, September 27, 2006
Posted 9/27/2006 08:22:00 AM by Gerry Alanguilan

Comics Odyssey Opening
Comic Book Signing
October 7, 2006
12-3pm
3rd Level, Expansion Mall
Robinson's Galleria, Ortigas
I know I said I'll be going away for a while, but I just had to post this announcement about this upcoming event I'll be in.
Comics Odyssey will be opening a new branch in Robinson's Galleria in Ortigas on October 7, Saturday, and several Filipino comic book artists will be making an in-store appearance to help launch the store and do a signing!
The following artists have confirmed their attendance:
Leinil Francis Yu
(New Avengers, Ultimate Wolverine, Superman Birthright)
Gerry Alanguilan
(Superman Birthright, Wasted, Elmer, Humanis Rex!)
Edgar Tadeo
(Silver Surfer, Wolverine)
Wilson Tortosa
(Tomb Raider, Battle of the Planets)
Carlo Pagulayan
(Hulk, Fantastic Four)
Jeff Huet
(Hulk, Fantastic Four)
See you all there! Unfortunately, Elmer #2 won't be ready yet by this time, but if you haven't checked out my newest comic book yet, the store will certainly be carrying copies of #1.
+

Crescent Shield
has finally released the cover that I did for their debut album.
Check it out here
.
+

Work continues on
Elmer #2
. It's tight, but I really think I'm gonna make it for Oct. 21. This issue is probably the most emotionally draining to do so far, but I can't wait to finish it and share it with everybody. I thought there would be little opportunity to incorporate some of the art sent to me, but it turns out I will be able to include a lot.
Some of the initial reaction to my announcement of this project back in March was met with some skepticism. It's understandable because a story about chickens couldn't be anything but comedic and it's assumed perhaps I'm once again dicking around like I've done with Crest Hut. Make no mistake, dicking around is fun. I love doing Crest Hut and I'll continue to do them later on after I've gotten Elmer out of my system.
Inspite of the chickens, I'm approaching the material as seriously as I can. I want to see how far I can go with a ridiculous concept and treat it as seriously as possible. It opens up a lot of interesting storytelling possibilities.
---
Monday, September 25, 2006
Posted 9/25/2006 11:38:00 AM by Gerry Alanguilan
Komikero Meeting for September!
Komikero Video Blog #12
The group had its monthly meeting yesterday here in San Pablo. Before I went to the meeting, I was Godfather, along with Wilson Tortosa and Ryc Malijan, to Glen Nosa's daughter Nicole. I went to the meeting and it was great because a lot of people came, including one new member: Eroll See.
We have a special project that we're starting to put together which will hopefully see the light of day at Komikon 2007.
I've finally decided to pool all the various talents of all the individuals of the group (writing, illustrating, photography, etc.) into one project. I have hesitated to do this before because I want each member's committment to the group to begin and end only with each meeting. I didn't want to do projects that would require them to do any work outside the day set for each monthly meeting because I believe failure to accomplish such work (for various valid reasons), might make them decide not to attend the next meeting. I didn't want people to feel obligated to do things.
Having a long deadline would hopefully avoid such problems. Anyway, I'll talk more about this when I have details.
I really like the process of creation, where one pools all his resources, be it physical, emotional or mental (or all), to create something as a form of art. Sometimes it can be hard, and specially for comics it takes such a long time, but once it's done, you feel like you've acomplished something really special. It doesn't matter if it's not incredibly good, what matters is you did your absolute best and you were able to express yourself by creating *something*. It's such an amazingly positive thing.
And a lot of people are doing a lot of positive things in preparation for the upcoming Komikon next month.
As for me, I'll go disappear for a while as I work on ELMER #2. Lot's of work still to go on that one, but I tell you, creating each and every panel of each and every page is an experience I'll exchange for nothing else.
For the next couple of weeks, I'll just stop the
talking
and just do the
doing
.
See you all next month!
---
Saturday, September 23, 2006
Posted 9/23/2006 07:49:00 AM by Gerry Alanguilan
"The Philippine Comics Art Museum Online"
Komikero Video Blog #11
In this video I talk about the reasons why I put up the online gallery of Philippine Comics Art with a montage (which I mistakenly call "collage" in there. ugh!) of samples of artwork included in the site.
+

"Keep away from people who belittle your ambitions. Small people always do that, but the really great ones make you feel that you, too, can become great."
-
Mark Twain
I really love this quote. I got it from Journalista's Dirk Deppey, and it's perfectly dedicated to my special friend out there (who refuses to identify himself) who's got nothing but bad things to say about us doing comics in the Philippines today.
He just keeps on yakking, as a couple of people have written to me. I'd rather not go on explaining myself or my work to this person, as it's perfectly obvious that he's judging us on a completely different platform than where we are operating.
In other words, he just doesn't GET it.
He's of a belief that all comics should only be done for the poor, should not seek to pursue art, should all be written in the vernacular, and any comic book that do not fit into that mold is automatically the work of satan and is responsible for the downfall of comics.
I mean, what the...?
There's no changing the minds of people like that. And I'd like to think Filipinos would be intelligent enough to discern through his deceptively "knowledgable" writings to realize what is really true and what is not.
+

On a related note, I do respond more easily to those who write me about such things. Pardon me if some points are oft repeated, but some things are worth repeating, not only for people involved, but for myself. It is through exhanges like this, getting the point of view of other people, that I'm able to reflect and determine my own beliefs.
For example, Mynel emailed me the following question:
"Is it possible that the comics for the \"masses\" is already dead and now replaced by comics for art\'s sake or now called the comics for the rich?" - Mynel A
Hello Mynel!
One thing you have to bear in mind is that there are no absolutes. Meaning just because comics are expensive, it doesn't mean there are no longer comics for the masses and they are all automatically for the rich.
It's not that simple.
One reason why there are no longer any inexpensive comics is because the old companies that provided them, with the exception of Liwayway, have either closed or have stopped publishing comics. They have been closing one by one during the last 20 years, until at the very last, Atlas published it's very last komiks sometime towards the end of 2005. That signalled the end of a great tradition in komiks.
The other side seem to think I'm responsible for helping usher that in, which is just ridiculous. The fact is, the komiks industry started its deterioration towards the end of the 1960's and early 1970's (just about the time I was born) when many of the great artitsts either left komiks in the Philippines or retired, due to a variety of reasons one of which was Martial Law. Komiks were still very successful and profitable, but here I mark the point in komiks history that the "quality" of comics started to deteriorate.
The late 1940's and the entire 1950's up to the early 60's was truly the Golden Age of Philippine Comics. We'll never see it's like again.
I hope the many artists and writers from the 70's and onwards don't take offense, and many of them were really good, specially Hal Santiago and Steve Gan, but they will be the first to admit that their own work will never match the mastery of artists like Coching, Redondo, and Alcala. By the early 70's Redondo, Alcala and Niño have all started working abroad, and Francisco V. Coching retired shortly after Martial Law was declared.
The quality of the comics continued its deterioration throughout the 70's and 80's, due to falling wages in the midst of inflation, an industry that doesn't inspire quality (personal experience) thus driving artists out of the country or into other fields, a large company monopolizing the industry, less emphasis on the quality of production, decreasing drive for experimentation and settling for proven formulas resulting in cliched, stagnated and repetitive stories.
The Filipinos aren't idiots. They know when something is crap. And they spoke with their wallets. They stopped buying altogether, and now the old industry is dead.
Now if you are a writer and/or artist and you want to create comics, what are you going to do when there are no publishers to hire you?
The solution for many of us is to create our own comics.
But also bear in mind that we are NOT huge companies. We are individuals paying for the printing of the comic books ourselves. If we cannot make our comics as inexpensive as the old industry did, it's not by choice. We want our comics to be inexpensive so people can afford it, but the problem is, specially in my case, if I sold my comics any cheaper, I will end up losing money.
That's the economic reality we have to face. Many things today cannot be afforded by the poor. Does it mean all those things aren't made for the masses? Intellectually, yes they are. As I've said often before, the Filipino masses are an intelligent and sophisticated bunch who can appreciate more than we give them credit for.
"For Art's Sake" is another phrase being bandied about by the other side like something that's awful and despicable. We want GOOD comics. I'm of an opinion that many of the komiks from the last 15 years of its life to be extremely LOW in quality. The writing is mechanical, cliched and lifeless. The art is even more so. I want to do something BETTER and DIFFERENT. I want good writing and good art. Because the readers DESERVE good writing and art. They deserve so much better than what they've been given for the past several years.
Our comics are not here to REPLACE the old as you mentioned. Our comics are here simply because the old industry is no longer doing any comics. It's not our fault that they're not. It's baffling why so many people seem to want to pass on the responsibility of old companies to us, when we are creators, not publishers. And we have a different set of priorities, artistic sensibilities and objectives.
To pass that responsibility to us is to not "GET" us, and what we're trying to do. For a mind so steeped in the ways of the old industry, what we may do may be baffling. For some people, it's unfortunate that they seek to denigrate what they don't understand.
I refuse to say comics for the "masses" is already dead. Hand them our comics, specially those by Carlo Vergara and Arnold Arre, and they will understand and appreciate it.
It's just that the reality of economics prevent them from buying it, and it prevents us from making our comics inexpensive enough for them to buy it. But I believe they have the intelligence and the sophistication to appreciate it.
---
Wednesday, September 20, 2006
Posted 9/20/2006 09:32:00 PM by Gerry Alanguilan
Whilce Portacio
X-Force Splash Page, 2000
Whilce Portacio not only has a
blog
, he's also on You Tube! Check out his first entry with a video on his comeback to Wetworks. (Out this week!)
I've talked about Whilce a lot on this blog and in my own videos. I owe the guy a lot because he's instrumental in getting me into comics big time. Back in the mid 80's when I was marvelling at his inking over Rick Leonardi, and later on June Bridgman on the pages of Uncanny X-men, I never thought that I'd eventually meet him and work with him!
That splash page above is the pencils to an X-Force page I had inked way back 2000. It was being written by Warren Ellis and it's one of the few things I inked that I actually read.
I wanted to embed Whilce's video right here, but I can't seem to access You Tube right now. I asked my friends in Manila if they can access You Tube and they said they can, so it's just me and my connection. boo!
---
Monday, September 18, 2006
Posted 9/18/2006 05:41:00 PM by Gerry Alanguilan
A war is breaking out in the pages of
Fudge Magazine!
The images above depict what has been happening the past several months, but it's not too late! If you want jump in and see image at the very bottom in full size, you can see it in October's issue of Fudge! Just in time for Komikon 2006!
+




I'm Busy!




Komikero Video Blog #10
More videos! In this latest video blog I talk about what's keeping me busy the past couple of weeks, including finishing Humanis Rex #18 (which can be seen at the bottom of the Humanis Rex image above). It also features three Komikeros including Zara Macandili , Edjee Mendoza-Chozas and Jerald Dorado, who talks about Pinoy Passenger, and an art style I think he "invented."
How I Broke Into Comics
Komikero Video FAQ #2
I've been doing this FAQs (Frequently Asked Questions) in video form where I answer common questions that have been emailed to me all these years. In
Komikero Video FAQ #1
, I talked about who I am, and my work is. In this video, I talk about my personal experience about comics and how I eventually found myself working in it. At 16 and half minutes, it's my longest video yet, but it only goes to demonstrate how long it took me to break into comics.
If you have any questions you would like to know the anwers to about my work, please feel free to send me a message at my
You Tube account
, or my
contact form
here. If I find the question interesting enough, I'll definitely make a video blog about it!
I have
several pages up for auction over at Ebay
right now, which ends in a couple of days. There are pages from Silent Dragon, Batman: DangerGirl, New X-Men Annual 2001 and Superman: Birthright.
---
Saturday, September 16, 2006
Posted 9/16/2006 08:40:00 AM by Gerry Alanguilan

Exhausted

I didn't know what I was getting into when I started Humanis Rex #18. The last 2 installments have been 2 page spreads depicting an attack on the rebels' underground HQ from a distance. This time I zoom in and focus on the battle right on the ground between the troops of humanity and the aliens. It's one huge panel across 2 pages of just
mass carnage
. I had expected to finish drawing it in a couple of days, but here I am, several days later, still drawing it. It's just insane.
I have to finish this in the next 24 hours, illustrated, colored and lettered. I can no longer work on this tomorrow because they need this ASAP. As in ASAP. And I have to continue working on ELMER.
I'm very nearly wiped out and exhausted. I'm not complaining, mind you. I could just as easily have just hacked this out, but I won't. I can rush it, but I won't. But I will finish this in the next 24 hours, and get some rest somewhere in there.
I don't want to look back on Humanis Rex 20 years from now and say, I've done a shoddy job on that one. I wish I could go back and redo it again. THIS is the time I'm doing it so I better do it right.
I've promised myself something as soon as I hit 30. I'm not a young man anymore, and I can no longer go without sleep all the time. I have to get some sleep everyday or else I'll be useless for the next entire day, and it will affect my health for a much longer time after that. This is something I would also advice young artists. Right now you might feel indestructible, but I tell you, sleep and rest are important.
If you email me or try to get in touch with me at this time, I won't be able to respond until tomorrow. I'll be needing all remaining available time to concentrate on finishing this one.
Take care, everybody.
---
Wednesday, September 13, 2006
Posted 9/13/2006 12:55:00 PM by Gerry Alanguilan
I Helped KILL Philippine Komiks!
A email with a concern that I just had to reply to:
"Mr. Alanguilan, I read in a blog accusations against you, claiming that you helped kill Philippine Komiks, and many many other things thrown against you that I find so incredible. But I know better, but what do you think?"
-

Norbert A

.
Thanks for the email, Norbert, and thanks for the concern. I'm actually aware of what has been said about me, and I know exactly what blog you are referring to. I really didn't want to respond further, as I feel I have succinctly explained my side both
here
and
here
. I had thought further reply would only give validation to their opinions, which I think are ridiculous and not worthy of note. But since a lot of people have been asking me about it, like you, I now feel it's necessary to talk about it.
It's so easy to be swayed by strong opinions, specially if you don't know the facts. This person is twisting history before our very eyes, and it's unbelievable that people actually believe him.
I've already addressed the same concern at my message board, but I think it warrants paraphrasing and expounding upon here.
Doing comics for the poor is beyond what I am capable of financially. If it is true that the anonymous author or authors of that blog were part of the old industry, what they can't seem to understand is that there are no longer any publishers with an editorial staff, huge capitals, a marketing arm, and a wide distribution system. Those are the things that are essential in producing inexpensive comics.
To produce comics cheaply, you need to have thousands and thousands of copies printed, just to get the cost per copy really low. And to do that, you need lots of money. Money that I just don't have. And to make sure you make more comics, you need to make money from the thousands of copies you just printed. And to do that, you need to distribute it widely, to all corners of the Philippines, as the old companies used to do. For that, you need a distribution system. A distribution system I don't have.
To expect one person perform like a large company is really ridiculous. I do all I can with the resources at my disposal, and that is my personal money, creating comics upon my own initiative, and distributing my comics as far as my legs would take me.

If the poor cannot afford my comics, it's never intentional, and it doesn't mean I don't care for them. In fact, I care enough about their intellectual well being that I don't write stories that will insult their intelligence, in case they do encounter one of my comics. As I have written before, the taste of the masa is far more sophisticated and intelligent that many of our entertainers are ready to believe or accept.

They tell me I'm responsible for the helping the decline of Philippine comics, and that I'm part of the problem.
What?

This is a perfect example of how history is being twisted to support their ridiculous conclusions. This brings to doubt the credibility and intelligence of these people, as they prop up statements that are not supported by facts.

The industry has been dying long before I got here, and would have died out anyway with or without me. They might not have seem to have noticed that old industry, save for Liwayway, is now dead. I grieve at that, but it's true.
I, along with an number of my compatriots, are the ones actually doing something about keeping comics alive right now. We're doing it out of our own initiative, without being paid for it, paying for the printing and distribution of our comics out of our own pockets.

That doesn't mean we don't want there to be publishers. Of course we do! If there was publisher as big as ATLAS that emerges today, doing inexpensive comics distributed nationwide, and would pay us for it, then why not? I'd work for them in an instant, if they take me.
But what about them? If it's true that they are part of the old industry, what have they done when their industry died out? Did they initiate doing their own comics the way they wanted it? Did that concept even enter their minds? Creating and distributing comic using their own money? I don't think so. They would rather create fake names on the Internet and cast stones , yakking and nagging at those who are actually DOING something.
That is why my admiration for people like Romeo Tanghal, Dell Barras, Franc Reyes, Floro Dery, Steve Gan, Nestor Malgapo, Jun Lofamia and many others of the old industry who are taking steps of their own to create their own comics, knows no bounds. They're amazing. And their work is beyond terrific.
It's really too bad, if these anonymous bloggers really were part of the old industry, then that means they were either editors, or writers, or artists. They have the experience and probably the talent to actually be able to help.

If that anonymous blogger is who I think it is, then he's an amazing artist who I've featured before on this site. His talent can go a long way in helping revive the industry. But sadly, he would rather yak ignorantly than lift a finger to help.

You know the picture I have in my mind? The comics industry just had a car accident and me and some of my friends are trying to get the survivors out of the burning wreck. Now here comes these experienced paramedics. Do they rush in and help? NO, they don't. They wear paper bags over their heads, watch the spectacle going on, hands on their hips, and tell us and everyone else around how bad a job we're doing.

So who is part of the problem now?

If they're still strong enough lift their fingers to type so agressively on their keyboards, and have enough money to pay for Internet, then they can still DO SOMETHING about helping Philippine comics. Come up with your own initiatives! Create new comics!
I'm not sure if the concept of "Self Publishing" ever crossed their minds, or if they even understand it. I really see no other reason for them to misunderstand what I'm doing. But If they do, I urge them to channel all that energy to something positive and creative.
If they really feel we're doing something wrong, then please, show us how it's done. Try doing it yourself. Since we don't have any big publishers anymore... by all means, please, set up your own company, write, draw, print and distribute your own comics, and show us how it's done. We're all willing to learn.
If you do, you would be doing Philippine komiks a whole lot of good because more comics is what this industry needs to get up on its feet and running again.
Isa lang naman talaga ang gusto nating lahat e. Ang mabuhay ang komiks, diba?
---
Tuesday, September 12, 2006
Posted 9/12/2006 08:41:00 AM by Gerry Alanguilan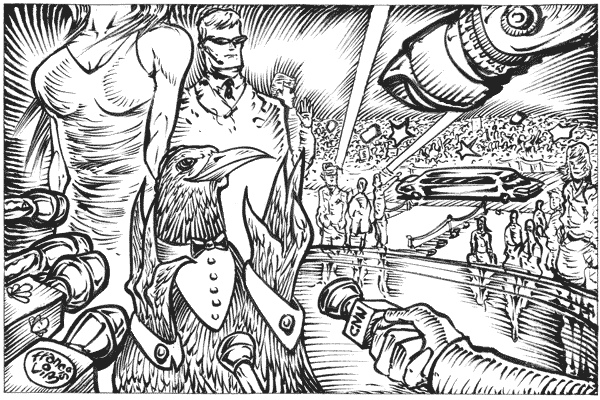 Francis Lim Elmer Art
Francis Lim of Butuan City sent me this great art for ELMER, depicting a movie premiere of a movie by the Francis character, who is an actor in the comic book. Thanks Francis for Francis!
For those of you familiar with how I integrate reader submitted drawings, I'll definitely make use of this one, but like always, I'll try to incorporate it in such a way it becomes part of the page rather than a distraction to it. I'll most likely use a part of it, specifically Francis himself, in probably the 3rd or 4th issue.
But I will most definitely include all the artwork I would receive, uncropped and unedited, in a future compilation, and of course, display in this blog as well.
Work is ongoing for
ELMER #2
, and I'm still on track for an Oct. 21 release. I've had to take a break to do
Humanis Rex
again though, this time Part 18. I'm not documenting it via video this time around though. To Edgar who said that I've drawn nothing but buildings in my last 2 installments, hinting perhaps that I don't know how to draw people, well, this time it's an all-people (and alien) spread, duking it out!
I'm not feeling 100% this morning, but I hope it's nothing that a Biogesic won't cure. I really can't afford to be sick right now.
+

I'm once again selling some original art on EBAY, this time a
COVER from Superman Birthright #8
! This is my inks right on Leinil's original pencils, of a young Lex Luthor burning. I wanted to play a prank on Leinil because I thought his drawing of young Lex here was great, but I thought I also found it somewhat amusing.
I thought I'd take a picture of myself in the same pose, integrate it into the page, save it as I normally would a black and white page, and send it as the cover to Superman Birthright #8. I wish I could be there to see him react to it.
But when the time came to actually send it, maybe I was feeling harassed by the deadline and other stuff, I actually forgot to send it, and sent the correct original back. I don't think Leinil has seen this yet.
Click Here for the Auction Page
. Two days left!
---
Saturday, September 09, 2006
Posted 9/09/2006 09:18:00 AM by Gerry Alanguilan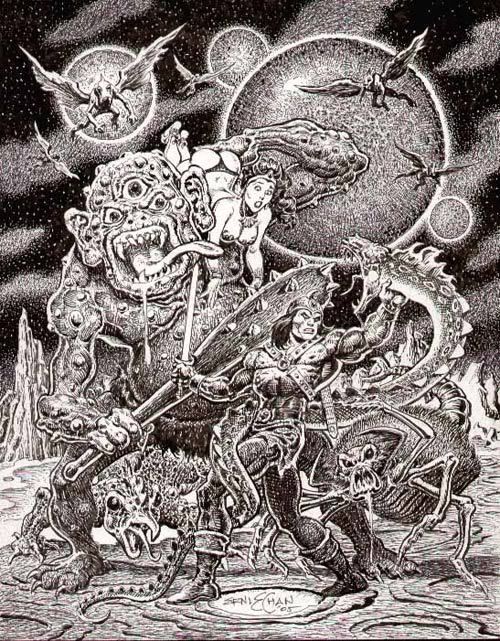 ERNIE CHAN
Check out Ernie Chan's newly uploaded official website
here
.
http://www.erniechan.com/
To sir Ernie Chan, Abe Ocampo, Jun Lofamia and other Filipino illustrators whose profiles should have gone up at the museum, many many apologies! I'm still working on fixing the site and making new updates. August and September had been very busy months for me, September even more, as I continue to work on Elmer #2 for release next month, plus a couple more installments of Humanis Rex.
I know it's taking a while, but I'll make very sure that the new improved site will be up before Komikon on Oct. 21.
I received several replies via email from my last post "
We Care Only About ART, and Not The Masses
." This one is from Archie Orbeta. My reply follows...
Hey Gerry, Just like to say that I really apppreciate your effort in revitalizing the local comic industry. Every now and then, I try to have some time to browse your journal (by the way is astounding) to check on current issued on comic dome. (I did like Lastikman..Elmer seems a little far-fetched)
Anyway, I\'d just like to comment on your recent post on \"criticisms\" on your work. 1. Using english as a language medium 2. Not focusing on local market For using english, i agree with you that not all Filipinos speak tagalog which is really a problem for us and most southern regions frowns upon having to learn tagalog.(what more in reading something they can\'t understand) - thus, the most logical thing is have it published in english - which is right.
- unfortunately, this sensible move leads to another misinterpretation for Filipinos that local artists are not catering to the local market but instead is targeting the international market - mostly for money and not for art.
For example, when they published Darna the comics - it was in english - and most of the promotion and marketing was centered for US release (as it turns out, most of the people involve was not even in manila but in sweet US - take raffy from the yahoogroups, he\'s not even in manila but in LA, thus the incessant promotion of a fraking filipino store)
Its pretty clear that their market are those filipinos in the US. My point is - if a local artists publishes a comic then start mentioning retailing in the US, Europe and other foreign countries, Filipinos will start to have a negative reaction to the artist - the thought is that the local artist creates art not for themselves but for the money(green money) - as miscontrue as it may appear - that is the reality. Its not crab mentality - its just that Filipinos don\'t see the effort to properly circulate the comic all around the country - (ex. no reviews from cebu critics, baguio critics, etc.)
And the absence of proper information - human conclusions are made and unfair at it may seem - one just can\'t blame them as they simply don\'t know the crap they\'re talking about. I don\'t know if my letter is sensible - I just want to share my two cent on this premise. Anyway, thank you for your time and I more power to your work.
-

Archie Orbeta
First of all, thanks for taking the time to write, Archie! Feedback like this is very important to me, and unlike what other people may seem to think... I don't know everything, and more likely than not, I know far less than I should. And messages like this help me see things from a different point of view, and it enables me to either rethink my opinion, and/or help me strengthen the opinion that I already have.
I think any artist who puts his work out there needs to be prepared for criticisms. Because such observations about an artist's work, be it good or bad, will only help that artist to grow and improve. Unfortunately, many of such criticisms are based not on fact, but on speculation, assumption and like I had mentioned, false expectations. I had expected it, and when the crits did arrive, I had to write something about it lest my silence be construed as agreement.
The distribution problem is great issue in comics production. Like I mentioned in my post, I'm not a huge company. To expect me to have the distribution reach of a huge company is preposterous. It's far more difficult to distribute locally than abroad, to be honest. There are simply NO comics retailers outside Manila (except for maybe Filbars which I have yet to talk to), and some possible retailers have declined to take my work.
I've had a retailer back out in Bacolod when he read my comic book. I've had another retailer in Butuan decline when he realized my comics weren't a match for his shop, which catered mostly to kids. But he said he did like it, and he wrote to me a long letter about it. He even wants to be a member of Komikero, which is great! But the infrastructure simply isn't there for a comics self publisher to do business nationwide.
But it doesn't mean I haven't been trying. My keyboard has been smoking for the many emails I've been sending out all over the country, trying to find ways to get ELMER out there. A distribution possibility in Cebu is promising, and in fact, I've sent many copies there for free just to get the word out. I've also sent copies to Baguio, in the hopes of finding people there interested, and maybe help me find a store that could carry it, comics shop or not.
The foreign retailers are easier to deal with because they have websites, and they have emails they regularly check, and they are more open minded about comics like mine and accept them without question.
I've been around the local forums and mailing lists, and for the most part, specially the major local online forums, I've been met with uninterest and indifference. I'm not complaining. I just accept it for what it is, and move on.
However, my comic book ELMER gets to be discussed in
Russia
, in
France
, in the UK and all over, without me instigating any of it. They just saw the preview in my site and they just started talking about it. For all I know, they may HATE it, but you know, they're talking about it.
But I do get a lot of positive response from people abroad, specially the UK and America, and once again, I'm embarassed to talk about my work like this, but one of the things the critics who put me down don't seem to realize is the positive image I'm bringing the Philippines abroad. We do tend to get a bad image abroad because of the unfortunate things our countrymen do, but I'd like to think I show a different, and more positive side. You know, I'm showing that a Filipino is capable of doing something worthy, that can stand toe to toe with comics from around the world.
As to doing it for money, well of course you want to make money from your work. Who doesn't? Why do you go to school and go find jobs after if you aren't interested in making money? Who goes to the office not expecting to get paid?
Doing it for the LOVE of it doesn't mean you work for free
. You just have to find the job you like and love doing, and you make a living out of it, so that you can continue doing it.
I think people should exert a little more effort in thinking things out before saying anything. Not knowing the facts is not an excuse to put somebody down.
The correct and intelligent thing to do when you don't know is to ASK. If people think I'm doing something objectionable or something that offends them and their sensibilities, or if they are really just curious as to why I'm doing what I'm doing, please ASK ME.
My email is freely available
. I can easily be gotten in touch with to answer any question here on my site, on the message boards, etc.
But unfortunately NO, it seems some people prefer to froth at the mouth and be indignant, rather than be correctly informed.
They would rather create anonymous personas and attack me from the safety of anonymity in another blog and yak as if they know what they're talking about.
That's the tragedy with people today. No fucking balls.
---
Wednesday, September 06, 2006
Posted 9/06/2006 11:18:00 AM by Gerry Alanguilan
We Care Only About ART, Not The Masses.


A Rebuttal
I'm writing a rather long article about sentiment some people have started to talk about with regards to the comic books being created by the current generation. Meaning us. Meaning ME. Basically, they don't like what we do. And upon further investigation, it turns out they don't like what we do because we don't do what they expect us to do.
It's all about
False Expectations
. With that kind of standard, no piece of work will survive scrutiny, no matter how worthwhile it is, if the reader has vastly different expectations.
As I've said, it's a rather long article... probably too long for just one post, so I'm thinking I'll just chop it up and go right ahead to the very guts of the matter.
We've been accused of caring only about ART, and not about the Filipino masses, and that komiks should only be made and marketed for them. We are accused of making comics only for the RICH because our comics are too expensive.
The statement makes several assumptions that I will enumerate here.
1. It assumes that we should create comics that the masses will like and we are not doing it.
2. It assumes that Filipinos do not deserve ART.
3. It assumes that the Filipinos are not intelligent enough to understand or appreciate ART.
4. It assumes that comics cannot be for anyone else but the poor.
5. It assumes rich people don't deserve to read comics.
6. It assumes we are doing our comics only for the rich.
7. It assumes that we are intentionally making our comics expensive.
With those kinds of expectations, all my work will certainly fall below their standard, and nothing, short of the apocalypse or not even then, would make them change their mind.
My only objective ever is this:
To create really good comics.
To assume any other reason than that would be to commit a colossal misunderstanding of why I'm here and why I do comics.
I DO NOT create my work tailor made to be appreciated by a certain section of society. So no, I do not create my comics for the poor, nor do I create my comics for the rich.
I create my work, first and foremost, for MYSELF. People seem to think that's self centered, selfish and not caring at all for your readership. It's another false assumption by people who have little understanding of what I do and have no other explanation to explain what I do.
I think a little openess of mind is in order, a little thinking outside of the box so to speak, and not automatic shutting down of ideas that is beyond what you are used to.
I cannot afford to second guess my audience. Writing for a certain section of the population, trying to figure out what the market wants or what the people want to read connotes a certain kind of arrogance where one assumes he knows what the people want.
Nobody really knows what the people want.
It was assumed that people want manga, and local manga comics were published accordingly. And yet two major Filipino made manga publications have since shut down.
Look around... the komiks industry is all but dead. If those old komiks really gave what the people wanted in the last few years before its demise, they would still be around. Even attempts to "manganize" Pilipino Komiks, Tagalog Klasiks, Hiwaga and Espesyal was not enough to save them.
That whole mentality of chasing "what the people want" smells too much of "I do what you want and you pay me for it".
It's tantamount to
prostitution
and I find it appaling.
I'd rather not indulge in a futile exercise in trying to figure out what will sell, nor would I want my body of work to be so engineered.
So I'd rather sit back and just do the best God damned job that I can. And I can only do that by figuring out what pleases ME, and I do it. That is how I created Wasted, and that is how I'm creating Humanis Rex! and ELMER.
But is it working? Am I doing a good job? I really can't say except point to a few things that do not come from my own personal opinion. Please take note that I don't make a habit of writing about my work this way. I do this with considerable embarrassment, but I only do it to make a point and make my case.
My work WASTED seems to have been popular. It's been reprinted several times from photocopied mini comics, to Alamat publishing a compilation, to Pulp Magazine serializing it for a year, then publishing another compilation with a higher print run. It seems to have gotten
good reviews
from respected local and international writers including Steven Grant and Warren Ellis.
My work ELMER also seems to be getting some positive attention. More than half of my entire print run of the first issue has sold out. I've gotten positive feedback from all over from Baguio, to Cebu, To Butuan, to France, Russia, Germany, Sweden, Scotland, Britain, and to the United States. It's also gotten
really good reviews
here in the Philippines and abroad and has attracted the attention of a big time international publisher. It's being sold by a major comic book retailer in the UK.
Please don't think I'm tooting my own horn. I only wanted to address the issue of the quality of the work I do. If a few respected writers in the local and international comic book community think my work is good, then my work isn't really as bad as some anonymous people seem to think, does it? At least, those who reviewed my work are not anonymous, and you can check their qualifications based on their body of work. They at least would probably know what they're talking about. But these anonymous writers? How do I know what kind of basis they have for saying the saying the things they say?
So there really is something to be said about creating comics that sought to please no one but yourself. Because if you do that, your standards will be very high, and you will be able to create comics that are the best you can do. And if it is good enough, people will see it and appreciate it, buy it and read it.
I've proven it several times over.
Pandering to the audience by doing what has proven to sell previously is something I abhor vehemently. This really is what is meant when one says, you have to market your work for the masses. And it's to give them what they have shown to have previously wanted.
If that is the process that we should all follow, then we would be doing the same things over and over. No innovations will be made, no new and fresh things will ever be created. It's just rehashing the same things over and over. As a result, your audience will become dumb and dumber, and worst of all, YOU as a creative person will become dumb and dumber.
As a further result, you dumb down your work even further to catch up to your impression that the audience is getting even dumber. Until at the very end, everything is so dumb, everything just collapses.
Just like what happened to our komiks industry.
And now you want me to perpetuate this idiotic thinking to my own work?
FILIPINOS DESERVE ART
.
They don't deserve the same dumb shit that's been given to them for many years. They are far more intelligent, and far more understanding of what is really good and worthwhile. Just look at the pirated DVDs being sold at Quiapo. I'm amazed at the kind of titles they sell. Their popular titles include CRITERION DVDs of Akira Kurosawa, Alfred Hitchcock, Jean Cocteau, Federico Fellini and Hiroshi Inagaki. I don't for a moment condone piracy, but the tastes being exhibited by these same masses indicate an intelligence and sophistication that seems to have gone completely below the radar of the dumb shits who create their local entertainment.
There is a sentiment that komiks is a "masses only" entertainment, and that comics should only be made to cater to them, and no one else.
We really shouldn't give comics, if it will be a true art form, to be so restricted. Yes, comics can still be cheap entertainment for the masses, but comics can be so much more in addition to that.
We really shouldn't imprison comics to stay in just one place. It's a medium that continues to grow and evolve, and if international comics history for the past 20 years is any indication, comics has the potential to be a medium in which serious topics can be tackled and discussed. Comics can be pieces of art that truly MATTER. Look at works like Maus, Watchmen, Sandman, Epileptic, Palestine, and any of Will Eisner's graphic novels. We will not have those kinds of works if we keep comics dumb and cheap.
It is truly disheartening that there were people in the old industry who didn't want comics to evolve and would much rather stay where they were. My own experience bears this out. I was told by my editor that I shouldn't draw so good because it's only a "local" comic book. Shocking isn't it? But yeah, it's true. The same thing was said to Nick Manabat. He wanted to work locally, but he was advised to just go ahead and work for the US instead. Wasn't that the same thing a local editor told Alex Niño way back when?
It really shouldn't be surprising, no matter how distressing it may be, to see the komiks industry collapse not long after.
There is also sentiment that our comics are too expensive.
There is something I hope people would understand, as far as I'm concerned, I am NOT a comics company like ACE Publications was, like GASI was. To expect ME to perform like a comics company is preposterous. I don't have the capital to publish a high print run that would ensure a low retail price. I don't have a circulation manager that would distribute my comics all throughout the country and ensure I get paid for it.
In Komikero Publishing, there is only one employee. ME. I'm also the boss. I'm also the writer. I'm also the artist, the editor, the accountant, the circulation manager and the janitor.
At the retail price I'm offering ELMER, that's as low as I can make it without losing money. Don't forget paper is very expensive now, as is printing costs. Those are considerations one must keep in mind.
If the masses cannot afford to buy my comics, then it's never intentional. After all, I want my comics to be read by as much people as I can reach.
As to why I've written ELMER in English, I explain it a bit more
here
.
To accuse any artist of "not creating komiks for the masses" as if it's a bad thing is just ridiculous.
I did not choose to be a doctor, does it mean I don't care for the sick? I did not choose to be a fireman, does it mean I don't care if people's houses burned down?
More specifically, I choose not to make educational comics for students, does that mean I don't care for the education of students? I choose not to make religious comics. Does that mean I don't care about the spiritual wellbeing of my fellow man?
Once again,
False Expectations
.
My comics are what they are. Don't make assumptions on my purposes for making them, don't make expecations of them I never intended to accomplish. Take my work for what it is, and judge it for what it is, not for what you expect it to be.
Now if you read Wasted or if you read ELMER and you think the story is bad or if you think the artwork is inferior, then that's allright. At least you would be judging my work according to its own merits. There have been people who wrote to me, and posted in their blogs about how they think my comics don't impress them, and that's all cool . Such feedback is something I highly appreciate.
If you want comics done YOUR way, then please create your own. If you are a writer or artist, then please, channel your ranting to creating. Lord knows the industry needs it.
---
Monday, September 04, 2006
Posted 9/04/2006 07:38:00 AM by Gerry Alanguilan
"At the National Book Awards"
Komikero Video Blog #9
I took some footage of the Book Awards last August 31. It features people like Wasted director Noel Lim, Dean Alfar, Vin Simbulan, Andrew Drilon, Elbert Or, Ruel De Vera, with additional footage from Sept 9 at the Book Fair with Wilson Tortosa, Ariel Atienza and Orvy Jundis.
+

The world according to Pablo
Published on page D6 of the August 23, 2006 issue of the Philippine Daily Inquirer
"LIKE MOST WRITERS, I CANnot single out one favorite from among the more than 300 komiks novels I've written," Pablo S. Gomez says. "But two stand out: 'Busabos' and 'ROTC,' because they're close to my life story."
Gomez acknowledges that a writer often mines his own life for plots.
"When I'm sad and broken-hearted, my stories turn out better," he confesses.
Gomez, now in his diamond year, has lived a life so colorful, convoluted and circuitous, it rivals his best-loved novels.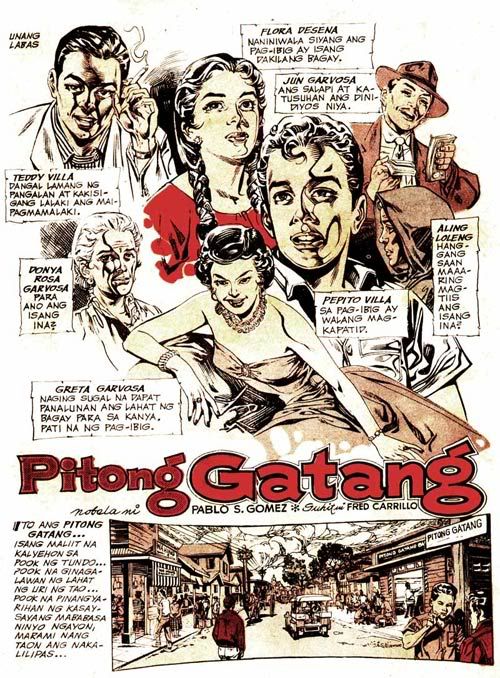 Pitong Gatang

,
written by

Pablo Gomez


Illustrated by

Fred Carrillo
+

This blog has been featured recently in
Filipinasoul.com's Blog Day 2006: Focus on Bloggers
. Thanks Maricar!
+

The issue of Fudge Magazine which includes the installment of Humanis Rex recently featured in the "Making of Humanis Rex" video is now available at various magazine outlets.
It seems I had just sent this in, now it's out, and another Humanis Rex deadline is staring at me in the face. Gotta work!
---
Saturday, September 02, 2006
Posted 9/02/2006 07:17:00 PM by Gerry Alanguilan

Wasted The Movie Continues Production...
After a long delay, Wasted the Movie continues production.
Noel F. Lim
is still the director, but unfortunately, I will no longer be playing Eric. I will still remain as a script consultant and have final approval over it.
We started shooting Wasted early in 2002, and I moved to Manila for seven months in the hopes of finishing the shooting within that time. We were unable to.
However, we were able to finish at least 1/4th to 1/3rds of all the scenes. After those seven months, life and work had completely taken me over (I got married in December 2002) and from 2003 onwards, I had hoped I would be able to continue shooting somehow, inserting a day of shooting here and there in between all my comics work. But it never happened.
The realities of working in comics is so that I have very little time for anything else, and shooting Wasted demanded much more time than I was finally able to give. Eric is, after all, the major character, and the story centered almost exclusively on him.
This year, Noel Lim and I finally agreed to discontinue the movie we were making, and he will go off and make a new one with a different Eric. To Noel's credit, his enthusiasm has never flagged through the years, and he has continually pestered me when we were going to start shooting again. It is a project that is near and dear to his heart and he wants nothing more than to finish it.
I
want to finish it as well, and to be completely honest, I would have wanted to continue playing Eric because it had been so much fun. But at this point in my life, I really don't have the time to spare.
Although I have control over the script, I have little control over how he would eventually shoot it. I just hope that he doesn't use any more God damned CGI flames or any CGI people. He was tempted, more than once, to completely CGI me, when he started to realize I won't be able to continue doing it.
I will still be in the movie, in a way that I will not yet reveal. I'll let you all just figure out where I am, whenever you finally get to see it.
As to all the footage I've shot, we will be collecting some of it, and will include it as supplementary material for a possible home video version down the road. Here's some photos of me as Eric from 2002: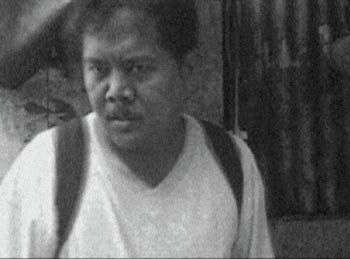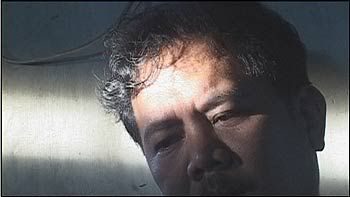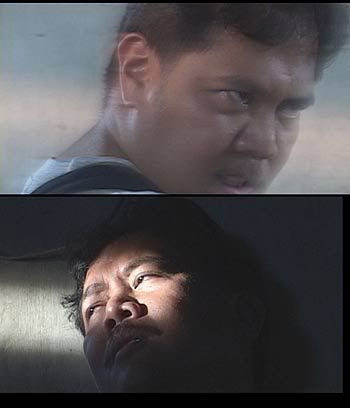 Here's some photos taken of the shooting in 2002 by

Budjette Tan

in his nifty phone cam: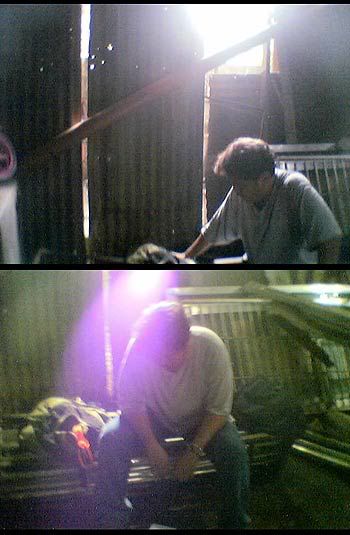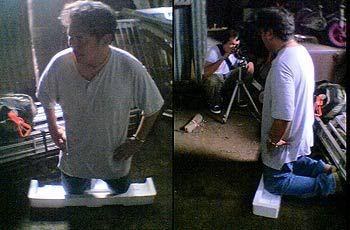 Hopefully, I will be able to post some of that footage with me on You Tube very soon.
I will also be reactivating the
Wasted The Movie Blog
, where you can see me, Noel Lim and other creatives involved in the movie talk, fight and pull each other's hair out.
Any further updates about the production of the movie you will be able to read over there.
+

Help out a friend of mine
by buying some of his comics. He doesn't want to sell them, but he's only doing so because he lost some stuff to robbers on a bus.
Here's his blog
.
---
Friday, September 01, 2006
Posted 9/01/2006 09:10:00 AM by Gerry Alanguilan
An Interview with Arnold Arre
With Cynthia Bauzon-Arre
Komikero Video Blog #8
I spent most of August 19 with
Arnold Arre
, creator of such comics as Mythology Class, Trip To Tagaytay, After Eden and Andong Agimat, to just hang out. And since I brought my camera, I thought it would be a great opportunity to interview him for this site. It's a good thing that Arnold's wife Cynthia was also there and I got to ask her a couple of questions too.
There is one question I asked both of them separately, about something that I have noticing about Arnold's work for quite some time. You'll know when you see it.
+

I ran into
Hal Santiago
at a Book Sale in Makati yesterday. He's a voracious book reader and collector and when I asked him, he said he was looking for History books, specially Chinese history. It's amazing. At that age (at 65) his mind is still incredibly alert and willing to learn and grow. He looked like he was in excellent health and although he says he's no longer drawing, he just wants to enjoy his life now. How cool is that?
I wish I could have taken a video of him at least, as I brought my camera with me for the Book Awards, but quite honestly, I completely forgot.
I asked if I could visit him at home one of these days and he said sure. I'll be interviewing him for this site.
+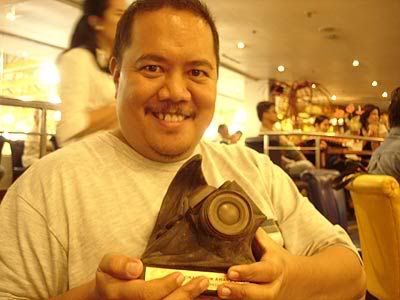 Siglo: Passion
won at the Manila Critics' Circle, National Book Awards! I wished Lastikman would have won, but looking at Siglo and the thing that was accomplished with that book, I knew my wish for Lastikman to win was just wishful thinking. I'm definitely happy that Siglo won, after all, I do have a special story of my own in it.
Quite naturally, where would I be nowadays without my camera to capture the event on video? I'll be putting the footage together and I'll have it up in a few days.
---
---