Thursday, August 31, 2006
Posted 8/31/2006 03:39:00 AM by Gerry Alanguilan
Elmer #2 Final Cover
I can now definitely say that Elmer #2 will be released on October 21, 2006 at the Komikon: The 2nd Philippine Comics Convention at the Bahay ng Alumni at UP Diliman. Or at least I'll die trying. :)
Response to the first issue has been great, and it's inspired me to really do much better with the second issue. I hope to have some preview pages up here next month.
+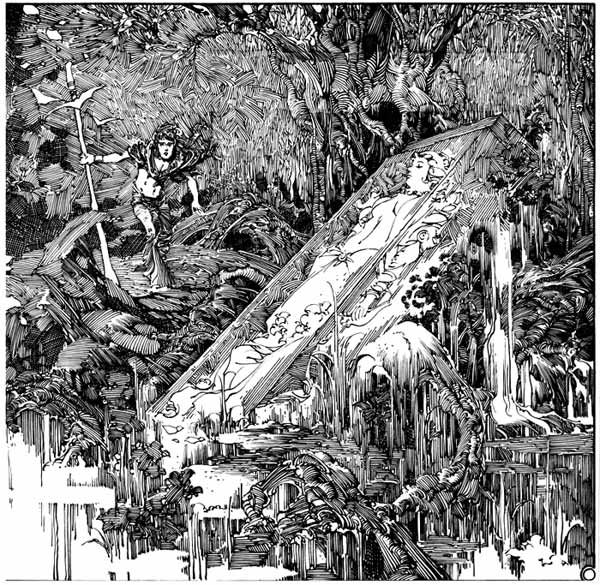 Alex Niño
Great news!
Alex Niño
is coming to the Philippines in September! I'll be interviewing him for this site, so I better go and get a 1 gig... better yet a 2 gig memory stick because this is definitely going to be a long video interview! Stay tuned!
---
Tuesday, August 29, 2006
Posted 8/29/2006 02:44:00 PM by Gerry Alanguilan
Komikero 5th Year Anniversary!
Komikero Video Blog #7
Video of our meeting on August 27, along Sampalok Lake (and elsewhere) here in San Pablo. Welcome to our new members Myke, Pilar and John!
The Komikero Artists group is an informal artists group that meet every last Sunday of the month. The group is based in San Pablo City, but welcomes members from practically anywhere else. We have members from Los Baños, Manila, Cavite, Cebu, Kidapawan, even France!
+

The Philippine Komiks Message Board
is a constant source of amazement as the many veteran comic book illustrators publicly post their rarely seen artwork. The most active posters include such masters as
Romeo Tanghal
and
Dell Barras
, but you can also see work by 80's favorites like
Louie Escauriaga
, creator of Superdog for Funny Komiks.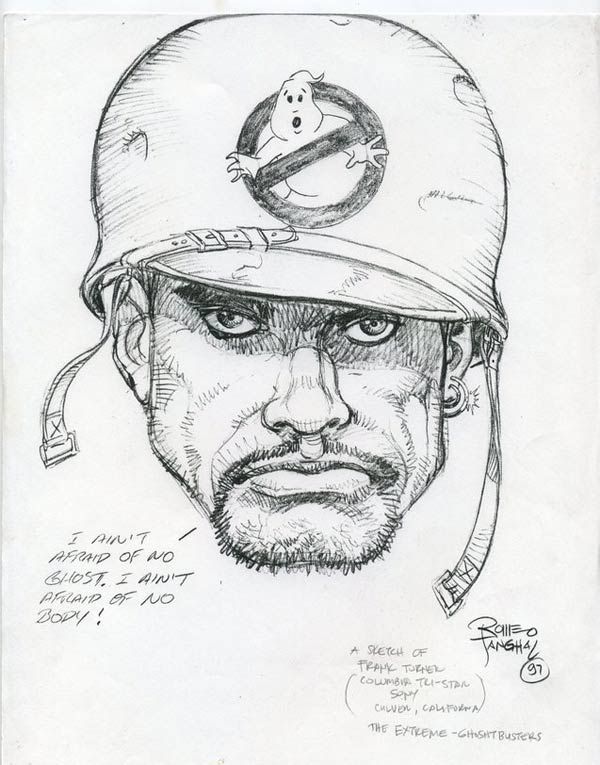 Romeo Tanghal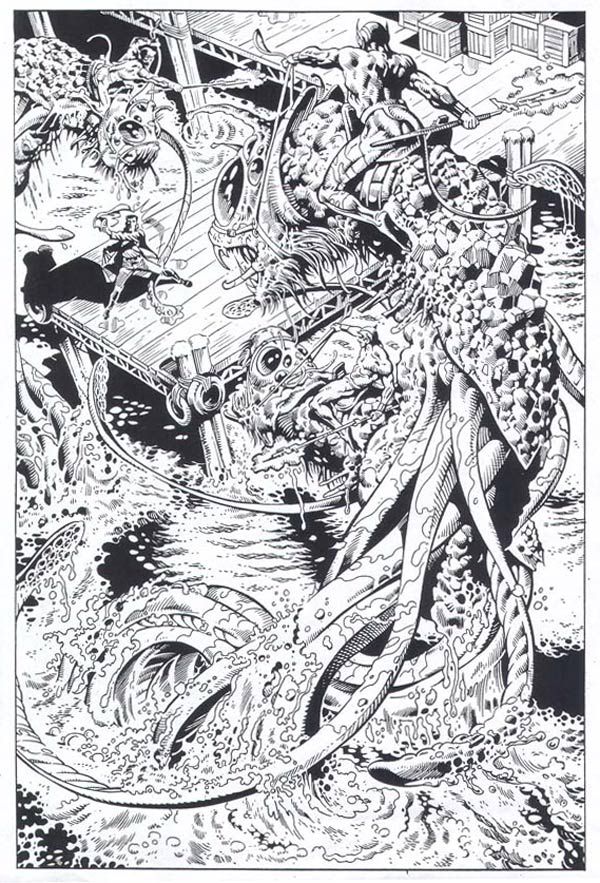 Dell Barras
Hurry up and go on over to the
message board
and save the images before they go offline. Many of them already have!
+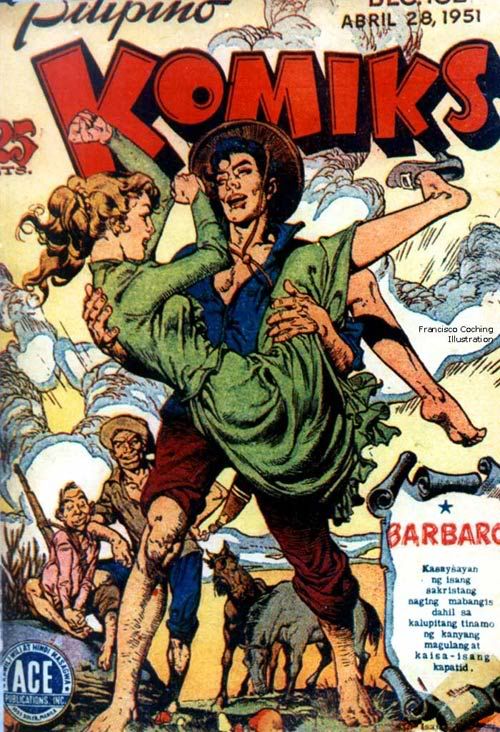 "Kuwentong Coching"
Bayani San Diego Jr.
Philippine Daily Inquirer
August 29, 2006
IF you ask her, her late husband Francisco V. Coching, the dean of komiks novelists-illustrators, was as heroic as the characters in his action-packed novels—most of which were turned into big-screen spectacles.
Still feisty at 82, Filomena "Luming" Coching recalls that when they met as teenagers in pre-war Pasay, her husband Koko was a "cowboy."
He was footloose and fancy-free, a playboy, she recounts. But he also started working at a very tender age.

Or you can hurry and grab a copy of today's Inquirer, if it's still August 29 in your area, that is.

---
Sunday, August 27, 2006
Posted 8/27/2006 08:48:00 PM by Gerry Alanguilan
I visited my folks at the old house the other day to catch up, to pick up some things and leave off others. My dad gave me this picture of me he found while rummaging through his files:
Oh man... memories! This really brings me back. This was taken around February of 1990 at a house along Dna Hemady in New Manila. Creating comics was still the farthest thing from my mind. I wasn't a licensed architect yet but here I was already working as a construction supervisor for Architect Edgar Lee.
For this particular project, we were renovating the kitchen of the house as was our specialty it seemed. I handled another kitchen renovation just a few months earlier.
This was one of those projects that stressed me out more than anything else has before or since, and made me dread the kind of life I'll have if this kind of thing was something I would go through for all time.
+

Jonas Diego has just posted pictures of our
Komikero 5th Year Anniversary Meet! Click Here
. I'll be posting a video blog about it soon.
+

I've been an inker of comics for 10 years. Technically, I'm *still* an inker, as I still ink anything I myself pencil. There is an inker's forum put together by PJ Magalhaes that just went live. A lot of professional inkers visit the forum and this is an invitation to other pro inkers, aspiring artists, established artists, etc. to go register and get involved in discussions about the job. Ed, sali ka!
Inkers.Org Message Board
+

A Creating Comics Time Lapse
"The Making of Humanis Rex!"
This is an abridged video of
Komikero Video Blog #6: The Making of Humanis Rex!
where I cut out all my yapping and just let all the pictures do the talking. To see the full version of the video, scroll down below this post, or if it's not there,
click here
.
---
Friday, August 25, 2006
Posted 8/25/2006 12:35:00 PM by Gerry Alanguilan
The Making of Humanis Rex!
Komikero Video Blog #6
Humanis Rex!
is a 2-page a month full color comics series I write, draw and color for
Fudge Magazine
, published here in the Philippines by Sesame Seed Creatives, Inc.
In this video, I go through the process of creating one installment of Humanis Rex! from the writing to the drawing, to the coloring, lettering, and then finally submitting.
I decided to upload it to
Google Video
instead, because the length of the video (at 11 minutes and 38 seconds) went beyond the limitations set by
You Tube
. Once You Tube approves the upgrade of my account to allow me to submit videos of more than 10 minutes (if they ever do), I'll upload this video there as well just so all my video blogs are together in one place.
---
Thursday, August 24, 2006
Posted 8/24/2006 11:38:00 AM by Gerry Alanguilan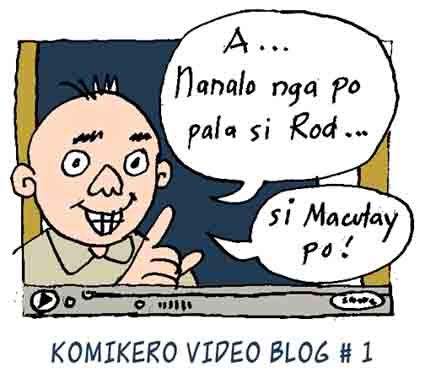 Video Blog Spoof by


Mario Macalindong
Someone offered me suggestions with regards to my video blogs and the fact that in the latest one I expressed difficulty in accomodating personal interviews because of my crazy schedule.
Why not do question and answer videos where I answer the most common questions put to me?
I think it's a great idea and it's something I'll definitely do. These things don't take very long to make anyway so I can easily fit them into whatever I'm working on.
There will only be one question per video so they can be easily searchable. I'll most likely start off by saying who I am, what my background is, what my work is, and so on. Then later I'll talk about how I broke in, influences, komiks history, suggestions to upcoming writers and artists, and so on.
Once again, I apologize to those students who want to do personal interviews with me. I really want to accomodate you all because I really love doing it, but just one interview takes a lot of time, and easily takes more than half of my entire working day (sometimes it takes the whole day). Right now, I just need all the time I can get, what with working on Humanis Rex!, Elmer, and various other comics and non-comics projects.
I remain open to e-mail questions and those I get to answer more or less right away.
Thanks to
GIO
for the suggestion!
+

Crescent Shield
, the Heavy Metal band who commissioned me to do a cover for them has previewed the cover on their
MySpace page
. If you dont' see the cover, click on the various songs on their MySpace Player to change the images.
+

I've finished doing "
The Making of Humanis Rex!
" video blog and I just can't wait to upload it at You Tube. I had a LOT of fun making that one, and I just can't wait to share it with everyone. My problem is, it's almost 12 minutes long. You Tube has a 10-minute limit on any upload, unless you have a "
Director's Account
".
As much as I don't like to get one, lest I be construed to consider myself a "real" director, I had no choice but to apply for one. But let me say here and now that I don't consider myself as a director, and when I refer to myself as one then I do it only for fun. I just consider myself a video enthusiast who loves putting together these little things.
Anyway, the application is taking longer to get approved. I hope they approve it before Sunday, the scheduled day I'll upload the video.
If not, I'll go ahead and upload the next one, Komikero Video Blog #7, which features an interview with
Arnold Arre
and his wife
Cynthia
.
+

Komikero Anniversary Meet!
Sorry for the short notice, pero Komikero meeting on Sunday, August 27! Medyo unpredictable ang weather, so kung umulan man, at wala kami sa usual places:
http://alanguilan.com/sanpablo/map1
/
You can find us sa Spaghetti House dito:
http://alanguilan.com/sanpablo/blog1/spaghouse.jpg
Malapit lang yan sa lake, dun sa mga hindi pa nakakapunta dyan.
Mukhang meron tayong dalawang bagong member, yung isa galing pa ng Butuan!
Nandoon na ako ng mga 11am, sa tapat ng bahay ni Aling Meding nagdo-drawing drawing. Kung umuulan, nasa Spaghetti House ako.
And yes! Gagawa ulit ako ng VIDEO BLOG!
KOMIKERO AUGUST ANNIVERSARY MEET
Sampalok Lake, San Pablo City (refer to map:
http://alanguilan.com/sanpablo/map1
/ )
August 27, 11am to sawa.
Bring your drawing materials, art for critique, etc.
Kita kita na lang!
---
Wednesday, August 23, 2006
Posted 8/23/2006 08:05:00 PM by Gerry Alanguilan
I thought about revisiting Lastikman and San Pablo: 1978 (Siglo: Passion) to try to discover for myself what thoughts I may have about these two stories I've done two years after doing them. Although I thought about doing it before the National Book Awards nominations came in, it certainly makes it more relevant for me now.

LASTIKMAN: A LOOK BACK

It was during the launch of Mango Comics' Darna at Eastwood in 2003 that I was informed by Mango Comics that they were interested in getting me to write Lastikman for them, on the strength of my writing on my mini comic Crest Hut Butt Shop.
I guess the closest I can describe Crest Hut to be would be a gag strip/autobio collection. People who have read it seem to think it's funny. Well, I have to admit, I foolishly laugh at some of the things in there myself. It's kind of nice knowing that other people find funny what you find funny. It makes me feel less weird.
I did find it a bit unsettling though, that they would get me to write Lastikman because of Crest Hut. Because the humor of Crest Hut is something I would not have associated with Lastikman at all. It's a little off color, a bit angry, a little too honest, and it makes conservative people uncomfortable. I voiced this concern to someone, I don't remember now who it was, but their response was to just write from the gut and do what I want... as long as I don't get Lastikman to spout stuff like "fuck" and jack off.
It sounded like a sensible suggestion. So I followed it, and left the profanity and self gratification for another, much later character.
It still left Lastikman a very tough character and story to write. As much as I have enjoyed reading super heroes all my life, I really have a rough time when I try to attempt writing it myself. It's the reason why I never continued doing more TIMAWA. The stories were simply not there for me.
Mango lent me a photocopied collection of Lastikman's second adventure as it had been serialized in Holiday Komiks in the late 60's. I was also able to track down a considerable amount of the very first adventure from Aliwan Komiks in 1964. I felt it essential to know who Lastikman was as Mars Ravelo created him. I would not have done the whole thing if I didn't know. I wanted to stay true to Lastikman's true origins, and I was determined to bring this new Lastikman back to it.
In the movies, Lastikman's origin always involve a human, a rubber tree, and battles with fantastic super powered beings.
In the comics as Mars Ravelo created him, Lastik-Man is spelled differently, he is an alien from another planet, he battles crooks and criminals, and he champions the poor.
Ravelo's Lastik-Man is also rather serious and the strip not a comedy at all, compared to the character's other incarnations in other media. Lastik-Man eventually shuns the first family who took him in after his arrival on earth because he feels he cannot be involved emotionally. He feels, first and foremost, that his close involvement with humans would endanger their lives. He also feels that he cannot accept the love of a woman because he is an alien.
Ravelo's Lastik-Man is actually quite a tragic character in that regard.
The first few pages of Lastik-Man: Volume 2 from Holiday Komiks depict a heartrending scene with Toto, who breaks down in tears and hysterics upon learning that Lastikman had left them without saying good bye.
The "fun" in the series comes from the coolness of seeing Lastik-Man's many transformations and the funny, fantastic and inventive ways he dispatches the bad guys.
I wanted to stay true to Ravelo's original origin and concept of the character, but at the same time, expand on it, and fill in many of the blank spaces.
I did not have the benefit of reading later Lastikman comics, but it was just as well.
I decided to bring back the original family of Don Rufo, Vinya, and Toto, and retain their original relationships. Don Rufo is Vinya's and Toto's father, while there is no word as to where their mother is. Toto becomes best buddies with Lastikman, while Vinya falls in love with him.
I also wanted to have a bit of the feel of the original stories by having Lastikman battle ordinary crooks and criminals and having him champion the poor, but I also wanted to bring in something big and fantastic, and give Lastikman a really formidable enemy.
But one of the things I decided to do was make the character, and the series in general, not as serious and tragic as the original. I wanted the story to be fun and funny, but also inject some gravity to the situations to keep them grounded in reality.
Before I started writing the story itself, I had to know who Lastikman was. I wanted to know where he came from, who he is as a person, and what motivates him to do what he does. Reading the original stories gave me few answers. Given the leeway to take certain liberties, I decided to fill in those blank spaces. I gave Lastikman a planet. I gave him a history, and a reason for being who he is, and a reason for his presence on earth.
This process took a long time. I wanted Lastikman's origins to be logical and plausible, as far as fantasy would allow. A lot of this background details never made it into the finished comic book, and I never intended it to be so. That information was for me, for the artist, and everybody else who worked on the comic book. I wanted them to be informed of who this character was, because I believe it will inform the work that they do.
I wanted to have a reason why Lastikman was so crazy, so out of his mind, but also funny and somewhat child like.
So the basic idea I came up with was like this: Lastikman came from a planet where everyone was like him. Sort of. In that planet, they're all normal humanoids, as powerless as humans are on earth. But they're like Star Trek's Klingons, in that they're a ruthless conqueror race hell bent on annexing every planet they encounter. Naturally, they think themselves superior to everyone else in the galaxy.
Recognizing that they are inherently physically inferior, they decided to experiment with themselves in an effort to force mutation and create a new breed of super humanoids. The first batch subjected to these experimentations pretty much died, and although subsequent experimentations yielded better results, they were no less failures.
Lastikman is a "failed" experiment. They were trying to create an incredibly strong super soldier who can transform perfectly into anything. They failed and created a half wit, his brain somewhat damaged by the forced mutation, exhibiting an infuriating trait of compassion, with powers only half formed. He can change into anything, but he cannot complete the transformation as he still displays the characteristic checkered pattern of the integrated battle suit.
Since all failed experiments are "terminated", Lastikman is forced to escape in an experimental fighter ship. He is pursued by other ships and his ship is damaged as he reaches escape velocity. He learns of a plot to invade this planet "Earth", and he decides to go there to warn them of an impending invasion.
Because of the damage done during the escape, his ship disintegrates upon entering earth's atmosphere, and crashes in Manila. The trauma of the crash knocks him out, and when he wakes up, he doesn't remember who he is, and where he came from, and why he is here.
I wanted to play up Lastikman's "Alien-ness". He is not like you and me. He doesn't speak our language. His initial interaction with the Filipino UZI's is ripe with comedic possibilities. That, plus his memory loss make for a very challenging and fun situation to write.
The original artist assigned to Lastikman was Ryan Orosco. I thought it was great, because I always believed Ryan to be a very talented artist. I was a little concerned because I think he had other projects at the time, I think for Culture Crash. When it did become apparent that his commitments elsewhere might not make it possible for him to work on Lastikman full time, Mango (bless them) gave me carte blanche to choose the creative team I wanted.
Quite naturally, I wanted the best.
Fantasizing, I thought wouldn't it be GREAT if Arnold Arre pencilled and inked it, and Edgar Tadeo colored it?
It was a fantasy, because it was like asking for the moon. I thought Arnold would be the perfect artist for Lastikman. His combination of the cartoony and serious, presented in an aesthetically pleasing whole would superbly fit this story. But he was busy writing and drawing his own stories and I wasn't sure if he was open to a collaboration. And besides, I had the impression that he was busy with his zillion other projects.
As for Ed, I knew he was busy himself coloring the many US comics he was doing. If he was so swamped with work that he would decline coloring Superman: Birthright with me and Leinil Yu, what chance did Lastikman have?
But I sort of knew I could twist his arm a bit if I got a little desperate. And so I twisted his arm until he gave in.
I asked Arnold, and he said yes. I think they had to bring me to the hospital that day just to wrench that almost permanent smile off my face.
And so I had my team. And I have to admit, it was an AMAZING team. I couldn't believe my damned luck.
It took me a long time to come up with the full plot, and it was done, I was rather proud of it. I thought we were all set. And then Mango called a meeting.
The possibility of doing more issues was always there, but at that point, the chance of doing more Lastikman stories beyond the one shot that we were doing suddenly became slim. Reasons were given, which I accepted. Besides, I'm one of those who egged Mango early on before Darna came out that it would be great for them to come up with original characters.
We would create a brand new character, introduce him in Lastikman, and spin the character off in his own series. Doing so in an already finished story was hard. I had to integrate this character into the story's reality, and I needed to come up with a character that was really cool and kick ass, worthy of a separate title.
They wanted the character to be a woman.
After mulling it over for a week or so, I came up with the name EKTA. It was later rejected, and I came up with ELASTIKA. She would come from the planet of the Lastikmen, but would be the product of a much later, and much more advanced experimentation than Lastikman was subjected to. She is not a "failed" experiment like Lastikman is. She's the ultimate super soldier. Everything that Lastikman was supposed to be. But ELASTIKA has the same basic flaw Lastikman has. Compassion.
Together, they manage to repulse the invading alien force.
When Arnold's pages started to come in, I was literally blown off my seat. He was doing a far more fantastic job than I thought possible. It was such a thrill seeing a story I wrote given form by such an incredibly talented artist. And Arnold was fast. He was turning in pages faster than I was turning in script pages. It was embarrassing.
Every few days when new pages come in, I nearly piss in my pants each time. Arnold just keeps on getting better with each page, I couldn't believe it. The man isn't HUMAN.
Mango calls another meeting. A new Lastikman movie is going to be made. And they have a female villain named LASTIKA.
Oh crap!
My initial reaction was, fuck! They got it from us! But the more I thought about it, the name "Elastika" wasn't really much of a stretch (pardon the pun). Looking for a name that has something to do with rubber bands and stretching, you're BOUND to come up with the name. I guess I was just a little disappointed because I had gotten used to the name. She was already Elastika for me. You already identify it with her. We had to come up with a new name.
I wanted a name that sounded simple, easy to remember, and powerful. I suggested several names. We settled on ATOMIKA.
Of course, I learned later that there's a whole line of comics in the US with that name. But what the hey. This book won't be released in America anyway.
The book was slowly coming together. Ed starting coloring the pages and they looked terrific! I wish he could have colored all of the pages, and I think he almost did. I think he ran into some scheduling problems that kept him from doing a few of them, and thankfully Ryan Orosco came back to help us out coloring the rest. He did such a good job that I really can't tell which pages he worked on. No offense, Ed!
I look back on it now and think wow, that was quite something. I loved working with Arnold. Everytime we would meet, like last Saturday, Arnold always tells me that we really should work on something else. I'm non-committal, but I hope he doesn't interpret that as disinterest because I would love nothing more than to work with him again. I just can't think of a project that would be perfect for us as of now. Once I get an idea, there is no doubt in my mind we'll work together again.
---
Sunday, August 20, 2006
Posted 8/20/2006 09:11:00 AM by Gerry Alanguilan
Komikero Video Blog #5
Around The House and an Interview
In this video, I make a very short tour of some of my comics, books, and original art, and then two students come over from Manila, Marcel and Teddy, to interview me for their thesis. Here, I make a special message for those students who have emailed me asking if they could come over for personal interviews.
Plus, there's a preview of the next video blog, one I'm really excited about putting together where you can see how one installment of Humanis Rex is done! Can you guess what I was watching while I was drawing? I'm a really big fan of that show.
Somewhere in between I'll probably do a video blog extra. I attended a family reunion of my wife Ilyn's family and who else would I get to hang around with for an entire day but Arnold Arre and his wife Cynthia! I just couldn't help but ask him and Cynthia questions for this blog, questions I'm sure no other interviewer asked them before and I've got some pretty interesting answers!
How exactly I'm related to Arnold is complicated, and explaining these complex family relationship ties really make my head hurt. Let's just say he's a cousin in law.
**************
Ruel de Vera
, who is a member of the
Manila Critics Circle
, the award giving body responsible for the National Book Awards, sent me a message explaining the deal with Lastikman. In an earlier post, I talked about being puzzled at why Lastikman was nominated this year for the book awards, when it was published in 2004, not 2005, making it possibly not eligible. I guess I was just feeling a bit paranoid and wanted to head off any possible controversy over it.
"Regarding Lastikman; the MCC goes by copyright date and Lastikman has a 2005 copyright date, even if it physically came off the press in late 2004. We were looking at it last year and moved it to the 2005 list because of the official copyright date."
Thanks to Ruey for clearing that up! Whew!
I'm glad and honored that Lastikman is a finalist, of course. Although I'm also part of Siglo: Passion, the other finalist, I hope Dean and Vin forgive me if was sort of hoping that Lastikman would win. Collaborating with Arnold on this book was one of the most creatively fulfilling exercises I've had in recent years and inspite of its quirks, I'm really proud of that comic book.
Kung pupunta kayo sa awarding, kita kita na lang!
---
Thursday, August 17, 2006
Posted 8/17/2006 01:08:00 PM by Gerry Alanguilan
Lastikman
and
Siglo: Passion
are both finalists in the
"Best Comic Book"
category of
25th National Book Awards,
the winner of which will be announced on Thursday, 4pm, August 31 at the Manila International Book Fair.
Since there are only 2 finalists in the comic book category, one of these two books I've worked on is sure to win. he.he. I wrote the story for Lastikman, which was illustrated magnificently by Arnold Arre, colored so colorfully by Edgar Tadeo with some assist from Ryan Orosco, and published by Mango Comics.
For Siglo: Passion, I wrote, drew and colored a 12 page story called "San Pablo: 1978". I had been meaning to do revisit San Pablo, 1978 and talk about working on it. Maybe next week.
I have to say, I'm really happy that our work had been recognized. I won't say shit like oh, it's an honor just to be nominated, because well, it *is* an honor, but I want to win, you know? It's nice to know that such an illustrious group of people think my work is really good enough to be so recognized, not only for me, but for everyone else who worked on those books.
I find it strange though, that Lastikman should be nominated this year. If it would have been nominated at all it should have been last year, because Lastikman was published towards the end of 2004. As far as I know, only those eligible to win this year are those published in 2005. I hate to seemingly sabotage my own chances, but you know, someone's BOUND to notice sooner or later. It might as well come from me first.
Any which way this turns out, congratulations to all my comrades who I worked with on both these projects! I just might go and attend the awarding ceremony, because I know it would make for a very interesting video blog. :)
Other comic book related nominations include:
SPECIAL INTEREST: Huling Ptyk: The Art of Nonoy Marcelo by Pandy Aviado, Sylvia Mayuga, and Dario Marcelo.
BEST DESIGN: Huling Ptyk: The Art of Nonoy Marcelo.
And speaking of video blogging....
I'm currently documenting, via video, the process I go through in doing one installment of
Humanis Rex!
I've documented the process from the writing, to the layout, to the pencilling and inking and later, coloring, lettering and sending it off. It's currently scheduled as "Komikero Video Blog #6", which I will upload on Saturday, August 26.
I'm about to start coloring it, and with a deadline set for tomorrow, Friday, it's going to be a close one. You'll all get to see just how it all goes next week. :)
For this Saturday, August 19, Komikero Video Blog #5 will have me touring a little bit of the house, including some comics and art on the walls, and an interview with some students for their thesis.
Posted 8/17/2006 12:06:00 AM by Gerry Alanguilan
My pal
Gilbert Monsanto
is entering the self publishing world with his own
Sacred Mountain Publications
. He has yet to announce what title(s) there would be and what they will be about, but he is attempting to do more than just comic books. He's come up with a cool strategy to find out what a lot of people in the Philippine comics industry is wondering about: Just how big is the audience out there for comics in the Philippines?
I'll let Gilbert explain...
We are coming out with a new title very soon under our very own SACRED MOUNTAIN PUBLICATIONS. The same questions always loom over every creator who has ever considered putting out a book from the deepest depths of their creative minds to the shelves for the people to read and enjoy Komiks. In the past, local publishers have no problems selling more than thirty to a hundred thousand copies every week through consignments, as newstands are so visible and scattered nationwide. However, distributing all the copies to potential buyers is now so limited that it usually takes a lot of time and effort before a good book gets to the reading public. During this time that there is a need to know the real state of the komiks industry, I would like to urge everyone who can read this to send us an email and tell us if you are among the existing local komiks readers of today. All you have to do is send us an email at
smp_letters@yahoo.com
and let us know if you still support the industry. Comments and opinions about the local komiks industry are also welcome. We'd appreciate if you can write your real name so that we can tally results correctly. You don't need to write your whole address but it is wise to do so, because I am going to send a little token to a lucky letter sender, just for writing to us. It is an original art pencilled on an 11x17 artboard of any character of your choice. Just don't forget to write the desired character you want me to draw if ever your letter gets picked. Please indicate "I AM A KOMIKS READER" in the subject of your email. Don't worry, this will be conducted under utmost confidentiality. Within a month I'll put here the number of responding letters for all to see, no names, just numbers.
Hope to hear from you guys soon. Please tell your friends as well.
-

Gilbert Monsanto
Sacred Mountain Publications
I've worked with Gilbert a few times before. I inked him on a couple of issues of
Hellcop
, published by Avalon Studios. He also drew
Houdini: The Man from Beyond
. And of course, many Filipinos know Gilbert for his prolific work on Philippine comics, specially on titles like Kick Fighter.
And if there is something I know about Gilbert, is he is one of the most passionate about comics that I've met. He's been drawing comics practically all his life, and like me, I really don't think there's anything else he'd rather do. So I have no doubt that he will push through with this, and be really successful at it.
Check out
Gilbert's blog here
.
Good luck pare! Suportahan ta ka!
---
Monday, August 14, 2006
Posted 8/14/2006 12:36:00 AM by Gerry Alanguilan
Komikero Video Blog #4
Video Blog of an Audio Podcast!
This week I'm joined by
Jonas Diego
,
Randy Valiente
and
Neil Amiel Cervantes
. Jonas had this idea for doing an audio podcast and we both agreed to actually go and do one about komiks, and we decided to bring in Randy, who we felt could bring in a lot of frank and honest opinions about the state of comics and comics artists in the Philippines. Komikero Neil just happened to be passing by and I grabbed him for a quick word.
Next week, I'll be giving a short tour of the house, with focus on my comics, original art, and a couple of students who dropped by for an interview.
---
Sunday, August 13, 2006
Posted 8/13/2006 09:06:00 PM by Gerry Alanguilan
I was approached last year by writer
Charlene Sawit
, who had interviewed me previously for BluPrint Magazine. She had written a script for an independent movie called "Saving Sally" that was being directed by
Avid Liongoren
. I drew a mock cover and 2 pages to a comic book that a character will be reading in the movie.
I didn't hear from them for a year, until I saw a
Saving Sally Trailer
go up at You Tube a few months ago. I thought wow, I knew Avid to be a very funky, unique and quirky artist, and I was really impressed that he was able to translate the fun quirky quality of his art to moving images.
It's the kind of reaction I had upon seeing Mirror Mask and marvelling at how director Dave McKean made it look like artwork (in Sandman covers) he had been famous for.
Avid sent over these two screenshots from the film, shot in a comics store that I wish were real. I mean, for a store to have a huge ass poster of TIMAWA, Lastikman and Wasted, as well as a section for Elmer, well, that store has got to be some of the coolest around. :)
Check out
Avid Liongoren's site here
, as well as
Saving Sally's Trailer here
.
Here's some more Elmer art!
Myke Turda
http://turdagallery.blogspot.com/
Son of prolific letterer Bob Turda who worked for GASI, Dubai-based Myke is very much a talented artist on his own. That's a great piece of art, Myke, thanks!!
Adam David
http://wasaaak.blogspot.com/
My friend Adam sent in this really clever Batman inspired chicken art. Check out his blog. It's not your usual online journal.
---
Friday, August 11, 2006
Posted 8/11/2006 12:15:00 AM by Gerry Alanguilan
I think the time has come for me to talk about a topic that I've avoided to address directly for the past several years. It's my hope that readers would try and understand the points I'm trying to make, and react to what I actually said, and not according to what they think I said.
It's a pretty long article, and I know the tendency of some to skip and zero in on certain points and take them out of context. Every line in this article is there for a reason, and the reading of this article in its natural progression is essential if anyone truly wishes to understand my stand on this subject.
This article is as complete as I can make it at this time, and no additional comments from me are necessary lest I dilute my original points. For better or for worse, this article stands as it is, and I hope it makes people think of the issues at hand whether they agree with it or not.
The Filipino Comics Artist and Manga
Before anything else, there is something I would like to come clean about. I love Japanese movies. I'm a huge fan of
Akira Kurosawa
, and I think Toshiro Mifune is one of the greatest, if not THE greatest actor who ever lived. Their work together on Akahige (Red Beard), Kumonosu-jo (Throne of Blood) and Shichinin no samurai (Seven Samurai) are some of the most remarkable films I've seen.
I love Japanese food. Kani Sushi dipped in wasabi: there's nothing like the sensation that comes with the first bite. Most importantly of all, I love Japanese comics. I count Goseki Kojima, Katsuhiro Otomo, Masashi Tanaka and Keiji Nakazawa as some of my favorite artists and influences. Nakazawa's Barefoot Gen is a harrowing look into the horrors of atomic war through the eyes of a child. I regard it as one of the inspirations behind my own work, Elmer, not in the use of the style and visual design, but in the way the story was told honestly, with clarity and lack of frivolity.
So there is no truth at all to the notion that "I hate manga." Let's get that straight right here and now.

+

There is some confusion as to the proper term to use, but simply put, "manga"is Japanese comics, while "anime" is Japanese animation. This is the context by which those terms will be used in this article.
What any young Filipino artist needs to be made aware of is just how unique, singular and remarkable manga truly is. Manga is unique in all the world as being the most recognizable art style in comics history, and I have no doubt it will continue be so well into the next century. No other style in comics can come close to it in terms of scope, number of advocates, and pervasiveness.
That such a style in comics be created by the Japanese is no surprise. The Japanese are some of the most nationalistic and patriotic people in the world. Indeed, such examples of their love and unquestionable loyalty for their country are made evident by a cursory glance at their history. At the end of World War II, every Japanese would have gladly taken their lives had their Emperor asked for it in "Honorable Death of the Hundred Million", rather than surrender to the Americans. No other population in any country would have done the same.
The Japanese have a strong sense of national identity, and they take pride in their culture and their history. That sense of national identity manifests itself in all aspects of their society, from film, stage, tv, music, food, architecture, sport, and art. Japanese film is as unique as Japanese food, architecture, art, and so on.
It's a kind of uniqueness that's not too often possible in other countries, least of all the Philippines. We lack a strong sense of national identity, and it's hard to take pride in a culture and history that we know very little of. But more on that later.
Manga is an end result of that national unity, pride in their culture and history. While it is true that manga owes quite a bit to Walt Disney movies, what they have done with that influence is to create a body of art that is startlingly unique, and so completely identifiable as "Japanese".
The Japanese artists were able to create a comics art style so flexible that it allows for certain individualities to exist (Otomo draws differently from Kojima for example) and yet on a broader scale, their style is governed by a certain set of characteristics that identify them easily as being "manga". This "group style" is so pervasive in Japanese comics that nearly every artist can be considered to belong to it. Even though many Japanese artists demonstrate a style unique from each other, as was previously mentioned, they all exhibit the unmistakable look of that "group style" that identifies them as manga.
This can be easily demonstrated by a trip to a local comics store. It's so easy, even for a casual reader, to spot what is manga and what is not, no matter who the artist is.

Japan is probably the one country that has the strongest and most recognizable "group style". Chinese comics or "manhua", and to a certain extent, European "clear line" comics, which exhibit signs of unique "group styles" of their own, pale in comparison.
So it is that as a Filipino artist, I find it personally inappropriate to use a style that is so uniquely a product of Japanese culture and history, and indeed any art style that is the product of the culture and history of any other country, to create comics and then I call it "Philippine made comics". I only make a distinct example of manga because as I have carefully demonstrated, it is the strongest and most recognizable "group style" in comics.
I restrict this personal impropriety only to published works, and do not include illustrations done for fun, on the backs of notebooks, sketchbooks, done mostly as a hobby. I myself have drawn manga in the privacy of my own sketchbooks. But when I draw something that will be published, I take great care to do something different, and hopefully unique to myself.

Published works become records of our accomplishments as writers and artists, and they will be there forever, marking and demonstrating what we have done for all time.

As a Filipino artist, would you want the history books to say that your work follows the Japanese way of drawing? Or equally still, be known in history as someone with no personal identity? In many ways, it's already too late. A noted American comics historian already has made such an observation:

Dr. John A. Lent, Ph.D, a pioneer in the study of international communications and Third World mass media, writes in Comic Book Artist Magazine #4, Vol.2, 2004:
"Manga have greatly influenced the market, generating a genre called Pinoy manga (Philippine manga), new companies and titles such as Culture Crash, Questor, etc., and a batch of cartoonists following the Japanese style of drawing."


+

Certainly manga could possibly be a stepping stone from which artists can grow. That's cool! I myself grew from being strongly influenced by Tintin's Herge. I, in fact, drew like Herge for a long time. I count Herge as one of my biggest influences. Add to that Barry Windsor Smith, Frank Miller, Katsuhiro Otomo, Alfredo Alcala and probably a hundred more. I think it's important for any artist new or young, aspiring or veteran to be exposed to many forms of art. This is essential in an artist's growth.
Those influences can be used to inform, to enlighten, and an artist should be able assimilate those influences and create something of his own. So when time came when I had the chance to publish my own work, I made damned sure I was doing something hopefully of my own making.
Some of the difficulty with many young artists is that they manage to get their works published in this early formative stage, when they are still heavily influenced and have as yet to find their voice. It would have been like me finding publication while I was still drawing like Herge (or at least attempting to.). I would look back on all that and just cringe.

To see artists evolve through the years would have been great, but in the 10 years I've observed the artists who started out as manga... with very few exceptions, none of them have yet to evolve, or find a look for their art identifiable only to them. 10 years.... that's a long time guys. Perhaps by generating discussions about this subject through the help of articles like this, it could hopefully make at least some of them stop and re-evaluate their work.

Now if manga is what they truly want to do, then well, all the best to them!

I'm not here to tell people what to do, just to offer them a different point of view.

+

A rebuttal often sent my way are scathing remarks about how I "put down Pinoys who do manga while I draw like Americans". This rebuttal is false on many levels. A misconception many young artists seem to fall into is their belief that the American style of comics can be held in the same regard as manga.
One, it assumes that there is such a thing as an American "group style" of art.

Second, it assumes that my work is identifiable enough to belong to such a "group style".
And Three, it's a rebuttal the diverts the issue from the one at hand (which is my thoughts on manga) to my alleged "hypocrisy". It is irrelevant, it muddles the discussion, and if people involved are not careful, such a discussion can easily devolve into nonsensical and illogical banter that just wastes everybody's time.
Allow me to clarify. There is no such thing as an American "group style" of art that is as unique and as singular as manga. Unlike manga, the style coming out of the many American comic book companies like DC, Marvel, Image, Dark Horse, and the many independent companies exhibit styles that owe very little from each other. Looking at the scene broadly, there are no certain sets of characteristics that identify them as belonging one group style.
This can easily be demonstrated once again by another trip to the local comics store. Pick up any comic book, like say Incredible Hulk from Marvel, All Star Superman from DC, and perhaps Conan from Dark Horse.
Take note that the artist on the cover of Hulk is by Spanish artist Ladronn, and inside are artworks by Filipinos Carlo Pagulayan and Alex Niño. All Star Superman is drawn by Scottish artist Frank Quitely. Conan is drawn by Canadian Cary Nord.
There are no sets of characteristics that can possibly join the careful intricacies of Ladronn to the wild stylings of Alex Niño, to the strange quirky quality of Frank Quietely's work, to Cary Nord's soft realism. These comics are products of different cultures converging into a single gigantic melting pot.
Although Americans exhibit a strong sense of national identity of their own, they are more artistically free to choose the direction of their art, unhampered by the same set of cultural principles the Japanese have that assure a unique similarity to their art.

So even within American artists from Frank Miller, to Al Williamson, to Fred Hembeck to Jack Kirby and then to Steve Ditko, there is a distinct lack of an easily identifiable "group style" pervasive enough and similar enough to be labeled unquestionably as "American Comics Art".
So lacking are they in such a "national" style that there isn't even a word for it.
So strong and unique the Japanese style of comics art is that they have a name for it: manga.
Thus there is very little basis for anyone to compare manga with a perceived, but non-existent American "group style". To say that someone "draws like the Americans", or "draws like Marvel" or the like, unfortunately just doesn't make any sense.
If America will be regarded at all with respect to manga, it would be by individual artists. Manga vis-a-vis Frank Miller, or manga vis-a-vis Joe Madureira, for instance.
So if anyone could be accused at all of "drawing like Americans", specific artists need to be cited. Which artist is being copied? Jim Lee? Todd Mcfarlane? Mike Mignola? Kevin Nowlan? John Byrne? Bryan Hitch? Alan Davis? (Not all of whom are Americans, I might add).
If I am ripping off any particular artist, I would like to know because I take great pride in my pursuit of a personal style that's unique to ME, although I can concede that my work is the product of absorbing different kinds of art from different kinds of artists for many years. I try not to let any particular influence shine more brightly than others, but if I do, I do it unknowingly and I would appreciate it if anyone would call me on it.
Because as much as I avoid using manga professionally, I avoid using the work of other artists just as vehemently, be they American, Spanish, French, or even Filipino.
+

The justification many young artists have for using manga is their assertion that there is "no such thing as Filipino art anyway." It's a false assumption based on a lack of awareness for our own history and culture, and a distinct lack of a strong sense of national identity as Filipinos.
It would come as a complete surprise to many, and no doubt skepticism from others, but yes, we do have such a thing as a unique Filipino style of comics art. In fact, I can even consider it a very strong "group style", which was once upon a time as unique and as singular as manga.
This style was pioneered by the likes of Francisco V. Coching, and further developed by Nestor Redondo and Alfredo Alcala. Only Alex Niño was able to break from the traditional "group style" and was able to create something uniquely his own.
David A. Roach, writing for the Comic Book Artist Magazine, (Issue #4, Vol. 2, 2004) describes this style as follows:
"What the Filipinos shared was a good, solid and usually (Niño excepted) conventional approach to storytelling, exceptional draftmanship, and exuberant florid brushwork which harked back to the golden years of magazine illustration in the first few decades of the 20th Century."
In the early 70's, if one is so immersed in Philippine comics, the "Filipino style" is as unmistakable as manga is today. If one picked up a DC comic book in the 70's, one can immediately tell if the artist was Filipino or not. Our style was that recognizable.
There was no name for it, but Americans have called it the "Traditional Filipino Style". It is however, all but extinct in comics today.
A certain semblance of this traditional style can still be gleaned from the works of Lan Medina and Roy Allan Martinez, but it is no longer as distinct as it was at its peak in the early 1970's.
It's extinction is both good and bad.

It's bad because we no longer have that traditional art style that have once given our country much honor and acclaim. It's hard to believe today, but decades ago, the Filipinos were considered as one of the finest artists in comics, displaying a style that was beautiful and unique.

Jon B. Cooke, writing for the Comic Book Artist Magazine (Issue #4, Vol. 2, 2004) writes:
"...the Philippine 'school' of artists (in the 70's), a stunningly talented group of men who made an immediate and lasting impression on the industry and among appreciative readers. Strange sounding names -- DeZuniga, Niño, Redondo, Alcala, etc.-- would quickly become familiar and quite welcome..."

"As a group, these Asian artists were astonishingly accomplished and talented almost beyond measure. Certainly the top three talents -- Redondo, Niño and Alcala -- stand shoulder-to-shoulder with any comic book artist the world over, bowing their heads to no one."
The extinction is also good because I have a growing belief in the individuality of an artist. I think having a national "group style" is good, but it also restricts the individuality of an artist, and it closes his mind and hampers his natural instincts to evolve. More and more I'm starting to believe that to conform to a "group style" for the sake of nationalism is ultimately unproductive because it restricts personal growth and evolution.
However, I do think we need to look back into our history, study the art created by those who have gone before us. If we could still ever value ourselves as citizens of the Philippines, we owe it to ourselves to learn about ourselves, specially when we are a people who are virtually lost and disconnected, who don't have a strong sense of national identity.
That strong sense of identity is something that we have always lacked as a people, not only with respect to comics, but with practically everything else. It is why we are so easily swayed and influenced by trends and fads. As a people, we are so ready to give up who we are, and our very culture, for the sake of the next big thing.
The Japanese people are not immune to such fads themselves. But no matter how much they appreciate American movies, music and art, their strong sense of identity allows them to absorb such influences, but still create their own unique works of art.
In the case of Filipinos, what we create is strongly influenced by what we appreciate, be they American, Japanese, or European forms of art. Because once upon a time Jim Lee was popular, we drew like Jim Lee. Because today manga is popular, manga is what we draw.
We're trend followers and fad fanatics. We're so ready to follow whatever other people are doing, whatever is popular.
In this kind of environment, few people will ever be inspired to create something new and fresh. Few people will try to walk their own path, busy as they are being careful to follow the footsteps of others. We will never be originators, inventors and innovators. We will never be trend setters that set the standard for other people to follow. We will always be the followers.
I am disheartened that so many young artists would allow themselves to be so regarded. I, however, would not be able to stand it.
It is the very reason why I'm writing this, not fully sure if I will be understood or even listened to. My early efforts to raise awareness about this issue brought me mostly ire and hatred. I decided to change tactics and put up the Philippine Comics Art Museum online.
My presentation of the art of our old artists must never be construed to mean I am advocating a "return" to the traditional style of Filipino art. My online museum, and my various writings on the subject must never be construed to mean I am displaying all these old artists as templates by which young Filipino artists can copy. To come to such conclusions would mistake my intentions.
It is hoped that by being presented with the work of our earlier generations of artists, young artists of today would be made aware of our own glorious history in comics. Such information is difficult to come by and no blame is made on them who are not made aware due to reasons beyond their control.

They often say, "there is no such thing as Filipino comics art!" But I am here to say, yes there is, and here is historical and objective proof. That is why my online museum is here. That is the reason for my incessant articles.
Let history be laid plain for all to see and at last be made aware that our previous conclusions and beliefs have not been based on truth and fact.
Armed with this knowledge of our past, it is hoped that our young artists be given, even for a little bit, a certain sense of who they are as Filipino artists. A strong sense of identity. That there is much to be proud of, much to learn, much to appreciate, and very much to be inspired with.
If I am talking about all this again today, it probably means that while a certain amount of progress has been made in terms of awareness, I now feel a more aggressive, but hopefully a far less offensive approach is needed to get my points across.
+

If I am not advocating a return to the traditional Filipino style of comics art, what then am I pushing for? What can be considered as "Filipino comics art" today?
Our culture is defined by what we create as a people.
It is true our culture is slowly evolving. And it is also true that if enough Filipino artists create Japanese art, then Japanese art will become part of our culture. It's inevitable. In many ways, it already is.

But the question one must ask... is it OK with you that Japanese culture becomes ours? Is it OK with you that we have nothing to call our own, nothing that we, as Filipinos, can point to and say, THAT is ours? It's so easy to say yes, specially for those who have no strong sense of identity.
Re-emphasizing the assessment of comics historian Dr. John A. Lent, Ph.D:
"Manga have greatly influenced the market, generating a genre called Pinoy manga (Philippine manga), new companies and titles such as Culture Crash, Questor, etc., and a batch of cartoonists following the Japanese style of drawing."
In the words young artist John Becaro, who thankfully enough is remarkably aware of the issues at hand, writes in his deviantArt journal (~johnbecaro Journal Entry: Tue Aug 8, 2006 ):
"we are so obsessed on this medium, without knowing that we are embracing and promoting other culture instead of our own."
It's a good point. There is a line that separates the appreciation for another culture, and becoming part of that culture. Many of us blur the line and find themselves over it without realizing it. We can avoid that if we know who we are as Filipinos.
It is this sense of identity that I hope young artists today will try and find for themselves. I have encountered some artists who use manga in their comics, and told me they do so because they don't consider themselves Filipinos anyway. And to be honest, I really don't have anything to say to that.
But if you think of yourself as a Filipino, and you value being one, you owe it to yourself to look back and study our history, our culture and the art our people have produced. I hope my online museum could give you at least an aspect of our culture, but it's obviously not enough. Visit our museums, browse the numerous books we have on our heritage and history. Immerse yourselves in it and learn from it.
If what we create today would define our culture, then let it be something that belongs to us. We are creating our culture today. YOU will be the ones that will define it, and YOU will be the ones who will be responsible for defining what "Filipino Comics Art" is, whether it will be manga, or something we ourselves have created.

Let's try and create new things, and do them in ways that no one else has thought of. The possibilities are endless, and we are limited only by our imaginations. As Filipino artists, I like to think that our imaginations are some of the largest and most creative, don't you agree? It can be difficult, but I believe it can be done. If we create something that is original enough and unique enough, then it will become part of our culture, and it will become part of what "Filipino art" is today. The fate of our culture lies in your hands.
-Gerry Alanguilan
August 11, 2006
San Pablo City
PS. There is a notion being postulated by some inestimable colleagues that they take offense at anti-manga stances because they feel that their beliefs and their way of life outside of comics are being attacked. I don't understand how a stance on the use and non-use of a style in comics can ever be construed as religious and social intolerance. I don't understand that jump in logic.
Distinction has to be made between "consumption" of elements of a foreign culture, and the "creation" of the same. Our culture is defined more by what we create, than by what we consume. We are no less Filipino when we eat Japanese food, and although we are no less Filipino citizens when we use Japanese art to create Filipino comics, it does put into spotlight that we no longer have a voice of our own.


---
Thursday, August 10, 2006
Posted 8/10/2006 07:09:00 AM by Gerry Alanguilan
A friend of mine emailed me to show me a couple of links to sites where they talk trash about me, and lambast my book, Elmer.
One of those I had already seen, and although the writer was rather passionate (as many Internet writers seem to be empowered by anonymity), it was nothing more than an honest opinion of what they think of my work. So they don't like it. And at the other site, apparently, they don't like me. But you know, that's just the way it is. There are local comic books I don't like either, and there are people I don't like as well. We're all different people with different tastes. There's bound to be people who don't like my work, or even hate it, but that's OK you know? I can't exist to please everybody. I just try to do the best work I can.
So the next time you see someone talk trash about me or my work online, and you feel perhaps a little sorry for me, just shrug it off you know, because I've never felt sorry for myself at any time about my work. I'm doing what I want man, and I'm having the time of my life!
Ok, time to answer some questions that came in the mail....
Good afternoon! Jessie V. Beldia here. I sent an email this morning regarding my intention to send to you some photocopies of my artworks for critiquing. I am sorry to say that I sent a wrong email address. It should be jessvbeldiaatixii@yahoo.com instead of jessvbeldia@yahoo.com. I am sorry about this lapses and hope that you will still be so kind enough to consider my case. Thank you and God bless.
Hello Jessie! I'm answering your email here because when I replied to the first email you supplied, my message to you bounced back to me. Feeling relieved that you wrote back to correct the address you gave me, I wrote you again. But once again, my message to you bounced back. I checked, and none of those addresses you supplied exist. There's really nothing I can do except wait for you to write back again with the right address.
If anyone has written me using my contact form, and haven't received a reply, one of the reasons could be the same as the above. Make sure you type your address correctly. Better still if you just copy and paste it so you don't risk making a mistake while typing.
There are other reasons why I haven't been able to reply. I've been extraordinarily busy lately and I'm really lagging behind in responding to email. I'm guessing it's the thesis proposal season, and there is a large amount of students with questions about comics that suddenly flood my inbox.
Answering questions via email is easy to deal with as I take only a short time away from work, but requests for personal interviews is a bit harder to deal with. As much as I would love to help, personal interviews take a whole lot more time, and it affects the time I need to deal with work. Last year I dealt with at most three personal interviews in a week. Although I had a nice time each time, it did take quite a big chunk from my working shedule affecting my output quite a bit. This year I might need to pull back a lot, as much as I would hate to do that.
I'm really glad though, that a lot of students are getting very interested in komiks and komiks history. It tells me hope is not all lost.
your site is a treasure trove that has helped me connect with the comics or should i say \"komiks\" of old. ang galing. i was wondering where i could purchase these komiks. are they being reproduced? thanks po ser gerry. ingats po lagi. - gab
Thanks Gab! I'm also answering your question here because I think a lot of other people are thinking the same thing. Unfortunately, none of our komiks are being reproduced. There was an effort a few years ago by Kislap to reprint old material, but the scanning and printing quality wasn't too good and the paper was so bad it easily ripped. There is some mention about some of Carlo Caparas' komiks novels that would be translated and published in the US, but there's no definite reports about that yet.
My own El Indio restoration continues, and I've already gotten in touch with a printer to get an idea of how much money would be needed to print 500 copies. The difference in cost between 500 copies and 1000 thousand copies is startingly small, so I will be opting to have 1000 copies printed. I'm hoping all of that will sell, not because I'm making any money out of it (I'm not) but for many Filipinos today to be made aware of the remarkable comics work that have been published in this country in the past. All of the profits will go back to the Francisco V. Coching foundation.
---
Wednesday, August 09, 2006
Posted 8/09/2006 12:41:00 PM by Gerry Alanguilan
Original Art For Sale!
Click Here for the Gallery
I've decided to sell some of my original art, all of them I've inked over Leinil Francis Yu on various comics like Wolverine, Superman: Birthright, Silent Dragon, and Fantastic Four.
Work is already underway for Elmer #2, and although I've already made my money back on the printing of issue #1, I would be needing much more for #2, which will be double sized.
Posted 8/09/2006 10:52:00 AM by Gerry Alanguilan
I've just finished illustrating and coloring an album cover for California based heavy metal band
Crescent Shield
.
Click here
to listen to some of their music from their upcoming album. I'll post the cover here as soon as I'm able to. I'm just waiting for them to publicly post it themselves.
This is the 3rd album I've done solo so far. The first was for Filipino-American Folk Artist
Cholo Paz
for his "Balik sa Carriedo" album. I really love that collection of songs, specially "Anting Anting", a song I recorded off the radio and listed to constantly back in the mid 90's during the huge Pinoy band explosion. As soon as the cassette was available, I bought it right away. I was truly honored to be asked to do the cover for the CD version.
This is a write up
I did for the album back in 1997, hosted at Cholo's site.
The second one I've done was for San Pablo based band "
Mellow Del Prado
" for their "V-Necks and Neckties" album.
I had assisted Whilce Portacio in putting together Rivermaya's TRIP album years ago, where I had inked many of the interior "portraits" of the band members. I also remember working with Whilce on another cover for Andrew E, but the artwork was never used.
Working on this heavy metal album cover this time around was an interesting experience. It's a type of music that I actually like, and I listened often to the music in their MySpace account as I was doing it. It's one of the first full color jobs I've done outside of comics, and I see myself doing more of it in the future. Not too much though, as I don't want to take away serious time away from doing my comics.
But it does help that you can do these kinds of things so you diversify a bit, and not be too restricted to comics. As much as I love doing it, there's a danger of boredom if that's all I ever do. It's also the reason I'm experimenting with shooting and putting together videos, doing bits of writing outside of comics, doing logos and caricatures and other things.
---
Tuesday, August 08, 2006
Posted 8/08/2006 11:16:00 PM by Gerry Alanguilan
Dell Barras
http://www.media-blastoff.net/
More Elmer art came in in the last month, this time from Dell Barras! Dell is a good friend, and one of the nicest artists anyone could meet. Although mostly an animator in his later career, Dell has worked on many comic books in the Philippines including Darna. In the US he was able to ink many Marvel comics like New Mutants, Defenders, Champions, Incredible Hulk, Justice Machine, Detective Comics and many more. Thanks Dell!
Here are a couple pieces from an old friend:
Jaime Fornoles
Jaime is one of my oldest friends in comics, having met him right after I decided to make comics my career back in 1991. He's the very first one who showed me my first naked woman on the Internet (It was Abby Viduya). He doesn't know this (but if he reads this now he will), but he is the only friend I talked to in the few days after my ex broke up with me.
I was living near Quiapo back then, and I walked all the way from home to Robinson's Galleria in Ortigas and bought a couple of comic books. I think one of them was Wildcats Trilogy #1 because that cover by Jae Lee was freaking awesome. I then walked back, passing by Jaime's house near New Manila and hung out a bit. I never told him my girlfriend just broke up with me and I was hurting really bad. It was just nice having to talk to someone. And then I walked all the way back home.
Jaime would eventually make me a few pinups for Wasted, one of which saw print in one of the individual issues. Now he's made me another batch or really cool ones for ELMER. Thanks man!!
Andrew Drilon
http://andrewdrilon.livejournal.com/
Here's one from up and coming writer and artist Andrew Drilon, who has so far contributed to both SIGLO books, Philippine Speculative Fiction Vol. 1, the Philippine Star. I honestly don't know if I've posted this up yet. Thanks Andrew!
Apologies to all these guys, who have submitted these drawings for quite some time now and I was only able to get around uploading them now.
---
Monday, August 07, 2006
Posted 8/07/2006 06:51:00 PM by Gerry Alanguilan
It's time again for a video blog! This time, I feature Komikero
Johnny Danganan
, who just came back to San Pablo from Mindanao. Johnny is one of the earliest members of Komikero, and he's what is known as an "Installation Artist", a type of artist I've come to know about only in the last couple of years.
Komikero Video Blog #3:
Our Friend Johnny!
I'm really glad to see other Komikeros trying this thing out including
Edgar Tadeo
and
Azrael Coladilla
. It's by no means the one and only future of blogging, but I think it's a fun alternative.
My next video blog will be some background stuff on the creation of a
"Komiks" Podcast
by
Jonas Diego, Randy Valiente
, and myself. A podcast is nothing more than an audio recording that can be played back on a website. They're usually quite long, and our first attempt would mostly likely be around 45 minutes. We talked about many issues surrounding Philippine Komiks including what a "revival" entails, my thoughts on manga, and various techniques in comics illustration.
For a traditionalist like me who has forsaken cellphones, avoids drawing with a computer and would be caught dead with an iPod, I'm surprised that I'm open to other avenues of technology. It just goes to show that not everything is black and white, and not everyone can be easily categorized.
---
Thursday, August 03, 2006
Posted 8/03/2006 11:36:00 PM by Gerry Alanguilan
I decided that I would create comics for a living sometime in 1991, some 15 years ago. Before that, I was a licensed architect. I'm still a licensed architect now and I can practice it if I want to, but comics is all I ever really want to do now.
I think that moment of decision happened one afternoon as I was walking along Recto near Legarda. I usually walked home from wherever my work took me. Back then I would have probably have been walking home from a project nearby. I was a construction supervisor/draftsman, and I think I just passed my board exams.
"Supervisor" probably isn't the correct term. I was more like a construction foreman/supervisor. I would receive instructions from my boss in the morning, I'd head out to the project site and instruct each carpenter, mason, plumber, painter, laborer what they would do for the day.
Here's a photo of me during those days:
I'm the second one from the left. I forget what their names are now, except the one on the far right, whose name was Nestor. In this photo, I think we were coming home from a project in West Avenue in Quezon City. I believe it was the birthday of one of the guys and we were going off to have some drinks.
Anyway, of all the workers that worked under me, it was Nestor I became closest to. During breaks he would talk about his dreams and the things he wants in his life. He'd ask me about my own life and I'd be pretty open to talk about it.
But when it was time to work, I had to put my foot down. I learned that the hard way. I naturally want to be friends with everybody, but when you're in a position of authority, you really can't be too nice. It was a hard thing for me to do. One late November day my boss told me to fire Nestor. I couldn't argue because he wasn't performing as he should have. I tried to talk to Nestor about it before. I even covered for him a bit, but the boss was really sharp. Nestor had to go. And it became my task to tell him. "Magpapasko pa naman." was the only thing I still remember he telling me on that day. I gave him his wages and I had to let him go.
Years later when a couple of comic book friends visited me on a construction site, they told me how frightened they suddenly became of me when I'm at work. When I'm with then doing comic book stuff, I was totally different, they tell me. Which I hadn't noticed at all. I guess I learned not to be too nice after all. It's something I make plenty use of today.
But I had been growing disillusioned with the profession. It was great, but I was slowly realizing it wasn't for me. I was 23 and I didn't know what I was going to do with my life.
Ok, back to Recto, corner of Legarda in 1991.
Filbar's had a branch near the San Sebastian campus. I had been collecting the X-men for many years by then, specially after rediscovering them with the Dark Phoenix Saga trade paperback in 1985. I was a fan of the X-men since the 70's but I only had a few issues of the Claremont-Cockrum run.
I had been seeing the name "Whilce Portacio" since the 80's as an inker of various X-men and New Mutants issues. I remember being really impressed by his inks because it seemed so artistic to me.
In that branch of Filbars I saw a photocopy of a letter by Whilce, posted up on the wall. It announced his visit to the Philippines that December, and that he would be looking for artists to hire. I was immediately excited. I, of course, had been sending submissions to Marvel since 1986, but I was doing it only half heartedly, not being fully convinced I could do it. I mean, come on, I was a Filipino, living in the Philippines. To me, the United States was something that existed only on TV and movies. It was like a bright big fantasy land far far away. Well, of course I didn't really believe that, but dreaming of becoming a comic book artist in the US and working on the X-men were things I believed to be completely unreachable to me. I didn't even dare seriously dream it.
But reading further down Whilce's letter, I read something that completely changed my life. Whilce Portacio was a FILIPINO. Somehow "Portacio" being a Filipino name completely got past me. I remember being absolutely stunned. "Fuck! Pilipino si Whilce!" I remember exclaiming rather loudly. When I looked back outside the store to Recto, it seemed to me that everything was different. The color seemed to be different, somewhat brighter, somewhat less dark.
I realized comics had been in my life all along. I've been drawing and painting since I was 4. I drew my first comic strip when I was 6 or 7 . I had been drawing faces, figures and word balloons in the back of my notebooks from grade school to college. I should have realized it. Unlike the many young kids today who can easily "connect" with people of similar interests on the Internet, back in 80's there was no such thing as the world wide web. None of my classmates, from grade school to college, drew comics like me. Nobody read comics like me, except those I had influenced to do so. I felt so completely alone. Now all you kids have your Deviant Arts, Multiplys, Friendsters and Blogs, Toycons, Komikons and Sci fi cons.
We had none of those back then. I was making comics but I had no one to share them with.
Because of Whilce, I started to take creating comics seriously, and I started me meet many like minded folk like me.
Today, I can't think of anything else I'd rather do than comics. I want to do comics abroad, and I want to do comics here in the Philippines. I just want to write and draw, and I just want to share my stores with everybody. I've realized it was something I've always wanted to do with my life.
Friends I've met along the way go off into other jobs doing animation, advertising, call centers, architecture, and even I myself have been offered opportunities to make big money outside of comics. I'm sure I've been called stupid behind my back for staying with comics, and doing comics here in the Philippines. But what can I do?
I feel very blessed to have had the opportunity to do what I really want to do. Sometimes people look at me now and they tell me I'm lucky. Some people say they're much more talented than me so why aren't THEY being given the chance? Such bitterness the likes of which I never knew existed make its presence known to me, envious perhaps of how far I've gone, and the kind of attention I'm getting.
I really don't know what to say to these people. They're of a mindsent completely different from me. There are a lot of people out there who are undeniably talented, and yeah, a lot of them are a fucking lot more better than me. The thing is, some of these people feel that just because they're good, jobs will automatically come to them. But really, that's not the way it works. You may be good, but you've got to work to get yourself out there, you know?
I didn't get here by being lucky. I got here because I worked really hard and I treated every setback as as challenge. Walang nakakaalam sa tunay na hirap na dinaanan ko. Pero kahit anong mangyari, kahit ang daming kontra sa akin, ang daming nagsabi sa akin na wala akong mararating, hindi ako nasiraan ng loob.
Hinding hindi ako nasiraan ng loob
.
I may never think of myself as a really good writer or artist, I may never ever be worthy to stand along with the greats like Francisco Coching or Nestor Redondo, and I'll always think something is wrong with my work and I'll always be thinking I have a lot to learn.
But if there is one thing I can be proud of, is the fact I got here because I worked really damned hard for it. And I'm prouder still of the fact that inspite of those difficulties, I'll never be bitter. I'll always love comics and I'll always love making comics. So unfortunately for many of you, I'm afraid you'll have to endure my stories and my art and my rants for as long as I'm alive.
And I hope it's a damned long time before I die.
---
Wednesday, August 02, 2006
Posted 8/02/2006 07:03:00 PM by Gerry Alanguilan
It's already a widely accepted fact that Dr. Jose Rizal was the very first Filipino to incoporate drawings and text to tell a story, essentially creating the very first Philippine "komiks" in 1889, although the strip itself was created in 1886.
Philippine historian
Ambeth Ocampo
sheds some further light on Jose Rizal's creation:
"Rizal's English was quite passable, and I presume his text was edited before it was printed. He not only related the familiar story, but he also compared this with a similar Japanese folk tale and even went into some literary and anthropological analysis. We also know that Rizal drew in "komiks" form the same tale in the scrapbook of Paz Pardo de Tavera, the ill-fated wife of Juan Luna. A year ago, Reni Roxas of Tahanan Books had the Rizal drawings scanned (the originals are unlocated, so all we have is a clear copy in Austin Craig's 1913 biography, "Life Lineage and Labors of Jose Rizal") and thendigitally enhanced and colored."
Rizal's Version of a Famous Folk Tale
by Ambeth Ocampo
Philippine Daily Inquirer
July 19, 2006
Read the Entire Story Here
.
Further Reading: Rizal's
"Monkey and the Tortoise" Cartoons
by komiks historian Dennis Villegas.
********************
Former Komiks writer
Carlo J. Caparas
, creator of many characters including Panday, was recently awarded "Gawad ng Komisyon ng Wika" by the National Commission for Culture and the Arts for his accomplishments in champiniong the Pilipino language in both komiks and film.
Komiks as literature
"Ang alam lang natin ay yung nasa academe. Ang gusto naming ipakita ngayon ay yung pagpapahalaga sa mga ganitong panitikan (We only gave recognition to members of the academe. What we want to do now is to show the importance of these types of literature)."As far as I know, this is the first time that we have given the award to a figure that is not from the academe," Nolasco said, referring to Caparas.
Caparas Story Stranger Than Fiction
by Nini Valera
Philippine Daily Inquirer, August 2, 2006
Read the story here
.
An interesting bit of news that Caparas himself said was the possibility of his komiks novels being published in English in the United States. If this is true, then I think this is fantastic, but I really hope that his artist collaborators get the proper credit and compensation that is only naturally due to them.
Artists should be considered "co-creators" when they had a part in creating the look of the characters and establishing the look of the universe that the characters exist in. In the Philippines, artists have been historically treated as nothing more than "workers" who get paid a page rate in a komiks heirarchy where the writer reigns supreme.
The form of "COMICS" is the product of the collaboration between the writer and the artist, and no one is more important than the other within that comics creation process.
I don't want to take anything away from the writers. I am only trying to impress upon everyone the importance of the artist in the process of comics creation, and I hope I can impress upon them the colossal unjustness and unfairness that our artists for many decades have had to endure, oblivious that they deserved so much more than they got.
If such working conditions were the norm of decades ago, then that is no longer the case today. Today we should recognize the severe inequality our artists have unknowingly suffered, and take all steps to rectify the situation.
Whatever acclaim and recognition that Carlo Caparas receives, it is undeniable that he deserves them fully, and for this award, I offer my heartiest congratulations. His accomplishment does nothing but uplift the medium and that's something comics really needs.
But I really hope that his collaborators like Hal Santiago, his Panday co-creator Steve Gan, and many more artists are not forgotten, and that they are deserving of such acclaim, recognition and due compensation as well.
And I think it's about damned time.
---
Tuesday, August 01, 2006
Posted 8/01/2006 07:00:00 PM by Gerry Alanguilan
Oh Crap! just can't stop myself!!




Komikero Video Blog #2


Preview of Upcoming Video Blog Topics
Now with English Subtitles!
Since my spoken English is terrible, I decided to continue in the vernacular, but for the benefit of those who don't speak tagalog, my video blogs will now have English subtitles. Of course, you can't be sure if the subtitles actually translates what I'm really saying. he.he.
It's really fun, but now I've really got to stop myself for a while and continue working. There's a CD cover for a Heavy Metal band I'm going to be finishing up this week, so I'll be off now...
Posted 8/01/2006 12:18:00 AM by The Comics Art Museum



Espesyal Komiks #165 Cover


Artist Uncertified (possibly Nestor Redondo)
February 2, 1959
It's August, and I've finally worked out the difficulties I've had with the Online Comics Museum. A month ago, I've had to move the entire content of Komikero.com to Alanguilan.com for various reasons I won't bore you all with. I still own the domain name "Komikero.com" although there's no longer any webspace to house content within it.
The main Komikero.com page can still be accessed, but all links from that page will now point to content housed within Alanguilan.com. It's unavoidable, but it unfortunately means all exisiting links, including the old museum address, will no longer work.
The new museum address will now be
museum.alanguilan.com
. But don't go there as there's nothing there yet. Although I've already worked out the problems associated with it, the work of fixing all the links and re-uploading all material to Alanguilan.com remains. The museum may seem to work right now, but there's a lot of things wrong with it. I should be done with all the work towards the end of August, when I'll be relaunching it with a ton of new material.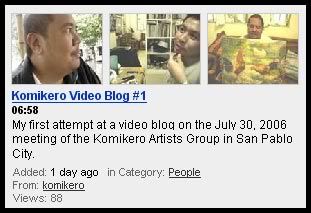 I really had a lot of fun working on my first video blog. The only equipment I had were my Sony 5.1 Digicam, a screwed up tripod, Windows Movie Maker and Director Pro LE, which came bundled with my CD Rom. My camera is enough, I think, for You Tube, but seeing as how I really enjoy doing this stuff, I really see myself doing relatively more complex video presentations in the future. I'm seriously considering getting an actual video cam, and upgrading my computer to handle the immense amount of space and memory that video editing would require.
That way, I can make these little documentary things, and the subject I really want to focus on would of course be Philippine Comics and its creators. A few people have already suggested I do interviews with our veteran komiks artists, and yes, that's definitely part of my plan. I'll also be doing more video blogs on our Komikero meetings, and events like the Komikon. I'll also be doing little clips on working on Elmer and Humanis Rex. Most likely I'll be able to do at least two of these a month. I could do more, depending on the free time I have.
All this is made possible of course, by
You Tube
, which I believe is fast becoming the new TV. I couldn't do more of these videos before because I kept running out of bandwidth, but with You Tube, that problem has been eliminated. I plan on settling for good on the site, as long as it's online. I've set up a "
Komikero Channel
" in there, which you can visit by clicking
here
.
---
---