Sunday, July 30, 2006
Posted 7/30/2006 08:56:00 PM by Gerry Alanguilan
I had the idea of attempting a blog entry in the form of a video. I've been doing these little video things for a few years now, starting with Komikero Scandal #1 from February 2004, but this is the first time I've done it in the form of an actual blog entry, reporting on a specific event, particularly our Komikero meeting from July 30, 2006.
Note: Video Blog is in Tagalog.
Komikero Video Blog Entry #1
Click above or
here
to see the video.
Apologies if anyone dropped by and wasn't able to hook up with us, specially to ED, who I heard was supposed to come. The all day rain was a real pain and we couldn't find any place to hang out. So we just decided to come back here to the house.
Hopefully, the next meeting won't have weather this bad.
---
Thursday, July 27, 2006
Posted 7/27/2006 08:27:00 PM by Gerry Alanguilan
I spent the last week just drawing and coloring Humanis Rex #16. I'm on the last leg of my run on Fudge Magazine and I really want each installment to surpass the previous one in terms of art. I have plenty of opportunity to do so because from here on in, it's all out war on a completely large scale. Each installment will be a two-page spread that would allow me to have a huge upper panel across two pages.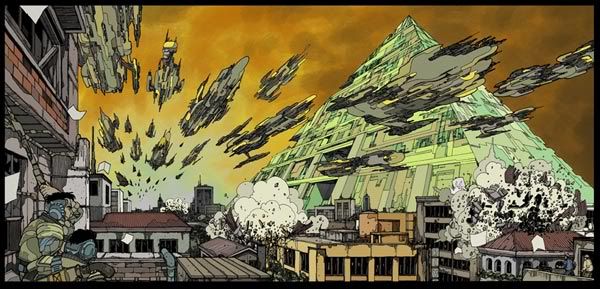 I usually withdraw a little bit whenever I'm finishing an installment so I can concentrate on doing the work. So apologies to anyone who has been trying to get in touch. I'm usually harder to get in touch with during these times.
For Elmer #1, I withdrew completely from everything (except from my wife and our dog Eugene) and went to our country rest house without electricity, TV, computer, phone, and radio for several days. I expect to do the same when work for Elmer #2 is in full swing. I expect it would be far more difficult to do, not only because of it's additional pages, but because of the subject matter.
I still continue to push Elmer whenever and wherever I can. I did an interview for Newsarama.com not too long ago, not only for Elmer, but also for the Comics Museum. I hope they find it newsworthy enough to upload at their site. I've been stung once before when I had my hopes raised and then dashed when I did an interview with another high profile site and it never came out. I wish I could avoid wasting time by dealing only those who would be straight with me, but you really can't tell, so you entertain them all and then hope for the best.
I have a friend from Eastern Europe, someone I had been corresponding with now via email on and off for like 8 years. He would often ask me what comics I'm reading right now, and he would give me a list of comics he had been reading, and ask for my opinion on such and such story, character or event. I often just scratch my head, not knowing what to say. The truth of it is, I really don't read too many new comics nowadays.
There was once a time, specially during back in my college days in the 80's, that I was a rabid comics reader. I was a huge X-men fan and I would read any comic book that had those characters in it. During class I'd daydream about where I would be going after the bell rings and the kind of comics I would get. More often than not, I'd walk all the way from my class at the University of Sto Tomas in España to Rizal Avenue near Quiapo and browse the many newsstands for their bargain imported comics. I'd buy all the X-men stuff I could find like the regular X-men title (back then there was only one, believe or not). I'd also get New Mutants, X-men tie ins with Spiderman, Thor, Power Pack, Marvel Age, and the various X-men limited series. I'd get stuff like Cloak and Dagger because I just loved the art by Rick Leonardi and Terry Austin. I learned my Manila geography because of comics because I would go to places I haven't been before because I heard there were good comics sources there. I learned to go to Greenhills and Cubao because of comics. There was this really awesome store in Greenhills called Crizareth where you could buy all these X-men back issues.
When I started working in comics in the early 90's my interest in reading comics slowly diminished. My passion for X-men sort of died out when Chris Claremont left, and a new X-men title was born. Change is all well and good, but you know, no matter how your friends change, they're still the same people with the same characteristics, quirks, expressions and mannerisms. When Chris Claremont left, we were treated to some really good stories and some really good art, but the characters no longer seemed like the same characters I had grew up with. It was like they were completely different people. And it sort of bummed me out.
In recent years I hardly read comics anymore at all. This is not any comment on the quality of comics, as I'm sure many of them are still very good, but the interest doesn't seem to be there anymore. Comics is a hard, hard job. Even though I like what I'm doing, the work is often very intense, very difficult and completely exhausting. When I want to take a break, the last thing I want to do is read comics. And when I want to read, the last thing I want to read are comics.
I once vowed I would read anything that Frank Miller, Neil Gaiman and Alan Moore would write. But even for them, I just can't work up the proper interest anymore. There were many ABC books I failed to buy and read. I managed to buy one of Frank Miller's Batman and Robin with Jim Lee. Well, I didn't like it anyway. I'm completely missing Gaiman's Eternals altogether.
I'm more willing to try new independent comic books because I'm always looking out for something different and new. I really loved the Bone One Volume Editon, David B.'s Epileptic, and Alex Niño's The Orc's Treasure.
The only thing that completely grips me and has me gurgling like a fan boy nowadays are collections of comics I loved as a kid. I forked out serious bucks to buy an Absolute Watchmen, and read it all again in one sitting. It's still one hell of a fantastic read. When I first saw that Uncanny X-Men Omnibus online, a colossal compilation of the very first Chris Claremont X-men stories with Dave Cockrum and John Byrne, I almost shit in my pants (actually, I think I did). The hardcover book collects Giant Size X-men #1, as well as #94 to 131 of the regular series, as well as Annual #3. The first third of this book is responsible for a large chunk of my childhood memories. I remember being 10 years old in 1978, reading National Book Store reprints of these issues and being completely blown away. Wolverine was a favorite character even back then. I had believed his claws came from his gloves, but when I saw them shooting off his bare hands, I was both repelled and awed. It was a fact that shocked the other X-men as well. "Yer CLAWS, Laddie... Lord above, they're a PART OF YOU-- we...I... didn't KNOW!", stammers Banshee. Completely unforgettable stuff. These issues, including the ones that came after are some of the best superhero stories ever made, in my opinion. I just had to have it.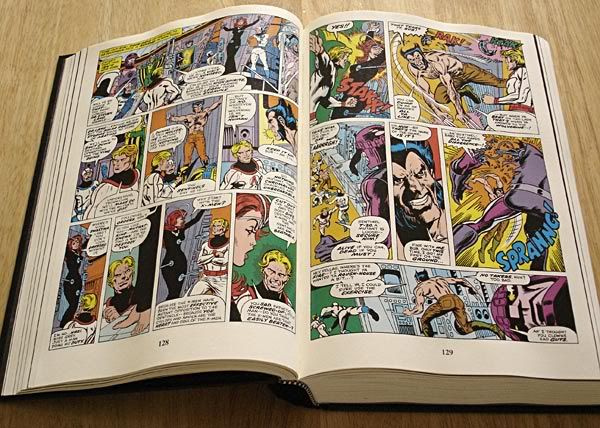 I didn't have money to buy the Omnibus book, but I had the idea of putting out an offer here on this blog for a trade. An Uncanny X-men Omnibus Volume 1 for 1 page of Wolverine original art. Within a few hours, someone already responded, and it's Sandy Sansolis of Comics Odyssey. So I met with him yesterday, did the trade, and we had a nice long talk about comics. In addition to the Omnibus book, he also gave me a copy of DC Showcase: House of Mystery and 3 copies of a signed Alex Niño print. He really didn't have to, as I felt the Omnibus was enough. I would have gladly paid for the rest but he wanted none of it.
So I'll do my bit for promoting his store. I'm not doing this because he did me a favor, but because I think his store really is cool and it's location may have disadvantaged it to many comics fans from farther parts of Metro Manila like Quezon City. The store has got a very extensive old back issue stock and a very wide selection of new mainstream and indie books.
If you want to go check it out, the store's name is COMIC ODYSSEY, on the 3rd Floor, Pedro Gil Wing of Robinson's Place, along Pedro Gil in Malate. Sandy says he'll be opening a new branch sometime soon in Ortigas. I'll be talking about that when the time comes.
A Note About the Comics Museum.
Apologies to visitors of the Comics Museum. Please don't think I've forgotten about it. Because of the move to a different server, I would have to rework a lot of the links and it will take time to correct. Additionally, because I've retired from inking, I've had to prioritize my transition from inker to a full artist and the process has been difficult and enormously time consuming. I'm still in that process and I'm still not sure if I will succeed or not, but I will give it a hell of a go and I'll be a bloody dismembered and disfigured mess before I quit. And maybe not even then.
---
Tuesday, July 25, 2006
Posted 7/25/2006 11:54:00 PM by Gerry Alanguilan

Forbidden Planet ELMER Review
"
Elmer is the creation of Filipino comics artist Gerry Alanguilan who has worked as a penciller on many strips in his native land and as an inker on many comics projects for Marvel and other US based publishers over pencillers such as Whilce Portacio. The man is a damned fine artist. Now he is also a publisher and the first effort from his company Komikero Publishing is the comic Elmer
."
Click here
for the rest of the review.
ELMER is also available at all Forbidden Planet stores as well as their online store.
Click here for buying information
.
I'm still damned overwhelmed that a legendary UK comics store would carry Elmer. I'm doubly overhelmed as it's them who got in touch with me first. Thanks go to Tom at the
Comics Reporter
because it was his feature on my 1st Philippine Graphic/Fiction Awards post that attracted Kenny Penman of Forbidden Planet to check out my comic book.
I'm really speechless. I better just go and finish this month's Humanis Rex!
Thanks once again to Kenny! Check out Forbidden Planet's
regularly updated blog here
.
---
Monday, July 24, 2006
Posted 7/24/2006 08:04:00 PM by Gerry Alanguilan
ELMER in the UK!
Elmer is now available at the legendary UK comics store Forbidden Planet! Click on the link for a direct link to the ELMER page.
It will also be available at all 16 Forbidden Planet branches across the United Kingdom. Click here for a Forbidden Planet store locator.

Thanks to Kenny Penman!
---
Saturday, July 22, 2006
Posted 7/22/2006 02:12:00 AM by Gerry Alanguilan
Boy Togonon
1951-2006


Top cartoonist, newspaper designer Boy Togonon dead at 55
From the Manila Times.

Romeo Tan Togonon, known to friends as "Boytogs," died of cardiac arrest Thursday night. He was 55.

As editorial cartoonist of The Manila Times until his death, Togonon was one of the country's finest cartoonists.

A graduate of the University of Santo Tomas, where he finished his BS in Fine Arts and Advertising Art, Togonon had been a cartoonist and art director for the past 27 years. He won several awards and recognition for his works. Last year, he won second prize in the Sining-Guhit editorial cartoon and comic-strip contest sponsored by the National Commission for Culture and the Arts (NCCA).

Togonon's winning cartoon portrayed Juan de la Cruz, representing the Filipino masses, with a cross on his back—symbolic of the burden of corruption. His entry, which came out in the February 15, 2005, issue of The Sunday Times, underscored the government's campaign against corruption. His entry beat 113 other editorial cartoons.

Togonon worked for several publications before joining The Manila Times. He was creative director and political cartoonist of Sun-Star Manila and Sun-Star Bulilit; art director and cartoonist of the defunct Daily Globe. He also worked with The Manila Chronicle, which reopened in 1986. He contributed to several other publications and did artworks for several books and brochures of the National Book Store.




But his talent as a political cartoonist was honed during his Daily Express days.
Togonon was involved in advocating press freedom and other issues championed by the Philippine press. He was founding member of Samahang Plaridel, founding chairman of KartunAsia, the first organization of Asean cartoonists which he led in organizing; founding member, past president and chairman of Samahang Kartunista ng Pilipinas, the national association of Filipino cartoonists and illustrators which he helped organize with prominent artists like the late Hugo Yonzon and Larry Alcala and other artists.
He was also a former art consultant to the NCCA, Daily Manila Shimbun, KMC Magazine (Tokyo) and the Philippine Airlines.

An avid golf buff before his frequent bouts of chronic asthma, Togonon was former president of the Journalist Golfers' Association and member of the Media Golfers' Association. He was director for two terms of the National Press Club of the Philippines, from 1989 to 1990, and from 2000 to 2001. He won in the last NPC elections, but his two-year term as director (2006-08) was cut short by his death.

He left a wife, Sonia, sons Leonardo "Ardie," Romeo Francesco "Franz," and Michaelangelo "Micky," sister Sylvia and husband Wenceslao Sampayan, nieces, nephews and other relatives.

The wake is at Saint Joseph Chapel, Holy Trinity Memorial Chapels on Sucat Road, Parañaque, until Wednesday, July 26. His body will lie at the National Press Club of the Philippines for necrological services on July 27-28. Interment will be on Saturday, July 29, 3 p.m. after Mass at the Manila Memorial Park.
---
Wednesday, July 19, 2006
Posted 7/19/2006 07:37:00 PM by Gerry Alanguilan
The reaction to the video I put together for presentation at the First Philippine Graphic/Fiction Awards has been rather surprising. I've received a lot of positive feedback, some from Filipino comics pros both here and abroad. It's so far been mentioned at
Tom Spurgeon's Comics Reporter
, and has been featured at
The Beat, a Publisher's Weekly blog by Heidi McDonald.
Thanks guys!
One of the most common feedback I got was puzzlement as to why so and so artist wasn't included. It's a reaction I had been expecting, even as I was putting it together. I had been scrambling during the couple of days before the Graphic/Fiction awards to gather as many photos as I can from the Internet, my own books and photo albums.
There were many I wanted to include, specially PZ Marcelo, Fred Alcantara, Lib Abrena, CaGuintuan, Gregorio Coching, ER Cruz, Rudy Nebres, Jess Jodloman, Carlos Lemos, Emil Rodriguez, Hermoso Pancho, Bert Sarile, Ruben Yandoc, Oliver Isabedra, Mark Vuykankiat, Cedric Nocon, Noel Tuazon, Marlo Alquiza, Jonathan Sibal, Gary Mayorlago, Augy De Lara, and possibly hundreds more. The problem was I had none of their photos, and had no further time to search. I could have included a few more, but there was simply no way to include them all in just six minutes.
As it is, although not completely comprehensive, I believe I got a nice overview of many of the major players in the 120 years of Philippine comics and Filipino Comics Creators.
"Comics" being the operative word. In the museum, as well as in this video, I try to make a distinction between those who do comics, and those who do comic strips for magazines and newspapers. This is not to say that cartoonists don't deserve to be in the museum or the video, but it's simply because I choose to concentrate on comic book artists alone. I get the impression that the "comic book" world and the "comic strip" world are two different things but sometimes one or two would cross over.
It's a touchy subject, and it's one I myself am trying to figure out. I do know that in the case of American comics, when they hold comics conventions, you can hardly see any personalities from the comic strip world like Ted Rall, Bill Watterson, Scott Adams, Gary Larson, or Jim Davis attend or be invited as featured guests.
Here in the Philippines, the activities of the Samahang Kartunista ng Pilipinas, and the activities of the defunct comics groups like the SPIC have been separate. I really don't why, but I would welcome any thoughts on the matter.
With respect to the many cartoonists of the comic strip world, many of whom I truly admire like Nonoy Marcelo, Roni Santiago, Norman B. Isaac, Boy Togonon, Ben Alcantara, Manix Abrera, Steven Pabalinas, etc., I've had to make the decision to concentrate mostly on comic book artists. I have probably featured only a fraction of all comic book artists in the Philippines so far, and I think it's something that will take a long time to fully catalogue. It's already much more than I can handle so it would simply be beyond my capability to try and catalogue all comic strip artists as well.
I really wish somebody from the comic strip world try and do a site that celebrates the best that Philippine comic strips have to offer, the same thing I've been attempting with Philippine comic book artists. I think that would be really great!
---
Monday, July 17, 2006
Posted 7/17/2006 12:10:00 AM by Gerry Alanguilan
ELMER is nominated for "Best Comics Series", and the Philippine Comics Art Museum is nominated for "Comics Aid" at the Komikon Awards for this year's Komikon to be held on October 21, 2006 at the UP Bahay ng Alumni.
Komikon is organized by Artists Den.
This is quite a pleasant surprise. I haven't been nominated, much less won any sort of award for my comics work. Although I was part of SIGLO: Freedom, a book that did win a Manila Critic's Award for Best Comic Book a couple of years ago, I haven't had anything like this just for my own work. And it's really cool.
---
Sunday, July 16, 2006
Posted 7/16/2006 01:27:00 AM by Gerry Alanguilan

At The First Philippine Graphic/Fiction Awards
Here's the six-minute video I put together that debut at yesterday's event.
I've been up late at night for the past couple of days putting together this video presentation, which I hope would evoke a sense of history as each and every major Filipino comics creator from Jose Rizal to Leinil Francis Yu are shown in quick succession, to the music of Bob Dylan's "Like a Rolling Stone." I wanted to choose a Filipino made song as well, but for some reason, this song hit me really hard when I started to look for a song that would fit. I burned it on a VCD and brought it with me to the event. Note: This is a purely non-profit exercise. No copies of the VCD will be made for the purpose of making money.
Me and Ilyn arrived at the Rockwell Tent at 10:30 in the morning, and as soon as we stepped in we thought, oh man... it's COLD. The airconditioning seemed to be on full blast. We had decided early on to wear light clothing because we had heard that it was a hot venue. But man, it was like freakin Antartica in there. It's a good thing I brought a long a change of clothes that Ilyn could wear over her shirt. It would be really cold all the way until we left at 9 in the evening.
We immediately set up shop, displaying copies of ELMER for sale.
We shared the space with other artists like Ariel Atienza (Westside), Joanah Tinio (Cresci Prophecies), Marius (The Man From The Planet of the Masochists), Syeri Baet (Carpool), Komikera, and Reno Maniquis (Maskarado).

Joanah Tinio
I was really impressed by the staggering amount of mini-comics Joanah has been able to come out with at the same time she was going to college. Although she employs an artistic sensibility that's different from mine, I was very encouraged by her sheer love of creating comics. To date, she's finished 19 issues of her mini comic "Cresci Prophecies" (17 of which are publicly available). This is more than most, if not of all, Filipino mini comic makers have done on a single title. She was also able to come out with this really beautiful hard cover volume of the first eight issues. I bought a copy right away. I've yet to read it, but she's got a talking bird in it, which really got my attention.

Ace Mansala Balacio (with glasses) and his Neo Comics crew.
Ace is a very enthusiastic new publisher with a very talented crew of very young artists. Most of them I think are in their teens. Many of his artists show incredible potential, and I've adviced Ace to guide them well, and expose them to as many different forms of art as possible.

The Alcala Legacy Exhibit
The Alcala Family, c/o Alfredo Alcala Jr., has been working hard to keep the memory of their father and his work alive by constantly holding exhibits that showcase Alfredo Sr's best work. I first saw this exhibit at the Komikon in 2005, then at the Toycon just a few weeks ago and now here. Their untiring effort is paying off in that many young artists now know who Alfredo Alcala is, and what a fantastic artist he is. Hopefully, this serves as an inspiration for many young Filipinos.

The Question and Answer Forum with (from left) Wilson Tortosa (Battle of the Planets), Ace, me and John Becaro (Genesis).

The Q&A forum was really fun. Up and coming artist John Becaro has much potential as a passionate creator. Not only is his work indicative of a hard-working artist, he also writes heartfelt and perceptive observations about the state of comics in the Philippines in his site.


More than once, the subject of originality, what is "Filipino" in comics art and manga came up. It's a subject that I really wanted to talk about because although my beliefs haven't changed since my own "passionate" observations on the state of comics several years ago, I have changed in the way I choose to say what I want to say. I've done a lot of thinking about this same subject, and I wish we had a lot more time on the forum (we only had an hour) because it's something I really wanted to share. Perhaps I will put it all down in writing one of these days.

With Roderick Macutay and Randy Valiente.
Randy is working on a stunningly illustrated 200-page graphic novel, previews of which you can see
at his site
. I knew Randy to be a good artist, but I never knew he was capable of so much more. I was really bowled over.

More Artists' Tables.

Former inker Augy de Lara (Jade), Leonard Banaag (Taleweaver), Gilbert Monsanto (Houdini) and his wife Glenda, Ner Pedrina and me.

Augy was one of the earliest artists I've met when I first started drawing comics. I saw his portfolio back in 1991 and I was really impressed. After a short inking stint in the mid 90's, Augy took a job at a call center, the hottest job craze locally. He talked to me last night and said he wanted to come back to comics, and it's something I completely understand. If you're an artist, you really need to create, and something will always lacking in your life if you don't.



Ilyn was kind enough to watch over selling the chickens while I roamed.

Outer Hope
An old acquaintance from the PinoyDVD days, Flyderman, visited me at the booth, and we talked a little bit about the DVD forum and other happenings. Later, I was suprised to suddenly see him on stage with a guitar. Awesome! I didn't know he was in a band!

Wilson Tortosa sketching for a fan.

Pinikpikan with fire performers Planet Zips.
Now all these intermissions, although very entertaining, only heightened my anticipation for just who the event's "surprise" guest is. In my previous post, I pounded emphatically on my keyboard about my belief that Neil Gaiman himself, as the sponsor of the event, will make a surprise appearance. Anyone else would be a let down. My suspicion was further heightened by an unusual presence of extra security (although they looked military) roaming the place. I thought wow, would they do that for JUST anybody? I mean, come ON! It's only a 13 hour plane trip from the UK to the Philippines. It's common knowledge to Gaiman fans that Neil is currently in the UK looking over filming of his film, Stardust. It's perfectly concievable that he would make a lightning appearance, announce the winners of the prose and comics contests, rest a bit and jet back to the UK again.
My anticipation was even further heightened by an extraordinarily enthusiastic host, who finally introduced our special guest. And yes! IT WAS NEIL GAIMAN!!
Well, sort of.
Neil Gaiman greeted us from the set of Stardust in the UK, commenting on the day's activites and foul mouthed carpenters. It was really strange...it's like looking at an actor who couldn't be there to accept his Oscar because he was off on location. I never thought I'd see one of those things first hand. Still, it was a surprise allright.
It wasn't exactly a live feed because they could pause it in between announcements of individual winners. Oh well, so he isn't here. But it wasn't entirely a letdown either. They made a really funny Neil Gaiman clip, summarizing the events that led him to come to the Philippines last year. I hope they upload it up on You Tube.
The winners of the comics contest was really no surpise, at least to me. I had expected them to win, although not entirely in that order.
There was a tie for third place between
Defiant: The Battle for Mactan
and
Dusk
.
Second place went to
Manix Abrera's Splat!
Manix also won People's Choice Awards.
And the first place went to
The Sad, Mad, Incredible but True Adventures of Hika Girl
, written by
Waya Gallardo
, and illustrated by
Lala Gallardo
.
There's a neat story in there when Karlo Samson reacted to my earlier post about Hika Girl being a favorite of mine to win. He said that I had already met the artist online, but he wasn't saying who it was.
Well, that kind of thing I find somewhat challenging, so I put my formidable Internet stalking skills to work. I searched for Karlo's name and discovered that he's Didipusrex, (which was also his email) and that I know him as a friend in Buzznet.com. In his LiveJournal, Karlo mentioned a few female friends who were artists, among them an old friend of mine, Genie Ranada. I was familiar with Genie's work so I knew it wasn't her. A Lala Gallardo was also mentioned, and I found out that she was a friend of mine in Buzznet as well. She had uploaded her artwork there, but they seem to be inaccesible. But I also discovered she had a Flickr account, and there I finally saw her drawings. And then I just knew it was her.
Congratulations to all the winners, all those who made the short list, and all those who were able to join. Like I had said many months ago, this competition will bring out the best in many artists, and this was proof of it.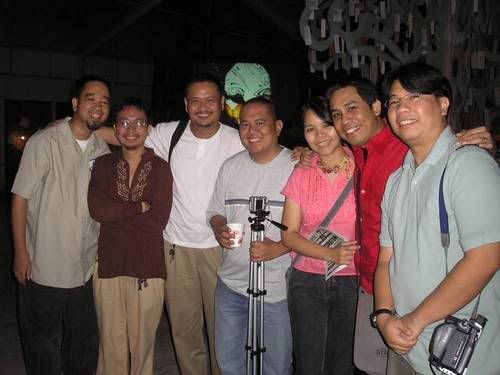 Ariel Atienza, Jonas Diego, Dean Alfar, me, Cynthia and Arnold Arre, Azrael Colladila.

More Photos at Azrael's Site
. Thanks Az!
---
Friday, July 14, 2006
Posted 7/14/2006 06:32:00 PM by Gerry Alanguilan
If we are to acknowledge 1886 as the year "komiks" was born when Filipino National Hero
Dr. Jose Rizal
wrote and drew the strip "The Monkey and the Tortoise", then 2006 is the 120th year anniversary of Philippine Comics. It's a monumental milestone that will first see acknowledgment at this year's 1st Graphic/Fiction Awards tomorrow.
I've put together a special 6-minute video that will debut in the event, which I hope will celebrate this rich and enormous komiks legacy. In the six minutes I had to me, I had to jam every detail that I could into it, but it's impossible to put them all in such a short piece. Many artists and writers have had to be left out, not out of neglect, but out of lack of space. Hopefully, a much larger documentary can be made in the future that would prove to be widely comprehensive.
I'll make the video viewable right here as soon as I get back home from the event on Saturday night, or Sunday morning.
---
Tuesday, July 11, 2006
Posted 7/11/2006 01:40:00 PM by Gerry Alanguilan
Distributing Elmer
I've been asked if I was going to sell Elmer at National Book Store and other major bookstores in the country. I've had feedback from other comic book publishers that it's difficult to consign and keep track of periodicals at National so I'm holding off until I get a compilation out whenever that will be. So for now, I'm sticking with comic book stores, and I'm trying really hard to get it out there as much as I can. Right now, Elmer is available locally at the following:
Comic Quest
*Basement Bldg. A, SM Megamall, Mandaluyong
*4th Floor, Festival Mall (Near the Cinemas), Alabang
*SM City, Quezon City
Comics Odyssey
*Robinson's Place, Malate
Druid's Keep
3rd Floor, Gateway Centre, Magallanes
Skybucks
*SM Fairview, Quezon City
Will soon be available at:
*Filbar's, Riverside Mall, Marikina
*Mag:Net
One of the reasons why ELMER was written in English was because I also wanted to distribute it abroad. So far, ELMER is currently available in the US at:
Comics Odyssey
*Pasadena, California
*National City, California
I'm trying to get in touch directly with retailers, and hopefully it will be available online at a couple of online distributors soon. More info below.
I'm extremely grateful at those retailers who have been amazingly helpful in distributing my comic book, so I'm extending much gratitude to Mike and JP Simbulan of Comic Quest, Felix Cua of Druid's Keep, Cholo Mallillin of Filbar's Marikina and Sandy Sansolis of Comics Odyssey. Double thanks to Sandy for going beyond the call of duty as a retailer, for passing on complimentary copies to a few industy professionals in the US, and helping me make ELMER available in the United States.
I also would like to mention Raipo Toledo and the UGOKS for letting me sit in their booth at the Toycon, and for Azrael Colladilla for pushing to get free tables for artists at next week's Graphic/Fiction Awards, where I'll be selling copies.
Thanks also to Ruey De Vera for his review at the Inquirer, Steven Grant for his review at Comic Book Resources, and to everyone who wrote about it in their blogs and mailing lists like Dean Alfar, Tobie Abad, Mike Simbulan, Marco Dimaano, Andrew Drilon, Az, Jonas Diego, Rey Villegas, Budjette Tan, Mark Cerbo, Lico Reloj, Cev Ruiz, and many others.
Thanks to all those who bought copies (multiple thanks to those who bought multiple copies), and left feedback. It's very much appreciated.
Exactly one month after the printers distributed Elmer here in our house, already more than half the comic book's print run is out of my hands, and hopefully into yours.
With half the print run still with me, I try to keep on pushing to get the comic book out there, and although it had been often a successful venture, there are of course, some frustrating and baffling down sides.
For instance, I just don't understand how a company could spend a lot of money to place an ad at the Comics Journal seeking out Small Press Publishers, looking for products very much like mine to sell at their store, and then when you get in touch,
they don't reply
. You email them a few more times, and although you do manage to squeeze out a reply by emailing someone else in the company, once you start talking business,
they don't reply
. It's so baffling. Why bother to place the ad at all if you are not going to entertain people you want to attract to respond to the ad in the first place?
I got in touch with another online retailer that specializes distributing small press/independent comic books very much like mine, and
they don't reply
.
The pattern repeats a few times with a few other online retailers.
It's really weird. I'm thinking maybe it's just ME. Maybe my comics have bad breath. Yeah, maybe that's it.
Joe Williams of
Red Flag Publishing
, over at Warren Ellis' Engine Forum, pointed me towards online retailer
Independent Propaganda
, and it turned out quite well. Of all the online retailers I sent messages to, Independent Propaganda Head Cheese
Wesley Craig Green
was the only one who wrote back to express any interest in what I had to sell. I sent him the first ELMER package not too long ago, and in a very short time, ELMER should be available at the
Independent Propaganda Store
. I'll announce it here the moment it comes online.
Back here in the Philippines, I'm trying to find connections in Visayas and Mindanao so I could sell my comic book in those areas. In what appeared to be sheer luck, a magazine retailer from the south got in touch and wanted to add my comic book to his selling stock. Not fully sure if he was aware of the kind of work that I do, I offered to send him a copy via courier for free so he can evaluate if he wants to carry it or not. Well, it's been a month and I've never heard from him again. Apparently, he didn't know the kind of work that I did and it must have been shocking for him to see (or not see) a chicken pleasuring himself to Internet photos of a half naked and human bold star. I'm more amused than anything else.
I'm exploring other venues to distribute to the south via a few people I met over at MySpace. I hope that pans out well.
---
Monday, July 10, 2006
Posted 7/10/2006 11:34:00 AM by Gerry Alanguilan

Is Neil Gaiman Coming To Manila?
Thoughts on the 1st Philippine Graphic Fiction Awards

The short answer is... I really don't know. Some may think I have insider knowledge, but I really don't. The organizers of the event talk about "surprises" and a "special guest". Their most recent announcement had this little bit of tantalizing info:
"7. AND YES, Neil Gaiman has been collaborating with us with this every step of the way. Can't divulge too much, but be prepared for some surprises. :) "

Well, then. We all know that the Graphic/Fiction competition wouldn't be here without Neil Gaiman. He is the driving force behind it, along with Fully Booked. Its annoucement last year pretty much drove many in the Philippine comic book community into a frenzy. Including me. I thought wow, I'll enter THIS contest. I've just GOT to. I can't NOT to.
But realities soon set in and because of a punishing Silent Dragon deadline, I wasn't able to have enough time to finish my entry, much to the disappointment of my would be partner David Hontiveros, to whom I offer the most profuse of apologies. But no one was as disappointed as I was because I really wanted to join so bad. Win or lose, it would have been great experience for me at a time in my career when I'm in a very difficult period of transition.
I used all that energy I had been building up for the competition into ELMER, so it all turned out allright in the end.
Anyway, inspite of their secretiveness, the most obvious special guest would have to be Neil Gaiman himself, since he is the one person with any kind of weight that's involved with this event at "every step of the way".
Of course, there's speculation that it may be Alex Niño. There is an award that's going to be given that's named after him, thus the Alex Niño Award. Which is really cool, but I see no reason to be secretive of his participation as many young people, including Neil Gaiman fans, probably would have never heard of him.
No, I'm betting it's Neil Gaiman himself who is coming. It is his appearance alone that has the potential to drive this crowd insane. Because as I have said in my earlier post, anyone else they bring in would be a let down. But I'm ready to be surprised and eat my words.
But now the time has come to announce the winners of the contest, and they organized this large event in Makati in which to do it. All in all, it sounds like a real huge deal. Here's the rest of their recent press release....
Hello everyone! We've been getting a lot of inquiries and questions about the 1st
Philippine Graphic/Fiction Awards so just to go through the FAQ's:

1. About the posted short listed entries, we sincerely apologize for some delays in the postings at our website. But we've fixed up the kinks, and now you can access the prose and comics entries at this link:


http://www.fullybookedonline.com/eventdtl.php?id=10


2. These short listed entries will be exhibited at the event on July 15. All these entries are in the running for the grand prizes. Meaning, they are not just for the People's Choice Awards.

3. The voting will be by ballot system which will be open on the whole day of July 15. We cannot have an online voting system just to be fair (because we are wary of people who will be clicking on their favorite entries hundreds of times like most of the online/ text voting systems).

4. Your ballots will be given to you upon registration. As an incentive, we will be raffling off prizes to the ballots cast.

5. The doors to the Rockwell Tent will open at 10AM. There will be a schedule of activities the whole day leading up to the 7PM awards proper. These include an artist's corner where renowned Filipino comics artists will be conducting workshops, autograph signings, etc. Of course, we'll be having booths wherein you can buy related books, graphic novels and related merchandise.

Will also have movie showings, readings of excerpts from the short listed finalists, and live performances by OUTER HOPE and PINIKPIKAN, including fire dancing by PLANET ZIPS. Food booths outside the tent will be available as well.

6.. Lastly, this event is FREE OF CHARGE. So everyone's invited!

For more info, check out the
DA of one of the organizers
, AZ (ikaw na naman! ;) )
As for the comic book entries themselves, I've seen all the finalists. If I were a judge, I would have a difficult time choosing who would win. Not that all of them are great, some of them are, but I have not seen a single story that stands out as excellent both in art and in story. One entry may have been good in one or the other, but not in both.
Artwise, my favorite has got to be
Defiant: The Battle of Mactan
. Of all the entries, this one really stood out to me visually as the most professional looking, most dynamic and most kick ass. But I thought the story was just OK.
It could win, but "just ok" story could work against it, inpite of the extraordinary art.
Storywise, my favorite is
The Sad, Mad, Incredible but True Adventures of Hika Girl
. Very very nice story, and I must say, very Gaiman-ish. Fans of Neil Gaiman would find this story the easiest one to latch on to. Artwise, it's very interesting, and has extraordinary potential. It does shine here and there, but I feel it needs a lot more work in terms of composition and design. In a few years, if this artist chooses to develop his or her art more, he or she would definitely emerge as one of the country's best cartoonists.
This story could win as well, but the unpolished art could work against it.
Of course, something like
SPLAT
could come from behind and surprise everyone. It's a short and wordless piece that's charming and fun. The art is very familiar and I can just bet I know who it is.
There are some entries that look really good and professional looking, like the one by a regular visitor to this site (and an Elmer fan art contributor), while there are other entries which just makes me scratch my head, and say "What? Oh God, I'm so stupid because I can't understand this!"
That said, it's still anybody's game. Those are just my personal choices. I wish everybody who entered the best of luck! See you all on Saturday! Yes, including you, Mr. Gaiman.
---
Thursday, July 06, 2006
Posted 7/06/2006 06:40:00 PM by Gerry Alanguilan

The First Philippine Graphic/Fiction Awards
Rockwell Tent, Makati City
10am to 10pm
July 15, 2006, Saturday

I'll be attending the first Philippine Graphic/Fiction Awards where I'll be signing and selling copies of ELMER #1. I'll be there as early as 10am, but I will be able to stay only up until around 5pm.
The event will have a FORUM on Philippine Comics, participated in by various industry professionals including Alfredo Alcala Jr., who will be talking about his father, and display some of his father's original artwork.
I'll be coming up with a short video presentation of Filipino Komiks artists, past and present, which will be shown sometime during the day.
More importantly, the event will see the announcement of the winners of the Fully Booked/Neil Gaiman-sponsored comics creation competition. Works of the finalists in both the comics/graphic novel and short story categories will be displayed. The Alex Niño Award (comics/graphic novel genre) and the Gregorio Brillantes Award (short story genre) will be announced at 7 PM along with the other winners.
The organizers are teasing us with a "special guest" that they won't announce. I'm betting it's Neil Gaiman himself. I mean, this is HIS event, after all. He co-sponsored it. He's the very reason there's an event like this. Anyone else they bring in would be anti-climactic, and bit of a letdown. Sorry guys.
The Fully Booked site has the finalists up for download. Strange that most of the comic book entries' links are broken. I'm sure they'll be corrected eventually.
Good luck to all those who entered!
*******************
Here's ELMER art that my friend Jonas Diego sent over to me. It's the most unusual one I've received yet, and it actually treads subjects I will be dealing with in the comic book itself. Click on the image for a larger, and much more legible image.
---
Wednesday, July 05, 2006
Posted 7/05/2006 12:34:00 AM by Gerry Alanguilan
Here's a page from part 15 of Humanis Rex! which appears in this month's Fudge Magazine. There are a few cheats in there, most notably panel one, which I drew only the left half of the drawing and mirror-imaged the right.
In the backgrounds of panels 2 and 3 are snippets of an unused LAKAN page I drew way back in 1992, which also acted as a page from part 3 of Humanis Rex. It took me a week to do that Lakan page back in the early 90's. I was feeling a bit bloody back then for whatever reason, and I intentionally pricked myself in the finger with a needle and incorporated the blood into the ink that I used to do the drawing.
I was kind of pissed that the page was never used for a comic book that never eventually came out and I have all this art I poured my blood (literally) and soul into that no one will ever see. I'm afraid I won't be able to use the art on any of those Lakan pages on any other project, except this one, which will now be filed not as a Lakan page, but a page from Humanis Rex! Sorry Ian.
That's Pasig on the background of the last panel, courtesy of Google Earth.
*********************
Thanks to Carlo Pagulayan for the next couple of photos!

This was taken at the recent Toycon 2006 at Megamall. From left, that's Wilson Tortosa (Tomb Raider), Ryan Orosco (Darna), Leinil Francis Yu (Ultimate Wolverine, New Avengers) and me.



This was taken at Felix Cua's comics store Druid's Keep at Magallanes, during an ELMER signing. That's Felix, first on the left.
We will be having a signing soon at Sandy Sansonlis' Comics Odyssey at Robinson's Place in Malate. I'll keep you all posted! Hopefully, you'll also get your chance to have your comics signed by Wilson, Carlo, and possibly Leinil. I haven't had the chance to ask Ed Tadeo yet, but I'm sure he'll come. Diba Ed? :)
Speaking of ELMER, here's the latest fan art I got, this time from
Wylz Gutierrez
. Thanks Wylz!
---
Saturday, July 01, 2006
Posted 7/01/2006 10:51:00 PM by Gerry Alanguilan
The Adventures of Miko and Jec-Jec:
The Secret of the Seven Lakes
This is a comic book series I had originally planned on doing after I finish doing ELMER sometime next year. It's a series of stand-alone stories featuring a brother and sister teen team, Miko and Jec-Jec, and their dalmatian dog Eugene, and their adventures of danger and excitement all over the Philippines.
The first adventure, entitled "The Secret of the Seven Lakes" would take place in their hometown of San Pablo City, where the disappearance of a friend and their search for him lead them to discover clues that would unravel the greatest unknown secret in the history of the town: The Secret of the Seven Lakes.
Yes, it's an All-Ages comic book, something I've been wanting to do for a long time, specially after doing so many stories geared mostly for older readers. This is something I'm doing for the 8 year old me, as well as the 38 year old me, as well as the 88 year old me years and years into the future.
Ilyn had been doing some hardcore conceptualizing with me and this is as much a product of her creativity as it is mine. I've done sketches here and there, but no real artwork as of yet.
So when the opportunity arose only recently to be able to serialize Miko and Jec-Jec on a weekly basis for a national newspaper, I had no artwork at all at hand, but I thought I'd jump at the chance.
I had originally planned to publish "The Secret of the Seven Lakes" through Komikero Publishing as a complete stand alone comic book in full color next year. Full color meant a huge chunk out of an already suffering wallet, but I thought if I were to be serious about this publishing thing, I'd better go in with guns blazing. But it is a huge risk, specially for an unknown and untested property.
If this story does get accepted at the newspaper, I'd have the chance to introduce this story and these characters nationwide in full color, and get paid for it too. It's a great chance to test it, and see how it will do. I'd then have much greater security going into compiling it later on upon completion, knowing that there would be at least people who would know what this is.
I needed to push production of the story to this year just to do the artwork above, and hopefully, they like it enough to accept it. I'll be then doing this alongside ELMER, and HUMANIS REX!
Fingers crossed!
*********************
Update on TIMAWA and Alamat ng Lawa ng Sampalok.
These stories were supposed to have seen publication around this time. But due to various circumstances I'm too tired to wade through here, it's temporarily on hold, much to my chagrin. I'm optimistic that this will still push through though. Timawa has waited 10 years, I suppose it could wait a little bit longer.
---
---