Thursday, March 30, 2006
Posted 3/30/2006 04:39:00 PM by Gerry Alanguilan



Alfredo Alcala

-Inker
John Buscema-Penciller
There's lots of stuff inside my computer, artwork that I got from the Internet, from emails from various people... too much stuff to put up, but today I felt like doing it. The one above I got from an Ebay auction from a while back. Ebay is sometimes a great source of really cool scans like this, which I believe to be from Conan.
That's a batch of
Manila Klasiks Komiks
covers which went up for auction on Ebay some time ago. If I'm not mistaken, it was Dennis who was the seller. I wasn't able to bid on any of these at the time, unfortunately. Even I had no idea that we had so many titles that had been published. Artists for some of these covers include
Ric Collado
and
Caguintuan
.
Tor Infante
Dell Barras sent me these scans of art by Tor Infante from a Continuity Comics title. Neal Adams inked the faces here, I'm told. Tor Infante is one of the lost geniuses of our time. He's still relatively young, perhaps just a few years older than me. I wonder what he's doing now. Like Lan Medina, he can still kick ass today if given the opportunity.
And just for kicks...

Just something I got via email a couple of years ago. I look at it when I'm kind of depressed.


---
Tuesday, March 28, 2006
Posted 3/28/2006 08:01:00 PM by Gerry Alanguilan
Elmer #1 Final Cover
After some canvassing, I was able to decide on a printer for Elmer. Not only were they the most inexpensive, I also know these people, and the comics they've printed before looks good to me. They also guarantee an April 30 delivery date, just as long as I turn in all material at a certain date.
Final retail price is 50 pesos. Bear in mind that that figure wasn't arrived at unilaterally. I really tried to offer this comic book as inexpensively as I could, without me ending up losing money. Factoring in the cost of printing, as well as the percentage that the stores will take (some stores take as much as 40%, sometimes even more), and other expenses, I land with the figure of 50 pesos per issue, which is a figure that I think would make enough money just enough for me to come out with the next issue.
Although I have published many mini-comics before, this is the first one I'm actually publishing out of my own pockets for the first time using offset printing, as opposed to photocopying. Many of my other past work, including WASTED, were published by other people like Alamat and Pulp.
Although this will be fully self published, it will carry the Alamat logo, and proudly so. I still consider myself a member of Alamat Comics and I had promised myself I'll do my part to keep it alive.
---
Sunday, March 26, 2006
Posted 3/26/2006 02:19:00 AM by Gerry Alanguilan
Jun Lofamia
Spot Illustration for "
Ang Puso ng Ina
"
Written by
Ana Maria Aceveda-Bacudio
Liwayway, March 27, 2006
Sometimes I just can't wait for the new issue of Liwayway for a new batch of some really terrific art by some of our best illustrators working today. This is one of the best things I've seen Jun Lofamia do. I swear, he just keeps on getting better as time goes on. I can pretty much say the same for Rico Rival:
Rico Rival
Spot Illustration for
"...at Si Mahala ay Nakaligtas"
Written by
Teresita Manaloto-Magnaye
Liwayway, March 27, 2006
Both Jun Lofamia and Rico Rival have been working as illustrators for comics and magazines since the 1960's. To see them still going strong and doing some of the best work of their lives well into the 2000's is a truly great thing.
Many artists, as they get older, sort of lose steam and their art doesn't seem as good as it was before. It's probably just a result of reduced physical stamina and ability, or a loss of drive and desire, but it remains as a matter of concern for someone like me who will be in their shoes one day.
I really wish I can still give my all and never lose the desire when I get old. I don't want to become just another bitter old artist reminiscing about how good the good old days were, pining for past glories, no longer having the fire even though I'm still strong enough to work.
That is why my admiration knows no bounds for these artists, as well as Romeo Tanghal, Dell Barras, Hal Santiago, Floro Dery, Alex Niņo, Tony DeZuniga, and many other artists of our earlier generation who still keep at it and still keep pushing and challenging themselves. It's very inspiring!
---
Saturday, March 25, 2006
Posted 3/25/2006 01:11:00 AM by Gerry Alanguilan
Jesse F. Santos' profile and art gallery has just been uploaded at the online museum. Click on the image above or
HERE
.
TOMADOR
Pioneer Komiks #159, December 23, 1968
Graphic Arts Service, Inc.
TOMADOR written by
Greg Igna De Dios
DI-13
Pilipino Komiks #192, October 9, 1954
ACE Publications, Inc
DI-13 written by
Damy Velasquez
.
BOKSINGERA
Tagalog Klasiks #163, 181, 1955-56
ACE Publications, Inc
BOKSINGERA written by
Mars Ravelo


---
Friday, March 24, 2006
---
Wednesday, March 22, 2006
Posted 3/22/2006 10:19:00 PM by Gerry Alanguilan



Jeremy Arambulo


Elmer Art
A US-based Pinoy indie comics creator, Jeremy's most recent local work can be seen in
Siglo: Passion
, adapting Dean Alfar's "Hollow Girl". Visit Jeremy's newly refurbished
official site here
.
Thanks Jeremy!
I'm really surprised that all of the Elmer art sent to me seem to fit and find their place in the story I'm trying to tell. This one not only fits, but it also gives me an idea that I might just well use in the comic book. he.he.
I now have a definite date for the release of issue #1. April 30, 2006! Better to be safe than late! If I can get it out earlier the better. :)
Check out the
Official ELMER Site
here for a 4 page preview, comics info, as well as all the Elmer fan art sent to me so far.
Humanis Rex WAR!
Preview art for Humanis Rex #12 out with Fudge Magazine's April issue!
Recognizing that one month is probably too long to maintain continuity and to introduce each new reader into the story, this installment now comes with a short and concise summary of what the series is all about, and what has happened so far.
---
Monday, March 20, 2006
Posted 3/20/2006 10:44:00 PM by Gerry Alanguilan
Dengcoy Miel
Elmer Art
Imagine when THIS fell on my lap. Stunning! And from someone like Dengcoy Miel no less, one of the greatest Filipino cartoonists of this generation. I am awed. I'm not worthy!
Nevertheless, I'm extremely grateful. Thanks Deng!! Mabuhay ka!
With all these incredible art I've been getting, I've decided to find a place for the really cool ones in the pages of Elmer #1 and following issues, putting them onto shirts, posters in the background, newspapers, books, etc.
I would have put some of the really terrific ones on the back cover since they're fully colored, but I've already comissioned artwork from non-comic book friends and acquaintances for the back covers, artists who I feel are unique in each their own way. The artist on the back cover of Elmer #1 is painter Solano S. Cruz, my old painting teacher when I was a teenager.

Solano S. Cruz
18"x24" Oil on Canvas
Readers of Crest Hut Butt Shop would know who Solano Cruz is and his significance in my life, and well, to ELMER. I think having a painting of his specially commissioned for this project is immensely appropriate.
In the Philippine Art world, Solano S. Cruz, born in 1935 in Norzagaray, Bulacan, is known as the originator and proponent of "Banignism", a style of painting where brushstrokes simulate the pattern of local woven mats. His paintings appear on Hallmark Christmas greeting cards and his murals grace the lobbies of banks. In 1997, Malacanang commissioned him to paint a mural along Pasig River for "Piso Para sa Pasig." Solano Crus founded LUNDA (Luntiang Daigdig Artists, Inc.)
If anyone wishes to send your own chicken art, anybody is welcome! All artwork I receive will appear on the
ELMER OFFICIAL SITE
, and all of the really cool ones will appear in the comic book themselves, with your permission of course. I won't be able to pay you, but you will receive a free copy, and my eternal gratitude. :)
Email artwork to me here: gerryalanguilan(at)yahoo(dot)com. Thanks!
---
Sunday, March 19, 2006
Posted 3/19/2006 03:42:00 PM by Gerry Alanguilan
Jesse F. Santos

Buntot Page Cover
Tagalog Klasiks #115
November 28, 1953
Published by ACE Publications
Buntot Page
is created by writer Angel Ad. Santos and illustrator Federico Javinal, running currently in this issue.
Jesse F. Santos is the subject of the next Profile/Bio up next week!
---
Thursday, March 16, 2006
Posted 3/16/2006 09:12:00 PM by Gerry Alanguilan
Arnold Arre
Fan art to ELMER has come in from surprising places, depicting some really surprising moments. This one from award winning comic book creator ARNOLD ARRE, who has as of this moment just unleased his latest graphic novel ANDONG AGIMAT.

"What would you like you see in a superhero comic?" That was the question Arnold asked us in the wake of the resurging interest in Darna perpetuated by the new comic book and talk of a movie and TV series.

In the Philippines, while Mars Ravelo borrowed heavily from American iconic figures such as Superman, Captain Marvel and Wonder Woman, other super heroic figures without the colorful costumes have been popular. The herioc "agimat" stories and movies have been popular to Filipinos and can be traced to our myths and legends.

With Mythology Class, Arnold went back to these myths and legends. With his interest in FPJ and Ramon Revilla action movies, he now brings these legends to the streets.

So what kind of superheroes did Arnold have in mind? Superheroes without the cultural trappings of American comics. Superheroes steeped in mythology but sharpened by the dirty grey tabloid world. Superheroes that are different and yet familiar. New and yet remembered.

The world of Andong Agimat.

Prof. Emil Flores
UP College of Arts and Letters

Two-time National Book Award-winner Arnold Arre's new graphic novel "Ang Mundo ni Andong Agimat" is now available at Comic Quest branches, National Book Store, Powerbooks, Fully Booked and Filbars branches.

**********************

Other ELMER fan art from Edgar Tadeo, Elbert Or, Jerald Dorado and Roberto Villabona at the Official ELMER SITE. Check it out here.

Thanks guys!
Posted 3/16/2006 08:51:00 AM by Gerry Alanguilan
Tony De Zuniga
From Concepts: Tony De Zuniga
Artwork Copyright: Tony De Zuniga


You can get a copy of the portfolio here.
---
Tuesday, March 14, 2006
Posted 3/14/2006 10:32:00 PM by Gerry Alanguilan
Komikero Meet Sketch

The Komikero group met once again for our monthly sketching meets last Sunday, and I took the opportunity to sketch using a relatively cheap set of color markers from Faber-Castell. I got a 30-piece marker set for just P150 at SM Stationary. I've been experimenting with this ever since the Canossa College Day where I started playing around drawing with pentels. Very cool, and a bit challenging because even though I had a lot of colors to choose from, it's tough to pick colors that won't clash.
Jonas Diego
, Jerald Dorado,
Edgar Tadeo
and Ariel Atienza. We hung out at Sampalok Lake in the park in front of "Tahanan ni Aling Meding" Hotel and Restaurant.
Ed, Ariel and Jonas
Jerald
http://jrldorado.blogspot.com/
Ariel
http://figurativity.blogspot.com/
Mylene Panagsagan and Jerald
Jonas and Jerald
Lunch at Tahanan ni Aling Meding.
The next meet looks like it's gonna be a swim meet at Sabang Hills. It was a really hot day! I wasn't feeling too good and I nixed our tradition of walking around the lake after ever meet.
Check out Ed's
SKETCH
, and his
Komikero Meet Photo Gallery
.
Hey, a little change in the blog color scheme. Time for something new, I think.
---
Saturday, March 11, 2006
Posted 3/11/2006 12:27:00 AM by Gerry Alanguilan
The
official site
for
ELMER
is now online and
can be viewed here
. It contains much of what I had already posted here including the teasers, but it also contains a short and concise description of what the comic book is all about.
I was surprised at the reaction to the advanced preview I posted so far, much of it is positive. WOW! Thanks to all those who sent in their thoughts, and I hope to make something you all won't regret buying next month. I'm really amused (in a good way) at the speculation that's going on about what exactly I had planned for the chickens. Rest assured that none of the teasers I've released so far have been misleading and all of that will be used in some form or another in the comic book itself.
I'm also glad the preview has spurred a few people to send in their own chicken artwork and there is a place for all of that in the site. If you wish to send your own chicken drawings, please feel free to email it to me at gerryalanguilan(at)yahoo(dot)com and I'll put them up. Please make sure that your scans are no more than 800pixels wide, and 72 dpi, saved as jpeg or gif.
Rest assured that the site will grow in content in the coming year as issues are released, and more artwork previewed.
---
Thursday, March 09, 2006
Posted 3/09/2006 11:02:00 AM by Gerry Alanguilan
Humanis Rex! And The Future
With a limited amount of space in which I could tell the story of Humanis Rex! ( around just 50 pages in the regular serialization, and possibly 15 or more pages in the collected edition), there are a lot of futuristic stuff I try to come up with that won't get fleshed out as much as I would like.
Geeks out there most likely saw
"How Techies Changed The World"
on Discovery Channel hosted by William Shatner. The show demonstrates just how many of the speculative technologies presented in the original series of Star Trek (1966-1968) have eventually become reality. And the people responsible for such technology (like cellphones, medical tools, computer networking, voice commands etc.) have pointed to Star Trek and the speculative technologies presented in the show that inspired them to make such things reality.
It's an objective I try to achieve in Humanis Rex, a story that's supposedly set 350 years in the future of the Philippines. I base a lot of futuristic stuff on current technology and speculate how such technology will evolve through the centuries.
Unfortunately, I could not speculate too much with regards to clothes because believe it or not, it's much MUCH harder to imagine what clothing will be like 300 years from now than what our cellphones would be like. Most previous speculations with regards to futuristic clothing, even in Star Trek, have not held up well. Buck Rogers-y and Flash Gordon-y designs evoke more the past than the future for some reason. Fashions in Star Trek, specially of alien races in the original series (i.e.
The Way To Eden
,
A Taste of Armageddon
) are rather embarrassing to see today. Fashion in the 80's was based mostly on a futuristic point of view, and yet 20 years later it's probably the single most embarassing decade in terms of fashion.
Not surprisingly, Star Wars fashion holds up because they evoke either neutral, generic clothing or classical attire based on existing fashions from cultures all over the world.
In this vein, I stuck with contemporary clothing in Humanis Rex, very much the same way that
Star Trek: Enterprise
did, because I think contemporary, neutral, not overtly challenging fashion-wise designs have more of a chance not to appear dated.
15 years ago, who knew where technology would eventually take us ? Just 15 years ago, there was no Internet they way we know it today. When I wanted to do research, like how would go about knowing what a French revolution horse carriage looked like, I had to go out of the house to buy books, magazines, and so forth. If I wanted to know the anatomical parts of a chicken I would have to do the same. Who knew that the day would come when all you need to do is open the computer, go online, go to
Google.com
or
Wikipedia.org
and you can literally find anything imaginable on any subject?
Who knew that one day all people would be carrying wireless phones smaller than the size of wallets, and from such phones you can take pictures, listen to music, do research online, and so much more? I think the leap in technology in the last decade is just stunning, at least from my generation's point of view. I'm sure kids today would find all these things normal and a typical part of everyday life, and could not possibly conceive of a time when we had no such things.
When I was a kid all we had was a small black and white TV with only FIVE channels. They signed on at around 10am, and signed off at around 11 or 12 midnight. Phones were huge lumpy things mounted on the wall that made an annoyingly loud noise. Here in San Pablo our phone number consisted of only FOUR numbers. To write your friends you had to use actual paper and write on that. Put that in an envelope, go to a post office, put a stamp on it, and send it off. If your friend is in the US, wait around a month or so before he or she gets it, and if they reply right away, you may well get the letter at the quickest, a week. Such was the only written communication we had in my day.
Can any of you kids today even imagine living in a world like that? Without email, without faxes (although that is becoming rather dated too), without Cable TV, and without cellphones? I mean, I'm sure many of you break into a cold sweat upon realizing you left your phone at home, and feel like half your world has ended when your phone gets lost or stolen.
Speculating on current technologies, I really believe that one day, everything will literally be implanted into human beings. A microscopic device that includes a phone, computer, camera and Internet will be implanted into humans, directly tapping into the brain. When you want to call someone, all you need to do is think of calling that person and you will, in a matter of seconds. If you want to see Paris Hilton and Jude Law's grandchild's nipple slip on the red carpet of the 180th Oscar Awards, all you need is to think about it, and in an instant the gadget, via its built in micro-cellphone connected to the Internet will access nippleslip.xxx and you will be able to see the pic or video in a filament implanted in front of your eyeballs.
In Humanis Rex!, I call that technology
BODYNET
, where your entire body acts as a conduit of digital information. The transplant can be placed on any part of the face, as long as it's on the head. Because the bad guys, the Crimeans, want to prevent such technology from propagating, they have banned the use of implants but have nevertheless allowed an external device that people can carry around like huge wristwatches, technology that's obviously outdated by this time, and can only perform a minuscule of tasks compared to what the Bodynet can do. The rebels however, recognize no such restriction and use the Bodynet freely, and with impunity.
Unfortunately, I can't go into much detail about these things in the story itself, but at least I've thought it out and worked it all out. So that when I use bits of it in the story, I know I'm adhering to a reality that's fleshed out and it's not something I just thought up on the spot.
Humanis Rex! comes out monthly on the pages of FUDGE Magazine.


---
Wednesday, March 08, 2006
Posted 3/08/2006 03:40:00 PM by Gerry Alanguilan

Komikero Meeting, March 12.
Slight Venue Change!
This is a repost of a post I made earlier, with slight changes to the venue.
The next Komikero meeting will be on March 12, 2006 from 10am until it gets dark. Venue will be Sampalok Lake, here in San Pablo City. If you wish to join us, use this pictorial guide:
http://www.komikero.com/sanpablomap.html
If you are not yet a member of Komikero, your mere presence will automatically make you one! That, plus the initiation of course. he.he.
But please don't forget that the purpose of our meetings is to
sketch
. So bring your sketcbooks, pencils, pens, watercolors, or any artistic implements you wish to use to draw.
*Except
* laptops or any other electronic gadget!
We know that many of us already use computers in our daily work. These Komikero meetings are designed to go back to the basics, just to remind your hands once in a while the feel of an actual pencil or pen in your grip.
And we don't draw superheroes, fantasy creatures and the like. This is a chance to take a break from that kind of stuff, even for a day.
We draw from LIFE! We draw from nature! The purpose of this is to develop your skills of observation, and to train your mind to draw without a style, to draw things how they really are.
This is not a contest! So don't feel shy about drawing or showing your work. We're here to help, or to be helped by you. We all have something to learn from each other.
If you feel this is up your alley, welcome!! I'll be there as early as 10 am.
MARCH 8 UPDATE!!
Slight Change of Venue. Because of the arrival of new members, and children coming for art lessons, the venue is now moved to
AREA B
! If you wish to know where that is, please consult the picture map linked below.
http://www.komikero.com/sanpablomap.html
Kita kita na lang!!
---
Tuesday, March 07, 2006
Posted 3/07/2006 09:26:00 AM by Gerry Alanguilan

Carlo Vergara's
ZSAZSA ZATURNNAH
Ze Muzikal Review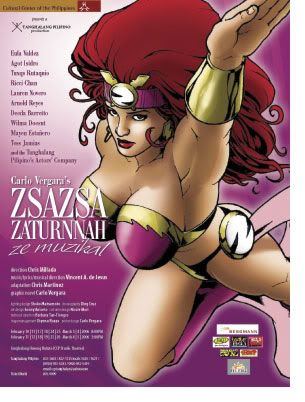 I
saw the matinee show on the last day of the musical's run and I think that's one of the best times to watch it because everybody's got their act down pat, and all the kinks have been worked out. I didn't want to write about it right away because having completely enjoyed myself, I just might end up with a totally non-objective gushing review.
Several days later, after giving myself some distance from the experience, I recognize the fact that I can't help but give a totally non-objective gushing review. Sorry.
I'm a huge fan of the comic book and I had concerns about how they were going to translate the fantastic elements of the story such as the Ada's transformation to ZsaZsa, the giant frog, the flying Amazonistas, and all the fight scenes. Upon entering CCP's Tanghalang Huseng Batute, I was rather shocked to see how small the theater was. The upper gallery aside, the seats next to the stage could not have accomodated more than 100 people. Our seats, thanks to Carlo, were right next to the stage. I mean, the stage is literally just a few inches from me and several times during the musical I could have just raised my hand without standing and I would have touched Eula Valdes. (Oh my God!)
But how were they going to do the flying scenes? I didn't see any wires or any stuff like that. Where was the giant frog? How can all that action happen in such a small space? That was what I was thinking about just a few minutes before the show started.
The next three hours would be some of the most enjoyable I would ever have in my life! To use an increasingly overused phrase...It was AWESOME!
Up until now I have difficulty thinking of what to write that would give the show justice, but I will try.
Essentially, I was really amazed at how faithful the musical was to the comic book. Most of the dialogue was lifted directly or slightly modified from dialogue from the comics. The music and dancing came in to flesh out certain scenes and issues that complemented the story rather than distract from it. In fact, the music was so appropriate to the tone of the story that it felt like it belonged there all along, and even elevated the story to a totally different plane.
Taking a cue from some of the comic book's quirkiness and campiness, the musical applied it to solve the many technical difficulties of translating it to stage. I thought that the solutions to the giant frog and the flying would have appeared ridiculous on paper, but the execution was so clever that I could not possibly fault it. I found myself laughing in appreciation at seeing the frog, how he terrorizes the people, how he swallowed ZsaZsa and how ZsaZsa fought to burst out. It was brilliant! I would never have thought it could be done that way. I'm amazed at how they were able to use what little space and equipment they had to pull off the fantastic parts of the story. If I'm not being too specific, then please take that to mean that I just don't want to spoil your fun. Although the musical's run is over, I find it impossible that it won't be staged again after the surprisingly enthusiastic response and patronage to it.
The size of the venue made the setting much more intimate and the experience much more immediate and real. You felt like you were part of the show and the players your gang of friends.
Eula Valdes as ZSAZSA was terrific! She's as beautiful as ever, and sexier now than she ever was. I thought wow, she can sing, and she's so game and didn't hold anything back. She took on the role and just devoured it completely. You can tell she was having fun.
The rest of the cast were all impossibly talented from Ada right up to all the CCP Tanghalan players. Other players that stood out to me included Deeda Baretto as Amazonista Vilma S. (Ang galing nya kumanta!), Wilma Doesnt as Amazonista Dina B. (nakakatawa sya ha), Kalila Aguilos as Queen Famina (I didn't catch Agot in the role but Kalila filled it excellently), Catherine Racsag and Red Nuestro as various characters, and Bong Cabrera as various characters including Ada's dead zombie father. (Ang galing mo pre!).
However, the star of the show was really DIDI, played hilaroously and outrageously by Ricci Chan. Shamelessly funny and witty, he literally stole the show. I'm an instant fan!
Kudos to Vince de Jesus, composer, lyricist and musical director. You have created something great, and I would love to buy a copy of the soundtrack. Sayang naubusan ako!!
Kudos to everybody who worked on making this show possible, and if new shows are scheduled, you can count on me to watch as many of them as I can!
If it isn't obvious yet, I just loved it. I love the music, I love the acting, the dancing, the writing, the clever solutions to technical problems, literally everything about it. And not a mistake in the entire production that I can see. I was literally in tears towards the end. And I felt bad for those people who wanted to see it but couldn't. Sayang. Everybody who wants a little light in their world right now really needs to see it.
And stalker that I am, I enjoyed the show so much that I tracked down as much of the cast as I could online and wrote them fan letters. Sana wag silang matakot. he.he.
Carlo was there to watch it (his ninth show, I think), and I was observing him from time to time. You can tell how much he was feeling what was going on. I had spoken to him before the show started, and he was still a little shocked, and a little unbelieving of the attention and acclaim his comic book has had, and really didn't know how to react himself. But I think he's incredibly proud to see his creation so well represented on the stage. And I'm very happy and proud for him because of that.
---
Sunday, March 05, 2006
Posted 3/05/2006 08:40:00 AM by Gerry Alanguilan
Rico Rival

Ang Matsing at ang Pagong Cover
Wakasan Komiks #79, Book 2
July 3, 1978
Mapalad Publishing Corporation
Val Pabulos
gave me a stack of loose komiks pages with artwork from my father-in-law,
Rudy Florese.
Thanks Val! These pages consist of his work in Wakasan, Sweethearts, Precious, and other komiks from the late 70's and 80's. A page of his
"...at sumanib ang Langis sa Tubig
" written by
Marty Gee Aragon
in Wakasan came with that issue's cover as illustrated by Rico Rival.
I've been growing to like Rico Rival's work recently, specially after seeing his current work in Liwayway. This cover caught my eye and it's become one of my favorite works of his.
I liked it so much I decided to restore and recolor it. The original cover was printed on bad paper, and the artwork had a lot of logo, title and price paste-ups. I scanned it, removed the color and texts, and then recolored it on the computer, preserving the original colors as much as I can. With minor adjustments to the guy's skin tone and shoe, this is pretty much how the cover would have looked like had it been printed on good paper without the text paste-ups.
Check out a much larger version here
.
---
Saturday, March 04, 2006
Posted 3/04/2006 10:34:00 AM by Gerry Alanguilan
San Pablo City Video
CLICK PLAY

. For slow connections, or if the video stops intermittently, just press pause on the lower left hand corner and let the video load completely before playing again.
San Pablo City, some 82 kilometers south of Manila in the province of Laguna, was where I was born and where I partly grew up. Halfway through my childhood we had to move to Manila to continue my education. I studied at San Beda and then UST for college, but after it was all over, I eventually came right back here.
A lot of my old classmates went to all different parts of the world, to Italy, to the Middle East, to Australia, Europe and of course the United States, and settled and made their lives there. Many of them have urged me to make the move as well.
In fact, when I met Alfredo Alcala in the San Diego 1999 Comicon, he urged me to stay. But just a few days in San Diego, I was already aching for home. And I've come to realize that it wasn't just homesickness. I just couldn't live anywhere else. Strange it may be for the many who left, I just love it here. That's all it really is.
I made this little video to express that in my own little way. I've been having fun making videos since I learned how to put one together. It's a fascinating, engrossing process of putting moving pictures and photos and editing them in with music and text and so forth. None of those I made so far are of professional quality of course, since I am working with just a small 5MP digicam and free software and my fumbling amateur attempts at something that's slowly grabbing my interest.
Music for this one is by one of my favorite bands,
Ba'giw
, and their song "Mahal Pa Rin Kita". I've been a fan of theirs ever since I heard their song "45 seconds (In July 16)" back in 1992, a song about the earthquake tragedy in Baguio the previous year before. If they're reading this, I would love to get in touch with you guys because I wanted to ask you something (permissions and other stuff), and of course to show my appreciation for a great body of work you have done. Mabuhay kayo!
---
Wednesday, March 01, 2006
Posted 3/01/2006 09:54:00 PM by Gerry Alanguilan
I've uploaded a four-page teaser for
ELMER
, a comic book I'll be self publishing for 2006. The first issue comes out next month . Click on any of the images, or
HERE
.
Note: Mature Content
ELMER


http://www.komikero.com/elmer/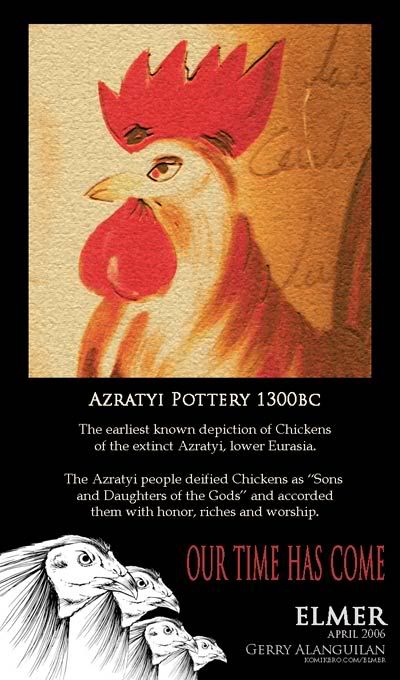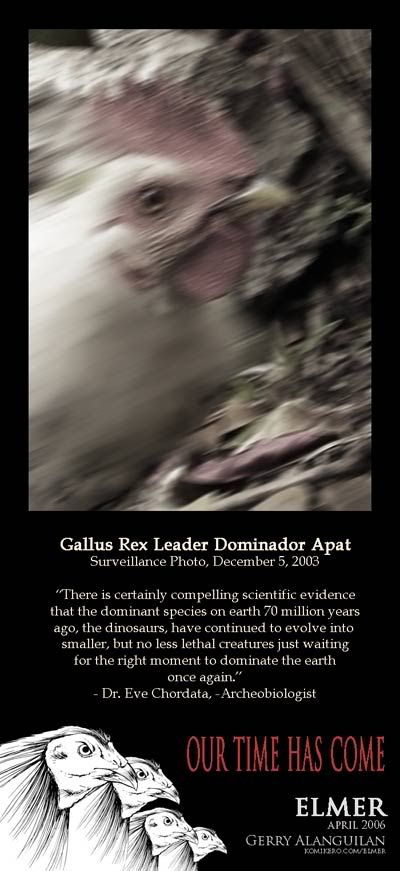 ---
---