Monday, February 27, 2006
Posted 2/27/2006 11:05:00 PM by Gerry Alanguilan
Romeo Tanghal's Sariling Atin Komiks
Update!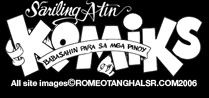 Check out a huge TWENTY PAGE preview of Romeo Tanghal's upcoming "
Sariling Atin Komiks!
" Click on the logo above or
HERE
.
Additionally, Romeo Tanghal has a blog!
http://sarilingatinkomiks.blogspot.com/
Posted 2/27/2006 05:33:00 PM by Gerry Alanguilan

Lake Tripping
After adapting the legend of Sampalok Lake, I fully intend to adapt the legends of all six remaining lakes of San Pablo City, all of which are very interesting in their own right.
Up until two Sundays ago, I've visited all but two, Mohicap Lake and Palakpakin Lake. My dad asked me to come with him to visit and take photos of his childhood hangout in San Dig, a place not easily accessible by car and would take some bit of hiking.

My uncle and dad hiking through the bush.
Afterwards, my dad asked if I wanted to see the lakes in the area which, coincidentally enough, are Mohicap and Palakpakin. I said, yes of course! I needed to take pictures of all the lakes so I can depict them accurately in the comics. So off we went.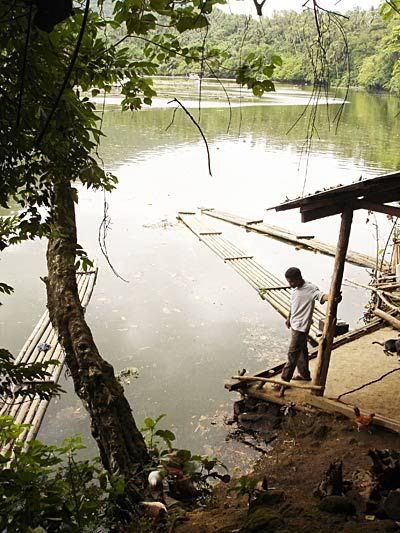 My uncle at Lake Mohicap

Panoramic view, Lake Mohicap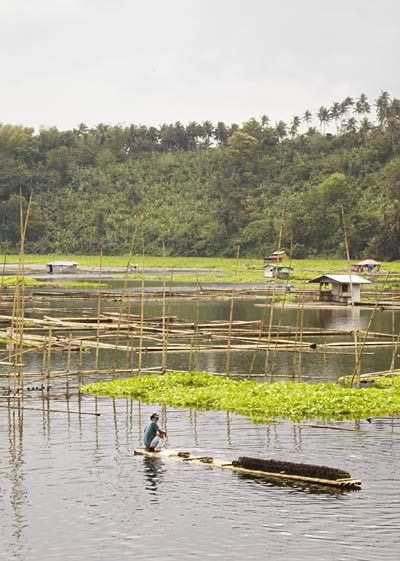 Fisherman at Lake Palakpakin

Panoramic view, Lake Palakpakin
And just for the heck of it, we went to Bunot Lake as well. We haven't been to Bunot lake since I was a kid, so a return visit is long overdue.

Panoramic view, Bunot Lake
My brother sent me a sattelite photo of San Pablo City with all the lakes clearly visible. How cool is that? Google Earth really rocks! If you haven't downloaded this program yet,
GO HERE
. This program is amazing. Selected places are in crazy high res. You can see the pyramids in Egypt, buildings in New York in close up, see St. Peter's Basilica in Rome, see streets and houses in Cavite and Bulacan. I sure wish they'd add high res images of Manila and San Pablo soon!
But as it is, the clearest you can see of San Pablo is like this: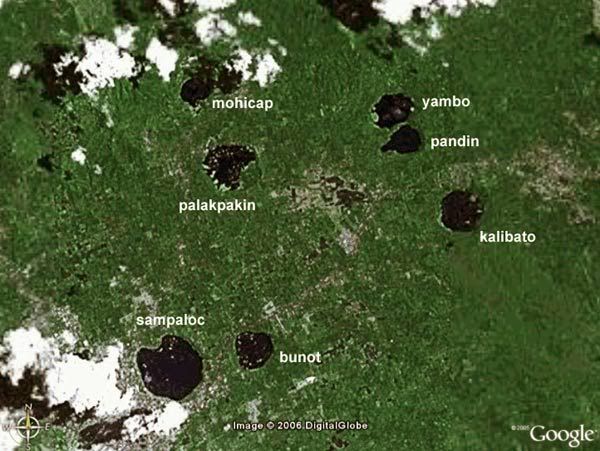 Our house is a five minute walk to the western edge of Sampalok Lake.
That Gaiman Comics Contest
My CTS flared up again after finishing Humanis Rex #11 that it made me incapable of finishing my entry to the Neil Gaiman/Fully Booked comics contest. To be honest, not being able to join doesn't make me feel as bad as letting down David Hontiveros yet again. I really wanted to do this for him than anything else. Heartfelt apologies to Dave with a sincere promise that I will make it up to you in a big way in the future.
Good Luck to all those who will join! Because of the high profile of this contest, and the fact that winners and runners up will be published, I really believe that this will bring out the absolute BEST in all who will join. I'm confident that this contest will see the debut of future superstars in Philippine comics.
Bumming Around
On an enforced break once again, I did some bit of writing, and edited together some photos and videos. Check out a Komikero music video and a short short film I did recently in my personal blog! :)

Nang Dahil Sa Trese
1 minute, 19 seconds
color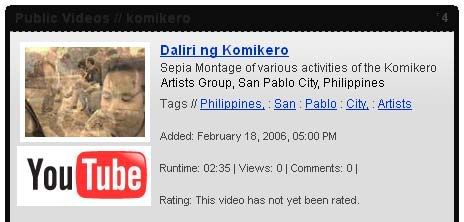 Daliri Ng Komikero
2 minutes, 35 seconds
sepia
"Daliri" Words and Music by Florante de Leon
---
Sunday, February 26, 2006
Posted 2/26/2006 12:24:00 AM by Gerry Alanguilan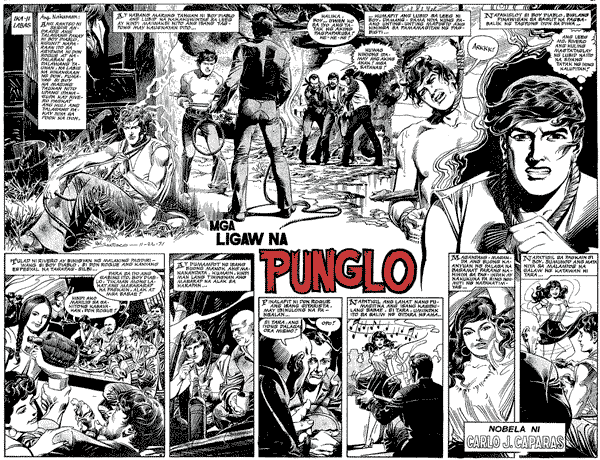 Hal Santiago

Mga Ligaw na Punglo
Written by
Carlo J. Caparas
Espesyal Komiks #457
December 4, 1971
Hal Santiago's profile and art gallery has just been uploaded at the online museum.
Click here
or the graphic below.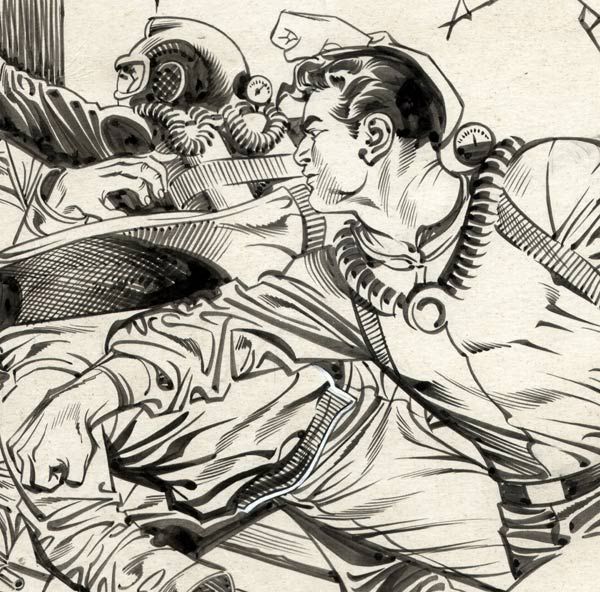 Detail from
Manila Boy Special
cover from
Kidlat Komiks
#50.

Collage from
Mga Bakal at Kalawang
, Hal's current series from Liwayway Magazine, written by
Ricardo M. de Luna
.
Me and Hal Santiago, April 2004
---
Saturday, February 25, 2006
Posted 2/25/2006 12:28:00 AM by Gerry Alanguilan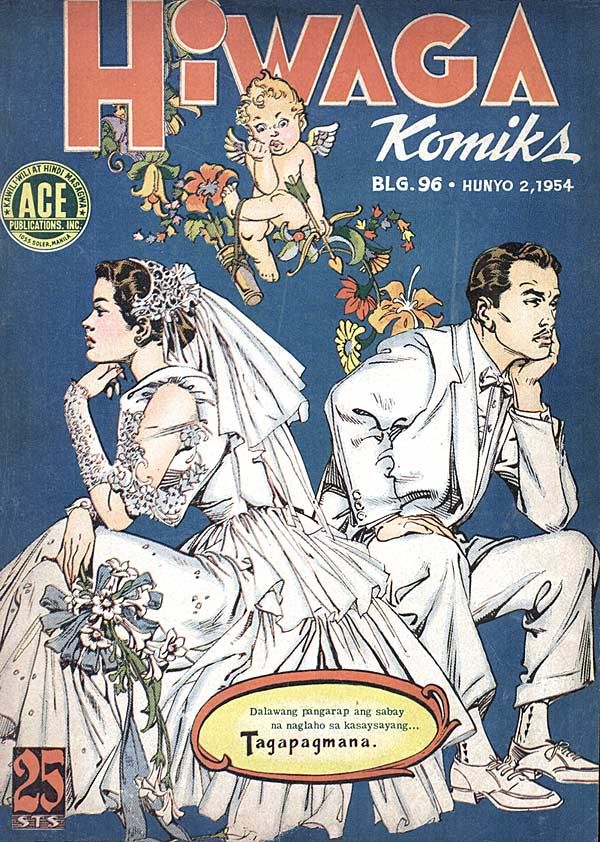 Hiwaga Komiks #96
June 2, 1954
Ace Publications
Once in a while I'll feature a an issue of a vintage comic book including covers and selected artwork. This time around it's issue 96 of Hiwaga Komiks. This cover is a puzzle. It's a frustrating practice of artists of the time to not sign their work for the covers, and they can only be identified on the strength of the particular artist's style. Oftentimes it's easy to spot a Redondo or Alcala or Niño. Coching is usually easy to spot, but with a proliferation of artists who copied him closely, it makes some unsigned pieces difficult to identify beyond a shadow of a doubt.
Looking at the above cover, I gotta say, I'm stumped. At first I thought it was an Alcala, but the linework doesn't seem to bear it out. Some of the shadings seem reminiscent of Coching, but his linework would have been much bolder. Looking at the hands and the hair, the girl's face, they guy's eyebrows and eyes, and the flamboyance of the cupid, my best guess would be
Nestor Redondo
.
Any other thoughts?
Browsing the rest of the issue....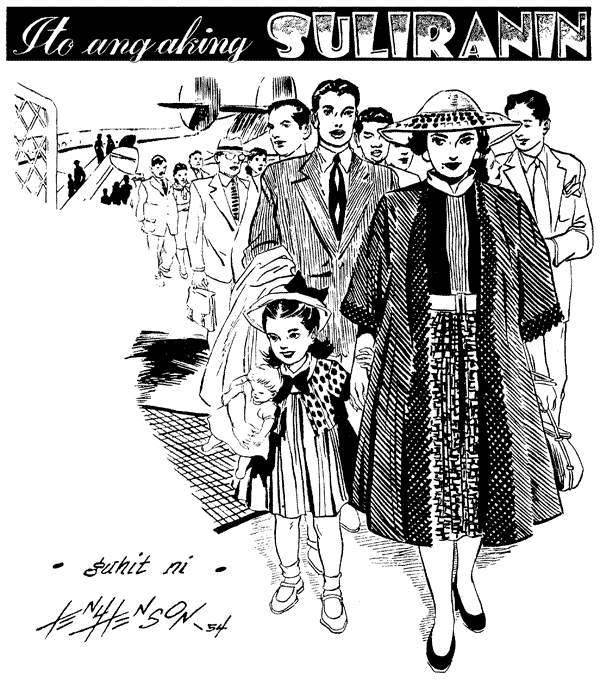 Teny Henson

Ito ang Aking Suliranin
Teny Henson sure is one very stylish artist. His compositions and linework are elegant and pleasing to the eyes. It's a crime that I haven't made a full profile/gallery of him yet, but that is forthcoming.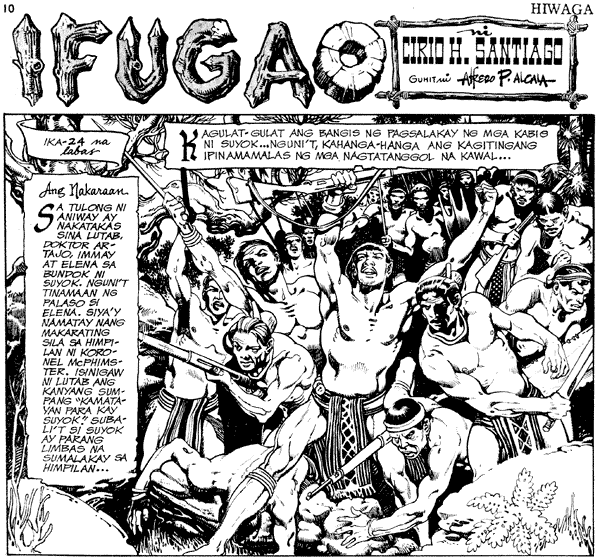 Alfredo Alcala

Ifugao
Written by
Cirio H. Santiago
What's remarkable about comics during this time was its influence on pop culture and on the everyday lives of Filipinos. Many motion pictures are made based on comics stories, and in many cases, a particular story was already was already being shot on film as it was currently being serialized. Ifugao was no exception. Ifugao was only on its 24th installment when a movie adapting it has its opening day.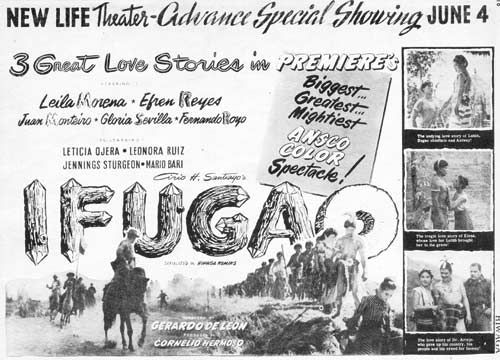 Aside from Ifugao, Alfredo Alcala had other movies based on his work currently being shown. One other was
Ukala
(Ang Walang Takot):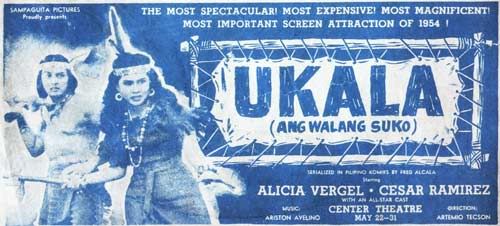 Ukala is a story written and illustrated by Alcala which had been serialized in Pilipino Komiks only a year or so previously. Indicative of the length and breath of variety of comics of the time, Ukala was a story about Native Americans upon the first arrival of Europeans.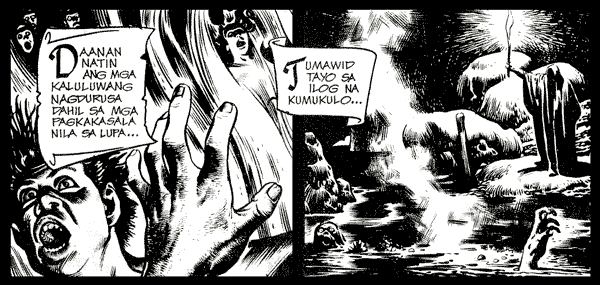 Nestor Redondo

Serafin Arcangel
Nestor Redondo's depiction of hell.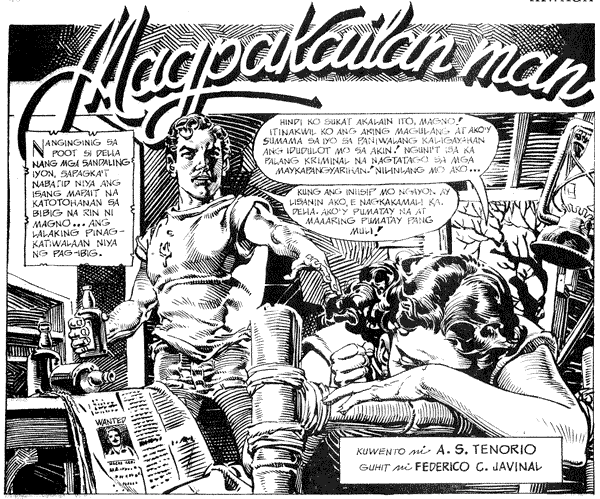 Federico C. Javinal

Magpakailan Man
Written by
A. S. Tenorio
I met Federico Javinal a couple of years ago, just as he was retiring from drawing comics. What left an impression me was seeing one of his work tables. It was filled with compiled comic books of old stories which I had presumed to be his. He has worked in komiks since the very early days, and he has worked non-stop well into the 2000s. But what surprised me was that the compiled books were not by him, but by
Francisco V. Coching
. There were some books by him, but most of them were of Coching's.
It's no secret Javinal simply worships Coching and his work so much so that he has supplanted much of his own personal identity to draw very much like Coching. And talking with him about it, it seems he's perfectly OK with that. In a way it may be understandable as they collaborated on many stories including
this one
, where Coching wrote and laid out, and Javinal finished.
Although the two men's work are very similar, and would in fact may look identical to the casual reader, there are certain differences that set them apart.
Without taking anything away from Javinal's talent, as he's a very good artist in his own right, Coching is definitely the much superior artist. Although Javinal's work is much more detailed and much more carefully delineated,Coching's work is looser and much more dynamic, his linework thicker and bolder. There is no stiffness in Coching's work, a weakness that pops up in Javinal's work from time to time.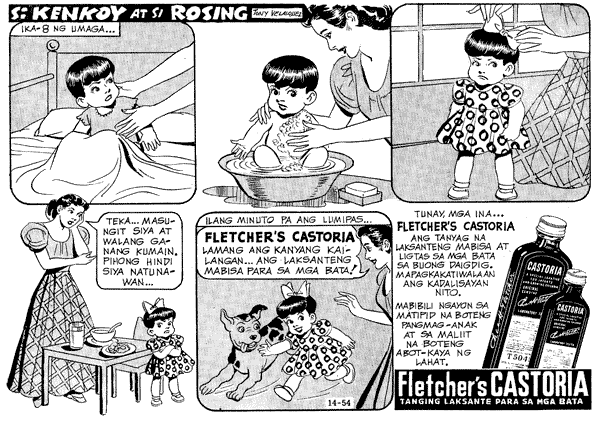 Tony Velasquez

Kenkoy at Rosing Castoria Ad
More featured comics in the future!
---
Thursday, February 23, 2006
Posted 2/23/2006 10:04:00 PM by Gerry Alanguilan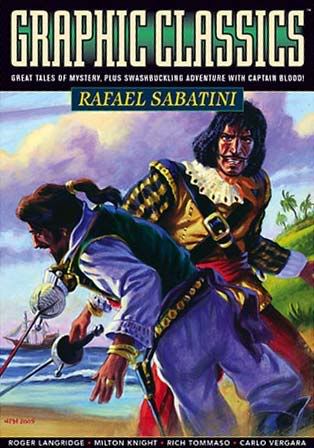 Graphic Classics: Rafael Sabatini
... has been finally released! I'm particularly happy with this volume specially because my pal Carlo Vergara has a 40 page story!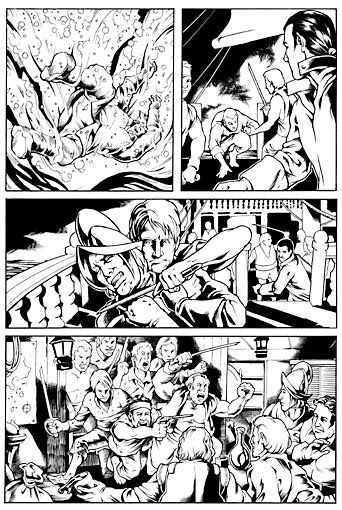 Here's a page from Carlo's adaptation of Rafael Sabatini's "Captain Blood", as adapted by writer Rod Lott. Very very nice work, Carlo. Congrats!
I also have an 11 page adaptation of Sabatini's "Plague of Ghosts" as written by Tom Pomplun. Here's a page from it: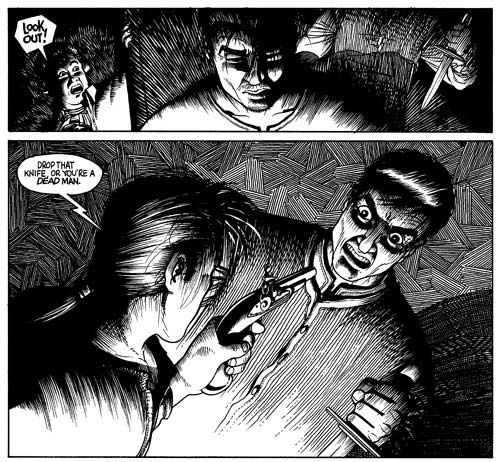 For more info about this book click
here
. To buy this book at Amazon, click
here.
Arnold Arre's "
Ang Mundo Ni Andong Agimat
" is now scheduled to come out on April 2006. Having seen some artwork from this universe Arnold is building, it definitely looks promising.
Wow, it looks like April will see a lot of new comics. My own
ELMER: THE ULTIMATE CHICKEN
story #1 will come out this April as well.
I've now read all three available issues of
Budjette Tan and Kajo Baldisimo's TRESE
and I've got to say it's gearing up to be one of the best comics we've seen in a long time. Three fantastic issues in a row *can't* be a fluke. Budjette Tan is now officially my favorite Filipino comics writer working today, and Trese my favorite comic book. The third issue "Our Secret Constellation", brought me to tears. Fans of Pinoy Komiks will find much to appreciate in this issue. I'll say no more.
I'm very happy that they are continuing to do this comic book, and I'm confident that this will eventually be compiled and be read by more people. A true classic in the making.
Congrats to Budjette and Kajo!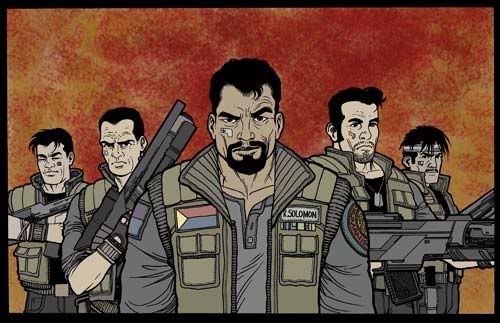 Commander Rodrigo Solomon. Humanis Rex!
Part 11
I've been feeling somewhat bad the past week. It's affected my work somewhat, but I managed to finish installments of Johnny Balbona and Humanis Rex. However, it's put a serious wrench into my entry to the Neil Gaiman contest. It's possible that I won't finish, but what can I do? It seems the rest I took wasn't enough. I would feel really bad, not because I won't be able to join the contest, but because I'll be letting down Dave Hontiveros yet again. I already owe this guy so much. I'll make it up to you man, somehow, someway.
Me and Ilyn are planning a getaway sometime in April. We'll stay at our little resthouse at our place at San Dig, San Pablo city for a week. There's no electricity there so there won't be any computers, refrigerators, TV, radio, or anything technological. There won't even be a phone. There's water, but I think I'll get it in pails from somewhere. As for food, we have lots of fruit bearing trees around, but I think there's a point-point place some way down the road, just in case. he.he. I can make coffee with my new nifty coffee press.
I'll most likely spend my time just drawing and writing, and just spending some quality time with Ilyn (which I do often everyday anyway, but less is more definitely doesn't apply).
My good pal and Komikero Rene Enriquez took some really cool pictures of our place during the last Komikero meeting.
Check out those pics here
.
Rene, you're amazing, man!!
---
Monday, February 20, 2006
Posted 2/20/2006 03:28:00 PM by Gerry Alanguilan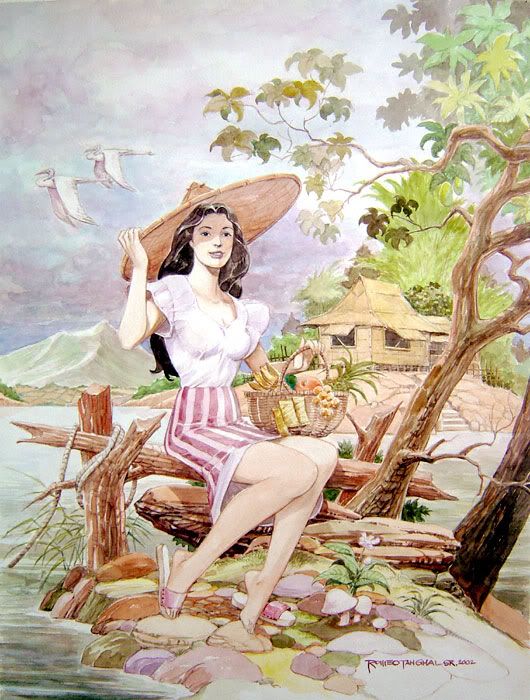 Romeo Tanghal's Sariling Atin Komiks
Many of you DC fans might be familiar with Romeo Tanghal's inking on various titles like Robin, Green Lantern and of course... TEEN TITANS! Who can forget his collaboration with the great George Perez and Marv Wolfman in telling some of the best superhero stories ever made?
But if you thought he only inked and went off to retire to enjoy the fruits of his labors, think again! Romeo Tanghal is back, not just as an inker, but as a writer, penciller, colorist and publisher on his own upcoming comics series "
Sariling Atin Komiks
"! And these are not just comics, these are comics celebrating his Philippine roots and are created with some of the best art I've seen him do.
What is with all our earlier-generation artists? Tony de Zuniga, Alex Niño, Hal Santiago, Rico Rival, Jun Lofamia, and now Romeo Tanghal... they're still going strong and are still pushing themselves, and are doing better work now than before.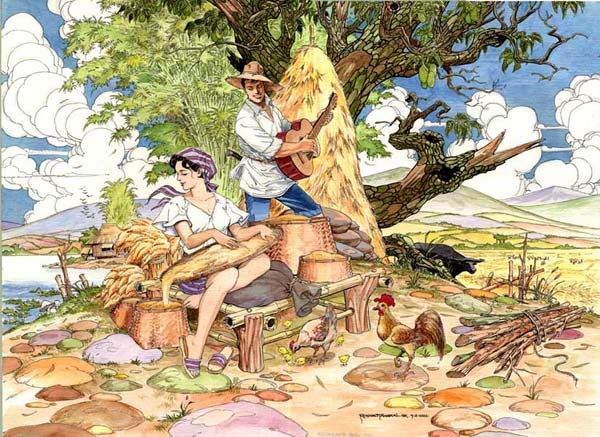 I'll shut up for now and just let Mr. Romeo Tanghal talk about his project himself, and his reasons for doing it. Take it away, sir!!
**************************
It was year 1976 when I first arrived in the U.S. and resided in Detroit, Michigan. It was no artist haven. Every advertising company that saw my portfolio told me to GO TO NEW YORK!!! After a month of inhaling the air in the Automobile City, I moved to NYC. The first day there I showed my samples to DC Editor Joe Orlando, who gave me my first job! It was a Batman Christmas story. I was the penciller. Then Joe saw that I could also ink and he encouraged me to be an inker. Even Vince Colleta, the art director, told me there's more money in inking because I'm fast! And FAST became my 2nd name!
Whenever a lazy inker was in trouble, they pulled out pages and gave it to me. I could handle 3 to 4 books a month that most American artists wondered how I did it?!! And I told them, "WELL, I'M NOT DOING ANYTHING, I JUST DRAW!"
When DC gave me THE TEEN TITANS to ink and it became the best selling book, Marvel started to offer me jobs. When DC learned about it, they gave me an EXCLUSIVE CONTRACT. They doubled my page rate plus the fringe benefits of a regular employee and ROYALTY! Although I couldn't work outside DC without their consent, how could I refuse? And so I stayed with DC and the contract lasted up to 6 years until the popularity of the TEEN TITANS diminished. They pulled out the contract and gave me GREEN LANTERN. The ROYALTY and the Medical Benefits remained, but like an employee, they have to deduct a certain amount. That's the time I started accepting offers outside DC and my name was all over the comics stand. I worked with so many publications that I had to hire help.
When my family decided to visit the Philippines in 1986, I had with me 3 comicbooks to do, so I hired Nestor Malgapo, Abe Ocampo and Jomari Mongcal as inkers. I also tried working in animation in California but at the same time doing my regular comicbooks. Money was really GOOD!!! And I loved doing TWO JOBS! Sometimes it became THREE when i also accepted freelance storyboards. Imagine me erasing my finished pages inside the toilet of the Animation Studio, then sneaking out so I could mail my pages in to meet the DEADLINES!!! This went on for a long time until I couldn't bear to be away from my family anymore specially since my KIDS were growing up. So I decided to go back to New Jersey and worked only in comics.
My career as a comicbook illustrator lasted for 25 years until I finally decided to retire. When my wife died ( one and a half years ago ) I started to work on an old dream, and that's to publish my own komiks...SARILING ATIN KOMIKS!! Coming very soon! I'm very proud of this project.
Back in the Philippines when I was still there, I wrote and illustrated some short stories for Atlas Publication and For Pablo Gomez books. I WISH some collector will find and POST them so I can see them once more! I remember I have a regular series in one of Pablo Gomez' komiks titled "ME AND MY FIRST LOVE". I was recieving fan letters when it was published, specially among teenagers! I knew ever since that I'm a writer too!
So now that I have the time, I started to write. I'm sure you will LOVE my FIRST novel the "MALIGNO". It's my FANTASY as a KID!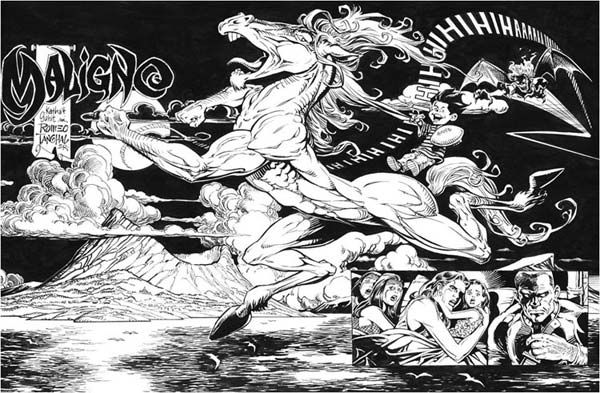 Well, I was born in Paombong, Bulacan and as a KID, the river, forest, and fields were my playground. At night, We gathered around our lolo and listened to his stories about TIKBALANG, MANANANGGAL, ASUWANG, DUWENDE, TIYANAK,KAPRE, MULTO MANGKUKULAM, SIRENA AT SIUKOY AT KUNG ANO ANO PANG MALIGNO! And those stories stayed in my mind and even at my young age, I started to draw them.
When we moved to the city, I studied at F.Benitez Elementary School in Tondo. Then my High School years were at Torres High. Across the street was a comics stand that rented American comics. I skipped my recess just to rent and read THE VIKING PRINCE by Joe Kubert. Paulit-ulit kong inaarkila iyon and I was so impressed with the artist. That's when my desires to be a comicbook illustrator began. I never had any idea that someday, I'll be shaking hands with him! That's one unforgettable memories.
I also have happy thoughts of once living with Nestor Redondo, driving everyday with Fred Carillo, watching Alex Nino draw, and I lived next door to Rudy Nebres. I bet no artist could top that! One thing I regret though was I did not have the courage to visit Francisco V. Coching when I was living in Pasay city. I was still a young illustrator and a student of The LYCEUM of the Philppines, and I've been hearing rumors that my IDOL was just living nearby. I should have visited him and met him face to face before I migrated to the U.S.
Pasay City was called the SIN CITY of Manila, and that's where I learned the ropes of life. My BUDDY was Ading Gonzales, my mentor in almost everything my father wanted to teach me but can't say the words! And so from Ading, I learned not only of drfawing but also of women! With all the women in my life, I married Aurora C. Lintag and we had three kids, two boys and a girl. They are all grown up when she died but none were married yet. They are all TALENTED ARTISTS. My genes must be really strong!
Last year, 2005 I decided to moved back to where WE started, my first house. HERE, I want to re-start my life and this time...AS A WRITER/ARTIST/PUBLISHER.
-
Romeo Tanghal, 2006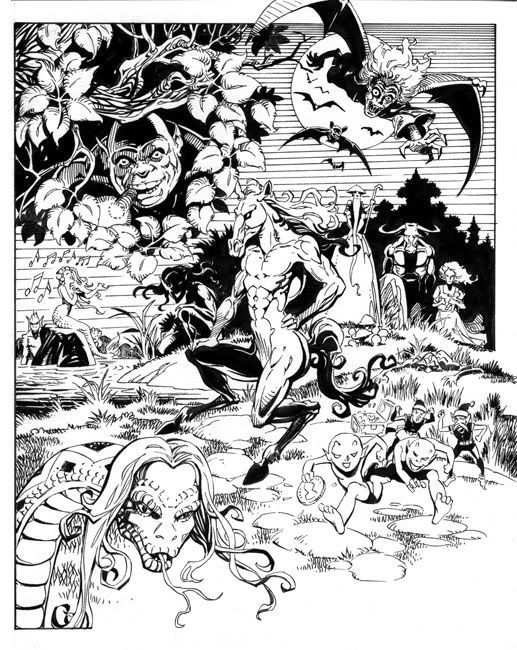 ************************
Thank you sir! I personally can't wait to see your new comics!
Check out Romeo Tanghal's NEW official site below, with preview pages from
SARILING ATIN KOMIKS!
Romeo Tanghal Official Site
http://www.romeotanghalsr.com/
---
Saturday, February 18, 2006
Posted 2/18/2006 10:18:00 PM by Gerry Alanguilan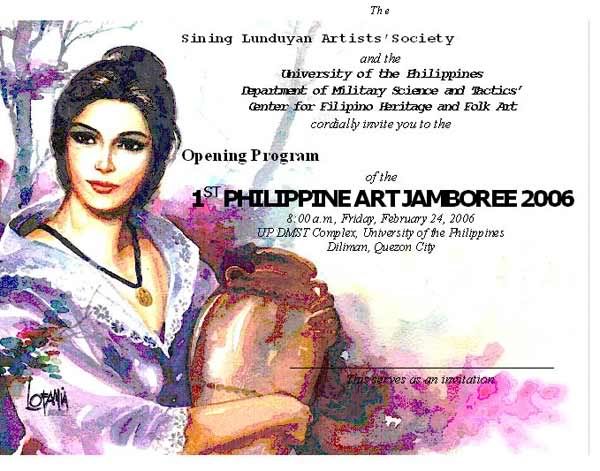 (Artwork by Jun Lofamia)
The First Philippine Art Jamboree 2006
Center for Filipino Heritage & Folk Art
U.P.DMST Complex,Diliman,Quezon City
February 3, 2006
Dear Fellow Artists and Co-Workers:
Mabuhay! We salute you as a co-worker in the field of arts and culture. Allow us to invite you to join in facilitating art activities and events during the Art Jamboree scheduled on February 24-25, 2006.
The 1ST PHILIPPINE ART JAMBOREE 2006 shall hold simultaneous events. Each event, listed hereunder, shall have its own respective committee, which you can join as a member-facilitator:
1. an Art Exhibit of paintings, sculptures and other forms of tribal, ethnic and folk art,
2. on-the-spot painting contests among students & young artists in four different categories,
3. demonstration and workshop on basic and advance illustration and painting,
4. demonstration on paper, clay and wood sculpture,
5. orientation on computer art and graphics,
6. demonstration on stained glass and other unique functional artistic forms
7. an Artists' Patio featuring artists in action,
8. an Artists' Parade and Convention,
9. Closing and Awarding Ceremonies
Further, we wish to invite you to join the Art Exhibit. We shall accept a maximum of four (4) artworks with frames not bigger than 2 ft x 3 ft. Please prepare your original art works framed and ready for hanging.
And most important of all is our invitation for you to join the Artists' Convention. This is a fervent call for all of us to bind together in our quest for regeneration. Let us re-define our role and responsibility as artists, individually and collectively, in the cultural realm and the society in general. Let us determine our directions and options toward an improved quality of life for all Filipino artists. Let us start to create short-term and long-term plans to initiate our chosen plan of action. Let this be the start of a concerted effort and solemn commitment by all artists to uplift the arts and the artists.
There is so much for us to do. But as the saying goes, let us start with this historic first step, one step at a time. May we invite you to participate in this great cultural event? Please accomplish attached Commitment Form and submit through Mr. Danny Acuña, (02) 641-2112. Or you can call (02)915-0797 or email sining_lunduyan@yahoo.com to confirm your participation. We shall be happy to work as a team with you. Thank you.
Very truly yours,
LIGAYA L. SANTOS
Founding Chairman
*****************
The FIRST PHILIPPINE ART JAMBOREE 2006
Executive Committee
Wishes to thank:
U.P. Commandant of Cadets
Quezon City Mayor Sonny Belmonte & Council
National Commission on Culture and the Arts
Department of Education
U.P. Corps of Cadets & Sponsors
U.P.Vanguard, Inc.
D-3800 Rotary Club of Ortigas East
Participating Artists & Cultural Workers:
Rafael Pacheco, Ed Maranan, Orvy Jundis, Jun Lofamia, Danny Acuna, Yaying Santos, Elizabeth Oropesa, Marie E. Aganon, Miles Valera, Serena Borras, Rich Pijuan, Lita Maderrazo, Leo Meneses, Ernie Patricio, Armando de Guzman, Rey Atalia, Joe Mari Mongcal, Rey Arcilla, Vic Dabao, Angelito Florendo, Antonio Daleon III, Adler Llagas, Nobel Pineda, Ernesto Solano, Angie Ferro, Carlos Pagalunan, Dionisio Pagalunan, Mario Pagalunan, Althea Gwyn Cadag, Zaldy Arbozo, Jezir Lascuna, Ria Garcia, Eddie Sajelan, Joseph Clavita, Carlos Donato, Vic Pachoco
Armida Francisco, Nante Geronimo, Andrea Geronimo, Fedick Geronimo, Ed Gelelan, Clem Rivera, Nick Aranda, Bong Gojar...
...for making this event meaningful.
THE EXECUTIVE COMMITTEE
Ms. Ligaya Santos, Col. Virgilio Aganon, Mr. Danilo Acuna, Mr. Mike Samante, Atty. John Barona, Mr. Nante Geronimo
**********************
Schedule of Activities:
February 24, 2006
8:00 a.m.
PART I. RIBBON CUTTING CEREMONY
AND TOUR OF THE EXHIBIT ……. HON. FELICIANO R. BELMONTE JR.
UP PRESIDENT EMERLINDA R. ROMAN
HON. COUNCILOR ELIZABETH A. DELARMENTE
PART II. OPENING CEREMONY
ENTRANCE OF COLORS ……. UP CORPS OF CADETS
NATIONAL ANTHEM ……. UP ROTC HARMONIC BAND
INVOCATION ……. MR. LEO MENESES
WELCOME ADDRESS ……. COL. VIRGILIO C. AGANON
Head, UP Department of Military Science and Tactics
SHORT MESSAGE ……. MS. LIGAYA L. SANTOS
Chairman, Philippine Art Jamboree Executive Committee
INTERMISSION ……. CJ LEARNING CENTER PUPILS
INSPIRATIONAL MESSAGE ……. PRESIDENT EMERLINDA R. ROMAN
University of the Philippines
INSPIRATIONAL MESSAGE ……. DIRECTOR TERESITA G. DOMALANTA
Regional Director, Department of Education
INSPIRATIONAL MESSAGE ……. DIRECTOR CECILIA GUIDOTE-ALVAREZ
Executive Director, National Commission on Culture and Arts
POEM ……. MS. ANGIE FERRO
KEYNOTE ADDRESS ……. HON. FELICIANO R. BELMONTE JR.
Mayor, Quezon City
RESPONSE ……. DEAN NAPOLEON ABUEVA
National Artist
CLOSING REMARKS ……. MR. ED MARANAN
PALANCA Hall of Fame
MS. LILIBETH PANGILAGAN
Master of Ceremonies
AWARDING CEREMONIES
February 24, 2006
3:00 p.m.
PART I. CONCERT ……. UP ROTC HARMONIC BAND
CJ LEARNING CENTER PUPILS
PART II. AWARDING CEREMONY
SHORT MESSAGE ……. DISTRICT GOVERNOR MICKEY ORTIGAS
ROTARY INTERNATIONAL D-3800
INSPIRATIONAL MESSAGE ……. DEAN GINNY DANDAN
Dean, U.P. College of Fine Arts
AWARDING OF PRIZES COL. VIRGILIO C. AGANON
• Below Age 7 Category ……. RC Ortigas East PRES. BILLY YOUNG
• Between 7 and 13 Age Category ……. DEAN GINNY DANDAN
• Between 13 and 17 Age Category ……. HON. COUNCILOR BETH DELARMENTE
CLOSING REMARKS ……. HON. COUNCILOR BETH DELARMENTE
ARTISTS' CONVENTION
February 25, 2006
2:00 p.m.
3RD Floor, UP Vanguard Building
CLOSING CEREMONIES
February 25, 2006
5:00 p.m.
ENTRANCE OF COLORS ……. UP CORPS OF CADETS
PARADE OF ARTISTS ……. COMMUNITY OF ARTISTS
NATIONAL ANTHEM ……. UP ROTC HARMONIC BAND
INVOCATION ……. MR. LEO MENESES
WELCOME ADDRESS ……. MS. LIGAYA L. SANTOS
Chairman, Philippine Art Jamboree Executive Committee
AWARDING OF PRIZES – ON THE SPOT PAINTING CONTEST
• Above 18 Age Category
DECLARATION OF ARTISTS ……. MR. ORVY JUNDIS
Chairman, Artists' Convention
PRESENTATION OF AWARDS & TOKENS OF APPRECIATION
INSPIRATIONAL MESSAGE ……. MASTER NEMI MIRANDA
RESPONSE ……. MASTER RAFAEL D. PACHECO
Finger Painter, Pacheco ArtReach Program
CLOSING REMARKS ……. COL. VIRGILIO C. AGANON
Head, UP Department of Military Science and Tactics
---
Thursday, February 16, 2006
Posted 2/16/2006 04:43:00 PM by Gerry Alanguilan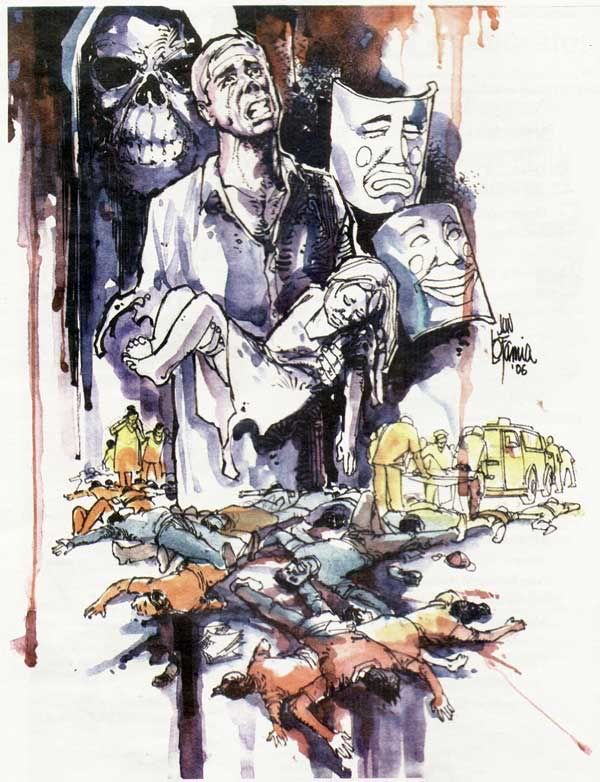 Jun Lofamia
Trahedya sa Komedya
... Spot Illustration
Poetry written by
Katherine Verances Marfal
Here's another peek into the latest issue of Liwayway Magazine, cover date February 20, 2006. For newer visitors to this site, Liwayway Magazine, at more than 80 years old, is the oldest Philippine magazine with comics still being published. It is considered as the birthplace of the Philippine comics industry when Tony Velasquez' created Kenkoy on its pages in 1923.
For more information on Liwayway, go
here
.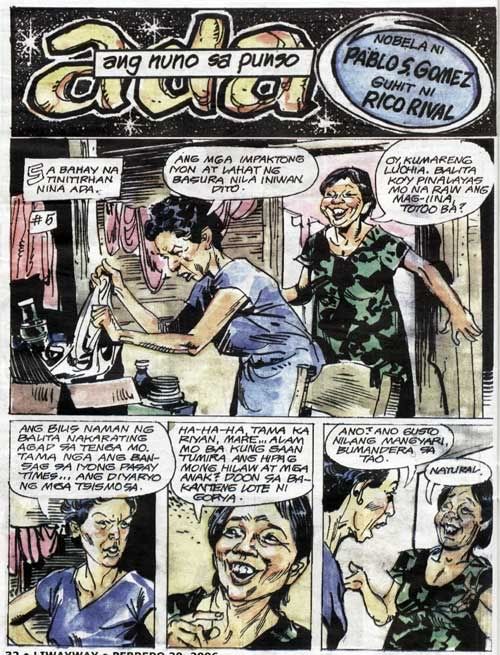 Rico Rival
ADA
Written by
Pablo S. Gomez
Rico Rival has been in the business since the 60's, and he's better now than he was back then. I'm really liking his work now. Of course Pablo S. Gomez has been around much much longer than that. If I'm not mistaken, he has been around since the 40's, and he's still going strong! His stories are still adapted into television series right now. It only goes to show how enduring his work is.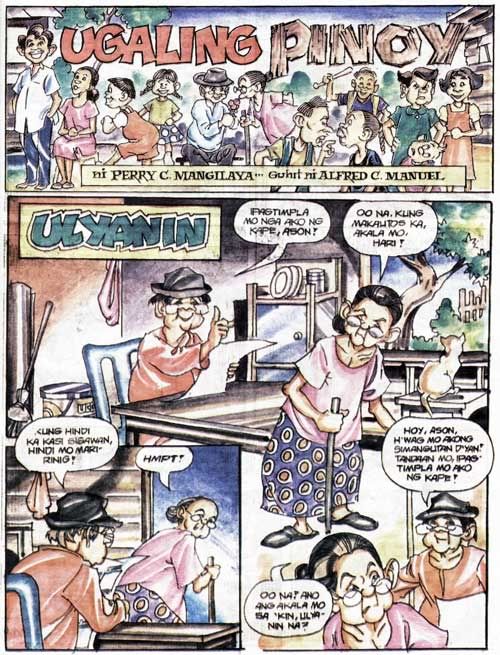 Alfred C. Manuel
Ugaling Pinoy
Written by
Perry C. Mangilaya
This strip mysteriously replaced "Buhay Pinoy", which was also being written and drawn by Mangilaya and Manuel. Buhay Pinoy, up until sometime last year, was the longest running comics strip in the country, began by Mars Ravelo decades ago on this same magazine, when it was still called "Buhay Pilipino". Ugaling Pinoy and Buhay Pinoy are, for all intents and purposes, very much the same, only with less cartoonish faces and figures, but they both delve into pretty much the same territory: the life and times of a typical Filipino family and their neighbors.
I can only speculate why they replaced one strip with something very similar that continues it. Perhaps they no longer had the rights, or perhaps the current creators would rather create something of their own. Maybe Dennis Villegas might know. Dennis?
But whatever the reason, the current artists of Liwayway seem to be quite inspired because they are doing some of the best work of their careers. Proving that watercolor work is not obsolete, and that computers are not the end all and be all of all things, these artists employ hand coloring with much success.
There was a suggestion not too long ago that me and "my group" of artists should work for Liwayway because we could do work that could uplift the quality of the magazine. I cannot agree or disagree. I will simply refuse. Hal Santiago, Jun Lofamia, Rico Rival, Abe Ocampo, Rod Lofamia and the many other artists who work here already uplifting the quality of the magazine. And like I said, they're doing some of the best work of their careers. I don't know what these guys ate or drank, but whatever it is, I want some!
As Reno Maniquis pointed out to me, it's notoriously difficult to get accepted at Liwayay. But lets just say that me and "my group" were able to get in, then what about all these other artists who are already working there? Some of them may well lose their jobs to us. And that is something I won't stand for. I'd rather see these people continue working there. I'm perfectly happy working somewhere else.
But I do hope to contribute at least one short story to the magazine one of these days. Maybe a Christmas story, or any kind of story that has a theme. Just one and I'll be perfectly happy.
:)
---
Tuesday, February 14, 2006
Posted 2/14/2006 09:46:00 PM by Gerry Alanguilan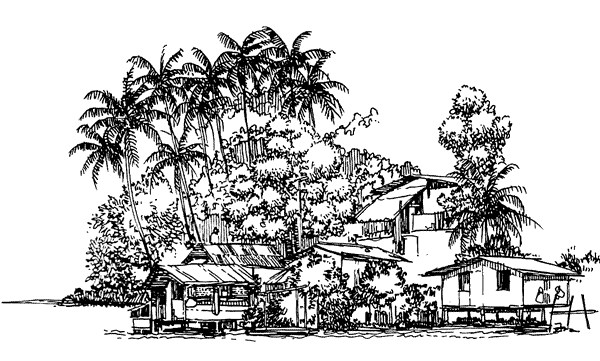 Komikero Meeting sketch.
Lake Pandin, San Pablo City
Komikero March Meeting!

Everyone is invited!
The next Komikero meeting will be on March 12, 2006 from 10am until it gets dark. Venue will be Sampalok Lake, here in San Pablo City. If you wish to join us, use this pictorial guide:
http://www.komikero.com/sanpablomap.html
If you are not yet a member of Komikero, your mere presence will automatically make you one! That, plus the initiation of course. Hazing is more like it. :)
But please don't forget that the purpose of our meetings is to sketch. So bring your sketcbooks, pencils, pens, watercolors, or any artistic implements you wish to use to draw.
Excecpt laptops or any other electronic gadget!
We know that many of us already use computers in our daily work. These Komikero meetings are designed to go back to the basics, just to remind your hands once in a while the feel of an actual pencil or pen in your grip.
And we
don't
draw superheroes, fantasy creatures and the like. This is a chance to take a break from that kind of stuff, even for a day.
We draw from LIFE! We draw from nature! The purpose of this is to develop your skills of observation, and to train your mind to draw without a style, to draw things how they really are.
This is not a contest! So don't feel shy about drawing or showing your work. We're here to help, or to be helped by you. We all have something to learn from each other.
If you feel this is up your alley, welcome!! I'll be there as early as 10 am. I'll be hanging out at
AREA C
. If you you wish to know where that is, please consult the map.
http://www.komikero.com/sanpablomap.html
Kita kita na lang!!
Posted 2/14/2006 08:19:00 AM by Gerry Alanguilan

Canossa College Fair Day 4
Comic Book writer and illustrator
Rudy Florese
's family came over to visit on the last day of our exhibit.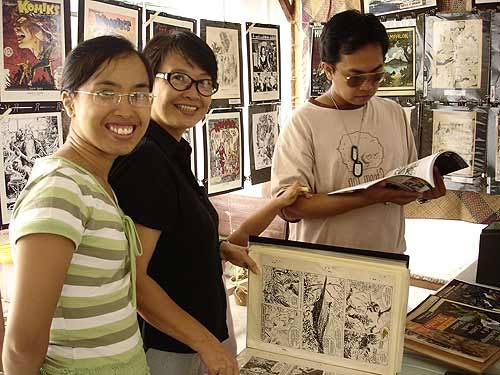 My wife Ilyn, Mrs. Linda Florese and Jun.
A lot of Rudy's work, specially Kenkoy short stories in Pinoy Komiks were on display. He is known in the US as an artist on Tarzan and Korak.
Very few of his originals remain with the family, so I decided to collect as much originals of his as I can. I'm glad to say that one of my favorite stories of his, "
Naging June Bride Din Si Lola
", has been handsomely framed and is now hanging proudly on the wall of their house after so many decades of being away.
One other interesting thing to note on this last day was that a local politican visited the booth, and upon seeing all the artwork, some of which have been done by me, immediately talked to me about doing a comic book as campaign material for her for an upcoming election. I know this person in a roundabout way. She's the daughter of my mom's friend. Not only that, Ilyn knows her personally.
But I really don't like doing comics like this. Doing campaign materials for politicians. I did it once when I was younger but no more. You will end up just doing one side of the story, with all the negative things conveniently set aside. It felt so much like lying that it felt really bad for a long time. I still feel bad about it now.
Additionally, I don't like to publicly align myself to any politician or party. It comes back to being an artist. I really don't like to be limited at all. I'd like to keep my eyes open towards everybody all the time, and I can't afford to join a "side" and then act accordingly. "Accordingly" meaning I can no longer speak my mind frankly about that person, and I will always view the other guys as "opposition". I don't like it. If my voice needs to be heard, then I'll make sure it does when I cast my ballot.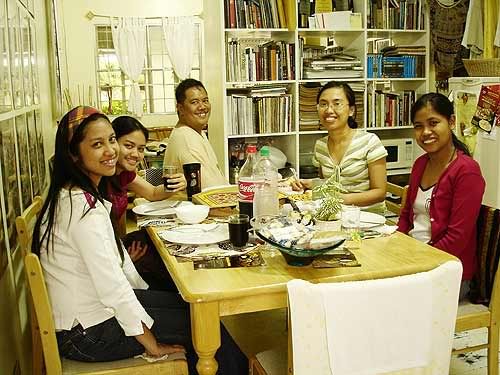 Anyway, big thanks to those who have helped us with our exhibit. From left, there's Edjee Mendoza, Mylene Panagsagan, me, Ilyn and Zarah Macandili. Thanks also to the carpenter who looks a bit like Richie the Horsie, and dad, who helped us with the transpo.
Here's to next year, or if you can't wait, Komikon 2 sometime in October, and then the 2nd San Pablo City Comics Festival this December! Tentative date is December 5.
Game??
---
Saturday, February 11, 2006
Posted 2/11/2006 10:06:00 PM by Gerry Alanguilan

Canossa College Fair Day 3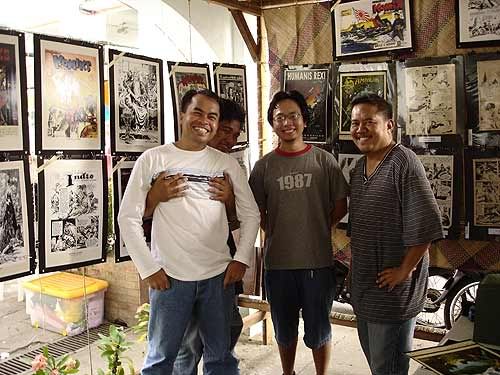 Komikero reunion!
Johnny "Balbona" Danganan, Raipo "I miss Johnny so much I can't help touching his hairy chest" Toledo, Jonas "Ang Bagong Bossing" Diego, and me.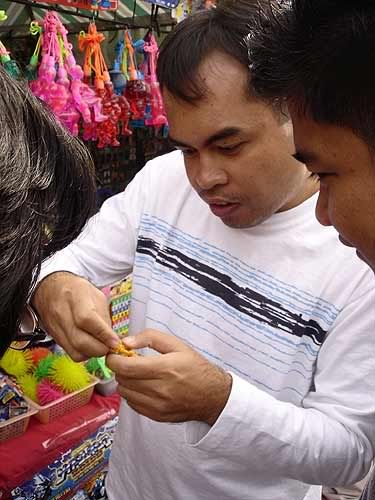 I can only imagine what the salesgirl thought of four grown men buying and having fun with a little armless tranformer (that doesn't transform) toy.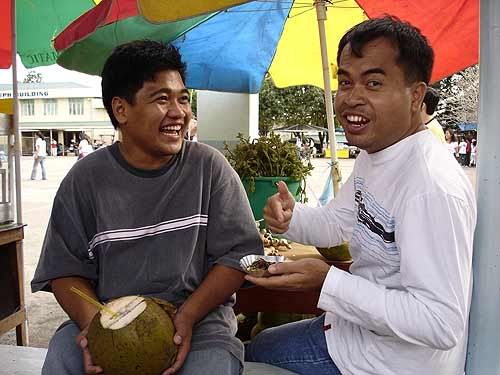 And as if Johnny's sudden arrival wasn't surprise enough, we were all surprised by the arrival of our newest Komikero.... all the way from FRANCE!!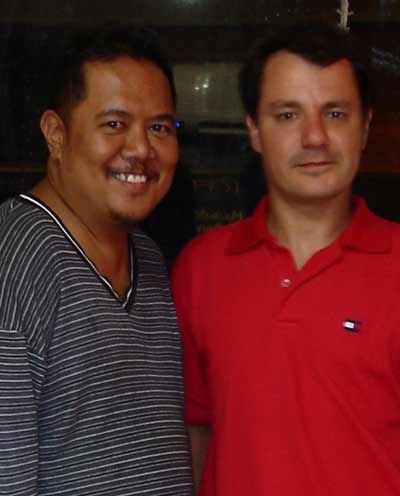 Ivan Brun
is a French comic book artist who I met online several months ago, whose work startled me not only of the quality, but of the unmistakable Filipino sensibilities of his artwork.
He emailed me yesterday to say he was in the country, and that he would love to see my exhibit. Since it was pretty hectic for me, what with the fair exhibit and couple of deadlines, I replied I looked forward to see him the following week.
We had already packed up for the day and having our dinner at Caffe Curio when my mom called Ilyn's number to say that a French guy named Ivan was at the house looking for me.
OhmiGod! He actually found me. Amazing! He had come looking for me at Canossa College, but we had already packed up so he didn't catch us. He looked for someone who spoke English well, and luckily enough managed to talk to someone who knows my parents. Since our old house is only a few steps from the school, our family friend helped Ivan get to our house.
I immediately rushed home and brought Ivan back to Caffe Curio to meet the guys.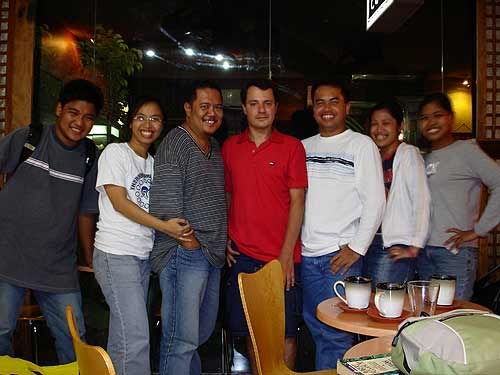 Raipo, Ilyn, me, Ivan, Johnny, Edjee, Zarah.
We spent the next couple of hours just talking comics and he gave me a big pile of French comics, the most adult of which Johnny quickly inspected with much affected disinterest.
He included some of his work including Lowlife, and CHONGS, works that reafirrmed my initial thoughts of his work as being very Filipino.
Ivan says he's been to the country many times as his mom lives in Palawan. It's no stretch to say that he's pretty fascinated with the Philippines. It's quite evident in his work, as if it's an integral, inseparable part of his art.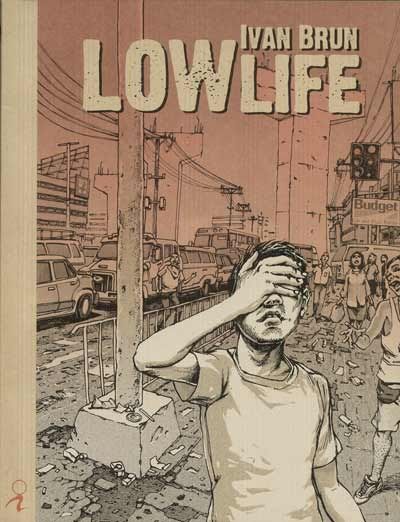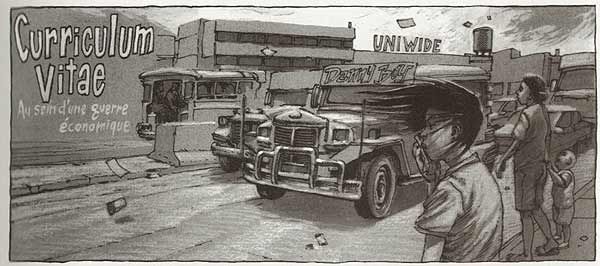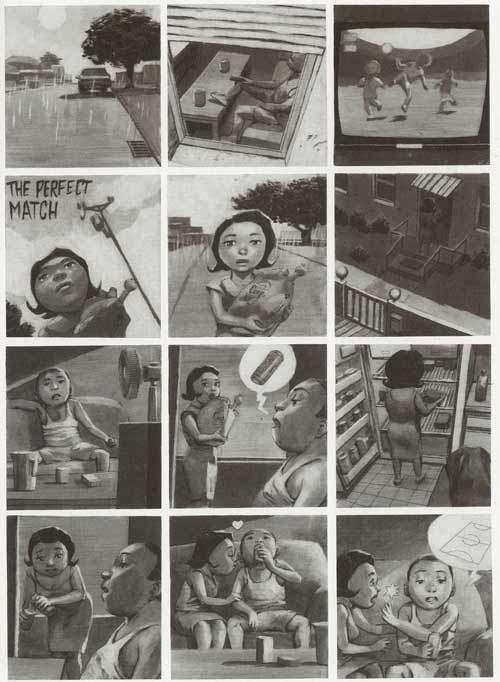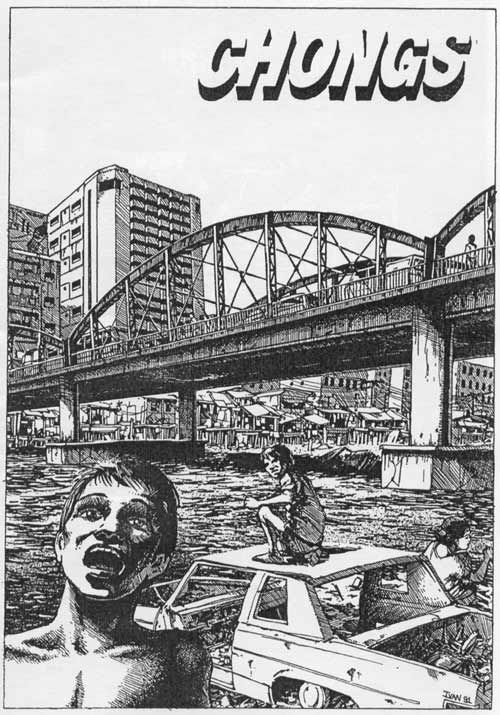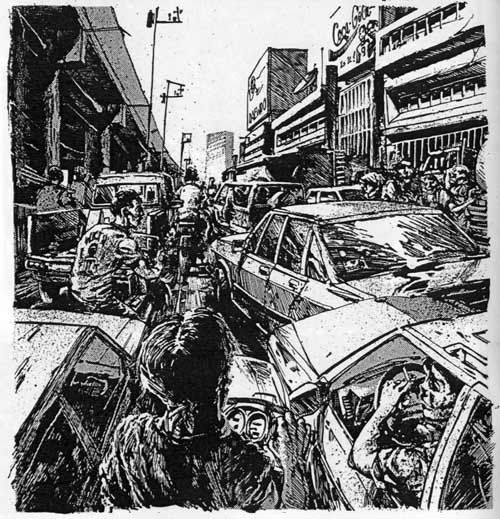 I felt bad that I couldn't entertain him as much as I wanted to, what with all the activities we were currently taking care of, but I invited him again when he comes back from wherever he is going in the country, to come back and I'll give him a tour of the town.
More Tomorrow!
---
Friday, February 10, 2006
Posted 2/10/2006 09:09:00 PM by Gerry Alanguilan
Canossa College Fair Day 2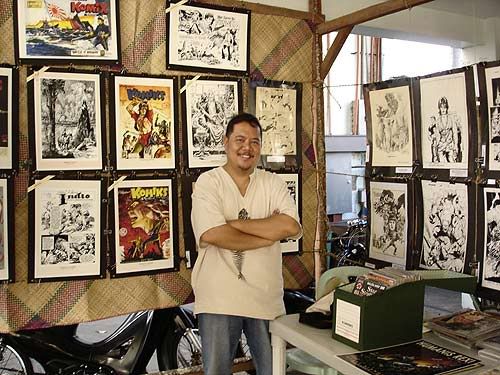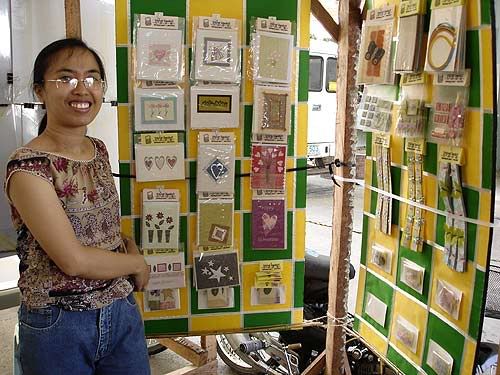 Komikero.com will eventually have a separate section for Ilyn's
Paper Basket
paper crafts. This is a period of transition for her as it is for me, as we move away from our previous established livelihood into something different, but somewhat related.
This College fair is a testing ground for paper craft workshops that she intends to do on a regular basis, and the future site will be a portfolio/catalog of assorted hand made paper crafts like cards, post cards, envelopes, blank books, scraps books and so on.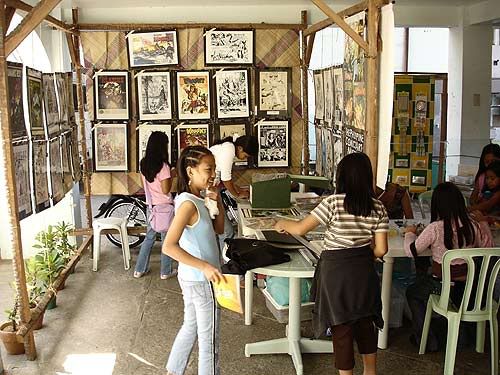 It was a very interesting day. This particular girl was quite enthusiastic about the exhibit and hung around a lot checking out the art, the comics, and drew a lot. She saw a copy of Wasted and she was quite engrossed with it for quite a while. She returned it to me and said that it was OK, but my girls looked like guys. Ha! ha! WOW! Now that is honesty that I really appreciate. And right to my face. Such guts is something I rarely encounter, what with all these anonymous people roaming around.
She pretty much nailed it on the head as I do acknowledge that drawing girls is a definite weakness that I had been working hard to improve. So thanks! That really made my day. I gave her my site's address so she might well find this blog eventually.
Well, something else made my day a lot more interesting. Funny enough, I spent whatever time I could spare drawing
Johnny Balbona
when guess who turned up?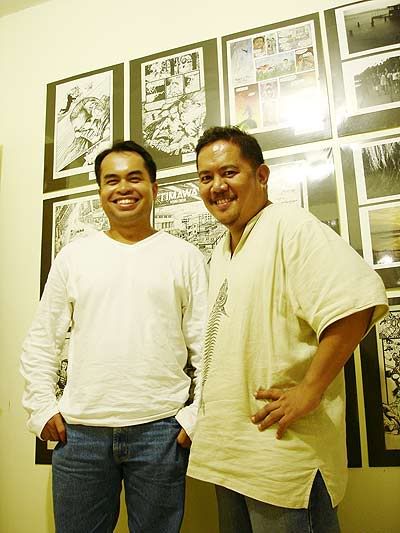 JOHNNY!!!
The prodigal Komikero returns! But jeez.. where's all the... uh... hair?
More tomorrow!
---
Thursday, February 09, 2006
Posted 2/09/2006 06:01:00 PM by Gerry Alanguilan
Canossa College Fair Day 1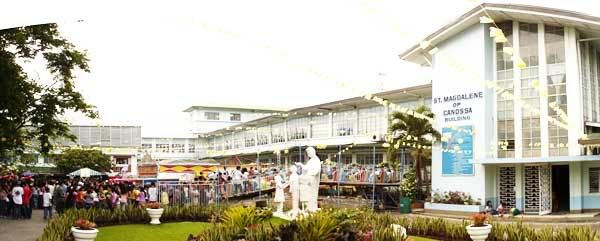 I went to school at Canossa College, San Pablo city from Kinder to Grade 4. I hold far more affinity from this school than I do San Beda, where I continued by grade school and onto high school, and UST, where I took up Archtitecture. I'm a little put off that I can't really be considered a Canossa alumnus since I didn't finish grade school there. Nevertheless, this school holds the best memories for me in the entire time I was studying.
So I was rather happy to be coming back and holding an comics exhibit of mostly works by our classic artists, but some art from me and some of my contemporaries as well.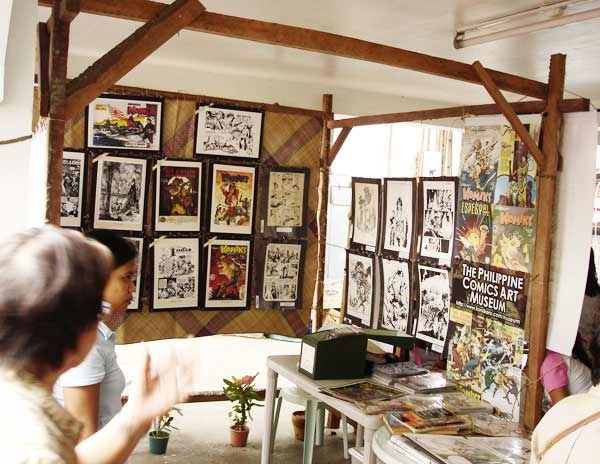 Someone commented somewhere that ...
"Putting up a virtual museum in the internet in honor of our comics greats is indeed laudable. But if the effect is only to produce bittersweet memories of the past and of pinings for glories long gone, I'm sorry but its not my cup of tea."
Yes it is my cup of tea and please, give me a whole thermos. In fact, give me a box of thermos full of this tea. It's simply excellent! To say something like that impugns on the value of worth of every museum on every subject, on every country, all over the world.
There is something good about preserving the aspects of our cultural history that characterizes us as Filipinos. The works of our great masters in comics are some of the most beautiful comic book art ever in the entire world. Their work must be preserved and displayed, so that Filipinos of today and in the future will be enriched by the knowledge and the experience that our cultural history had great worth and value.
These works are displayed not to pine for glories long gone, these are displayed so that they will inspire Filipinos today. To inspire our artists to aspire for greatness themselves because they know it is within their blood to do so. Our artists need not settle for artistic identities of Japan or America, because we have an artistic identity of our own. How would we know that or appreciate that if we are not even aware of these great works?
We have to know our past before we can move forward.
You should have seen the reaction of the kids who were at the exhibit today. These are kids weaned on anime on TV, who have most likely never heard of people like Nestor Redondo, Alfredo Alcala or Alex Nino. But they crowded the exhibit, marveling at how beautiful the art of Filipinos can be.
How can something like that be a waste of time and effort?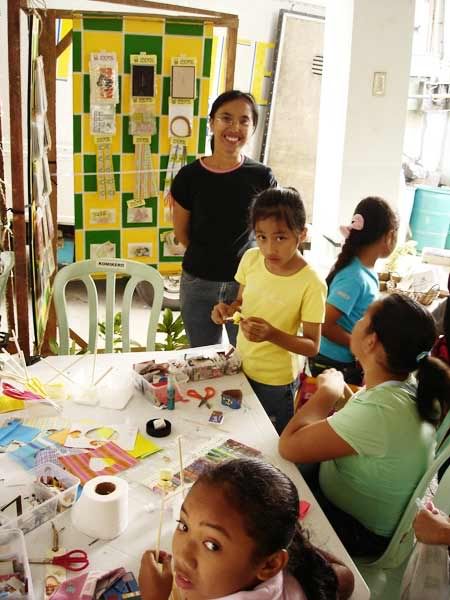 Ilyn's paper crafts booth. She made more money than me! :) But then again, I wasn't really selling anything except Humanis Rex and Sampalok posters.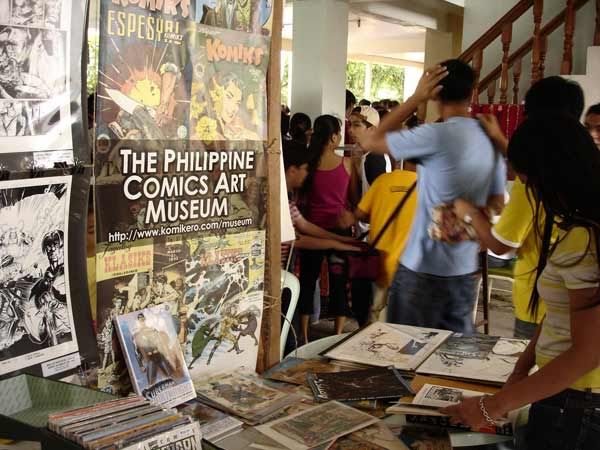 More tomorrow!
---
Wednesday, February 08, 2006
Posted 2/08/2006 07:39:00 PM by Gerry Alanguilan
The Philippine Comics Art Museum will have a booth at the Canossa College 50th Anniversary College Day Fair, San Pablo City, starting tomorrow, February 9 until February 12, Sunday.
I'll be displaying originals and reproductions of vintage komiks art, as well as selling posters, post cards, and comics, while Ilyn will be selling handmade cards, scrapbooking accessories and other paper crafts.
I'll be there everyday from 8am to 5pm, where I'll be working on my pages for Johnny Balbona and Humanis Rex! If you're in the area, please feel free to visit!
******************
Rafael Kayanan has a blog!
http://rafaelkayanan.blogstream.com/
---
Tuesday, February 07, 2006
Posted 2/07/2006 09:19:00 PM by Gerry Alanguilan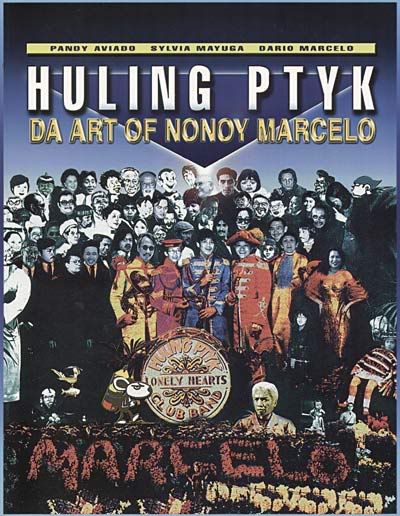 Huling Ptyk
Da Art of Nonoy Marcelo
Pandy Aviado, Sylvia Mayuga, Dario Marcelo
ANVIL Publishing, Inc
I believe this was published late in 2005, but it was only early this year that I was actually able to find a copy.
Huling Ptyk is a collection of previously published tributes on the life and times of Filipino cartoonist Nonoy Marcelo. It also includes excerpts from Nonoy's taglish column Ni Ha Ni Ho, and a tantalizing peek into Nonoy's unpublished masterpiece "Pansit Malabon", his loving tribute to his hometown.
Not strictly a linear biography piece, you get glimpses into Nonoy's life and character through the eyes of people close (and not so close) to him. The tributes can be at times touching and poignant, but they can also be at times funny, sad, scary, definitely informative, definitely inspiring.
The book is not strictly an art book either, as although there is a generous helping of Nonoy's art, many of them aren't reproduced as well as they could have. Some artwork are a bit pixelated or blurred, and many of them are reproduced so small for proper appreciation. But there are a lot of art that are reproduced large and clear enough that one who knows nothing of Nonoy and his art will get an idea of just how much of a genius he was.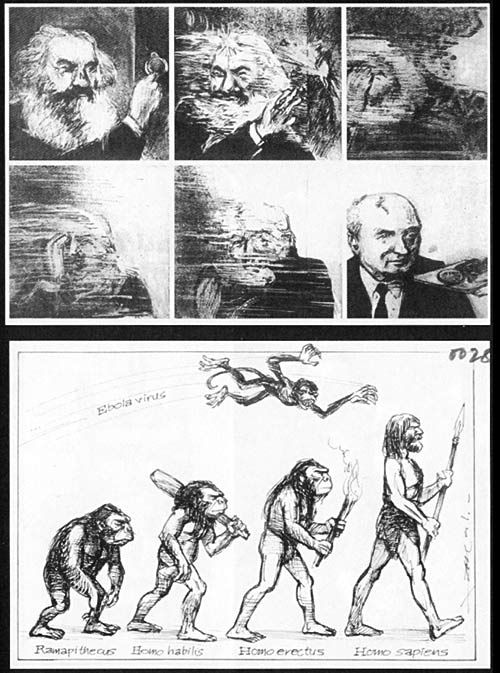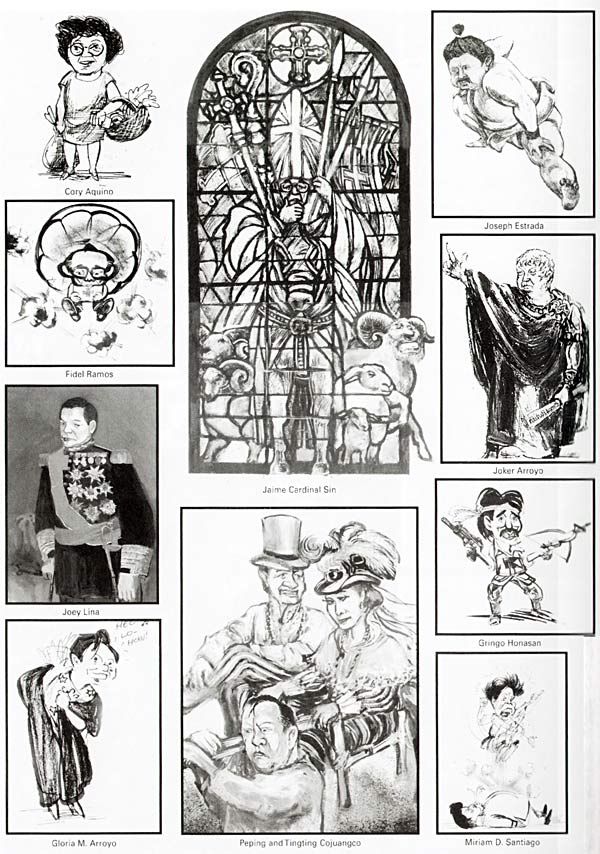 Funny to the point of irreverence, these caricatures nevertheless capture the spirit of these people very well.

A sample of Nonoy's remarkable art for "Pansit Malabon".
Nonoy Marcelo trivia: He invented the terms "Ermat", "Erpat", "Tsokaran", and "Jeproks".
Huling Ptyk is available at National Bookstore, Powerbooks and I assume all major book stores. 202 pages, black and white and colored. I forgot how much it is, but it's around 800+pesos.
*****************************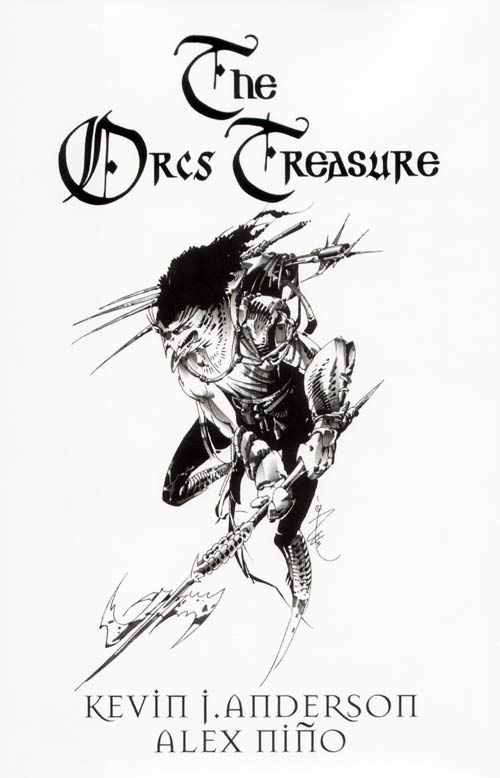 The Orc's Treasure
Illustrated by
Alex Niño
Writtem by
Kevin J. Anderson
ibooks, inc.
Thanks to
Woofy
, I was made aware of the availability of this book locally, which surprised me because the release of this book has been postponed numerous times and the latest release date I had been aware of is for later this year. So to see this already released is a rather pleasant surprise.
I was able to get a
poster of this book
, signed by Alex and Kevin a couple of years ago, and I waited on pins and needles to get my hands on a copy. Dubbed by some as the "return of comics Legend Alex Niño to comics", Orc's Treasure is actually only the latest in a series of comics projects that heralded Alex's return to comics in this decade, which began with SUNN, also from ibooks, released in 2003.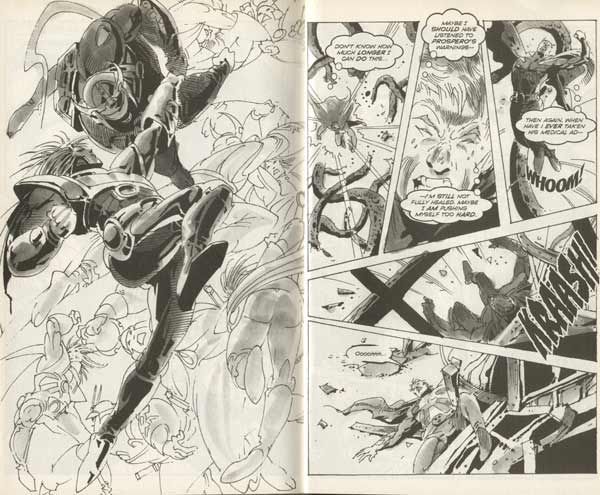 SUNN
Illustrated by
Alex Niño
Story by
Steven A. Roman
ibooks, inc.
Regarded as a "manga" book, Sunn is ibooks' stab at a burgeoning movement of comics art that's sweeping the world. I can only speculate why a talented and original artist like Alex Niño would move in this direction. Perhaps his absence from comics have made him susceptible to pressure to use what many people consider to be the "popular style". Who knows? But the belief that manga is the popular style that could guarrantee a successful comic book is a business tactic that has been used exceedingly in many countries including the Philippines.
Alex makes a passable effort at aping manga on the opening pages of his chapters of SUNN (the first half is illustrated by Kevin Lau).
I'm used to really good manga art by Japanese artists. Katsuhiro Otomo on Akira, Goseki Kojima on Lone Wolf and Cub, Hiroaki Samura on Blade of the Immortal, and Masashi Tanaka on Gon are excellent examples of what I think to be the pinnacle of Japanese comic art.
I've got to be honest. Alex doesn't really do a good job of doing Japanese comic art. Perhaps let's just let the Japanese do it because no one else can do it better anyway. It's part of their culture. It's part of who they are as artists. It's in their blood. It's not in ours as Filipinos. And it's not in Alex Niño's. And Alex knows it. Because a few pages into his section of SUNN, he starts to shake off the "manga" in his art, and slowly lets his own unique style creep in, probably even beyond his own control. Alex just can't help but be original. THAT is what's in his blood.
Alex shakes off manga completely in his next project, God The Dyslexic Dog.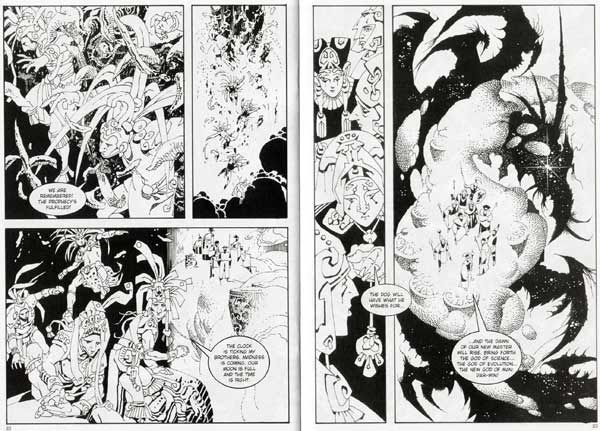 God, The Dyslexic Dog
Illustrated by
Alex Niño
Written by
Brian and Philip Phillipson
Properly warmed up, Alex finally lets it rip on this Bliss On Tap publication. Alex Niño is a wildly inventive illustrator, utilizing out of this world designs and mind bending layouts. Unfortunately, such emphasis on style and design sometimes makes his storytelling difficult to follow.
It's not that Alex doesn't know how to do it. Alex has demonstrated numerous times in his early career that he can tell a story extremely well. So he knows how to do it. Perhaps his art has evolved to such a degree, his mind works on such a completely different level, that it is him who might be frustrated with us for not understanding what he is doing.
Perhaps recognizing this, creator Philip Phillipson provides breakdowns from which Alex can build his artwork on. Looking over the comic book, one can easily see how conventional the panel work is. Conventional as compared to Alex's typical work, that is. Indeed, it does make the story easy to follow, and that's good because that's the ulimate purpose of a comic book.
But one cannot shake the thought that this is not pure Niño artwork. But that is exactly what we get with The Orc's Treasure.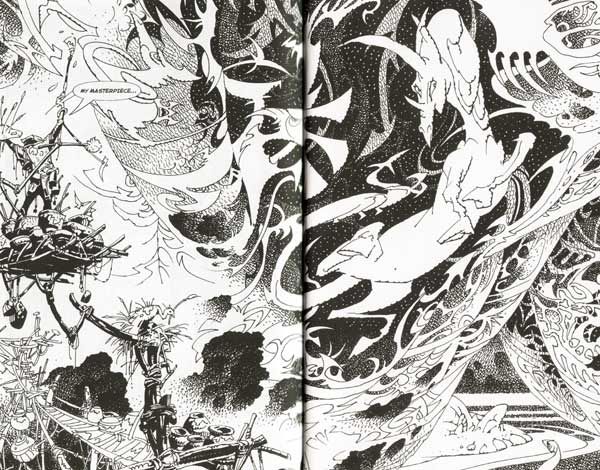 The Orc's Treasure interior art.
Here we see pure unfettered Alex Niño art that's evident on every single page. Employing layouts reminiscent of his work for Warren two decades ago, Alex adds linework that I could consider simplified, but no less detailed. Alex also introduces some rendering sensibilities he must have employed more often in his recent non-comics work which enriches this, his most recent comics work.
Not surprisingly, some of his storytelling is a bit tough to follow, but it's now a characteristic of his art I have come to accept. However, I was able to read the story in one sitting, not really as distracted by the art as I had expected.
Kevin J. Anderson weaves a really good story that had me engrossed from beginning to end. The end came somewhat a little too quickly though, as I came away from it feeling something was lacking, that something was yet left to be told.
I have no idea what this book has in relation with JRR Tolkien's Lord of the Rings. Although the term "orc" was used long before Tolkien was born, Tolkien was the first one to associate it with an ugly filthy, generally evil bipedal humanoid being. The same kind of creature that call themselves "Orcs" populate "The Orc's Treasure". There is a human realm called "ROHEM", and peace-loving (but short) elves.
I got this copy from Comics Odyssey in Robinson's Malate. 172 pages, black and white. $24.95 US.
Get it from Amazon.com
If you're a fan of Alex Niño, this book is recommended. If you're a fan of Philippine comics art, this and Nonoy Marcelo's Huling Ptyk is highly recommended.
---
Monday, February 06, 2006
Posted 2/06/2006 11:00:00 PM by Gerry Alanguilan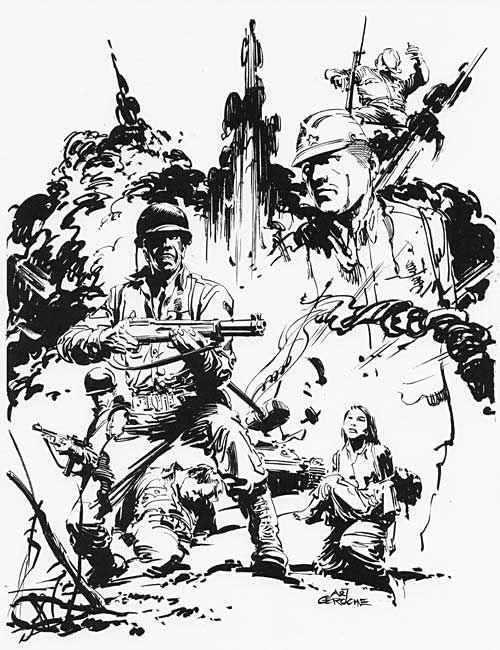 Art Geroche
Philippine Comic Art Portfolio
Art Geroche is one of those artists I haven't featured in this site until now. He's part of a newer generation of comics illustrators (with respect to Nestor Redondo's generation) who exhibit a style of art that have evolved out of the homegrown style so common during that time. I actually don't have any local komiks with his art on it, only a few DC published horror stories, and the art portfolio that Steve Gan published a while back.
I think his art is remarkble in its realism, a level of which is not too common in their generation of artists or even generations before.
In Comic Book Artist #4 David Roach writes of Art's art:
"Apparently something of a late bloomer in the Philippines, Geroche was too late for DC's horror boom, only managing six strips before the line went under. But what strips! Geroche's dark, vibrantly expressive work was a mix of Gene Colan, Doug Wildey, and the Spanish grand master, Jesus Blasco. That he should have done so little for the US is a real tragedy."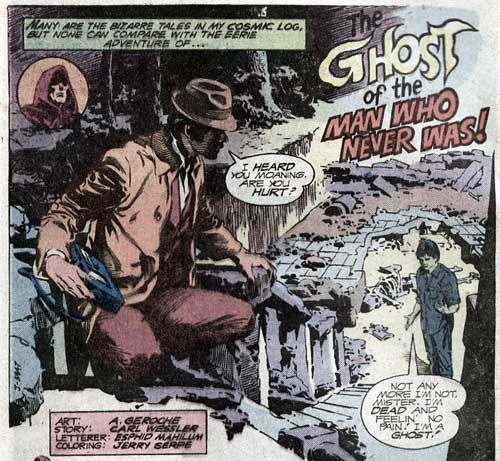 "The Ghost of the Man Who Never Was!"
Secrets of Haunted House Vol 6. #21
February 1980
DC Comics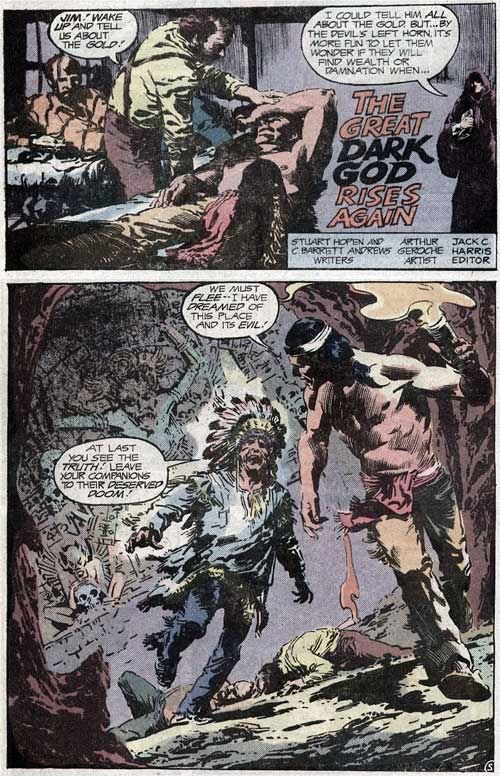 "The Great dark God Rises Again"
Secrets of Haunted House Vol. 7 #38
July 1981
DC Comics
*******************************
I was very surprised and a little puzzled that Art Geroche's son would post on
Dennis Villegas's blog and say hurtful and unfounded things about me and my contemporaries
, contending that artists like me do comics for the money, and that I can't possibly REALLY love what I am doing because I'm off in America doing their American comics. He continues to note the merits of illustrators like Hal Santiago and other Liwayway magazine illustrators and suggest their 2005 and 2006 works and the works of other "classic" artists be featured in his blog.
I guess it's apprent that he had yet to visit this site before he found Dennis' site, because if he did, he would realize much of what he was thinking about me were simply downright wrong. Hal Santiago, Jun Lofamia, Rod Lofamia, Abe Ocampo, Rico Rival and many other current Liwayway artists and other "classic" artists are regularly featured on this site for several years, and in fact, there is a whole online museum I put together devoted to celebrating their contribution to Philippine comics.
Why did I decline inking Ultimate Hulk and Wolverine for Marvel inspite of it being offered to me, and decided instead to concentrate on doing my own work for publication right here in the Philippines, if I was doing it for the money?
Why do I continually do comics locally for little or no pay at all if I didn't have any great love for comics?
I'm just a little frustrated that some people would go off saying hurtful things about people without checking out if what they are saying is true or not. I hope that when one of these days he does a search on the work of his father, it would lead him here and see for himself.
I realize that he based his opinions on comments made by writers for the Comic Book Artist Magazine #4, the magazine I had been mentioning here quite a bit because it was almost entirely devoted to Filipino comic book artists.
There have been some points about some articles written there that I objected to in my mind, but perhaps blinded by sheer joy in seeing an American publication putting the spotlight on fellow Filipinos and their work, I was probably too excited to say anything about it.
But now, seeing that these same points are now being taken out of the whole and used against me and my contemporaries, I feel that I have to say some things in our defense.
This is a somewhat edited copy of a letter I sent to the magazine's editor.
*************************
Hello Jon!
I finally managed to find time to settle down and write a reaction to the various articles written in the magazine. I remain amazingly pleased and amazed that it took Americans to put much value in the work of Filipino artists.
I do have to provide a different point of view with regards to David Roach's opinion about the current generation of artists:
"With a very few exceptions, the Filipino invasion of comics is now over, and their '70's heyday is either ignored by collectors or misunderstood. In recent years, a third wave of creators has entered the US, but I suspect that few readers are aware that the likes of Whilce Portacio, Leinil Francis Yu, Jay Anacleto, Lan Medina and Gerry Alanguilan are indeed Filipino. Their art reflects the US Comics Mainstream of the past decade rather than their own visual heritage, and they clearly work in a different artistic tradition, with little in common with their predecessors. This is probably good for them commercially, but it means that the traditional Filipino style is all but dead. So for the purposes of this article I shall deal with only with the first two waves of Filipino artists."
David Roach goes on to list all Filipinos who have worked in US comics and describes their work.
I wholeheartedly agree that the traditional Filipino style is all but dead. It is a fact that I personally grieve over, and I try my best not to let at least the memory of it die out by putting up my online museum of Philippine comics art. I welcome this issue of your magazine wholeheartedly because it gives due importance to a movement of art that is historically significant in comics.
But I do think it a bit unfair that any other artist who does not fit the writer's idea of "traditional" Filipino style to be unworthy of further mention in his article, dismissing a new movement in Philippine comics art which may well be considered by future writers ignored and misunderstood by writers of today.
And I think misunderstood may well be the right term for it.
I have nothing but great respect for the work and accomplishments of our old artists, but to say that the "Filipino comics invasion is now over" would hardly be factually correct.
In fact, this new generation of artists have managed to penetrate markets that the previous ones have only rarely managed to. While the earlier generations may well have been unfairly pigeonholed only into mystery, horror, western, sci fi and war titles (but at times dominating them completely), this current generation of artists have managed to work on mainstream titles that have been rarely, and in most cases, have not been previously touched by Filipinos.
These are titles like X-men, Wolverine, Superman, Batman, Hulk, Fantastic Four, etc. Earlier generations may have worked on them as inkers, but hardly never as pencillers as the current generation are for the most part doing.
They are working as pencillers, aside from those titles already mentioned, on Spawn, Fables, Battle of the Planets, Tomb Raider, House of M, Planet Hulk, Elektra, Ultimate Hulk and Wolverine and so many more, titles that are at the upper end of the commercial comics market.
The invasion is much more penetrating and much more invasive now than it ever was before.
To require these artists to conform to a "traditional style" before their contributions can be considered valid and worthy (at least as far as this article is concerned) is grossly unfair. It's true that many of them reflect the comics mainstream of the past decade, but please don't forget that Whilce Portacio, a Filipino, was part of the movement that created the predominant style of the 90's comics mainstream in the first place. Such a contribution cannot be and should not easily be dismissed.
Additionally, to require Filipino artists today to carry the "traditional style" before their contributions be considered valid and worthy is tantamount to restricting creativity. Artists should be allowed to grow, to find their own voice, to carve their own individuality and be unique, not just be another player in a larger tradition of a "style".
If one looks closely at the art of Whilce Portacio, one will realize that, even though it owes very little to previous Filipino artists, his style owes very little to any American, European and Asian artist either. It's totally unique and there is nothing else in the comics industry like it.
If one looks very closely on the art of Lan Medina and Roy Allan Martinez, one will realize that they owe more to traditional Filipino art than what is easily apparent, but they have managed to gather up much of their own creativity to create something unique.
Jay Anacleto... well, there's simply no one else like him.
Leinil Francis Yu, influenced as he is by many western artists, he is still able to create work that is uniquely his own. He is an artist just like any American or European artist: they are influenced themselves by what they like. And they all create something that can only be identified with them.
There is hardly anything in common between their styles to identify them as belonging to one movement of style, but why is that considered a bad thing?
Variety is a triumph of creativity. Nothing becomes predictable, and the potential for something new and fresh never ends.
I believe the artists I listed above are doing really good, visually remarkable work. The quality of their art can stand toe to toe, and even far surpass any current Western and Asian comics artist. To dismiss their work simply because their art owes little to early generations of Filipino artists simply isn't right.
This message is a plea for a second look, spoken by an artist who is part of a generation of artists that is in danger of being dismissed because I believe that we are misunderstood and overlooked. I am by no means saying that we are better than our previous generation of Filipino artists. Far from it. Indeed, I think many of them are far superior to us artistically in many ways. But I believe we are nevertheless doing work that has much worth.
Gerry Alanguilan
*******************
Posted 2/06/2006 12:34:00 AM by Gerry Alanguilan

Reviving a Comic Book Industry
This is a coincidence. A few blogs are talking about this same thing right now, most notably Dennis Villegas' excellent
Pilipino Komiks blog
. But I wrote this article while I was ailing, long before Dennis posted his, so this is by no means a reply to it or to any comments posted in reply to it.
Mr. Alanguilan,
I read your site with great interest. It's one of those sites I visit to keep me up to date on whats going on in local comics. I express my disappointment that the current batch of comics from so called writers and artists doesn't live up to the accomplishments of comics of many years ago. How can our comics industry be revived by comics that come out only once in a while? Many of these comics are of very poor quality, and only a chosen few are really good, but even those come out only once every year. I hope everyone takes doing comics more seriously and make our industry great again. More power!
Thanks for the email, Dan. This deserves an answer, but I hope it's allright if I talk about this here because it's something I've been wanting to talk about as well, but first, I have to mention something related...
In his
blog
, Reno Maniquis defends creating comics for the "love of it", reacting to an opinion that doing comics just for the "love of it" may not be enough to revive the comics industry.
All right.
I think nobody ever really said we were doing our comics to "revive the Philippine comic book industry"? Who told everybody to expect this from us?
None of us woke up one morning thinking, "Oho! I will revive the comic book industry! To accomplish this goal, I will do THIS. I will do THAT." Wouldn't that be insanely and grossly egotistic of us to believe ourselves wondrously talented, skillful, and knowledgeable enough to dare to make it our #1 objective.... to revive a national industry?.
I apologize if we have disappointed you by not living up to your expectations, but they are expectations we never even dared to have for ourselves, let alone strive for.
It's an unrealistic and an unfair expectation, and how could anyone to put *that* on our shoulders? We only wanted to write stories and draw pictures because it's fun. And we love doing it. Now all of a sudden we're expected to be responsible for the resuscitation of a whole industry? Get a GRIP. Get a SERIOUS grip! Please!
The expectation to come out with comics on a regular basis is another objective we never really set out to achieve. Some of us do, but many others don't. Some of us want to take our time, not out of ego, or out of feeling "superstar" as some people seem to think, but out of desire to just do a really good job.
A fact that people need to bear in mind, specially those used to how it was in the old days, is that the comic book industry of decades ago is different from the industry today. When once it was pertinent to come out with comics week after week, the industry today now allows for works that can be read complete in a few issues or in just one go, "graphic novels" that can be reprinted over and over as demands require.
The sooner you start judging us for the work that we actually do, as opposed to judging us according to what you expect of us, the less disappointed everyone will be.
You know, a lot of these kids just love comics, and they love making them. Many of them aren't getting paid to do it. In fact, they're putting out money from their own pockets just to make them. And the older guys... they have their day jobs at the advertising agency or the call center, and in their free time they do comics, as opposed to resting, sleeping or goofing off. They do COMICS of their own volition, and not for money. And I think that's a great thing. It results in some really bad comics, but there are a few with startlingly surprising potential.
It would be grossly unfair to expect more from them other than a really good job. And it's grossly unfair and to dismiss their work because they don't live up to your lofty expectations. It's cruel and it's hurtful.
We're comic book artists. That's what we do. We're not businessmen with the economic acumen qualified enough to tackle something as daunting as reviving an industry. We need people with money, and businessmen that will invest in us as creatives. We need more people like THEM.
I speak for myself, but yes, I do it for the love of it. I quit inking American comics in part to concentrate on creating my own comics to be published right here in the Philippines. I don't make it my objective to revive the local comic book industry. I can't afford to think like that. I just hope to create comics as best I can do them. That's ALL I want to do. I hope to create comics that I can't be ashamed I have made. Comics I'll be proud to show around as something *I* have done. Would they be good? I can't be the judge of that, but I'll make damned sure that I do my absolute best. That's all I can really do. And that's the only thing anyone can reasonably expect from me.
If I manage to, in my own little way, help revive the industry, even for just a little bit along the way, then wow, that would be fantastic!
Please don't misunderstand. Don't get the impression that I *don't* want the comic book industry to be revived. I do. But to actually make that as an objective (as opposed to just make good comics)? I believe that to be a wrong headed way of going about actually reviving an industry. It's superficial, and no one can realistically hope to have anything good and lasting to result from it.
Writers and artists should only concentrate on creating good work. That's the only thing they should ever consider.
I can't afford to think in terms of "reviving an industry" because I feel it would only compromise my work. I'd be forever chasing the elusive brilliant idea that would make comics sell like hotcakes in the country's current economic realities. I'd be forever analyzing markets, trends, fads, things I really don't believe in, in the hopes of reviving an industry. I would just be frustrated, and it would create an unbearable atmosphere that would prevent me from being creative and do the best at what I really want to do. And that is writing and drawing comics.
My personal goals I consider audacious enough as it is. In two years, I hope to write and draw at least just TWO stories that I hope would sell well, and that would have a lasting quality that it would endure long after I'm dead. That's a tall order for me. I can only hope to be able to do it, and I'll kill myself trying to.
If I am to be judged, then please, judge me for the work I do, not for the glorious future you expect us to achieve.
Here is a graphic list of the work I'll do in 2006.
http://komikero.com/2006projects.html
It's by no means a complete list, as there are many other things I can't talk about at this point.
Posted 2/06/2006 12:01:00 AM by Gerry Alanguilan

Komikero February Meet!
Brgy. Sta Catalina (San Dig)
San Pablo City
February 5, 2006
From left: Mr. Doroteo Alanguilan, Henry Anima, Rene Enriquez, Edjee Mendoza, Zara Macandili, Mylene Panagsagan and me!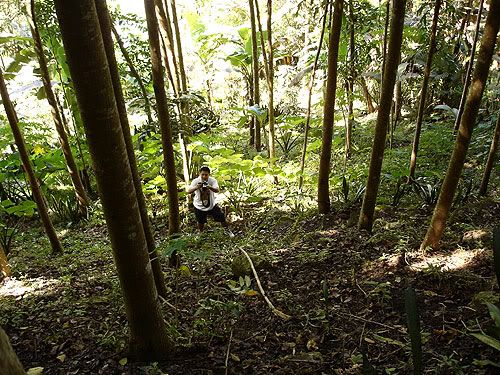 Rene naligaw.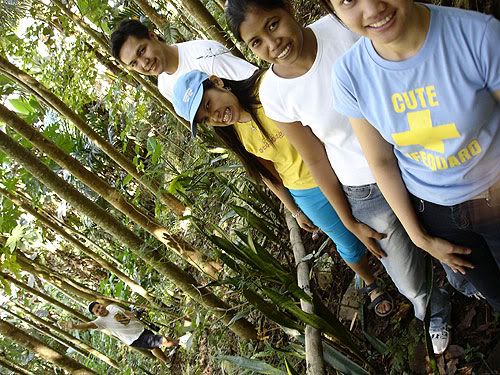 Paakyat.
Rene: Wag nyo ako iwaaaaan!!!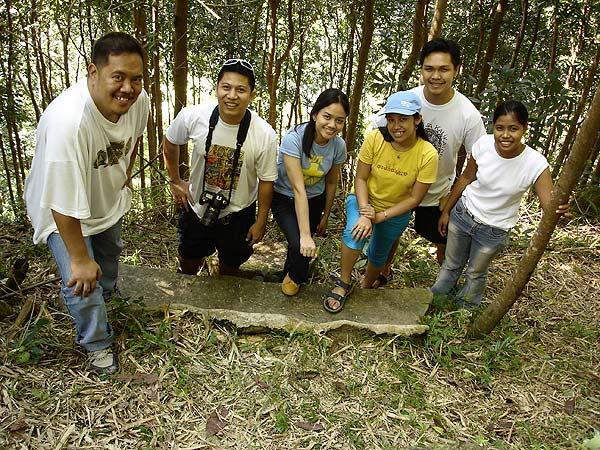 Sa itaas.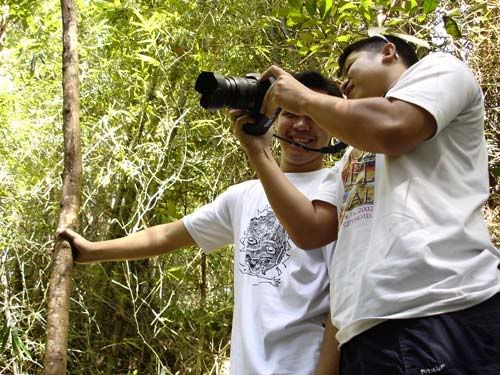 Rene: Tingnan mo Henry o... ang LAKI ng kanyang...
Henry: Oo nga ano!!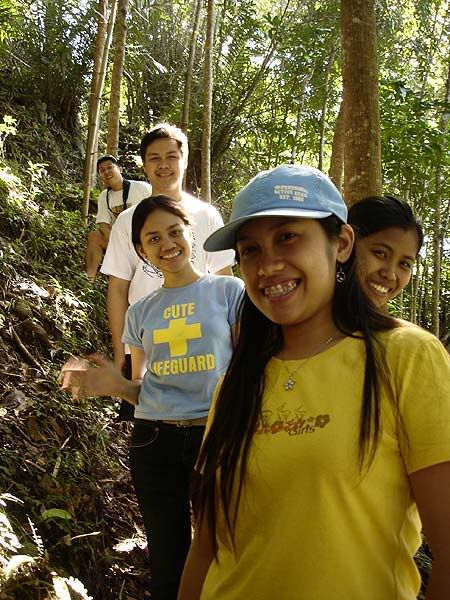 Pababa.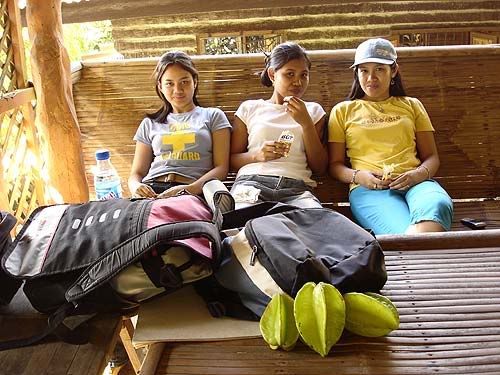 Ang tatlong balimbing.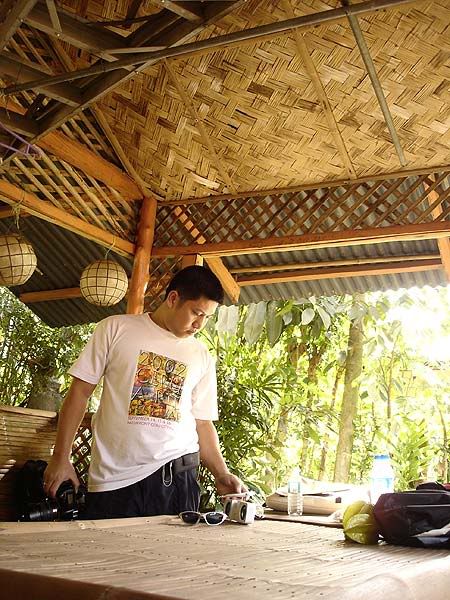 Paborito talaga pakinggan ni Rene ang April Boys sa kanyang IPod.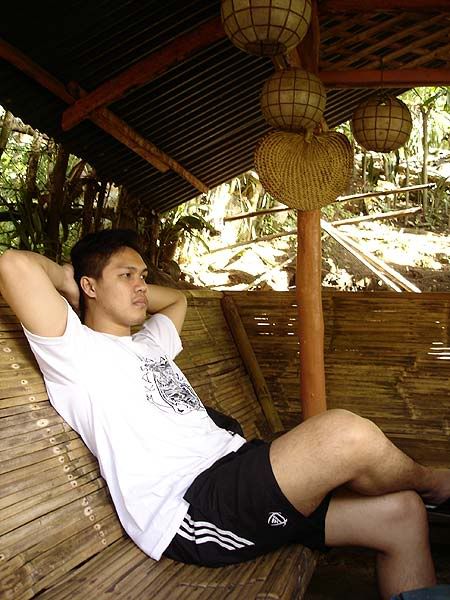 Nakatulog. Andun pa rin sya hanggang ngayon.
---
Sunday, February 05, 2006
Posted 2/05/2006 12:50:00 AM by Gerry Alanguilan
The Value of Opinion
A Commentary on Anonymous Writers
The value of "opinion" has certainly gone down in the last 10 years.
It was only a decade or so ago that widely disseminated opinion came by way of TV, magazines, and other publications, be it through a TV commentator, newspaper columnist, or letters sent to the publication, all of which have benefited from some sort of editorial scrutiny. Indeed, many national broadsheets required the letter senders to provide a real name and a real address as a pre-requisite for publication. It is, after all, the credibility of their station or their publication that is at stake. Opinion had value, because you knew newspapers would not hire just anyone to write an "opinion" about current events, about the state of the world, about entertainment or business or sport. They hired people who knew what they were talking about. People who were experts in their fields by virtue of their education, experience, and accomplishments.
Today, anyone and their pet poodle can log on the Internet, create a blogger account and spout off opinion that can be read all throughout the world. Today, everybody has an opinion, and everybody fights for their right to have that opinion. Right now, billions upon billions of opinions on varied subjects are being transmitted and read by billions upon billions of people all across the globe courtesy of the Internet. People can even do it without revealing their true identities and they can still have their say.
In many ways, it's terrific, because you get to have a listen to the great throbbing life blood of the world, uncensored, vibrant, and unfettered. Everybody gets to say what's on their minds, everybody gets to have their opinions widely read. So it's great!
But it's also becoming very difficult to discern just who is talking trash, and who is talking sense.
It's literally a jungle out there and if you don't have anything in place to make sense of it all, you'll certainly drown. And the safeguard I have personally put in place for myself is take anonymous writers with a grain of salt.
First, a definition of what I consider to be "anonymous".
I've been asked before, "How do you know if the person is anonymous? How do you know if the name he is using is real?
Generally, "anonymous" is someone I don't personally know, who uses a name other than what his true name is. People who I have met in person, who uses a name other than his real name online, I no longer consider anonymous. That's because I know who he is, I know what he looks like and I know what his girlfriend and his girlfriend's mother look like. I know where they live. People who uses names other than their real names, who leave links to their sites or blogs which contain their photos, personal information and anything that points to him as a unique individual, I no longer consider *too* anonymous. That's because I know what they look like, and when we meet in person, each of us would know who the other is and the things we have said. People who are famous, but I've never met, I also don't consider anonymous.
Basically, someone who is *not* anonymous (according to my own definition) is someone who knows that I am aware of who they truly are when they give me an opinion.
It is their opinions I respect over anyone else's.
I really don't put much stock and credibility towards anyone who doesn't tell me who they are online. Their opinions are just OK, be they praise, criticism, or insult. I can't deny that these opinions don't affect me, but it's just a little frustrating because their thoughts would be of much more worth to me if I knew who they are. I don't take them seriously, and for the most part, I don't really make much effort to discuss weighty issues with them, unless I find an opportunity to talk about matters where I perceive my words to be misunderstood, or as jumping points for matters I've always wanted to talk about, written for the benefit of everybody, anonymous or not.
An anonymous blogger contends: "It's not important who I am, but what I say."
I'm sorry, but for me, that is a load of CRAP.
And I'll tell you why.
Let me review. I've already demonstrated how much the value of opinion has gone down in the last 10 years. Because of the exceedingly inordinate amount of opinions freely available online, I have to learn to discern what is bullshit and what is not. And the one safeguard I think could help me with that is to seriously consider opinions only by those who offer their true identities.
I have several reasons why I think this is important.
1.
Reputation
. By freely giving my opinions on matters of comics and related matters, from my take on manga vis-a-vis Filipino comics art, Intellectual Property Rights, artistic integrity, etc., I put my reputation as a comic book creator, and as a human individual on the line. People know who I am, who my friends and family are, and how to get in touch with me. An anonymous writer online risks what?
Nothing.
By putting my career and my life at stake by the things I write, I believe it gives my opinion much more weight because I stand by it with my life. An anonymous writer risks neither his life, nor his reputation. ("Life" in this context doesn't mean biological life, but the physical, mental, and spiritual experiences that constitute existence: Everyday life.)
As a writer whose identity everybody knows, I take great care to be correct and respectful and, according to my own standards, moral in the things I say. I don't always succeed, but I always take personal responsibility for it. Saying the wrong thing can backfire on me and haunt me for the rest of my life. Freed from any responsibility and risk to his own life, the anonymous writer can afford to be less respectful, less careful, and less moral and correct about the things he can say. Even though he may still write with a certain sense of decorum, their writings are still suspect, because they have all been written free from any social and personal responsibility.
When I give an opinion and put it online, that is now a permanent record of what I have said. Somewhere, somehow, those words will be preserved, even if my original posts have been deleted. And it will be connected with me for as long as I live. And for an equal amount of time, I would have to be responsible for those words and the consequences they bring. For an anonymous writer, he can just easily disappear and create another identity for himself somewhere else, easily avoiding having to face any consequence of his words, ditching any responsibility for them.
How credible can anything they say ever be? Speaking of which...
2.
Credibility and Trust
. If a publisher like say, DK Publishing, wants to come out with a book on how comic books are created, do they approach Mr. Herbert Gooblegabber, computer analyst, comics hobbyist with an amateur DeviantArt account or someone like Dave Gibbons?
Do they hire the expertise of someone who hasn't published anything but knows all about creating comics because he read Scott McCloud's Understanding Comics or would they rather hire Scott MCloud himself? Or if he's unavailable, someone like Barry Windsor Smith or here in the Philippines Pablo S. Gomez or Steve Gan?
I think the answer is pretty obvious. You don't get someone who has second hand knowledge in comics to write a book about creating comics, or teach students about creating comics. You get someone who has actually created and published comics, because they know, above anyone else, how to do it successfully. That only makes sense doesn't it?
Anybody can have an opinion, but I would think that opinions of those who have experience in comics would have much more weight than those who haven't. For people who are forthcoming about their identity, it's easy to see who among them have the qualifications and those that don't. Our published works and accomplishments are all a matter of public record.
But how about Zlackbot333, 6mindfree9, or Tungga Bote, anonymous writers on the web? How can we trust what they're saying to be correct, no matter how eloquent they may seem to be, when their identities are hidden from us, depriving us of any sensible way of checking their qualifications? For all we know they're just bullshitting us, making everything up. What they say may well be factual, they may even turn out to be someone extremely qualified and experienced. But if they remain anonymous, we will never know. What they are saying may indeed be true, but I'd be far more trusting of someone like Dennis Villegas, than someone like Tikol Titi.
If they cannot trust the veracity of their opinion by putting their real identities on the line, how can we expect to trust whatever they say?
3.
Fortitude
. Many writers choose to stay anonymous so they can strike out at objects of their ire free from retaliation. Such a tactic is suspect, because one can surmise that such writers won't have the same fortitude to say the same things when their true identities are exposed.
Political writers during wartime, or during oppressive regimes have more reason to hide their identities because their physical lives, and the physical lives of their families would be at stake. But opinions about comics? Give me a BREAK. Nobody is going to kill you for THAT. The only thing you need to be concerned about is to be answerable and be responsible for the consequences of the things you write. And I'm sure, none of them would be life threatening.
Defenders of anonymous writers contend that writers tend to be anonymous because their thoughts would subject them to attack.
Well, so what? What does that make me? I've been attacked plenty for my own opinions. I can say the same for Randy Valiente, for Reno Maniquis, for Jonas Diego. And yet we're still here and we still stand by the things we say, inspite of being attacked, sometimes even ruthlessly. What does that make us? What does that make them who remain anonymous?
John Byrne's opinions in recent years may have angered many in the comics community, and it has seriously affected the appreciation of his art, and unfairly colored the worth of his formidable body of work. But I've got to respect him because it takes balls to say what he says. I'm more of a fan of his now than I was before. He's a far braver, and far more credible man than any anonymous writer who attacks him will ever be.
4.
Respect
. I'm not looking for any special treatment, but I hope I can at least demand some human decency from whoever I am talking to. How can I ever feel I'm being respected as a human being when the person I'm talking to is wearing a paper bag over his head as he dishes out strong opinions about me and my work? It's demeaning, and it demonstrates a distinct lack of courtesy and decency.
Anyone who has strong opinions about the state of the Philippine comic book industry needs to stand up for what they say, instead of shielding themselves with a mask. There is really nothing to fear. No reason to hide. A few heckles here and there from anonymous trolls, a few well thought out arguments from colleagues, many violent reactions from others. So what?
Adversity is part and parcel of dishing out opinions. If you are unwilling to risk facing that adversity with your real identity, opting instead to hide behind a mask, then I can never trust you, I can never take your word to be credible, and I can never take you seriously.
Stick up for what you believe in with your face squarely in the middle and people will respect you for it. Have the human decency to show me your face when you pass judgment on me and *I* will respect you. I may hate you, but I will respect you, and I will have no cause to doubt your sincerity.
If anyone anonymous feels the need to reply to this with their own "opinion", be it here or in their respective blogs, then please feel free to do so. I didn't write all this to stop anyone from writing what they want, nor is this a campaign to deprive anyone the right to have their say.
But if you are not going to write your real name down, you already know what I think of you.
Posted 2/05/2006 12:01:00 AM by Gerry Alanguilan
Looking for Bert Sarile's Family
A message posted on my
message board
:
Sa lahat ng mga nakakakilala sa pamilya ni
Mang BERT SARILE
, lalo na sa anak niyang si NOLI, ipakibato naman kay ALQUIN PULIDO (taga-ABS-CBN) kung saan sila matatagpuan. May magandang proyekto si Alquin bilang pagkilala na rin sa kontribusyon ni Mang Bert sa industriya ng komiks bilang isang mahusay na kartunista. Maaaring makontak si Alquin sa CP#0919-4412767. Maraming salamat.
-Ofelia Concepcion
---
Saturday, February 04, 2006
Posted 2/04/2006 11:57:00 PM by Gerry Alanguilan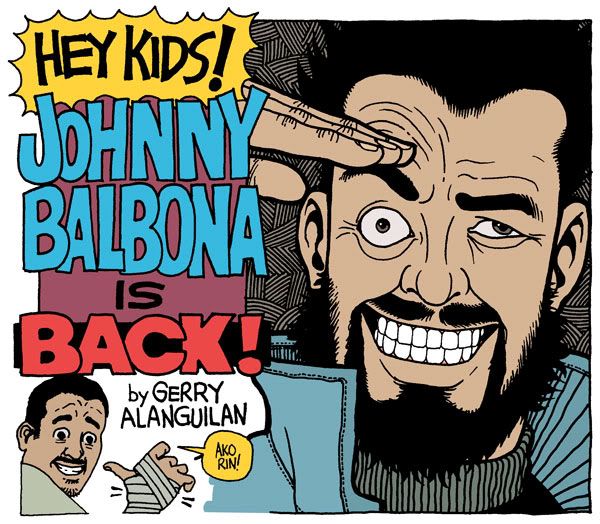 Absent from the latest issue of Mwahaha, Johnny Balbona is back! And back with a vengeance! I'm working on an extra long Johnny Balbona adventure for the Superhero issue where Johnny has an extra "hairy" experience! I'm also working on the next installment of Humanis Rex, page two of the one I had finished before I took a break.
So guess who else is back? Thanks for all the messages, they're all very much appreciated.
The Crest Hut Butt Shop online strips, however, will take a momentary break as I look for a suitable alternate host for the images. Inspite of my boosted bandwidth, I still almost exceeded my traffic limit towards the end of the month. "
Gerry's Big Book of Disgusting Deaths
" has been concluded however, and can now be read in one go.
My one week break gave me sufficient time to think and reflect, and I've come to the realization that well, I can't stand taking a break. Against my better judgment, I found myself squeezing in work here and there. It got so bad that I just had to get out of the house. I found the chance to *at last* get back to Megamall after so many months.
I finally finagled "The Orc's Treasure" illustrated by Alex Niño, and the Nonoy Marcelo biography book "Huling Pytk: Da Art of Nonoy Marcelo". Reviews forthcoming!
I also did some bit of writing that would eventually appear here as articles on stuff that have concerned me of late.
*****************************
I appreciate all advice sent to me about things I write here, but please bear in mind that I just like to rant and complain. I'm not really looking for sympathy, advice or relief goods, unless well, I ask for it, which I might do once in a while if I'm really stumped (or get really hungry).
I just like to rant that's all. I'm not called "Boy Reklamo" by some people for nothing. All of this is written after I've already done something about whatever I'm complaining about. This blog represents probably just 5% of my life, so a lot goes on that I never get to write about(or would I want to).
But even then, I do appreciate all messages and emails and letters to me and I'm grateful to know you all took precious time from your own lives to write to me, so please don't feel like I don't give a damn. All comments about my art are welcome of course, unsolicited or not.
Later.
---
---