Saturday, December 31, 2005
Posted 12/31/2005 01:24:00 AM by Gerry Alanguilan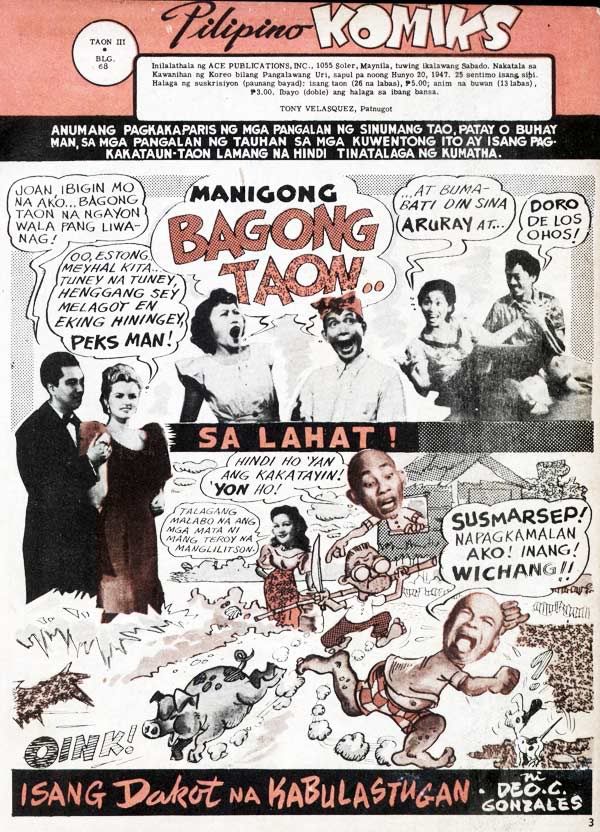 HAPPY NEW YEAR!!
Inside front page of
Pilipino Komiks #68
January 7, 1950
by
Deo C. Gonzales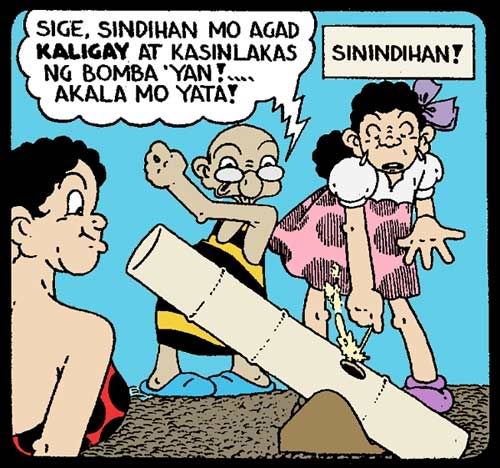 Mars Ravelo's IPE
Pilipino Komiks #68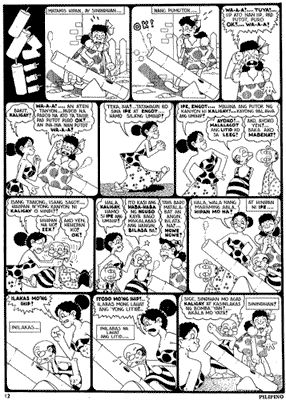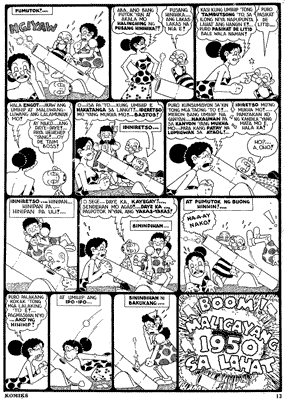 Click Thumbnails above for larger Images
---
Tuesday, December 27, 2005
Posted 12/27/2005 11:45:00 AM by Gerry Alanguilan
A CHRISTMAS Message in an Intellectually Disintegrating World
I posted this last CHRISTMAS in my personal blog, but I'm posting it here again... for EMPHASIS.
***************
Some people are actually offended when people greet them Merry Christmas! I can't believe it. So in an effort to be "politically correct", the preferred greeting is now "Happy Holidays."
How can you possibly be offended by something like Merry Christmas? Don't you realize that it is NOT an attack on you or your personal beliefs? It is NOT an effort to in any way try and convert you into another person's way of thinking. It's simply a greeting, given to you with no other intent but GOODWILL. It is a person who wishes to share with you some happiness that he is feeling at that moment. It doesn't matter if you don't believe in Christmas. It is nothing but a greeting that's meant to share some happiness with YOU.
Before Christmas, there's usually Thanksgiving celebrated by Americans. Once in a while an American friend of mine would greet me Happy Thanksgiving! I don't celebrate Thanksgiving, but I realize that it's a holiday that means something to Americans, and to many Americans, it's something that has deep meaning. I respect them enough to accept the greeting because I know it was offered to me with the best of intentions without any malice intended towards me.
If someone greeted me Happy Hanukka! or Happy Kwanza! I'd gladly accept the greeting even though they are holidays I do not celebrate. I know that they are greetings offered with the best of intentions and nothing else. So I'd accept them and I'd accept them gladly. I'd even be flattered that these people thought well enough of me to wish me well.
THIS IS CALLED RESPECT. Respect for the belief of other cultures. Respect for other people's beliefs.
Would it kill you to say "Thank you." when someone greets you? Saying that doesn't mean you believe in Christmas. It's acceptance of a goodwill that was freely offered to you. That's ALL it is. To lash out at goodwill freely offered is deeply hurtful to the one who offered it, and it's utterly selfish, inconsiderate, insensitive, and worst of all, intolerant.
---
Sunday, December 25, 2005
Posted 12/25/2005 08:22:00 AM by Gerry Alanguilan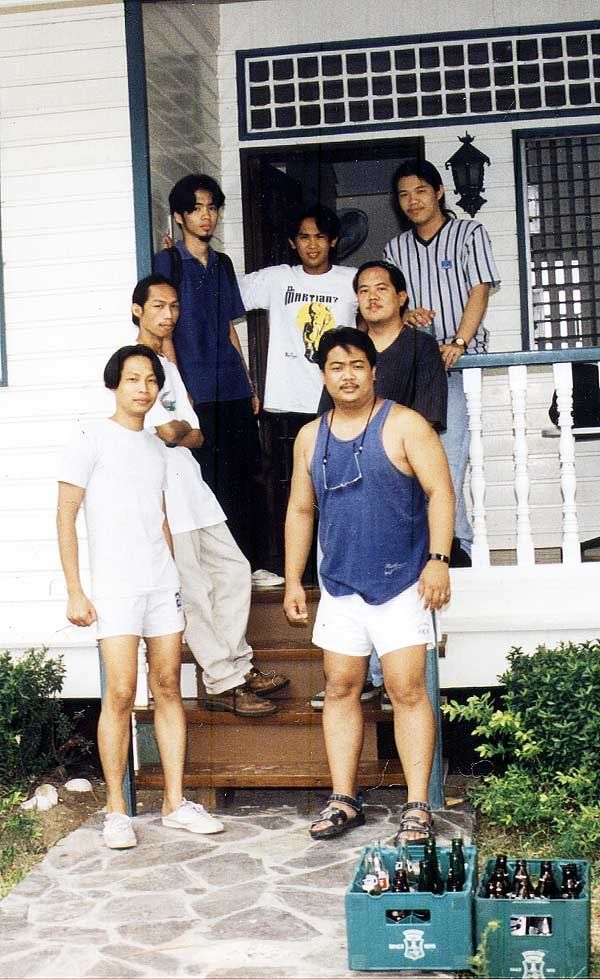 A photo taken of the gang sometime in 1998 in Cavite.
Top row from left: Roy Alan Martinez (House of M), Ryan Orosco (Culture Crash), Leinil Francis Yu (Superman: Birthright, Batman/Danger Girl, Ultimate Hulk and Wolverine).
Middle row: Edgar Tadeo (Silver Surfer, Wolverine), ME!
Front row: Gilbert Monsanto (Houdini: The Man From Beyond), Whilce Portacio (Wetworks, X-Men, Stormwatch)
I was rummaging through my stuff when I saw this. I think this is an important demonstration of what aspiring artists need to take into consideration.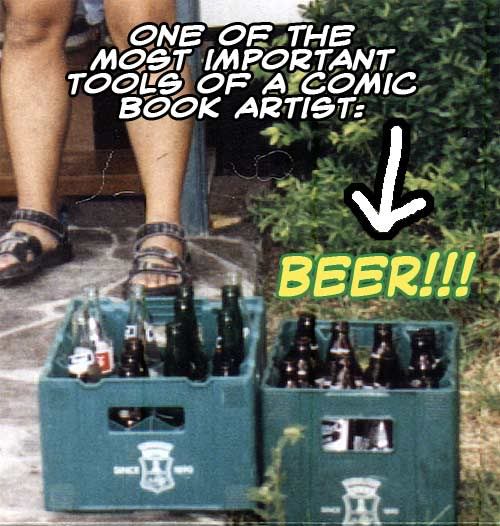 MERRY CHRISTMAS!!
:)
---
Wednesday, December 21, 2005
Posted 12/21/2005 12:15:00 PM by Gerry Alanguilan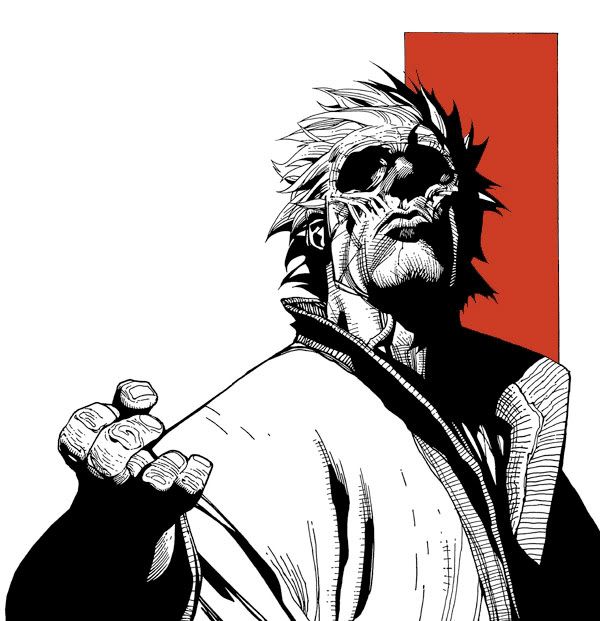 Silent Dragon #6
Written by
Andy Diggle
Pencilled by
Leinil Francis Yu
Inked by
Gerry Alanguilan
Colored by
Dave Stewart
Lettered by
Jared K. Fletcher
Edited by
Ben Abernathy
There you go, my last inking job for the time being. I'm disappointed I didn't get to ink the fifth issue, but I knew I had to let it go for this book to stay in schedule. But all in all, I'm quite happy with the work I did here.
Some people have gotten in touch with me with regards to the sale of original art from this series. I just sent Leinil the entirety of issues 1 to 3 and I'm fairly certain that he will be selling most, if not all, of that. Those issues contain most of the kick-ass art in this series so expect to see those pages up for sale somewhere soon.
It's more than what I should have gotten, but I got the all of issues 4 and 6, thanks to Leinil. (Thanks man!) We also split the pages to Batman/Danger Girl and I got 14 pages from that.
I don't intend to sell my pages though. Some people may be under the impression that I'm holding on to them in the hopes that I could sell them for much more later, but the real reason I want to hold on to them is because I just want to hold on to them. I'd like to keep as much of my original art as I can, and I've no intention of selling them now or in the future. Once in a while some of them may turn up, but that's only because they were sent to the
CBLDF
or
ACTOR
.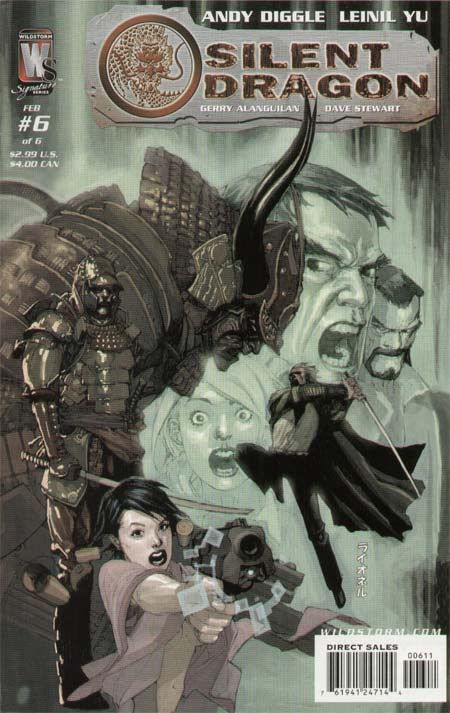 I can't wait to see a trade of this so I can read them in one go. Believe it or not, like most of the books I inked, I haven't read this in comic book form yet. To be honest, I've yet to read Superman: Birthright or Batman/Danger Girl as well. I guess it's the familarity with the artwork, as someone who had helped tell this story, makes it difficult for me to get into the story as a reader. I'm always taken out of the reality of the story by certain lines, certain textures, certain drawings I remember doing.
Because the working time on this series got pushed back for a variety of reasons, working on finishing this series ate into time I needed to finish my other commitments. I didn't have time to rest after Silent Dragon as I immediately jumped into those other projects, and I'm still desperately trying to finish some of them now. It's been a pretty difficult past few weeks and it's not yet over. Apologies go to everyone I owe work to, and rest assured I'm doing everything I can to finish the work as fast as I can without sacrificing quality.
Back to work!
---
Tuesday, December 20, 2005
Posted 12/20/2005 12:07:00 PM by Gerry Alanguilan
Two of the stories that impressed me the most in Philippine comics in 2005 would be
DUGO
by
Dodo Dayao
and
Bong Leal
, and
Baguio, 1992
by
Cyan Abad-Jugo
,
Elbert Or
and
Jamie Bautista
. There have been others that were also remarkably good, but these are my two favorites.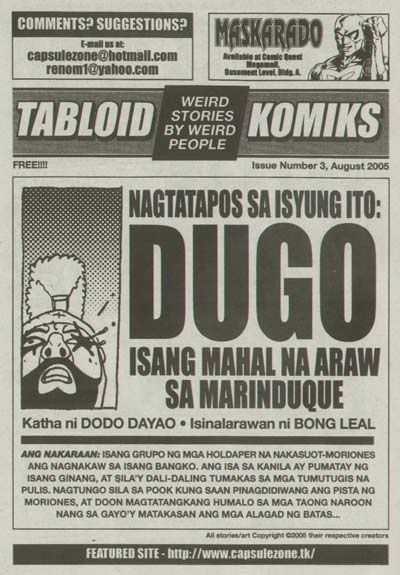 DUGO came out in
Reno Maniquis' Tabloid Komiks
, serialized in issues 2 and 3 from May to August 2005, sixteen pages in all. It's written completely without dialogue and illustrated in a very nice line art style. Without dialogue, the role of the artist becomes very important as it is on his shoulders alone that the story will be told. It's very difficult to pull it off but Bong does a really good job of telling it very clearly.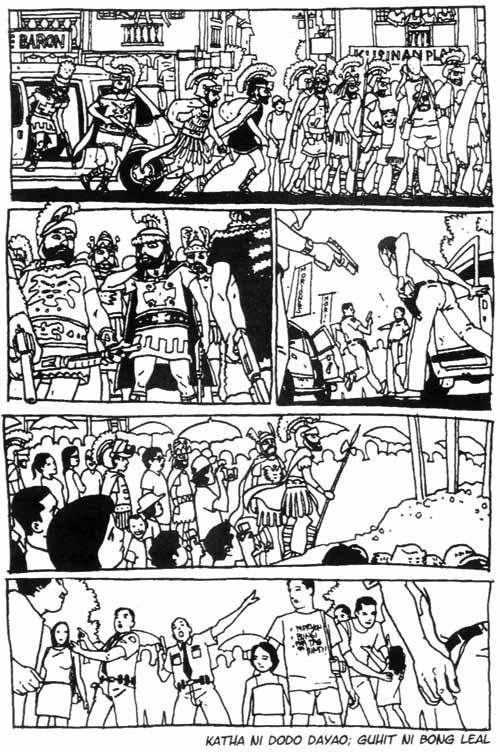 It's a remarkable achievement, far surpassing their other work on their own comic book Askals.
My most favorite story of this year has to be
Baguio, 1992
from
Siglo: Passion
published by Nautilus Comics in December of this year. It's written by
Cyan Abad-Jugo
, illustrated by
Elbert Or
, and colored by
Jamie Bautista
.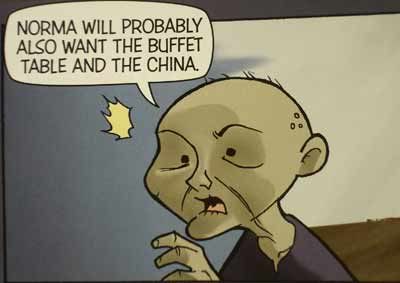 The story really took me by surprise because it explored themes I had been trying to explore myself in my own work. Themes such as memory, nostalgia, ruminations of things old and worn today were once new and fresh. The story that Cyan wrote was so poignant and touching that it literally had me in tears. I don't remember being so moved to tears by a comics story since Dark Phoenix Saga back when I was a lot younger.
I was so impressed by the story that I immediately wrote the writer a "fan" letter, telling her how much I loved this story and thanked her for writing it.
Posted 12/20/2005 11:27:00 AM by Gerry Alanguilan
****************************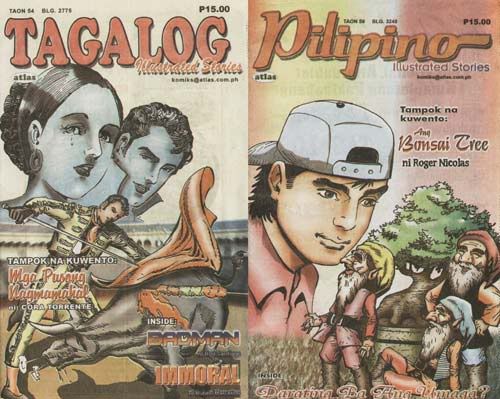 It was such a surprise to see a bunch of new komiks from ATLAS when I passed by my favorite newsstand in town. After much speculation that they had closed, Randy Valiente has confirmed that they are still indeed open for business but can only manage to release a few titles here and there.
Tagalog Illustrated Stories
Year 54 # 2776 and
Pilipino Illustrated Stories
Year 59 #3248 cover dated December 5, 2005 are the latest in a long line of comic books beginning way back in 1946 when they were still known as
Tagalog Klasiks
and
Pilipino Komiks
respectively. These komiks were the homes of some of our legendary artists including Malang, Vicente Manansala, Francisco V. Coching, Jose Zabala Santos, Tony Velasquez, Larry Alcala, Mars Ravelo and many more.
I have heared that the very first issue of Tagalog Klasiks even had some translated reprints of stories illustrated by
Jack Kirby
. I wonder if that was true.
Check out this
page
from
Dennis Villegas
' blog depicting caricatured photos of these creators in an early issue of Pilipino komiks.
Ang Mga Karikaturista ng Pilipino Komiks
I'm glad that these komiks are still around, but I think they really need a major overhaul to survive further. I'm not going to pretend to know how to run a comics company, but the results speak for themselves. A lot of people think komiks is dead, but it would probably surprise many of you that these comics still exist, since you don't see them, or hardly see them at all, specially in those places where they used to dominate. The printing isn't really good as the page below would demonstrate.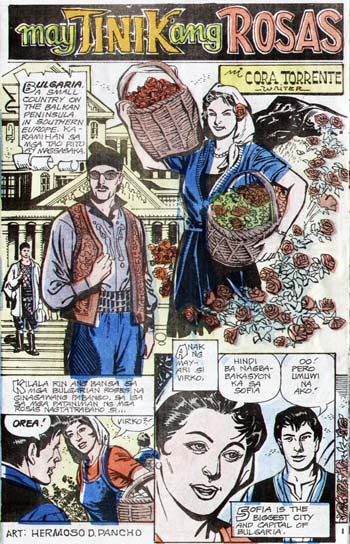 Hermoso Pancho
May Tinik ang Rosas
written by Cora Torrente
Tagalog Illustrated Stories #2775
December 5, 2005
Hermoso Pancho however, still brings it with every page he illustrates. It's obvious he still cares about the craft and struggles on inspite of the printing quality of the end result. Clearly his work really deserves much better coloring and printing. He's been around since the 1960's and I've featured his work previously
here
and
here
. I think he's a remarkable illustrator and professional and I really would love to meet him and interview him one of these days.
And speaking of remarkable illustrators (and better printing), here's another piece from
Jun Lofamia
from the latest issue of
Liwayway
, cover dated December 19, 2005.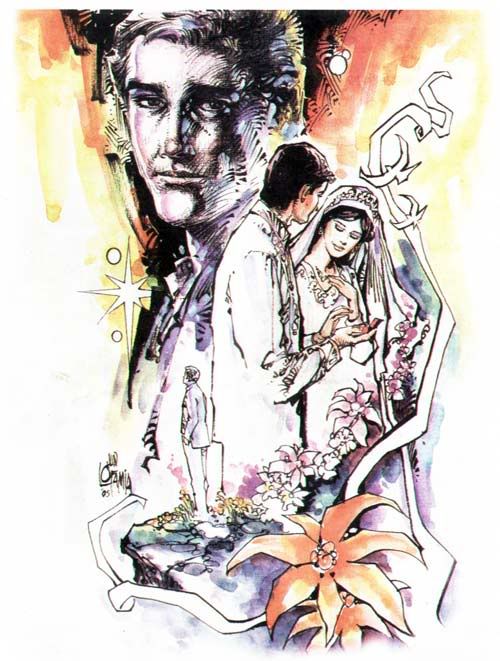 Jun Lofamia
Ikaw at Ang Tala
Spot Illustration
written by Clemen M. Bautista
---
Friday, December 16, 2005
Posted 12/16/2005 11:06:00 PM by Gerry Alanguilan

Saying Goodbye
At first I thought I'd post this over at my personal blog, but nah, I'll guess I'll put this here for once. It has nothing at all to do with my work, or the museum, but these are things that preoccupy my imagination from time to time.
One of my best friends in High School was
Angel "Bong" Aganon
. We hung out at his place, desperately trying to watch porn, but circumstances both amusing and frustrating, kept us from doing so. We just ended up playing guitars as we listened to Beatles songs. He was an amazing guitar player and he had a good ear for tune. If we didn't have chords to a certain song, you see, we would find the chords by listening to the song closely. Bong would often correct me if I made a mistake. I often made them, as he almost always never did.
He even made a song for me. He slipped a little slip of paper in one of my books and said to look at it later. They were lyrics to a song he had written, and he called it "My Best Friend". He was probably too embarassed to have me read it in front of him, but many weeks later he sang it for me and it was quite extraordinary.
Bong looked like a cop, with this beer belly and his intense beady eyes. But he would often undermine his own daunting countenance by breaking out into silly laughter and hilariously funny facial contortions. You won't believe your eyes as he suddenly stiffens and his face slowly transforms into Charles Bronson. It was amazing.
The last time I saw him was around 1997 or so, at the food court of Shangrila Mall on the corner of Shaw and Edsa. He looked more pregnant than his wife. His beer belly was colossal. He seemed a little bit more serious, but still every bit as silly when the conversation called for it. We promised to stay in touch, but we never did.
He died sometime in 2002. I did not find out about it until a year later, a fact so casually and nonchalantly thrown away during idle conversations in our high school mailing list. My world suddenly stopped when I read it. I couldn't believe it.
I feel sad that I never had the chance to say goodbye to one of my best friends. I feel sad that I found out about it so long after it had happened and I feel guilty for not knowing.
I've had so few best friends in my life. I can count them all with the fingers of one hand. I'm glad that I've had the chance to say goodbye to some of them, not because they died of course, but because they were going away far away and things aren't all sure if we'd ever see each other again.
It's always heartbreaking when something like that happens. You see them for the last time as they slowly get smaller as they walk away, or sometimes you just look at their face, shake their hand and look away and never look back, trying to memorize that moment, and that face, in your mind for all time.
Those last moments with them are all permanently locked in my mind, like pictures I can look at if I had the courage to do so.
My absolute favorite song of all time is, unsurprisingly, a song about goodbyes. Bruce Springsteen's "
Bobby Jean
" is probably familiar to some of you as the music in
Johnny's "Where Are You?
" video I made last year.
The song talks about a guy who never had a chance to say goodbye to his best friend. The loneliness of the first couple of verses is heartbreaking, but finally ends with some sort of hope that his song will somehow, someway be heard, and he can finally say goodbye.
I've posted it before, but I'm posting it here again.
BOBBY JEAN
Bruce Springsteen
Well I came by your house the other day, your mother said you went away
She said there was nothing that I could have done
There was nothing nobody could say
Me and you we've known each other ever since we were sixteen
I wished I would have known I wished I could have called you
Just to say goodbye Bobby Jean
Now you hung with me when all the others turned away turned up their nose
We liked the same music we liked the same bands we liked the same clothes
We told each other that we were the wildest, the wildest things we'd ever seen
Now I wished you would have told me I wished I could have talked to you
Just to say goodbye Bobby Jean
Now we went walking in the rain talking about the pain from the world we hid
Now there ain't nobody nowhere nohow gonna ever understand me the way you did
Maybe you'll be out there on that road somewhere
In some bus or train traveling along
In some motel room there'll be a radio playing
And you'll hear me sing this song
Well if you do you'll know I'm thinking of you and all the miles in between
And I'm just calling one last time not to change your mind
But just to say I miss you baby, good luck goodbye, Bobby Jean
Copyright © Bruce Springsteen (ASCAP)
If you want to listen to the song as you read the lyrics, go
here
.
The sound quality isn't pretty good, but for a free download, I guess that's OK.
---
Thursday, December 15, 2005
Posted 12/15/2005 12:40:00 AM by Gerry Alanguilan
Sonny L. Trinidad
Christmas Cover
1984
Click Image or Here for Larger Image
Sonny Trinidad, also known as Celso Trinidad, won the Best Serial Illustrator award during the 1984 KOMOPEB Parangal sa Komiks. His work VIRGA also won in the Best Novel Illustration Fantasy Category.
A native of Sta. Rosa, Laguna, Trinidad's first professional exposure to comics came by way of working as an assistant to
Francisco V. Coching
, which would explain the similarity of his early work to Coching.
In the US, he is known for his work on Conan The Barbarian, Dracula, Morbius, Bloodstone, and Deadly Hands of Kung Fu.
I'm not sure exactly where the cover above was used for. The artwork itself doesn't say exactly, except that in the closeup, Santa is seen to be carrying a "Kislap" magazine, and information at the back says it's issue 112 of something, and it's stamped with the date November 12, 1984.
Any information anyone out there may know about it? It would be much appreciated.
---
Tuesday, December 13, 2005
Posted 12/13/2005 09:02:00 PM by Gerry Alanguilan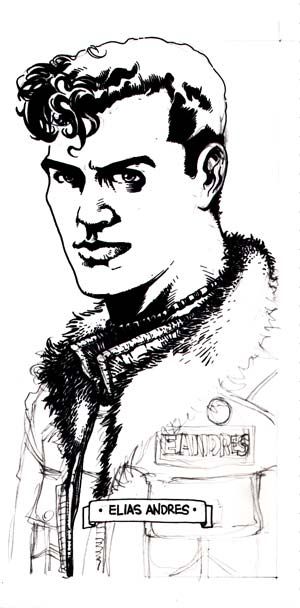 Humanis Rex!
Before I used the title "Humanis Rex" publicly, I did a search on the Internet if someone had already thought of it and I was glad that I found no results as yet. This is SOP for me on any title or character I come up with.
I came up with the title as I was trying to think of something that would mean the victory of mankind against all kinds of diversity, and in this story, it's victory against an alien invader. I may be giving out the plot but hey, in any alien invasion story, the humans almost always win, right? I won't even try to be coy about it. It's the journey towards that end that's the challenge for me.
I suddenly thought of "Imperious Rex!", Namor the Submariner's battle cry, and I thought it sounded pretty cool. Maybe I could modify it to suit my own title. As far as I know, "rex" means king. I wanted a word that means humanity and in latin, it's "clementia".
"Clementia Rex!"? hmm... UGH.
"Man" is "compleo" or "vir".
"Compleo Rex!" er... "Vir Rex!"
Ugh. UGH!! Now it starts to get really painful. This went on for quite a while until I accepted that it's useless so I just gave up and went ahead and invented a latin sounding word that seems to evoke humanity: HUMANIS.
I just came up with it. I don't know if there is such a word. It sounds latin, but it isn't. I've already been accused of bad latin in the title, but hey, it really isn't. It's just something I bullshitted.
So "HUMANIS REX!" it is!
I thought wow, that sounds a bit cool. And like I said earlier, I checked if there is such a phrase anywhere, and amazingly enough, there wasn't. Great!
I came up with the title as early as August 2003 in correspondences with Budjette Tan when I was looking for means by which I could release the story.
Now I'm just digging up all this now to put this all on record, so as I won't be accused of ripping off someone else. Because I'm starting to see other people use "Humanis Rex" outside the context of my story. I've seen it used as the name of a ship in some gaming forum.
It's all possible that this fella thought this up independently, but seeing as this first came out several months after the publication of the first installment of Humanis Rex in FUDGE Magazine and the publication of the Humanis Rex! blog on the Internet, you would think that he would have at least made a cursory search online if someone had already come up with the title.
---
Sunday, December 11, 2005
Posted 12/11/2005 11:42:00 AM by Gerry Alanguilan

Siglo: Passion Launch
6pm, 2nd Floor Fully Booked
Promenade, Greenhills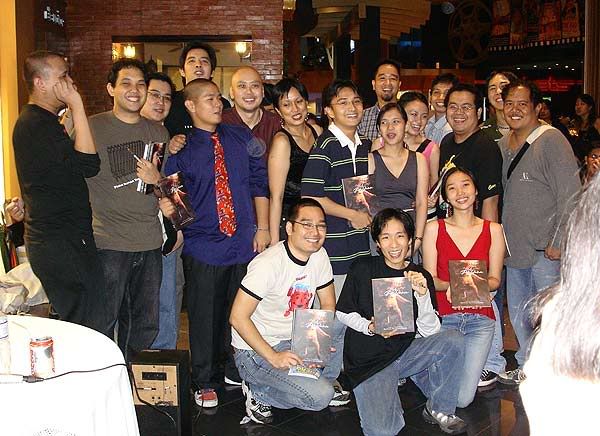 Siglo: Passion writers and artists
(not all pictured)
Standing from left
: Dean Alfar, Quark Henares, Luis Katigbak, Tobie Abad, Andrew Drilon (in blue), Vin Simbulan, Nikki Alfar, Elbert Or, Ariel Atienza, Camy Francisco, Shelly Soneja, Jaime Bautista, Marco Dimaano, Jeremy Arambulo, and me!
Kneeling from left
: Reno Maniquis, Joel Chua and Jac Ting Lim.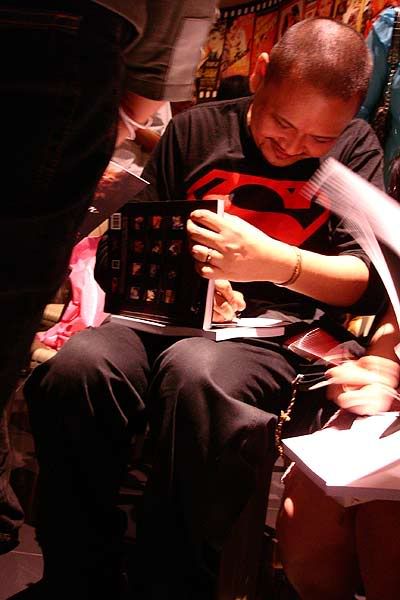 Dean Alfar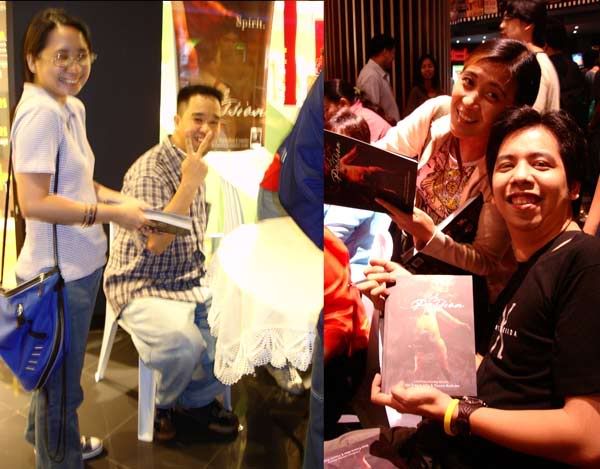 Syeri Baet, Ariel Atienza, Ma-an Asuncion, Tobie Abad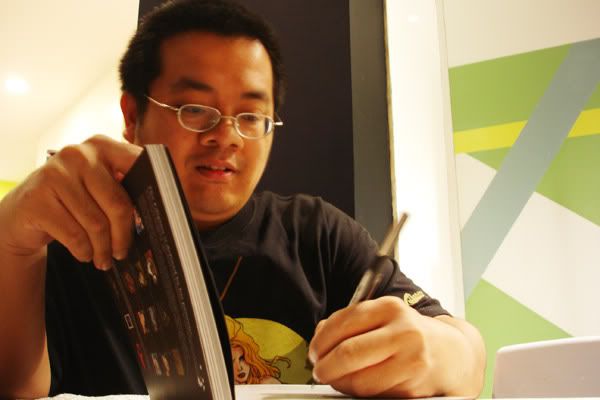 Marco Dimaano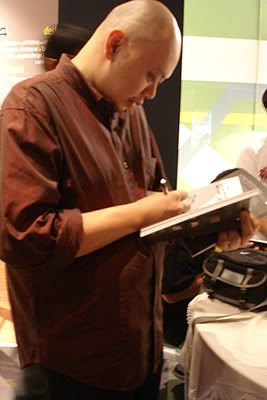 Vin Simbulan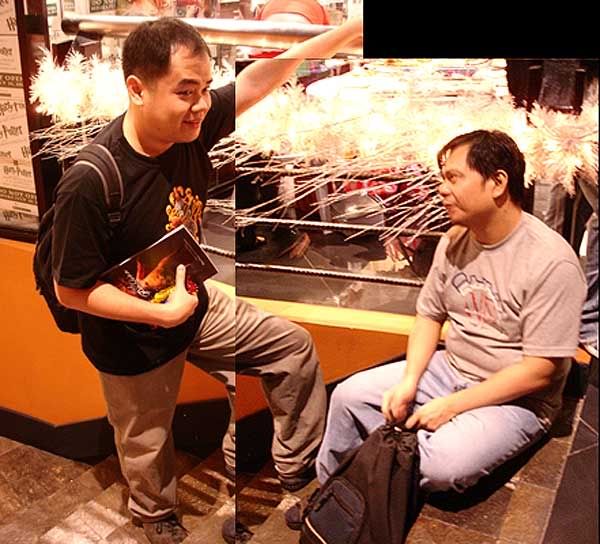 Oliver Pulumbarit, Ferres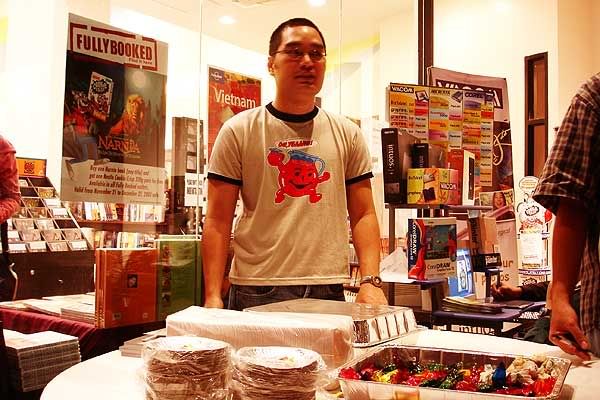 Reno Maniquis (Bili na kayo!)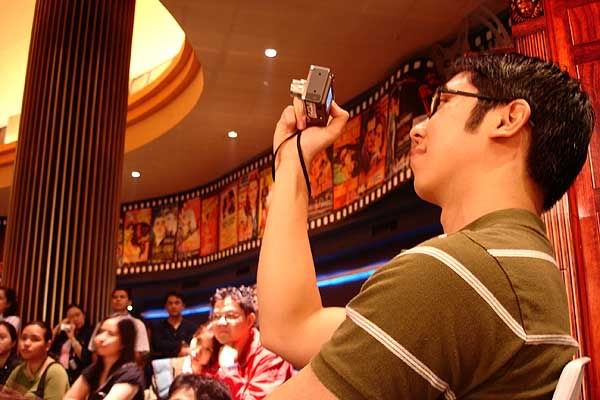 Jeremy Arambulo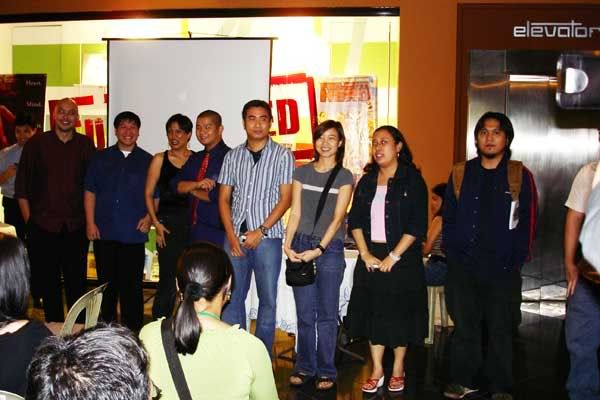 Writers for the book "Philippine Speculative Fiction Vol. 1".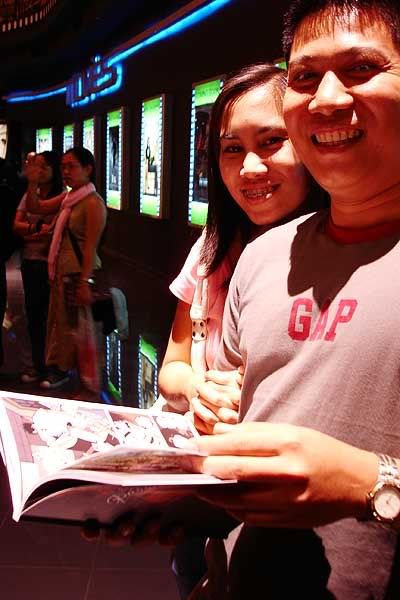 Komikero Rene and Jolana Enriquez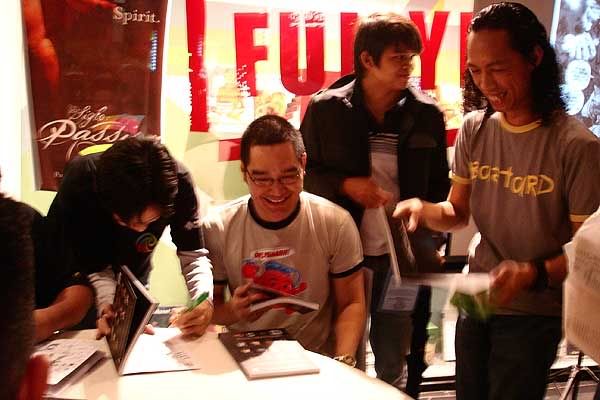 Joel Chua (nakatungo), Reno Maniquis and Ed Tadeo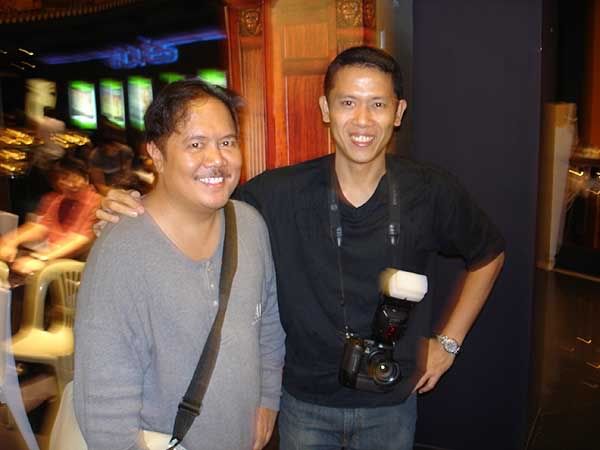 If you were at the launch last night and saw this guy taking a lot of pictures, that's my old classmate from UST, Jun Dimaano, who is also Marco's older brother.
Here's a batch of far better pics by Jun.
Siglo:Passion Launch Pics by Jun Dimaano
*****
And we're back! This blog has been un-updatable for a few days as we changed servers. Everything is up and running again thanks to the computer wizardry of my brother
Noel
. Thanks man!
---
Wednesday, December 07, 2005
Posted 12/07/2005 05:37:00 PM by Gerry Alanguilan
"San Pablo: 1978", Siglo: Passion
Siglo: Passion launch this Saturday! For those not yet familiar with the Siglo books, Passion is the 2nd in a series of comic book anthologies that tell stories from each decade of an entire century of Philippine history written and drawn by some of the most talented people currently working in comics today. The first book, Siglo: Freedom, came out in 2003, and won the Manila Critic's Circle National Book Award for Best Comic Book in the following year.
While Freedom is black and white, Passion will be in full color and includes contributions from the likes of Lan Medina, Leinil Francis Yu, Rafael Kayanan, Carlo Vergara, Marco Dimaano, Quark Henares, Elbert Or, Jeremy Arambulo, Dean Alfar, Jonas Diego and many more!
If you want to get a copy and have it signed by the people who put it together, join us at the launching this Saturday, December 10 at Fully Booked in the Promenade, Greenhills, 6:30pm.
Kita kita na lang dun! :)
---
Monday, December 05, 2005
Posted 12/05/2005 09:00:00 PM by Gerry Alanguilan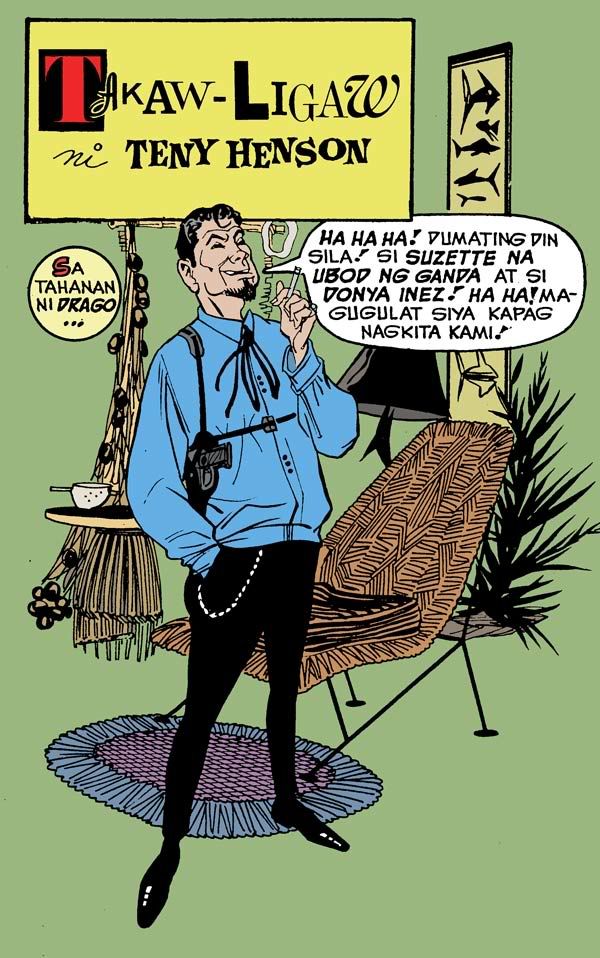 Teny Henson
Takaw Ligaw #7
Aliwan Komiks #56
December 7, 1964
I really love Teny Henson's work for it's simplicity, elegant figurework and composition. Teny's work seems to beg for color so I tried out coloring one of the panels in this story which he both wrote and illustrated. I really enjoyed coloring it and what a terrific thing it would be if we could see an entire story of his in color.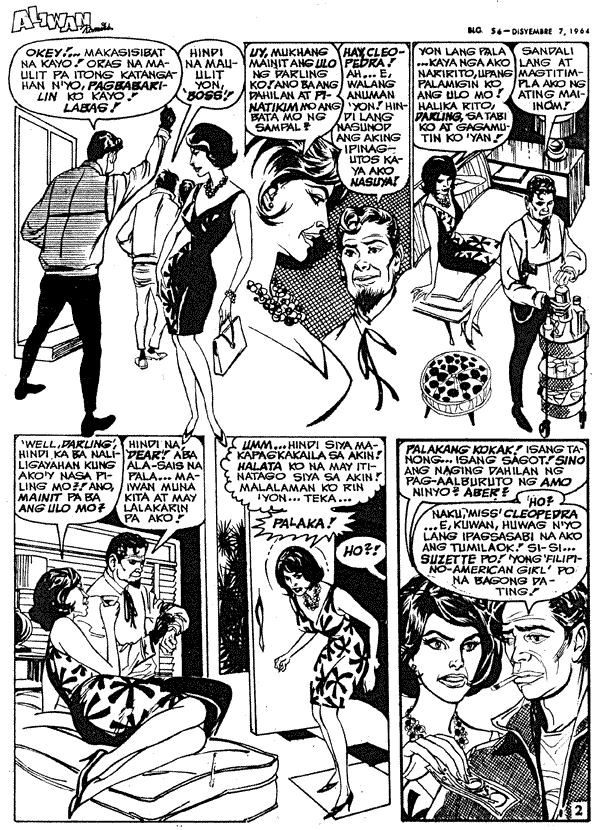 ---
Sunday, December 04, 2005
Posted 12/04/2005 11:08:00 AM by Gerry Alanguilan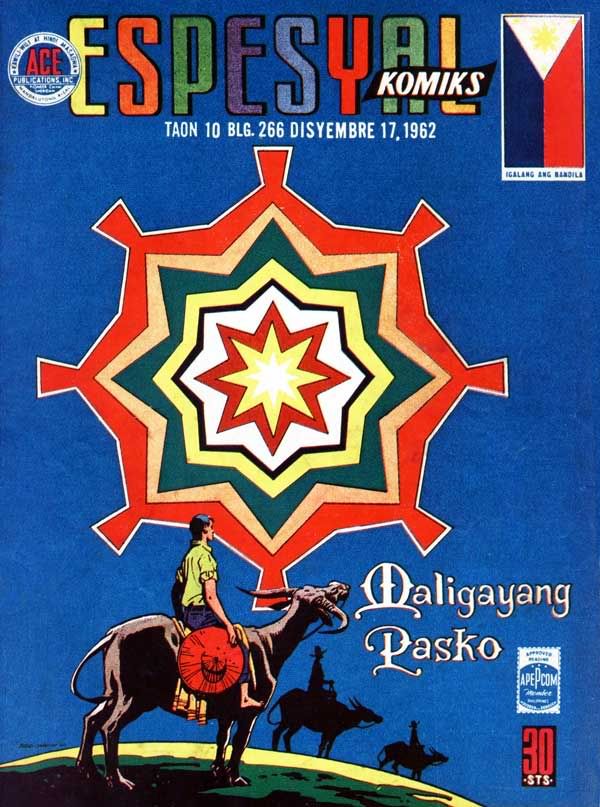 Fred Carrillo
Espesyal Komiks #266 Cover
December 17, 1962
---
Saturday, December 03, 2005
Posted 12/03/2005 09:19:00 AM by Gerry Alanguilan

Neil Gaiman and Fully Booked Comic Book Contest
*Deadline extended to February 28, 2006!*
At last it's finally announced! I've been aching to talk about this contest for just the longest time because I want a lot of our artists to know about it as early as they can so they can come up with something really good and join.
Check out the Contest Guidelines here:
http://www.fullybookedonline.com/home.html
Now for some reason you need to register first before you read the guidelines. I'm not fully sure why, but in respect to that, I'll just give out some of the important points of the contest here.
The contest is open to all Filipino citizens be they here or abroad. Professionals as well as amateurs can join, but there is a separate 16 year old and below category. Each person is allowed only one entry.
Grand prize is 100,000 pesos! With lesser prizes for 2nd and 3rd place.
12 pages maximum, black and white, and in English. Deadline is extended to February 28, 2006.
Winners will have their work compiled and published by Fully Booked.
Isn't that just fantastic? I think this is what Neil Gaiman has said in his blog about giving a "gift" for Filipinos and oh man, what a gift. Thanks very much Neil, and to Fully Booked as well!
For full details
go register
at their site.
Sali kayo! Pakita nating astig ang Pinoy sa KOMIKS!
The Alex Niño Award
Neil Gaiman and Fully Booked are also proud to announce the first Philippine Graphic/Fiction Awards, seeking to recognize Filipino talent in emerging literature. The contest will award prizes for comics: The Alex Niño Award, and genre fiction: The Gregorio C. Brilliantes Award. Mr. Gaiman has said, "There is a strong tradition of Filipino realism in literature; I want to encourage Filipino unrealism."
---
Friday, December 02, 2005
Posted 12/02/2005 06:27:00 PM by Gerry Alanguilan
Two whole pages were devoted to articles/interviews on Philippine comics in today's issue of the Manila Bulletin. There are interviews with Arnold Arre, myself, Marco Dimaano, and Oliver Pulumbarit about our respective works, a feature on the upcoming Siglo: Passion, and a short feature on the history of Philippine comics.
It's a great set of articles and I'm grateful to writer Yonina Chan for putting it together and taking the time and effort to do this for the benefit of Philipine comics. Although I do have to disagree with the article's assertion that the comics began with Halakhak Komiks in 1946. I would set that date earlier to 1929 with the creation of Kenkoy on the pages of Liwayway, and the publication of the very first true Philippine comic book, "Album ng Kabalbalan ni Kenkoy" in 1934.
Anyway, my interview concentrated mostly on the topic of Wasted. It seems strange to read because the questions I were responding to were not included. I'm reprinting my unedited interview here, with the original questions included to give context to my answers, in the order in which I had answered. I think it's one of the better interviews I've done because it forced me to think really hard about what Wasted means to my life today.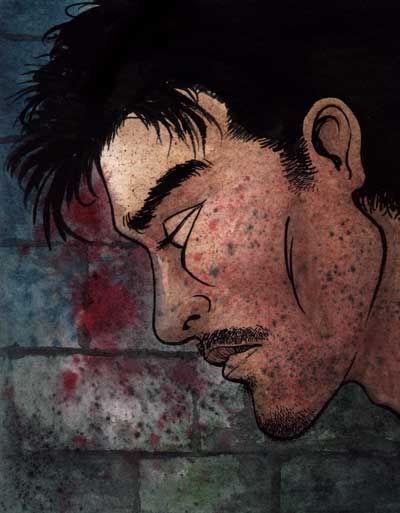 WASTED BY GERRY ALANGUILAN
I Section, December 2, 2005
Manila Bulletin
Wasted is a slice of life type of story by Gerry Alanguilan about a man who goes on a rampage when he loses the woman he loves. A painful, gut-wrenching story that is not for the faint-hearted, this comics deals with very real issues and emotions between the extreme violence and rage.
1. It's been some time since you created Wasted. Looking back on it, how do you feel about it? What are your thoughts on the story, the art?
2. What has its impact been, especially considering that you completed it at a time when the first-issue syndrome hit comicbooks? How was the story received?
I'm still surprised at how Wasted all turned out and how much an important part of my life it had been. In 1993 I was still a struggling artist. Although I had already been writing and drawing stories for local comics, my intention back then was to get a job drawing for Marvel or DC so I could go to the US to be with my then-girlfriend. I had been sending in submissions left and right and received as much rejection letters back. But instead of letting it discourage me, I let it drive me to do much better... to really improve my work. I was becoming known to my friends and to those who saw my work as someone who drew superheroes with intricate detail in both figurework and backgrounds. I was pretty obsessive about detail, about correct anatomy, about the right visual perspective.
So when my relationship with that girlfriend fell apart, it all pretty much fell apart. My dreams to go join her, and my dreams to become a comic book artist all fell down together. It was devastating and a very difficult time for me. I stopped drawing completely and it took me an entire year of bumming around before I picked up my pen to draw again. I had become pretty self destructive, my hair grew very long, I didn't shave, I drank, and I did other things I'd rather not say because I'm reminded of how stupid I was.
And when I started to write and draw again, all that hurt and anger just came pouring out. I just wrote anything that I wanted, not caring about what other people might think. I was doing it for myself anyway. Nobody was going to see this, just me. It was kind of liberating because I didn't have to kowtow to an editor, or think that I might get censored, or think that my friends would hate me. I did the first issue of 8 pages pretty fast. I just wanted to get the first part of the story over with so I just blasted through it as quickly as I can. My intent was just to write the story, and I really didn't care very much about how I drew it.
Looking back on it, I realize that the art is pretty bad in a lot of places. Once or twice I had been tempted to redraw everything, but I thought I'd better just let it stand as a document of who I was at the time. I'm not ashamed of what I had written and drawn, in fact I'm very proud of it. I look at it as one of the high points of my creative life.
I'm surprised that it had generated so much positive response when all I expected were letters of scorn and hate. I'd get all these letters in the mail thanking me for writing it. Most of my mail came from surprisingly enough, girls. When I had my book launching in 1998 at Robinson's Galleria, most of those that got their books signed were young girls. That was quite startling to me. I'd get letters from guys too, and one particularly memorable one was from this musician who had been contemplating on killing himself but changed his mind when he read Wasted. I mean, how do you react to something like that? It was something so overwhelming, so out of bounds from my life experience, that I sort of didn't let it totally in. It felt great, you know, knowing your story can actually help people, but at the same time it was all so bewildering, and I was afraid that I'd lose myself in that somehow.
I had grown concerned over the years that Wasted may well be the only thing people know me for, and I dread the notion that as an old and doddering man 30 years from now, I'd still be talking only about Wasted.
So I naturally had been trying to avoid mentioning it in recent interviews, choosing to talk about my recent work instead like Humanis Rex! or Dead Heart Stories or Stupid Chicken Stories, or SIGLO, or Tales of the Big City, or my stateside inking work like X-Men, Superman and Batman.
And yet, I'd still get email about Wasted, thanking and congratulating me for it, and if there are still any copies around. At signings, people would still bring Wasted. And you know, I realize that for some, they're encountering Wasted for the first time in their lives and it somehow means something to them, and they just want to let me know. I feel ashamed that I had rejected Wasted for a while, not realizing the value it has had, and still has one some people.
3. How were you able to complete it? Did you fund yourself? Can you expound on your experience creating Wasted?
Wasted was done in a span of two years, from 1994 to 1996. The first issue, comprising of 8 pages, was put together into a photocopied mini comic. I gave away 15 copies to friends to see what they think. Some of them pressed me to have it published. One copy eventually found its way to Budjette Tan, who was at the time putting together his Comics 101 anthology, and invited me to add Wasted there. I was hesitant, because if it came out in Comics 101, it would be read by a lot more people than I wanted. Eventually, I relented.
Finishing the first issue, and receiving positive feedback from it, gave me some of my self confidence back. I thought well, I think I can do this again. I started drawing , and I started sending submissions to Marvel and DC once more. I started working in an architectural firm again so I can have some money, which I had stopped doing when I decided to concentrate on doing comics a couple of years before. Eventually, I finished the second issue, and the third, and the fourth in a span of a year, in between all the other things I was doing.
It was emotionally exhausting finishing one single issue. For instance, I got sick after finishing issue #4, the Wedding Issue, because doing it, and going through the emotions I needed to finish it, totally exhausted and wasted me. I was in bed with a fever for a week.
By the time I finished the fifth issue, I had quit architecture completely as I finally managed to find an inking job with an American comics company. It wouldn't be long until I was hired by Filipino Whilce Portacio to work as a comics artist in a studio he established in Manila.
I felt pressure to finish Wasted, which I had projected to be done in 8 issues. It was harder to find time to do it, and the fact that I was slowly recovering from my failed relationship and my anger was slowly fading, it was even more difficult to maintain the momentum and sustain the emotion that I felt Wasted needed. But inspite of that, I eventually finished the last issue in July 1996, exactly 2 years after I had first started it.
In all this time, I had been doing Wasted as a photocopied mini comic book and selling them at comic stores in Manila. By the time the last issue, Issue #8 came by, I was doing around a hundred copies per issue. It wasn't too expensive to produce since it was only photocopied, and I used money I earned from the previous issue to pay for the printing of the next issue.
When the entire series was finally finished, the demand for a compiled edition started coming. I complied by compiling 2 volumes of Wasted, volume 1 containing 1-4, and volume 2 containing 5-8. These were photocopied compilations as well, and I managed to do some 50 copies of them. But producing these compilations on my own proved to be too much work and I found I couldn't keep up with the demand.
Fortunately, ALAMAT Comics stepped in, and came up with a single compiled edition of Wasted which came out in February 1998.
Finishing the entire story and seeing it finally put together in one volume was terrific. It felt like a great weight had been lifted from me. I still count Wasted as probably the reason why I'm still here. It literally saved my life, and gave me the confidence to just go on. If I hadn't done it, I might have self destructed all those years ago.
*****************
There were a few other questions that I answered that had nothing to do with Wasted. Some of my answers eventually found it's place in the accompanying article on the history of Philippine Comics.
There is certainly *finally* some development in the Wasted movie. Rest assured guys that it will be finished, one way or another.
---
Thursday, December 01, 2005
Posted 12/01/2005 12:30:00 AM by Gerry Alanguilan
Today we begin celebrating the holidays at the online museum by featuring holiday themed art and stories.
We start off with this special 2-page
Nanong Pandak
Christmas strip by
Tony Velasquez
from Pilipino Komiks # 67, December 24, 1949.
Click
HERE for a complete 2-page Nanong Pandak Christmas story
.
Komikeros on Kodakero
I'm currently featuring Philippine comic book illustrators and writers at my Buzznet photoblog. Check it out. :)
http://komikero.buzznet.com/

---
---