Wednesday, November 30, 2005
Posted 11/30/2005 09:00:00 PM by Gerry Alanguilan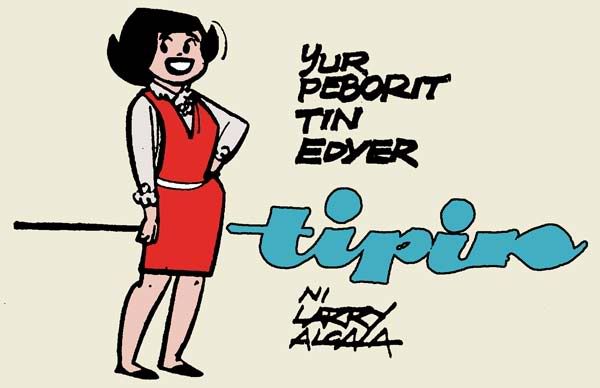 Larry Alcala's Tipin
Yur Peborit Tin Edyer
Hiwaga Komiks #341
March 12, 1965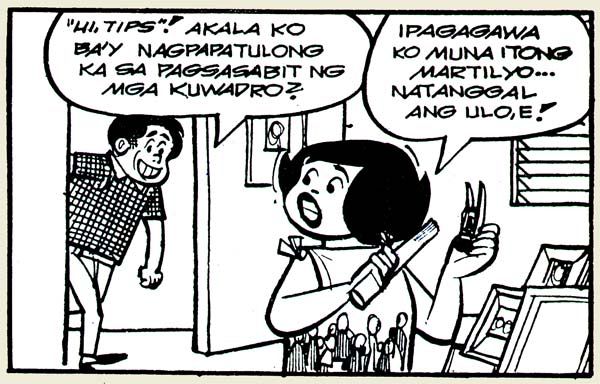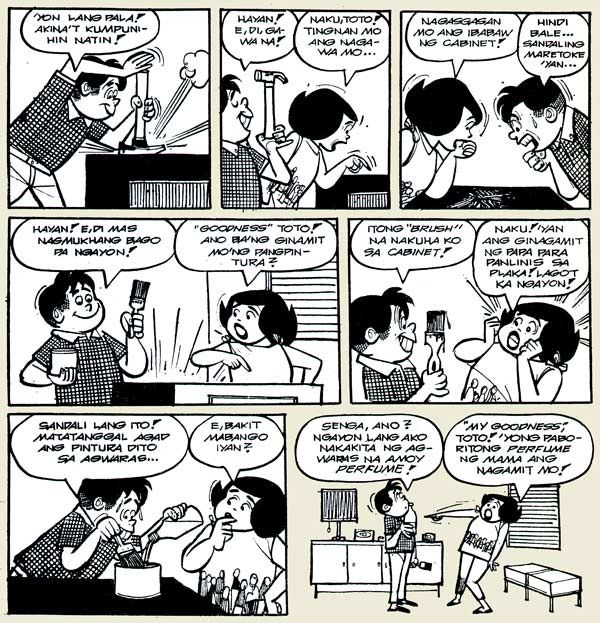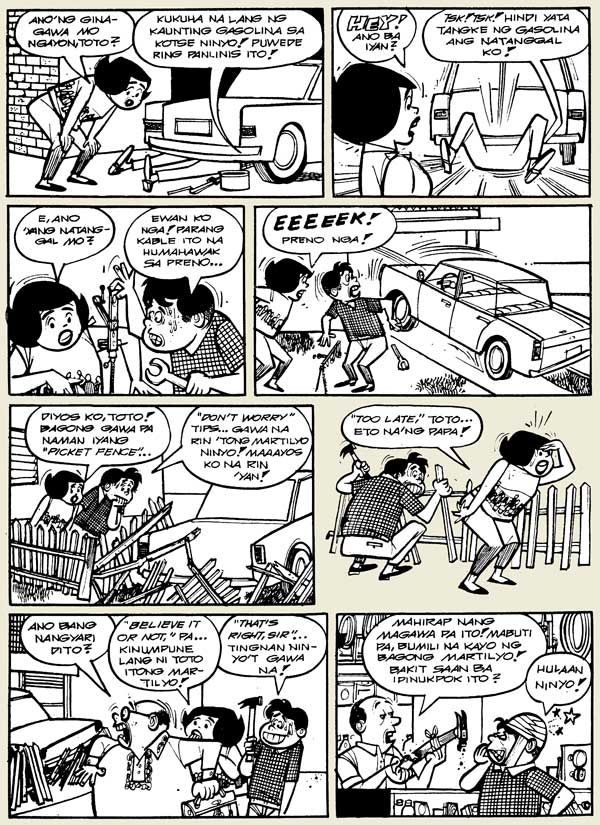 ---
Sunday, November 27, 2005
Posted 11/27/2005 08:36:00 PM by Gerry Alanguilan

Komikero Meet
The Komikero group met for its usual last Sunday of the month gathering today. The Komikero group, initially called the Laguna Artists Group, is composed of artists, not necessarily from comics, but from any field of art.
One doesn't even have to be a professional artist, but all you need is a healthy interest in art, a sense of humor, and willing to take a dive in the water.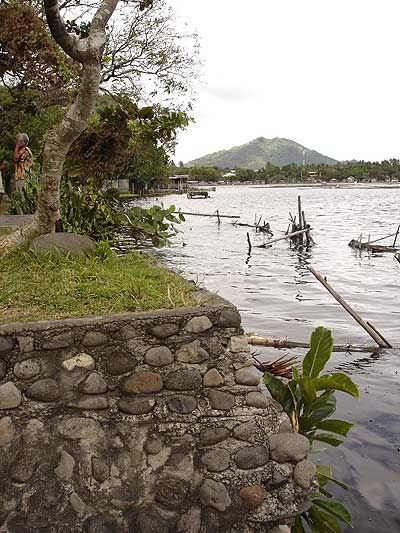 Regular meeting place of the group is along the banks of Sampalok Lake in San Pablo City. To be a member of the group, all you really need is to join us in our meetings here. The group was initially formed for Laguna artists, but it's open for anyone, anywhere, as long as they are willing to join us here for at least one of our meetings.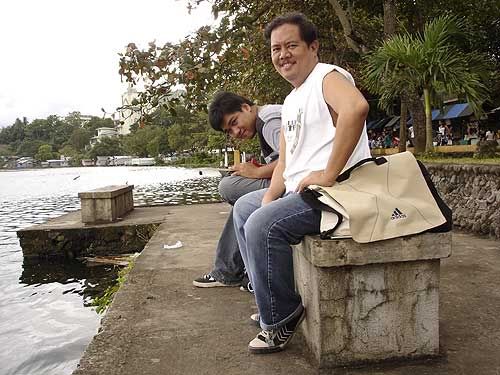 Ang mga pinaka-maaga as usual. Raipo and Me!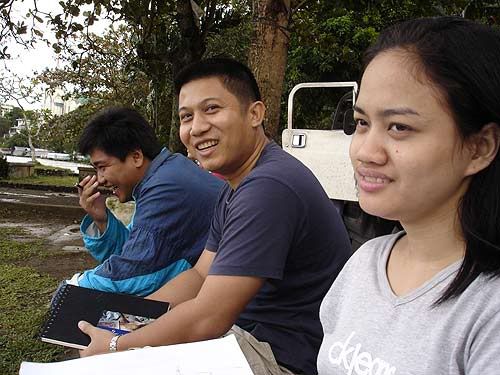 Komikero Raipo, Rene, and Mylene. From Cabuyao, Cavite and San Pablo City respectively.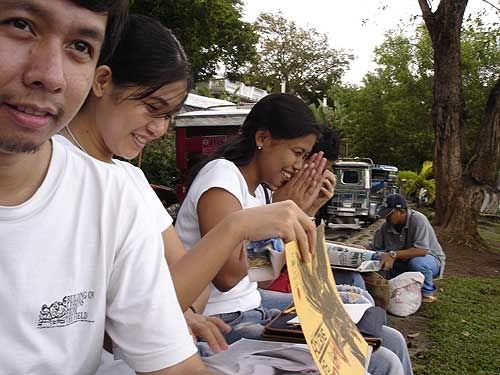 Komikero Jonas (Sto. Tomas/Makati), Mara and Zara (San Pablo)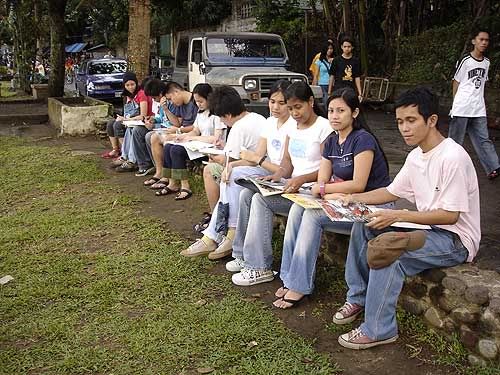 Newest member Jake from Sta. Mesa on the far right.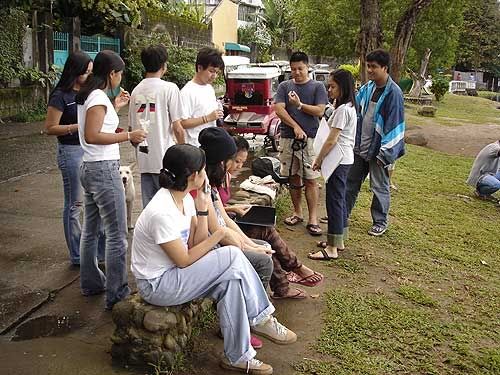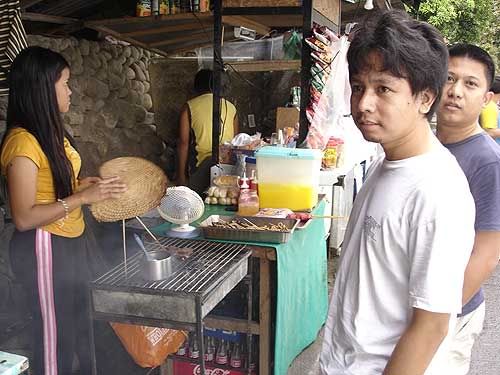 Favorite Komikero food. Grilled coagulated blood dipped in spiced vinegar. MMM!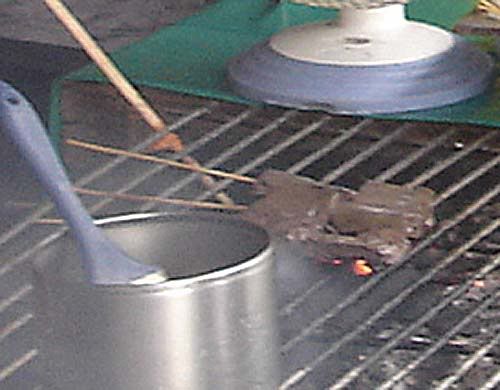 Grilled coagulated chicken blood. On a stick! I'm not kidding!
Being mostly artists from differerent fields, we take this opportunity to go back to the basics by engaging in drawing from life. Whether we draw comics, paint, take photographs, teach, study, we take this opportunity to sharpen our observation and drawing skills by drawing anything on the lake that catches our fancy. People, trees, birds, the lake itself, the far mountains... anything. As long as it's something that's there.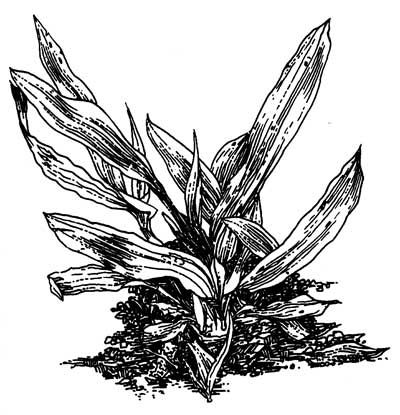 Sketch of some grass I did beside the lake.
Check the beautiful painting Rene made here:
http://www.renriquez.com/wordpress/wp-trackback.php?p=274
---
Saturday, November 26, 2005
Posted 11/26/2005 01:03:00 PM by Gerry Alanguilan
There's a pretty good interview with Filipino comics illustrator/animator Dell Barras conducted by Randy Valiente at his blog:
Dell Barras Interview Part 1
http://usapang-komiks.blogspot.com/2005/11/dell-barras-interview-part-1.html
"I started as an inker. I inked with my Filipino style of inking which they approved. Those days, they liked the styles of Filipinos because of the greats like Nestor and Nebres are already there. We didn't have time to adjust because of the deadlines. Just ink it as you get the job."
Dell Barras Interview Part 2
http://usapang-komiks.blogspot.com/2005/11/dell-barras-interview-part-2.html
"I still prefer doing my art on raw paper. Mas masarap maramdaman ang pahid ng brush o pen sa cartolina just like old times. Malaki rin ang naging effect ng mga makabagong technology sa mga artist, noon at ngayon. Ang ibang mga kasabayan ko dito e ayaw mag-aral ng computer. I told them na we should go with the trend or be left behind. But I still do my storyboards and artwork on paper. Walang makapapalit niyan."
Floro Dery Interview
http://www.geocities.com/extraordinarypinoy/FloroDeryInterview.html
"Comics is a difficult profession. It involves a lot of practice, experience, and persistence. Only artists with talent can become comics illustrators. If you are a comics illustrator it is easier to become a cartoonist, designer, painter, storyboard artists, etc."
Here are some sites of other Philippine comics creators, old and new, I found on the web.
Amado (Madz) Sanggalang
http://www.angelfire.com/indie/abs0/index.html
He worked as an illustrator for D.C. and Marvel comics. He was a former assistant to Alex Nino from 1975-1990. In 1991 he worked with Neal Adams and Alfredo Alcala as an inker on Conan. He also worked with Tony Zuniga, Nestor Redondo, and Dell Barras.
Vic J. Poblete's Devil Car
http://devilcarkomix.blogspot.com/
Official blog of comics writer Vic Poblete, with special regard to his classic creation Devil Car, illustrated by such greats as Lan Medina and Karl Comendador.
Posted 11/26/2005 09:39:00 AM by Gerry Alanguilan

Fighting Filipinos Update!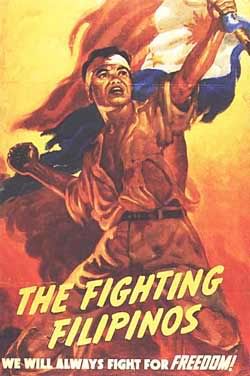 Long time visitors to this site will remember this poster I uploaded in April of this year, and I wondered who had painted it.
I don't remember exactly how it went, but someone emailed me with an idea of who it was and suggested I get in touch with Jordin Isip, a relative of the artist in question. I got in touch with him and today he gave his confirmation.
"Yes my grandfather painted that poster. If you look closely you can see his very stylized signature "Isip" right above the "The". His full name is Manuel Rey Isip. He passed away over 15 years ago."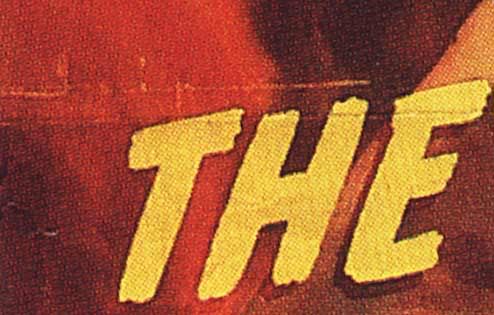 Thanks Jordin! Mystery solved!
Jordin is a remarkable artist in his own right, whose work appears in Rolling Stone, The New York Times, Time, Atlantic Monthly, etc. You can see his work on his site below.
http://www.jordinisip.com/
---
Friday, November 25, 2005
Posted 11/25/2005 11:15:00 PM by Gerry Alanguilan
BAROK
by Bert R. Sarile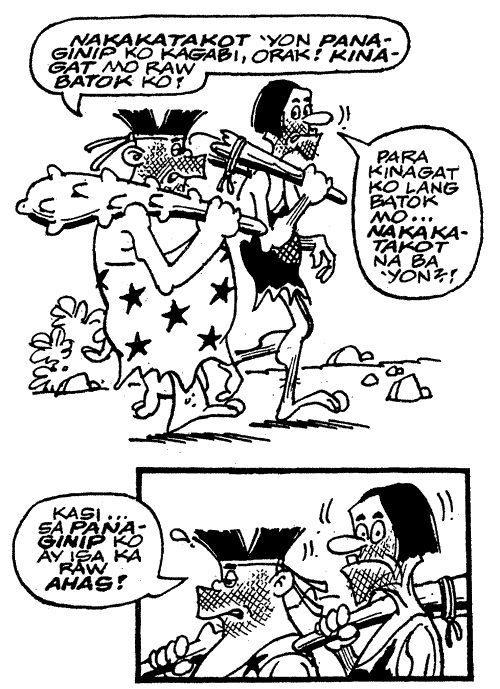 Someone asked me if I had any Barok strips in my collection and I had to unfortunately say that I didn't. I had some strips by Bert Sarile from the 60's, but I didn't have any Barok, which I think came later. Undoubtedly, Barok is the most popular character created by Sarile, a comedy strip starring a pre-historic caveman carrying a large club. Barok was made into a movie starring Chiquito in 1977.
So it was such a thrill to stumble into a Barok compilation at National Book Store last week, published by Pacyno Publishing Co. It's black and white, digest size, 130 pages... and amazingly, at only 35 pesos!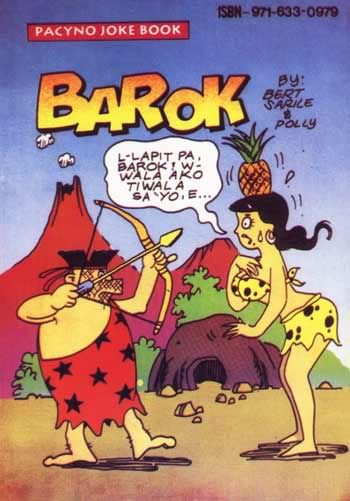 Copyright information dates this as 2004 so it's a new publication and should still be readily available at all branches of National. I found it along with all the locally published humor books like Pugad Baboy, Congressman Kalog, Pupung, etc.
Pacyno also published "On Da Record", a compilation of comedy strips also by Bert Sarile, b&w, 130 pages, and also for 35 pesos.
Is Bert Sarile still around, anyone know?
---
Thursday, November 24, 2005
Posted 11/24/2005 06:39:00 PM by Gerry Alanguilan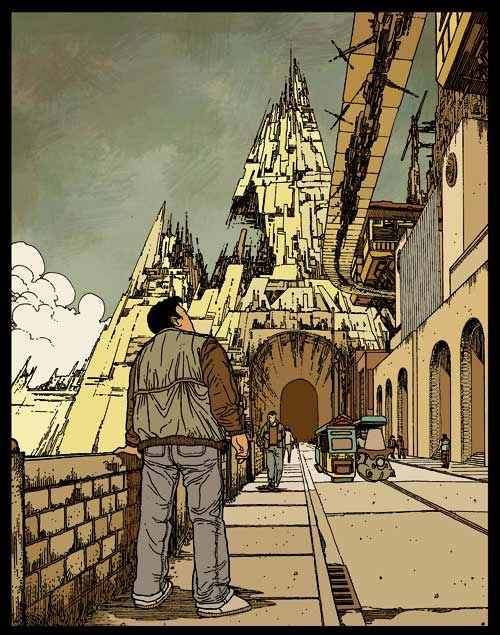 Humanis Rex #9
Panel from the ninth installement. Rodel Esguerra roams the streets of 24th century Manila.
Posted 11/24/2005 08:57:00 AM by Gerry Alanguilan
A Game Developers' Bill of Rights
(Inspired by the Bill of Rights for Comics Creators)
If this isn't a snowball gathering mass as it rolls down a slope, I don't know what is. It's only somewhat related to comics, but it's heartening to see artists from other mediums assert their rights over their creations.
Directly inspired by
Scott McClouds's The Creator's Bill of Rights
specially for comics creators, A Game Developer's Bill of Rights has been formulated, one of the the most important proviso of which being:
1. The right to full ownership of what we fully create.
Although it is still an "on going discussion, a provocation that draws attention to a set of important issues and challenges facing our industry", it is a significant step towards the upliftment of artists in culture and in history.
Read the full story here.
A Game Developer's Bill of Rights
http://www.gamasutra.com/features/20051121/zimmerman_01.shtml
Thanks to
Comics Reporter's Tom Spurgeon for the link
and for the mention of this blog on his site.
Posted 11/24/2005 08:34:00 AM by Gerry Alanguilan
Dennis Villegas' Pilipino Komiks
I encourage anyone who has an interest in Philippine komiks to visit the blog of comics historian and collector Dennis Villegas, probably one of the most historically fascinating sites on this subject today.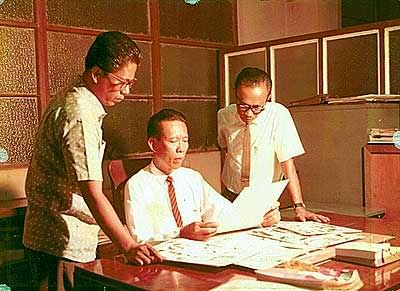 Damy Velasquez
GASI Editor in Chief, 1963-1972
This photo is courtesy of Dennis, who shares in his
current entry
a pictorial tour of how comics are made in the country during the 60's. It's a fascinating peek into a time in our komiks history when comics was still a larger part in the lives of ordinary Filipinos.
Visit Dennis Villegas's blog here.
http://pilipinokomiks.blogspot.com/
Browse around and you'll be able to see scans of some rare artwork such as
Kulafu
by Francisco Reyes,
Bulalakaw
by Francisco V. Coching, and a scan of the cover of the first true comic book published in the Philippines, "
Album ng Kabalbalan ni Kenkoy
" by Tony Velasquez and Romualdo Ramos, published in 1934.
---
Wednesday, November 23, 2005
Posted 11/23/2005 03:14:00 PM by Gerry Alanguilan

Seven Seas: Copyright to Creators
Publisher's Weekly: Seven Seas Rewriters it's Manga Pacts
http://www.publishersweekly.com/article/CA6283525.html
Excerpts:
"In a gesture that will have some comics publishers scratching their heads, Seven Seas Entertaiment, a small U.S. manga publishing house specializing in original English language manga, has ripped-up contracts that specified joint copyright ownership with the manga artists, and offered the creators new deals with full ownership."
DeAngelis began reading the online debates arguing the pros and cons of these contracts. "I started to reflect on it and feel downright guilty," he said. He explained that previous Seven Seas titles had been generated in-house with DeAngelis (who has also written several Seven Seas titles himself) finding artists and writers for new projects. "For properties that were already written and illustrated without any input from Seven Seas, how could I justify asking for partial ownership?," he said. "So, I contacted the creators and told them I wanted to redo the agreements in their favor and give them 100% ownership."
*********************
I think this is great news, and it goes to show that the tide is slowly but surely turning to the benefit of comic book creators worldwide.
Quite by coincidence, this very topic was the subject of rather intense discussion on the comments section of this blog, on the entry "
The Significance of Republic Act No. 8293 to Philippine Comic Book Creators
" dated November 8.
In the discussion, publisher Seven Seas was mentioned by one of the Filipino creators working for them. The news report of the contract re-writing at Seven Seas came out on November 14th, where Seven Seas founder Jason DeAngelis was reported to come to his decision after reading online debates about their contracts.
Though it's tempting to say that this blog had anything to do with it, it's more likely the debate had been going on much more intensely elsewhere. And I think THAT is what needs to be remembered about this. That *someone*, *somewhere* had the courage to talk about it and express dissatisfaction over it. What if that person decided to just stay quiet, shrug his shoulders and say, "Well, that's how they do things, who am I to say any different?"
Sometimes, all you need is to just talk about it. Some of these publishers just might not realize what they are doing is exploitative. Believe it or not, sometimes some of them are as clueless to the law as creators are.
In other cases, all it takes for a creator to do is to ask, as nicely as possible, about what is rightfully theirs. That's ALL it is. There's no need for lawyers or an advanced knowledge in economics. The worst they can do is deny it to you. But what if they say yes?
This is the difference when one works in comics. Things can become possible that's not possible or would take much more difficulty to accomplish in other fields.
I have to go back and reiterate one of the quotes from this story, from Jason DeAngelis, the founder of Seven Seas himself:
"For properties that were already written and illustrated without any input from Seven Seas, how could I justify asking for partial ownership?"
Now that is something remarkable for a publisher to say, specially in comics. It's something truly revolutionary, and for that sir, you have my utmost respect. It is a statement that is respectful to creators, and it's a statement that is in accordance with what is lawful.
If your publisher cannot say the same thing, that should make you really think.
---
Tuesday, November 22, 2005
Posted 11/22/2005 06:27:00 PM by Gerry Alanguilan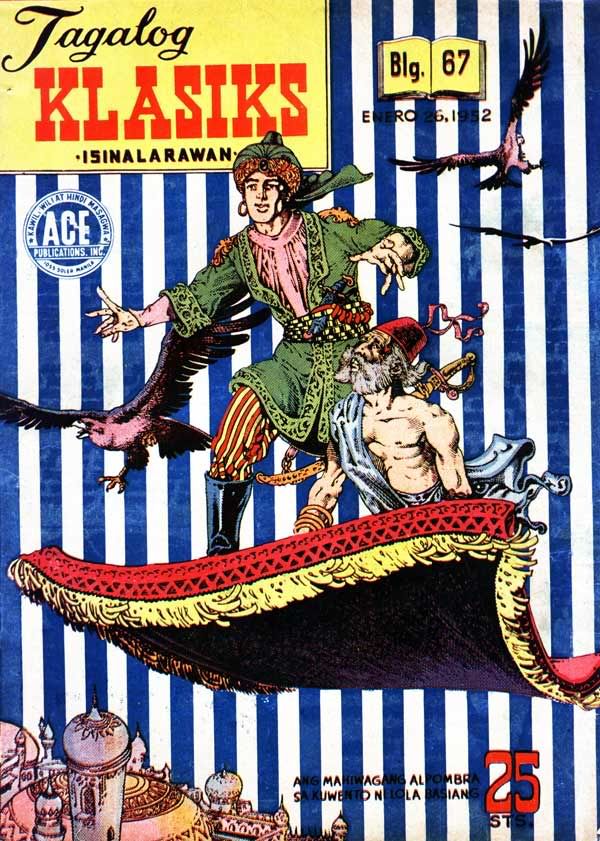 Ruben "Rubeny" N. Yandoc
Tagalog Klasiks #67
January 26, 1952
Cover for the story "
Kwento Ni Lola Basiang: Matuwid na Hatol
" written by Severino Reyes and illustrated by Ruben N. Yandoc.
This issue also includes "
Nicomedes
" by Angel Ad Santos, illustrated by Nestor Redondo, "
Ang Reporter
" by Alfredo Alcala, "
Gorio at Tekla
" by Mars Ravelo, and "
Ang Bangkero
" by Eduardo Reyes and illustrated by Ramos.
---
Saturday, November 19, 2005
Posted 11/19/2005 04:10:00 PM by Gerry Alanguilan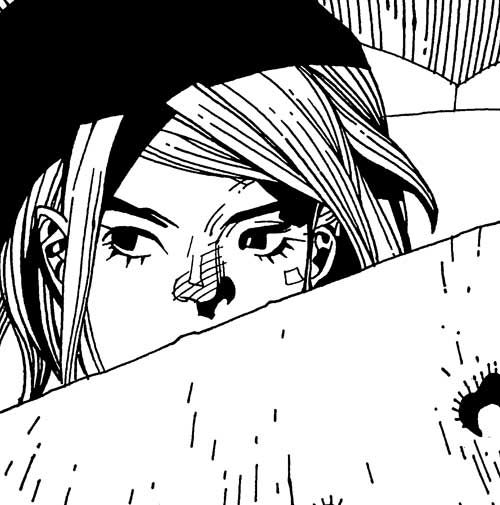 I finally wrapped up inking the last issue of
Silent Dragon
early this morning, the last inking-only job I'll be doing. I don't want to say for good, because who knows what will happen tomorrow? But for now, it will be my last for the forseeable future.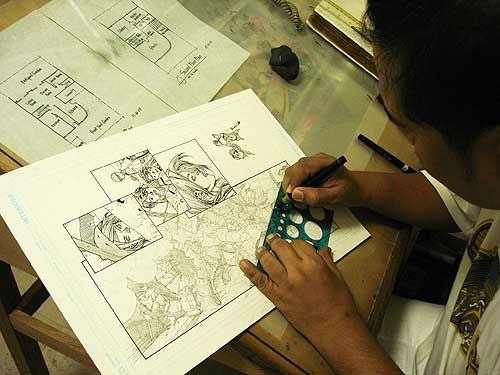 Inking that last page

.
I can't describe how it feels inking that very last page (page 21 of Silent Dragon #6) of an inking career that began in 1995 with Harriers for Entity Comics. Right now it hasn't really set in.... there's cause to celebrate, not because I'm leaving, but a celebration of a pretty good way to make a living that took me to working on characters like Wolverine, X-Men, Fantastic Four, Iron Man, Superman, Batman.... oh man. Many of the biggest characters in comics, pretty much. I'm not sure if I'll ever officially cross their paths again, but anything can happen.
There's really not too much time to think about it because the next step in my career: more writing and more drawing, is slowly starting to kick in. I'm right in the middle of a Humanis Rex deadline, and after that I'll be wrapping up an adaptation of a Rafael Sabatini short story for Graphic Classics. It's been so busy the past week that I've unfortunately had to beg off doing an installment of Johnny Balbona for Mwahaha's "Sports" issue. I really hated doing that, and I apologize to Zach Yonzon and everyone at Mwahaha, but you can be sure Johnny will be back for Mwahaha's "Superhero!" issue.
Also next for me is something really BIG for local comics (more on this next year), and a possible series for an American company with a hot upcoming British writer. More on that as soon as I can talk about it. Then of course, there's the maintenance of the online museum, and the various projects connected to it.
I may be quitting inking, but I'm far busier than I've ever been. But this time I'll get to work on my own comics, and my own art... and that just feels terrific.
Apologies to those trying to reach my via email or phone. Aside from a problem I'm having with the phone, I just don't have time to deal with anything else except work, and other personal things (more on that later).
***************************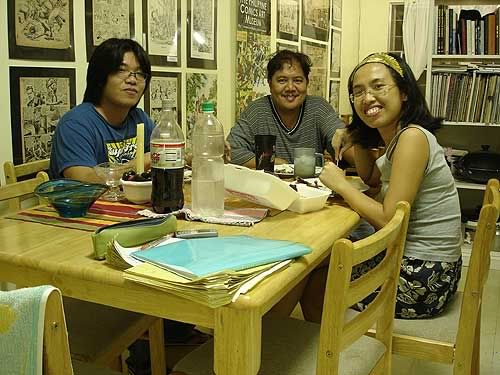 Leinil Yu came over the house for the first time last Monday so we can blast through the last few pages of Silent Dragon. He's been meaning to come over for the longest time, but brought on by necessity, he's finally had the chance.
I thought it was great becasue most of the time, it's me that goes to his place in Mandaluyong and spend the night, sometimes with Edgar Tadeo or Ryan Orosco. It's always great having another comics artist working in the same place as you because you connect on a certain level that you don't with someone who doesn't work in comics. And I really don't get a chance to interact personally with someone like that often.
We ended up working while watching BEN HUR and The Final Countdown on DVD. Yeah, Ben Hur! Certainly one of the greatest movies ever made.
It's amazing seeing Leinil work because he's blindingly fast. My camera simply wasn't fast enough to capture him in action. He finished an entire panel in the split second it took to take this picture. Look at that. Amazing!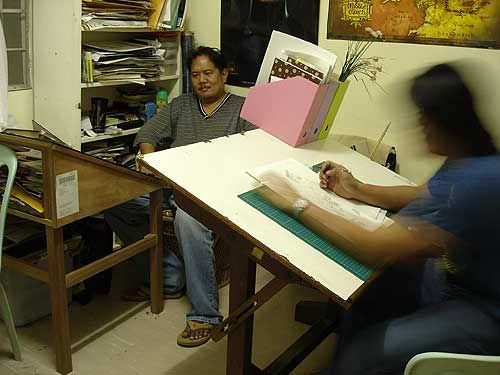 ***************************
After Leinil left, our dog Eugene started to feel really bad. He looked weak, he no longer wanted to eat or drink, and it looked as if he's having difficulty urinating. In fact, he tries to urinate many times but nothing, or hardly nothing comes out. A day later, blood tinged urine started leaking out. I started to get worried.
Researching on the net, I realized Eugene might well have stones stuck in his urinary tract, an affliction that is common with dalmatians. It's considered a medical emergency because if left untreated, Eugene's bladder might burst and it will end up poisoning him and then kill him.
So inspite of my numerous deadlines (I haven't finished Silent Dragon yet at this point), I had to take a break and bring Eugene to the vet early last Wednesday. I thought I'd get it taken care of that morning, and go back to work after lunch. Wishful thinking, it turned out. I had to take Eugene to be X-rayed, then the doctor told me that it's looking like Eugene might need to be operated on. And that she can't do it. The more experiened doctor was out of town, and they referred me to another vet in Sta. Rosa, one and half hours away.
I didn't have my own car, I can't drive, and it would be unthinkable to bring Eugene there by jeep. I started to get really distressed, and for a moment I didn't know what to do. But if I didn't do anything, Eugene will die for sure. He looked at me the previous night, unmoving, looking a bit hurt perhaps, that I let him suffer for so long. I had still been thinking of my work, and that I need to do it and all this is really horrendous bad timing. Why now? Why now?
I really could have slapped myself back then for being selfish, and for forgetting why I'm at work in the first place. Why else am I breaking my back doing all this work for? What the fuck is the use of work if I end up ignoring and neglecting those that I care for? How many times have I insisted on me prioritizing the needs of family before anything else? And Eugene, dog or not, is family. And I feel like kicking myself for forgetting that.
The doctor referred another vet, this time in UP Los Baños, and I thought that was better becasue it was nearer. I thought about asking my dad to drive us up there. If Eugene will indeed be operated on, I really don't want him going home in a jeep. It will simply be too hard on him. Good thing my dad was home, and he didn't have classes that day. I honestly don't know what I would have done if he wasn't there.
At UP, several doctors worked on Eugene and they were successful in removing his stones. And oh my GOD, I had no idea they were so many! There must have been 30 to 40 small pebbles, the smallest was larger than a grain of sand, the largest the size of a match head. They made a cut at the base of Eugene's penis and they told me that they were going to leave that open so that in case Eugene still had stones, it could pass there along with his urine. In two weeks, the wound will heal by itself and Eugene will be able to piss normally.
They also warned me that there will be profuse bleeding for the first couple of days and that I shouldn't worry about it.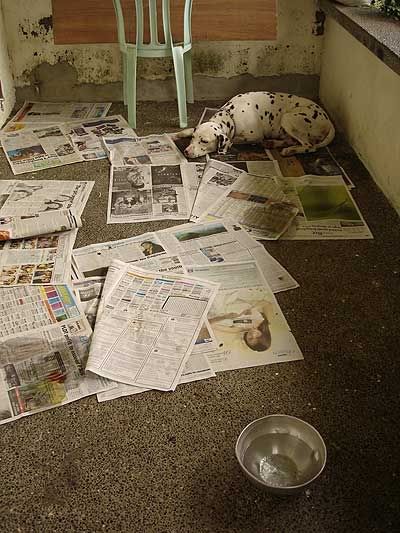 Euene feels better now, but man, all that bleeding makes me really worried, inspite of what the doctors said. I try not to worry because I bow to their expertise. I'm not about to argue with a veterinarian about their job which they had trained for and had experience which I don't have. I'm just going to have to trust that they know what they're doing.
But oh, man, sometimes there's just so much blood. Eugene is almost back to his old active, crazy self so I know at least he's getting better.
***********************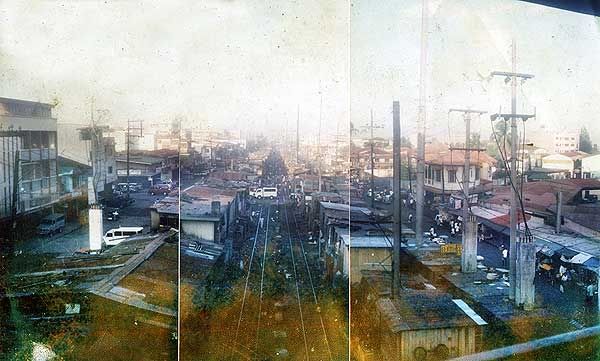 Hey check it out! Familiar? When I visited the old house the other day, my mom gave me this box of my old pictures and I found this one. It's my photo reference to my big
Timawa 2 page spread
. Check out that drawing
here
.
That's a panorama shot of Blumentritt from the LRT station, and how it looked 10 years ago. I haven't been back there all this time, but I'm sure it still looks more or less the same.
I try as much as I can to use reference on my drawings. Not only for backgrounds, but for pretty much all elements in a page, even people. I want my drawings to be as accurate as I can, in terms of architecture, engineering, entourage, etc, specially when I do realistic stuff. For fantasy and sci fi, I try very hard to infuse as much reality to it as I can inspite of the fantasy environment. A scabbard will still look like a scabbard, fantasy or not. So I better make it look as real as I can make it.
Reference needs to be used as a tool, rather than a crutch, a mistake that a lot of young artists make. The difference is something artists need to learn.
**********************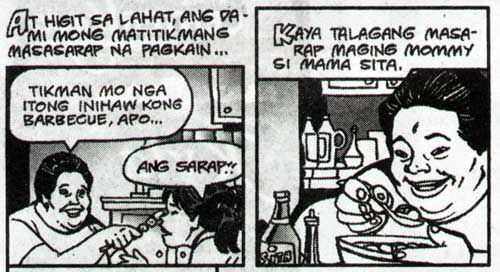 Isn't that cool? This is part of a larger Mama Sita ad that appeared in the newspaper TODAY. It may not seem to be overly significant, but this tells me that the comic book form is still pretty much ingrained in popular culture so much so that a company is willing to risk advertising money on comics to promote their product. Comics is not so passe as people would like to think.
And because Mama Sita thought to use comics to advertise their product, I in turn am advertising it here as a huge THANK YOU.
MAMA SITA! Wala ka nang hahanapin pang iba! O, may hinihintay ka pa ba? KAIN NA!
---
Monday, November 14, 2005
Posted 11/14/2005 12:04:00 AM by Gerry Alanguilan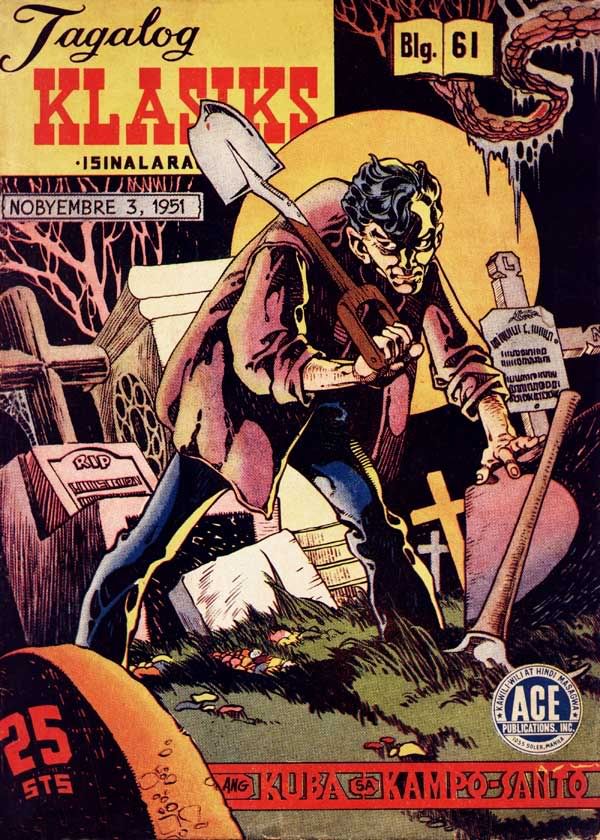 Alfredo Alcala
Tagalog Klasiks #61 Cover
November 3, 1951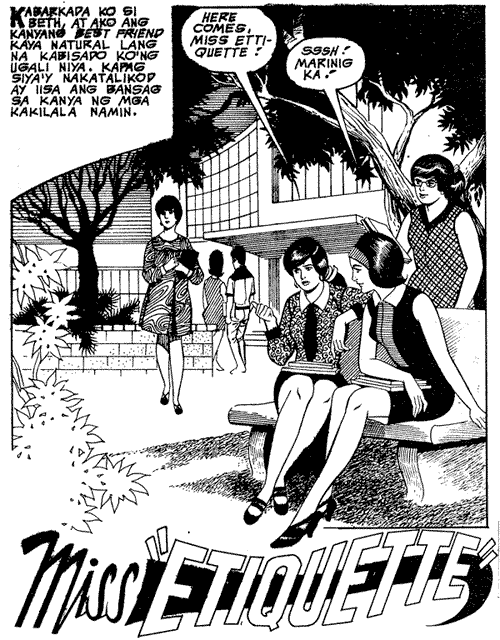 Nar de Mesa
"Ms. Etiquette"
Darna Komiks Magasin #94
February 5, 1971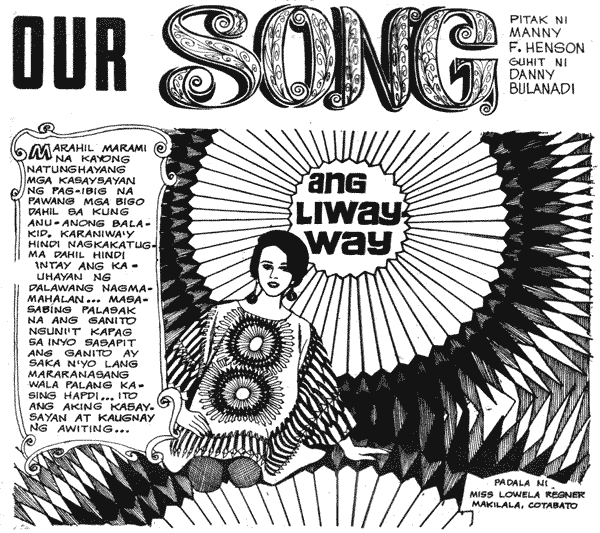 Danny Bulanadi
Our Song
Marilag Weekly Redondo Komix Magazine #247
February 3, 1969
Danny Bulanadi is known to US readers as the prolific inker to many US comics including Incredible Hulk, Captain America, Fantastic Four, Daredevil and many more.
---
Saturday, November 12, 2005
Posted 11/12/2005 02:47:00 PM by Gerry Alanguilan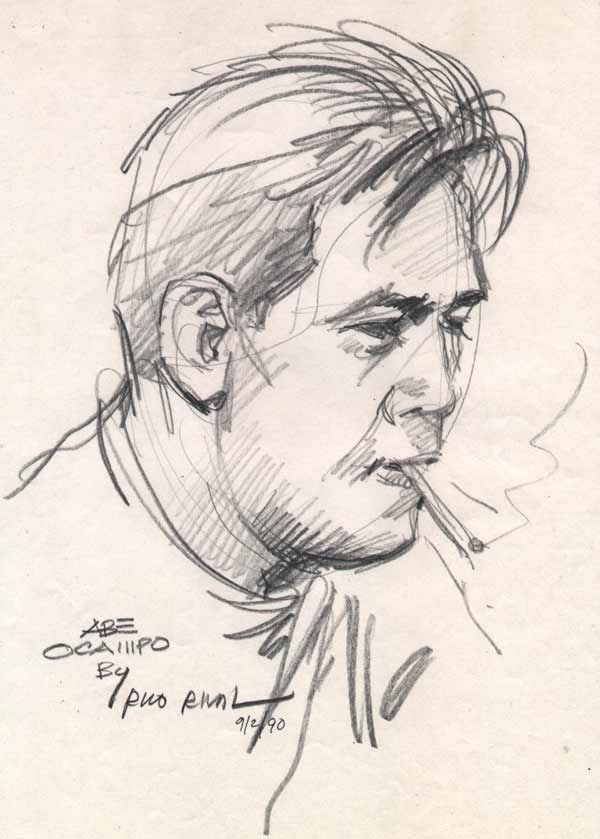 Abe Ocampo Portrait
sketched by
Rico Rival
From the files of Rudy Florese.
---
Friday, November 11, 2005
Posted 11/11/2005 02:19:00 PM by Gerry Alanguilan
Gregorio C. Coching,

Illustrator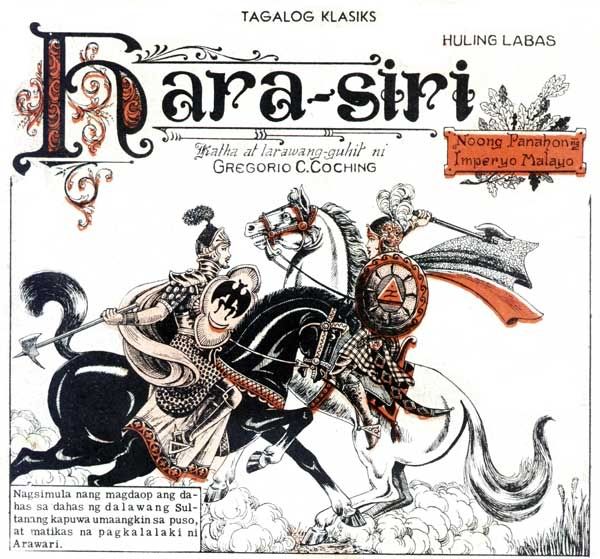 HARA SIRI
Tagalog Klasiks #30
August 26, 1950
Francisco V. Coching's father Gregorio was a famous pre-war novelist, engraver, sculptor and councilman who wrote and illustrated komiks-novels for Liwayway and ACE Publications.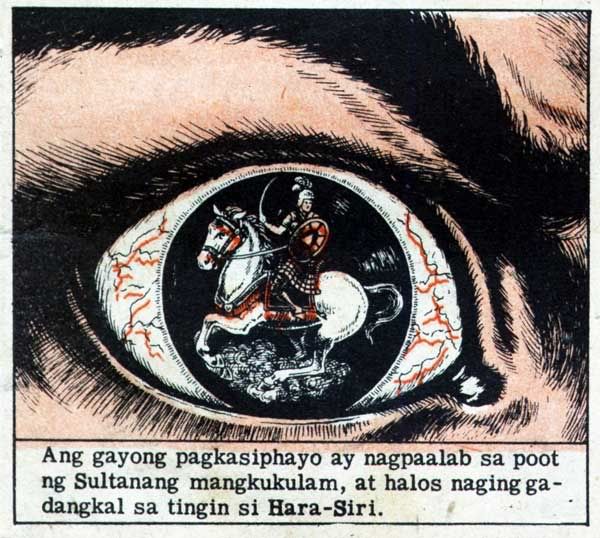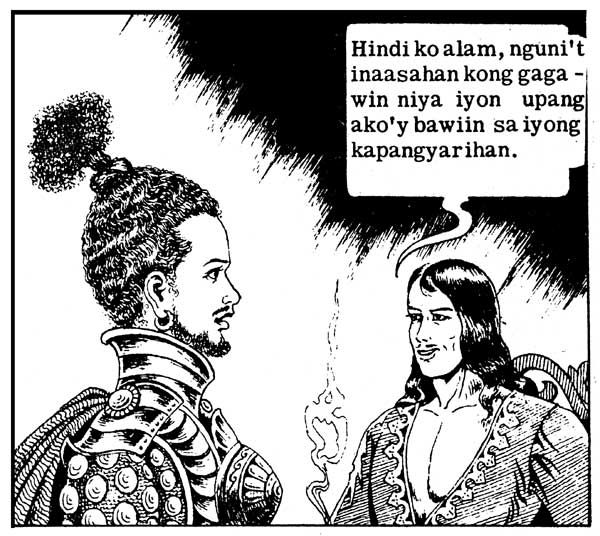 HARA SIRI
Tagalog Klasiks #29, 30
August 12, 26, 1950
Gregorio C. Coching is the online museum's current featured artist.
Click on this link
to see a large scan from Hara Siri.
Gregorio worked with his son Francisco on this story when the latter provided a Hara Siri cover for Tagalog Klasiks #30.
Click on this link
to see Francisco's cover.
*********************
Here are some new interesting links people interested in Philippine Komiks might want to see.
Pilipino Komiks by Dennis Villegas
http://pilipinokomiks.blogspot.com/

Dennis Villegas, Philippine Komiks collector and historian and friend of mine, has recently put up a blog where he writes about our favorite topic, and posts some really remarkable artwork from his formidable collection. Check out his posting for October 18, 2005, where he uploaded a scan of an interesting cartoon from October 26, 1907.
He has since posted artwork from Vincent Kua Jr., Alex Niño, Sonny Trinidad, Tony Velasquez and Hugo Yonzon.
Malikhaing Komiks by Randy Valiente
http://usapang-komiks.blogspot.com/
Randy has been working in Philippine Komiks longer than I have been. A great lover of the medium, he's been writing about the plight and championing the cause of Philippine komiks and it's writers and artists for a long time. He has written a lot of very insightful and enlightening articles on the state of our komiks which you can find here in his blog and his other sites that's linked here.
The Blogtoonist by Dengcoy Miel
http://mielblog.blogspot.com/
One of the living geniuses of Philippine cartooning, Dengcoy Miel has been around making us laugh with his quirky, yet intelligent and funny strips for a very long time. Check out his blog for many examples of his sheer brilliance.
---
Tuesday, November 08, 2005
Posted 11/08/2005 06:44:00 PM by Gerry Alanguilan

The Significance of Republic Act No. 8293
to Philippine Comic Book Creators
Being an Architect and a member of the United Archiect of the Philippines, the ongoing battle the San Pablo Chapter of the UAP has had over the implementation of our own law, the RA 9266, made me wish for a similar law that covered comic book creators that would guarantee the upliftment of the profession and protect us from exploitation.
Although there is no such law specifically for comics, the
R.A. 8293
or the
Intellectual Property Code
adequately covers the general concerns of the comic book professional in ways that have surprised and encouraged me.
Please feel free to download RA 8293 from the links below in either PDF or Text Format.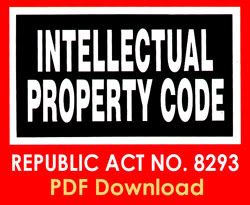 Please direct your attention to
Part IV: The Law on Copyright
, which appears on page 76 of the PDF version, as this is the section of the law which concerns comics creators as artists.
Important points to take note:
SEC. 172. Literary and Artistic Works. – 172.1. Literary
and artistic works, hereinafter referred to as "works," are original
intellectual creations in the literary and artistic domain protected
from the moment of their creation...
Which includes books, pamphlets, illustrations, works of drawing, painting and so on. Upon creation, who does the "works" belong to? It is answered here:
178.1. Subject to the provisions of this section, in the case
of original literary and artistic works, copyright shall belong to
the author of the work;
So, what is COPYRIGHT before anything else?
COPYRIGHT OR ECONOMIC RIGHTS consist of the exclusive right to carry out, authorize or prevent the following acts:
177.1. Reproduction of the work or substantial portion of
the work;
177.2. Dramatization, translation, adaptation,
abridgment, arrangement or other transformation of the work;
177.3. The first public distribution of the original and each
copy of the work by sale or other forms of transfer of ownership;
177.4. Rental of the original or a copy of an audiovisual or
cinematographic work, a work embodied in a sound recording, a
computer program, a compilation of data and other materials or
a musical work in graphic form, irrespective of the ownership of
the original or the copy which is the subject of the rental; (n)
177.5. Public display of the original or a copy of the work;
177.6. Public performance of the work; and
177.7. Other communication to the public of the work.
This basically tells you that all these things, like the right to reproduce, sell, rent, license, display and so on, are ALL owned by the author, meaning you.
So when your work is published in a magazine or newspaper, the law states...
180.3. The submission of a literary, photographic or
artistic work to a newspaper, magazine or periodical for publication
shall constitute only a license to make a single publication unless
a greater right is expressly granted.
Furthermore...
SEC. 174. Published Edition of Work. – In addition to
the right to publish granted by the author, his heirs, or assigns,
the publisher shall have a copyright consisting merely of the right
of reproduction of the typographical arrangement of the published
edition of the work. (n)
It is clear here that the publisher's only right on the work is the right to reproduce such work exclusively for an agreed period of time. I believe the publisher does not have the right to own the work or part of it, unless the author agrees to it in writing, or the publisher is part of the creative process that produced the work.
With regard to commissioned work....
178.4. In the case of a work commissioned by a person
other than an employer of the author and who pays for it and the
work is made in pursuance of the commission, the person who so
commissioned the work shall have ownership of the work, but
the copyright thereto shall remain with the creator, unless there
is a written stipulation to the contrary;
I believe section 178.4 refers more to private commissions where the sale of the original art is included. In this case, even though you have sold that piece of art including original artwork, the copyright to use the image therein is still owned by you.
I'm still reading the law over more carefully, including the Implementing Rules and Regulations which is not included in the download (but is included in the printed book), just to getter a better grip on all the law offers us.
But what most important points I get from this law are:
1. Original Art is owned by the artist who created it, even though the work is paid for by a publisher. It is not the paper that the publisher is paying for, but only the right to use the image illustrated on that paper (or computer screen). If the publisher wishes to acquire the original art, then he would have to pay for it, on top of the page rate the artist is paid.
2. Copyright is guaranteed to the creator or creators of the work. The work being both the artwork and the story. It is unlawful for a publisher to demand co-ownership of the creation if it did not contribute creatively to story or character. However, the creator can temporarily transfer part of that copyright to the publisher, whose only right to it is to reproduce the work exclusively for a certain amount of time. The owner can however, consent to sell the copyright to his creation outright, as long as it is done in writing.
Now all of this and much more is contained in this law. Find out about it by downloading it and reading it. Take it to heart and use it to your advantage.
For those creators here in the Philippines doing work for abroad, specially the US, take note that our own Intellectual Property Code is based on the
US model
, as well as the
Berne Convention for the Protection of Literary and Artistic Works
so they're bound to be very similar.
If your publisher demands from you rights that should belong to you as the creator, then you use this law to assert those rights.
I know some of you may be put on the spot by this as I'm aware of your respective terms with your publishers. It's up to you if you wish to use this law or not, but like I said, this law was never meant to make our lives difficult, but it is here to uplift our profession and make the work much more beneficial and advantageous to us.
I know that to assert this law would cost some of you jobs, but doing the right thing is not an easy road to take. Certainly there are difficulties, but things can only get better in the end.
God knows the enormous beatings we have had from engineers and local government officials when we tried to assert our new Architecture law, shaking up a status quo that had been in place for generations. Many of us lost projects, and we're still taking a beating right now. But those that stuck to it have benefited enormously in the end, and all of us in the Architecture profession will have a much stronger profession in the future.
I hope we can all take pride in our work as comic book creators. We are not people who write and draw "just" comics. We are Professionals creating works of literature and art. We can demand for our rights. It's ours to take.
November 23 Update! Click Below.
Seven Seas: Full Copyright to Creators
A startling follow up to the discussion to the discussions spawned by this article.
---
Monday, November 07, 2005
Posted 11/07/2005 01:35:00 AM by Gerry Alanguilan

Brush Ink Paper and Pencil (BIPP)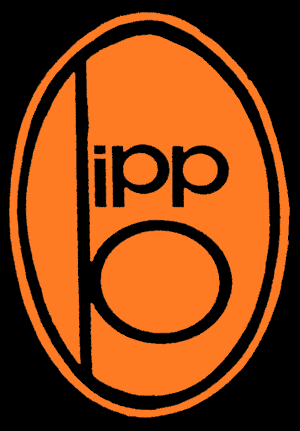 BIPP is an informal group of some of the best young comics artists formed in 1971 by Rudy Florese, Rico Rival, Ading Gonzales, Romeo Tanghal, Abe Ocampo, Sonny Trinidad, Rudy Nebres, Mar Santana, Dell Barras and Hermoso Pancho.
Formed together as a brotherhood rather than a formal organization, members strove to develop their art and they placed the BIPP logo on their stories, both local and abroad, as a symbol of solidarity.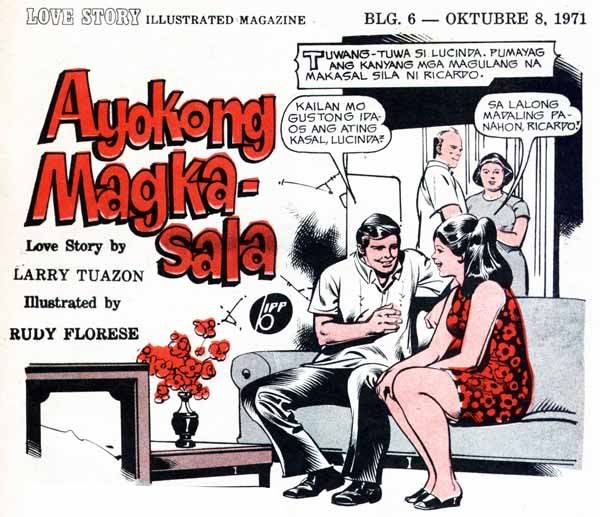 Rudy Florese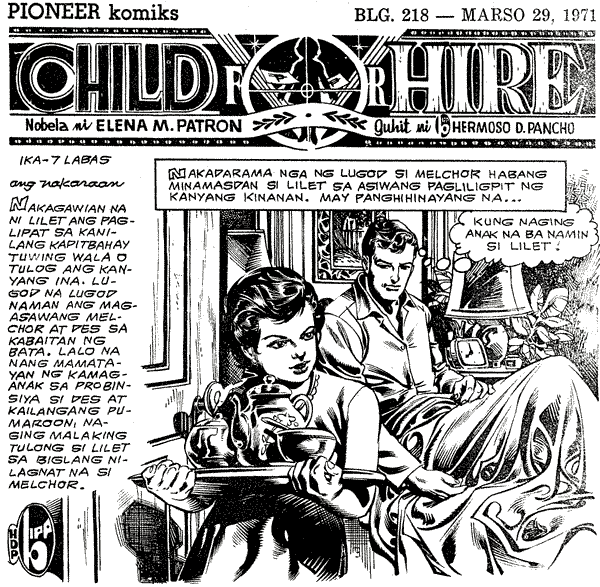 Hermoso Pancho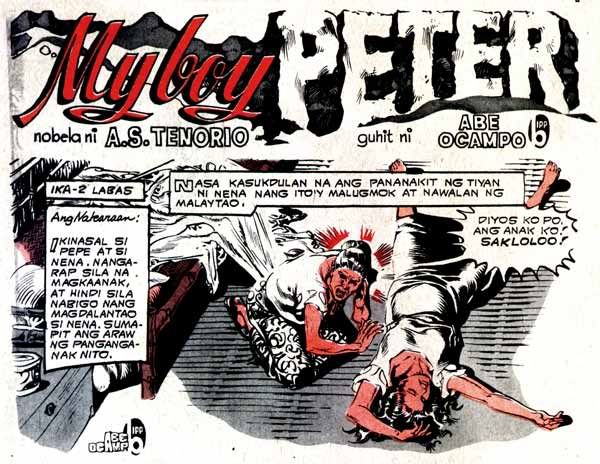 Abe Ocampo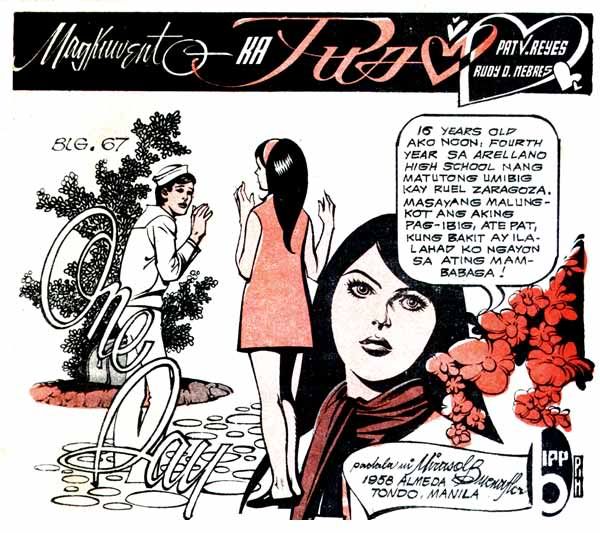 Rudy Nebres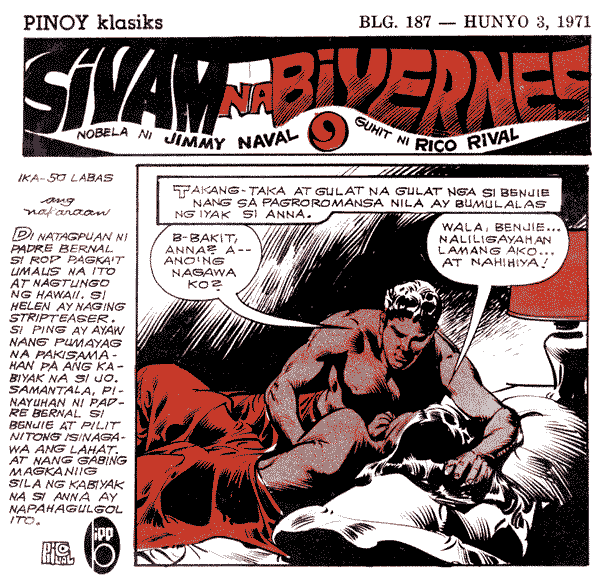 Rico Rival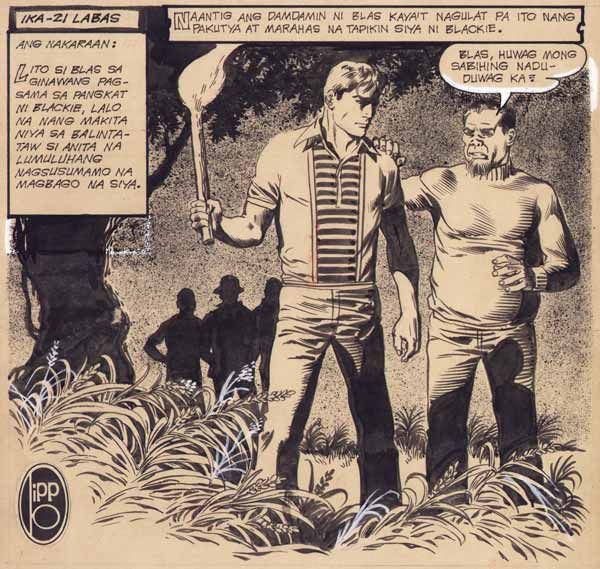 Mar Santana


Thanks to Dell and Dennis for their help!
---
Saturday, November 05, 2005
Posted 11/05/2005 10:12:00 AM by Gerry Alanguilan

Credit Where Credit Is Due

Superman created by Jerry Siegel and Joe Schuster
X-men created by Stan Lee and Jack Kirby
Spiderman created by Stan Lee and Steve Ditko
Judge Dredd created by John Wagner, Carlos Esguerra and Pat Mills
Swamp Thing created by Len Wein and Bernie Wrightson
Daredevil created by Stan Lee and Bill Everett
Asterix created by Rene Goscinny and Albert Underzo
Lone Wolf and Cub created by Kazuo Koike and Goseki Kojima

Such credits are typical when browsing through the creators of such comic books. Why the two or more names? The first name is usually the writer while the second name is usually the artist.
Sometimes there is a third and even fourth name, probably an editor and/or someone who had significant input in the creation of the character.
Sometimes there is only one name, which is typical of writer-artists such as Frank Miller, who solely created Sin City and Elektra, or Mike Mignola, who solely created Hellboy.
The creation of a character in comics is a collaborative process between a writer and an artist. Comics is not just words, and it's not just pictures. It's a combination of both. A writer can give direction to the character and the story, but it is the artist who comes up with the visual design of the character and the environment. In comics, one cannot do without the other, and one cannot be taken independently of the other.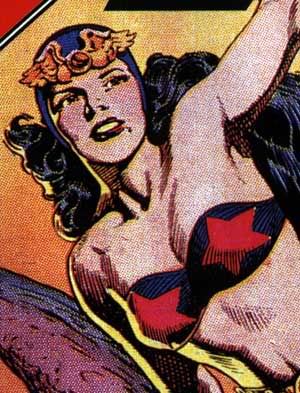 So why is it here in the Philippines when a certain character or story is mentioned, more often than not, only one name, that of the writer, is given sole credit?
Darna, Lastikman, Dyesebel, Captain Barbell created by Mars Ravelo
Panday created by Carlo J. Caparas
Kampanerang Kuba created by Pablo S. Gomez
Kapatid Ko ang Aking Ina by Elena Patron
Zuma by Jim Fernandez
I spoke with an artist who had worked in Philippine comics for most of his life and I had asked him why he had been taken off the art chores of a currently running comics serial. He said that the writer did not respect what he was doing and kept interfering with matters relating more to the art rather than the story. Another artist was taken aboard without his knowledge, and he was taken off the story later on. Understandably, he was quite upset. He offered thoughts about how historically, artists here are regarded as subordinates in the comic book creating process, and it is the writers who, for the most part, are given the utmost regard and importance.
Although I'm quite sure that the writers I mentioned above are not all like the writer this artist mentions, it is now undeniable that historically, a hierarchy exists in Philippine comics where writers are the leaders and the artists are the subordinates.
There have been notable exceptions of course. Clodualdo Del Mundo and Fred Carrillo are considered the "team supreme" and their stories have a following by virtue of their collaboration. Francisco V. Coching was known to be generous in providing credit for his collaborators most notably Federico Javinal. Being a writer and an artist as well, Coching knew very well the importance of artists in the process of creating comics.
But for the most part, a writer-leader and artist-subordinate status quo has existed for many decades and it is conceivable writers and artists believed that this is how things really should be, a standard operating procedure so to speak.
But I believe writers and artists can hardly be blamed for a hierarchy that was in place in the industry long before they joined. That was the reality of that world and to be in it, one has to accept its set of rules.
I'm not here to take away anything from the writers. I have enjoyed their characters and stories and I have great respect for them and their craft. Being a comics writer myself, I know and understand the kind of effort and hard work that goes into a typical script.
But I think it is high time to give due credit to our artists, most of them have been long in a position undeserving of their talent.
Artists are never subordinates. They are equals, and they should be regarded as such.
Comics are not just words.
Comics are not just "novels".
They are
illustrated
novels composed of words and pictures, the combination of which is a unique medium of communication where the writers and artists are partners of equal footing.
In the creation of a character, when an artist gives visual interpretation of a writer's verbal or written descriptions,
then he is a co-creator of that character
.
It's difficult now to determine just how much contribution the artist has had on some of our greatest characters. Take for instance Darna, as created by Mars Ravelo. The first artist on Darna was
Nestor Redondo
, who is, by far, one of the country's greatest illustrators and is still highly regarded internationally as one of the world's finest.
Mars Ravelo, an artist is in his own right, came up with the look of Darna when he wrote and drew VARGA, a character that predates Darna. Indeed, Darna is actually Varga, who had to change her name for legal reasons. But the character is essentially the same.
But I still believe that Nestor Redondo played a great part in bringing this character to life. Nestor was more than just a "doctor" that delivered Darna, as others might claim. As an artist of that series, he had wide control of the visual look of the first two series and established the visual look of all Darna stories to follow. Nestor Redondo may not have been an outright co-creator of Darna, but he still played a great part in fleshing out the Darna universe visually.
How about Lastikman, as originally drawn by
Mar T. Santana
? Dyesebel and Jack and Jill, as originally drawn by
Elpidio Torres
? Kampanerang Kuba as illustrated by
Alex Niño
? Zuma (in "Aztec") as illustrated by
Elmer Esquivias
? Their names are rarely mentioned, if at all, when such stories are revived, but it is undeniable that they played great parts fleshing out the visual worlds of those characters.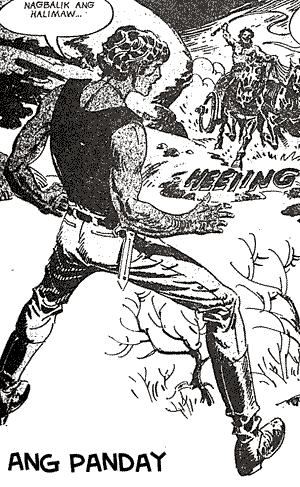 In the case of Panday, one can be more definite. Having spoken to
Steve Gan
, the original artist of Panday, on numerous occasions, I have gathered that although Carlo J. Caparas did indeed give some descriptions of the character, it is Steve Gan who created the visual look of Panday as he appeared in the comic book. He is also the one who created the visual look of all the other characters and the world in which they all move in.
In this case, it is this author's belief that Steve Gan is co-creator of Panday, and is entitled to a share of all profits and benefits earned by Panday in all mediums.
Suprisingly (or maybe unsurprisingly),
Ferando Poe Jr
. played an important role in the creation of the character. As Steve Gan relates, he and Carlo J. Caparas set out to do a straight action story, and it was how they approached doing the first few installments. After seeing those first few pages in print, FPJ immediately got in touch and strongly suggested the infusion of fantasy elements, a suggestion that the creators took to heart and the series became a fantasy, instead of straight action story they had originally intended.
For playing a great part in influencing the original Panday story, I believe Fernando Poe Jr. should be given co-creator credit as well.
In a comics industry where it has long been accepted that the artists are subordinates to the writers, it may be tough pill to swallow to regard artists as equals and co-creators.
But it is the right and moral thing to do.
If we are ever to expect the country to regard comics as an art form, then we must first give proper respect to those who create it.
---
Thursday, November 03, 2005
Posted 11/03/2005 11:18:00 PM by Gerry Alanguilan
I was rummaging through my father in law Rudy Florese's comics treasure chest when I saw these pictures of komiks writers and artists at Fernando Poe Jr's birthday party at his home. I'm not sure when these were taken, I suppose it was sometime in the late 70's, more likely early 80's. It's pretty much an all star cast including Larry Alcala, Francisco V. Coching, Tony and Damy Velasquez, Menny Martin, Rudy himself and of course FPJ.
Can anyone help me identify the others in these pictures?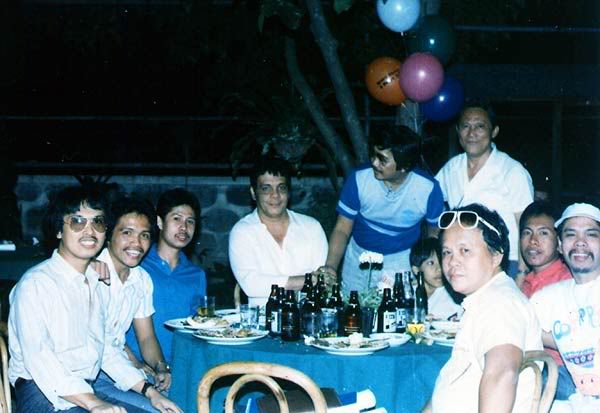 Rudy Florese on the far left. FPJ of course seated in the center.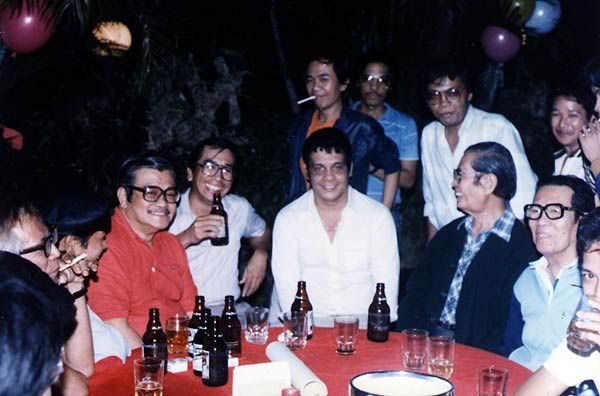 From left in the red shirt is Larry Alcala, Jim Fernandez, FPJ, Tony Velasquez, Damy Velasquez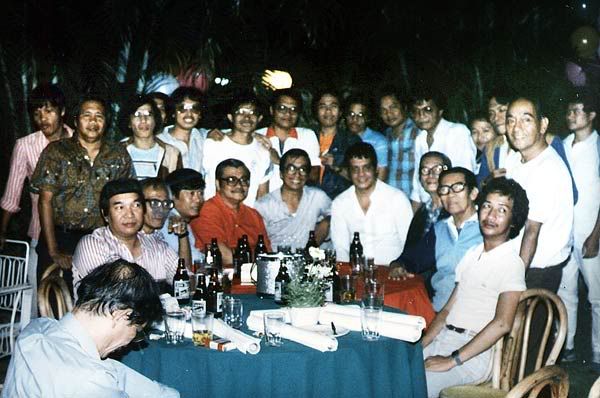 Francisco V. Coching standing, second from right. That guy in front definitely looks drunk.
For a larger version of the last photo, click
HERE
.
******************
SIGLO: PASSION Update!
Press Release from Nautilus Comics
Siglo: Passion is the full-color graphic novel
follow-up to the National Book Award-winning Siglo:
Freedom, and puts together a roster of award-winning
writers and artists with some of the country's most
promising new talents. Each of the stories in this
long-awaited anthology explores different forms of
passion and how they affect the lives of people ­ for
better, or for worse.
STARTING MONDAY (NOV 7), RESERVE YOUR COPY AT FULLY
BOOKED AND COMIC QUEST AND GET HUGE DISCOUNTS PLUS AN
INVITE TO THE GRAND LAUNCH ON DECEMBER 10.
Reserve your copy of the limited edition full-color
Siglo: Passion now to avail of the SPECIAL PRE-ORDER
DISCOUNT (more than 40% off the regular price!), and
an exclusive invite to the GRAND LAUNCH on December
10, 2005 at Fully Booked Promenade!
Note that this edition of Siglo: Passion will be in
full-color, and will be limited to only two thousand
(2000) copies. This limited edition of the book will
be the only full-color edition that will ever be
released in the country and will NOT be reprinted.
Here's how:
1. Visit any Fully Booked or Comic Quest branch and
pay the pre-order discount of Php500 (from the
original SRP of Php850) at the counter.
2. You will be given a ticket stub that will also
serve as your invite to the Siglo: Passion grand
launch at Fully Booked Promenade on December 10, 2005.
Claim your copies of the book during the launch to
get free limited edition Siglo postcards from Nautilus
Comics.
3. You may also claim your copies of the book after
the launch, at the Fully Booked or Comic Quest outlet
where you made the reservation.
4. For more information, you may also inquire via
e-mail to letters@nautiluscomics.com.
---
---