Graphics Intensive Site.
Hit Reload or Refresh
If Not All Images Load.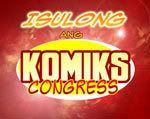 Original Art
For Sale!
Click Here!
Contact Me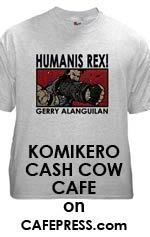 Know Your Rights as
Philippine Comic Book
Professionals!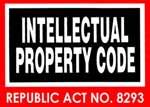 Click Image Above
or HERE for details.
RSS FEED

About Me
Current Journal
Entries

All Entries For
January 2007

Journal
Archives
2007
2006
2005
2004
2003
2002
2001
2000
1999
1998

Featured Articles

The Filipino Comics Artist
And Manga

Why No Comments?

Why Do I choose English
To Write My Stories?

Exploitation and
Self-Exploitation
in Comics

Making Mini Comics

Comics Lettering

Reviving a
Comic Book Industry

Commentary on
Anonymous Writers

Breaking Into
Philippine Comics

Preserving a Legacy and
Reviving an Industry

Featured Links

The Philippine
Comics Art
Museum


Komikero Comics
Main Site

Philippine Comics
Message Board

Crest Hut
Butt Blog
My Personal Blog

Ilyn Florese-Alanguilan
Website ng Aking
Mahal na Asawa

Doroteo L. Alanguilan
My Dad's Official Site

Emmanuel Jose
Blog Ng Aking
Dakilang Kapatid

MySpace

MyDeviantART

Blog Links



Monday, October 31, 2005
Posted 10/31/2005 06:52:00 PM by Gerry Alanguilan
The museum has been updated with a full profile with bio and gallery for Vincent Kua Jr.
To access the profile, click
here
or below:
Thanks to Dennis Villegas and Randy Valiente for helping out!
*********************
I loved reading comics as soon as I could read. The earliest comic book I ever read was most likely something from Walt Disney, and a Hulk comic drawn by Herbe Trimpe. Well, I wouldn't know it was Herb Trimpe till many years later. I was, after all, only something like... 4 years old?
Among these early comics, the most influential of them all was probably Tintin, created by Herge (Georges Remi). It was the first comic book that inspired me to start drawing on my own.
Tintin adventures are what people now regard as "graphic novels", each complete adventure has 62 or so pages in large format. In the back of these books is a gallery of covers of all Tintin adventures. Having read only one at that point, I stared in wonder at all those great covers that promised fun and exciting adventures in the pages within.
One day I felt that wondering about those stories was n longer enough, so I decided to pick out one cover and tried to write and draw what I thought that story was all about.
I chose "Tintin in Tibet". It showed main characters Tintin, Snowy, Captain Haddock and a guide on a snowcapped mountain staring in fear and wonder at footprints in the snow too large to be human. Of all the covers, this was the one I was fascinated with the most.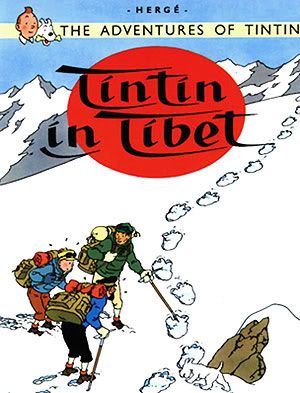 I think I managed to draw 2 pages before I lost interest and went off to do something else. Not too promising, but then again, I was just maybe 5 or 6 at the time.
Decades later I'm writing and drawing comics fora living, and I'm still very much into Tintin as I ever was.
Herge only wrote and drew 23 adventures from 1929 to 1978 and yet all of these adventures are always kept in print, and are always available at National Book Store. Isn't that just amazing? A comic book that's decades old, originally written in French by a Belgian... would be perennially available at your local book store. I think that says a lot about the universal appeal of the body of work that Herge has created.
When a copy wears out, I can always go and get a new one, which is great. I don't think I'll ever get tired of reading Tintin, even when I'm old and gray. The influence of Tintin is so persistent and pervasive that traces of of Herge still shows through in my work. In Humanis Rex, in Wasted, in Silent Dragon, in Johnny Balbona, and pretty much anything I draw.
In the future I think I see my work getting more closer to Herge, not to copy of course, but in regard to the discipline of simplicity and clarity of storytelling.
An unfinished adventure, Tintin and Alph-Art has finally reached Philippine shores.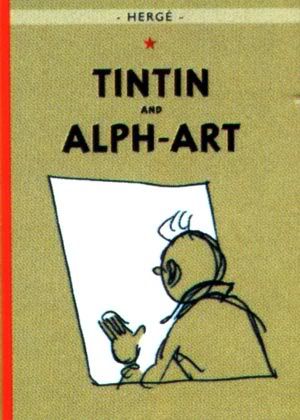 This is probably one of 2 Tintin holy grails, the other being "Tintin in Congo", both widely unavailable here in the country. Herge died while doing Alph-Art in 1983. It's heart breaking seeing the last page Herge worked on, an unfinished thumbnail of Tintin being led into the unknown at gunpoint, the bottom half of the page blank and mute.
Herge had always maintained that no further adventures of Tintin be made after his death. Because of this, Alph-Art is published as it was left by Herge. It's not for the casual reader, but a goldmine for hardcore Tintin fans like myself.
---
Sunday, October 30, 2005
Posted 10/30/2005 07:45:00 AM by Gerry Alanguilan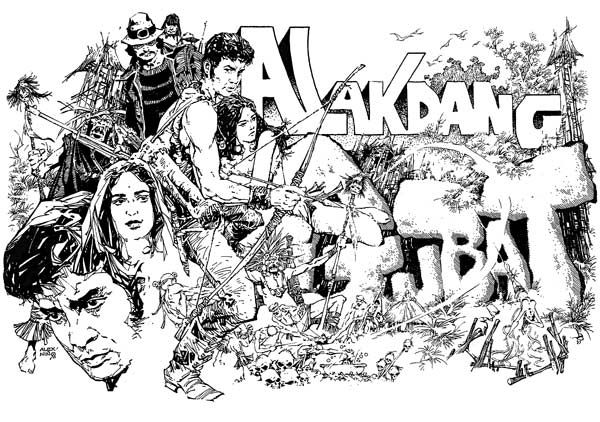 Alex Niņo
Alakdang Gubat Movie Ad
Starring Fernando Poe Jr. and Marianne de la Riva
Alakdang Gubat is based on a komiks novel written by
Pablo Gomez
and illustrated by (?).
For a larger size of this ad click
HERE
.
I have heard that Alex was Fernando Poe Jr.'s favorite komiks artist and his use of Alex to illustrate his movie ads for these films seems to bear that out. FPJ was a well known supporter of Philippine Komiks who regularly invite komiks writers and artists to his home on his birthday.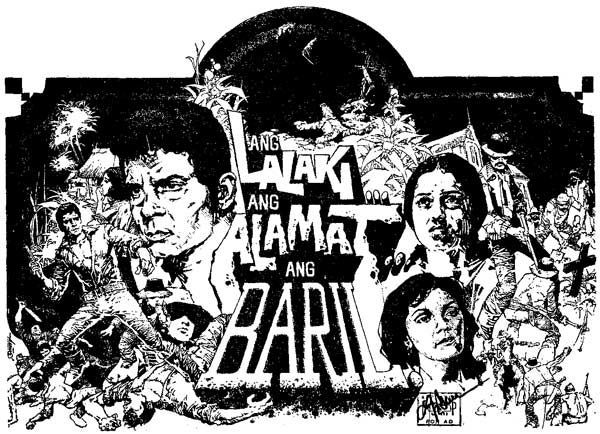 Alex Niņo
Ang Lalaki, Ang Alamat, Ang Baril Movie Ad
Starring Fernando Poe Jr. and Marianne de la Riva
Thanks to Mario Macalindong for the images!
---
Saturday, October 29, 2005
Posted 10/29/2005 10:44:00 AM by Gerry Alanguilan
I went to the
Visprint
Book Launch yesterday where my old pal
David Hontiveros
launched his
Penumbra
novellas
Takod, Craving
and
Parman
, categorized as 'Horror/Dark Fantasy". These aren't comics, but short novels, fine examples of Dave's writing, which I've been a fan of for a long time.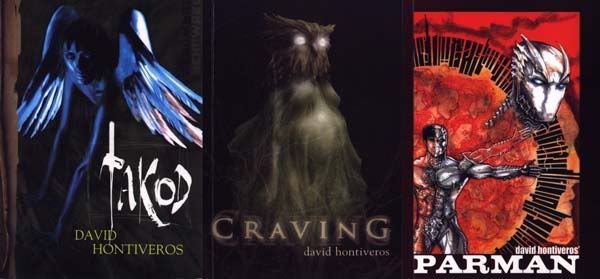 Dave of course, is a comic book writer as well, having worked on the pioneering Flashpoint, my own Timawa, Dhampyr, Horus, and Avatar, most of them for Alamat Comics.
At the launch were other Visprint talents including
Carlo Vergara
and Manix Abrera, who were at hand to talk about and sign their books.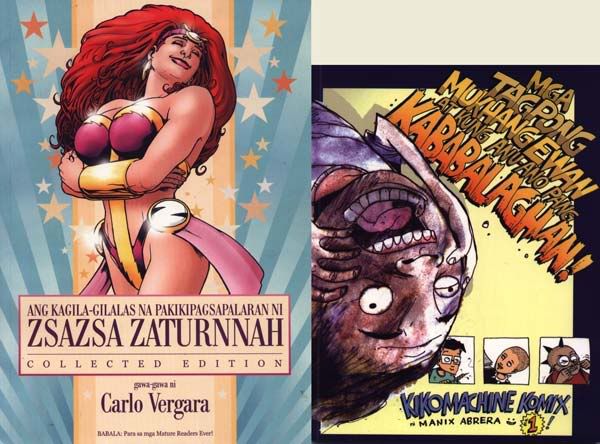 Amazingly, Carlo's "
Ang Kagila-Gilalas na Pakikipagsapalaran ni ZsaZsa Zaturnnah
" is on its third printing with Visprint, which I really don't find surprising because it truly is a terrific comic book.
For those not familiar with it, ZsaZsa Zaturnnah is about this gay beautician who, upon swallowing a magic stone, becomes a voluptuous all-woman superhero by the name of ZsaZsa! Sound familiar? It's a humorous take on a popular Philippine superheroine, but it manages to find a character on its own with its unique brand of comedy and adventure.
ZsaZsa is truly one of the best Pinoy comic books to come out in the last few decades, a book which I'm confident will endure and make a lasting impact.
Manix Abrera
, whose work I only encountered recently in Mwahaha, and I only just met during the Komikon, has come out with a book that compiles his comic strip "
Kikomachine Komix
" from the Philippine Daily Inquirer. Upon reading this book, I can truly say Manix is one of the more original and genuinely funny local comic strips I've read. As much as he denies it, he does look like his drawings.
I got to the launch pretty early, at around 2:30pm, and I was surprised, and not quite so surprised upon seeing Dave already there. I got his books and got them signed right away before he got too busy. Thanks Dave!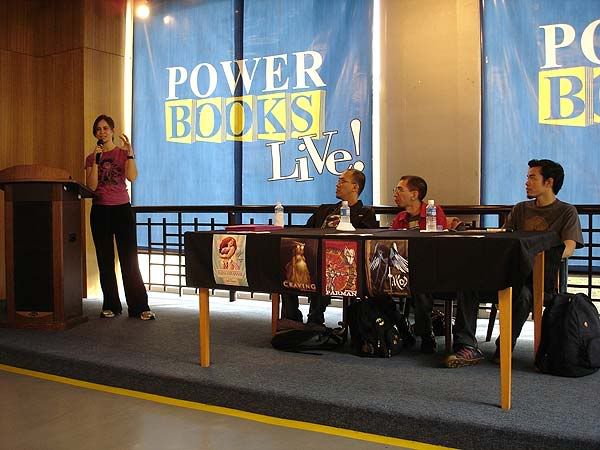 Writer/TV host
Karen Kunawicz
talks about David Hontiveros.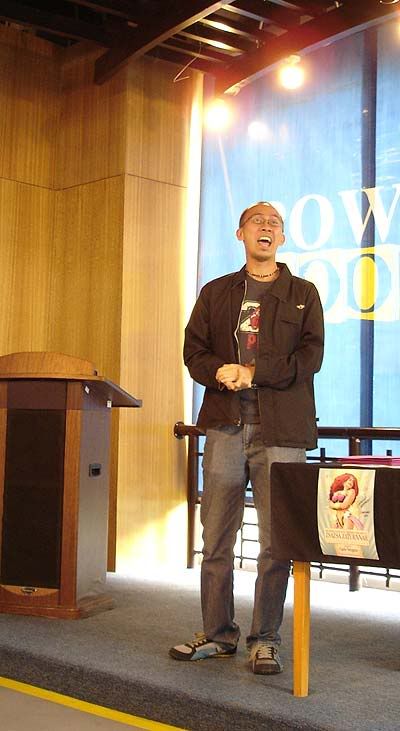 Carlo Vergara talks about ZsaZsa . He lets out this tantalizing tidbit about "Ang Kagila-Gilalas na Pakikipagsapalaran ni ZsaZsa Zaturnnah sa Kalakalang Maynila" for late 2006.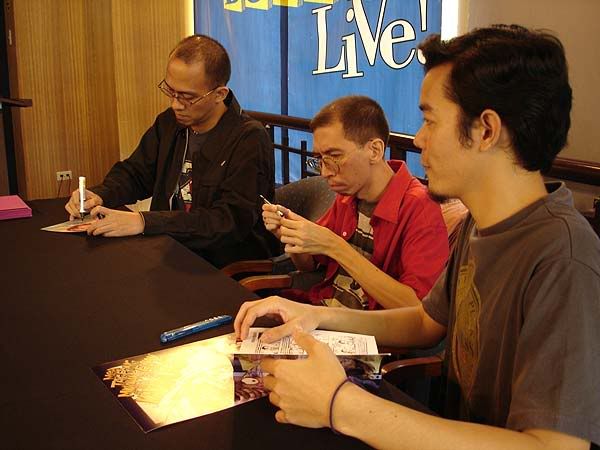 Carlo, David and Manix.
Dave looks like he's just about to murder his pen.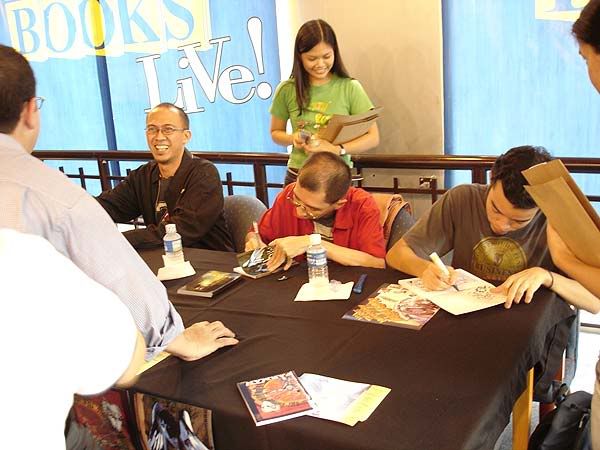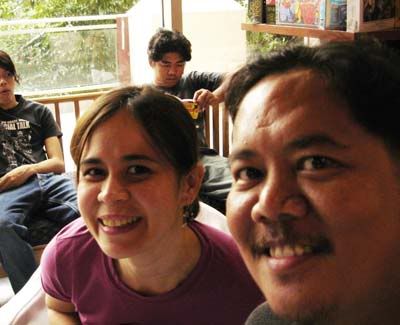 Me and Karen Kunawicz.
Me and Karen have been friends for a long time now, ever since around 1995. We have yet to meet personally when I received a letter from her about Wasted, which I was still halfway though doing at the time. We corresponded regularly from that time on.
I didn't stay too long at the launch as I still had to get back home to work on Silent Dragon. Congrats to Dave, Carlo and Manix! I really hope to see more of your work soon!
---
Thursday, October 27, 2005
Posted 10/27/2005 09:31:00 AM by Gerry Alanguilan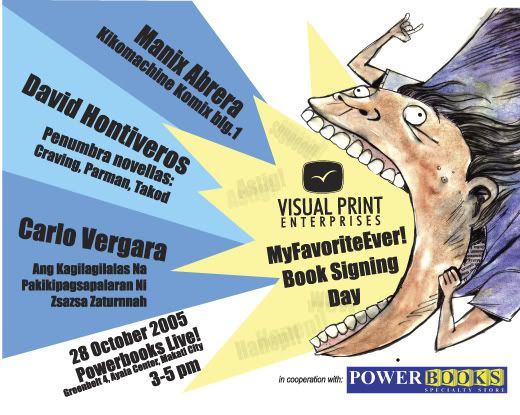 Visprint's "MyFavoriteEver!"
Book Signing Day
Powerbooks Live!, Greenbelt 4, Makati
October 28, Friday
3pm to 6pm
At the event...
Manix Abrera (
Kiko Machine Komix 1
)
David Hontiveros (
Penumbra
)
Carl Vergara (
Zsazsa Zaturnnah
)
David Hontiveros
is a one of those writers whose work I always find impressive, ever since I read that incredibly written Flashpoint comic book more than 10 years ago. I like his work so much that I asked him to script one of my stories (
Timawa: Kalinangan
), something I've never done before or since. I always try and get some kind of collaboration going between us, but for some reason or another (and always my shortcoming) it never happens. But he did give me a short story that I'm determined to finish sometime in the near future.
Carlo Vergara
is of course, the mad writer- artist of "Ang Kagila-gilalas na Pakikipagsapalaran ni ZsaZsa Zaturnnah", as well as the writer-artist of "One Night in Purgatory" and once a upon a time, a Flashpoint artist as well. I'm very happy to say that Carlo's work and mine will both appear in next year's
Graphic Classics: Rafael Sabatini
.
I've seen
Manix Abrera
's work on the pages of Mwahaha! and I can say he's doing truly original work. And he's quite a popular guy too because I literally hear girls giggle and swoon when they see his work. Amazing! I got his recently released book "
Mga Tagpong Mukhang Ewan at Kung Anu-Ano Pang Kababalaghan
!, Kikomachine Komix ni Manny Abrera", a compilation of his comic strips which appears daily in the Philippine Daily Inquirer. I've never met Manix until the Komikon last Saturday. It's unfortunate that I wasn't able to bring my copy of his book, but tomorrow I'll definitely will.
More on Vincent Kua Jr.
Tributes to the late comic book writer and illustrator Vincent Kua have appeared on the Internet from friends and those who knew him well. I wish I had the chance to get to know him better after meeting him briefly last year. Because my collection spans mostly from the 50's to the early 70's, I have very very little material on Vincent, but I hope to rectify this soon.
Tribute by Dennis Villegas
http://pilipinokomiks.blogspot.com/2005/10/vincent-kua-jr.html
Tribute by Randy Valiente
http://usapang-komiks.blogspot.com/2005/10/vincent-kua-jr.html
Tribute by Rey Villegas
http://reybronx.blogspot.com/2005/10/remembering-vincent-kua-jr.html
Randy Valiente put up a site for Vincent (which includes a gallery and information on his life and works) which you can find below.
The Comic Book Art of Vincent Kua Jr.
http://www.freewebs.com/vincentkuajr
More on Komikon 2005!
It was practically several reunions all at once. The Lakan Gang, the group who did the ill fated Lakan comic book from the early 90's, The Starfire Gang, the group of artists gathered together by Whilce Portacio from the mid to late 90's, and so forth. I even had a mini reunion with some former classmates from college.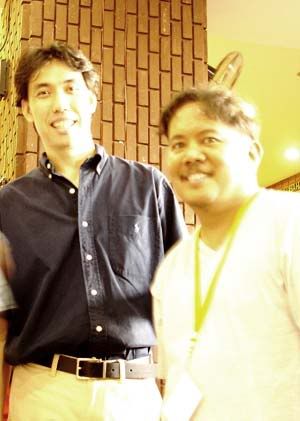 The Komikon had a surprise guest star in the form of
Efren "Jay" Anacleto
, who towers tall and talented beside me. He's the amazing artist of books like
Aria
. Click on that link. You'll be stunned and amazed if you haven't see his work yet.
There's my frequent collaborator
Leinil Francis Yu
(in the blue shirt), who's currently wrapping up Silent Dragon (which I'm inking) and starting up on Marvel's Ultimate Hulk and Wolverine. (
Thanks to Randy Valiente for this pic!
)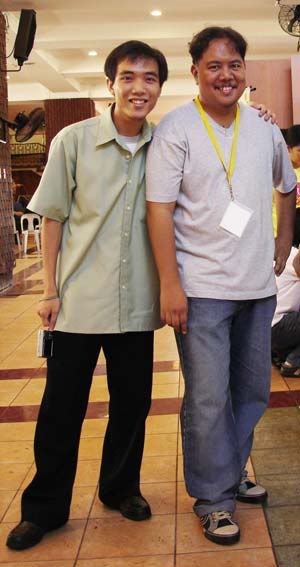 Another superstar artist attended the con in the form of
Wilson Tortosa
, who dresses a little bit more formally than I do. He's the popular artist of titles like Battle of the Planets, Tomb Raider and City of Heroes.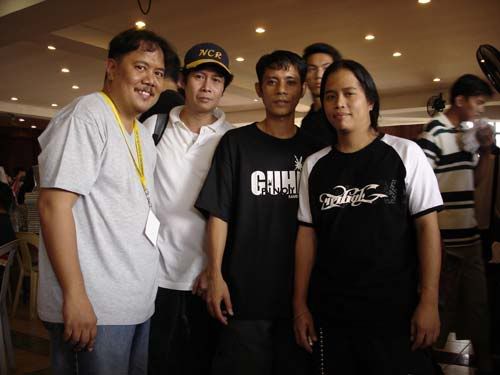 With Vic Aure, Mario Macalindong and Lui Antonio.
I haven't had the chance to say, but the Komikon 2005 was probably the best local event on comics I've been to so far (with exception to the San Pablo Comics Festival of course, but then I'm biased). There was some humorous moments like when this guy with a heart on his face asked some stuff for me to sign. Before he left, he told me, "I thought you'd be younger."
Ouch!
I'm trying to think of some way of making that sound positive. Maybe my work can still be appreciated by a younger audience... you know, I'd hate my work to be too old fashioned that younger people don't get it anymore. Yeah, that's it! Moving on...
Manning the booth kept me pretty busy and I never really had a chance to go around and check out what the other groups have come up with. I did manage to get some mini comics from some booths, and one of the most remarkable ones I got was
Askals
#1 and 2 by
Dodo Dayao
and
Bong Leal
.
Bong Leal is one of the most remarkable Filipino artists I've seen in a while. Budjette Tan recently uploaded a
pre-hispanic story
that Bong illustrated that just blew my socks off. So when I learned that he was drawing Askals, I made sure I got copies.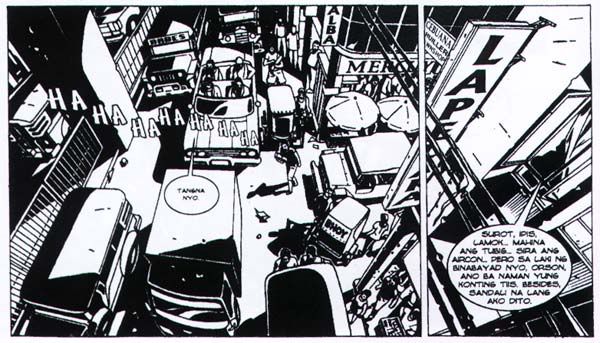 The attention to detail is amazing. Their depiction of Quiapo is authentic and well executed. If I can offer anything constructive, it would be 2 things. First would be my wish to see all of the pages inked. The uninked pages contrast heavily with the pages that have been inked, as the latter all look excellent. It gives an impression that the world is somehow unfinished, and makes you wish you could go back at a later date until it's done.
The 2nd would be the appearance of the gangsters cruising the Quiapo streets in a topdown, an image that seems more consistent with African-American gang culture rather than Filipino gang culture. The imagery is a little distracting, specially when contrasted with the authentic Quiapo backdrop.
Aside from that, I think this is a pretty good effort, and I'm definitely there for the next issue.
Thanks to everyone who came over to check out the booth, thanks also to those who gave me stuff (you know who you are). I really appreciate it. I thought the turnout was pretty good and the experience was positive enough for me to look forward to the next one.
More Komikon 2005 pics here:
Guhit Pinoy Gallery
http://guhitpinoykomiks.blogspot.com/2005/10/guhit-pinoy-sa-komikon-part-1.html
http://guhitpinoykomiks.blogspot.com/2005/10/guhit-pinoy-sa-komikon-part-2.html
http://guhitpinoykomiks.blogspot.com/2005/10/guhit-pinoy-sa-komikon-part-3.html
Randy Valiente
http://usapang-komiks.blogspot.com/2005/10/komikon_24.html
Edgar Tadeo
http://www.edgartadeo.com/nyekblog/archives/00000193.shtml
Wilson Tortosa
http://photobucket.com/albums/b98/batangbatugan/
---
Tuesday, October 25, 2005
Posted 10/25/2005 12:00:00 AM by Gerry Alanguilan

Vincent Kua Jr. Passes Away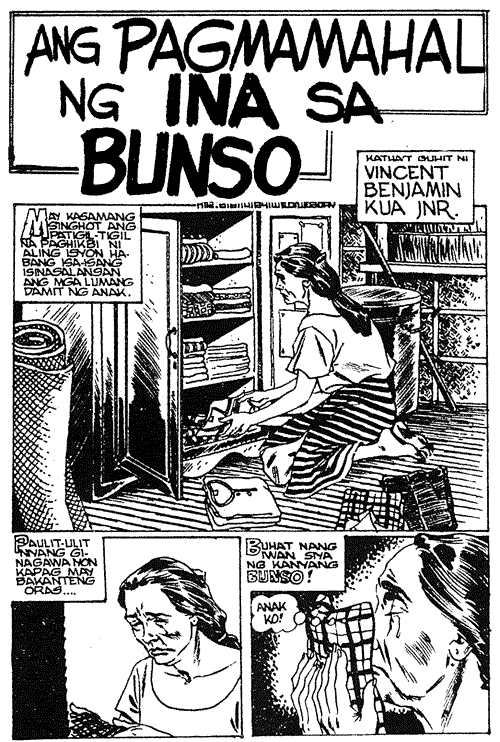 I just heard from Dennis Villegas that Vincent Benjamin Kua Jr., Filipino komiks writer and illustrator, has passed away. My sincerest condolences go to Vincent's friends and family.
"Ang isang manunulat ay kinakailangang may bukas na isip at malawak na pang-unawa. Sapagkat paano mo maisusulat nang maganda ang isang simpleng paksa o ang isang paksang mahirap maunawaan kung ikaw ay may makitid na pag-iisip at maikling pangunawa?"
-mula sa "Ang Pamamaraan ni Vincent Benjamin Kua Jr. sa Kanyang Mga Katha't Guhit"
Pagsulat ng Maikling Kuwento sa Komiks, 1984
---
Sunday, October 23, 2005
Posted 10/23/2005 08:09:00 AM by Gerry Alanguilan

At The Komikon 2005!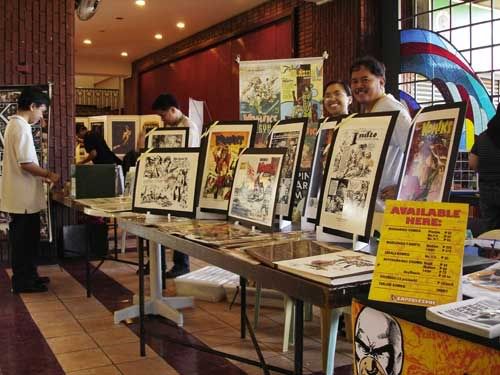 Setting up the Komikero and Philippine Comics Art Museum Booth.
Jonas, Raipo, Ilyn and me.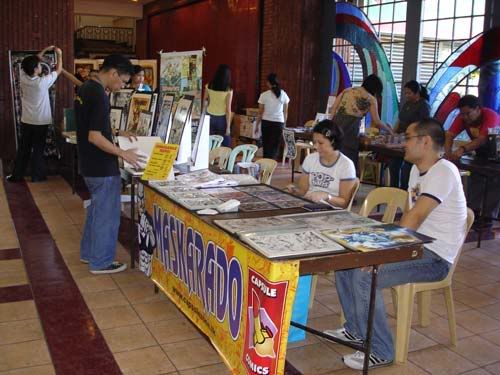 The Maskarado booth with Reno Maniquis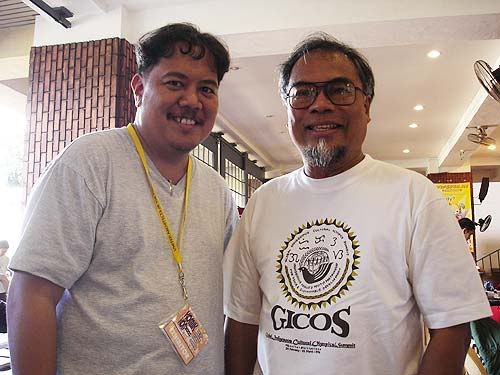 Me and Mr. Orvy Jundis, comics writer and historian, who graciously put together a Komikon 2005 program booklet.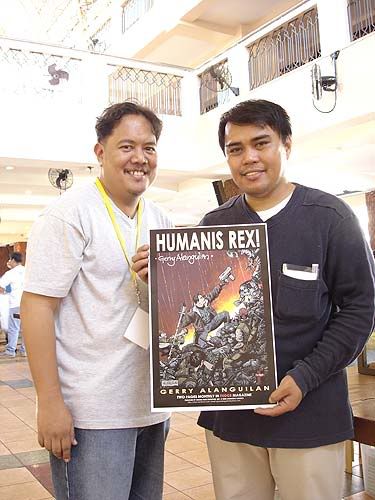 Me and Dennis Villegas, comics collector and historian. He put up a display of vintage magazines from the 1910's and 1920's with fantastic illustrations. He also put on display a collected edition of the very first dozen issues of PILIPINO KOMKS from 1947 the comic book that truly jump started the Philippine Komiks Industry.
Thanks Dennis for the wonderful book illustrated by my father in law, Rudy Florese. Me, Ilyn and her family appreciate it very much!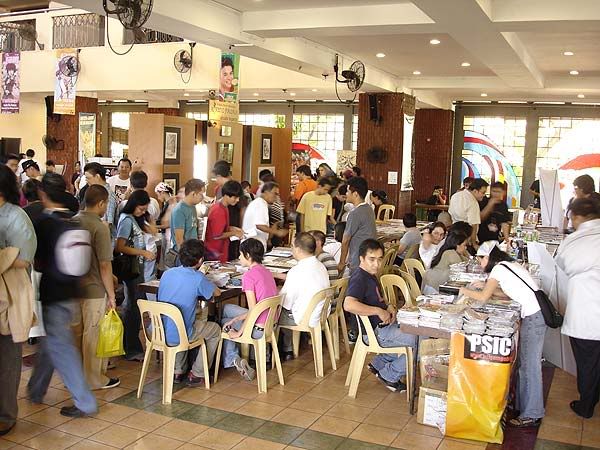 In full swing. Visible are the booths of Alamat, Psi-Com, Orvy Jundis, and in the far distance, The Alfredo Alcala legacy. That's Manix Abrera in the blue shirt.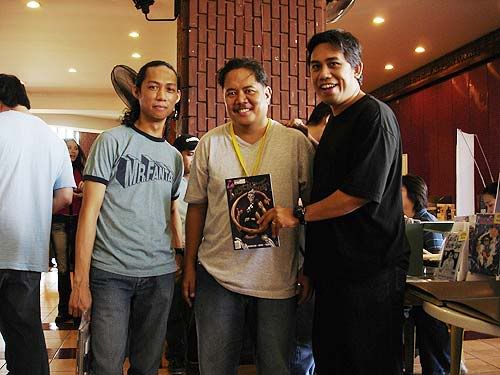 The Lastikman Team! Edgar Tadeo, me, and Arnold Arre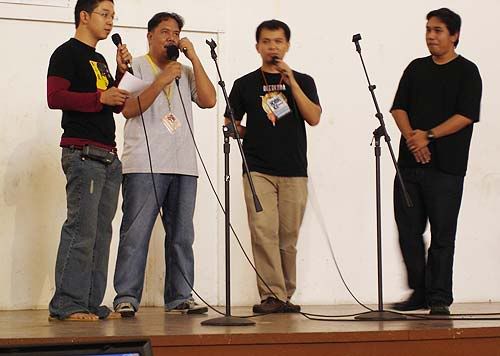 Just talking. That's RJ Ledesma on the left.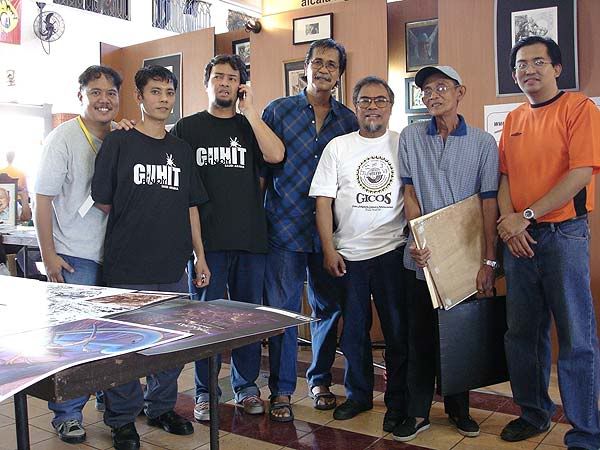 At the Guhit Pinoy and Alcala Legacy booth with Mario Macalindong, Meyo de Jesus, Ernie Patricio, Orvy Jundis, Yong Montano, and Alfredo Alcala Jr.
Maraming salamat sa Guhit Pinoy sa inyong regalo!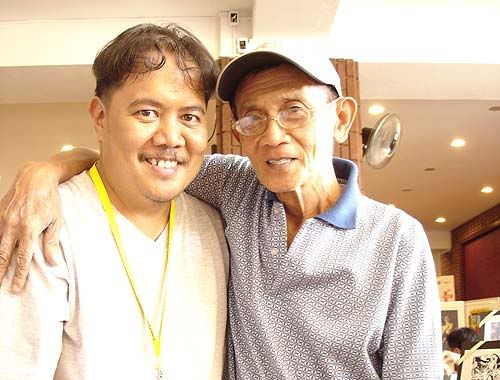 Me and Yong Montano (Magnetic Man, Goomba)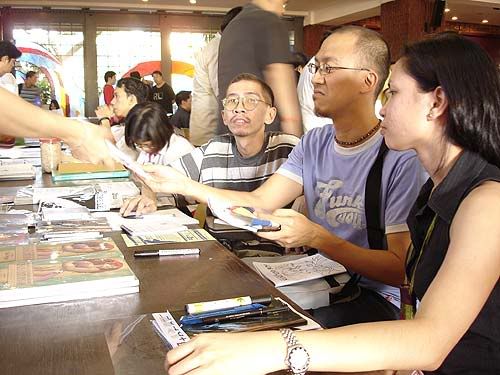 At the Alamat Booth with David Hontiveros and Carlo Vergara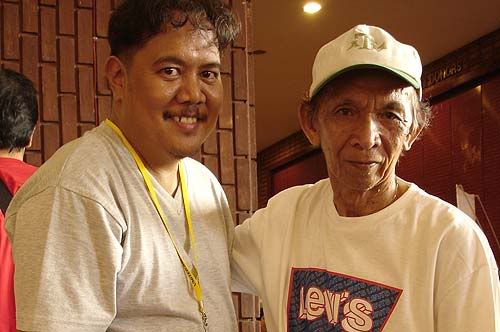 Me and Jun Lofamia (Liwayway illustrator)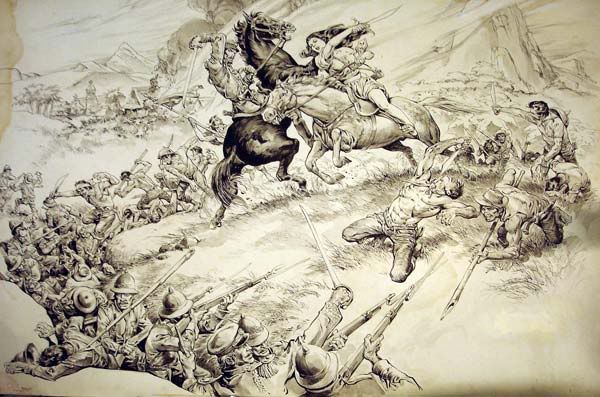 The largest and most kick-ass illustration on display. Gabriela Silang? by Francisco Coching, brought to the exhibit by daughter Maridel Coching. This more than 30"x40" illustration is just a "study" Maridel tells us, and assures the final version is much more impressive.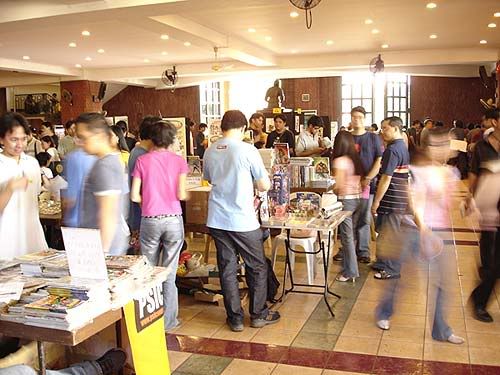 The Fully Booked booth. Jonas Diego on the far left.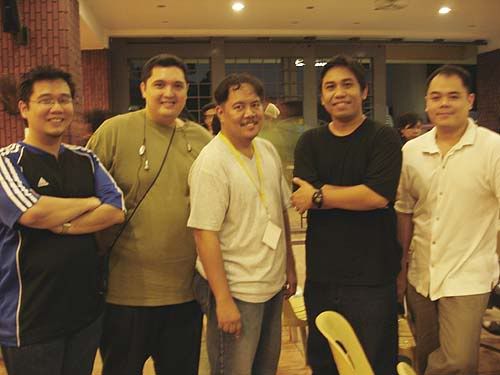 The Lakan Team, together again! Older and Heavier than ever!! :)
From Left: Ian Orendain, Chris Bernardo, me, Arnold Arre and Oliver Pulumbarit.
Thanks to Edjee Mendoza and Zara Macandili for their assitance in putting together the Philippine Comics Art Museum displays.
Congrats and thanks to Artistden
for a successful event! Hopefully this will be the start of a new era for Philippine Comics!
---
Thursday, October 20, 2005
Posted 10/20/2005 12:27:00 PM by Gerry Alanguilan
Komikon 2005!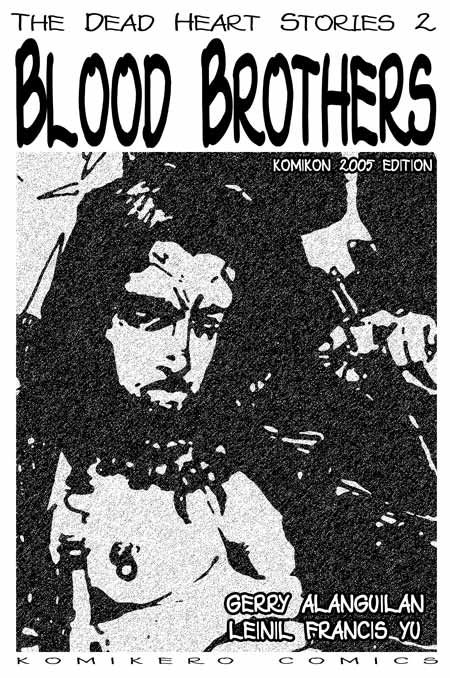 I'll be re-releasing
Dead Heart Stories #2: Blood Brothers
at the Komikon. It's a mini comic that originally came out in 1997, written and lettered by me, and pencilled and inked by then unknown
Leinil Francis Yu
.
The original release was quite limited, which was around just 100 copies, and even I don't have a copy of it. Leinil was shortly going to start his career with Wolverine, and before he got busy, I took the opportunity to ask him to draw my short story. It's a little rough understandably, and Leinil has expressed intent to break my body in half with his formidable kung fu skills if I ever came out with it again. he.he.
Other things I'll be bringing to the con to sell would be sets of
Crest Hut Butt Shop
1 to 3, complete sets of
Batch 72
by Budjette Tan and Arnold Arre, lots of old imported comics (dirt cheap!), and a poster of
Humanis Rex!
which you can see below.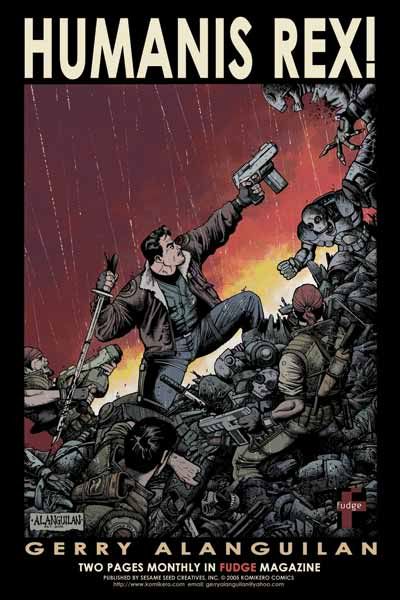 All this selling is of course, to help pay for the booth in which I'll be exhibiting works of our great masters in Philippine Komiks Art. I've blown up several pieces of covers and interior art, larger than their originals. I'm also bringing lots of vintage komiks, magazines and original art from the 1940's to the present. None of them would be for sale of course.
See you all at the con!!
---
Wednesday, October 19, 2005
Posted 10/19/2005 12:20:00 PM by Gerry Alanguilan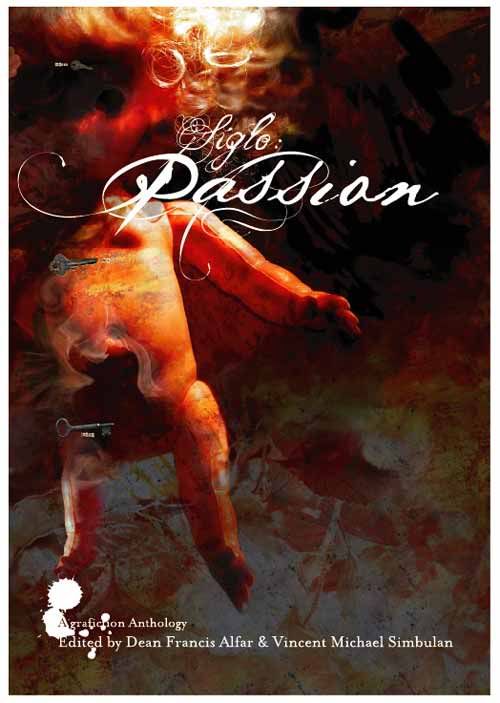 SIGLO: PASSION
will finally see release this December! Siglo: Passion is the 2nd book in the Siglo series of books which began with 2003's SIGLO: FREEDOM for which I contributed a short story called "San Dig: 1944".
For Siglo: Passion I contributed "
San Pablo: 1978
", which I talked about quite a bit
here
and
here
.
Siglo: Passion will be in full color for it's initial release of 2000 copies. Subsequent printings will be in black and white to offer a more affordable version. I strongly urge people to check out the color version because having been given the opportunity to color, I made color an important part of the story, rather than just something I used to enhance it.
When editors urged me to color my own work, I remember being a little intimidated. I've never really colored my own comics, except for a couple of 1 page stories for PULP Mag in 2000, and I colored those by hand. "San Pablo: 1978" would be the very first story I colored completely in the computer.
Wanting more than just to add color to my black and white linework, I devised a story in which a significant and crucial part of the story will be told in the color. Without it, the story would not work effectively. Having a version of my story published in black and white is unfortunate because it disadvantages my story dramatically.
But because of the realities of our economy, I understand the publisher's reasons for going black and white, but I am grateful that a color version will be published, and for 2000 copies at that, which is actually pretty good.
However, I do have to reiterate that if you wish to read my story as I intended it, check out the color version. I intentionally avoided posting the last few pages of my story online so as to preserve the effect that I hope my story would have on those reading it.
Contributors to Siglo: Passion include Quark Henares, Dean Alfar, Reno Maniquis, Jeremy Arambulo, Lan Medina, Jonas Diego, Carlo Vergara, Marco Dimaano, Leinil Francis Yu, Rafael Kayanan and lots more!
There will be a launching/signing event, and when the date is finalized, I'll announce it here.
---
Sunday, October 16, 2005
Posted 10/16/2005 01:38:00 PM by Gerry Alanguilan
Jess Jodloman's Ramir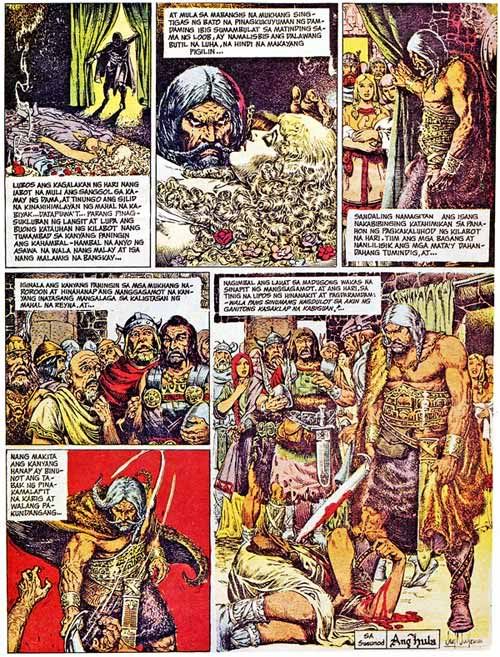 Ramir
as written and illustrated by
Jess Jodloman
, another masterpiece of Philippine comics, was serialized in Bulaklak Komiks from 1955 to 1957, totalling 83 chapters. The series enjoyed immense popularity during it's publication and ensured Jodloman's place as one of the masters of Philippine Comics Art.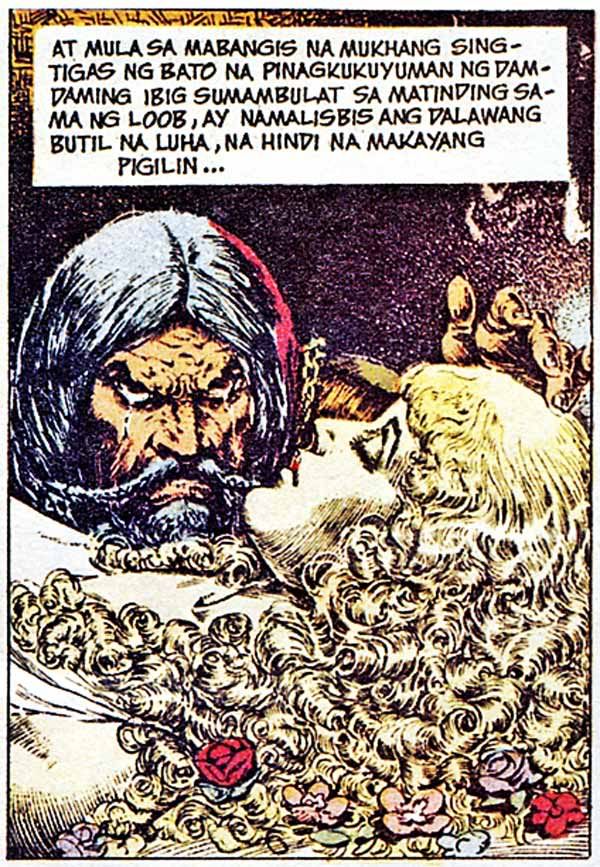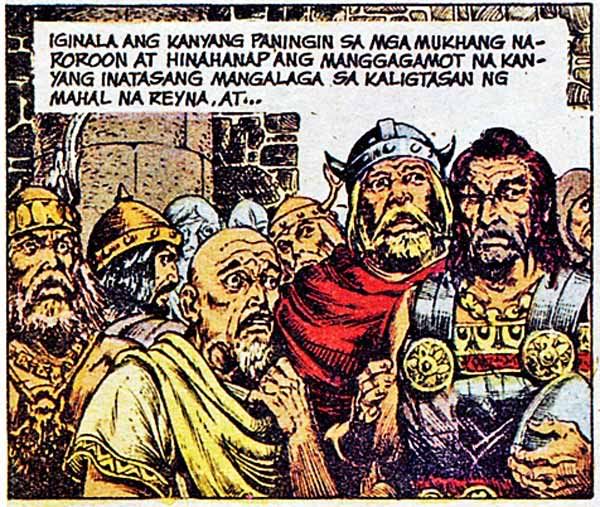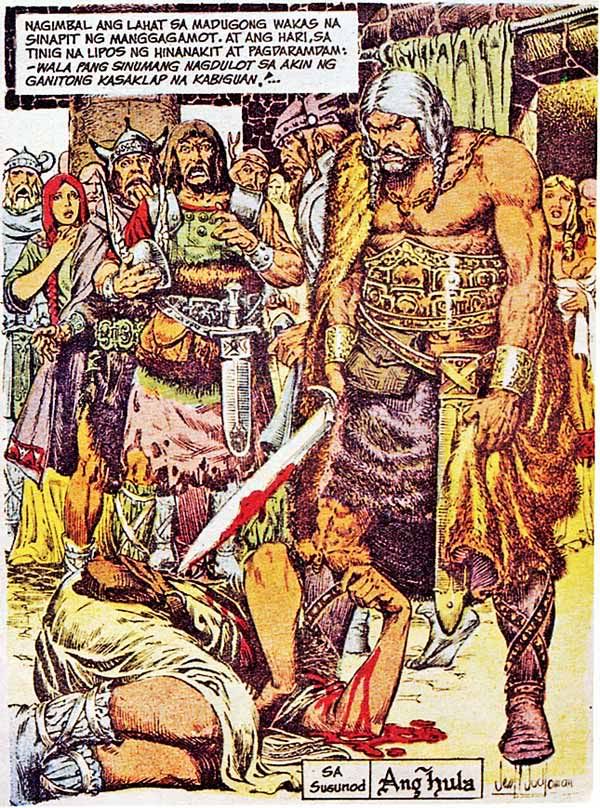 Thanks to Auggie and Joemarilee for the info and artwork!
---
Thursday, October 13, 2005
Posted 10/13/2005 09:05:00 PM by Gerry Alanguilan

Noly Panaligan's PAYASO
Serialized in Tagalog Klasiks in 1953, Payaso is considered as Noly Panaligan's masterpiece, and one of the most remarkable works of art in Philippine comics.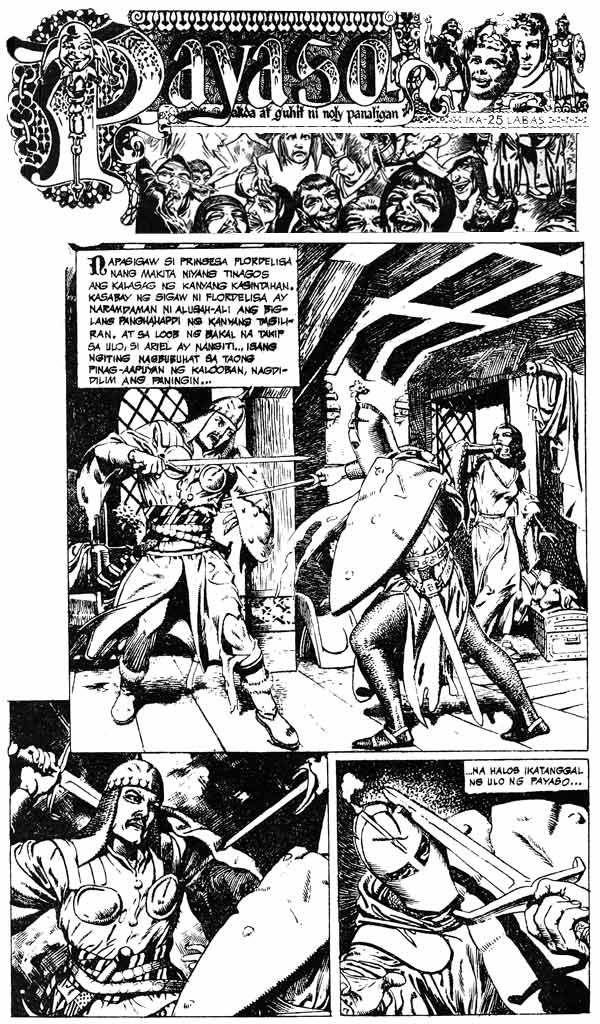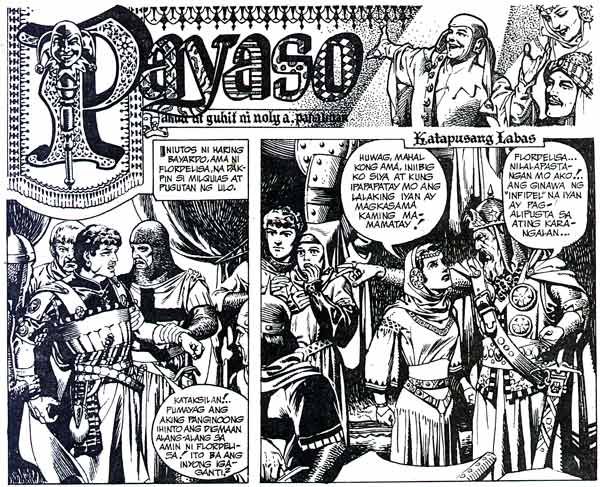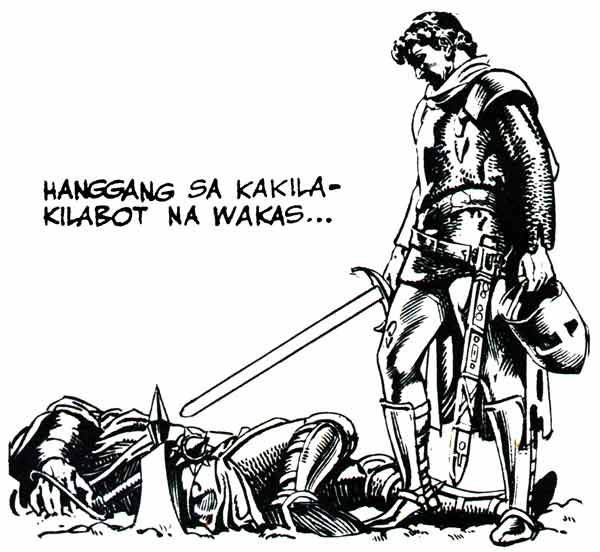 For more Payaso art, click below:
Payaso Cover 1
Payaso Cover 2
Payaso Page 1
Payaso page 2

Posted 10/13/2005 10:26:00 AM by Gerry Alanguilan

Humanis Rex! Black and White
As requested, here's the uncolored version of of the Humanis Rex page I posted earlier.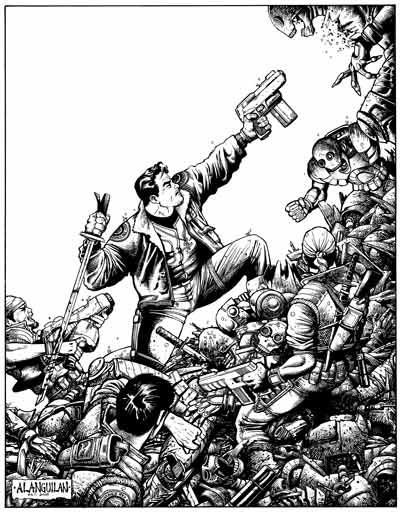 ---
Sunday, October 09, 2005
Posted 10/09/2005 08:55:00 PM by Gerry Alanguilan
"Mi Ultimo Adios"

illustrated by

NESTOR REDONDO

The story of Jose Rizal's last days as researched by writer
R.R. Marcelino
and illustrated by
Nestor Redondo
appeared on the pages of Tagalog Klasiks #144 on January 8, 1955. To read the entire story, click below.
http://www.komikero.com/museum/miultimoadios.html
---
Wednesday, October 05, 2005
Posted 10/05/2005 11:24:00 PM by Gerry Alanguilan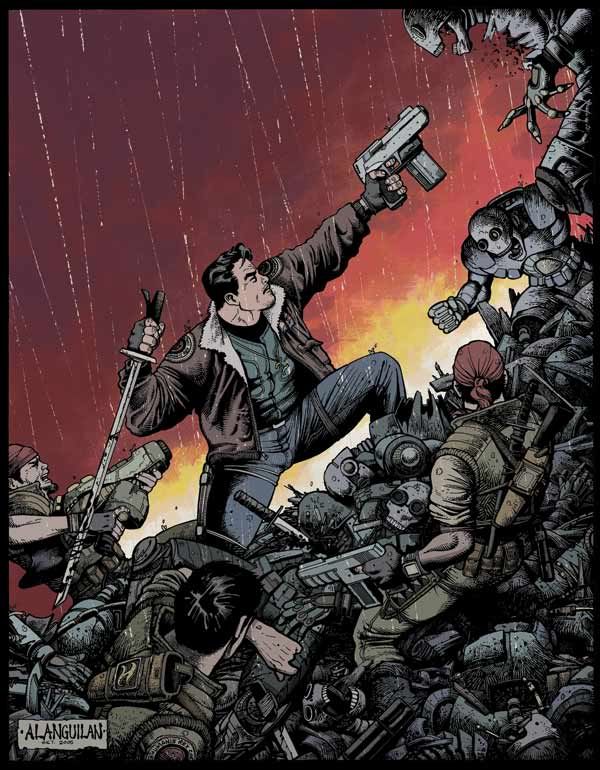 Humanis Rex! #8 Preview
Here's a splash page from an upcoming installment of Humanis Rex! I'm trying to establish a kind of contrast between two time periods. Anything that happens in 2045 or thereabouts is drawn in a fully illustrated manner with cross-hatching and other ink techniques. Anything that happens in the far future 300 or so years later, is drawn in a clean line art manner with very minimal hatching and texturing effects.
Admittedly, it takes four times as long to completely draw and color a page like this, compared to clean line art pages, so thank goodness scenes set in 2045 are quite few. But I hope to draw like this more for future stories.
Humanis Rex! is currently being serialized in 2 page monthly installments in FUDGE Magazine. Copies available at National Book Store, Powerbooks, CA Com, and other magazine outlets.
---
Saturday, October 01, 2005
Posted 10/01/2005 09:36:00 PM by Gerry Alanguilan

The Art of Floro Dery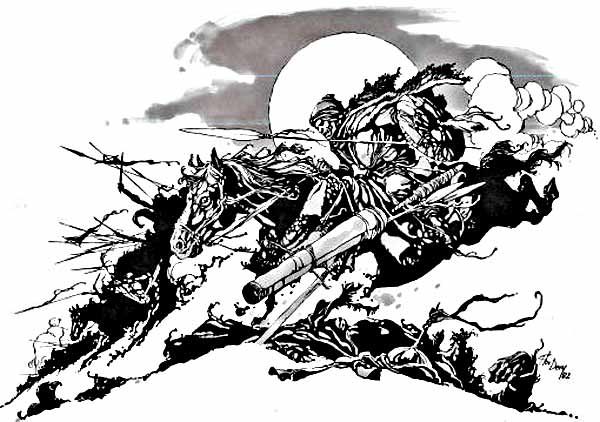 The Warriors
The Warriors is one of my favorite inked works by Filipino illustrator Floro Dery. I saw it on the web many years ago as I was searching for artwork by Filipino komiks illustrators, and Mr. Dery's site is one of the first ones I found.
One look at the artworks featured on his huge site can tell you what a remarkable artist he is. Not only is he an illustrator of komiks, but he is also a painter, a designer, a writer, a screen director, a Major at the Philippine Military Academy, and a mathematics professor. Floro Dery holds the distinction as the only Filipino comics illustrator to be a PhD holder, a Doctor of Philosophy in Mathematics.
He is an original conceptual designer for the Transformers movie, the many designs of which you can see at this site below:
The Art of Floro Dery


http://hometown.aol.com/kuest144/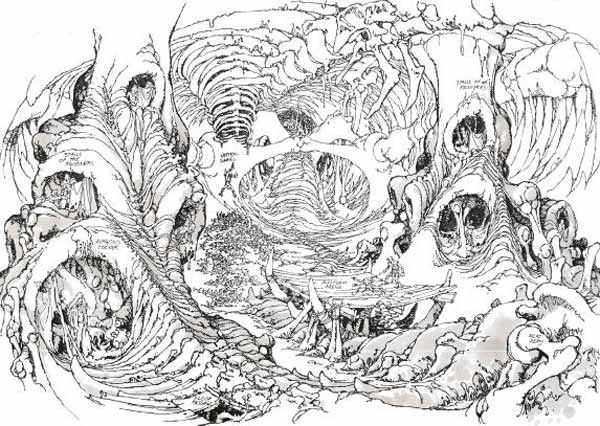 Dark Water
conceptual design
It is unfortunate that I have very little of Mr. Dery's comics work. It's one of the reasons I have not featured his work too much before now. Of the hundreds of old comics in my possession, I probably have only 3 issues that contain his work. One of these I've scanned below: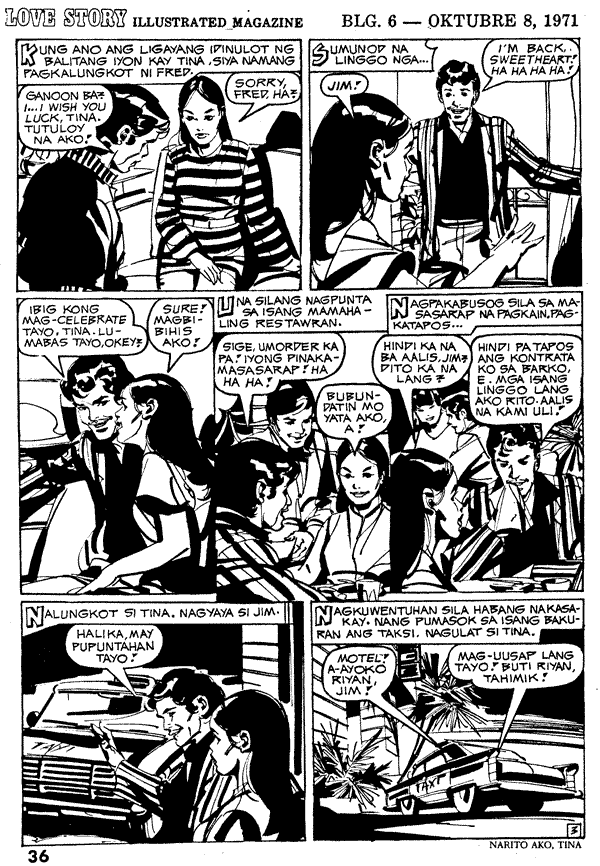 Narito Ako, Tina
written by Enrique de Jesus
Love Story Illustrated Magazine #6
October 8, 1971
Floro Dery is probably best known in the US as one of the illustratosr of the
Spiderman
newspaper strip written by Stan Lee.
Mr. Dery graciously sent us several pieces of his art, some of which I've uploaded below...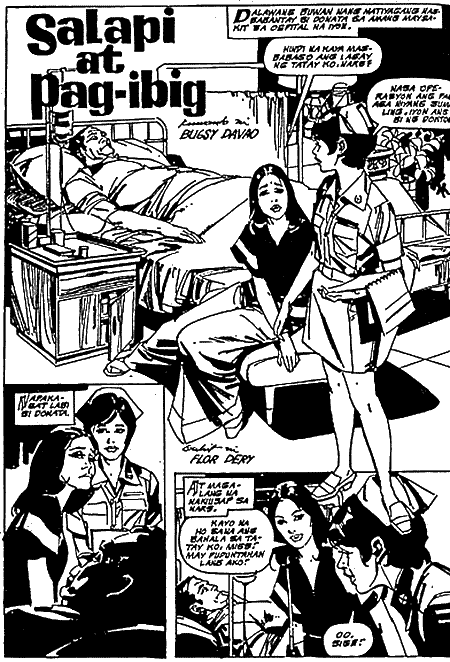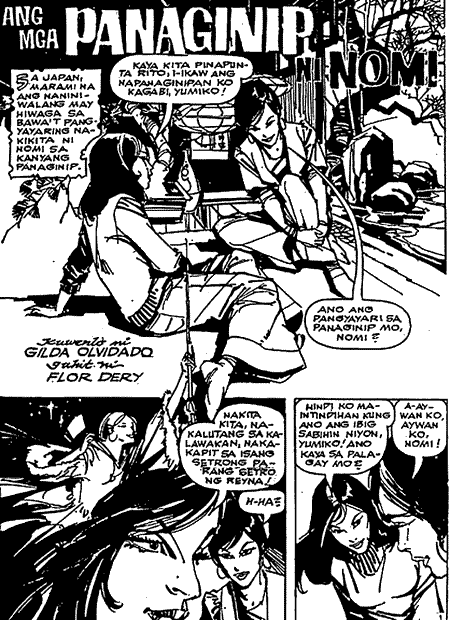 Floro Dery Interview
Adventures into Digital Comics
http://www.toptwothreefilms.com/people/florodery.html
---
---