Wednesday, September 28, 2005
Posted 9/28/2005 02:51:00 PM by Gerry Alanguilan

Carlo Pagulayan
Carlo is fast becoming one of the superstar Filipino comics artists of our current generation. With pieces like the one below, that would be easy to believe. This is a cover to
What If: Submariner
, coming out from Marvel. Got the image from
Newsarama
.
Ang galing mo, Carlo!! Astig!!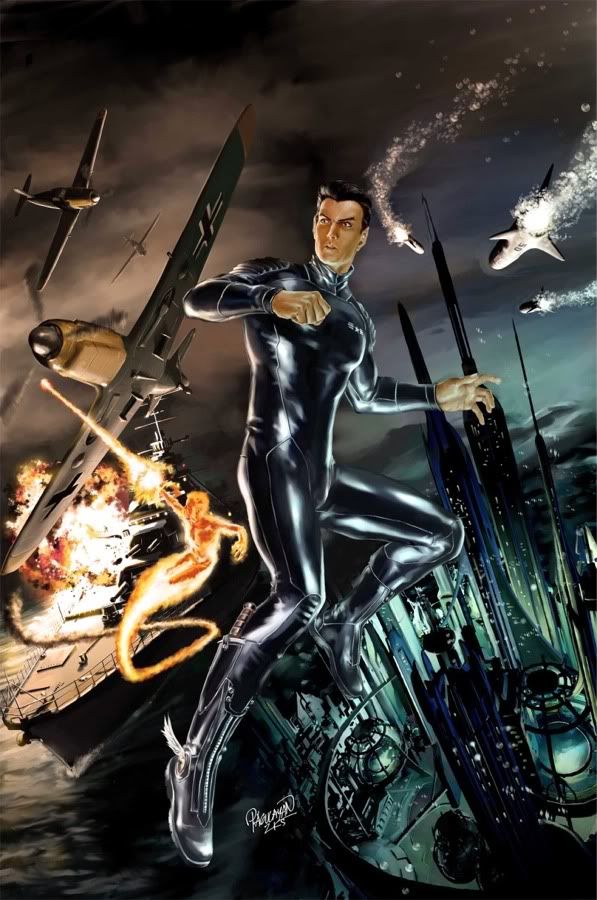 ---
Tuesday, September 27, 2005
Posted 9/27/2005 09:07:00 PM by Gerry Alanguilan

Preserving a Legacy and the Revival of an Industry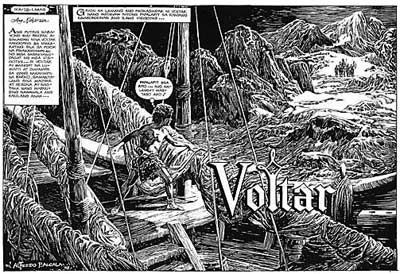 Voltar by Alfredo AlcalaOnce in a while I'd get feedback about the intentions of this site with regards to the comics industry in general.
There seems to be an impression, at least from some quarters, that my intention for this site, specially my message boards and the Philippine Comics Art Museum online, is to help revive the Philippine comics industry. And as such, it has been suggested that to revive the industry, we should not look to past glories and past accomplishments and strive instead to go forward, pushing new boundaries, creating new stories and new art.
I totally agree that to revive our current komiks industry, we do need to go forward and create new things, but never be confused as to the purpose of my site. The online museum and the accompanying message boards are not here primarily to revive a comics industry, although it can help it in some way simply because of the attention it can generate for the industry. Its primary purpose is to reintroduce to a new Filipino audience the art of our great masters of komiks art, a colossal body of work that has largely gone unnoticed, unappreciated, nearly forgotten.
This all began several years ago when I had been approached by young Filipino artists showing me their work for critique. More and more I was seeing work primarily influenced by Japanese comics. I had asked them if they'd seen the works of Filipino artists like Alex Niño, Francisco V. Coching, Nestor Redondo and the like. They would look at each other as if I had spoken a foreign language. They didn't know who they were, and yet these artists are responsible for some of the most beautiful, most imaginative pieces of comics art the Philippines has ever produced.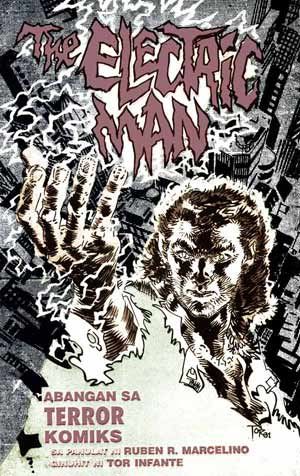 Electric Man by Ruben Marcelino and Tor Infante

I could not really blame them, as there is no archive, no easily accessible publication, nothing you can really buy off the shelves where our young artists can see all this artwork. Indeed, because of neglect and lack of interest in preservation, a lot of our old komiks and a lot of original art have been lost to us forever.
So I set out to establish the online comics museum, and with the help of the Komikero Artists Group, occasionally organize public displays of our old komiks and original art.
Digging up our past, at least as far as our komiks are concerned, is a good thing. It can be a source of inspiration and a source of pride in ourselves as Filipinos. It can be a source of our identity as Filipino artists, something that is important to many of us in search of something we can call uniquely our own.
Now if it's the revival of the current Philippine comics industry that we are talking about, then to me that's a different thing altogether.
A lot of opinions have been put forward from all over on how to do just that. From the magniloquent opinions of anonymous writers online to the honest ruminations of people on the street, the theme of having comics once again at the forefront of popular culture is always a subject of great interest. But who really knows the surefire way of reviving an industry? Who really knows what kind of comic book will be a success or not? This is a topic for another article altogether, but at the very heart of it is one simple fact: There won't be an industry if there are no comics being made.
And the only people who can actually help revive this industry are us, the comic book writers and artists, and the publishers who would print and distribute our comics. If you are an artist and/or a writer who chose comics as their career, there are plenty of ways to help. Working from the notion that there is no industry without comics, creating comics and getting them out there becomes our primary purpose.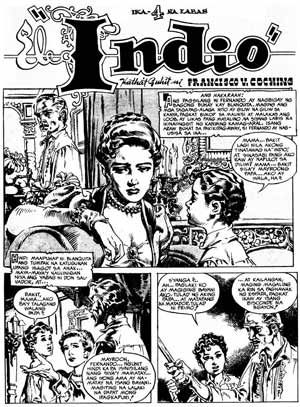 El Indio by Francisco V. Coching
I have great admiration for people like Carlo Vergara and Arnold Arre, who have both set aside time and effort to write and draw their own stories, publishing it themselves here in the Philippines and have produced wildly successful comic books. Carlo's "Ang Kagila-Gilalas na Pakikipagsapalaran ni ZsaZsa Zaturnnah" and Arnold Arre's "Mythology Class" are two of the most remarkable comics produced by contemporary creators. They are at the forefront of a reviving industry, but it will take more creators like them to invest the time and expertise to create more comic books.
I realize that a lot of us are working for publishers abroad. Indeed, it is a great time for Filipinos in the International comics community because so many of us are working on so many high profile popular comic books. This current batch of Filipino artists have worked/are working on on titles like X-Men, Fantastic Four, Wolverine, Elektra, Battle of the Planets, Tomb Raider, Spawn, Superman, Batman and Hulk. Some of us, like Whilce Portacio, was even able to create Filipino superheroes in Wetworks and Stone.
But unlike doctors, engineers, nurses and architects who go abroad to work, us artists don't even have to leave the Philippines. We can do all our work here, transmitting our work via email or Fedex. Unlike others from other professions who have migrated abroad , we have the opportunity to *still* contribute to our chosen profession locally, if we choose to.
It might surprise you to know that there are many opportunities locally through which we can channel our stories and art.
PSI-Com Publishing
is currently putting together some comics anthologies and are actively looking for writers and artists. Same is true for
Mango Comics
on their comedy title Mwahaha! and is searching for female contributors for their all-female comics Mango Jam. I'm currently doing Johnny Balbona for Mwahaha! and I know for a fact that they're always on the lookout for cartoonists that would fit their magazine.
Nautilus Comics
is publishing CAST and has published SIGLO in the past. It might be worth the time to get in touch with them as well in case they're looking for artists and writers.
A new company called
Thunderpunch Studios
has recently called for contributors to their comic book anthology. Since they are new untested company, I would advice caution in dealing with them. But if they turn out to be legit and serious about their publishing plans, it may well prove to be a good place to contribute.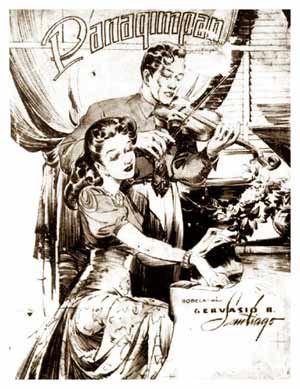 Francisco V. Coching

One option is for you to create jobs for yourself. In an industry that is reviving, we need be more pro-active and aggressive in finding places in which we show our comics. If we wish our industry to expand, we can't just rely on jobs offered by current comics companies. Approach an established publication, even though they haven't carried comics in the past, like a magazine and propose a comics section for them. It may seem far fetched, but it works! I was lucky enough to find receptive editors for the pop culture mag FUDGE and they accepted my proposal for a comics section. This is why my Humanis Rex! is currently being serialized there. PULP Magazine used to carry comics, but as far as I know they don't right now. It would be a good idea to approach them with a proposal and if they like it, they just might well take it. There are lots of other magazines out there. It can't hurt to approach them with something like this, specially if it will help create more appeal for their magazine.
Another option, if you can't contribute regularly to a regularly published title, would be to do your own comics. You can publish it yourself, like what Arnold and Carlo have done, or get a publisher to do it for you. Carlo and Arnold's comics have proven to be so successful that established companies actually picked their comics up for republication and wider distribution.
You know, anything that will help get comics out there, comics that are original, with great art and great stories. Some of us may be busy with our other comics work abroad, or busy with our day jobs right here in the Philippines. I'm not really asking you to give that up to work full time locally in comics instead. But we need great artists here, so anything you can do would be much appreciated. A lot of these local comics only require a few pages from each artist at a time. I'm sure a lot of you can pull that off if you make the effort to. And bear in mind that Philippine komiks is not "local lang!". It demands the best that we are capable of.
I think it's about time to make Pinoy komiks ROCK again! Don't you think?
I guess that would be the last on this subject from me. I think it's better to just go and do it rather than yak about it all day. I'm shutting up now and just put my opinions to practice, as I've always asked others to do. I'm just glad I have the means to do so.
---
Monday, September 26, 2005
Posted 9/26/2005 03:06:00 PM by Gerry Alanguilan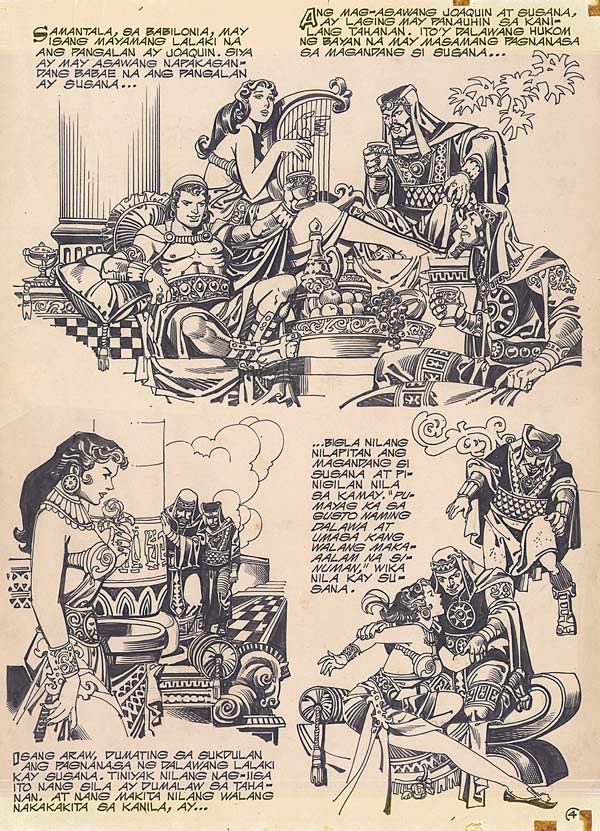 Ruben N. Yandoc
DANIEL
Kenkoy Komiks # 70
circa 1961
Ruben Yandoc is also known as "
Rubeny
" when he illustrated stories for American comics.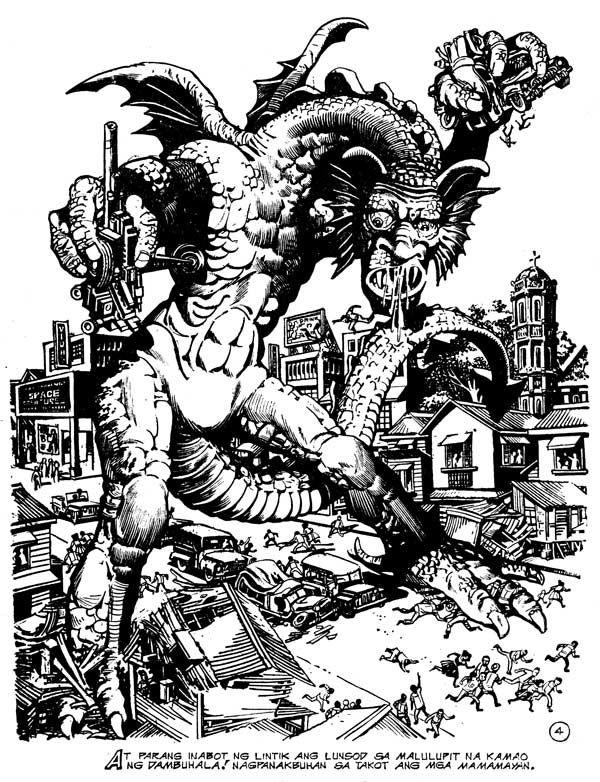 DAGUL
written and drawn by
Ruben Yandoc
Himawa Komiks #310
August 15, 1962
Looks familiar? Ruben must have been looking at a lot of Jack Kirby monster stories from Marvel. One page illustrations like this which occurred in the middle of the story and were not credit pages were extremely rare.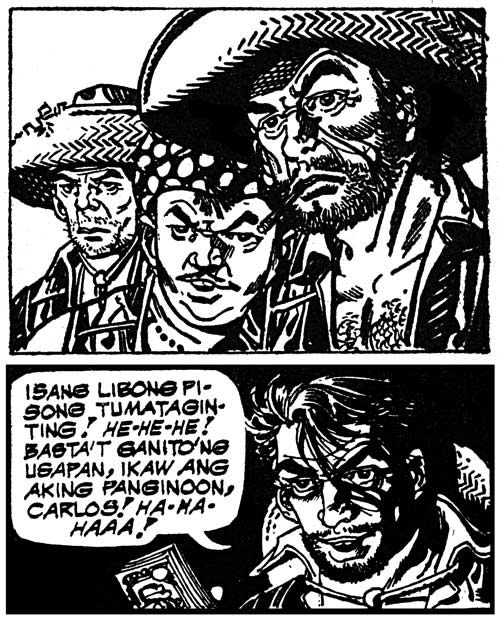 PATAPON
panel details
written and illustrated by
Ruben Yandoc
Kenkoy Komiks #95
August 27, 1962
---
Sunday, September 25, 2005
Posted 9/25/2005 12:01:00 AM by Gerry Alanguilan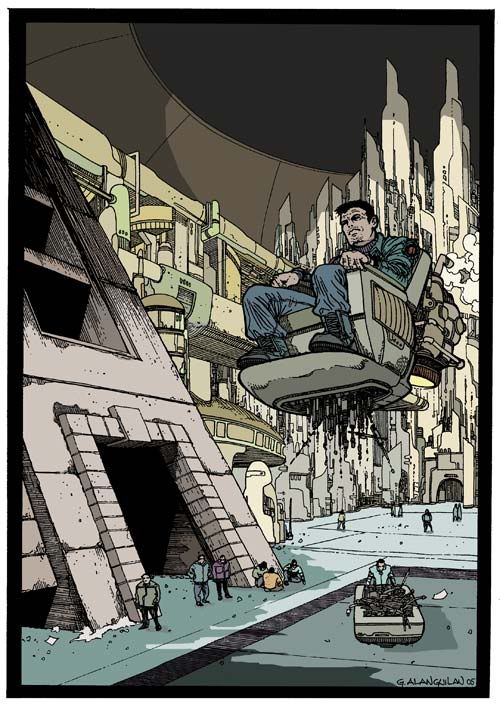 Humanis Rex! #7 Preview
Here are a couple of panels from next month's installment of Humanis Rex! currently being serialized by FUDGE Magazine.
Focus in this installment will be Colonel Edner Siete, and his ruminations on General Elias Andres. A lot of characters in this story have names based on the names of my friends. Edner Siete is similar to the name of an old classmate of mine in grade school who had since passed away in a motorcycle accident.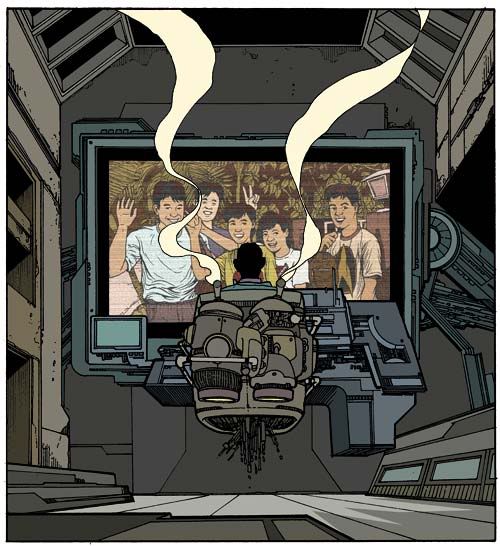 I know at least one of you who I know actually read this story will be pleasantly surprised in this installment, as long as he's sharp eyed enough to notice it. :)
---
Saturday, September 24, 2005
Posted 9/24/2005 07:46:00 PM by Gerry Alanguilan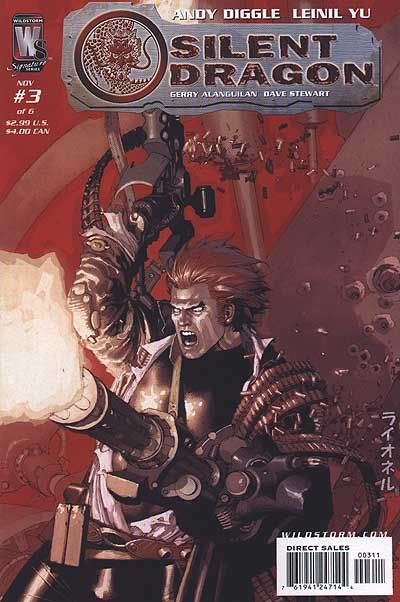 Silent Dragon #3
Written by
Andy Diggle
Pencilled by
Leinil Francis Yu
Inked by
Gerry Alanguilan
Colored by
Dave Stewart
Edited by
Ben Abernathy
I just got my copies! That pretty much says it'll be out within the next week. As was mentioned in the comments section earlier, and at the
Sun of Gelatometti blog,
Richard Friend will be inking issue #5 and some people are wondering why I'm not.
Everybody who've seen Silent Dragon can tell how detailed the art is. Me who had been inking it for the last 4 issues, and now Richard as he inks it, realize just how insane the detail is, and how much time it takes to finish a page. Mind you, this is not a complaint. I find it very challenging, as does Richard. Indeed, I can pretty much say it's the most challenging inking job I've ever had. And I can ask for no better inking job to go out with than this one.
Silent Dragon is quite an extraordinary inking job because of the sheer amount of detail, it takes far longer to finish a page than I usually did. Some pages take me 3 days to finish. Some pages take a day, but they're long days, which see me working more than 12 hours. The shortest time I've finished a page was 7 and half hours, and this includes one hour in which I scan, clean and digitally fix the page.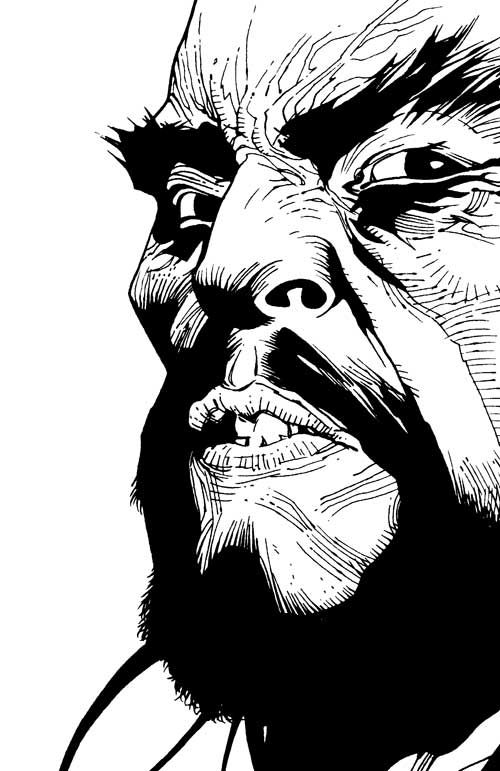 By the start of issue #4, the schedule had finally caught up with me and it's become apparent that I may need help to keep the books coming out on time. Enter Richard Friend. I've seen results of his inking on his blog, and man, he's seriously kicking my ass! This guy is awesome! Having been Travis Charest's inker for some time, he of all people would know the kind of effort it would take to ink Leinil's work on Silent Dragon. To be honest, I think they work well together and if they team up after Silent Dragon whatever they do would seriously rock.
Richard inks #5, and I come back and finish the series with #6. Thanks for the help Richard!
---
Monday, September 19, 2005
Posted 9/19/2005 04:51:00 PM by Gerry Alanguilan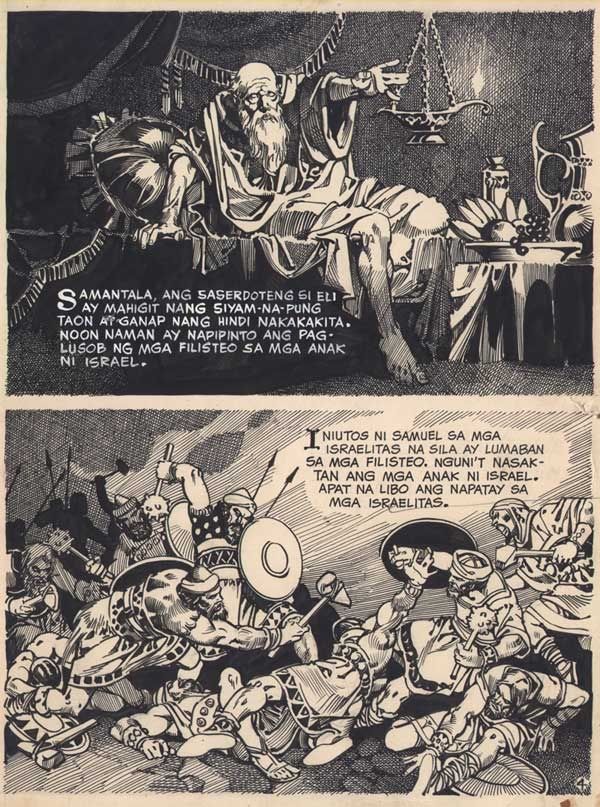 Emilio D. Rodriguez
SAMUEL
Kenkoy Komiks #55, 1961
Here's another batch of artwork from Emil Rodriguez from a variety of sources.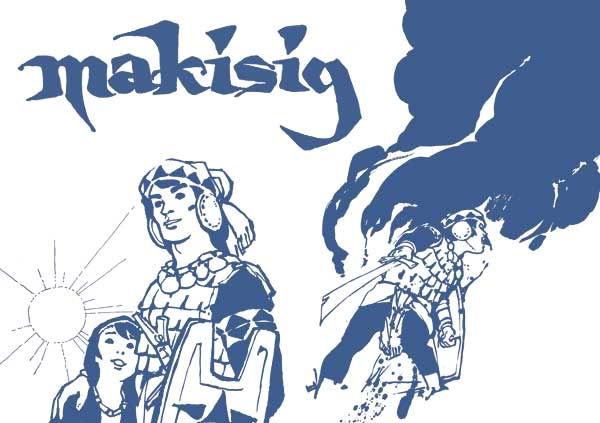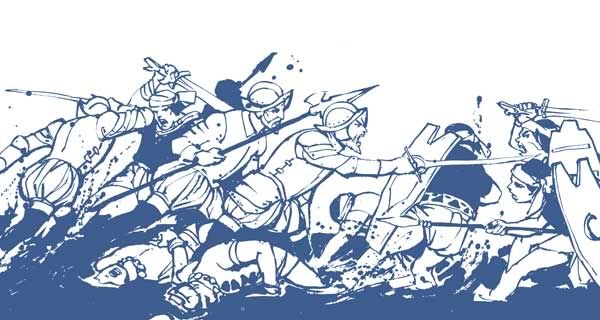 Makisig: Ang Munting Bayani ng Mactan
written by Gemma Cruz Araneta
Manlapaz Publishing Co. 1964
Courtesy of Auggie Surtida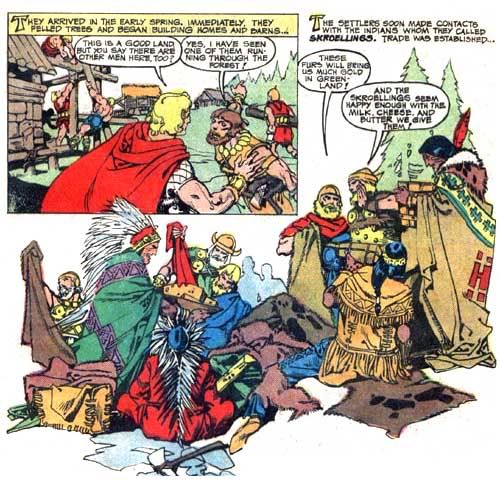 Treasure Chest
, circa 1970
Published by George A. Pflaum
Courtesy of Rod Samonte
---
Friday, September 16, 2005
Posted 9/16/2005 09:58:00 PM by Gerry Alanguilan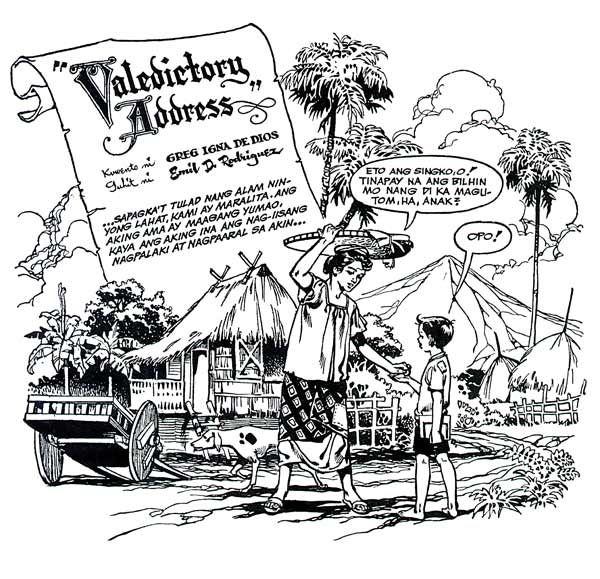 Emil D. Rodriquez
Valedictory Address Panel Detail
written by Greg Igna De Dios
Tagalog Klasiks #255, April 11, 1959
Here's a preview of artwork by one of the most talented, and most reclusive Filipino Komiks illustrators. He did not do as much work locally as someone like Nestor Redondo or Alfredo Alcala, but the little that Emil Rodriguez did were excellently, and painstakingly illustrated.
He practically dropped out of the public eye when he moved to the United States (before the great Filipino invasion of the early 70's), but his work for American comics, specifically for Treasure Chest, was recently brought to our attention by komiks fan Rod Samonte.
I'll be featuring pages from those comics and others, original art, and artwork from "Makisig: Ang Munting Bayani ng Mactan" contributed by Auggie Surtida, when I come back from finishing a couple of deadly deadlines.
---
Tuesday, September 13, 2005
Posted 9/13/2005 09:11:00 AM by Gerry Alanguilan

Ading Gonzales aka Adrian Gonzales
Looking for Info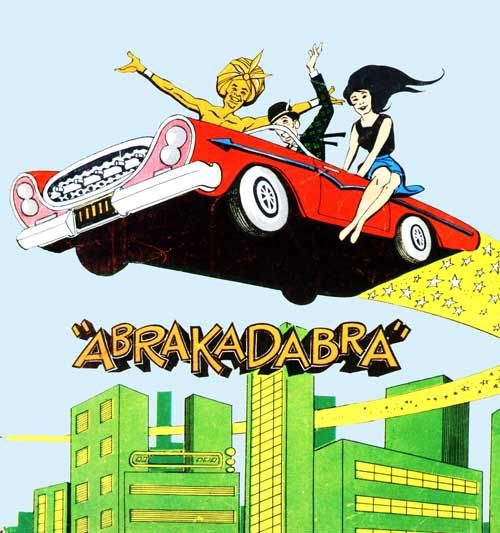 Abrakadabra
Detail of Hiwaga Komiks #346 Cover
May 21, 1965
Ading Gonzales, known as Adrian Gonzales in the US, will be having some of his work featured in a publication abroad. I was asked if I knew any information about this artist, but unfortunately, I know very little.
If anyone out there know some biographical info on him, or if you have photos, or better yet, if you're related to him, I would love to hear from you either by
email
or you can post a comment below. I would appreciate that very much. Thanks!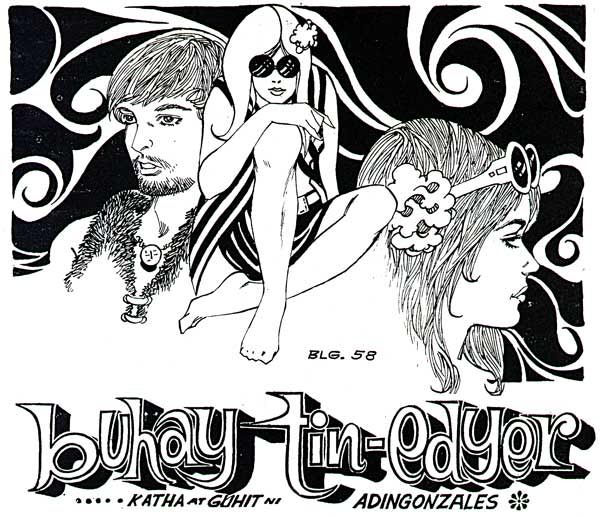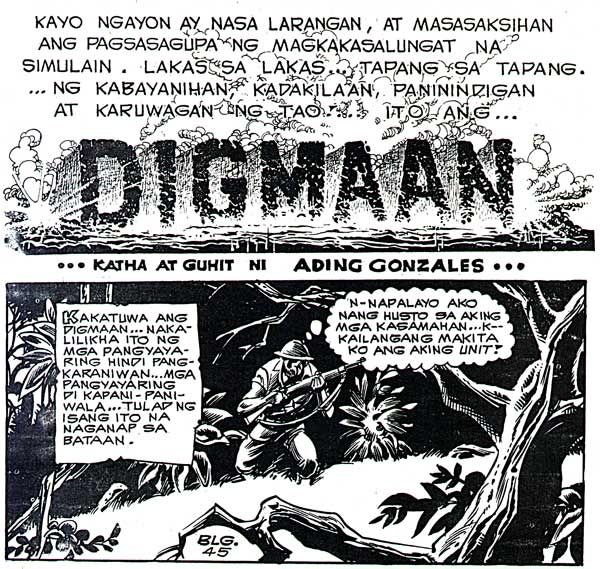 Buhay Tin-Edyer
and

Digmaan
Holiday Komiks #135
May 11, 1968
The two examples above, which appeared in the same issue, demonstrates the variety of styles which Ading could employ.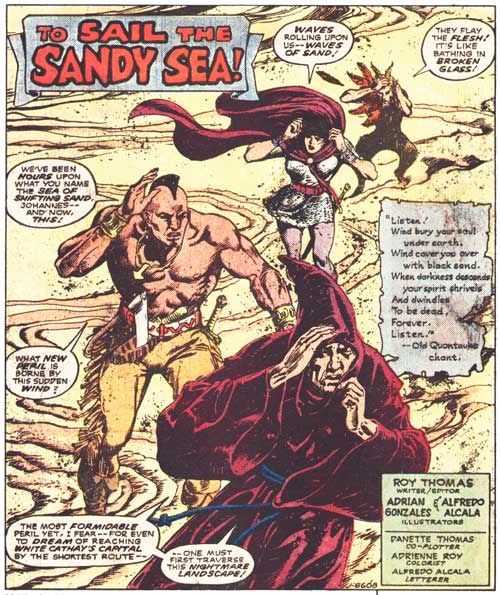 ARAK, Son of Thunder
Pencilled by Adrian Gonzales
Inked by Alfredo Alcala
Ading was quite popular in US comics where he worked as a penciller on many titles for DC including a respectable run in All Star Squadron, Arak Son Of Thunder, Sgt. Rock, Brave and The Bold, Ghosts, House of Mystery, Jonah Hex, World's Finest and many more.
Posted 9/13/2005 12:36:00 AM by Gerry Alanguilan

Guhit Pinoy, Saudi Arabia
Not too long ago, I met Filipino artist
Edbon Sevilleno
online, based in Saudi Arabia. He showed me his works which you can
see in this link
, and I thought his work is amazingly impressive.
Edbon organized "
Guhit Pinoy
" a group of Filipino komiks artists, who each found success working in various fields of art in Saudi Arabia. They mostly work for International Ad agencies like AP7, McCann Erickson, J.Walters, BBDO, Saatchi & Saatchi and others. Some are Art Directors, Graphic Artists and Concept Visualizers, doing storyboards to everything that requires drawing.
But the love for illustration and komiks still burns in their spirit and they meet ocassionally to share their work, sketch and paint. And wow, collectively, their work is some of the best art I've seen done by Filipinos. Edbon has put up a blog for Guhit Pinoy where you can see examples of their excellent work.
GUHIT PINOY BLOG
http://guhitpinoykomiks.blogspot.com/
Guhit Pinoy includes artists Val Pabulos, Manny Pantaleon, Romy Villanueva, Boy Tanangko, George Besinga, Ronnie de Guzman, Mel Valdez, Pons Amurao, Nes Gelito, Max Merto, Mel Verzosa, Alfreo Verzosa, Max Boyet Viernes Jr., Sonny delos Santos, Marjoe Suvisor, Natalio Alob Jr., Gil Magtalas, Ramero Firmeza, Ismael Esver, Mario Sta. Maria and of course, the one who began it all, Edbon Sevilleno.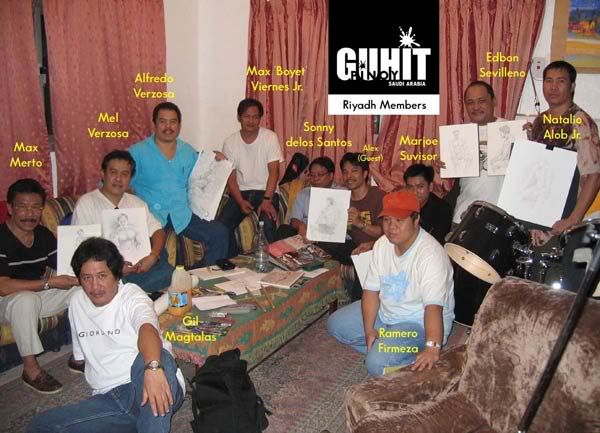 Click Photo for Larger Image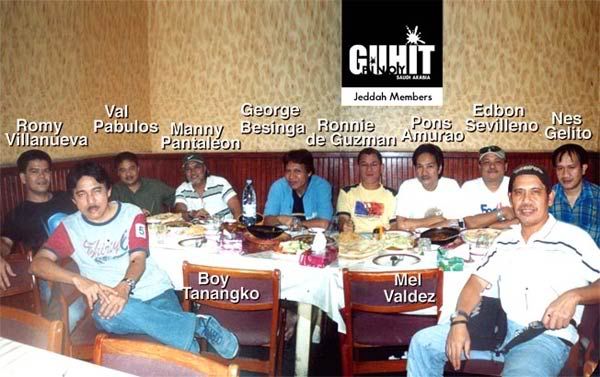 Click Photo for Larger Image
Mabuhay Kayo mga Kaibigan!
Edbon himself has several blogs where he puts up his work.
Check them out here
.
---
Sunday, September 11, 2005
Posted 9/11/2005 11:29:00 AM by Gerry Alanguilan
Jose Zabala Santos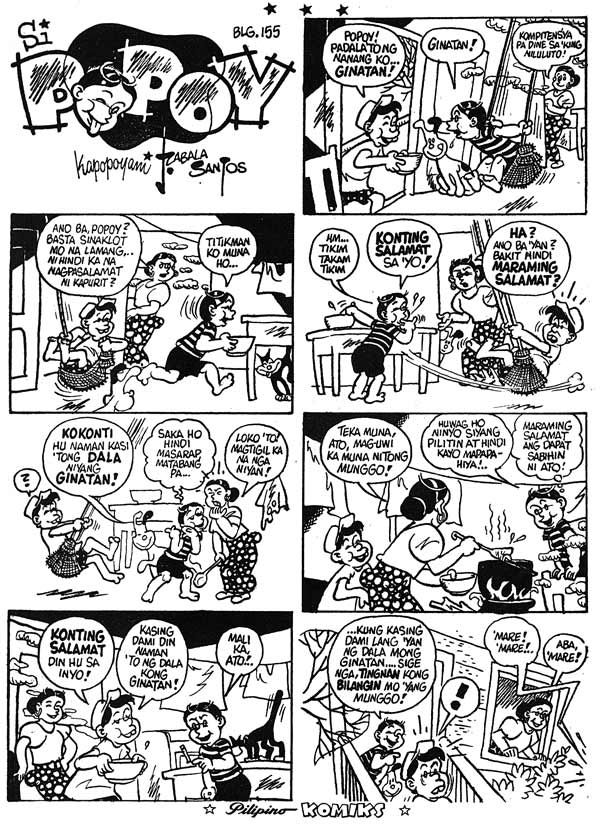 Si Popoy #155
Pilipino Komiks #155
May 9, 1953
---
Saturday, September 10, 2005
Posted 9/10/2005 11:01:00 AM by Gerry Alanguilan
Iba't Ibang Putahe ni

Menny Martin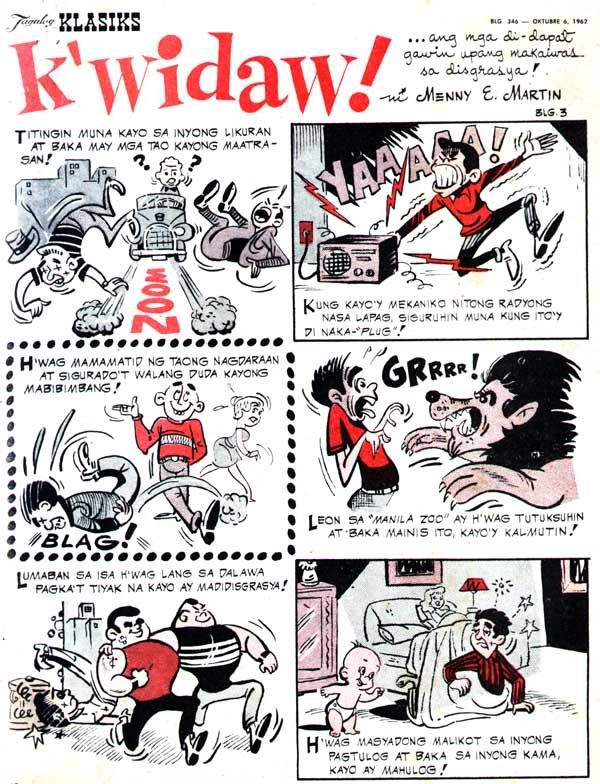 K'widaw!
Tagalog Klasiks #346
October 6, 1962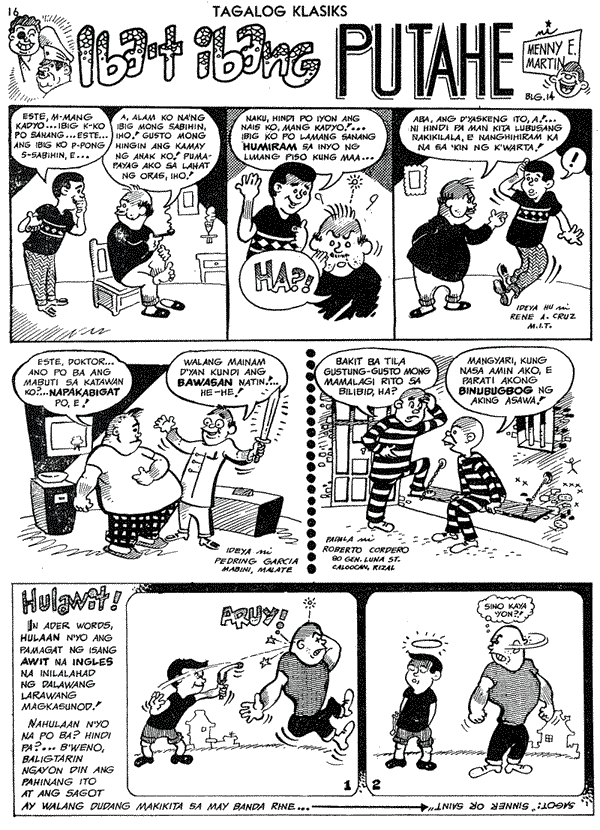 Iba't Ibang Putahe
Tagalog Klasiks #109
September 5, 1953
---
Thursday, September 08, 2005
Posted 9/08/2005 06:05:00 PM by Gerry Alanguilan
Mythology Class by Arnold Arre
Book Launch
September 16, 2005
6:00PM
Fully Booked, Rockwell,
Makati City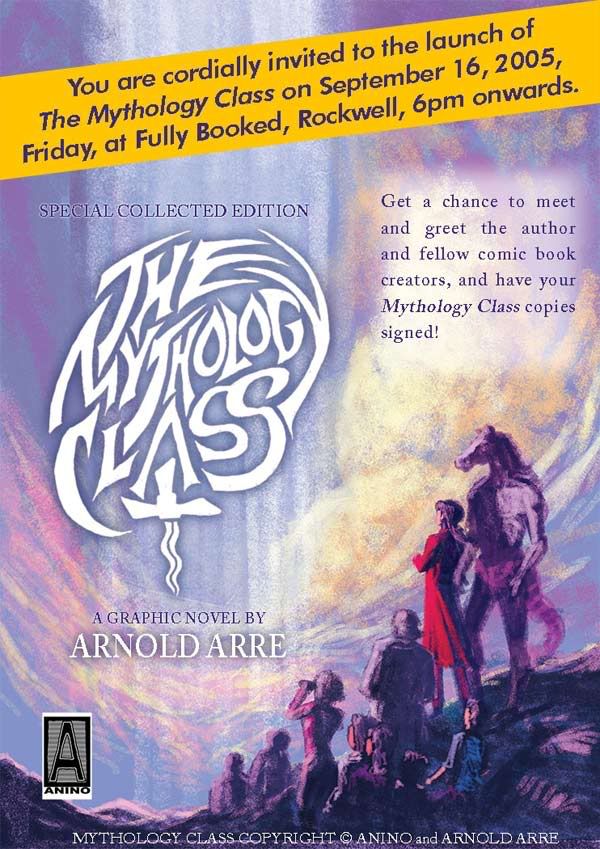 I probably would not be able to go because of work, but I wish Arnold all the best. I think of Arnold as one of the truly amazing comic book talents currently working in the Philippines. Amazing because of the quality of his work, but also the speed in which he turns them out. Just as this book is about to be launched, he is already hard at work on his the next big project.
Even Neil Gaiman expressed his appreciation for Arnold's work. Gaiman hinted at working at a project for the Philippines in his blog, and I wouldn't be surprised if Arnold was involved. Hopefully, that's true!
---
Tuesday, September 06, 2005
Posted 9/06/2005 02:30:00 PM by Gerry Alanguilan

KOMIKON: The First Philippine Comics Convention
(Press Release courtesy of Azrael Coladilla)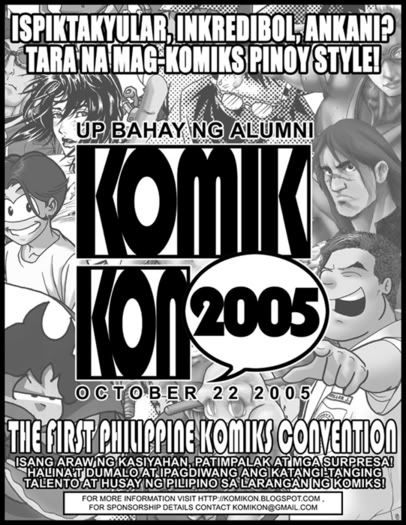 Comic books or Komiks in the local parlance enjoyed the special status as "the national past time" during its golden age spanning the 70s to the early 80s.
The local industry Illustrators gained superstar status giving them the opportunity to break into the international scene and cemented the tradition of producing world class comic book talents. The local scene on the other hand has crossed over into other entertainment mediums bringing classic comicbook characters such as Darna, Dyesebel, and Panday to the silverscreen and other titles as television series or radio drama.
For the past six years there have been numerous conventions on anime, gaming and comics. Since that time the comic industry in our country breathed life again. Many have published, lived and failed, but never lost hope. Here's the event that aims to bring together a great company of artists and celebrate this great art form called KOMIKS!
KOMIKON 2005 will be held at the UP Diliman's Bahay ng Alumni on October 22, 2005.

It will showcase the creations of Filipino artists from various genres and themes and give tribute to the creators and their creations. The 1st Philippine Komiks Convention aims to bring together different comic book artists/groups and publishers in a venue where they could present their talents, works and services to the public. Most importantly, it aims to give a break to aspiring comic artists. It would like to provide the venue for different art groups and different generations of artists for a free exchange of ideas. Hopefully it would lead to a transcending of stereotypes and broaden the scope of comics – from local to international to cross-cultural, sequential to strips, amateur to professional and traditional publication to independent comics publishing. This event will give people the awareness of the exciting state of contemporary Philippine comics industry.
Contests like the Independent Comic Book Contest, On the Spot Comic Strip Making and the Original Character Making Contest hopes to bring out the next generation of Comic Book creators to the fore front. Our Special Guests, comic book superstars from the past and present, both coming from the local and international fields will be available for questions and will be present to provide insights about the industry through their experiences. Various fun-filled activities will also be provided by our exhibitors through their respective booths.
Taking the cue from the film industry that regularly take time to award meritorious films and give accolades to their worthy creators, the Komikon Committee will open the nominations for the planned annual Komikon Awards in this event for the following year. The Komikon Awards will give the opportunity for readers, creators, publishers and retailers to nominate and vote for the best in the industry, both local and international. The Awards will not be typical; it will follow the non-traditional MTV way of giving awards, with categories such as Best Line, Best Action Scene, Best Romantic Scene, etc. The awards aim to encourage solidarity within the industry to produce quality local books and promote wider readership in the market.
This event is organized by The Artists' Den and UP Graphic Arts in Literature (GRAIL).
The UP GRAIL is a non-sectarian, non-partisan and non-political literary organization that aims to promote graphic literature as a serious literary form. The group believes that certain "comic books" or "graphic novels" can be considered as serious literary forms and that these are reflections of the society's social, political and cultural context. Their aim is to initiate and actively participate in all activities that would involve the promotion of graphic literature as a serious literary form.
The Artists' Den, on the other hand, has a long-term commitment to help art groups grow, to promote goodwill among fellow Comic Creators and support different works and activities among appreciative audiences. The organization had been witness to the ups and downs of the comic industry as members themselves are mixed up in it. The group has actively participated in the past conventions and now would like to have a convention that focuses on comics alone.
For more information and latest event developments visit
http://www.komikon.blogspot.com/
Download our Event info and Sponsorship/exhibitors package
http://www.geocities.com/jeazrael/komikon_sponsorship_package.doc
*****************
The Philippine Comics Art Museum will have a minor sponsor's booth in the Komikon, and will have an accompanying booth for the Komikero Artists's Group.
I'll be showcasing various original artwork and prints by Alfredo Alcala, Nestor Redondo, Francisco V. Coching, Rudy Florese, Sonny Trinidad, Emil Rodriquez, Ruben Yandoc, Larry Alcala, Fred Carrillo, Elpidio Torres, Alex Niño, Hal Santiago, Tony Velasquez, as well as those by modern Philipine artists like Leinil Francis Yu, Whilce Portacio, Rafael Kayanan, Lan Medina, myself and lots more!
Take a sneak peak into remastered pages for the upcoming re-release and compilation of Francisco V. Coching's EL INDIO, as well as sample art for the upcoming Masters of Philippine Comics Art book.
Have a chance to view and browse komiks published in the Philippines from the 40's up the the 70's including issues of Liwayway, Pilipino Komiks, Hiwaga Komiks, Tagalog Klasiks, Pioneer, Holiday, Aliwan, Pinoy Komiks, Pinoy Klasiks, Sinderela, Extra, etc. from the 1940's up the 1970's.
More announcement about this event in the coming weeks.
---
Monday, September 05, 2005
Posted 9/05/2005 11:10:00 AM by Gerry Alanguilan
To those of you who subscribe to this journal via RSS Feed (all five of you. ha! ha!), please take note that I've updated my RSS Feed URL. I'm really sorry about the confusion, but blame that on my own ignorance about how the damned thing works in the first place!
This is my new RSS Feed:
http://feeds.feedburner.com/alanguilan/YUOB
---
Friday, September 02, 2005
Posted 9/02/2005 11:59:00 AM by Gerry Alanguilan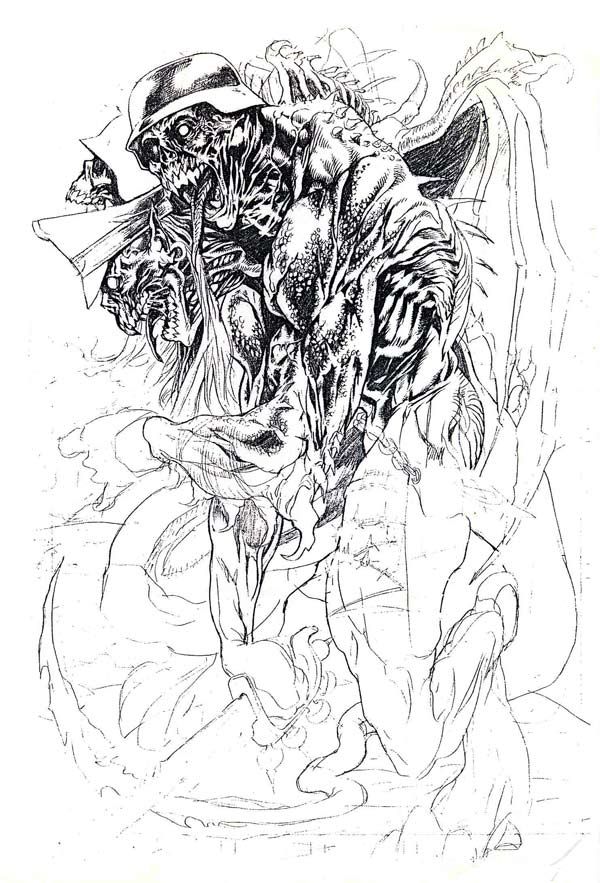 Nick Manabat, 1972-1995
Nick would have been 33 today. Who knows what artistic heights he must have reached had he lived? Unfortunately, he passed away 10 Novembers ago so we may never really know. But I think I can at least imagine it.
Nick was one of the truly talented people I knew. He was amazingly, INSANELY talented. His hand, as it held his pencil and pen, held a power so titanic that each paper that issued forth from his hand literally shook me to my knees. I may seem to exaggerate, but no matter how vigorously I describe Nick's talent , my words will always be understated.
I still remember meeting him that December in 1992. I felt so good about myself and my drawings. I was young and cocky and I believed that I was pretty hot stuff. I met with this group of artists that Whilce Portacio had put together to do a comic book (the as yet unreleased LAKAN). I plunked down my work in front of everybody thinking it'll just blow everyone away. That was when I saw this guy with deep eyes (who looked a little bit like Jeff Fahey) nodding politely at what he saw. I asked to see his work and when he handed a batch of papers my way and I looked, it was as if an atom bomb had detonated inside my mind.
I was so stunned that I found myself sitting down, silenced into submission. I thought, holy cow! Holy crap! This guy's stuff is fucking amazing! I was in a stupefied daze for the next 30 or so minutes, flipping those batch of papers over and over, unbelieving that a kid this young could draw so magnificently. Compared to this guy, I was nothing but the gnat living in the body hair of a tick living on the skin of a ratty dog.
Needless to say, it was a totally humbling experience. I almost quit dreaming about drawing comics right there. I could have hated him, but when I got to know him and learned he was one of the most soft spoken (literally) and humble people I know, it's just oh man, how can I help but be inspired?
And I'm very glad to say that he, along with Oliver Pulumbarit and John Toledo, had become friends of mine from then on. Just knowing him had wondrous effects on my own work. I found myself drawing a bit better just by meeting him and seeing his art. It was terrific!
I was very happy when Whilce took Nick with him to the US to work at Wildstorm. Somehow, I just knew it was meant to be. His work deserved to be seen by the entire world. And I'm glad that Nick would have a chance to share his work and inspire much more people.
I was devastated when I heard he had died. It really didn't catch us by surprise. We knew he had a kind of cancer and although I was really hoping he could beat it, all I could do was pray when I heard he had passed on.
I'm thankful I had met him. I'm thankful for an unforgettable lesson in humility he had taught me. I'm thankful for the immeasurable inspiration he had given me.
Thanks Nick! And happy birthday, man! :)
(Thanks to
Oliver
for the scan! Oliver has a
post about Nick
at his blog as well.)
---
---