Thursday, July 28, 2005
Posted 7/28/2005 01:16:00 AM by Gerry Alanguilan


Back Online!
And not a moment too soon as a couple of editors are ready to break down my door. Sorry for the delay and all, I'll make it up the rest of this week.
Thanks for all the helpful messages I received on this blog and email with regards to getting my computer up and running! Regardless of what I think of technology, ang galing talaga ng Internet! It has helped me solve a lot of problems I would have otherwise have had difficulty dealing with had I been completely offline.
May konting problems pa rin, pero they're minor and I should be able to resolve this matter completely by next week. Whew!
Next week I'll start a kind of overview of the work I've so far done, starting with all the stuff I ever inked. I've been looking over them and wow, I've inked a LOT of comics in the past 10 years. I think it would be fun (for me at least) to revisit them one by one, starting with Harriers for Entity way back in 1995.
Till next week then.
---
Tuesday, July 26, 2005
Posted 7/26/2005 01:00:00 PM by Gerry Alanguilan
Fatal Systerm Error
I've been noticing something wrong with the computer for sometime now. Once or twice a system message appeared telling me that my computer has just recovered from a near-fatal error. It worried me a bit. I just did the usual error checks and virus scans and forgot all about it.
Well, the computer made sure I didn't forget this time around when I started last night and it seemed to take a little TOO long to start. A blue screen appeared which said, "Ha! Sucker! You're SCREWED now!". Well, it didn't say that exactly, but it just might as well have. "Fatal System Error". My God. It's the first time it's happened to me. And it couldn't have come at the worst time. I'm desperately trying to finish an issue of Silent Dragon for which I'm already a bit late, and then there's the deadlines for Humanis Rex and Johnny Balbona waiting in the wings. I can't even afford to freak out, which I might have done had this happened 5 years ago when I might have handled this problem with a little less experience.
The best thing for me to do at the moment would be to buy a new hard disc install an OS in it and start fresh. Ilyn is going to Manila tomorrow and I've asked her to buy me one. I'll turn the old disc into a slave and hope to GOD that I can still salvage the files in it. The only thing of significance in my main disc is my website, and a host of scanned vintage artworks. All my work files on Silent Dragon, Humanis Rex and Johnny Balbona, and the entire 170 scanned pages of EL INDIO are on a 2nd slave disc which I'm relatively sure I can still salvage.
It's just too bad that I'm so dependent on the computer now for my work, because under any other circumstances, I would have been better off without it, just like I was when I lost my cellphone. When I lost my phone I sort of felt liberated. I still do. It's such a great feeling of freedom that I can't fully explain. I hope I can say the same with the computer, but I can't. I have to face the reality that the computer is now an essential tool in my work, and I'd be grossly disadvantaged without it.
It is unfortunate that we need to buy expensive things to do things we need to do in this age. Technology is fine, it's great! I just can't help but think I was probably born a little too late.
You can still email me at my old addresses, but right now, it's probably best to email me for the meantime at my yahoo address which is gerryalanguilan at yahoo.com. I hope to have the computer up and running again tomorrow evening. For now it's me and the neighborhood Internet cafe.
---
Monday, July 25, 2005
Posted 7/25/2005 08:38:00 AM by Gerry Alanguilan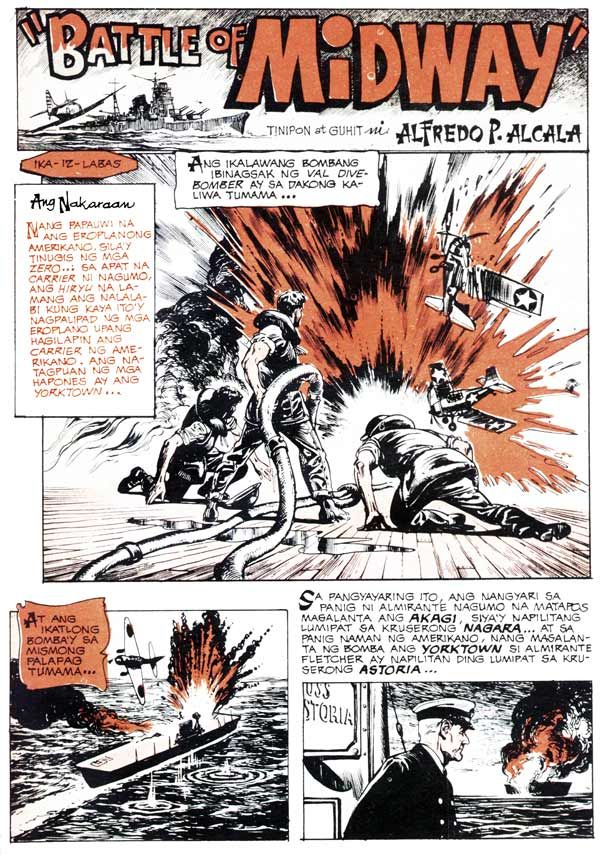 Alfredo P. Alcala
Battle of Midway
Redondo Komix #17
December 17, 1963
Alfredo Alcala's fascination with World War 2 naval warfare inspired him to write and draw many spectacular adaptations the greatest sea battles of that time. They are remarkable in their accurate eye for detail and lush rendering.
Alfredo's profile on the site has undergone a massive update with lots more art, and expanded biography.
Click Here
.
---
Saturday, July 23, 2005
Posted 7/23/2005 04:24:00 AM by Gerry Alanguilan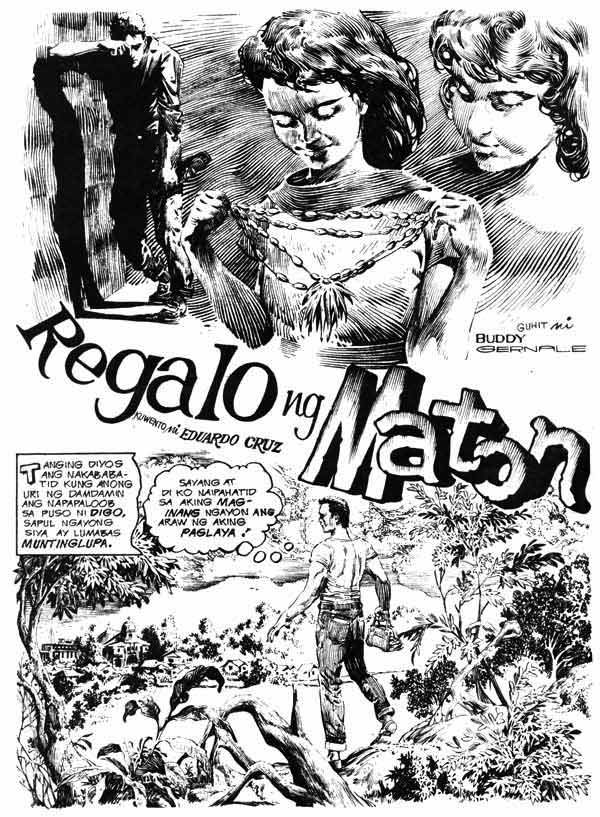 Buddy Gernale
Regalo ng Maton
Redondo Komix #17, December 17, 1963
Craf Publications
Here are some artists I have not yet featured on the site. There are only a few of many other talented artists to work on Philippine comics who are virtually unknown today. I myself have no background information on these artists, except for probably Paquito E. Gonzales, whose son got in touch with me not too long ago. Does anyone have info on the others? I'll be most grateful. Thanks! I'll be featuring Gonzales, as well as these other artists again in the future.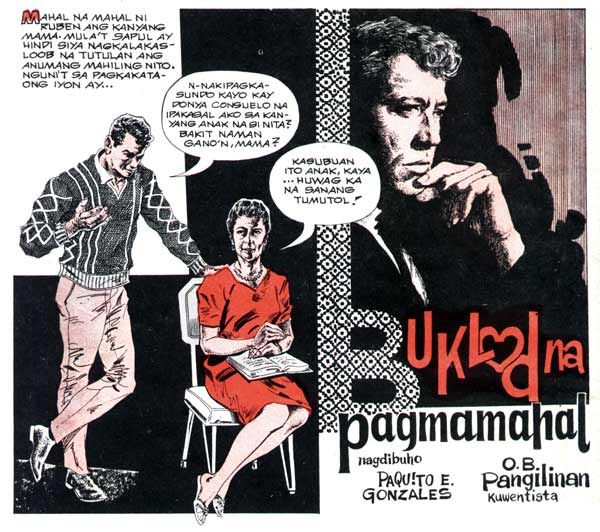 Paquito E. Gonzales
Buklod na Pagmamahal
Hiwaga Komiks #351, July 30, 1965
C. Reyes Publishing Corporation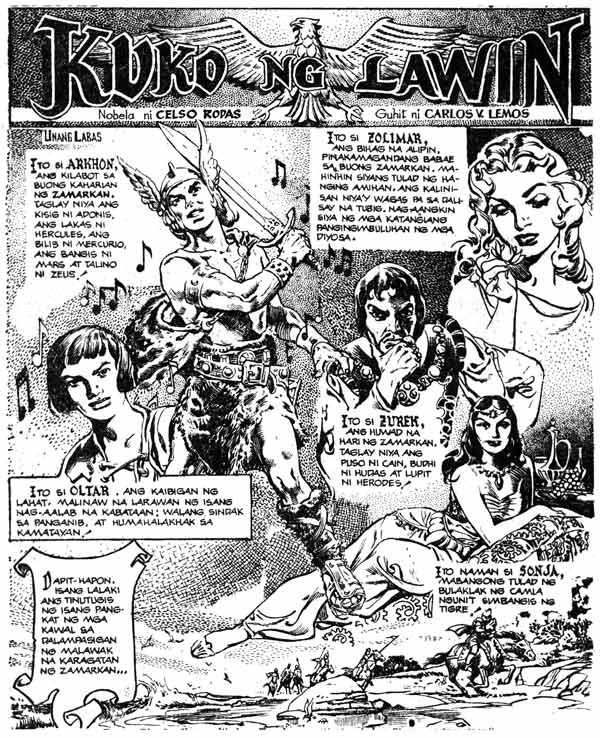 Carlos V. Lemos
Kuko ng Lawin
Espesyal Komiks #150, July 7, 1958
Ace Publications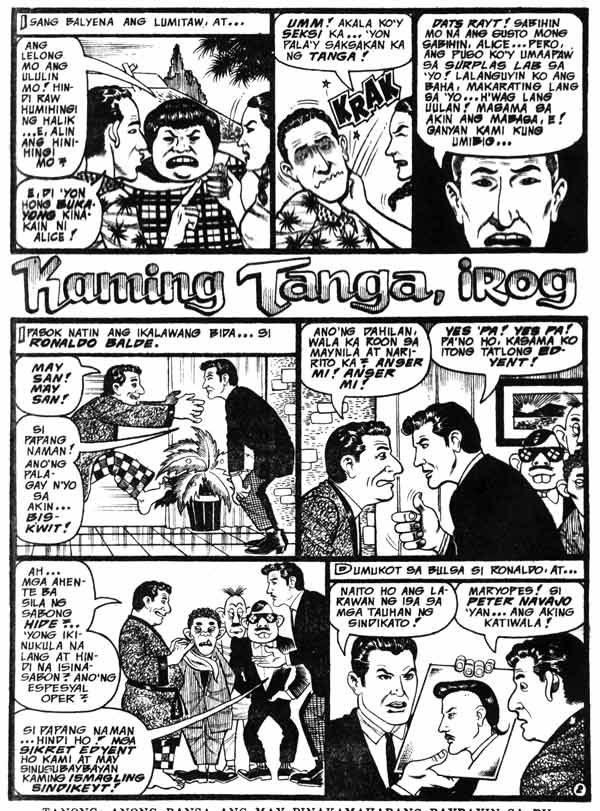 Bert R. Sarile
Mad House: Kaming Tanga, Irog
Tagalog Klasiks #453, May 27, 1968
Pilipino Komiks, Inc.
---
Thursday, July 21, 2005
Posted 7/21/2005 01:37:00 PM by Gerry Alanguilan

Silent Dragon #1!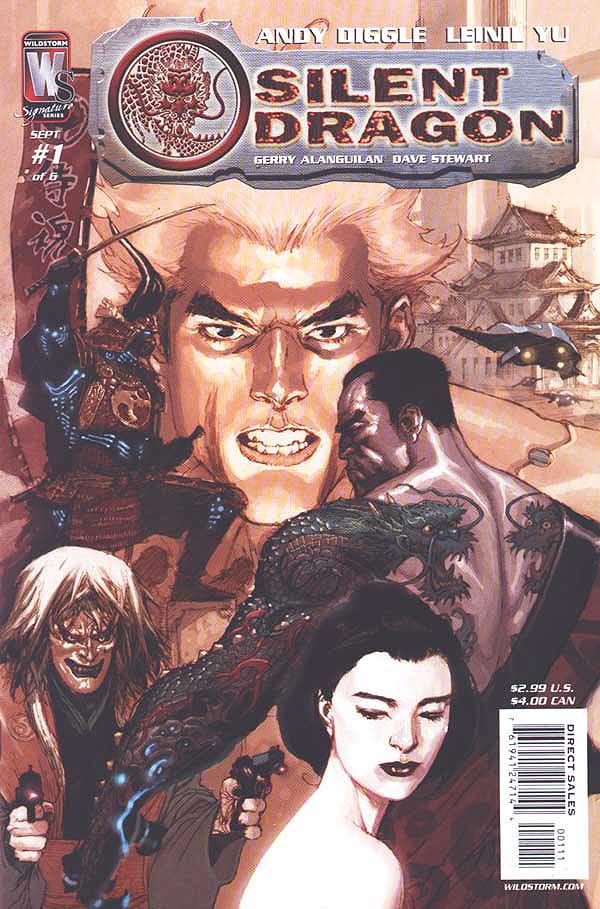 Silent Dragon #1
Written by
Andy Diggle
Pencilled by
Leinil Francis Yu
Inked by
Gerry Alanguilan
Colored by
Dave Stewart
Lettered by
Jared K. Fletcher
Edited by
Ben Abernathy
Cover pencilled and colored by Leinil Yu, Silent Dragon created by Diggle and Yu
Wildstorm Productions
I just received my copies of Silent Dragon #1. It should be out in stores next week. Silent Dragon is the first thing I worked on after inking Superman: Birthright last year. It's coming out of Wildstorm's Signature Series, and is written by acclaimed writer of Losers, Adam Strange and Swamp Thing, Andy Diggle. And it's colored by Eisner award winning colorist Dave Stewart. And of course, I'm working again with Leinil Francis Yu, who have been turning out an awesome page after awesome page. I mean, just check out a sample of interior art he did below.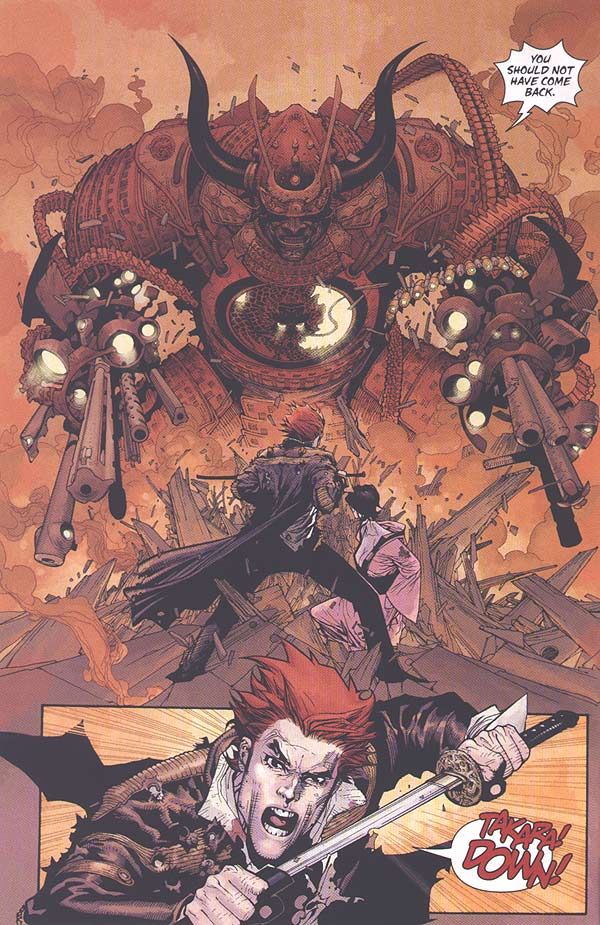 Below is an uncolored detail from one of the interior pages of this issue.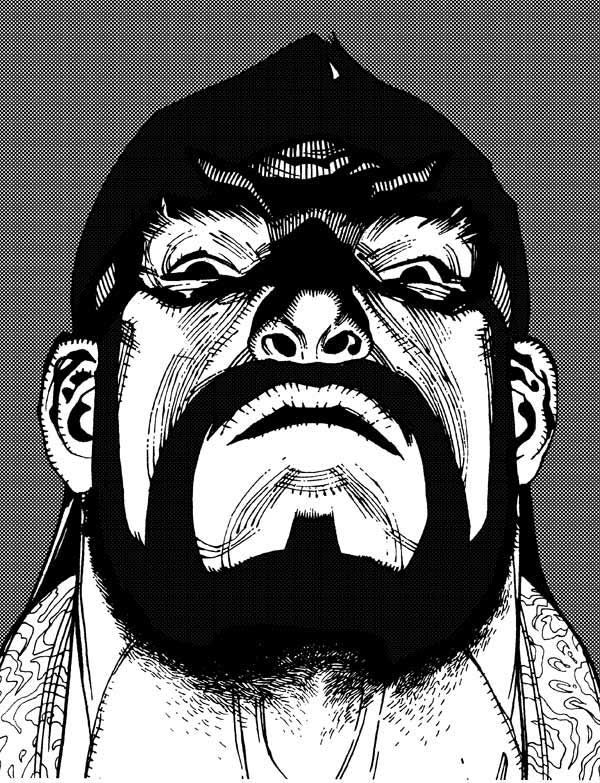 I've been inking for many years, more than 10 years now, I think. And although there were times when I was a bit unhappy with my work, I gotta say I'm extremely happy at how this book turned out.
---
Tuesday, July 19, 2005
Posted 7/19/2005 08:15:00 PM by Gerry Alanguilan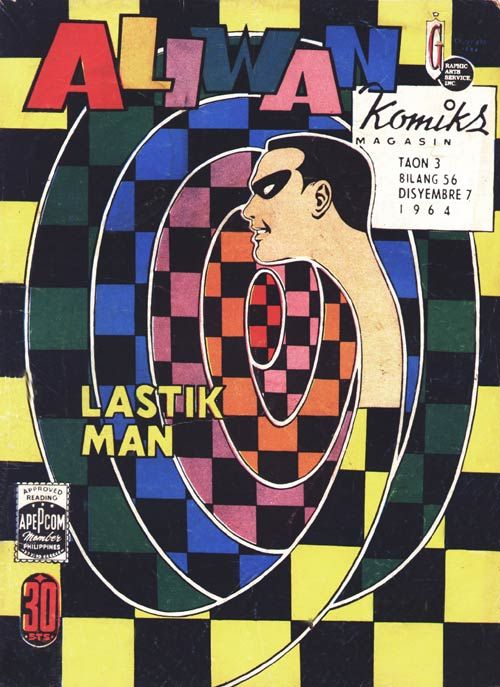 Lastikman Cover
Aliwan #56, December 7, 1964
Illustrated by
Mar Santana
Graphic Arts Service, Inc.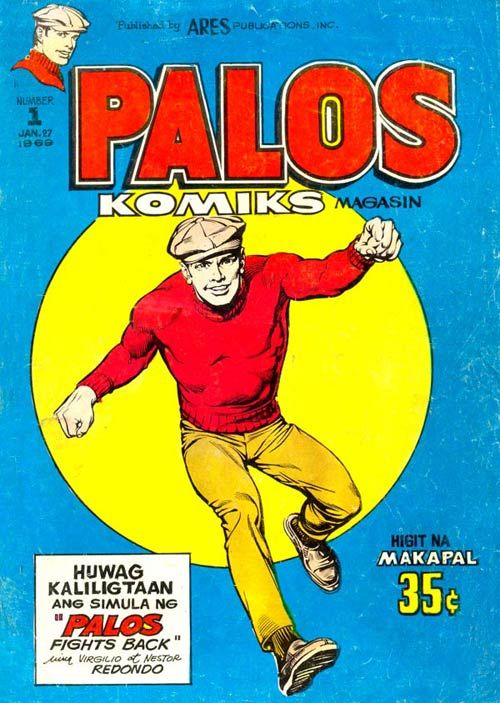 Palos Cover
Palos Komiks #1, January 27, 1969
Illustrated by
Nestor Redondo
ARES Publications
*Thanks to Erwin Cruz for this cover!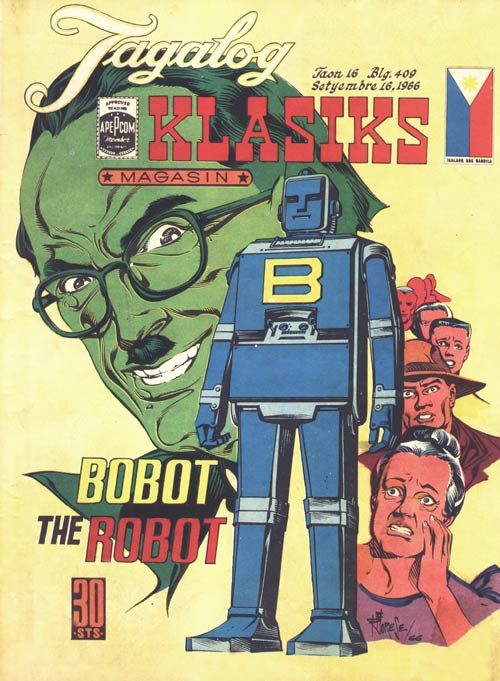 Bobot The Robot
Tagalog Klasiks #409, September 16, 1966
Illustrated by
Rudy Florese
Posted 7/19/2005 07:38:00 PM by Gerry Alanguilan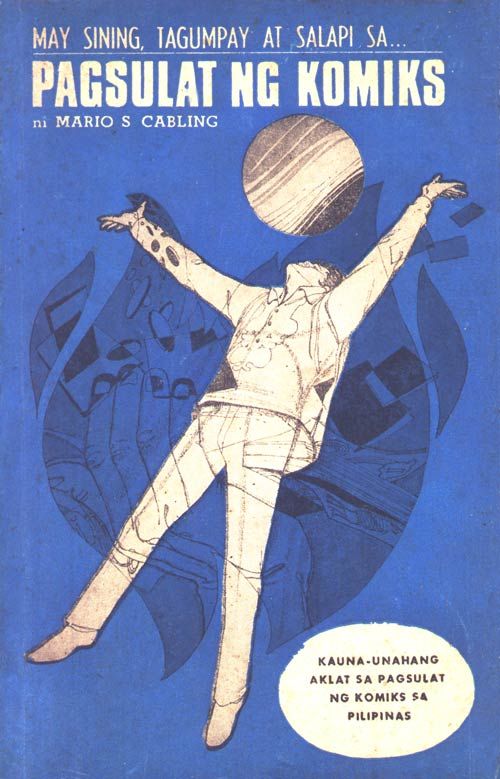 May Sining, Tagumpay at Salapi sa

Pagsulat ng Komiks
ni
Mario S. Cabling
Art, Success and Money in Writing Comics by Mario S. Cabling
Published by National Book Store, 1972
I don't remember when I came across this book. I think my dad must have bought it in one of his many forays in Recto in search for bargain books. Indeed, this book was bought for only one peso.
Written in Tagalog, this book describes in sufficient detail essential aspects of komiks in the Philippines, circa 1970, from it's definition, characteristics, history, to its effect on Philippine society. It breaks down the fundamental parts of a comic book, the kind of stories that can be told, and interestingly enough, how they can be told, as determined by a "comics code" called the Golden Code of APEPCOM (Association of Philippine Editors, Publishers of Comics and Magazines).
History would bear out that the enforcement and adherence to the code is moderate at best, but at that particular time in the early years of Martial Law, adherence was practically mandatory.
The book describes the different kinds of panel layouts can be made on a page, as can be directed by the writer, indication of the ascendance of the writer over the artist, a characteristic of Philippine comics that persists to this day. As an example, Carlo Caparas, Mars Ravelo, Pablo S. Gomez are the names you hear when their characters Panday, Darna and Lastikman, and Kampanerang Kuba are referred to, but no mention at all of the artists who created those characters along with them. Steven Gan, artist on Panday, told me in an interview that he was largely resp0nsible for the look of the Panday character including other cast, clothing, weapons and other visual elements. That would make him practically a co-creator, and should benefit from any and all usage of that character in comics and other media. Fixing this oversight is one of the goals this site will try to accomplish.
Back to book, it also goes on in good detail how to properly write a script with the proper format, draft a proposal, provides a list of publishers and their addresses, and even offers tips on how to negotiate for a proper rate.
It's an interesting document that gives a peek into how comics were created at a particular time (and certain things are still applicable today), but an update is sorely needed, not only for writers but for artists as well.
---
Monday, July 18, 2005
Posted 7/18/2005 01:46:00 AM by Gerry Alanguilan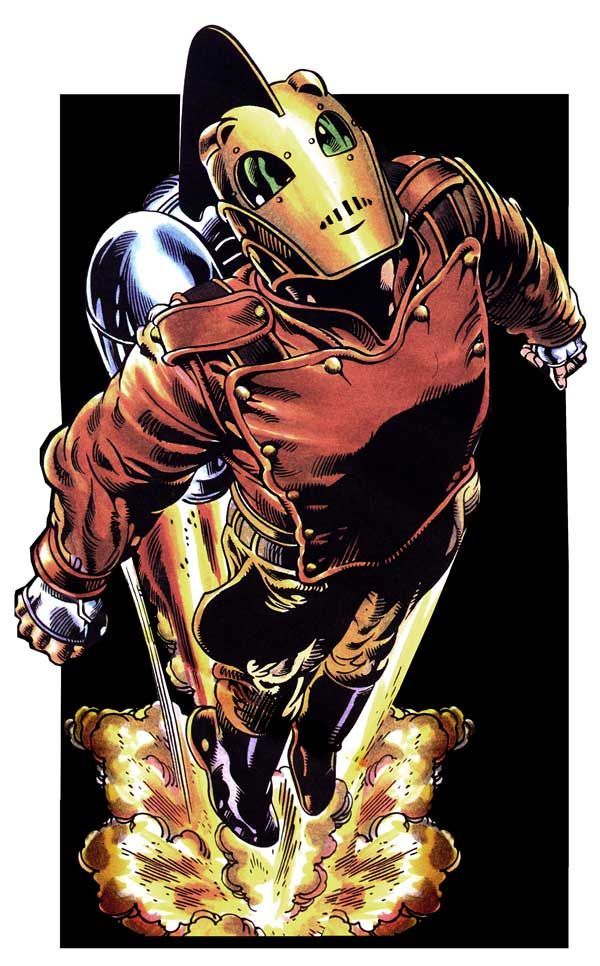 Dell Barras
Rocketeer Illustration
The Rocketeer Story Book
Published by Walt Disney Pictures, 1991
The Rocketeer created by
Dave Stevens
Dell Barras began his career in comics in the Philippines illustrating various stories like "DARNA and the Black Widow" and "Asawa ng Sailor" for Bulaklak and other local companies. Romeo Tanghal introduced Dell to DC Comics editors which began a long career in comics and animation in the US. He has worked as inker and artist on various titles for Marvel and DC including New Mutants, Champions, Defenders, Micronauts, Superman, Batman, Green Arrow, Spiderman, Hulk, Conan and various comics for Neal Adams' Continuity Comics.
I saw Dell's work for the first time on the pages of New Mutants where he inked Keith Pollard for one issue. I was a huge fan of Chris Claremont's New Mutants, and it was a run that I still find to be very good and quite underrated. I immediately noticed how familar the art seemed to be although I've never seen Dell's linework before. The line art seemed to have a softness and grace that I didn't see in most of the comics I was reading at the time.
It would be many years later when I would learn that Dell was actually Filipino, and the familiarity I felt with his work suddenly made sense. This fact was pointed out to me by Whilce, who had met Dell previously.
Dell is currently working as a designer, animator, and storyboard artist for films, television and the Internet, and is based in Van Nuys, California.
A frequent visitor to Komikero.com, Dell has been helpful in getting me in touch with many other Filipino Komiks illustrators and providing information and artwork that greatly enrich this site.
You can visit Dell's official site, where you can see more of his art below:
THE ART OF DELL BARRAS
http://www.media-blastoff.net/
---
Thursday, July 14, 2005
Posted 7/14/2005 11:33:00 PM by Gerry Alanguilan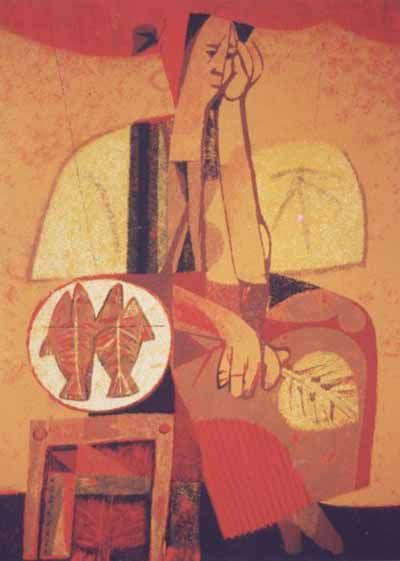 Mauro Malang Santos
Woman in Red, 1997
Mauro Malang Santos, more popularly known as simply "
Malang
" is one of the Philippines' most prominent painters. At 77 years old, Malang is still active and still painting. His works have been considered to "celebrate the Philippine landscape, it's people and their traditions with rapturous, fiesta colors."
Malang began his career as a cartoonist, writing and drawing "
Kosme The Cop, Retired
". He, along with other cartoonists including Larry Alcala, established the "Bughouse" in 1955, a gallery specializing in cartoons.
The strip below comes from
Bituin Komiks #22
, published in
June 30, 1950
by
F. J. Quiogue Publication
for which he also served as assistant editor.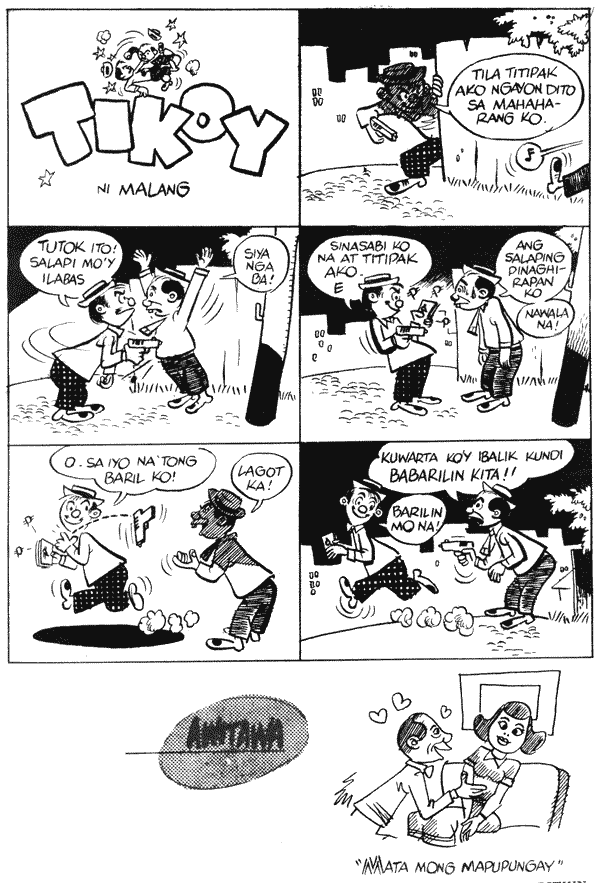 *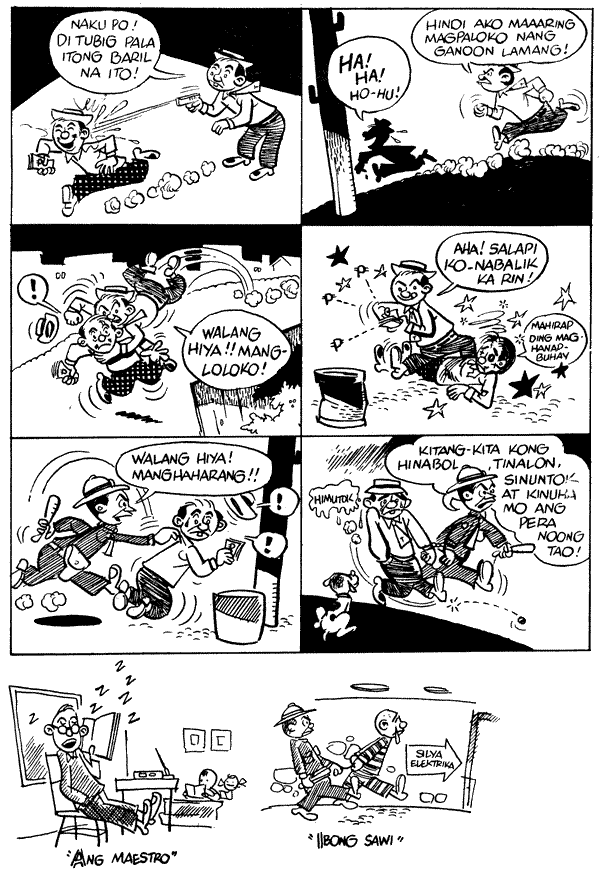 Another Filipino painter who has roots in comics include National Artist
Vicente S. Manansala
, who contributed artwork to what may be considered a "comic book" adaptation of Philippine History in "
Philippine Saga: A Pictorial History of the Archipelago Since Time Began
", written by
Prof. H. Otley Beyer
and
Prof. Jaime C. De Veyra
, serialized in The Evening News in 1947.
More on Vicente Manansala later....
---
Wednesday, July 13, 2005
Posted 7/13/2005 07:20:00 PM by Gerry Alanguilan

For All The Right Reasons
I get some pretty interesting emails from time to time. A lot of the emails I get are from aspiring artists looking for advice and/or critique, or they just wanted to write me after realizing, with much surprise, that I actually exist as a real live human being. I try my very best to reply, and although at times I have promised to critique their art, sometimes work and other committments cause me to simply forget, or lose time to take care of it. I'm a forgetful person, and many times I'm concerend that I offend those people whom I have previously met and I've forgotten their names.
Emails I try my best to answer, and for the most part, I get to respond to most of them. Sometimes I don't get to reply at all. The reasons are many. Some emails I set aside, planning on replying later as they require a lot of thought and time to compose a response to, but sometimes I just forget once I get caught up in other things.
Other emails I find just too pushy. If they don't get a reply within 12 hours they start to jump on you, and send identical emails one after the other, thinking that perhaps I didn't get it the first time around. That makes me less and less inclined to reply.
Some emails demand rather than request for help in their thesis research or other school work. These emails lack courtesy or consideration and they are written with a haughtiness that believes the world owes them something. Most of the time I do reply, but I'm not helpful at all.
When people meet me sometimes I'm asked to sketch. Actually, I love to sketch for anyone who asks for it, but it's embarassing, because I'm not someone like Arnold Arre who can whip up an awesome looking drawing in a few seconds. I tend to take my time... and it takes a long time to do a drawing I'm happy with. Some people have the impression that we can draw everything from memory.
At the Neil Gaiman autograph signing at Greenhills, someone asked me to draw Rogue from the Paul Smith era. I welcomed the request, but to be honest, the request frightened me. One, I have a hard time drawing girls quickly. Two, I have a hard time drawing in public, and three, I can't recall from memory what Rogue's costume was like during Paul Smith's tenure on the X-men. The guy told the story of how he approached Leinil one time and asked him to draw Wonder Woman and Leinil couldn't because he can't recall what Wonder Woman looks like.
It may seem surprising, but comics artist generally can't draw every character from memory. Even for seasoned professionals, research is very important, and you can bet that nearly all artists do a certain amount of research before he starts drawing. Unless an artist has worked specifically on a title for several months, he won't be able to recall with any accuracy what any given character on that book looks like, except for maybe someone like George Perez, who has practically drawn EVERYONE at some point or the other.
But anyway, I ended up drawing Wolverine, but I'm afraid I didn't do a good job of it. My pen ran out of ink and well, it was a mess. I apologized to the guy and I said I'd just do a Rogue for him which I will do here at home. I think I have promised drawings to a couple of other people, and I'm thinking I really should start writing these down so I won't forget.
Back to the emails.... many of those I do get from aspiring artists are just amazing. They share their art with me and sometimes I just go wow! If an artist approaches me with art that I feel has that potential to make it, I try to recommend them to people who could give them jobs. And I'm glad to say that some of these artists are actually working in comics now. I guess it all comes down to attitude. These artists have a healthy attitude towards creativity, they're willing to learn and improve, and they have a distinct love for art and comics.
Sometimes, other aspring artists approach with me on the pretext of asking for advice, but in their hearts, what they really want is praise. But don't we all? Praise for a job well done is much deserved, but to ask me for advice and critique, don't expect me to give you anything else other than advice and critique. I'll give you praise if I think your work warrants it.
I'm terribly frank and straightforward about my advice, and when the mood strikes I can get pretty detailed and verbose. Somtimes it takes more 2 hours just to write up a long critique of several pages of art. But this is done with no other intent but to point out to the aspiring artist just what he needs to work on. And if I get longwinded it only means I care that this artist does a better job and I know, from looking at his work, that he can do better.
I'm never counterproductive nor am I dismissive. I try to be as helpful as I can, but in the process, I can be brutally honest. Such honesty I think, is something that is probably not expected or even wanted, and more often than not, I don't hear from them again.
Out of 5 people who approach me to critique their work, only 1 out of 5 ever respond, even if it is to just say thanks. The other four, possibly frustrated that they didn't get praise from me, probably went somewhere else looking for it. Well, good luck. But I have to say you won't get better once you feel that you can't do better.
Like my wife says, "fried chicken". A little ego is good and even needed, but too much of it is counterproductive.
Once in a while I come across people who try and enter comics for all the wrong reasons. One guy emailed me telling me that he's envious that a lot of people were approaching us to have our autographs on their comics, and that people were mobbing us during these signings. Others email me wanting to be artists in comics because they know they'll be earning lots of money and get to hang out with girls. Which is wow... it's hard to find the right words to say just how wrong that is.
In many cases, when people enter comics with these objectives in mind, they really don't get to last long because they realize sooner or later just how hard the job is. And yes, it is a hard job. It's a time consuming job, requiring a lot of sacrifice and commitment. Believe it or not, when people see me outside for signings or when I'm walking around in malls, those are probably just a few of the times when I'm not at home chained to my desk and working.
You have to love the art. You have to love doing comics and continuously find ways to improve yourself. Being a pro doesn't exempt you from criticism. Your education as an artist doesn't stop. I got critiques forWasted, for Crest Hut, for Birthright, for Lastikman, for Humanis Rex. I accept them all because I know accepting it can result in nothing else but better work in the future.
This is why I'm always saddened and disappointed when I meet fellow professionals who came into the job for all the wrong reasons. I've met artists who openly admit they do it for the money. Their art is good, but you can see how they can still improve. I guess I can't blame anyone who only wants to make a living for themselves. And doing comics is an honest living. Nothing can be really wrong with that.
But once in a while I come across people who are so arrogant in their mediocrity that I just shake my head and wonder how they were able to get that job and have a following. Take this guy for instance, who has been working for some time. To be honest, he isn't a very good artist. His writing has its moments once in a while, but he hasn't shown he can improve as an artist in the many years he has been working. Under ordinary circumstances, this is an opinion that I'd rather keep to myself, but in order to demonstrate what I want to say in this post, a real and true example needs to be shown. I don't need to say who he is, for it is simply proof that such persons do exist that I wish to demonstrate.
I have been seeing his work for a couple of years and although I don't enjoy his work and I think his art is seriously flawed, I'm content to just appreciate other things more worthy of attention. But in an Internet mailing list few years ago, he announced that he will be part of a seminar that proposes to teach how comics are drawn. And my stomach turned.
How can he even think of teaching young artists to draw, when he is the one in serious need of an art education himself? Again, it's an opinion I wanted to keep to myself, but much to my surprise, someone actually replied with another message expressing in words what I had been thinking. I quote the message, with the name of the artist edited out.
Is xxxxxx the guy who draws xxxxxxxx? I applaud his efforts ....
but his artwork is very amateurish.......
I don't think xxxxxxx is in a position to teach me or
anyone on how to draw comic art. He needs an art workshop as much as I do.
And the artist freaked out. Thankfully enough, I saved the message and I'm posting it below unedited, except for his name.
Let's put it this way: if an amateur like me can release 3 successful
books, go national, get visited by Atenean chicks for interviews,
receive free unlimited internet time just for doing what I do, and
hordes of readers pestering me for a fourth book,
why can't you?
There are better comic artists out there who can't profit from their
work and gain recognition. Therefore, there's more to comic creation
than the art. Now isn't that something worth learning about?
There's more to comics creation than art? What? Atenean chicks? Free Internet? Fan adulation? I can't say anything much more because he pretty much hangs himself by what he has said.
But I do concede that there are many artists out there who are good, but can't get the same attention. That much is true. But to promote mediocrity because for some strange damned reason it sells, and propose to perpetuate such mediocrity and the philosophy behind it by *teaching* it, is something I cannot let pass. It is why I'm posting this here.
I certainly hope no young artist learns from his example, but there is a deep sinking fear that some may well do. I just hope that there would be more young artists out there who care wholeheartedly about the craft, artists who believe that uplifting the medium is much more important than the money and the adulation, artists who are willing to push the creative envelope and explore avenues in art other artists haven't gone before.
And if I can offer an advice to anyone willing to listen, just do your best. Just do your best. Draw the hell out of that page, and draw it like it's the last page you will ever draw, knowing that it may well be your last chance to show just what you can do. Just do your best. Listen to criticism. Take it. Accept it. LOVE what you do. And if your work is good, you know, money and all that shit will follow whether you realize it or not.
---
Monday, July 11, 2005
Posted 7/11/2005 11:50:00 PM by Gerry Alanguilan

Meeting Neil Gaiman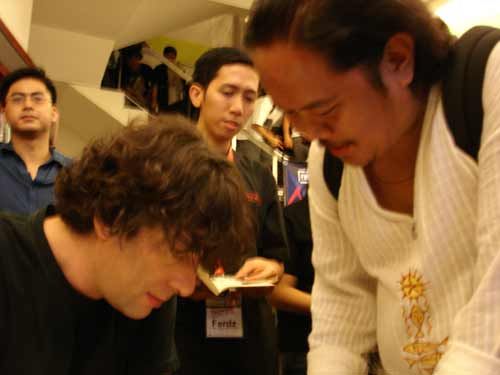 Working in comics since 1992 doesn't change the fact that I'm still pretty much a fanboy, specially towards those creators whose work I appreciate a lot. The prospect of meeting the creators of my favorite comics is always a thrill, and there is really no thrill greater than meeting Neil Gaiman. Well, maybe Alan Moore, but Neil is pretty much right there with him.
I loved (and still love) Neil's work on Sandman, Miracleman, Books of Magic, American Gods, etc. I saw him doing signings during the 1999 San Diego Con, but there were just too many people and there was so much to do and go to. But having Neil right here in the Philippines is a different matter altogether. I was thrilled when I heard he was coming over c/o Fully Booked and the British Council. It was my chance to finally meet him.
I've never worked with Neil so I didn't have that card to play. Additionally, I have no string to pull for a more personal chance to meet him. But even if I did have that string, I probably wouldn't have used it. I'll stand in line, just like almost everyone else. It would be an interesting experience. I just didn't realize just how interesting it would be.
I also heard of this "Writers' Forum" sponsored by the British Council but they said you had to have an invitation for it. I thought, what the heck. I wrote the British Council and asked for invitations for both me and Ilyn. And what do you know? They gave us two. So that was cool!
Being based in San Pablo, it probably wouldn't have been feasible for me and Ilyn to back and forth Manila for a couple of days to attend the forum, meet Neil, and to get my comics signed. So we got a hotel somewhere in Ortigas which would make it easier for us to follow Neil around.
I brought with me my inking work so I could work on them while I was in town. I had planned to attend all three signings so I can get more books signed. We would arrive in Manila on Saturday, the first day of the signing in Rockwell. We would go straight to the venue after we had checked in.
It was on the bus on the way to Manila did we first hear of just what it was we were getting in to. Ilyn received texts reporting that people were lining up at Rockwell as early as 5:30am for a 3:00pm signing! Oh my God!! We both agreed to scratch Saturday and line up early for the Sunday signing in Greenhills Promenade instead.
We went to Greenhills that afternoon to see just where this Greenhills Promenade was. We've heard how different Greenhills was now, but we didn't realize how different. We hardly recognized it! At least now we know where Fully Booked was and we would be able to find the place easily the next day.
We both watched Batman that night. It was AWESOME. *nuff said!* It momentarily took my mind off what we would expect to be a gruelling day the following day.
We arrived at Greenhills at 9:00am to find a formidable line had already formed. We would learn later that there would be 150 people in front of us. And another 300 people would be added in *front* of this line, carried over from the previous day. From #152 in the line, I was suddenly shunted to #452! It would have been a frustration, but Ilyn and I had already agreed the night before that whatever happens that day, we won't get worked up over it. If we get our stuff signed and meet Neil, that would be great, but if we would be unlucky, then que sera sera. It was probably not meant to be, then.
It wasn't as horrible to be in line as I thought, as we saw a lot of friends, and made new ones!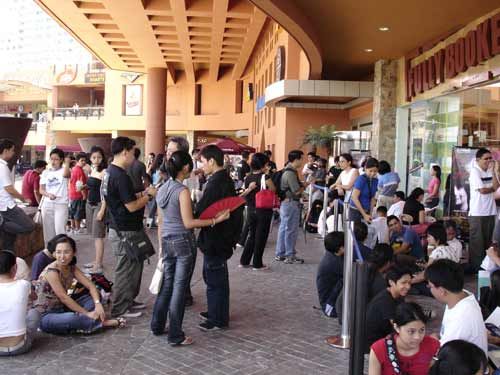 The line forming outside Fully Booked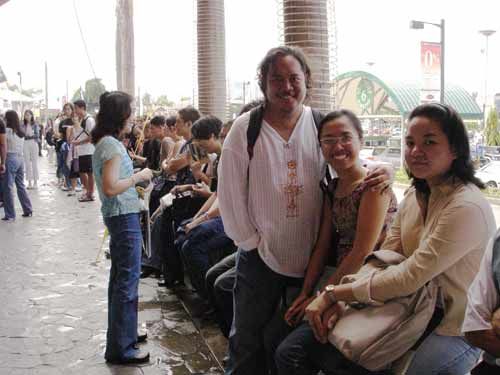 Me, Ilyn and our friend Chris Layusa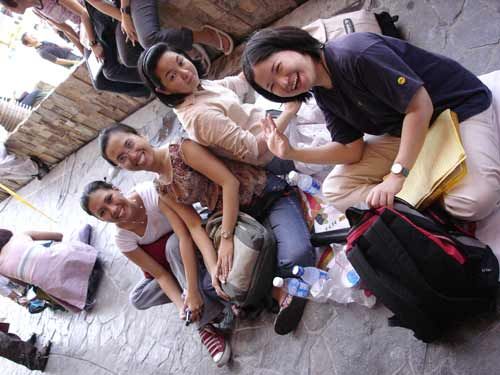 Ilyn's student Christine Basilan, Ilyn, Chris, and my sister-in-law's sister Babes Tiu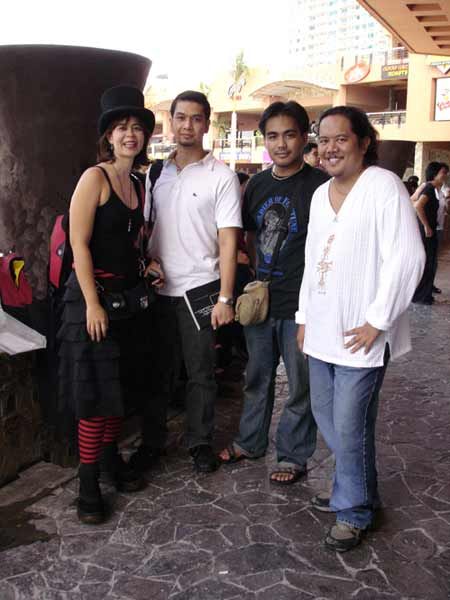 Karen Kunawicz, Carlos, Russel Tomas, me
The first half of the day seemed to stretch on and on. Eventually, we got hungry and got some lunch. We had numbers anyway so we won't lose our place in line. But lunch went longer than expected and by the time we got back, Neil was already there reading from his upcoming book, Anansi Boys. There were so much people that I couldn't see him. I had to hold my camera up really high just to snap his picture.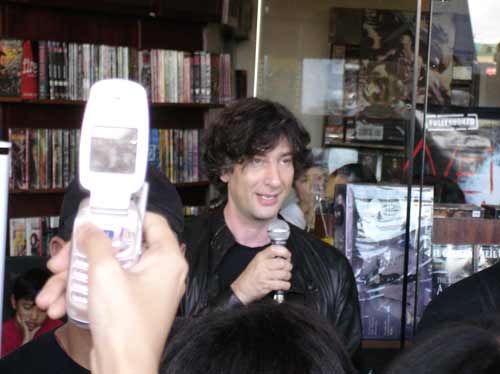 I wish I was there to hear him start his reading. It was so noisy and the sound system wasn't so good that I couldn't follow what he was saying. He read it well though, with a large dose of good humor thrown in.
Neil began signing and we fell back in line.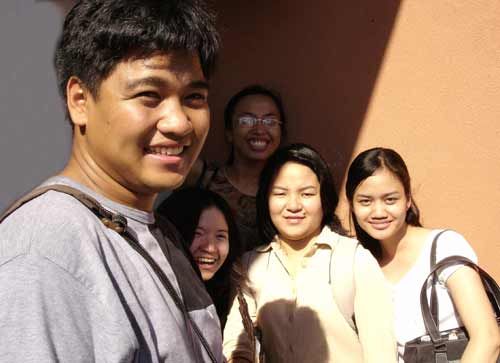 Komikeros Raipo Toledo and Mylene Panagsagan joined us, but not for long. They arrived too late to guarantee them a place in line, so they just hung out to get a glimpse of Neil. 500 were guaranteed to meet Neil, but it's possible to squeeze more people in later if the line goes relatively fast and Neil says he can still go on.
The line snaked from outside the mall, through the mall entrance, up the stairs, through the 2nd floor of Fully Booked, down the stairs to the ground floor to where Neil was, and then out the door once you're done. The line outside the mall was extraordinarily long, and for a time we were under the mercy of the sun. It was HOT! But I thought it was just like any other ROTC day back when I was in college. It was OK, it was cool... but then there was trouble.
My deodorant was starting to give out. SHIT. Neil might notice and oh man... It's so embarassing. You know, you're pretty desensitized to what you smell like so when you start to smell yourself, well, that's pretty bad. I had to go and buy a roll on at Mercury, rush to a CR and get the business done. Whew! Potential disaster averted. Damned heat!
Pretty soon we would be in the mall where it was airconditioned. Once we were in, it was such a relief. Fully Booked had hired some bouncers to keep things in order, but I didn't appreciate how some of them barked at us like we were grade school kids. Who the fuck did they think they were talking to? A bunch of stupid kids? Bastards.
Still, I've got to hand it to Fully Booked. They were taken by surprise by the kind of reception Neil has had and it is to their credit that they were able to run things relatively well, inspite of hiccups here and there.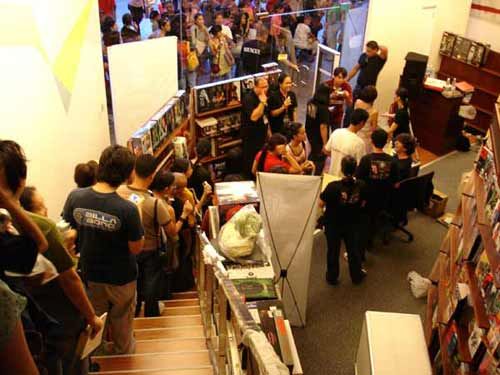 By 6:45 in the evening we were at the top of the stairs and at last we could see Neil downstairs signing away. We had been instructed to just have one item signed, because Neil wanted to accommodate as many people as he can. He was surprised, as much as I was, to see just how many fans he had in the Philippines. 3000 people turned up at the Rockwell signing the day before, and 700 had their stuff signed. Today he could only sign 500. Even though people beyond 500 had already been told that they couldn't be accommodated, they still hung around, waiting and hoping.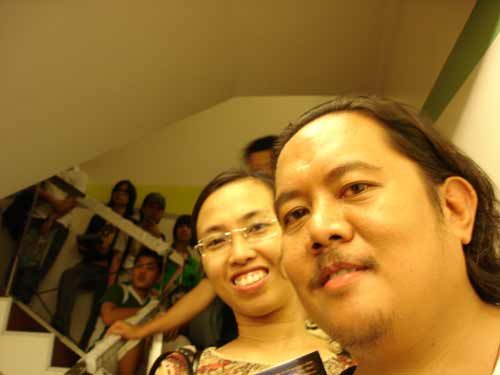 I had brought 2 things for Neil to sign, which was Sandman #51 and Miracleman: The Golden Age. Sandman #51 with art by Alec Stevens, means a lot to me because it is probably the one Sandman story which came closest to the atmosphere and feel of my own dreams. It's a very haunting story and it still stirs something in me everytime I look at it.
As for Miracleman, I brought it so I can look cool. he.he. It's beautifully written though.
I decided to have just Sandman #51 signed because really, it's the one that means most to me.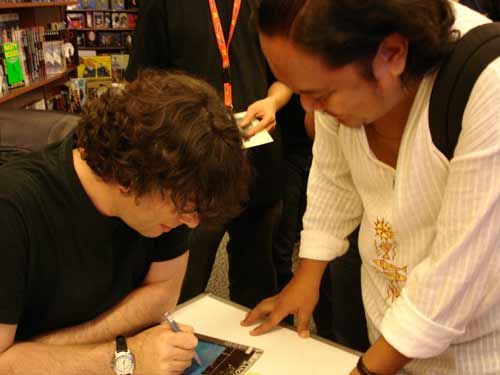 In front of Neil, I probably lost all sense and reduced to well, stupidity because well, I felt stupid all of a sudden. It was like I was in a sort of haze. Like a dream, strangely and appropriately enough. Like I wasn't really there. I vaguely recall myself talking, but all I remember saying were stupid things that don't deserve sharing here. My deodorant disaster earlier was embarassing enough as it is.
But Neil did spot my Miracleman book as I turned to go and volunteered to sign it. And that was awesome! I remember saying "Thank you very much!" which is probably the only thing that made sense of what I said to him.
And in an instant, it was all over. We were in line for almost 10 hours. And it was over. All of a sudden I just wanted to collapse. What an experience. Inspite of the long hours in line, I can say for certain that it was a GREAT experience. Apart from my momentary lapse into stupidity, that is. In front of Neil Gaiman, of all places.
But it is just so cool to have met him. It's something I'll remember for all time. What an amazingly patient, nice guy. And as if to prove it, once the 500 people are done, he let 100 more people in. When they realized that they didn't hang around for nothing, they became hysterical with delight. That man's endurance and consideration is beyond belief.
But it wasn't finished. The following day I would see him again at the Writers' Forum at the Music Museum.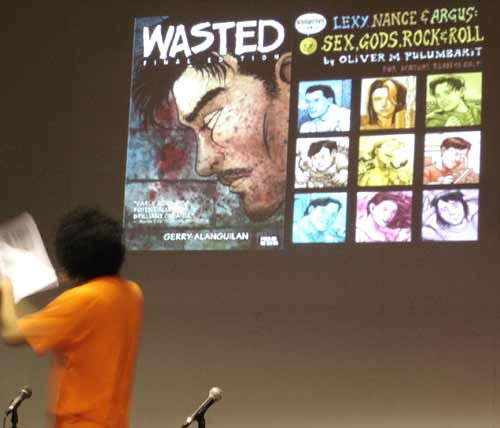 The forum started with Ramon De Veyra talking about comics. All of a sudden he talks about Wasted, taking me by surprise. He talked to me earlier about the book, but I didn't know he was gonna talk about it in the forum. It was great. One or two guys actually cheered when the Wasted cover was flashed on the wall. Fantastic! Your check's in the mail guys. :)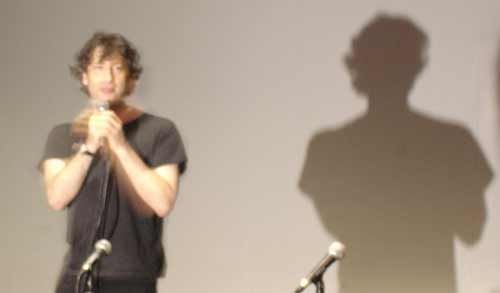 Camy Francisco asked Neil about what he thought about Filipino artists like me and Leinil and Arnold and wondered if he would be open to working with Filipinos in the future. Bless you, Camy!
Neil talked about Nestor Redondo, Alfredo Alcala and Alex NiŮo and his appreciation for their work. He went on to heap praise after praise at those guys and oh man... it was probably the greatest moment in my entire Gaiman experience. To hear him talk so glowingly about our great masters is incredibly touching. Ilyn told me later that it literally brought her to tears. I gotta admit, me too!
Here is a transcript of what Neil said (thanks Charles!)...
Neil:
... What was weird for me is growing up, of course. There were all these great Filipino artists drawing for DC. So, you know the first one I knew was Nestor Redondo.
Crowd:
(applauds)
Neil:
And Alfredo Alcala. These guys were like, the giants. These were the greats. And so, growing up, by the time I was fifteen or sixteen, I knew the Philippines was the place where the really cool artists came from.
Crowd:
(applauds)
Neil:
God youíre easily satisfied.
Crowd:
(laughs)
Neil:
But itís true. I mean these guys with these wonderful lying work, was Alex NiŮo one of yours?
Ramon:
Yes.
Neil:
Itís beautiful. Maybe you didnít know was who was actually from the Philippines because unfortunately they donít identify themselves and you picked it up as you went. But just really, elegant lines, a sense of beauty, a sense of proportion.
Ramon:
I think Neal Adams mentioned the great Filipino artists were inspiration for the kind of, magic-realism, which when he went on to Batman, became inspirational as well.
Neil:
They took comic art to a different place, and they added a sense of quirkiness, a sense of beauty. When I was a kid, you sort of, there was this really weird look especially reading
Swamp Thing
where Berni Wrightson was the best and then they got on with it and half of me is going, no dammit, you shouldnít have let it die. You should have just kidnapped Berni and mix the main and keep it going. Part of this is really pretty. It really was.
For a full transcript, visit
Charles' Blog
.
I can only wish that because of what Neil said, people would be inspired to check out the work of our artists, and I'm quite sure that they will not be disappointed. Thanks Neil! And thanks Camy for asking the question! And thanks to Azrael for thinking up the question! :)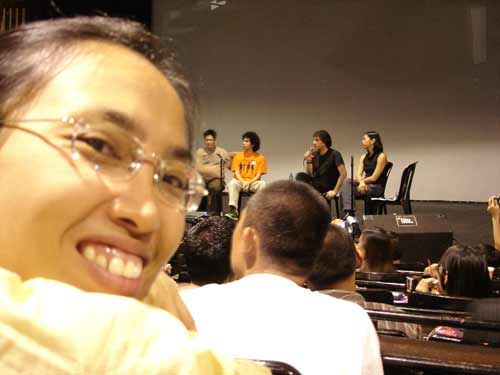 What a great few days. Very exhausting, but it was all worth it. :)
---
Saturday, July 09, 2005
---
Thursday, July 07, 2005
Posted 7/07/2005 09:28:00 AM by Gerry Alanguilan
Will Eisner Tribute
Also out this month is Comic Book Artist Volume 2, #6, published by Top Shelf
, an all Will Eisner Tribute issue. When a call came out many months ago for contributions, I immediately asked if I could send an illustration, and they said yes, and I came up with this one....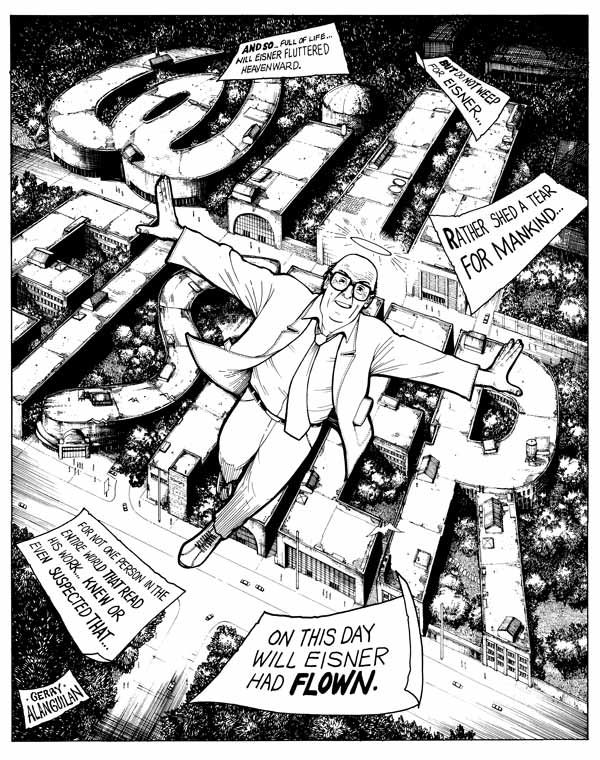 I did not grow up with Will Eisner's stories and art. I did not have a chance to see his work at all because publications containing his stories were non existent where I was. It would be many years later when I would encounter his work when I bought several Kitchen Sink reprints of Eisner's SPIRIT. And I was immediately fascinated by the vitality, the movement, and well, pardon the pun, the "spirit" of his work. Seeing that was very inspiring, and his sense of storytelling is something that I continue to be fascinated with, and apply, whenever I can, to my own work.
He was a tremendously inspiring man, working well into his old age with an energy and drive that would tire a young man. I can only hope to live and work as long.
From Top Shelf's website:
Comic Book Artist Vol. 2, #6, edited by Jon B. Cooke
The CBA All-Star Tribute Honoring the Great Sequential Art Master, Will Eisner. This double-sized memorial issue features remembrances, art and essays by over 200 artists, writers, editors, friends and fans celebrating the man, his superlative 70-year career and unprecedented impact on the art form.
Behind a Dave Gibbons cover, this mammoth special contains tribute art by an incredibly diverse group of creators, including Mike Allred, Murphy Anderson, Donna Barr, Frank Cho, Darwyn Cooke, Geof Darrow, Jack Davis, Mike Diana, Irwin Hasen, Gilbert Hernandez, Alex Horley, Everett Raymond Kinstler, David Levine, Joe Linsner, Mark Martin, Mike Mignola, Eric Powell, Mike Ploog, Trina Robbins, Spain Rodriguez, Alex Ross, Craig Thompson, Tim Vigil, among many others. Included are interviews with Art Spiegelman, Jules Feiffer and Scott McCloud, on their friendships with Eisner and his influence on the future of comics.
Plus testimonials and anecdotes shared by a wide array of comic book pros, including Alan Moore, Neil Gaiman, Stan Lee, Richard Corben, Joe Kubert, David Mazzucchelli, Joe Simon, and many others. Join us to experience a spirit of good will as the creator's legion of admirers celebrate the life and mourn the passing of a true giant: Will Eisner.
-- 192 pages $14.50 (US)
You can buy this issue at your local comic book dealer, or at Top Shelf's site below:
http://www.topshelfcomix.com/catalog.php?type=12&title=470
---
Monday, July 04, 2005
Posted 7/04/2005 04:16:00 PM by Gerry Alanguilan
Bill Messner-Loebs Auction
Bill Messner Loebs is a comic book writer and artist from Michigan whose most widely read works include
Wonder Woman
(with artist Mike Deodato),
Flash
(with Greg LaRoque),
The Maxx
(with Sam Kieth),
Epicurus the Sage
(also with Sam Kieth), and
Journey
, which Bill drew as well.
Bill has fallen on hard times, much harder than most, and needs help from those who have appreciated his work. An auction is being set up and organized by
Neal Adams
and
Clifford Meth
with artwork being contributed by some of the most popular artists in the business including Chris Bachalo, Neal Adams, Gene Colan, John Romita Jr., Travis Charest, Mike Deodato, Alan Davis, Jose Luis Garcia Lopez, Dave Cockrum, Andy and Adam Kubert and so many more.
For a list of contributors with scans of their work, click
HERE
.
The auction will be a live one, which will be held at this year's International Comics Convention in San Diego at Room 9 (upstairs), July 14, Thursday at 7:00PM.
So if you happen to be in San Diego at this time, you might wanna check out what's up upstairs, and you just might end up helping out someone who really needs it.
I contributed an illustration of Conan which will be included in the auction. I know I don't have the names of those I've mentioned above, so I tried my best to make the drawing look really good so it could attract enough attention that some people would actually want to buy it.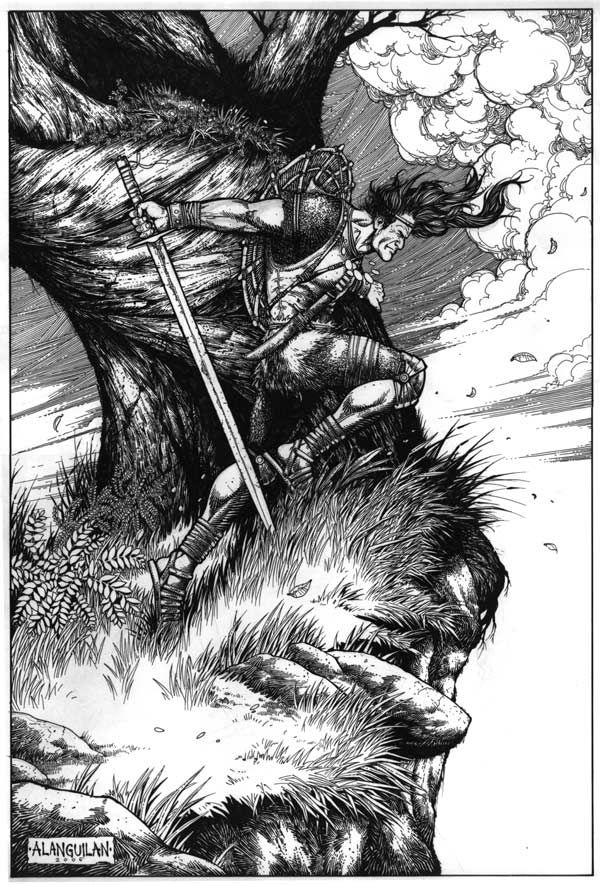 Although I'm not an avid follower of Bill's work, I have enjoyed those comics that he did write. There is a certain solidarity I feel with anyone who works in the same field as I do, and his difficulties in life is something I understand, after meeting other comic book artists here in the Philippines which have fallen on hard times. If I could help them all I would. Sometimes I wish to be in a position to offer them an opportunity to work. Hopefully, maybe one day...
Additionally, all artwork from Bill's auction will appear in a sketchbook to be published by TwoMorrows this month. If you can't buy any of the original art, buying this sketchbook will benefit Bill as well because all proceeds of this publication will go directly to him.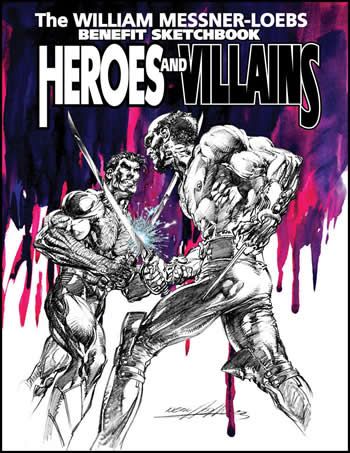 Here's the press release from TwoMorrows Site:
Heroes & Villains: The William Messner-Loebs Benefit Sketchbook
- $29.00
96 page Trade Paperback - Edited by Clifford Meth
Inkpot Award-winning artist/writer Wm. Messner-Loebs (Journey, The Flash, Wonder Woman) has fallen into financial ruin, landing the beloved comics creator in a Salvation Army shelter. To make matters worse, his wife is chronically ill and thereís no medical insurance and no work or funds coming in.
In response, leading comics creators have joined forces with TwoMorrows Publishing to produce Heroes And Villains a gorgeous sketchbook and tribute, the proceeds of which will directly benefit Messner-Loebs. Edited by Clifford Meth, the book will include art from Mike Allred, Brent Anderson, Chris Bachalo, Mark Bagley, John Cassaday, Travis Charest, Dave & Paty Cockrum, Gene Colan, Alan Davis, Mike Deodato, Cully Hamner, Dean Haspiel, Greg Horn, Rafael Kayanan, Andy Kubert, Steve Lieber, Steve McNiven, Tom Palmer, Joe Quesada, Darick Robertson, Walt Simonson, Herb Trimpe, Billy Tucci, Sal Velluto and a host of other top pros!
PLUS: Written contributions from Neil Gaiman, Peter David, and Beau Smith, and a new cover by Neal Adams! Donít miss your chance to help a worthy comics veteran; with more names being added daily, this powerhouse collection of talent will be unparalleled!
The sketchbook can be ordered directly from TwoMorrow's site linked below.
HEROES & VILLAINS: The William Messner-Loebs Benefit Sketchbook
Posted 7/04/2005 01:38:00 AM by Gerry Alanguilan
Kampanerang Kuba
Kampanerang Kuba is one of the latest popular television serials based on comic book stories. Created in 1971 by
Pablo S. Gomez
and illustrated by the legendary
Alex NiŮo
, Kampanerang Kuba appeared on the pages of Planet Komiks, published by Pablo Gomez himself through his PSG Publishing House, based in Balete Drive in Quezon City.
Below are a few pages from the comic book series, which originally appeared in Planet Komiks #82, May 12, 1971.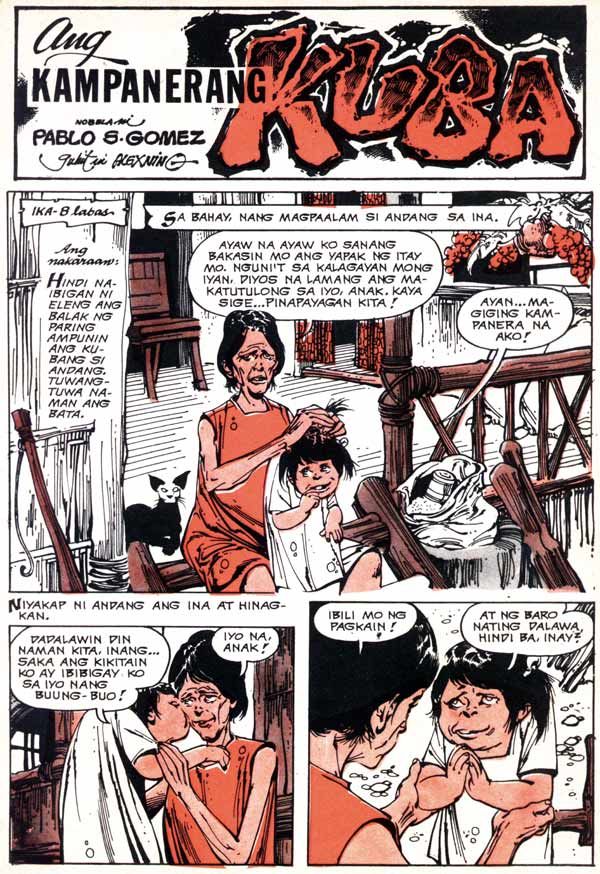 *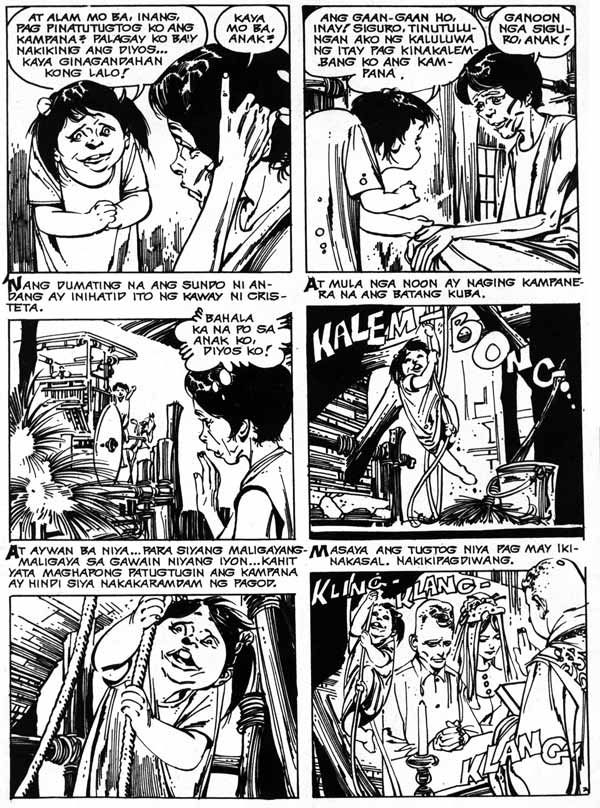 *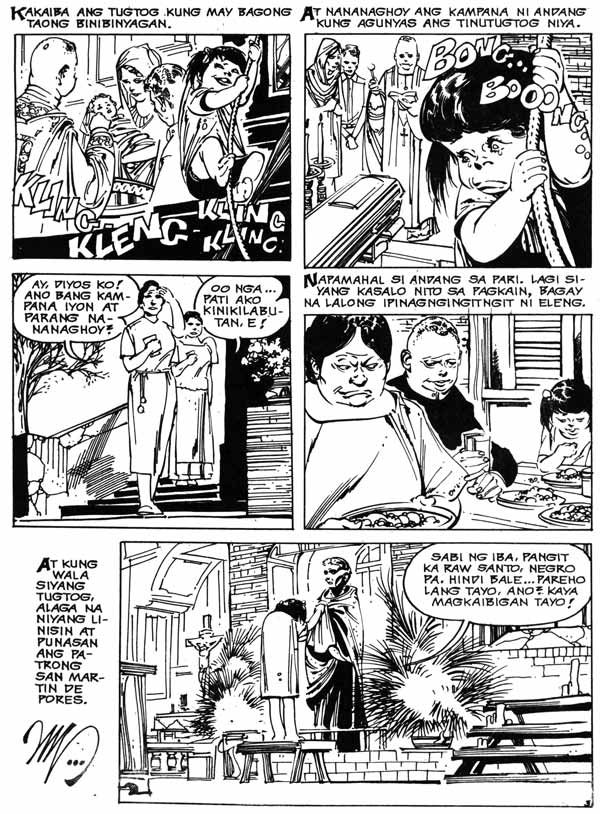 In all the hoopla surrounding the show, it's quite easy to overlook the artist who helped give birth to the original story, and I take the opportunity to show his work here.
Comics, Television and Films have always shared a very close association in Philippine entertaintment history, where comics stories were commonly made into either TV series or motion pictures. More than 50 of Francisco V. Coching's stories were adapted into films, which is astounding when one thinks about it. It only goes to remind us of such a close association of comics with other media, but also of the impact that Francisco V. Coching had on Philippine pop culture many decades ago.
Similarly, Kampanerang Kuba is only one of the many stories Pablo S. Gomez wrote which had been adapted into TV and film. Other stories include Pitong Gatang (starring Fernando Poe Jr.), Kurdapya (Dolphy, Gloria Romero), Mga Ligaw na Bulaklak (Susan Roces, Eddie Garcia), Nobody's Child (Tirso Cruz III, Vilma Santos), Tatlong Magadlena (Rita Gomez, Fred Montilla) and so many more.
There has been a renewed interest in comic book stories as a source of material for TV shows and movies, a trend that began with Marina and Kristala. Although Marina and Kristala were not adapated from comics, comics sensibilities certainly had a huge influence in their conception and execution.
It was inevitable that Darna would eventually be remade again in this time when such material seem to be much sought after. Other comic book properties have followed suit, with Panday currently in production, and now Kampanerang Kuba currently showing. Not too long ago, two people from two separate television studios got in touch with me looking for Jim Fernandez, who I assume are looking for the rights to adapt ZUMA to screen.
I do welcome such adaptations because it would hopefully remind people of the comic book origins of their favorite shows, and that although comics aren't as visible now as they once had been, they still remain to be part of our lives in one way or another.
---
Friday, July 01, 2005
Posted 7/01/2005 07:23:00 PM by Gerry Alanguilan
The First Philippine Superheroes
There have been many super heroes in the history of Philippine comics, and one can argue that Francisco Reyes' Kulafu may have been the first, who first appeared in the early 30's. But Kulafu, like Francisco V. Coching's Hagibis, were heroes in the mold of Tarzan and Prince Valiant.
The traditional superhero, and by this I mean the costumed superhero in the tradition of Batman and Superman, may have appeared in the Philippines after the second world war, after the influx of super hero comics from America brought by American GIs stationed here.
From what I know so far, and based in information passed on to us by Komiks historian and collector Dennis Villegas, the first costumed superhero in the country may well be a character named IPO-IPO, created by Lib Abrena and OS del Rosario. IPO-IPO, or "tornado" in English, first appeard in April 1947 in "Magasin ng Pagsilang" (Magazine of Birth).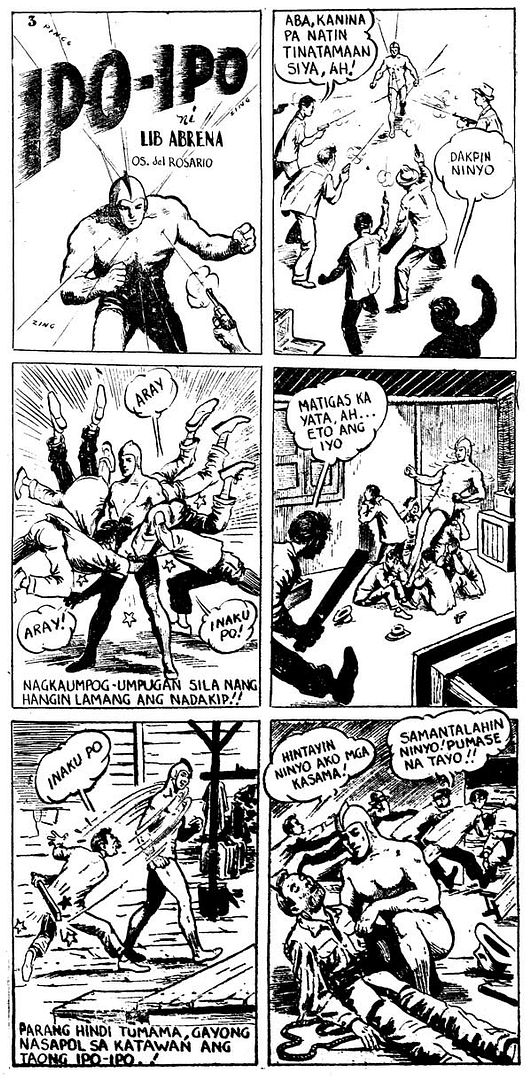 IPO IPO by Lib Abrena and OS del Rosario
Magasin ng Pagilang #3
April 5, 1947
IPO-IPO was not only costumed, but he was super powered as well, wielding powers that not only controlled the wind be he also appeared to be invulnerable.
LAGIM is another costumed superhero, albeit one that did not have super powers. He appeared for the first time with the first issue of Pilipino Komiks, published by ACE Publications in June 1947.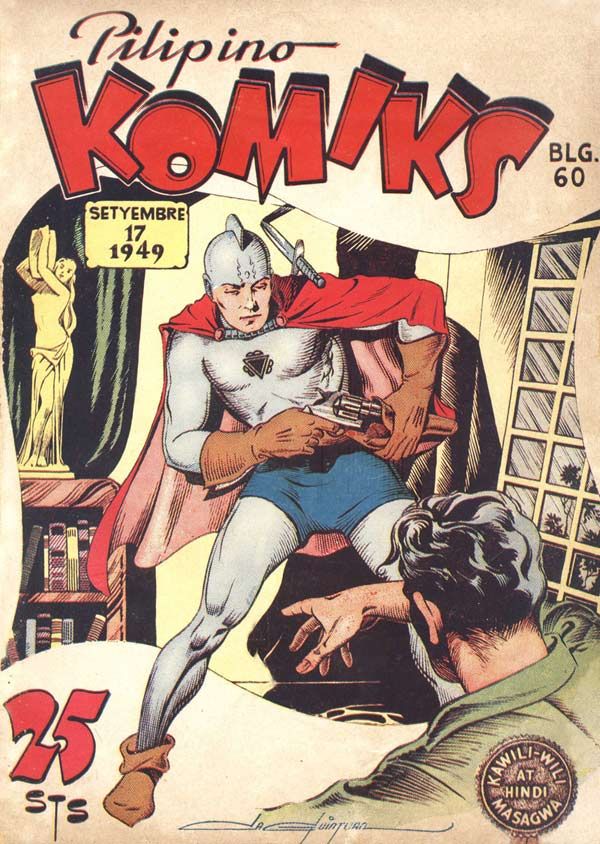 LAGIM Cover by CaGuintuan
Pilipino Komiks #60
September 17, 1949
LAGIM was created by CaGuintuan, and the character appeared for many issues in the early years of Pilipino Komiks, before CaGuintuan moved on to other projects.
It is interesting to note that looking at the 2 images above, that their designs are somewhat similar, specially when one looks at their headgear.
For a larger version of the Lagim cover, head on over to the main Museum page or click below.
LAGIM COVER by CaGuintuan
Thanks to Dennis Villegas for passing on the information, as well as sending over the really cool graphics you can see above. Thanks Dennis!
---
---