Graphics Intensive Site.
Hit Reload or Refresh
If Not All Images Load.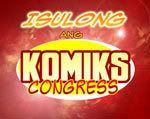 Original Art
For Sale!
Click Here!
Contact Me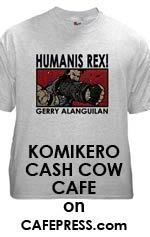 Know Your Rights as
Philippine Comic Book
Professionals!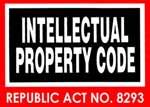 Click Image Above
or HERE for details.
RSS FEED

About Me
Current Journal
Entries

All Entries For
January 2007

Journal
Archives
2007
2006
2005
2004
2003
2002
2001
2000
1999
1998

Featured Articles

The Filipino Comics Artist
And Manga

Why No Comments?

Why Do I choose English
To Write My Stories?

Exploitation and
Self-Exploitation
in Comics

Making Mini Comics

Comics Lettering

Reviving a
Comic Book Industry

Commentary on
Anonymous Writers

Breaking Into
Philippine Comics

Preserving a Legacy and
Reviving an Industry

Featured Links

The Philippine
Comics Art
Museum


Komikero Comics
Main Site

Philippine Comics
Message Board

Crest Hut
Butt Blog
My Personal Blog

Ilyn Florese-Alanguilan
Website ng Aking
Mahal na Asawa

Doroteo L. Alanguilan
My Dad's Official Site

Emmanuel Jose
Blog Ng Aking
Dakilang Kapatid

MySpace

MyDeviantART

Blog Links



Saturday, March 26, 2005
Posted 3/26/2005 10:35:00 AM by Gerry Alanguilan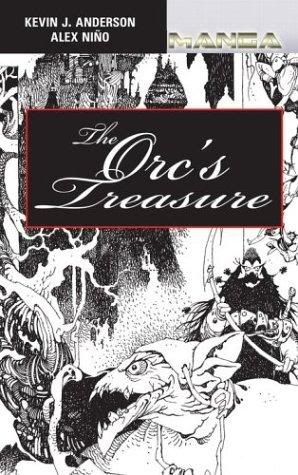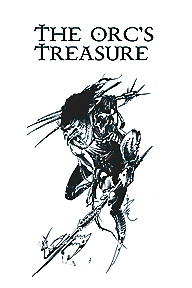 The Orc's Treasur
e
Written by Kevin J. Anderson
Illustrated by
ALEX NIŅO
The first ibooks graphic novel by New York Times best-selling author, Kevin J. Anderson! The fantastic return of comics legend Alex Niņo!
Gree is a workaday Orc without many aspirations, as greedy and as nasty as they come. But soon after he and his fellow Orcs lay siege to a human castle, Gree comes upon a hidden treasure, one more precious than mere monetary value-and one which will change his life forever. . . .
Hardcover 7x10, 208pgs, B&W $24.95
Release of this title will be on May 1, 2005 and can be ordered through
Amazon
,
Mile High
and other retailers.
**********
This title has been in the works for quite some time. I'm not sure what kind of connection it has with the Orcs from Lord of the Rings though.
Enetation comments has been down a lot recently so I brought back Haloscan. I tried to enable Blogger's built-in comment system but it's not just coming out for some reason.
---
Friday, March 25, 2005
Posted 3/25/2005 01:57:00 PM by Gerry Alanguilan

Get Your Johnny Balbona T-Shirts!


I've had a couple of my stuff used for shirts before like Wasted, Ochlocrat and Superman: Birthright, but it's always so cool when something of yours finds its way on a shirt! Cooler still when people go out and actually *gasp* BUY them!
Johnny Balbona and other Mwahaha! characters have been licensed to SPOOFS and you can get them at their branches. If you don't find one, you can ask them because last I heard, the 100 or so shirts made have sold out. They're already making more, I'm told.
Don't worry Johnny, you get a free one! :)
---
Wednesday, March 23, 2005
Posted 3/23/2005 01:18:00 AM by Gerry Alanguilan
Here's a preview of some of the artists I'll be featuring in the coming months...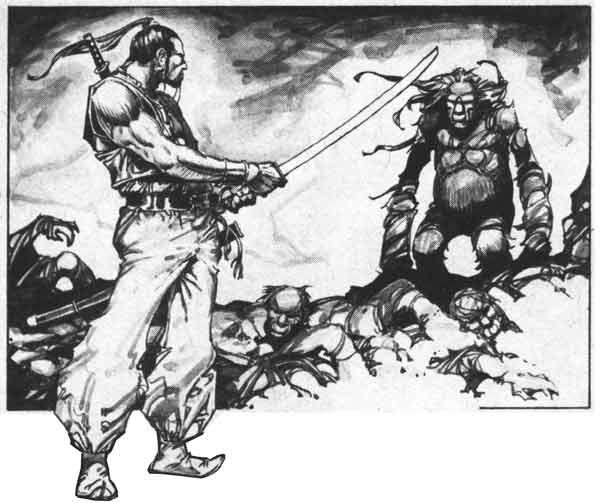 FRANC REYES
The Fantastic World of Arik-Khan #1
Andromeda Publications, 1977
Franc Reyes is another artist who I owe a whole lot of gratitude for helping me get in touch with a lot of other artists, and my conversations with him prove to be very enlightening and informative. Franc became popular for his stint on Tarzan where he left a very lasting impression on the readers. He worked on other DC titles like Ghosts, House of Secrets, Weird War Tales and Star Spangled War Stories. He also came out with his own character Arik-Khan, which was published by Andromeda Publications in 1977. He has since worked as artist for Nelvanna, J. Walter Thompson and Walt Disney where he served as visual development artist on "Brother Bear".
Check out Franc's site here:
http://arikstudio.web.aplus.net/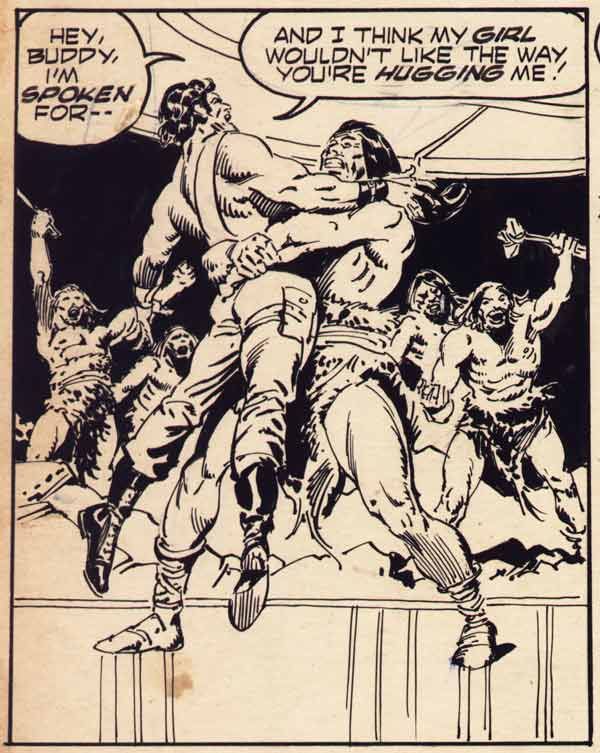 STEVE GAN
Skull The Slayer, 1975
Marvel Comics
Steve is co-creator of the immensely popular PANDAY in the Philippines. He worked on many titles in the US like Conan, Dracula, Savage Tales, and Starlord. An afficionado of Philippine Comics art, Steve has amassed an impressive collection of original komiks art and can be credited for helping preserve a nearly forgotten legacy.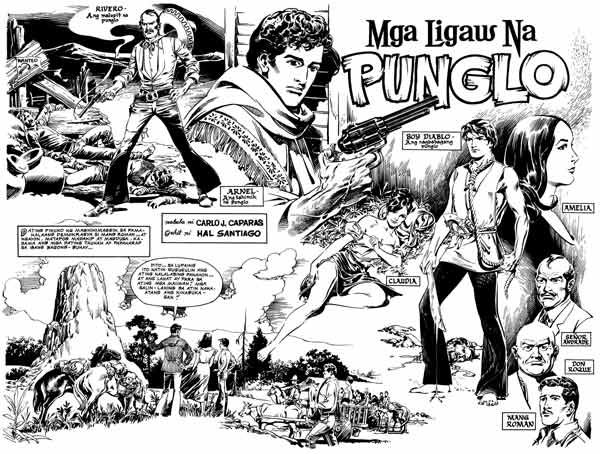 HAL SANTIAGO
Mga Ligaw na Punglo
Espesyal #56
July 17, 1971
Dubbed as the "Greatest Illustrator in the Philippines", Hal Santiago has received quite a bit of flak for the title, but when Hal was at his prime in the 70's, when artists like Nestor Redondo and Alex Niņo were doing most of their best work in America, Hal was producing astounding pieces of art like the one above and was indeed one of the greatest working during that time.
His originals for these 2 page spreads are huge, measuring as much as 22"x29". A collector himself, his collection is considerable, which include originals by Hal Foster, from whom he adapted his name.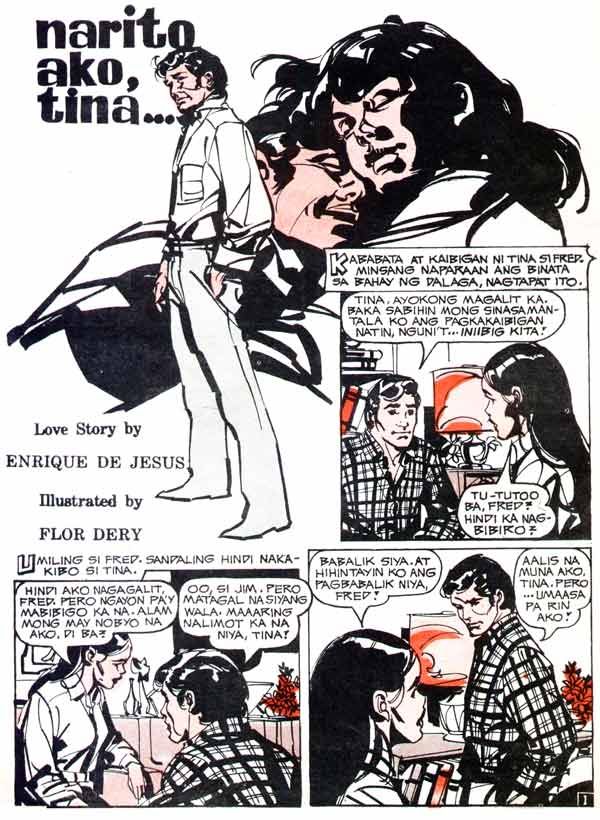 FLORO DERY
Narito Ako, Tina...
Love Story Illustrated Magazine
October 8, 1971
Upon visiting Floro's Site here:
http://hometown.aol.com/kuest144/
, one would immediately realize what an astounding artist he is. I wish I could have featured him earlier, but I was only able to find very very few of his work in the Philippines, of which the art above is only one of around 3 comics I have in my possession. I'm endeavoring to find more.
Floro is best known to comics fans as the artist on the Spiderman newspaper strip with writer Stan Lee, and he is known for creating character designs for the Transformers movie. These are some of the most fantastic designs I've seen and you can all see them at his site.
************
Enetation comments seem to be down at the moment. I've activated the built-in comments in Blogger but it doesn't seem to want to come out. Oh well, hopefully enetation will be back soon.
---
Tuesday, March 22, 2005
Posted 3/22/2005 07:59:00 PM by Gerry Alanguilan
It's by Noly Panaligan!
I've finally confirmed the artist of the cover to Tagalog Klasiks #109 featured in the March 16 entry below. Noly Panaligan's son Hero sent an email to confirm that the painting was done by his father, who was the writer and artist of Payaso currently being serialized on the pages of Tagalog Klasiks at the time.
Hero recalls seeing studies of the above painting in his grandmother's house in Malibay.
Posted 3/22/2005 03:01:00 PM by Gerry Alanguilan

Humanis Rex Update
I got this press release from Fudge Magazine editor Annie Alejo about the just released issue. It contains an ad for HUMANIS REX, which will be starting next month.
************************************************************

(Note: Humanis Rex doesn't begin in the issue above. The issue contains only an ad for the start of the series the following issue)


Fudge magazine's new issue -- hot off the press!
Available in your fave newsagent's and magazine stands beginning this week.
Cover: Miss Congeniality 2 (featuring Sandra Bullock)


Inside:
All about women (in celebration of women's month)
Feature on new shop called Vintage Pop and funky clothing shop Store for All Seasons run by Cecile Zamora and Mich Dulce
Team David's Salon's all-women biking team
10 women of substance... in music, film, design, social service, photography, journalism, fashion, etc. (including one misprint! hehe)
A Look at What Makes the Pinoy Herione, Darna
Gus-Gus the Fudge Tripper's on-the-road reports from Clark Field Pampanga (at the Hot Air Balloon Festival) and San Pablo City (at the Coco Festival)
Next issue: We'll go Medieval on your sinful ass! Frank Miller's "Sin City" on the cover (brought to the screen by directors Frank Miller, Robert Rodriguez and Quentin Tarantino)... plus all things (we deem) sinful... and the debut of Gerry Alanguilan's original serialized story "Humanis Rex."
Live a little, enjoy a bit of FUDGE!
Oompah, loompah!
Annie
************************************************************

I'm so excited to be working on Humanis Rex. It's an idea I had been percolating inside my mind since around 2001, during the time I found myself working on Ochlocrat, which was a sci-fi book. I had wondered what it would be like to do a comic book where the environment came totally from my imagination, and is not based on anything currently existing.

Reference is an important aspect of comic book illustration and it's something I normally go through to get stuff in my drawing right. I figure it would be a huge challenge to not use any kind of reference, except for figures and faces, because everything else will be based on whatever my imagination can come up with.

The only artist I've seen who was able to do this successfully is Alex Niņo, and if you've seen any of the work he did for Warren, you'll know exactly what I mean. Everything was just amazing...and ALIEN. Because it was quite unlike anything I've seen before. All of that just came from that awesome brain of his and I'm not saying I can do what he does because I know I just can't. I can't do what an Alex Niņo is doing, but perhaps I can do something on my own (and maybe throw an homage to Alex as well while I'm at it ).

I can't wait for the April issue because I too can't wait to see what it'll look like in print! :)

---
Sunday, March 20, 2005
Posted 3/20/2005 11:44:00 PM by Gerry Alanguilan
I did this illustration for an auction to benefit comics writer and artist
William-Messner Loebs
being organized by Clifford Meth and Neal Adams. Bill has written Thor, Wonder Woman, Johnny Quest, Maxx, Dr. Fate, The Flash and wrote and drew his own "Journey".
For more info on Bill,
Click Here
.
I don't know how the auction is going to be done if it will be on Ebay or a live auction somewhere, but I'll definitely post the info here when I find out.
***********
I don't want to say definitely that this is Conan, because I realize that I have no idea how Conan really looks like as described by Robert E. Howard. But Conan was the one that I really wanted to draw. Conan still remains as one of those characters that I'd really love to do in comics in the future.
I have a deep artistic connection to Conan after being blown away by Barry Windsor-Smith's rendition, and after seeing the work by Alfredo Alcala, Rudy Nebres, Alex Niņo, Ernie Chan and other Filipinos who worked on the character.
---
Friday, March 18, 2005
Posted 3/18/2005 03:43:00 PM by Gerry Alanguilan

JINN
Around the time of Stone, circa 1997-1998, I inked 11 pages of a comic book that was being called "Jinn", pencilled by Whilce Portacio. I don't remember the exact circumstances of its production, aside from a memory that it was very challenging to do. I loved inking it because I was able to exert a lot of my artistic sensibilities when Whilce allowed me to come in and add a lot of backgrounds and textures.
At the end of that 11 pages and a cover, I looked at it and I thought wow, it's one of my inking jobs that I thought really woked out well. I waited but no more pages of Jinn came, and pages of other comic books arrived and I worked on them instead.
I didn't hear any further news about Jinn until I saw an ad somewhere about this comic book being released. But it didn't contain Whilce's or my work. Apparently, another artist,
Gabriel Rearte
, was hired to redraw our first 11 pages, continue the issue, and work on the rest of the series.
Edgar Tadeo
was hired to ink.
Gabriel is a very talented artist and I think the issue came out really well. Whilce's and mine's Jinn had a different artistic sensibility that took the feel of the comic someplace else. It's not necessarily better or worse, it's just different. I was compensated for my work of course, but to me that was not too important. I was proud of the work I did in that book and I would have loved to see that one in print. I had been working in comics for 6 years by that time and I was still (and still am) thrilled to see my work published.
I'm glad at least that they had used the cover that Whilce and I did for the first issue.
It wasn't until last week did I find out that our 11 page Jinn story did see print on the pages of
Frank Frazetta Illustrated #6
in 1999. I would not have found out about it had I not been searching for some back issues of
Alex Niņo
drawn stories. He apparently did some for the Frank Frazetta Illustrated magazines and upon browing
MileHighComics.com
, I was startled to see our Jinn cover as a variant to one of the issues.
Working on a hunch, I put down an order for the magazine (along with some Alex Niņo and my father in law
Rudy Florese
's stuff) and the package arrived today.
And true enough, our entire 11 page Jinn story is there in full color glory, finally in print! After the initial rush and thrill upon seeing this work published, I got a little bit disappointed when I realized I did not get inking credit in the story, nor was I informed that my work appeared in this publication. I did not get a complimentary copy as is normal in things like this, but that would have been allright had my name been on it. Call it ego, maybe, but to an artist, credit is sometimes more important than money or any other compensation. It's a matter of pride to see one's work and people know you did it, whether they like it or not.
I've had my name mispelled and forgotten altogether a couple of times before, but they're all in the past and I've gotten over them. I expect to get over this too, but it drives me much harder not to let it happen the next time around.
I'm only saying this now not to seek any sort of restitution. After all, it's all history now. It's SIX years after the fact and I doubt that those involved can do anything about it, nor am I looking for them to do anything about it.
I'm just saying it because it's a normal human reaction to be disappointed at something like this. And like I said, I just want to say it and I'm pretty sure I'll get over it soon enough. Like tomorrow.
---
Wednesday, March 16, 2005
Posted 3/16/2005 09:25:00 AM by Gerry Alanguilan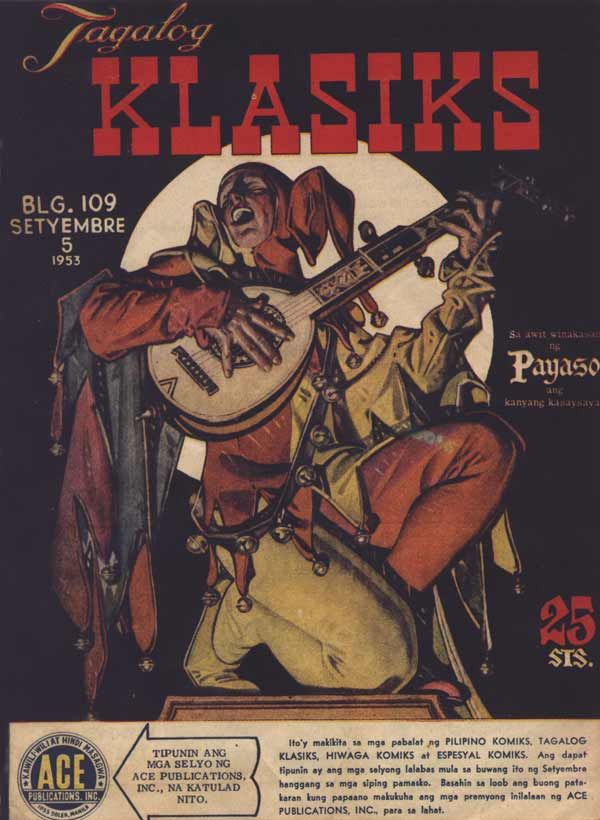 Tagalog Klasiks #109 Cover

September 5, 1953
I recently got this comic book and I think the cover art is just spectacular. This is probably my favorite Philippine komiks cover at the moment. It portrays a character from PAYASO, which has been serialized in 5 page installments weekly in this comic book. The problem is.... I don't know who did it!
I'm fairly sure that is done by Noly Panaligan, who both wrote and drew PAYASO. Being a painter himself, it is not unlikely that Noly could have done it himself. I was wondering if there is anyone out there who can confirm if it was done by Noly or someone else. I had already written to Noly's son Hero to ask if he knew for sure. He probably saw the original of this, or maybe he heard his dad talk about it at some point in time.
The cover art does remind me a little bit of Norman Rockwell's covers for the Saturday Evening Post.
---
Sunday, March 13, 2005
Posted 3/13/2005 09:54:00 PM by Gerry Alanguilan
Me and
Arnold Arre
at the Lastikman launch last December 2004.
We're all set to start work on our new regular series for Mango Comics as a followup to Lastikman. Thanks to all who supported and continue to support the book.
Thanks for all the emails and messages and feedback. Rest assured that all suggestions and critiques will be seriously considered in making our followup a much better comic book.
I'm happy that I'm continuing to work with Arnold, specially after my excellent experience working with him on Lastikman. He brought so much to the table that he certainly made it a better thing than how it started out.
Below is a drawing Arnold made for me years ago. I dunno... I think it's hilarious. Specially the chicken! I still laugh everytime I see it. Thanks man!
---
Friday, March 11, 2005
Posted 3/11/2005 02:44:00 PM by Gerry Alanguilan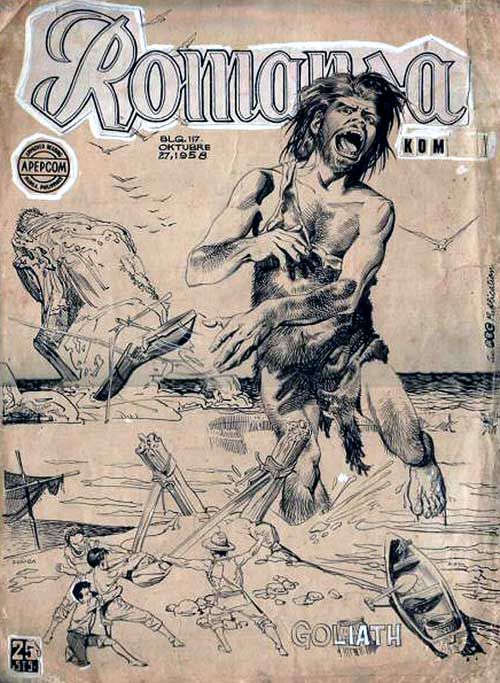 Tony DeZuniga
Romansa Komiks ##117
October 27, 1958
Tony Dezuniga's profile at the Comics Museum has finally been uploaded with a biography and large scans of Tony's work in the Philippines and in the United States. Click Below.
http://www.komikero.com/museum/dezuniga.html
---
Wednesday, March 09, 2005
Posted 3/09/2005 09:18:00 AM by Gerry Alanguilan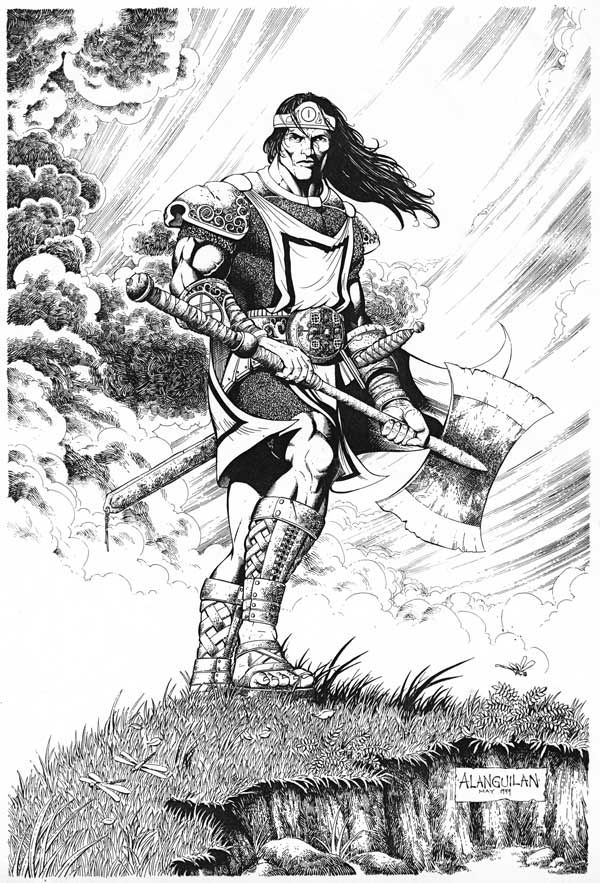 This is an illustration of KULL which I did for Cross Plains Comics back in 1999. I'm not sure if the entire piece had been published, but I think a spot detail of this appeared in their "Robert E Howard's Horror".
Me with Rafael Kayanan and Richard Ashford, Times Square, New York
I think I got this job by way of Rafael Kayanan who got me in touch with editor Richard Ashford. I based Kull's appearance solely on Robert E. Howard's detailed descriptions rather than any established look by previous Kull artists. I'm not too happy with the knee and the tangent it visually creates with the torso, but overall I'm pretty satisfied with the piece. Specially since I made 300 bucks from it, making it the one piece I earned the most money from.
I did not get that in cash though, as I asked Richard if it go to my hotel bill in New York for 3 days, which amounted to pretty much the same thing.
I had been running out of money during my stay in the US that summer of 1999 when I attended the San Diego Convention. I only had a couple hundred dollars in my pocket and I still had to go to New York to meet with Richard and Rafael. That 300 bucks to pay for the hotel will literally save my life. I mean, the taxi ride alone from JFK to my hotel was like 45 bucks tip included. So by then I only had like 150 bucks, and I can't touch the 50 so I can pay for the taxi back to the airport 3 days later. So basically I only had 100 bucks which I would use for food, museum tickets, transportation, and gifts for people back home. Not much, but I thought I can do it.
When I arrived at my hotel, I was informed that the room hadn't been paid for yet. I could check in as long as I could pay for one night so I had no choice but to use the my last 100 bucks. I had to find Richard fast. I got the Cross Plains Comics address from Richard when I met him at the convention and saw it was only a few blocks away. I could walk it no problem.
Of course, I hadn't realized how HUGE New York blocks were. And "a few blocks away" may well be "in the next town" as far as I was concerned. But I didn't get too tired because wow, it was still New York and I was walking on its sidewalk and I'm looking at all these buildings and sidewalk vendors and stores and fire hydrants and trash cans and wow, I'm actually in New York. So I was pretty much preoccupied until I got to the address.
I entered the building and I was like...hmm...this doesn't look like a comic book office. It looks more like a Fedex branch back home. I approached the counter and tentatively told the guy the address and asked if I was in the right place. He said yes, and pointed to the wall. The wall?
I turned to look and I saw numbered lockboxes called "suites" on the wall and sure enough, that little box embedded on the wall some 3 feet off the floor was the office of Cross Plains Comics.
Oh my God!! I had hoped to surprise Richard by turning up at the office, but it looks like the surprise was on me. Good thing I had Richard's number and I called him right away. I called Rafael too and we all met up at the lobby of the hotel that night. Whew!!
Still, by my last night in New York, 14 dollars was the only money left in my pocket. I felt myself breaking into a cold sweat. How am I gonna get to the airport? It's not nearly enough to pay for the taxi. 14 bucks may well just be the tip!
By some miracle, the phone rang and it was my old friend from Manila, Carlo Montesa, offering me to give me a ride to the airport. We had met the previous night and went on a tour of You Got Mail shooting locations. I don't remember telling him I didn't have money but the gesture was very VERY much appreciated. Thanks man!! Double Whew!!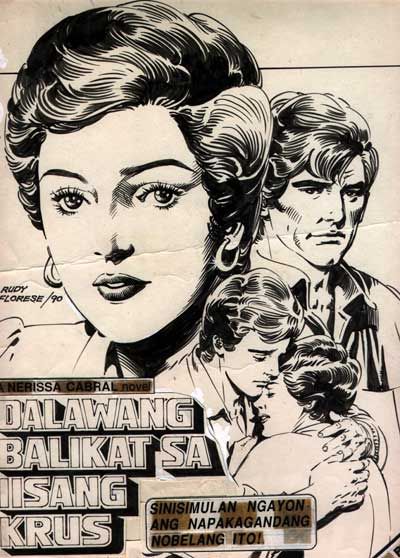 Rudy Florese
Ilyn stumbled on a bunch of her dad's original art right here in the apartment, in between some of her architectural plates. Wow! A bunch of really cool art by Rudy Florese and it was all right under my nose under all this time.
I think this is really nice because the family have long realized that they did not have possession of any of Rudy's original art except for a couple of portraits and a couple of comics pages. I've since taken it upon myself to recover as much of Rudy's art as I can find and I've so far recovered some 30 pages of his local artwork and a page from Tarzan.
If anyone out there reading this and they have some Rudy Florese artwork they wish to sell to me, please get in touch! Me and Rudy's family would really appreciate it.
email: gerryalanguilan(at)yahoo(dot)com
---
Saturday, March 05, 2005
Posted 3/05/2005 08:04:00 AM by Gerry Alanguilan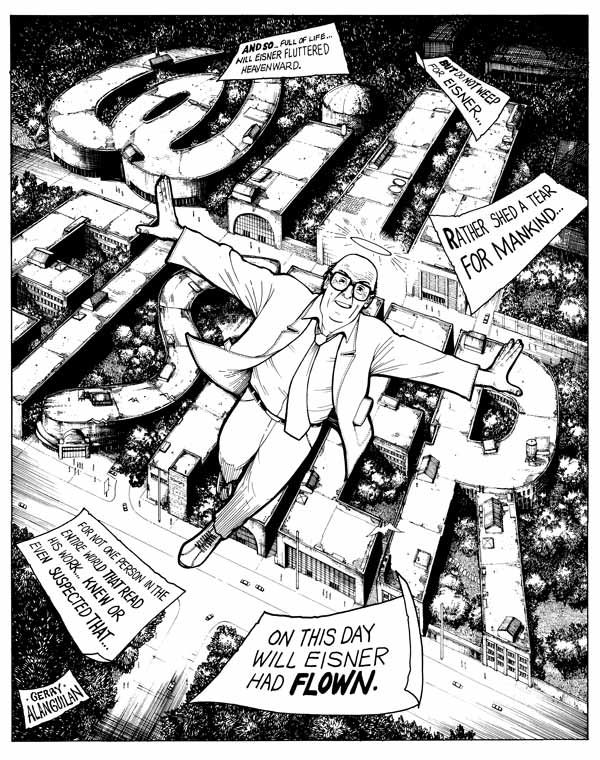 This is an illustration I did for a Comic Book Artist Magazine and their tribute issue to Will Eisner. I have long been fascinated by Eisner's work and I've studied how he does comics for many years and he has proven to be a big inspiration and influence. This piece is based on Eisner's classic "The Spirit: The Story of Gerhard Shnobble", a story about a man who can fly.
Ilyn is actually quite ecstatic about this piece because she says I got lucky in getting Willl Eisner's likeness just right. And it's true. I just lucked into it because likenessess have always been my weakness. That's why I can never be a working portrait artist. It requires talent beyond what I can do.
---
---