Graphics Intensive Site.
Hit Reload or Refresh
If Not All Images Load.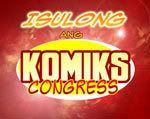 Original Art
For Sale!
Click Here!
Contact Me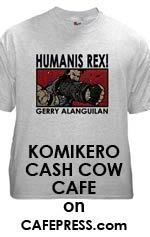 Know Your Rights as
Philippine Comic Book
Professionals!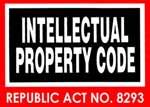 Click Image Above
or HERE for details.
RSS FEED

About Me
Current Journal
Entries

All Entries For
January 2007

Journal
Archives
2007
2006
2005
2004
2003
2002
2001
2000
1999
1998

Featured Articles

The Filipino Comics Artist
And Manga

Why No Comments?

Why Do I choose English
To Write My Stories?

Exploitation and
Self-Exploitation
in Comics

Making Mini Comics

Comics Lettering

Reviving a
Comic Book Industry

Commentary on
Anonymous Writers

Breaking Into
Philippine Comics

Preserving a Legacy and
Reviving an Industry

Featured Links

The Philippine
Comics Art
Museum


Komikero Comics
Main Site

Philippine Comics
Message Board

Crest Hut
Butt Blog
My Personal Blog

Ilyn Florese-Alanguilan
Website ng Aking
Mahal na Asawa

Doroteo L. Alanguilan
My Dad's Official Site

Emmanuel Jose
Blog Ng Aking
Dakilang Kapatid

MySpace

MyDeviantART

Blog Links



Sunday, August 29, 2004
Posted 8/29/2004 09:18:00 PM by Gerry Alanguilan

Mar Amongo and the Komikero Anniversary
Komikero Artists Group, formerly known as the Laguna Artists' Group celebrated it's 2nd year today. This year we spent the day exploring the University of the Philippines in Los Baños. The group got together around 9am, and waited until we were all complete. Joining us this month were
Rene Enriquez
(artist and photographer),
Jonas Diego
(writer and comics illustrator),
Johnny Danganan
(installation artist and farm tyrant),
Henry Anima II
(comics illustrator),
Jerald Dorado
(comics writer and illustrator and terror to deers everywhere),
Ryan Toledo
(artist and the nightmare of High School kids everywhere),
Rod
Andres
(artist),
Geoff Borgonia
(comics writer and illustrator) and ME! Jonas and Johnny acted as our "tour guides" as we walked around the HUGE campus and pointed out what buildings we passed by, with interesting and sometimes sordid stories behind them.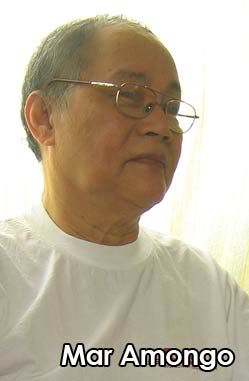 Johnny and I left the group for a short while to visit
Mar Amongo
with whom we had an appointment with at 11am. Mar Amongo is a comics illustrator and painter, who has worked in comics since the 1960's. He worked on comics novels like Bruldo Grajo and has worked for DC in the 70's and early 80's on titles like
Weird War Tales, Ghosts, All Out War
and
GI Combat
.
In the Philippines, Mar is most famous for the numerous paintings and murals he has done, including a painting of Jose Rizal and other Philippine heroes for the Philippine Centennial Movement which one can see blown up and erected all over the country.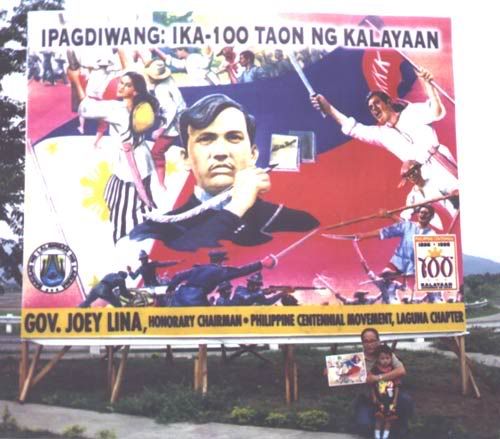 Mar Amongo with a grandson posing in front of his work, while holding the original.
We briefly interviewed him for his profile for the komiks art book, as well as for the website. I was able to gather enough material for his profile in the Museum which will be up soon. Thank you sir!
We returned to the group waiting at UP and we had our lunch.
Jac Ting Lim
joined us later in the afternoon just as we were exploring the Botanical Gardens. I didn't realize another one of our members, Jepoy Hilario, had been calling me on the phone, but I wasn't able to hear it until I took my phone out of the bag to check. By then I didn't have a signal (the gardens are pretty covered by land masses and trees) there and wasn't able to reply and direct him to us.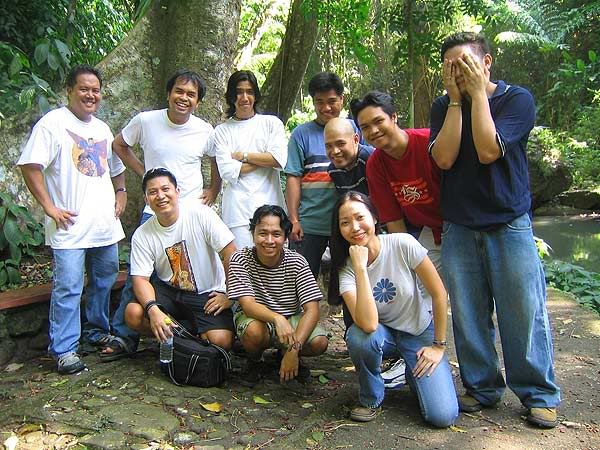 At the Botanical Gardens
Standing from Left: Gerry, Johnny, Geoff, Raipo, Rod, Henry, and Jerald (ashamed at what he did to the deer)
Kneeling from Left: Rene, Jonas, and Jac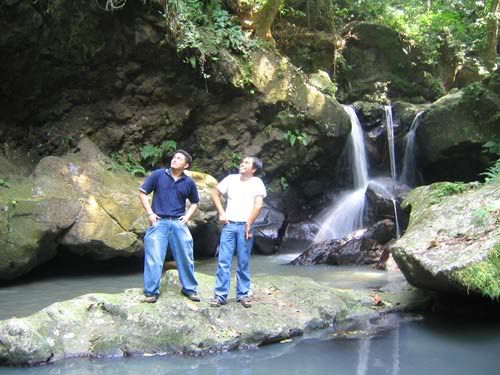 Jerald and Johnny embarrasing themselves in front of the falls in the Botanical Gardens
We then proceeded to the Raptor Center, home to the country's rarest birds and eagles, including our greatest and most popular, the
Philippine Eagle
, formerly known as the Monkey Eating Eagle. Picture taking wasn't allowed so we weren't able to take pictures of the eagle, but believe me when I say, he was HUGE and had quite an impressive bearing. It was like looking at Toshiro Mifune. Very intimidating.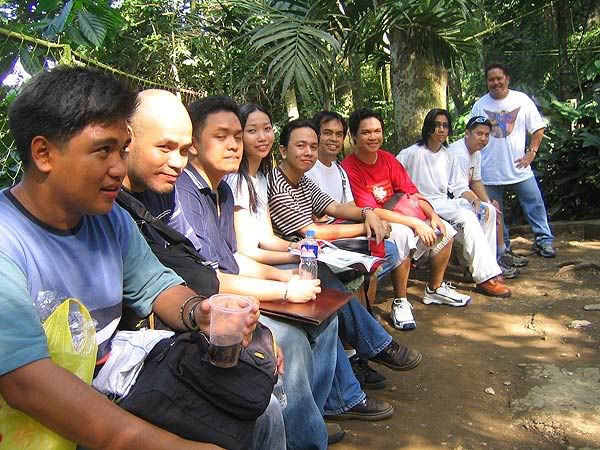 Outside the Raptor Center
From Left: Raipo, Rod, Jerald, Jac, Jonas, Johnny, Henry, Geoff, Rene, and Gerry
We then proceeded to the fields near the Fertility Tree to just hang out, rest (it was a very tiring hike. Damn you Jonas and Johnny!), and talk about stuff. I thought about killing Johnny in the next installment of Johnny Balbona just because. Just like South Park. Johnny Balbona will die at the end of each installment, and will be alive again in the next and dies again. I'm still thinking of what I will be doing to Jonas.
Posted 8/29/2004 06:18:00 AM by Gerry Alanguilan
Dell Barras
Happy Birthday to komiks illustrator Dell Barras!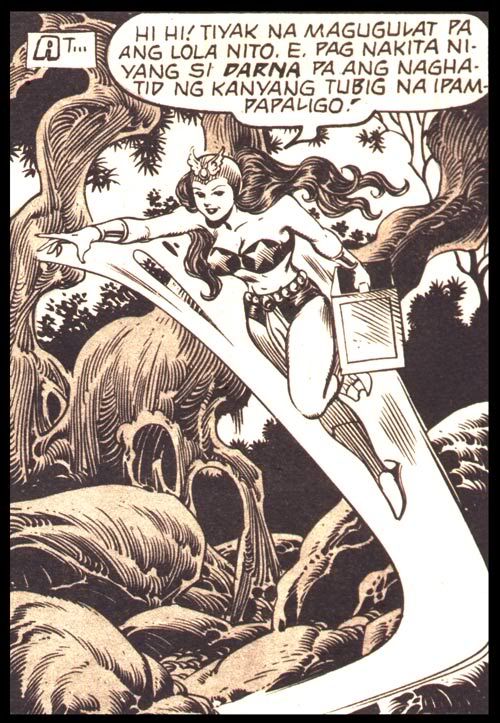 DARNA at ang Black Widow
by Mars Ravelo, Renato Mendoza, drawn by Dell Barras.
Ravelo Komiks Magazine #176
March 6, 1980
HUGE thanks to Dell for his assistance in getting touch with the many Filipino komiks illustrators in the US, for the material he has sent, and for the many correspondences, that help enrich the Philippine Comics Art Museum and the upcoming Masters of Philippine Comics Art book.
Thanks a million, sir! And Happy Birthday! I wish I could be there for the celebration!
:)
---
Thursday, August 26, 2004
Posted 8/26/2004 08:47:00 PM by Gerry Alanguilan

Romeo Tanghal Jr.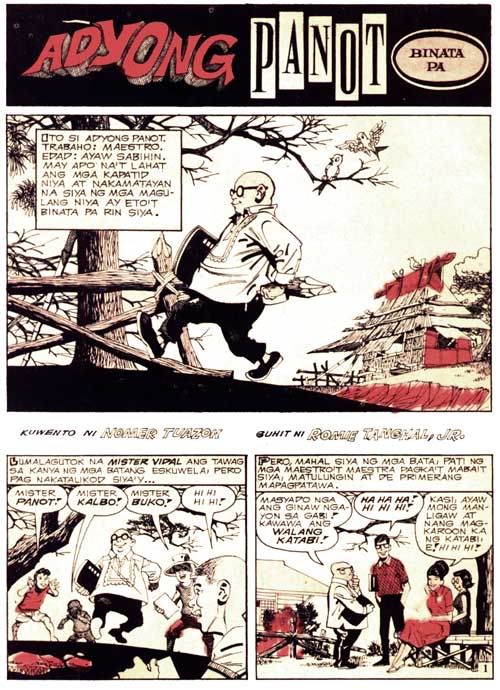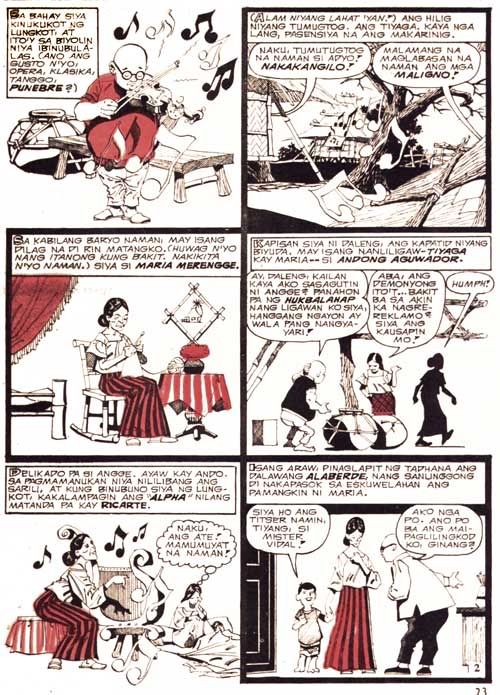 Romeo Tanghal Jr.
Adyong Panot
Aliwan Komiks # 84
January 1, 1966
Most popular in the US for his inking work on Teen Titans with penciller George Perez, Romeo Tanghal did a lot of work like those above for Philippine comics before making the move to the US. He also collaborated with writer Deo Villegas on
Dir Inkong Beloy
, where readers can send in requests for advice in whatever problem they may be having in life. Inkong Beloy will give his advice, but follow it at your peril!
I met Romeo back in the 1997 San Diego Comicon and I got the impression of how humble and friendly, and how talented he is. I wish I was able to take a picture!
August 28 Update!
Mr. Tanghal is currently based in New Jersey. He does portraits and oil paintings through his own business called "Images of You".
He is currently planning on producing his own independent comic for the Filipino market.

Thanks to Sandy Sansolis for the info!

Alex Niño and Frankenstein Mobster
Over at Comicon.com's The PULSE, Jennifer Contino interviews Mark Wheatley about his comic book Frankenstein Mobster and his admiration for Alex Niño's work.
PREVIEW & NEWS FRANKENSTEIN MOBSTER # 6
---
Saturday, August 21, 2004
Posted 8/21/2004 10:37:00 PM by Gerry Alanguilan
Dante Perez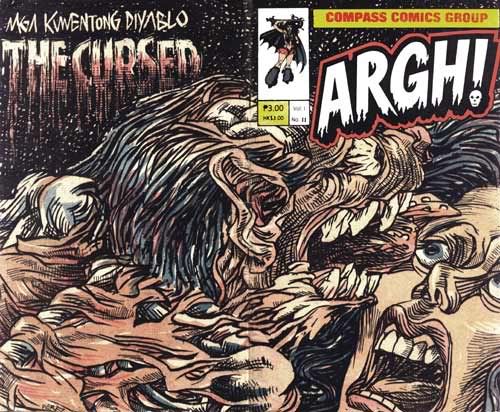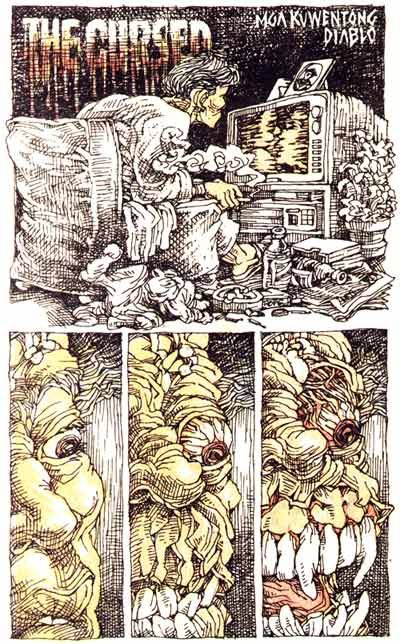 These artworks are by cartoonist and illustrator Dante Perez from
ARGH! #11
published in the Philippines by the Compass Comics Group in 1988. This 8 page story entitled "
The Cursed: Mga Kwentong Diyablo
", is typical of Dante Perez's grotesquely unique and disturbing artwork. I've been seeing Dante's work in some nationwide broadsheets many years ago, and the last I heard of him was that he was abroad, and that is pretty much the extent of what I know of him.
If you know Dante Perez, or if you are Dante yourself, I would love to get in t0uch with you and talk about your work, for personal curiosity, and for possible inclusion in the Masters of Philippine Comics Art book.
gerryalanguian@yahoo.com
The copies of ARGH! Komiks, as well as several other magazines, and a book that contains artwork by Emil Rodriquez, were lent to me by Auggie Surtida. Thanks Auggie!
I'll be uploading the entire 8-page story by Dante Perez in the musuem soon. In the meantime...deadlines, deadlines, deadlines!
---
Tuesday, August 17, 2004
Posted 8/17/2004 11:55:00 AM by Gerry Alanguilan
Hey, has anyone been checking out Liwayway lately? I've already added it to my weekly newspaper subscription. The issues are starting to kick ass, artwise. Here are some scans from the latest issue:
Jun Lofamia
LOVE HURTS short story by Gilda Olvidado
Rod Lofamia
CALIMUGTONG: Ang Kayumangging Mandirigma written by Reynaldo Duque
Jun Lofamia has been consistently good ever since he started working decades ago, but this is the first time I've really seen Rod Lofamia's work head on. It looks really good, a whole lot better than a lot of what the magazine has had to offer in its comics section for quite a while.
"
CALIMUGTONG
". Ang cool pa nung name. Astig na astig.
This issue marks the beginning of "Calimugtong" and "Si Piolo at si Lorelei" by Ruben Marcelino and Jun Lofamia so if you wish to start collecting, THIS is the best issue to start with. Better get it quick though because next week there will be a new issue and it will be more difficult to get this one.
This week's cover is of Rufa Mae Quinto.
Posted 8/17/2004 08:24:00 AM by Gerry Alanguilan

Elpidio E. Torres
Komiks illustrator Elpidio E. Torres's profile has just been uploaded at the museum. Elpidio is best known for illustrating many of Mars Ravelo's creations including
Bondying
, Mambo Jambo,
Jack and Jill
, Roberta, Vicky (with Jet Torres), Eternally and so many more.
His biography and photograph are courtesy of the Elpidio Torres family, specially Rene and Divine.
Elpidio has been widely regarded as the "Amorsolo of Philippine Comics" for being able to capture the look of Filipinos and the Philippines so well.
ELPIDIO E. TORRES PROFILE
http://www.komikero.com/museum/elpidiotorres.html
---
Monday, August 16, 2004
Posted 8/16/2004 12:45:00 PM by Gerry Alanguilan

SIGLO: FREEDOM
National Book Award Winner for Best Comic Book of 2004

From the Alamat mailing list:
**********************
The National Book Award for Comic Book goes to "Siglo:
Freedom," edited by Dean Francis Alfar and Vin
Simbulan, published by Mango Books in cooperation with
Quest Ventures and Kestrel IMC.
Remembrance and celebration can be both rousing and
painful. That's what Siglo: Freedom tells us. This
ambitious and thoughtful project is a reflection of
what makes us a people, explores where we came from,
how we got here and, perhaps, where we are going. It's
a comic book anthology that makes you think—and that's
impressive. Also impressive is the talent behind his
project: Gerry Alanguilan, Dean Francis Alfar, Nikki
Alfar, Arnold Arre, Jason Banico, Marco Dimaano,
Andrew Drilon, Honoel Ibardolaza, Lan Medina, Elbert
Or, Vin Simbulan and Carlo Vergara. Inside these
black-and-white pages, there are lessons to be learned
and truths to be found, all of them in hues of gray as
varied as the styles and tones of the different
stories. But what is clear is the spirit of aspiration
embodied by Siglo: Freedom. Just like the various
creators' hopes for the Filipino people, Siglo:
Freedom is an indication of our reaching for that next
level of transcendence—and our willingness to give
dreams shape and shade.
-Ruey De Vera
Columnist, The Philippine Daily Inquirer
**********************
Posted 8/16/2004 10:09:00 AM by Gerry Alanguilan
Lastikman!
Cover Detail from Aliwan Komiks #60, February 1, 1965
Artist:
Mar Santana
Mango Comics, fresh from publishing the National Book 2004 Awardee DARNA, will now be breathing new life to another of Mars Ravelo's creations, Lastikman. Yours truly will be taking care of the writing chores, National Book Awardee
Arnold Arre
(After Eden, Trip To Tagaytay, Mythology Class) will be drawing, and international coloring star
Edgar Tadeo
(Iron Man, Silver Surfer, Wolverine) will be doing the coloring.
Lastikman will be a 52-page one shot standalone story, to be released around Christmas time concurrently with the showing of a new Lastikman motion picture starring Hero Angeles. Except for sharing the logo and a new Lastikman costume, the approach and story of the movie and the comic book will be independent of each other.
I opted to go back to the original Lastikman concept by Mars Ravelo where Lastikman was an alien from another planet, and will include characters from the original Lastikman story in 1965 like Don Rufo, Vinya and Toto. Having been true to that, I've taken my own liberties with other aspects of the character and his mythos, to hopefully flesh out in my own way just who Lastikman is and where he came from.
Arnold Arre's artwork for this book has been nothing short of spectacular, and I really don't say this because of my personal interest in the project. I really do believe his work on Lastikman is by far the best black and white work that Arnold has done so far.
I'll be posting artwork here when I can.
Posted 8/16/2004 08:35:00 AM by Gerry Alanguilan
Mini Museum in San Pablo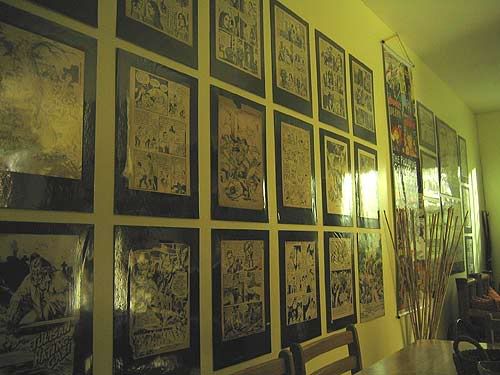 Half of our house has now been converted into a display area for original komiks art. It's not open publicly yet as we're still trying to figure out the mechanics of how to run something like this, plus we're still trying to organize the rest of the exhibit like how to properly present old komiks and the like. But if you are interested please feel free to email me with any inquiry.
gerryalanguilan (at) yahoo.com
---
Thursday, August 12, 2004
Posted 8/12/2004 09:44:00 PM by Gerry Alanguilan
EL INDIO by Francisco V. Coching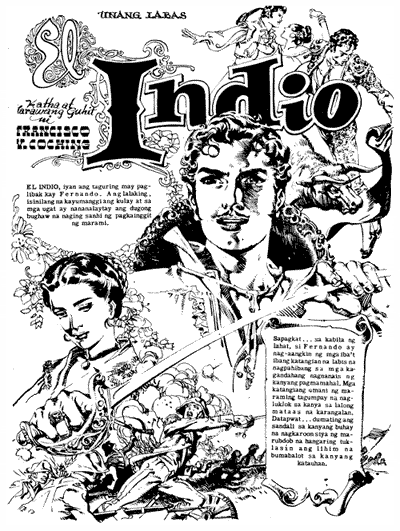 The Francisco V. Coching Foundation and Coching's family has finally given the go signal to start work on producing the compilation of Coching's comics novel EL INDIO, originally serialized in Pilipino Komiks in 1952-1953.
Original plans included the compilation of BARBARO, a direct prequel to El Indio but it has been decided to proceed with El Indio first because it is more representative of the quality of Coching's work at his very prime. It is also the most successful and most popular of all his comics novels.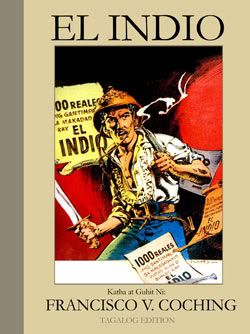 El Indio Mock Up Cover
The task of scanning and restoring art from printed comics pages has fallen to me. I wish I could have worked from the originals themselves, but the Coching family have none in their posession, and I myself have yet to see one. I've been trying several times find a good way of scanning and processing the pages, trying to bring out the best possible image. I've even consulted with a Bernie Krigstein art restorer for the Krigstein books published by Fantagraphics, and I've gotten good tips on the right approach.
After several attempts during the past few weeks ( I can only work on this in between my current drawing and writing gigs), I think I've finally found a way that would produce the best results. I forsee working on this for the next couple of months, but hopefully, this book will see print before Coching's birthday in January.
Posted 8/12/2004 07:59:00 AM by Gerry Alanguilan
Crest Hut Butt Shop Online!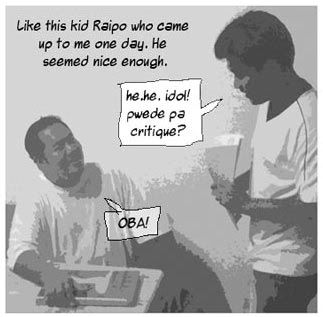 I still do mini-comics from time to time. I first began doing them in July of 1994 with Wasted #1, a 12 page photocopied and stapled comic I did on my own. It was so much fun that I know I would always do it. Crest Hut Butt Shop #3 is the latest mini comics I've done and I had already begun working on an all-photo comics series for issue #4. But printing it out produced results that I was not too happy with. So I'm putting up online those pages that I've already done online instead.
RAIPO and ME Page 1
RAIPO and ME Page 2
Enjoy! he.he.
---
Wednesday, August 11, 2004
Posted 8/11/2004 12:45:00 PM by Gerry Alanguilan

Alfredo Alcala's VOLTAR
Alfredo Alcala's VOLTAR is one of Philippine Comics' shining moments. Serialized in Alcala Fight and Alcala Komix starting in 1963, Voltar stunned Filipino comics readers with its attention to rich and intense detail never before seen in Philippine comics. It made a household name of Alfredo Alcala and it uplifted the art of comics to a whole new different level.
CLICK HERE for Detail of Above Drawing
"Voltar" (c) 2004 Christian Voltar Alcala
---
Tuesday, August 10, 2004
Posted 8/10/2004 01:04:00 AM by Gerry Alanguilan
Johnny Balbona, SIGLO: PASSION Etc.
Having finished inking
Superman: Birthright
a while back, I took the time to do a lot of personal projects that allowed me to do other things aside from inking. I'm concurrently writing two comics stories, one of which is a one-shot super hero story for Mango Comics. Ever since Timawa, I've always...ALWAYS had difficulty writing about superheroes. It's probably why I've never really written about them until now. I just didn't know what to say, or how to write these people. When I write, I always draw upon my own experiences upon which I ground my characters. The experience of being someone who has extraordinary abilities is something that's totally beyond me.
But writing this book for Mango has proven to be relatively easy, albeit it's taking me some time to do it. But it's fun, specially when I see finished pages in front of me. The art is being done by no less than multi talented award winning comics artist and writer
Arnold Arre
. And I tell you guys...Arnold's art here is just terrific. I can't wait to share pages of it here. When I can, I will. I really think this is some of Arnold's best work so far.
What other work for Mango I can talk about is
Johnny Balbona
, which regularly appears in the bi-monthly homor magazine
MWAHAHA!
While writing the one shot superhero book for Mango, I was invited to contribute a strip for Mango's then upcoming magazine Mwahaha. I incidentally got the job writing and drawing for them on the strength of my work for my mini-comics
Crest Hut Butt Shop
. Doing Johnny Balbona seemed like quite the natural thing to do. I based the look of the character on my friend
Johnny Danganan
, member of our Komikero Artists Group.
After finishing one installment, I begged off doing more because other committments just didn't allow me to work on Johnny anymore. But Johnny seems to have caught on and I was urged numerous times to continue working on him. It seems he took a life of his own and just refused to die. And here I am about to work on Johnny's 4th installment. :)
It took me quite some time to start, but I've finally got going with my contribution to
SIGLO: PASSION
, the 2nd annual book on the Siglo series by Nautilus Comics. I had previously contributed "SanDig 1944", a 10-page story for Siglo: Freedom which I both wrote and drew.
This time around, I'm working on a 12-page story entitled "
San Pablo, 1978
" which I am writing, drawing, lettering and *GULP!* coloring as well. I have done color stuff before, specially PULP and the recent Prophecy Mag, but this is the first time I'm doing the coloring fully in the computer.
All of this I need to take care of this August before I move on to more inking and more stuff for Graphic Classics and a 2-issue pencil and ink job for US indie company with a hot upcoming writer.
Oh Boy....
---
Sunday, August 08, 2004
Posted 8/08/2004 10:27:00 PM by Gerry Alanguilan

KENKOY EXHIBIT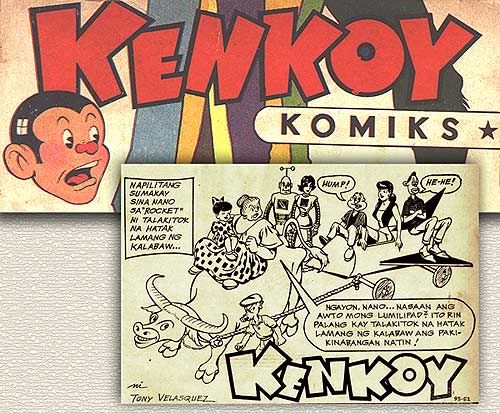 Hi everyone,
There will be an exhibit of
Kenkoy Memorabilia
at the
Rizal Library
of
Ateneo de Manila
starting tomorrow August 9 up to August 20, 2004. This is in connection with the Filipino Month Celebration in which Ateneo de Manila will pay tribute to Kenkoy's creator,
Tony Velasquez
, the Father of Philippine Comics.
There will be an opening ceremony on August 9 at 9:00 am wherein Velasquez will be awarded for his contributions to Philippine language and culture.
The exhibit will showcase Velasquez' original artworks of Kenkoy, Rosing, Ponyang Halobaybay, Talakitok, etc.,as well as rare Kenkoy Komiks, original scripts, books, photos,documents and his personal items.
Since the exhibit will be held inside Ateneo's Library, outside visitors will be required to present ID's for entrance.
Thank you and please do find the time to take this rare opportunity to see this exhibit.
Dennis Villegas

*************



ALFREDO ALCALA EXHIBIT




An exhibit of Alfredo Alcala's work will be held in San Francisco at the
San Francisco Main Library, 3rd Floor Filipino American and International Center
from January 1 to February 28, 2005.
The exhibit title will be: "
The Master and Son"
Exhibit, where Alfredo's son Christian will be exhibiting his works as well. Christian, a comic book creator himself, wrote and drew "Smoke Ninja", an anti-tobacco comics series drawin in cartoon style.
---
Saturday, August 07, 2004
Posted 8/07/2004 10:35:00 PM by Gerry Alanguilan
Alex Niño's Tap Dancing on a Tender Cerebellum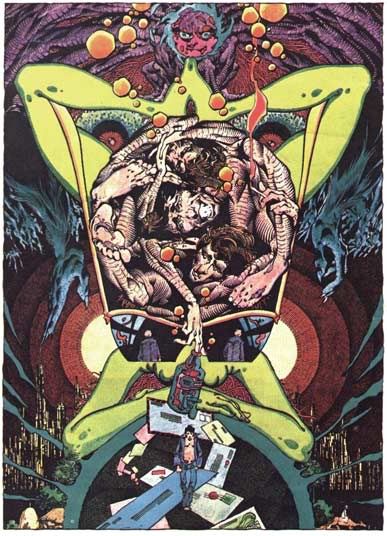 Just a minor update on the museum. I uploaded a series of Alex Niño pages a few months ago on Geocities and I thought I'd link it to the museum. "
Tap Dancing on a Tender Cerebellum
" was a story that Alex wrote and drew for Heavy Metal in 1978. It's a great example of the kind of innovative storyteller that Alex was and continues to be.
Click Here:
http://www.komikero.com/museum
I was able to talk with Alfredo Alcala's son
Christian
yesterday and I'm extremely glad that he has allowed us to use his father's work in the Masters of Philippine Comics Art book. He gave me news of an exhibit of his father's work in San Francisco at the end of the year. I'll formally announce it here shortly.
Christian pointed me to this cartooning book below that Alfredo painted. It's available at Amazon.
---
Friday, August 06, 2004
Posted 8/06/2004 08:02:00 PM by Gerry Alanguilan

Interview with BluPrint Magazine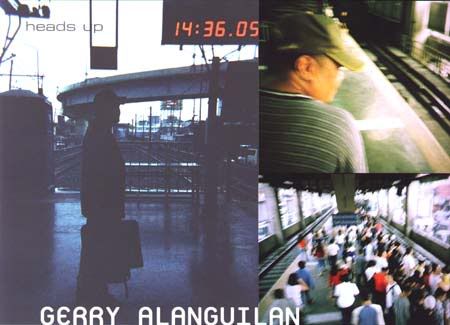 I was interviewed by
BluPrint magazine
, maybe around 6 weeks ago, I don't remember exactly when. There were a lot of us comics artists that were invited like
Arnold Arre, Gilbert Monsanto, Carlo Vergara, Ryan Orosco
and a bunch of other guys. I was scheduled the same time as Arnold was.
It was raining that day but I didn't bring an umbrella. I didn't want to be late so I just went ahead. As Pippi Longstocking once said, "Who ever died from being wet?". Well maybe one or two people, Pippi. I got to the BluPrint offices dripping wet, but that's OK. They had this make up guy propped me up at a chair and started to do my hair. Wow, this has got to be what stars feel like, no?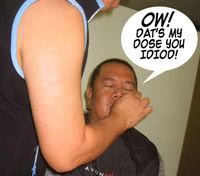 Actually,
no
. My nose still HURTS. But I can't help but notice all the girls in the room were pretty. The Style Editor who contacted me,
Carmela de Luna
was pretty. The photographer
RJ Fernandez
was pretty and the writer
Charlene Sawit
was pretty. I mean, it was amazing.
Carmela and RJ took me riding the MRT to take my pictures. RJ just told me to hang around like I was any ordinary passenger. I got a little self conscious, specially when people started to stare, but I guess it didn't bother me too much, after being put into worse situations than that by Noel Lim while we were out shooting Wasted. I know it wasn't allowed to take pictures on the MRT so we were a little discreet about it. RJ had this really cool spy camera with her. She must have wasted like 3 rolls of film.
We went to Shang where Arnold was being interviewed by Charlene. RJ now took him to the carousel at on the 2nd floor for his photo shoot while I hung around with Charlene in Starbucks as she interviewed me.
We all went back to the BluPrint offices were we met Gilbert and Ryan just being made up. RJ took them to the roof while Arnold and I said our goodbyes to everyone.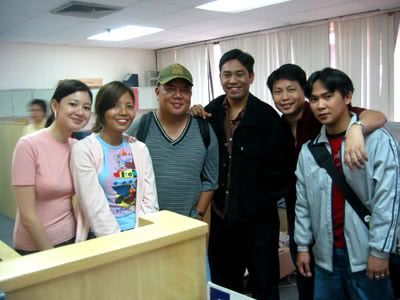 From left: Charlene, Carmela, me, Arnold, Gilbert and Ryan
Yesterday me and Ilyn went to Manila just to buy copies of the magazine. I had heard fromRyan that the magazine had already come out and I wasted no time in checking it out. For those who wish to see it, it's the Volume 4 2004 issue. I was really amused. After all the make up and all the pictures, you didn't even see my face. ha! ha! But it was cool. I think it was a nice layout, except for the fact my interview was a few words short.
I think things like this, in a well respected Architecture and Interior Design magazine no less, does help increase awareness and uplift the image of comics in the Philippines and I for one am glad that they contacted me for it.
Click HERE to read the full interview
.
---
Tuesday, August 03, 2004
Posted 8/03/2004 06:50:00 AM by Gerry Alanguilan

More Alex Niño Comics!
Alex continues his return to comics as featured artist on
God the Dyslexic doG
. The comic book is created and written by the father and son team of
Philip and Brian Phillipson
. If the artwork below is any indication, Alex has not only NOT lost it, but he's as innovative and as ground breaking as ever. Go Alex!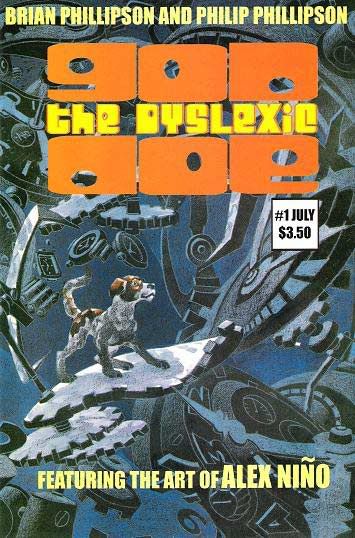 On the
Official Site
is a shot of the full wraparound artwork to the cover above. Sample art from the comic book below.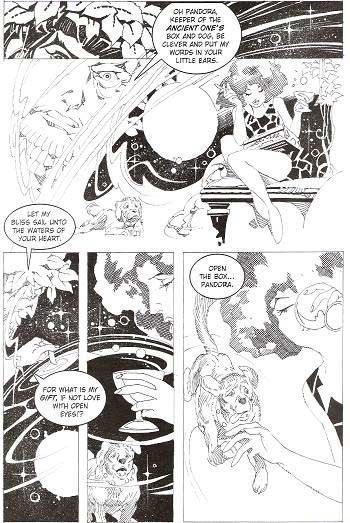 Creators Philip Phillipson, Alex Niño and Brian Phillipson at the recent San Diego Comicon where the first issue was launched.
For more information, more art and more pics from San Diego con, go to the God the Dyslexic doG Official Site.
God the Dyslexic doG


http://www.godthedyslexicdog.com/index.html
---
Monday, August 02, 2004
Posted 8/02/2004 09:34:00 PM by Gerry Alanguilan
Frankenstein Mobster
Alex Niño
returns to comics in a big way! After 2003's SUNN for I-Books, Alex Niño continues his return to comics with a cover for Mark Wheatley's
Frankenstein Mobster
#6 from
Insight Studios Group
, published by Image Comics.
This issue (#6) is currently being solicited in this month's Previews, which will be released in October so feel free to pester your local comic book shop to carry it. Mark Wheatley tells me in their
Insight Studios Message Board
that there will a a large preview of the cover in the letters page of issue #5.
Yay! :)
Posted 8/02/2004 01:44:00 AM by Gerry Alanguilan

FRED CARRILLO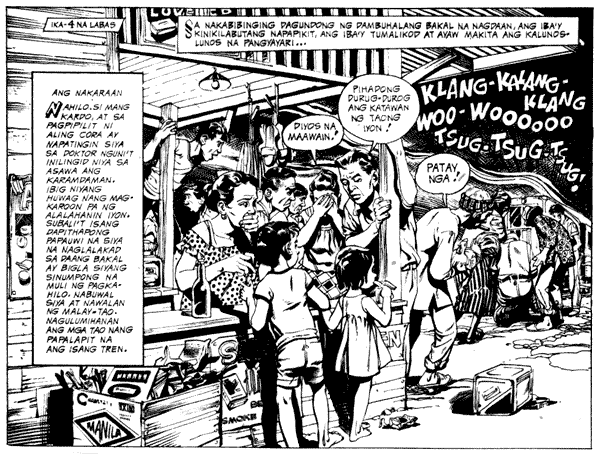 Komiks Illustrator
Fred Carrillo's profile
is up in the Museum. It includes a biography and 8 pieces of rarely seen artwork from his work for ACE Publications as well as for DC Comics' Phantom Stranger.
FRED CARRILLO PROFILE
---
---