Saturday, July 31, 2004
Posted 7/31/2004 10:47:00 PM by Gerry Alanguilan
More Art and Artists
I've had some requests to feature some artists, specially Ading Gonzales. I'm posting here some of those requested, as well as other artists I have not yet previously mentioned.
Ading Gonzales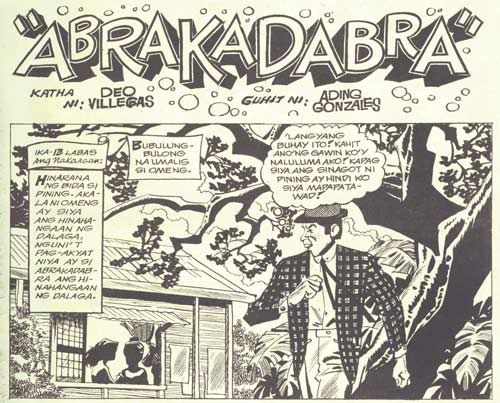 Abrakadabra
written by Deo Villegas
HIWAGA Komiks, July 30, 1965
For more of Ading's art, linked below is a complete 4 page story "Simula ng Wakas" from Tagalog Klasiks #395, March 4, 1966
Simula ng Wakas 1
Simula ng Wakas 2
Simula ng Wakas 3
Simula ng Wakas 4
Dell Barras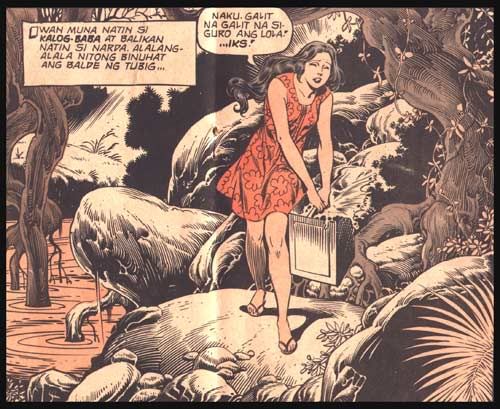 Darna at ang Black Widow
written by Mars Ravelo and Renato Mendoza
RAVELO Komiks-Movie Magazine #176, March 6, 1980
Dell is a regular visitor to this site, and has given us valuable assistance in our projects. Thanks Dell!
After establishing himself as an artist on Philippine comics working on titles such as Javlin and Darna, Dell has consequently worked on many US comics like New Mutants, The New Defenders, Whisper, Battletide, Avengers, Blue Beetle, Captain Thunder and Blue Bolt, Conan, Detective Comics, Teen Titans Spotlight and so much more.
Dell Barras Official Site
Rudy Nebres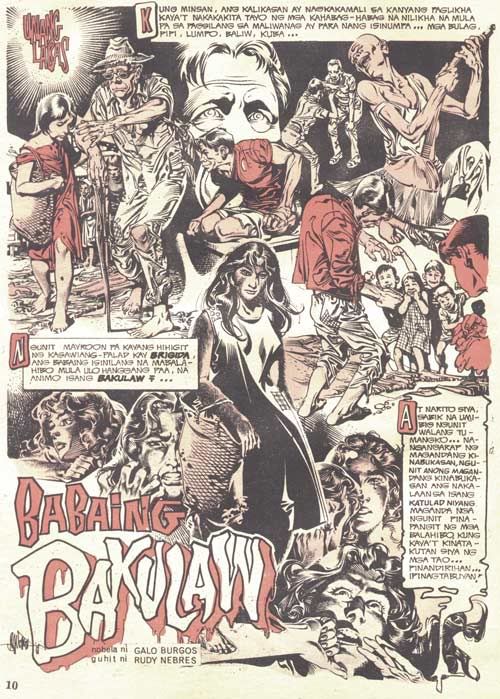 Babaing Bakulaw
written by Galo Burgos
ESPESYAL Komiks #291, July 19, 1965
Rudy is a very popular artist in the US where he has made quite a career for himself working on comics like Conan, Creepy, Crossgen Chronicles, Deadly Hands of Kung Fu, The Fly, Doctor Strange, Eerie, Goblin, The Incredible Hulk, Vampirella, and so much more. He has also released an art book,
The Art of Rudy Nebres
.
Ruben Yandoc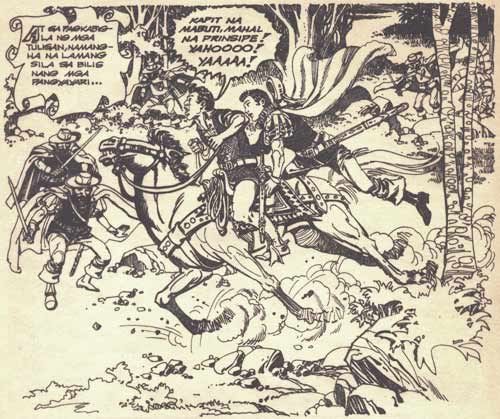 Don Del Oro
written by Ruben Yandoc
HIWAGA Komiks #338, January 29, 1965
Also known as Rubeny, Ruben Yandoc has worked on comics novels like PATAPON and Kasaysayan ng Mga Anghel (Kenkoy Komiks) and 29 (Tagalog Klasiks). In the US, Ruben is famous for working on such comics like GI Combat, Ghosts, House of Mystery and House of Secrets, Sgt. Rock, The Unexpected, Weird War Tales and so on.
Fred D. Marchadesch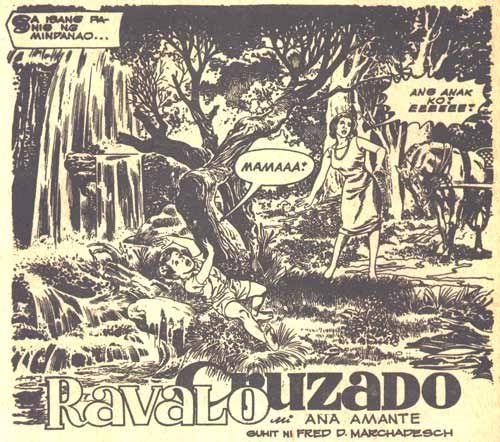 Ravalo Cruzado
written by Ana Amante
Pioneer Komiks #159, December 23, 1968
I actually hardly know anything about Fred, but I've seen his work on many comic books and he has shown that he's quite an excellent artist. If anyone has any info on him, please feel free to write. Thanks!
Yong Montaņo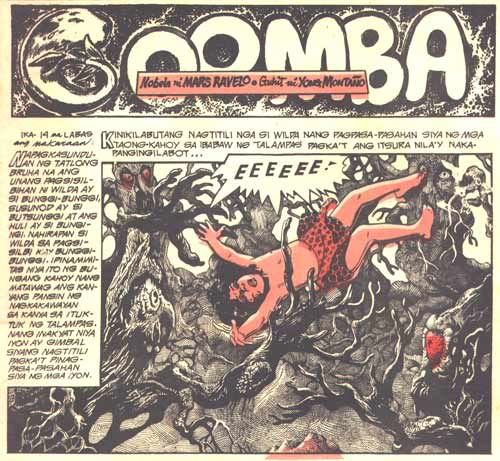 GOOMBA
Written by Mars Ravelo
Tagalog Klasiks #416
December 23, 1966
I've had the privilege of having my work appear with Yong Montaņo on the pages of Terror Komiks, published by Mass Media Communications in 1992. I met him not too long ago and I was surprised to learn that he actually knew who I was.
Specializing in the horror genre, he has worked on comics in that genre, including the aforementioned Terror Comics, as well as comics published in the US like Monsters Unleashed, Tales of the Zombie, Vampire Tales, Marvel Chillers, Haunt of Horrors and Giant Size Werewolf.
Posted 7/31/2004 01:14:00 PM by Gerry Alanguilan
Museum Update
Just uploaded is the "About" section of the online museum, explaining the rationale behind the existence of the site, and what you can expect to see in it in the coming year. I'm reposting it here:
*************************
ABOUT THE PHILIPPINE COMICS ART MUSEUM ONLINE
Ever since I came online in 1997, I have come to realize that a lot of Filipinos, specially the young artists reading comics and trying to enter comics as a career, are not familiar with the great Filipino Komiks Masters of yesteryear. I myself have since learned about many artists I never knew before who were all quite talented and had impressive bodies of work. As I rediscovered page after page of these artworks, I became much more in awe of the talent of these Filipinos, and I felt stricken that such artworks are virtually unknown today.
It thus became more imperative to find ways to share this with the current generation of Filipinos and with the rest of world. Several plans have been put in motion to fulfill this objective. The San Pablo City Comics Art Festival in December
2003 done by the Komikero Artists Group is just the start. The next is the publication of a book about the "Masters of Philippine Komiks Art", a tentative schedule of release is 2006. Another plan set in motion is this online museum, a forerunner of what will hopefully be a true museum to be located here in San Pablo City.
Since early this year, I have spent a small fortune acquiring old komiks and original artwork from the 1940's up the present. Lack of finances put a pause on my acquisitions, but I will still continue with it when I have the means. I presently have a small collection of some 100 original artworks and 300+old komiks, mostly from the
50's and the 60's. I will gradually put up this material online with a substantial update to this online museum once a week.
Many of these artworks have not seen the light of day for decades, and in most cases have never been reprinted since they were first published.
I am glad that other groups have put into motion similar projects, specially the release of a Kenkoy graphic album by Tony Velasquez, published by Dennis Villegas.
Dennis is also in the process of putting up a Kenkoy Museum/store in Cubao, and is planning more reprints of more great masters.
Aside from these, I am also in talks with the Francisco V. Coching Foundation to reprint in complete volumes, the komiks novels that Coching is probably most famous for, Barbaro(1952) and El Indio(1953).
Because of the work I've put into these projects, I've had to shelve or postpone a lot of the personal projects I have planned for myself like the Komikero Portfolio book (I think our old masters deserve a publication like that more than me.), The Ultimate Chicken Story, and adaptions of Noli and the Legends of the Seven Lakes of San Pablo. As for the other projects, like Siglo Passion, Alamat Anthology, and various work for abroad for Graphic Classics, DC and Cliffhanger of course, are still all on track.
As mentioned, this online museum will be updated once a week, but the news/journal page will be updated several times a week. In a year, hopefully the collection uploaded herein will be as comprehensive as I can make it.
---
Thursday, July 29, 2004
Posted 7/29/2004 09:59:00 PM by Gerry Alanguilan
Cal Sobrepeņa Passes Away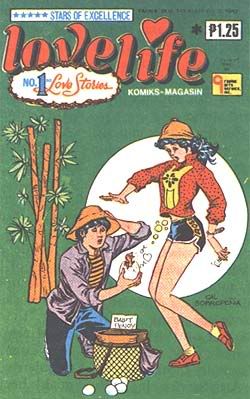 Komiks illustrator Cal Sobrepeņa, also known as "Peping Calusa", has died. He has worked on such comics novels as VERTUD and KARPOB and is well known for illustrating many covers for Lovelife Komiks for Graphics Arts Service,Inc (GASI).
---
Monday, July 26, 2004
Posted 7/26/2004 08:38:00 PM by Gerry Alanguilan

Nestor Redondo's Quo Vadis
Uploaded in the
museum
is the 2nd half of
QUO VADIS
, an adaptation of MGM Picture's 1951 motion picture written by Clodualdo Del Mundo and drawn by Nestor Redondo. This adaptation so impressed MGM bigwigs that they sought to hire Redondo as in house artist and offered to fly him to the United States. But Redondo declined, feeling that he was perhaps too young to make the move.
This adaptation was serialized in Tagalog Klasiks #91-92, pubished by ACE Publications in 1953 to promote the film that was set to be released in the country that year. It has never seen print anywhere else since it was first published. Many consider QUO VADIS as Nestor Redondo's masterpiece, and yet few people today have seen it. I'm happy to have the opportunity to share this with all the visitors of this site.
However, I was only able to get the last 8 pages of the 16 page adaptation, and I'm still working to get the first 8.
Nestor Redondo's Quo Vadis
---
Friday, July 23, 2004
Posted 7/23/2004 10:58:00 PM by Gerry Alanguilan
I just wanted to share this cover of a comic book I just got today. It's the cover to
Pilipino Komiks #180
drawn by
Francisco V. Coching
. It was published on April 24, 1954. It's one of the most remarkable covers of Philippine komiks I've seen, and it's my absolute favorite as of this moment.
---
Thursday, July 22, 2004
Posted 7/22/2004 09:17:00 PM by Gerry Alanguilan
Nestor Redondo Profile
Nestor Redondo's profile is finally up! I can't believe I haven't done so before now, but it's OK as it gave me time to find some really kick ass Rendondo art that hasn't been seen most likely since they were first publised decades ago.
Uploaded are some covers, original artworks, page scans from comics Nestor did both here in the Philippines and in the US.
NESTOR REDONDO PROFILE
http://www.komikero.com/museum/redondo.html
---
Wednesday, July 21, 2004
Posted 7/21/2004 07:26:00 PM by Gerry Alanguilan

Manga and Western Style
I'm a lurker on some local mailing lists on comics, and while I do post occassionally on some, like the Artist's Den mailing list, I just sit back and observe on others (which will remain nameless). Back in my day, it seems there were very few like me who were interested in drawing comics. It's so different now, with aspiring comics writers and artists popping up all over the place.
Once in a while an artist would come up who shows extraordinary potential and eventually make it big, like Leinil Francis Yu and Philip Tan and watch out for this guy: Mico Suayan.
One of the things I notice in these mailing lists is the notion that style is narrowed down to just Manga, and Western Style, like no other style exists but those two. If an artist doesn't draw manga, it automatically means he's drawing in the Western style. And it's a notion that I find to be terribly puzzling.
The question of what Western style is must be answered. Just what is Western style? Is it Jim Lee's popular style? Or Mike Mignola's style? Or Jack Kirby's style? Or is it Alex Raymond's style? Upon closer inspection, all these Western artist's style are so vastly different from one another. How can all these be lumped into one "Western style"?
And we haven't even talked about Moebius, Ladronn, or Herge, proponents of the "clear line style" so popular in Europe, which are so vastly different from art made by Americans. How about the Australians? The South Africans? The Malaysians? They all create comics too, and their artists there have their own unique individual style.
And this is why manga is so unique. The Japanese artists were able to create something that has an undeniably similar look, allowing for a certain amount of individuality between artists.
You take this comic book test. Take a comic book without looking at its cover and look inside. If it's manga, you will be able to tell instantly that it is. But if you were shown the art of someone like
Lat
, you can immediately tell that it's NOT manga, but most people won't be able to tell just where this art originated. Same is true for
Desire Atsain
or
Ondrej Sekora
. You know immediately that it's not manga, but you won't know from where that art comes from. Those three examples come from Malaysia, Ivory Coast and Czechnia respectively.
If the styles outside of Japan are so varied and within Japan so similar, it only goes to show how strong Japan is as a nation, and it is their unity and uncompromising patriotism that makes them a political, economic and cultural force to reckon with.
So yes, there's MORE than just Japanese and "Western" in ways of drawing comics. Lots LOTS more. Check out comics not just manga, or those coming from DC or Marvel, but those coming from the independents too. There's a whole galaxy of comics out there just waiting to be read.
---
Tuesday, July 20, 2004
Posted 7/20/2004 10:25:00 AM by Gerry Alanguilan
MWAHAHA! #2
Now available is Mwahaha! #2 featuring Johnny Balbona! I'm not saying this because I'm a contributor, but I honestly think issue #2 is far funnier than the first one. I specially like the strips of Manny Francisco. Very funny! The new issue has a photo section, text jokes, spam jokes, a caption the pic contest, fun facts, DVD reviews, a letters page, and of course the strips written and drawn by the usual gang of idiots.
The format is smaller, which actually looks better. This issue is the debut of Mwahaha's mascot DUDAY, Mwahaha's Alfred E. Newman. I got a copy from Books on Bargain, but it will be available everywhere soon!
---
Saturday, July 17, 2004
Posted 7/17/2004 08:08:00 PM by Gerry Alanguilan
Superman: Birthright #12
For those of you wondering why Superman Birthright #12 is taking a bit long to come out...worry not!
The art for the issue took longer to finish because it had more pages
than normal. Because it took me longer to finish inking,
everybody's schedule got pushed back. The art has long been finished
though, and I'm pretty sure it's coming out very soon. In fact, I
looked over Ebay and #12s are already up for auction. The endings for
them, I assume, would coincide with the release of the actual issue.
---
Friday, July 16, 2004
Posted 7/16/2004 08:01:00 PM by Gerry Alanguilan
New Museum Feature
Starting today, a new feature is added to the museum. Once in a while, I will feature a particular comics issue and include high resolution scans of the cover and several selected pages from within. My first feature is
Liwayway Magazine Vol. 2 #15
, with a cover by Hugo Yonzon. Included are scans from Francsico V. Coching's legendary
Hagibis
comics strip,
Islaw Palitaw
, an early work by a still developing Larry Alcala, Kenkoy by Tony Velasquez, an ad illustration by Fred Alcantara, and "
Mga Sulyap Sa Buhay
" by Lib Abrena (see scan above).
Liwayway Magazine, published since the early 1920's and is still going strong, is widely considered as the magazine that gave birth to the Philippine comics industry.
The Philippine Comics Art Museum
---
Monday, July 12, 2004
Posted 7/12/2004 08:26:00 PM by Gerry Alanguilan
"Comics Do Not Have Research Value"
If you are a publisher and you wish to publish a comic book here in the Philippines, it is preferable that you acquire an ISBN for stand alone comic books and an ISSN for serial comic books. An ISBN (International Standard Book Number) is a special number assigned to a single publication, like a book. This will facilite cataloging, inventory, and sales. If you wish to sell your book abroad for instance, an ISBN is essential if you wish to be carried by places like Amazon or Barnes and Noble. This ISBN is a simplified way of identifying your book and its exact edition. It is encouraged that all publishers use it, and in fact in certain countries, it is required by law.
In the Philippines, the local ISBN Agency is the National Library along Kalaw Avenue. If you try to apply for an ISBN, you will be in for the shock of your life. You will be told that comics are not allowed to have ISBNs or ISSNs because comics do not have "research value". They will not give it ISBNs because comics are not "books". Asked why comic books like Pugad Baboy have ISBNs, you will be informed that it was a "mistake". They will tell you that they based their policy on the International ISBN Agency's ISBN User's Manual published in Berlin, Germany.
This is based on the experience of several of my friends who have published their graphic novels and were denied ISBNs by the National Library. Some of them were eventually given their ISBNs, but with GREAT difficulty.
Incensed by this baffling series of events, I tried to learn all that is to learn about ISBNs from its history, to this "User's Manual" that National Library employees gleefully point to as their source of guidelines. I even wrote to the International ISBN Agency in Berlin to find out just what this is all about.
And what have I learned? It turns out the National Library people's assertions and policies are a whole load of HORSESHIT.
The Director of the International ISBN Agency himself, Dr. Hartmut Walravens wrote me back with the following reply:
Hi, Gerry!

You are quite right - ISBN is a technical identification tool without
any connection to the contents of publications. So if they are
monographs they are eligible for ISBN.
We will pass your message on to the Manila ISBN Agency, and I hope
everything will be all right!

Regards,

Hartmut Walravens
So the assertion of the National Library that ISBNs are not given to comic books because it has no "research value" is baseless. Their opinion, no matter how uneducated and unlightened it may be, does not have any bearing whether a publication is given an ISBN or not. Indeed, they are in NO position to deny ISBNs to any publication. All that matters is for them to follow the guideliness (if they even bothered to read them, and if they did, understand themn correctly) faithfully and decide what numbers to give, be they ISBNs or ISSNs.
The term "book" or "monographs" in the context of ISBNs, according to the manual, is meant to mean "publication" of limited, definite length. This includes pamphlets, maps, transparencies, books on cassettesm or CDs, CD Roms with text contents, Internet Publications and so on.
So their assertion that comics cannot be given ISBNs because they're not "BOOKS" is so simpleminded that it's mind boggling.
It's terriby frustrating when you encounter people so uneducated to be in power and in charge of something important for the county such as the dissemination of information and preservation of culture. For anyone in their position to believe that comics have no "research value" is insulting and dangerous. Their lack of respect for this material bodes ill for the preservation of a true artform.
Some with the power and the brains needs to fire these people immediately before its too late.
************************
I did not vote for Fernando Poe Jr., but times like this I wish he had won. It would benefit Philippine Komiks greatly. It's no secret that FPJ was a huge supporter of comics and the people who worked in it. He was friends with lots of comic book artists and writers and he would often hold parties in his home with comic book people as his guests. I heard he recently returned bound comic books to writer Pablo S. Gomez which had been given to him by the writer because he was concerned about damaging them, preferring to have photocopies instead. That simple act tells me that this is a man that has a huge respect for comics and considers them worthy of preservation.
---
Sunday, July 11, 2004
Posted 7/11/2004 12:14:00 AM by Gerry Alanguilan
Museum Updates
Uploaded is artwork from
Nestor Redondo
from
Tagisan ng Mga Agimat
.
Click HERE
. It suddenly occurred to me that I have not yet done anything on Nestor Redondo on the site and I think its about time. A profile is forthcoming after I put up Javinal's.
I met with the Francisco V. Coching foundation this past week and I managed to secure permission to use Coching's art for the Filipino Komiks Art book. The prospect of compiling Coching's novels in complete volumes also looks very promising, although at this point anything can still happen. In case it does push through,
Barbaro
and
El Indio
are the first two novels that are in line. Which is what would personally choose as well because looking through the artwork on those two novels I was close to tears at the sheer beauty of it.
A note on the term "novel" as it is applied to comics in the Philippines: A typical comic book during the time of Coching had 60+ pages and they were all anthologies of 4-6 pages each per story. Any story that continued from one issue to the next was considered a "novel". Each novel usually lasted anywhere from 25-100 installments before finally finishing.
No compilations were really ever published that collects one whole story in one volume before. Comics writers or artists would make their own personal collections by cutting out their stories from the original comics and bookbinding them.
---
Tuesday, July 06, 2004
Posted 7/06/2004 10:37:00 PM by Gerry Alanguilan
Federico Javinal 1
HOKUS POKUS
Pilipino Komiks #213, July 30, 1955
PANDORA
Pilipino Komiks #192, October 9, 1954
Me and Dennis Villegas visited Federico Javinal today in his home in Pasig. I had wanted to meet him because I consider him to be one of the giants of Filipino comics art and that I really wanted to include him in the Philippine Comics Art book. He began drawing comics in 1950 and he has amazingly continued to work and have his work published until illness forced him to retire just this year.
He is widely known as a frequent Francisco Coching collaborator, but I realy believe Federico has an identity of his own. Hearing him talk about Francisco Coching was kind of touching because his respect and loyalty to Coching is so obvious and apparent and he believes to this day that Coching was the greatest Filipino comics illustrator to ever live. Federico's desk is full of compiled Coching novels and he had stories for each and every one of them.
Sadly, he hardly remembers his own early novels like Bambino, Hokus-Pokus and Pandora, which are quite remarkable pieces of art on their own. He even said that if I didn't remind me of them he would have forgotten them all together.
I'm currently working on Federico's profile and I'll try to put it up soon....
---
Monday, July 05, 2004
Posted 7/05/2004 07:55:00 AM by Gerry Alanguilan
KOMIKS!
I've run into some interesting local comics the past couple of months, most of them definitely interesting which I'll talk about a little bit in the next few weeks. One of my favorites has definitely been
Reno Maniquis's MASKARADO
:
4 issues are now available! I've yet to pick up my copy of #4, but I'll make sure I do very soon. Reading this series is such a trip because it's so reminiscent of classic Pinoy Komiks I loved, and still love to read. I've always entertained the idea of doing a comic book with 4-5 page increments ending always in "Itutuloy!" as a cliffhanger. I even thought of a classic-like Pinoy character:
Angkan ni Kumander Kwago
One day maybe, One day! For the meantime, I'll just enjoy Reno's Maskarado.
Recently released is
SIKLAB
, an anthology magazine of stories by long time Filipino comcis creators like Vincent Kua III, Randy Valiente, Romy Don, Buddy Paraiso, Lawrence Mijares and talented newcomers like Patrick Berkenkotter. I read through it and most of it is pretty good. Lawrence Mijares, posting as "Wilkins" in the
message board
, is responsible for some of the more active, much talked about, and at times controversial discussions there. Indeed, Siklab magazine contains some potentially controversial articles from the pen of of Mr. Mijares. I think it is good that certain issues of the Philippine comic book industry are so passionately addressed by him. He sheds light on things we either didn't know about, or things we should think more about.
Komikero
Henry Anima II
has released his first mini comics called
Children of the Dam
at the recent Toycon. It's written by a fella going by the name of OJ (Simpson? he.he.) and drawn by Henry. It's a very interesting story, very haunting and somewhat sad. I don't know where you can get a copy, but for certain you can get one from Henry himself by
visiting his blog here
.
Thanks to Mike Simbulan of Comicquest for giving me a bunch of free stuff last Saturday. I didn't know it was Free Comics Day, but I'm still grateful anyway. Those are a bunch of really interesting comics. I'll get around to reading them later later.
---
---